Vantador – Steakhouse Desa Sri Hartmas
Words: Chris Moore     Photos: Monica Tindall
Now I wouldn't profess myself an expert on meat, but I feel that in my numerous revolutions around the sun I have come to know my fair share on the various forms of two and four-legged protein. Throughout my life I have been fortunate enough to consume various types of meat in many different countries – some of which have been good, others have been remarkable, and some downright inedible. It comes with this experience and self-proclaimed knowledge that I will go so far as to say that if you have not been to Vantador yet, a newly opened steak boutique in Sri Hartamas, get off your butt and go find it. Hands down it will be the best steak you eat in Kuala Lumpur!
Vantador Kuala Lumpur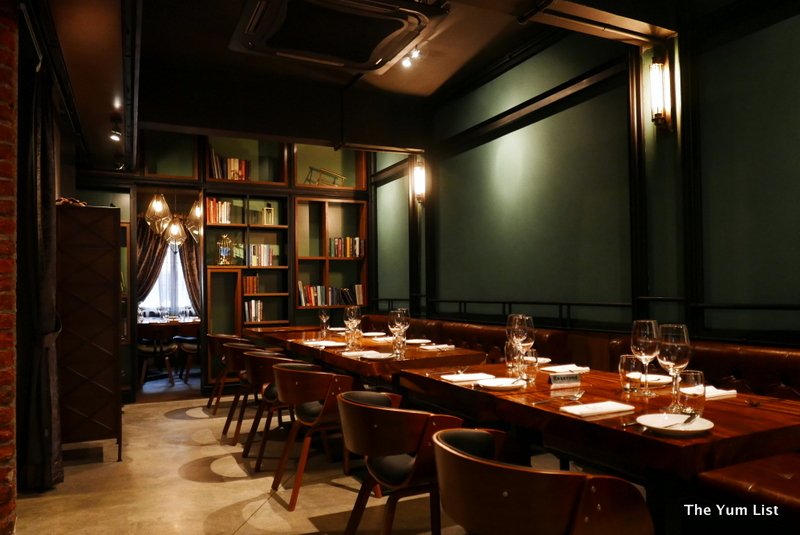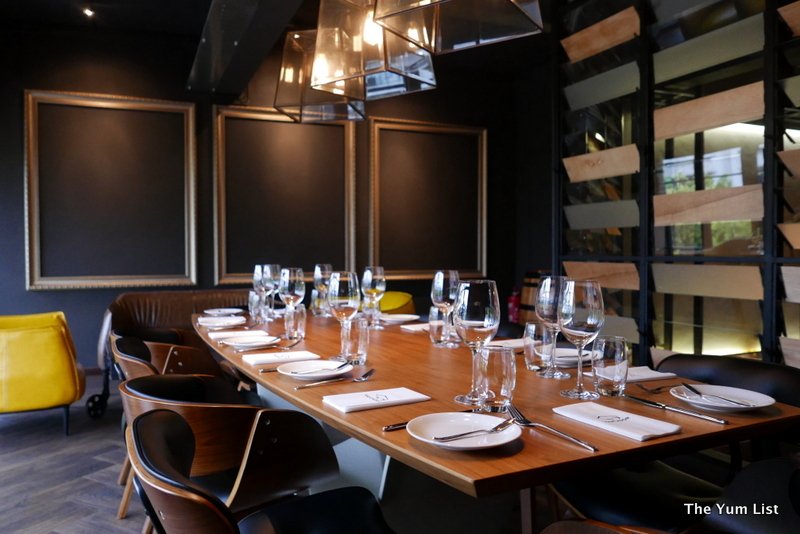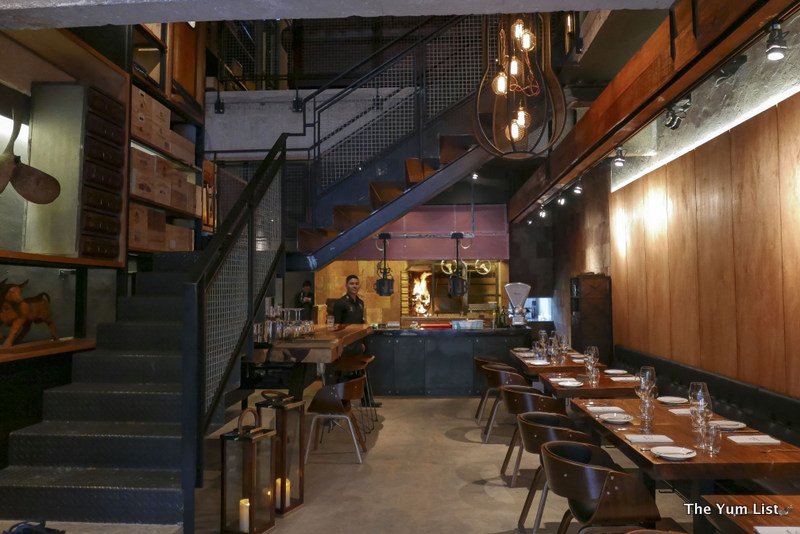 Vantador – Dry-Aged Steak
Lead by the masterful skill of Chef Ramiro, a native Argentinian employing various ethnic skills and techniques, Vantador is everything you want in a steakhouse. Upon entering Vantador you are immediately taken aback by the three glorious cases of what I will call food porn. Three massive refrigerators slowly and perfectly dry-ageing a variety of different cuts of beef and lamb – just the sight of the beautifully marbled meat is enough to make vegetarians reach for the steak knife and husbands tell their wives that they will not be sharing their dish on this date. Add to the that the elegant neo-traditional décor complete with dark wood tables, matte black stairs, copper artistic light hangings, and handcrafted ironwork on the walls and this place emits opulence. Vantador is not what you would expect to find in Sri Hartamas, but get over that because this place is a must see!
Sourcing its beef from various regions throughout Australia and Spain, Chef Ramiro and the Vantador staff carefully dry-age massive slabs of ribeye, T-bone, porterhouse, or the eye-catching tomahawk for 30-days. The dry-ageing process slowly draws out the excess moisture from the beef while concentrating the flavour, leaving the most tender and flavourful piece of beef you will ever have the pleasure of eating. In building your meal, customers can choose from Margaret River Wagyu, Tasmanian Angus and Victoria Hereford, or should they be feeling adventurous, the illustrious Rubia Gallega, which has been voted as the best tasting steak in the world and is sourced from Spanish cows that are at least eight years old. Steaks are served al la carte with an amazing selection of side dishes, including roasted marrow bones, potatoes – both creamy mashed and French fried, creamed spinach, and a variety of vegetables – steamed carrots, roasted Brussel sprouts, house made tomato relish, or fried mushrooms, plus many different house-made sauces such as chimichurri, salsa verde, cream jus, beef jus, flavoured crème Fraiche, or chilli jam. The selections and combinations are seemingly endless and each one is just as appetizing.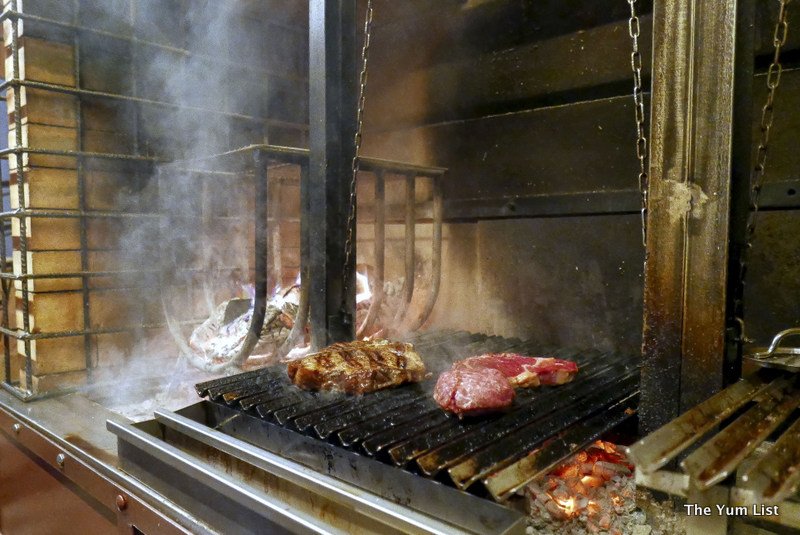 Should you not be in the mood for a steak, Vantador has a host of other options to satisfy what you crave. On Friday and Saturday, you can sample from the whole roasted lamb or goat that is slowly cooked Argentinian style on vertical skewers over an open fire pit, or feel free to try one of the dry-aged burgers, any of the fish or seafood options that are available, or the grilled lamb and duck. It really doesn't matter what you try, because you can rest assured that you are going to get something that is absolutely delicious.
Wine List
The perfect steak necessitates the perfect wine, and with the bold nature of dry-aged beef a big, full-bodied red is the optimal choice. The selection of wines at Vanatador is diverse and designed to fit a variety of palates and budgets. A small selection of wine is available by the glass but I say reach for the bottle of Torbeck The Steading 2014 (RM434/bottle). This is a big bold Barossa Valley blend and the combination of Grenache, marato and syrah brings forth a ton of tannins and spice and is the perfect combination with the hearty red meat that you're about to dive into.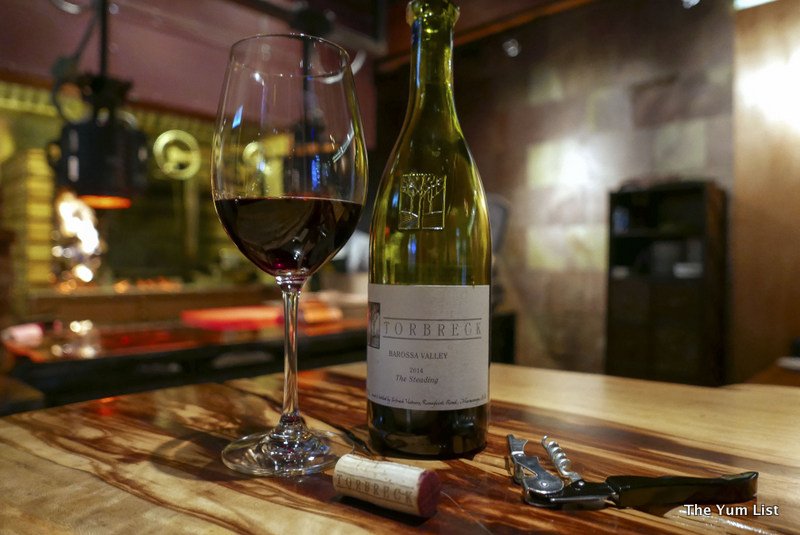 Menu at Vantador
The house bread is served hot and fresh with each order. Proofed daily, the rolls are then baked to order over hot coals and served with house-made butter mixed with fresh herbs, mustard seeds and smoked paprika. Trust me though; it will be hard not to fill up on carbs so don't overindulge.
Appetizers
For starters, Vantador has a selection of small sharing plates that are uniquely creative and exquisitely divine. The Tasmanian Salmon (RM47) is house-cured in gin and beet juice and served with pickled okra. The colour infused into the fish radiates from the plate and the incredible taste and texture are not what you have come to expect from typically cured salmon. In keeping with the fish theme, the Seafood Ceviche (RM55) might very well be the best ceviche this side of the prime meridian. Huge chunks of Spanish octopus, red snapper and tiger prawns are mixed together with cilantro, shallots and red chillies and topped with a delightful lemon avocado dressing. The combination of lime and orange juice cuts the acidity and adds a sweetness that mirrors the delicate seafood. The texture of the fish is still firm and the flavour is out of this world.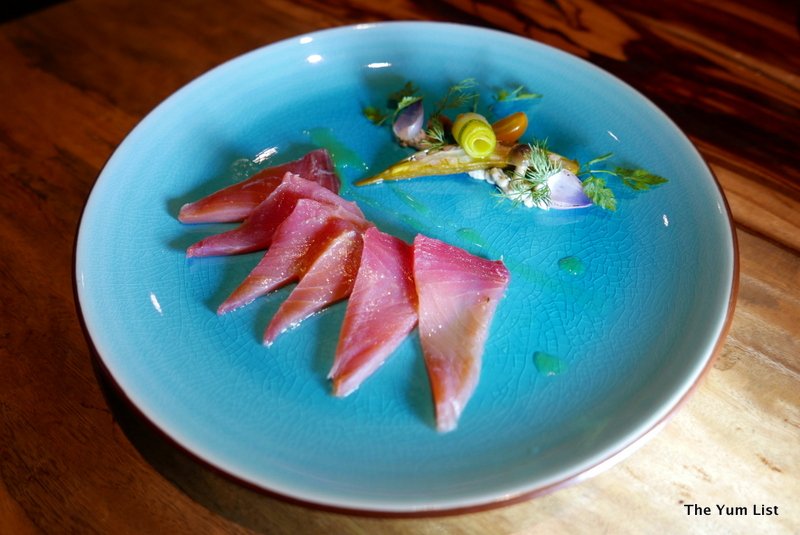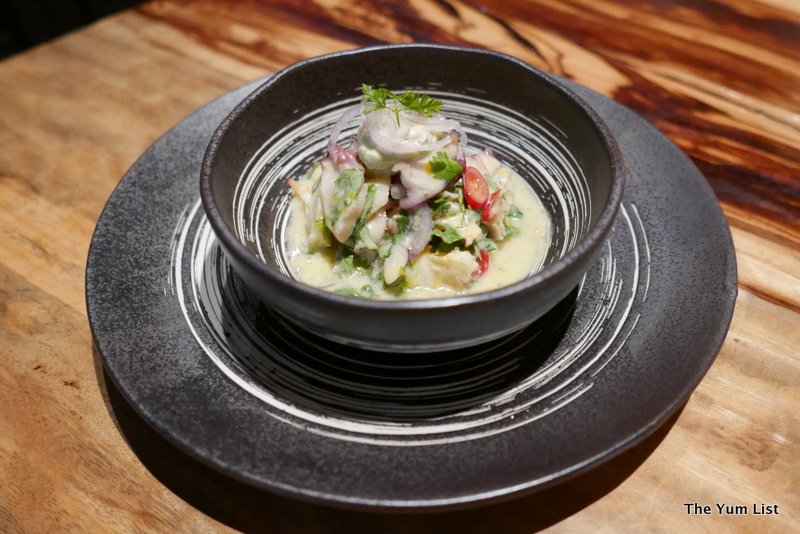 As a true testament to Chef Ramiro's creativity and skill, the Cauliflower Panna Cotta (RM30) is simply amazing – imagine the creaminess of regular pannacotta but with a savoury taste. Then top it with tapioca caviar and aged balsamic vinegar, and serve it alongside house-made pickles and a glorious tomato relish and you have something that you have never likely tried before but will be coming back for again. The Oxtail Terrine (RM27) is the perfect lightweight starter where slow cooked oxtail and buttered shimeji mushrooms are pressed into rings of leek and served with roasted cherry tomatoes and a basil and kaffir lime sauce. Finally, the Burrata Cheese (RM45) is exactly what you might want to save one of the rolls of house bread for. Creamy burrata cheese is slowly tempered to warm and topped with a pistachio dressing and aged balsamic vinegar, pairing together perfectly the sweet acidity of the vinegar with the nuttiness of the dressing. But why the bread you ask? Simply put, to mop up the creamy remnants on the plate!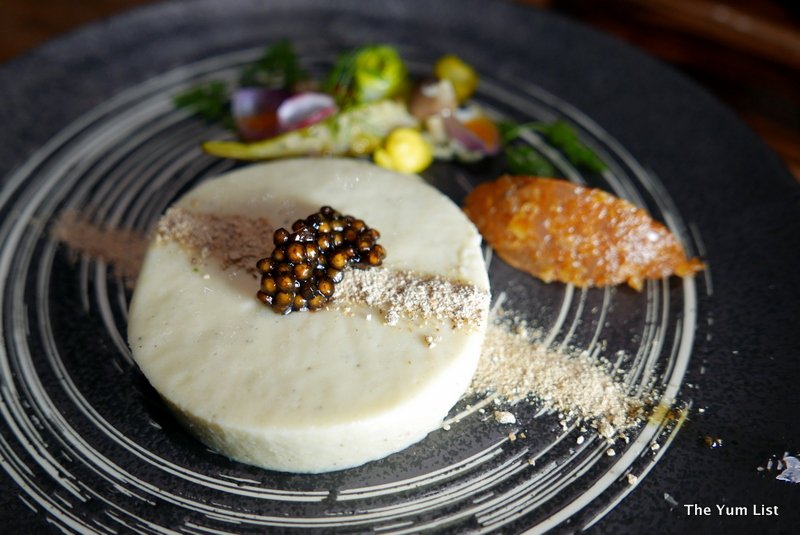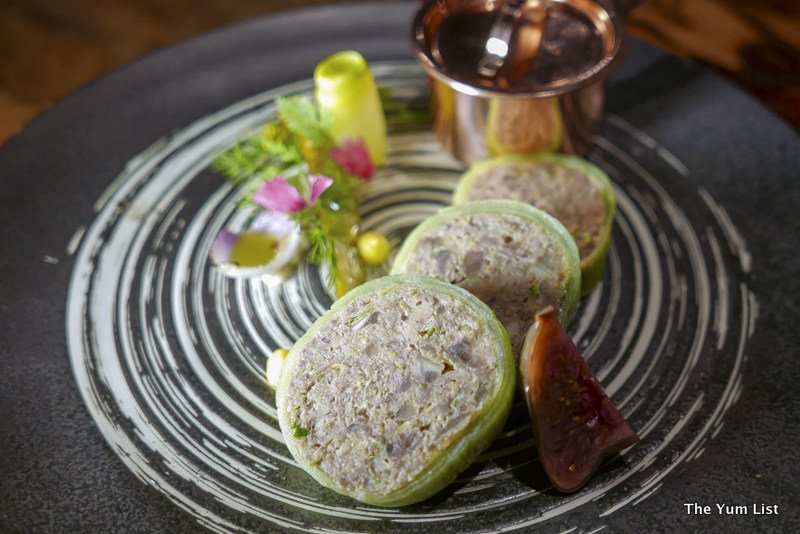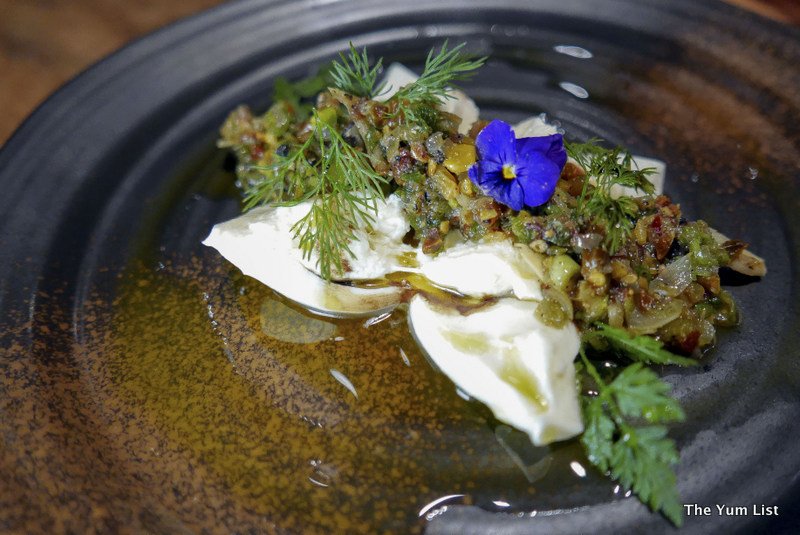 Main Courses at Vantadar
I feel that there is something fundamentally flawed in going to a steakhouse and not ordering steak, but alas I know that opinions differ and that I occasionally have been known to be wrong. With that said, there is nothing wrong with sampling some of Vantador's non-beef main course options. For example, the Rack of Lamb (RM78) is crusted in fresh rosemary, thyme, and Italian parsley and cooked to the perfect medium-rare doneness. The sear and crust around the exterior add an incredible crunch while the interior maintains the perfect pinkish hue. Served atop a bed of green garlic puree and accompanied by the mint sauce and semi-dried cherry tomato relish, it is clear that Chef Ramiro knows how to cook more than just beef. For an aquatic option, the creamy and moist Atlantic Cod Fish (RM85) is magnificently prepared pan seared and rested on a bed of Kalamata olives and served with mustard pickles, a pepper tuile (a hard candy-like wafer made with pepper and spice), celeriac mash and bouillabaisse sauce. If lamb and fish aren't your top choice, then the Half Sous Vide Free Range Chicken (RM60) is bound to leave you speechless. A whole chicken is brined for 24 hours in chardonnay and other spices and then slowly cooked for 6 hours at 65 degrees in a water submersion tank. The bird is then flame grilled over an open fire to get the most glorious crispy skin. The chicken is more tender than anything you've ever had before, and fear not, the pink colour of the meat does not mean it is under-cooked, rather the shade comes as a by-product of the slow cooking and the collagen breaking down inside the meat. Believe me, try it and you won't want traditional roasted chicken ever again!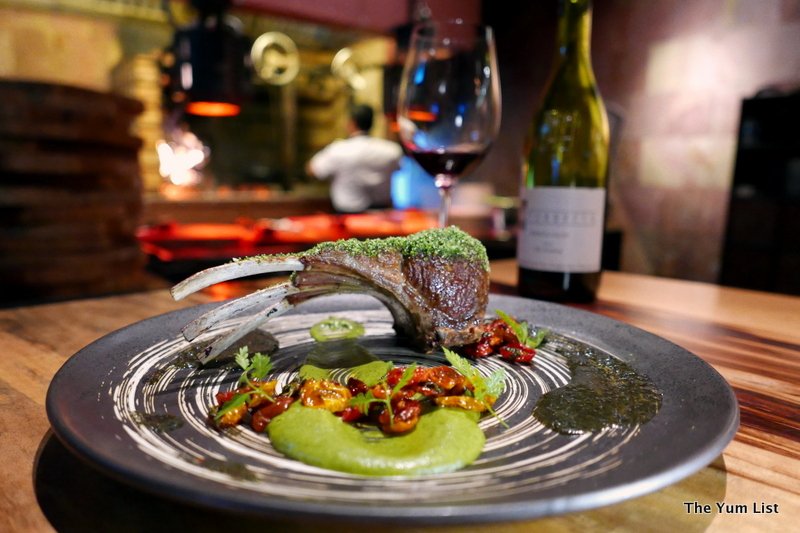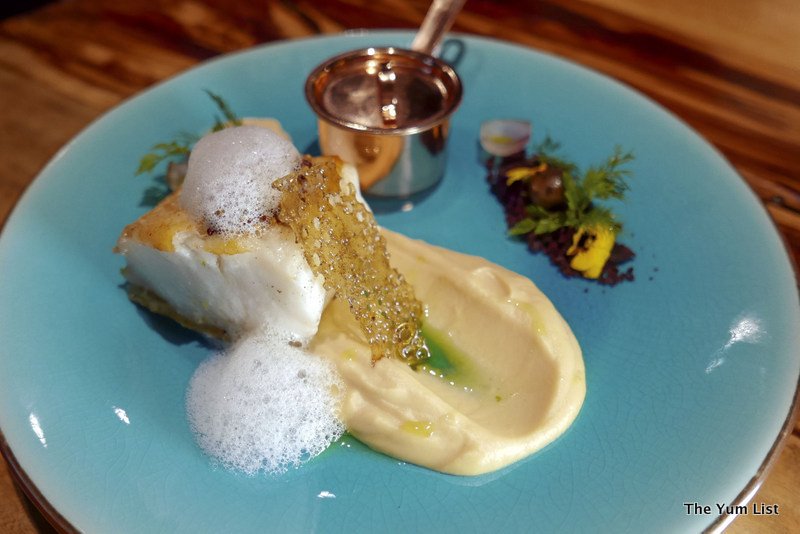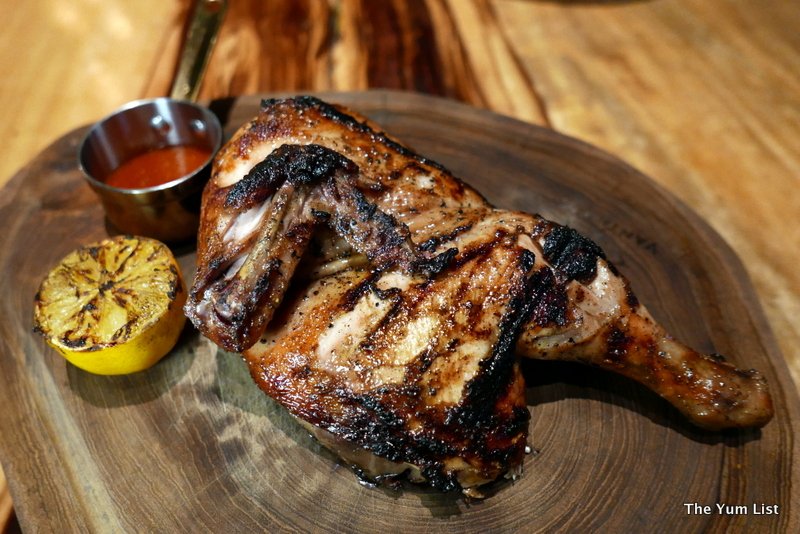 Assuming you've read this far along for the steak, or better yet that you have already ventured out in search of Vantador, you are not to be disappointed. Vantador offers customers their choice of thickness for each cut, ranging between one and two inches. Remember though, the thicker the cut means the rarer it will be done when finished. Just do Chef Ramiro one favour and trust the man – do not order it anything more than medium. In fact, medium rare is perfect with that nice glass of Torbeck.
The Rubia Gallega (RM75/100g) is everything it claims to be, and then some. Characterized by a creamy fat cap and aged for 35 days to break down the tissue and enhance the flavour, it really is no surprise that this has been crowned the best tasting steak in the world. The massive slab of bone-in ribeye is dense (not tough) and bursting with flavour, and the fat cap is like butter in your mouth. Even more inspiring for you to order it is that this type of beef is so rare worldwide that Vantador is the exclusive provider in the whole of Malaysia. But if you're feeling less adventurous and are looking for something a little more common, you can't go wrong with the Porterhouse (RM45/100g). Dry-aged for 30 days, the porterhouse is like the perfect marriage of beef – offering both the melt in your mouth fillet and the marbled and fat capped striploin. This cut is perfect to share as you get the best of both worlds.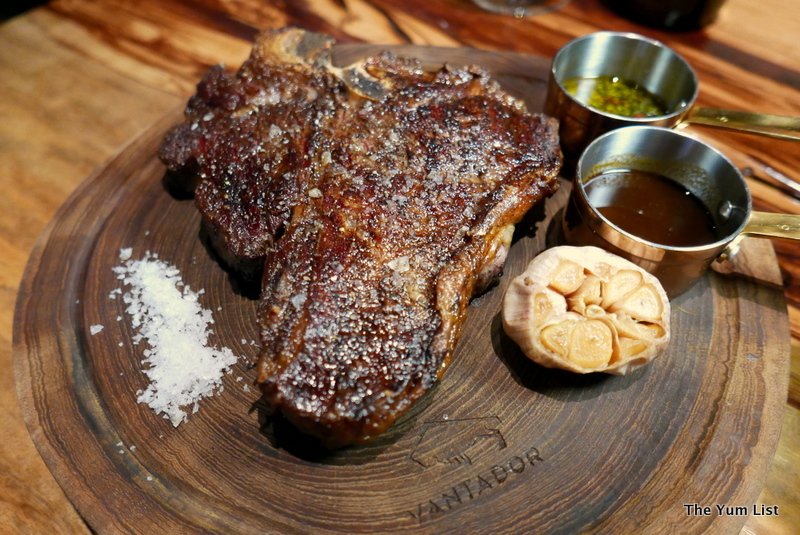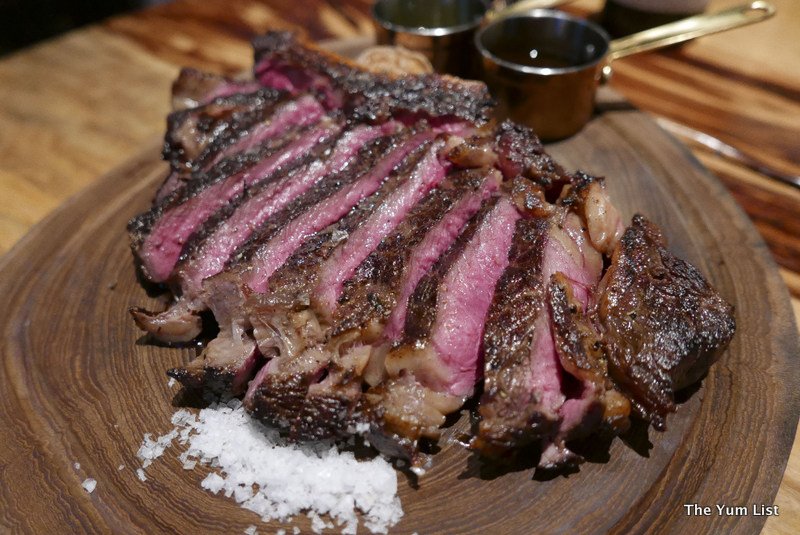 Dessert
Imagining that you happened to save room for dessert with all of the other dining options on the table, I say go right for the Chocolate Nemesis Textura (RM25). Again, this dish is a testament to Chef Ramiro's skill and creativity. Dark chocolate (72% cacao) is fermented and transformed into a variety of textures and profiles. Frozen wind (think chocolate ice shavings), soil (picture chocolate crumble) and air (light pockets of chocolate foam) are served alongside a decadent chocolate ganache, raspberry filled chocolate ravioli and pistachio puree. The textures and flavours are brilliant together and the presentation makes one question whether or not you should actually eat the dish in front of you or simply stare at it as a work of art. If chocolate is not your thing then the Granny Apple (RM22) is equally as delicious in a whole different way. Homemade sponge cake made with olive oil is stacked between granny apple slices that have been slowly poached in sous vide and served with spicy ginger custard. The flavour of the olive oil is cut brilliantly but the tartness of the apple and the spice from the ginger. On the lighter side of the dessert options, the Greek Yoghurt Parfait (RM23) is beautiful in its taste and presentation. The smoothest and creamiest yoghurt available (because it has been left to drain to remove much of the water content) is layered beautifully with mango and mint soup and then topped with sesame tuile and mango ravioli. Served inside of a hand carved ice mould, this dessert is a masterpiece. The flavours and texture are the perfect way to end a hearty meal.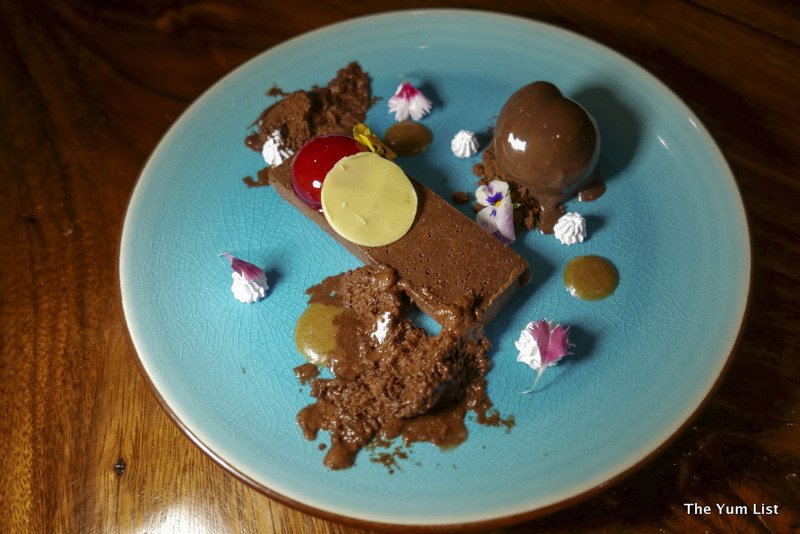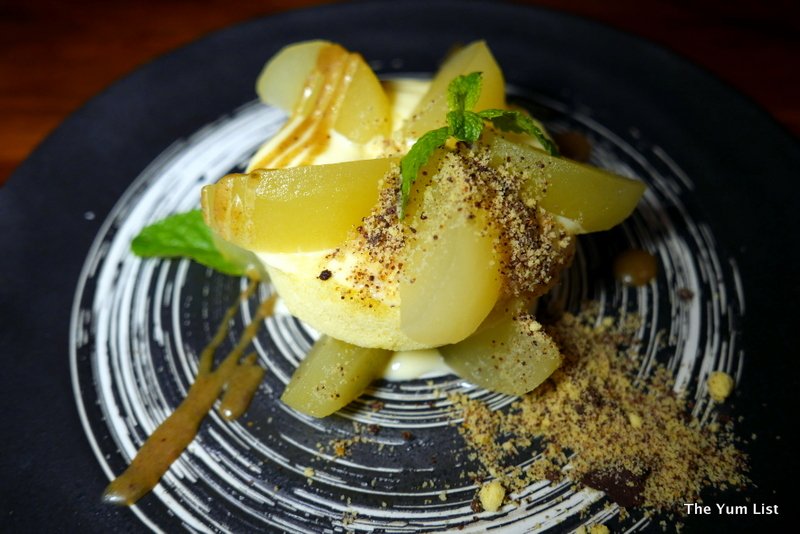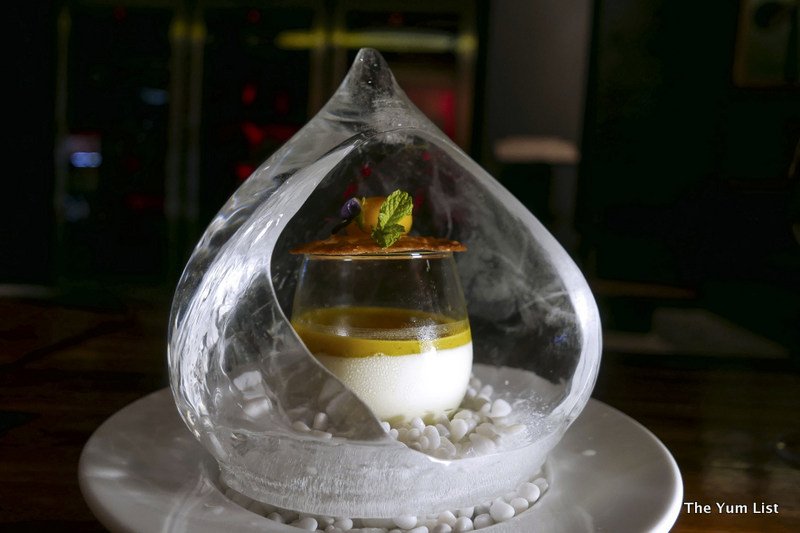 Reasons to visit: The steaks are the best that you will have; Chef Ramiro's incredible culinary skills, vision and creativity; the atmosphere is spectacular; and did I mention the steaks?
Vantador – The Dry-Aged Steak Boutique
38 Jalan 25/70A, Desa Sri Hartamas
50480 Kuala Lumpur
Malaysia
+60 3 6211 5588
www.facebook.com/vantador