Monica Tindall
Let's get this straight from the start. Enoteca in Plaza Damansara was once called Neroteca. It is no longer Neroteca, however, despite a similar name and logo colouring, Enoteca, Italian restaurant in Damansara Plaza, has a new chef, new management and new menu. And, it's delicious and well worth a visit!
Enoteca is non-halal. It's authentic Italian food in a casual setting. Despite some early weaning issues, the restaurant has nailed it with an honest Italian food menu and beverage to match. If you are a lover of porky cuisine or simply well-made Italian food in general, it warrants a reservation.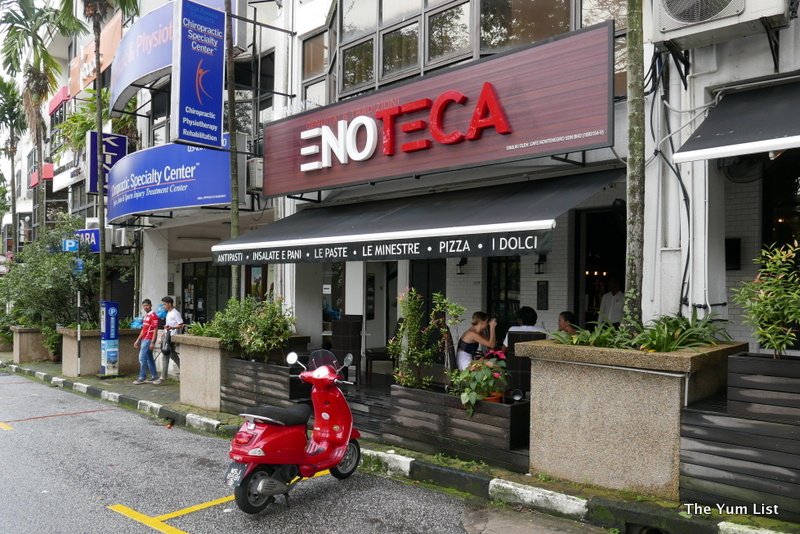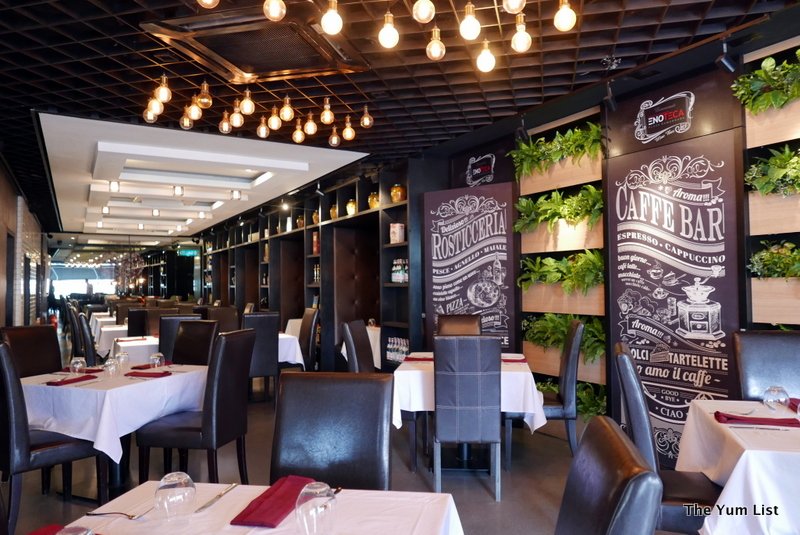 Chef Stefano, an Abruzzo native, greets us with Italian warmth, "What shall we cook for you today? You want to choose or you want me to choose for you?" Hey, if the chef offers, I'm not going to say no. Hearing our confirmation that chef gets to choose, Stefano continues with an enthusiastic smile and sincere sparkle in his eye, asserting, "We'll do all pork then!"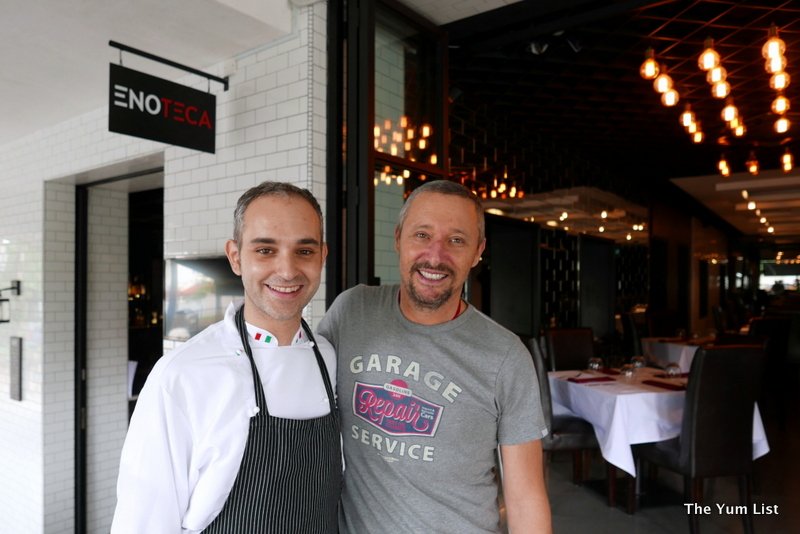 Aperitivo
Not having to sort through a menu, we're able to immediately begin with a classic Italian aperitivo, a glass of Santa Margherita Prosecco Superiore Brut (RM45 glass). Light, bubbly and easy to drink, it opens our appetites and lubricates conversation.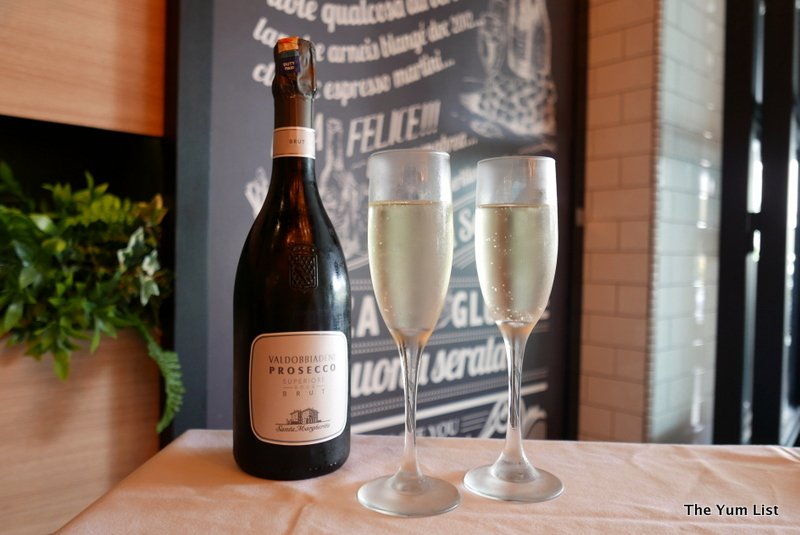 Starters
A classic Italian Caprese di Bufala (RM40) starts us off. Soft white buffalo mozzarella contrasts vibrant truss tomatoes and fresh basil. With ingredients of this quality a simple drizzling of extra virgin olive oil and a sprinkling of dried Italian herbs is all that is needed as seasoning.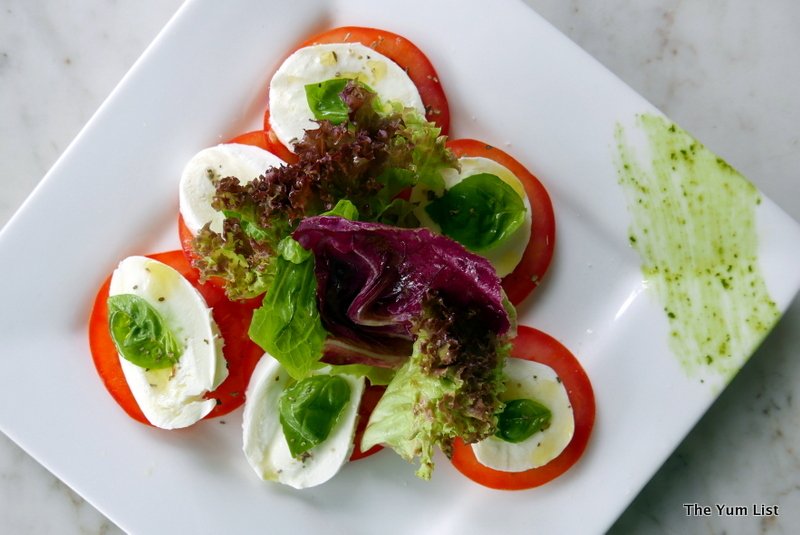 Italian Wine at Enoteca
While Chef Stefano is passionate about recipes, new manager Domenico holds a spirited conversation about Italian wines. Montepala Valpolicella Superiore, Veneto 2012 (RM210) is his choice for the pasta and mains (we've haven't done too badly taking the chef's recommendations, so figure we're onto a good thing letting the Italian manager decide the wines too). It's a relatively young wine offering plenty of fruit in the mouth, especially cherries and plums, a pleasant spice and some mineral elements. "The more you drink the more you enjoy," says Domenico with Italian wisdom. He's right; the more air the wine gets the better it tastes. I'm going to remember these insightful words, and probably misquote their intention 😉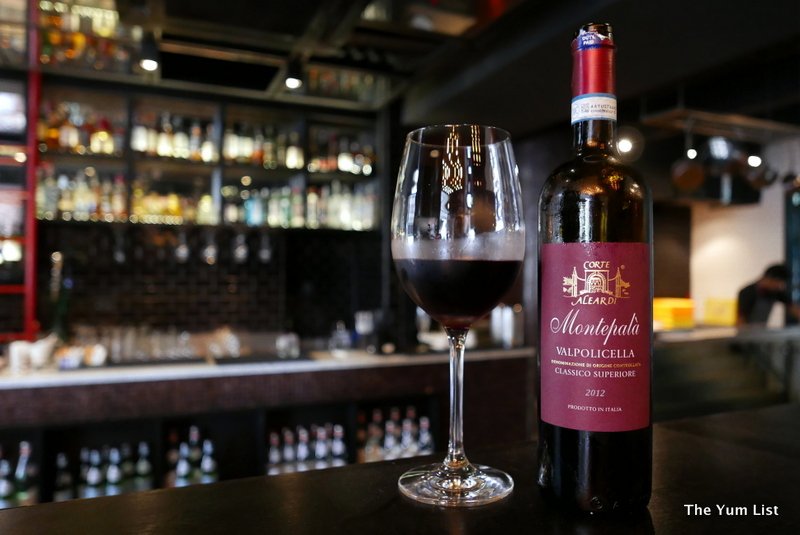 Homemade Pasta KL
Tagliatelle al Brasato di Cinghiale (RM48) is our first pork dish and features homemade pasta coated with tender braised wild boar that has been cooked in a red wine and tomato sauce. This is comfort food. It has hubby attempting to express his gratitude in a mix of Italian and Spanish and me smiling with its simplicity in components yet absolute satisfaction in the palate. Domenico's wine choice is without fault. Its soft spiciness lifts the richness of the pork and its fruity flavours complement the sauce.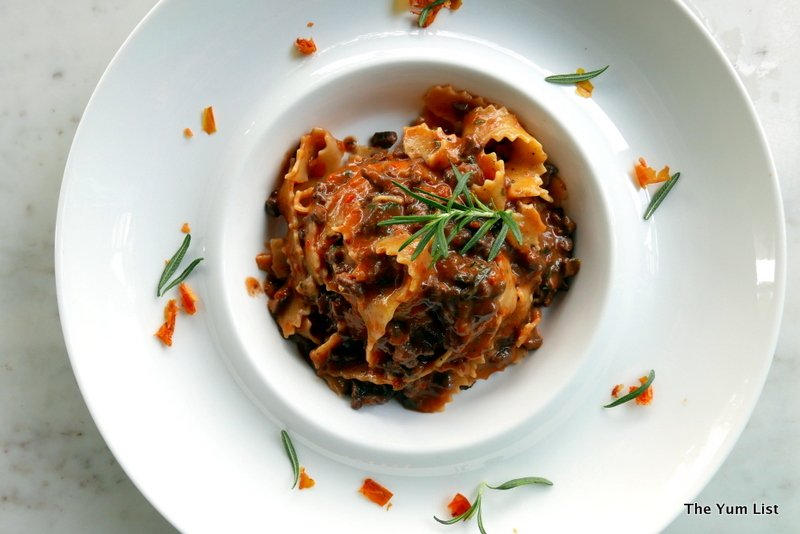 Mains at Enoteca, Plaza Damansara
Chef is thrilled to share that Enoteca has sourced some fantastic Iberico pork. He features the marinated pork neck in Tagliata di Pluma Iberico al 3 Pepi Su Letto di Rucola e Carciofi All Romana (RM105). It's seasoned with three types of peppercorns then grilled to perfection – and when I say "perfection" I seriously cannot imagine an alternative. The meat is dark around the edges, pink in the middle, and to use an overused cliché, it is melt-in-the-mouth scrumptious. Rocket salad and marinated artichokes (personal fave, yum!) side it. Order this dish.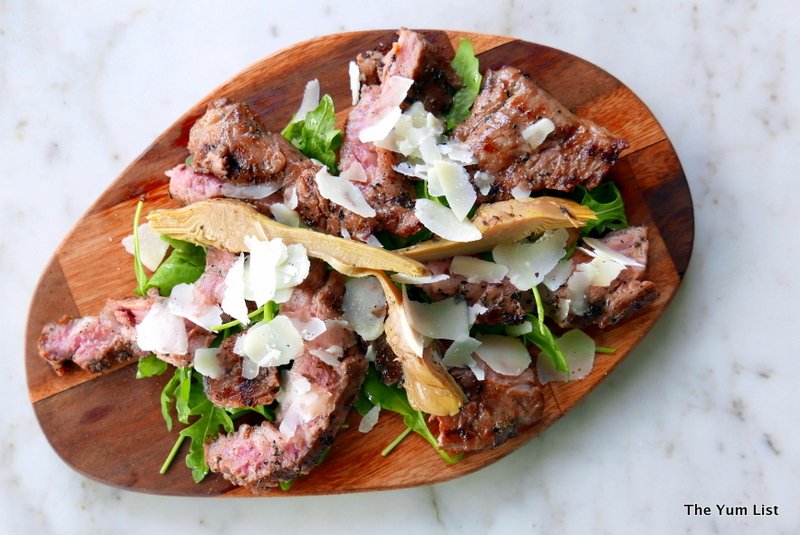 Our mains climax with a specialty of chef Stefano, his signature Stinco di Maiale Brasato (RM68). This is traditional pork shank braised in red wine and served with boiled vegetables. The shank is cooked for three hours and daubed with a gravy, of celery, carrot, onions, red wine and stock. It's made for sharing.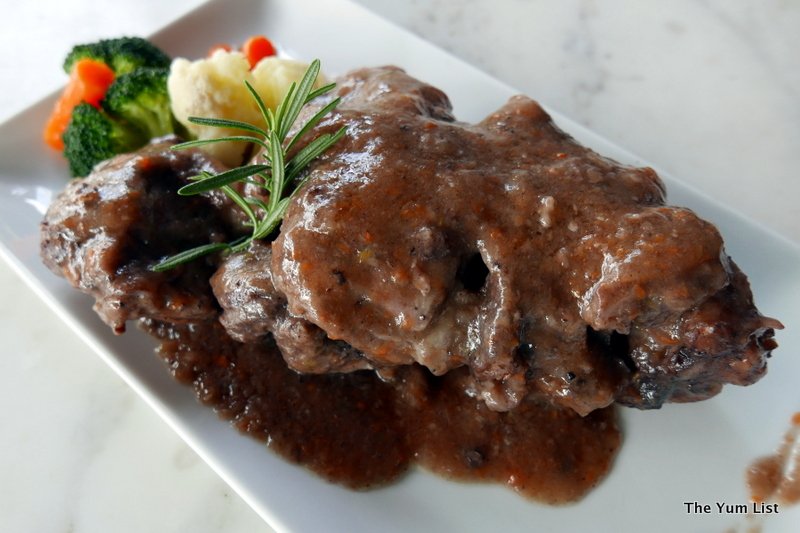 Sweets at Enoteca, Plaza Damansara
With the order of Crème Brulee al Caffe (RM24) I was expecting a simple white ceramic dish holding a coffee coloured custard. Not so. Chef has jazzed up the presentation a notch serving the dessert in a glass jar (still warm from torching the caramelized top), a gold leaf, and two cannoli dripping with white chocolate sauce on the side. The custard is richly flavoured with coffee and we learn that chef's secret to create a depth of flavour not regularly found in this dessert is to boil the cream with star anise.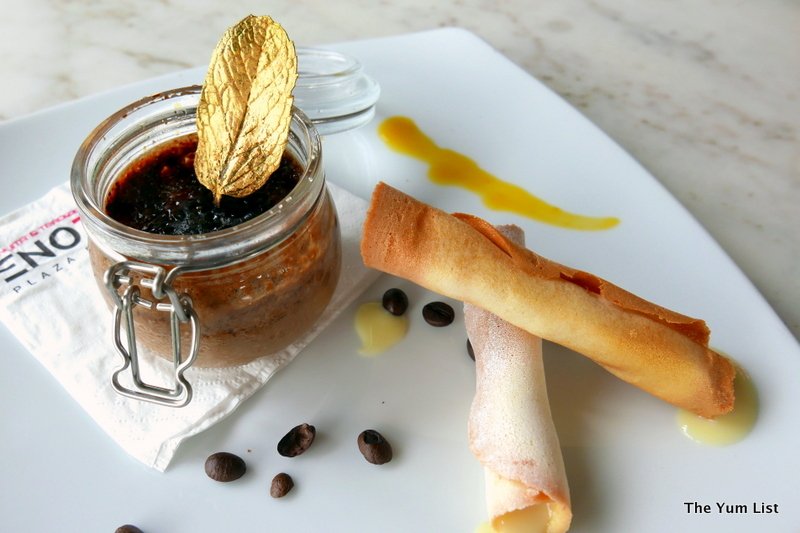 Another addition since the name change is that chef is now making his own ice cream. We're fortunate to get a taste of the new development served inside a flower-shaped cialde (a type of Italian wafer made with loads of butter and almond flour) holding a considerable ball of smooth, creamy vanilla gelato.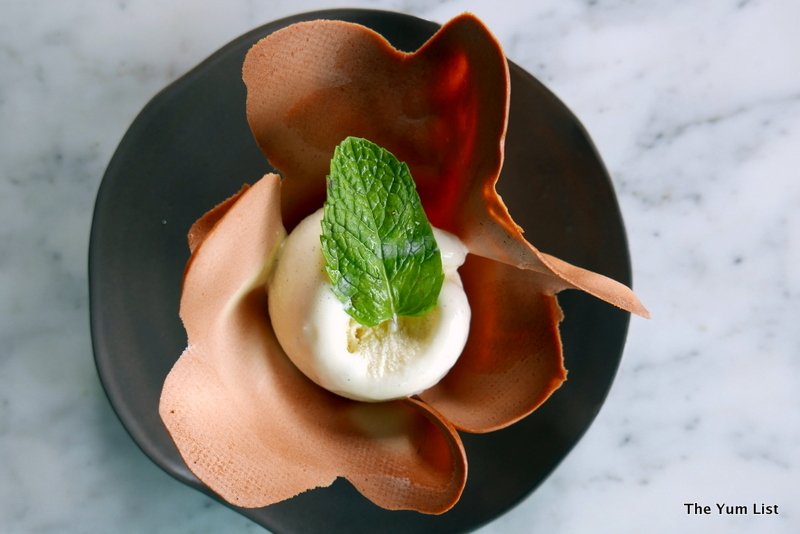 Towards the end of our meal we learn that Chef Stefano's native lands of Abruzzo are home to wild boar and many Italian dishes honouring the pig. At the end of the month (January 25) Enoteca will hold a dinner dedicated to the beast. Find the menu below (very reasonably priced) and contact Enoteca in Plaza Damansara for a reservation and further details.
Reasons to visit: passionate Italian team; an authentic Italian restaurant in KL that serves pork; don't miss the Iberico pork neck and the Tagliatelle with wild boar!
Enoteca, Italian Restaurant KL
15 & 17 Plaza Damansara
Jalan Medan Setia 1, Bukit Damansara
50490 Kuala Lumpur, Malaysia
www.facebook.com/enotecaplazadamansara
+6 03 2011 5725
*non-halal