Monica Tindall
Miss Ellie Tea House in Taman Melawati has long been a favourite café of ours. Besides the charming setting (check out the pics below of the antique-filled interior and lush garden entrance), welcoming family feel and reliable comfort-food menu, they have some of the most delicious homemade desserts and cakes in the city. Whenever a treat is needed for a birthday or special occasion, chef Justin is the first person I call (really, he makes a carrot cake even better than my mum's – sorry mum!).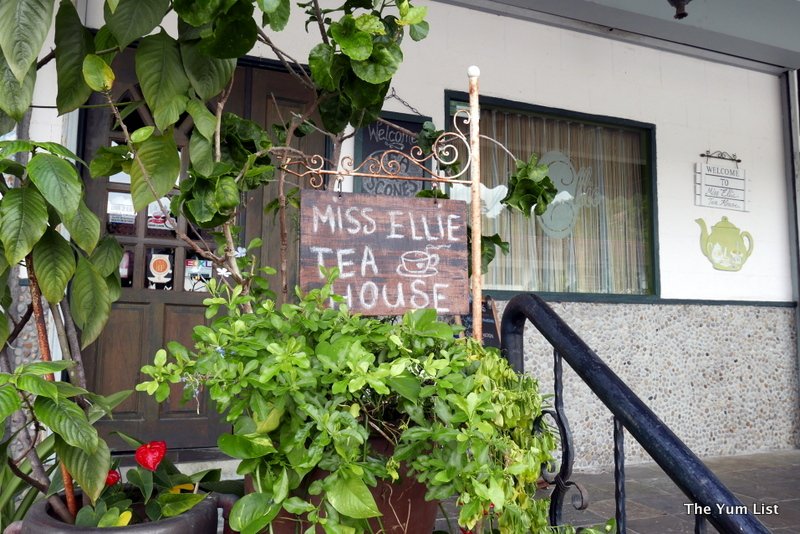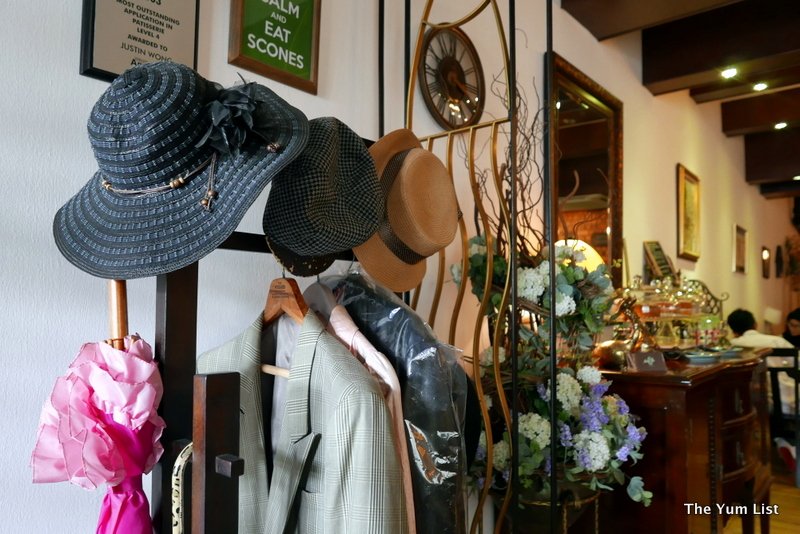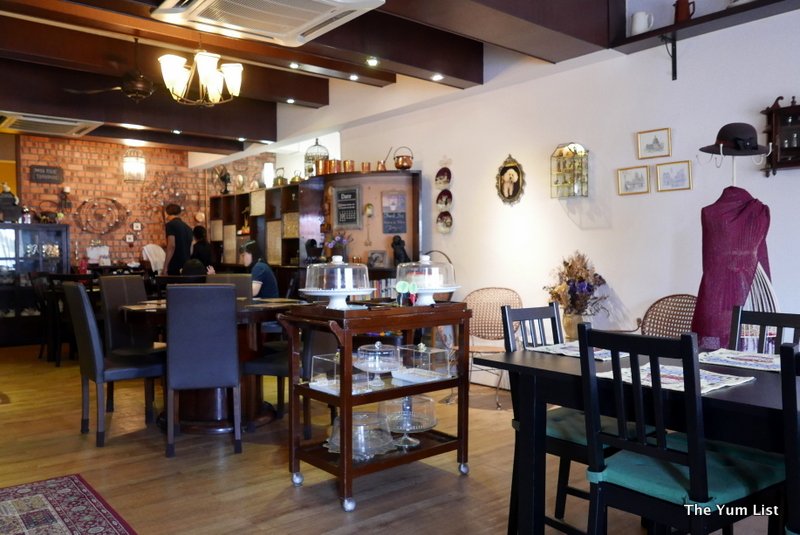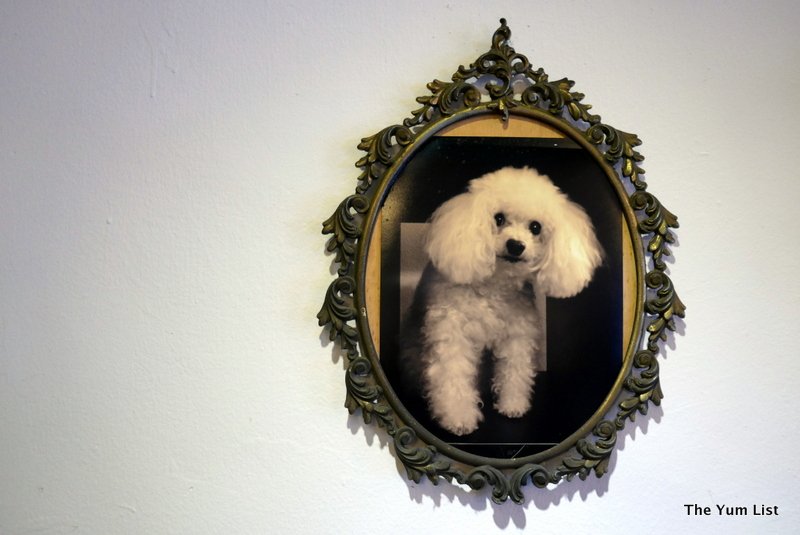 Although we regularly pop in and out, I haven't updated The Yum List with an article on Miss Ellie Tea House for quite some time. Run by chef Justin, his mum Nancy and wife, Hsin, it's a place that only takes one visit to feel like family. Just about everyone here is regulars (even those that come from the other side of the city to visit). Here I share with you our secret magical haven on the quieter outskirts of Taman Melawati and some of the latest items on their café menu.
Drinks at Miss Ellie Tea House
Really putting their name into action, the team at Miss Ellie Tea House has added an extensive range of loose leaf teas since our last article (in 2014): 14 different types to be exact – black, fruit and herbal. I have a delightful time sampling a number of them: Coconut, China Rose, African Rooibos, Chocolate and Peach (RM7 -7.50 a pot for one or RM12 – 12.50 a pot for two and the first refill is free). Each taste naturally flavoured with their own elegant intricacies and offer a nice balance in the palate. I really think you just have to go with personal preference to find the one you'll love.
Other hot beverages include French Press Coffee (RM8 – what a steal!) using beans from a local roaster which are ground just before serving; Cold Brew Coffee (RM8); and 'Ot Chock'lit (RM10), a single origin Madagascar dark chocolate that is brewed until thick and sumptuously delicious.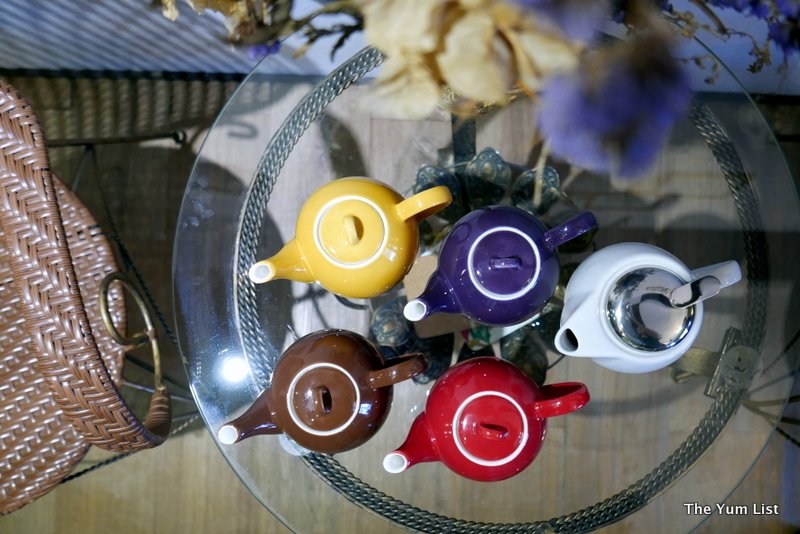 Main Menu at Miss Ellie Tea House
Pesto with Prawns (RM22.50) has become a favourite at the café featuring some of the freshest shrimp you'll taste in Malaysia (they have a little "in" as Shin's father is an importer). They're supported by al dente strands of spaghetti and a tasty garlic and pesto sauce.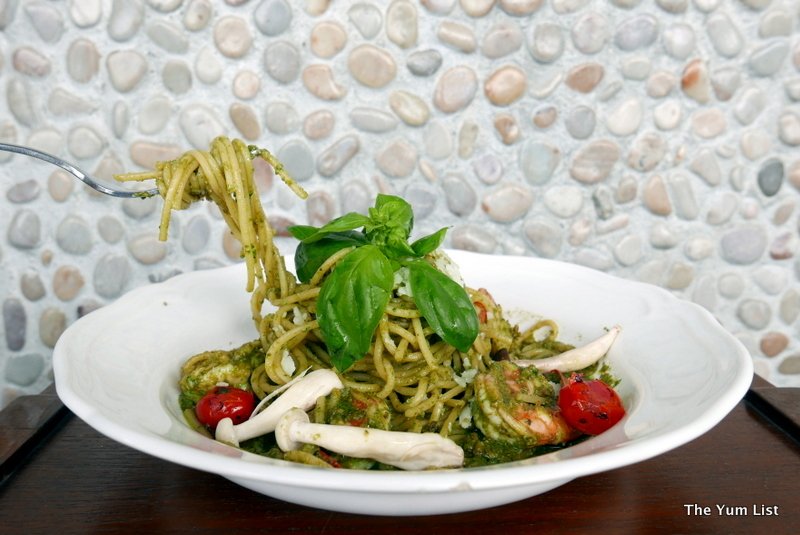 As the Chicken Carbonara Spaghetti (RM22.50) is delivered Justin is quick to admit that, "It's not authentic at all. It's Malaysianised. We made it saucier and lighter. I use the term 'carbonara' loosely, as it's what people will recognize." Mushrooms are braised in a soy stock forming the base of the sauce that is enriched with cream. There's no egg in this recipe yet it has loads of body and flavour without being too thick. There are plentiful strips of chicken, lots of veggies, finely shredded Parmesan and an enticing tang of lemon zest. I hope no Italian friends are reading this but (in a whisper voice) I just might like this better than a traditional carbonara.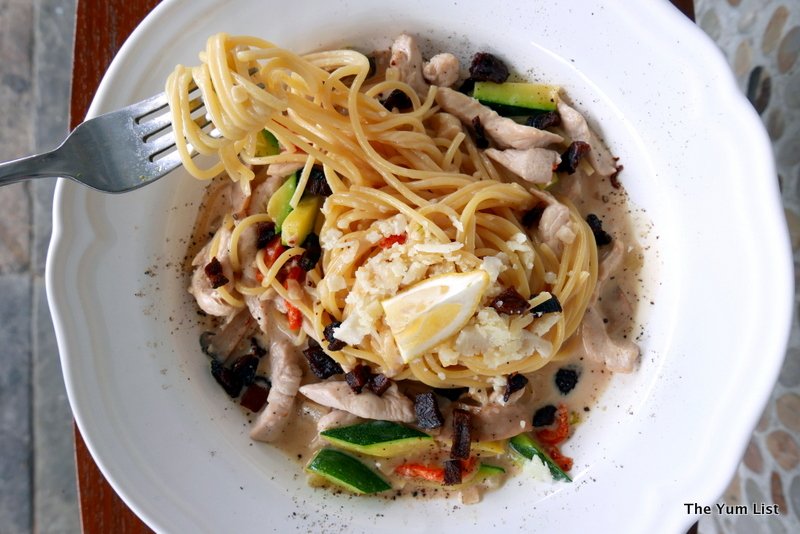 Grilled Norwegian Salmon (RM36.50) has to be one of the most reasonably priced salmon dishes in the city. Cooked until golden the skin is crisp and golden and the pink middle superbly moist, it's served with pan-fried potato boules, rocket salad, asparagus and a traditional dill sauce. "It's very simple actually. Just a good old-fashioned recipe," says Justin.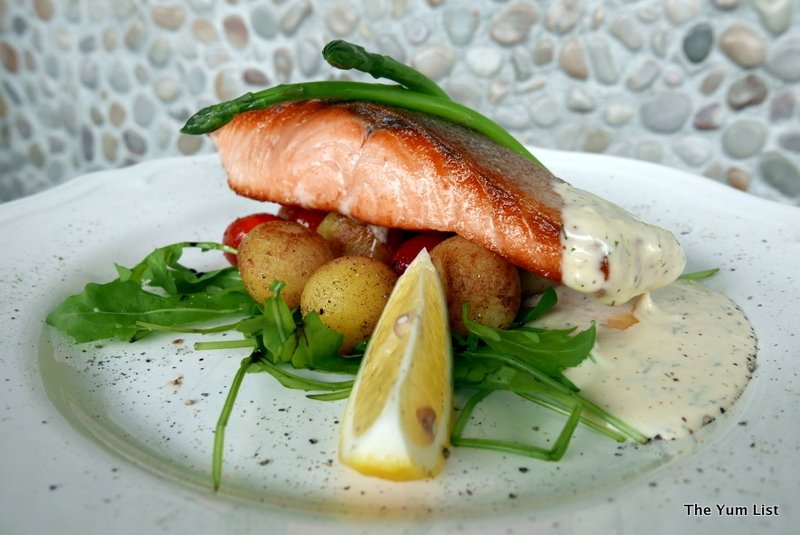 Roast Chicken Roulade (RM28.50) is prepared with a boneless chicken thigh which has been marinated overnight then roasted. Mashed potatoes and fresh salad turn this into a complete meal that I think is also very good value for money. Stuffed with sultanas and sunflower seeds there's a lovely contrast of sweet and savoury with the juicy pieces of chicken that wrap around them.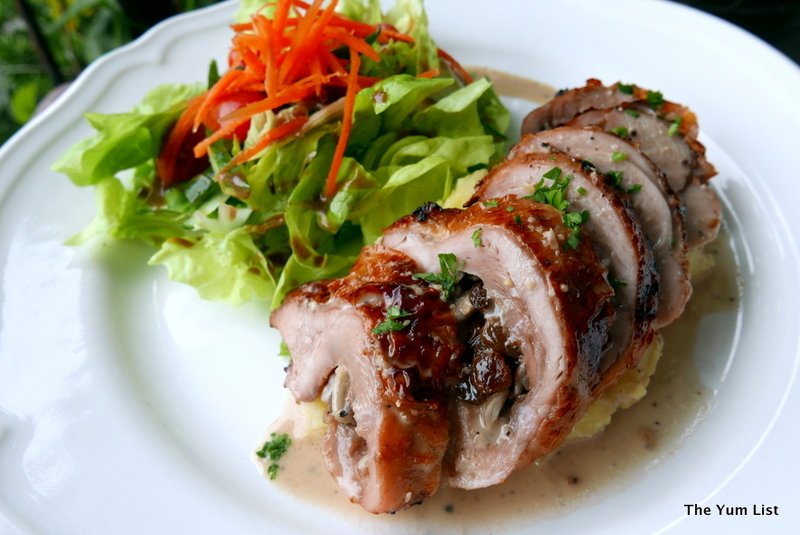 Sweets at Miss Ellie Tea House
The mains have been extremely comforting. If I lived closer, I guarantee I'd have dinner at Miss Ellie Tea House at least once a week. Boy oh boy, would I be in trouble though if I did indeed stay closer, without doubt, dinner would not end without a dessert (or two).
Just check out the gorgeous plating of the White Coffee & Chocolate Parfait (RM13.50). The milky white heart-shaped semifreddo is dusted with a red crumb, striped with a few perfectly placed lines of chocolate and sided with a red currant and basil coulis. It's a decadent white chocolate parfait naturally flavoured with coffee and hiding bits of freeze dried-raspberry and toasted almonds within. There's a sprig of home-grown mint on top but don't dismiss it as solely garnish as it adds a fantastic freshness in between bites. My recommendation is to eat it from the outside in as it's simply fabulous as it melts around the edges.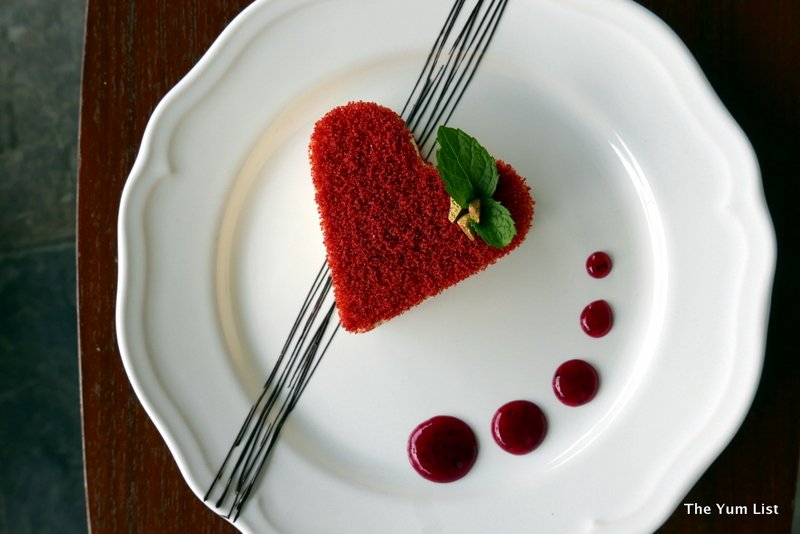 Justin does attempt to suggest the Durian brûlée (RM13.50) but, "No way, José! No thank you. Durian is not my thing." Justin yields and suggests the Strawberry Cheesecake (RM12.50) instead. (Now we're talking.) This is possibly the lightest cheesecake I've come across. It's almost like a super aerated fruit smoothie that has been frozen. It's dressed up with some stewed berries, passion fruit curd and whipped cream, and is absolutely delicious!
Returning to tea, the Roast Oolong (RM14 a pot) is something special; each leaf is individually rolled by hand. With some nutty aromas and slightly toasted notes, the tea is full bodied and lingers longer in the mouth than many – a suitable partner for the sweets.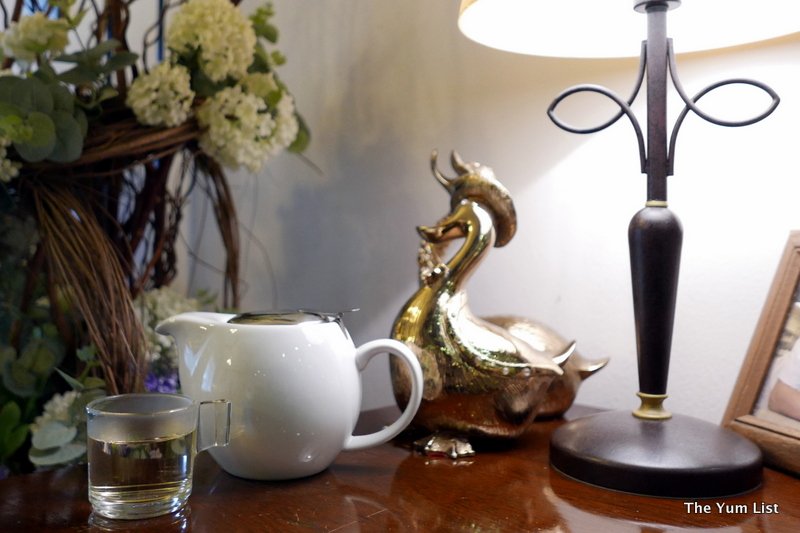 Fully satisfied, I leave you with a quote from the menu at Miss Ellie Tea House:
"Teapot is on, the cups are waiting,
Favourite chairs anticipating,
No matter what I have to do,
My friend, there's always time for you."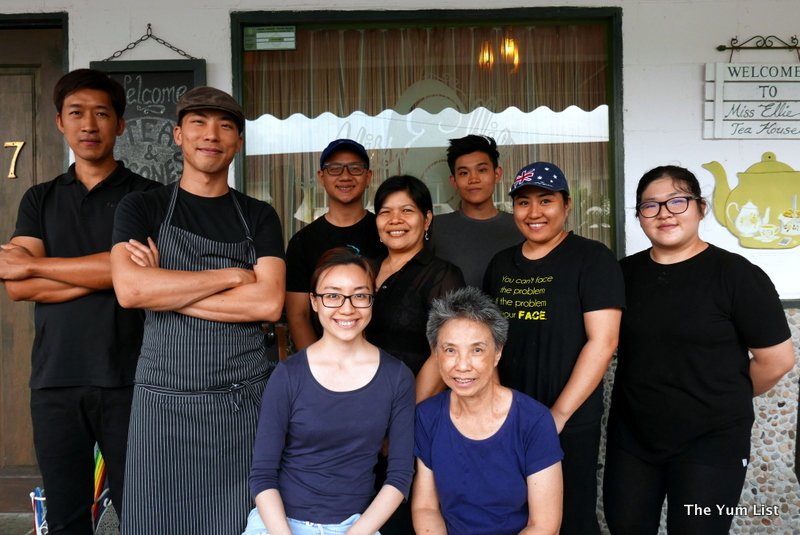 Reasons to visit: charming setting; welcoming family feel; some of the best homemade desserts and cakes in the city; great value comfort meals made with heart.
Miss Ellie Tea House
7 Jalan H3
Taman Melawati
Malaysia
www.facebook.com/missellieteahouse/
+6 03 4162 0113
*Miss Ellie Tea House is a pork-free Establishment.
Open Tuesday – Thursday: 10 am – 7 pm
Friday – Saturday: 10 am – 9:30 pm