Monica Tindall
The sunflower-yellow façade of Playground Coffeery brightens up an otherwise old set of shop houses in Taman Melawati. Upon opening, this Melawati cafe initially focused on coffee and toast. They've since tossed out the toast, brought in waffles and expanded to include some filling mains. It's no longer thought of as merely a spot for coffee and light bites but a place to catch up with friends over a meal.
Couples, families, colleagues and individuals can all find a place here. My favourite perch is the daybed by the front window but you can also pull up a stool at the book bar, dine with a friend at a table or relax out the back on a swing while the youngsters enjoy a small play area.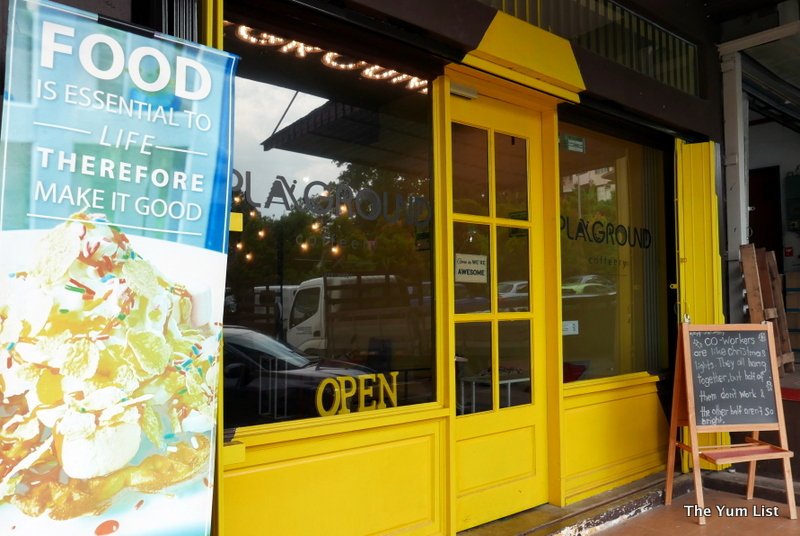 Menu at Playground Coffeery
Playground Coffeery's menu is smartly presented in a photo frame, and while the menu has expanded, it still fits neatly with food on one page and drinks on another making it easy to sort through and removing the anxiety of too many choices.
Play's Platters
Play's Platters are designed to be complete meals filling the tummy for both lunch and dinner. Orange Fish (RM25) features salmon, egg, mushroom and salad and two heart-shaped waffles. The fish is pan-fried with dried herbs and simply seasoned with salt and pepper. A sunny-side-up egg adds some colour and a simple salad of iceberg lettuce and shredded carrot is topped with house-made breadcrumbs and a creamy sesame dressing.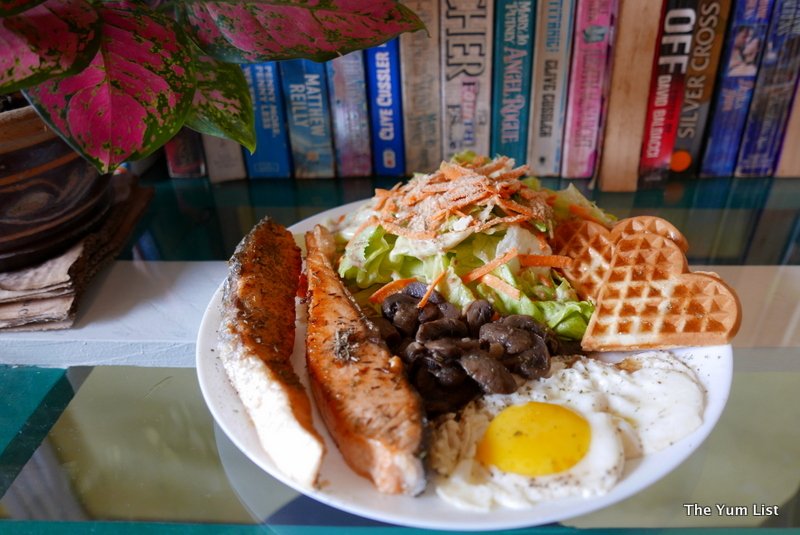 Play's Pizza-Waffle
Is it a pizza? Is it a waffle? It's a piffle, it's a wizza, it's a pizza-waffle – a waffle with pizza toppings! The team at Playground Coffeery wanted to be distinct from other cafes so formulated their own waffle recipe to make a crispier, thinner version than what is found elsewhere. And, going even further in their uniqueness they added the pizza-waffle to their specialties.
Fried chicken slices with a mayo and scallion dressing make up the toppings for the Green Turtle (RM18) pizza-waffle. The processed chicken has been coated in a batter before frying and you cannot complain about generosity with the liberal covering of mayonnaise. Chilli flakes give this one a little kick and a yellow cheese sauce reminds you that this is part pizza, not solely waffle.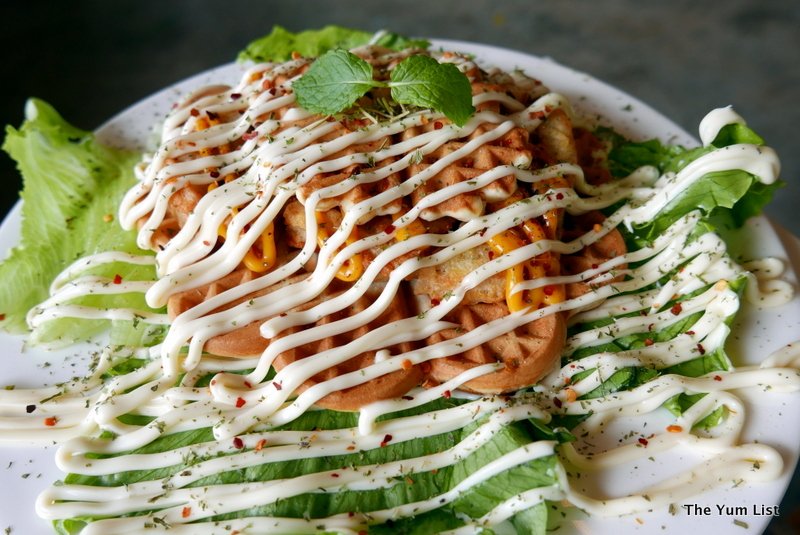 Play's Waffles
Seeing waffles are so integral to the menu, if you're going to visit Playground Coffeery you should order at least one. The waffle dishes are plated with artistic flair and for those who love to take photos or show their meals on Instagram, you're bound to get some delicious shots with this order.
The Brown Elephant (RM15) is an irresistible combo of banana, peanut butter and choc chips, while the Spotted Jellyfish (RM15) brightens the plate with a splash of red with strawberries, crushed walnuts, chocolate sauce and maple syrup.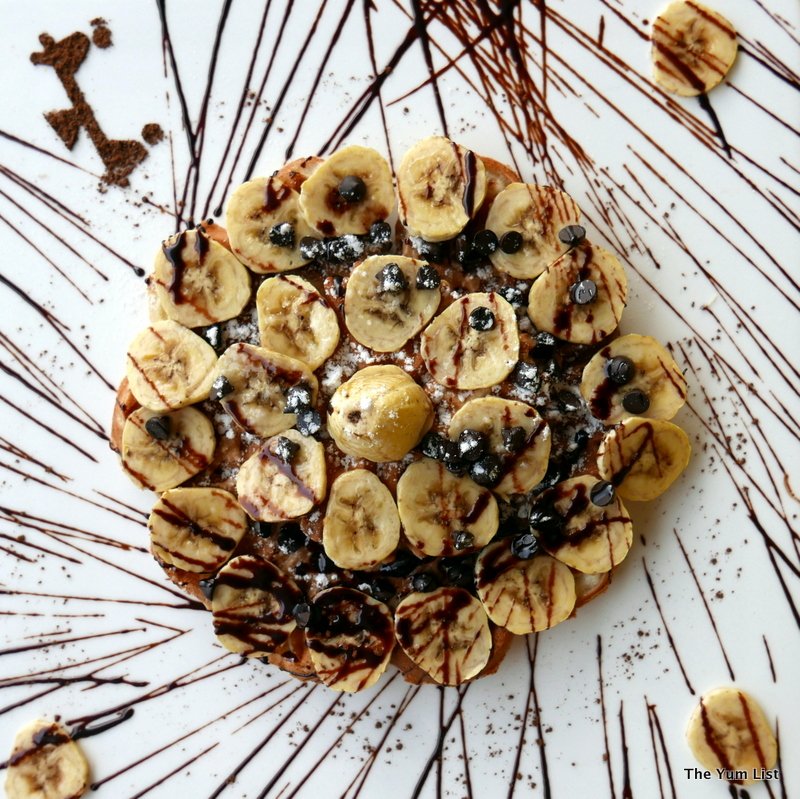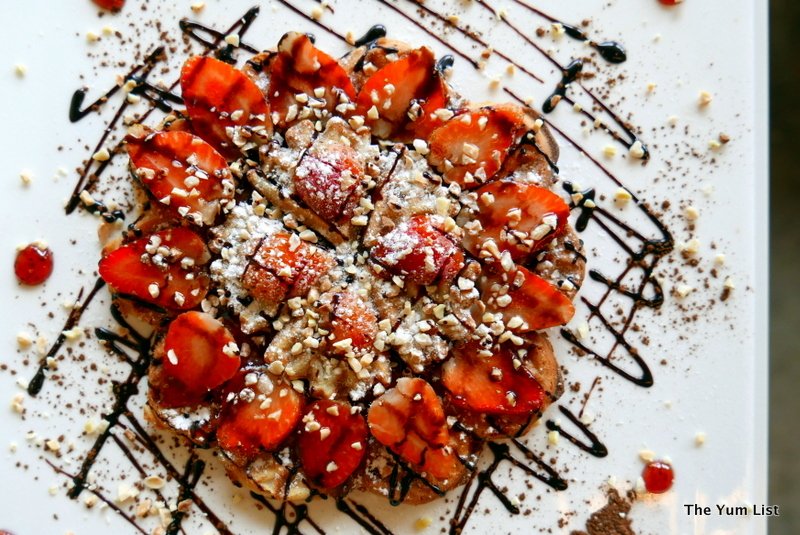 Play's Snacks
If you're looking for something light and savoury, the REAL Potato Fries (RM10) are a decent choice. Not only are they hand cut but they're also air-fried making them both yum and healthy. A sprinkling of dried herbs and chilli season the chips, and a cheese sauce sides them.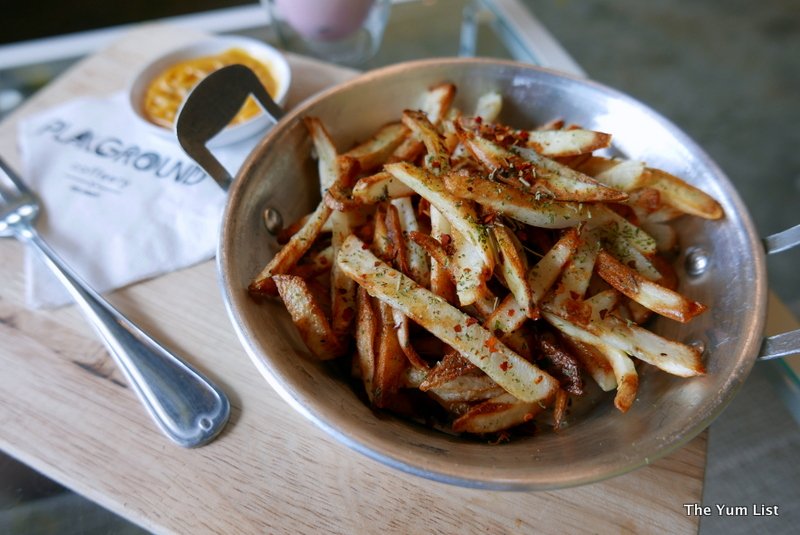 Drinks Menu
Playground Coffeery take their brew seriously with a coffee machine resembling a yellow Lamborghini with Indonesian beans sourced from a local roaster in the hopper. Additionally, cold brew, filter coffee and hand pour are also now on the menu for which seasonal beans are the base. Black coffee starts at RM6 for a single shot, moving up to RM10 with milk and RM13 for flavoured iced recipes. Considering the prices are nett, beverages are very reasonable for a KL café.
I try something that's just about to be introduced, the Rose Latte (RM12). It's a latte sweetened with rose syrup and garnished with a sprinkling of rose petals. It's perfect for when you need a bit of sweet and fancy to lift your afternoon.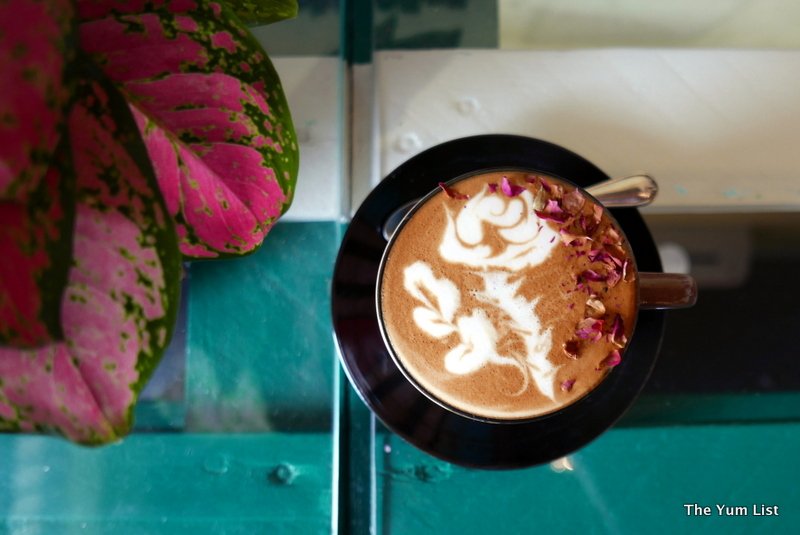 If it's too late in the day for caffeine you can still have a pretty pink treat with the Strawberry Berry (RM16) smoothie. Real frozen strawberries are blended with fresh milk giving a good thick consistency. It's topped with whipped cream and drizzled with strawberry sauce.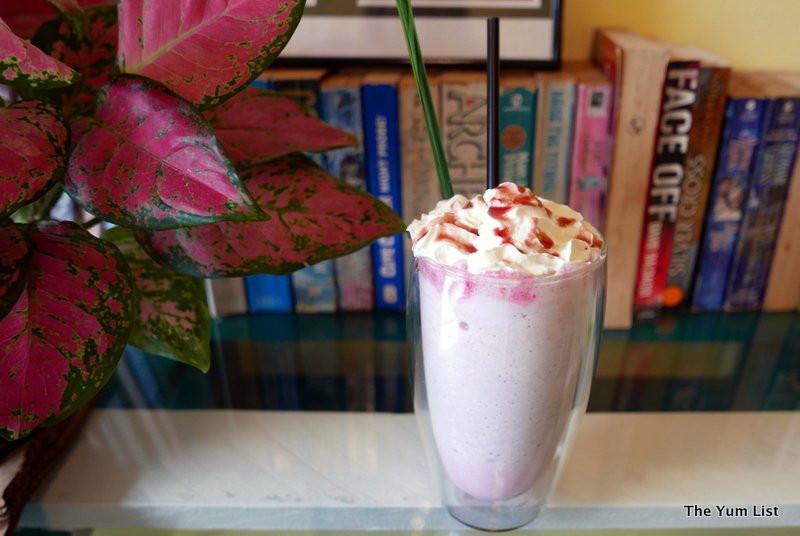 Reasons to visit: friendly neighbourhood feel, good coffee, relaxed setting, Instagrammable waffles.
Open: 11am-11pm
Closed Tuesdays