Monica Tindall
Tides, cevicheria and cocktail bar, at The Ritz-Carlton, Koh Samui is the place to come for a light snack and a refreshing cocktail.
The round bar and kitchen overlooks the pool and further out to the sea. As it's covered it's in full use no matter what the weather. The breeze here is brilliant, and even though it's the middle of the day there's absolutely zero need for a fan, let alone air-conditioning.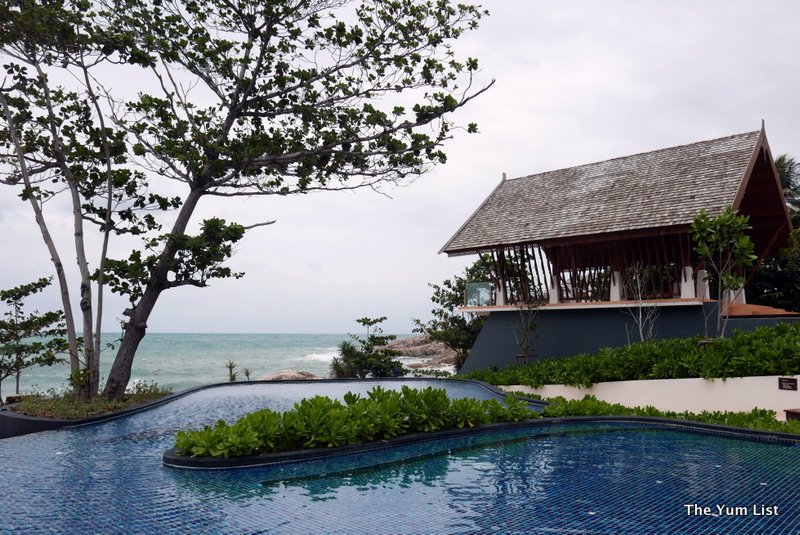 Cocktails at Tides
A handful of signature cocktails are the highlight of the drinks menu, many with a tropical base of rum. My fave Diplomatico Mantuano rum is the foundation spirit for the Koh Phangan (THB400). Thai syrup (galangal, chili), orange and lime juices keep the tropical flavours fresh and light. It's very easy sipping. Bartender View, recommends the Raja Ferry Port (THB) as the bar's most popular beverage and it grabs my attention made with local Samui Rum that's distilled in the south of the island. Served in a tiki mug it's topped up with crème de cassis, cranberry juice, orange juice and lime. The berry liqueur and cranberry drink give it a sweet, round finish.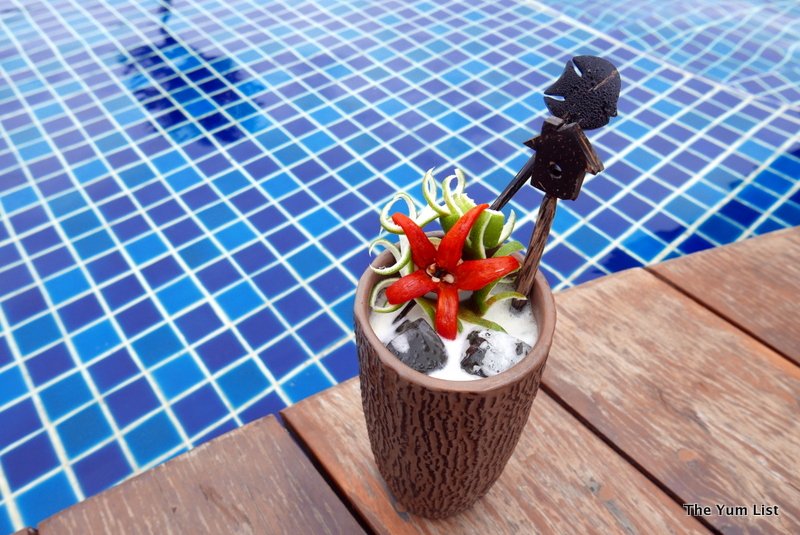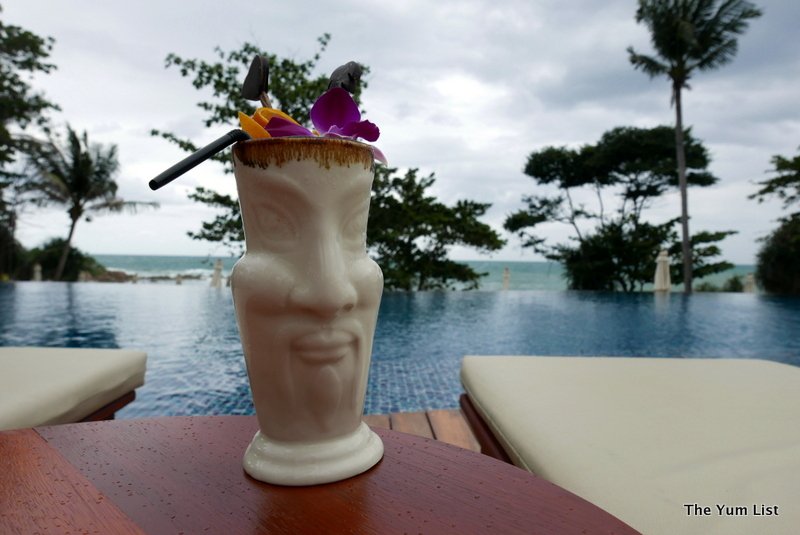 Ceviche at Tides
The menu at Tides revolves around ceviche and anticuchos, and the first South American classic, ceviche, is found in all of its forms. It's perfectly translated across continents with the use of the freshest catch from the local sea, chilli and lime as essentials in the recipe, which are also key components of local Thai cuisine.
Pink cubes of tuna are dressed in passion fruit, ginger, chilli, green mango and fried garlic in the Passion Fruit Ceviche (MP). This is a beautifully refreshing and light combination. It's a very easy introduction to ceviche if it's not something that you're familiar with.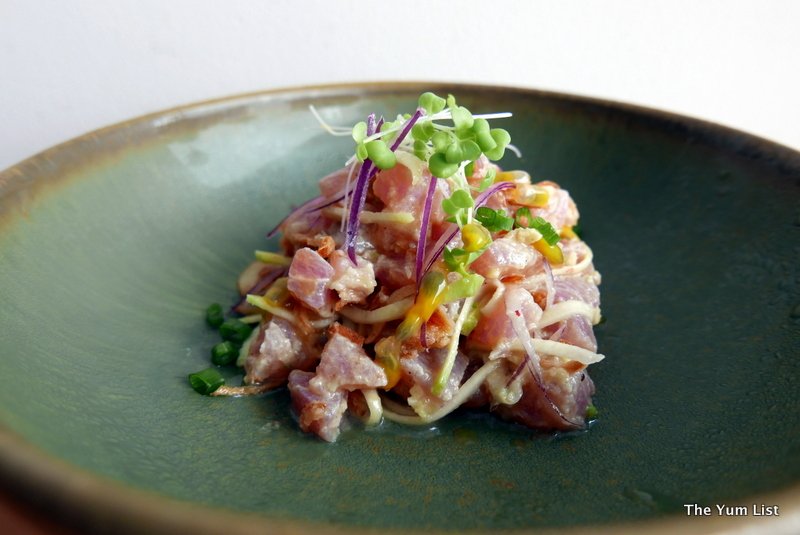 Local influence is found in the Koh Samui Ceviche (MP). A seductive mix of lime, coconut milk, kaffir lime leaves, Thai chilli, shallots and banana "aranitas" is simply scrumptious. The aranitas (spiders) are shredded green banana that has been deep-fried until superbly crisp, and they add a sweet crunch to the profile. While the first dish was a light introduction, this recipe is much more intense yet equally delicious.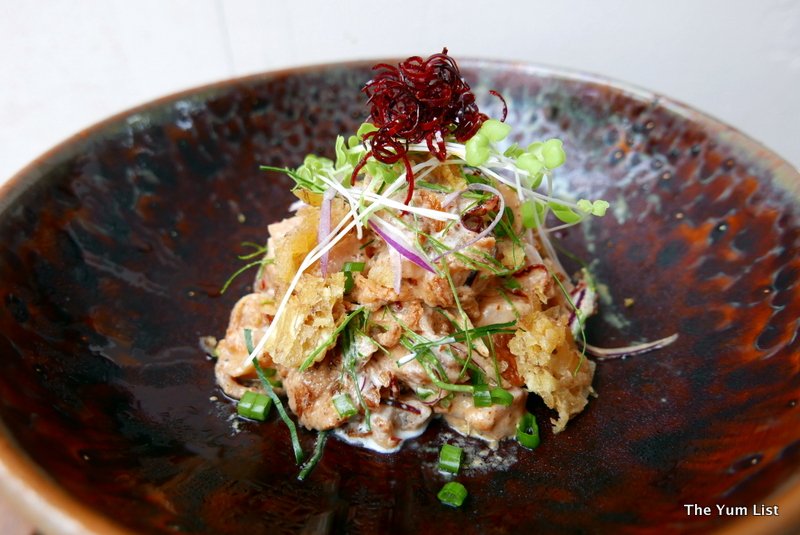 Anticuchos
This Peruvian dish traditionally made with beef heart has been lushed up a significant few levels with the use of chicken, beef, pork and lobster. Sitting by the sea we can't resist the Rock Lobster (THB) and watch as the chef takes a fresh one, butterflies it and grills it on the spot. It's been marinated in lime juice, coriander, shallots, garlic, black pepper and olive oil and has herb mayonnaise and chilli sauce as additional options for seasoning.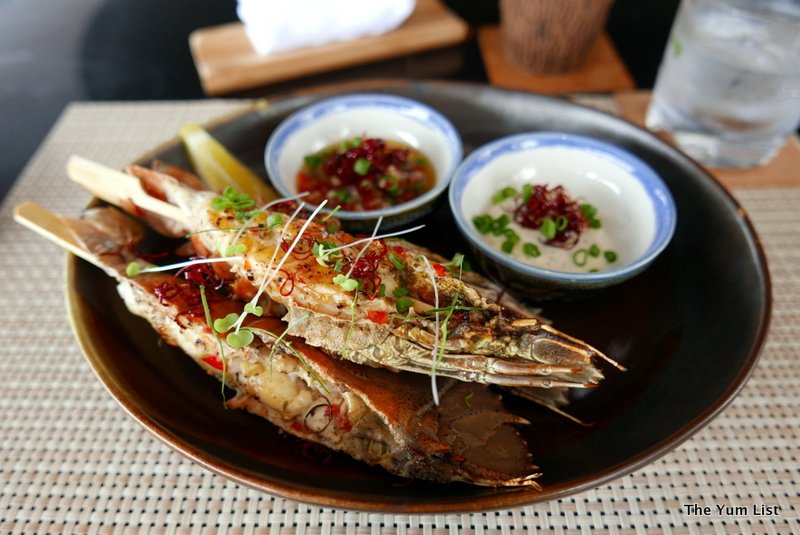 Something Else
Although the concept behind Tides is primarily ceviche and anticuchos, the full menu from Sea Salt is available for those (hubby) wanting something else. He orders the Wagyu Burger (THB900) that is a stack of house-made beef patty, Emmental cheese, smoked bacon and caramelized onions. He gives it a Yum's up.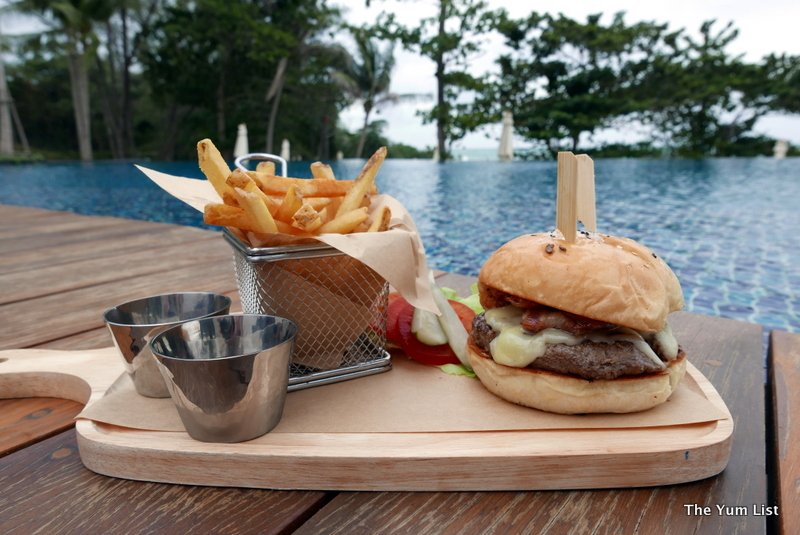 Cocktail-Inspired Ice Lollies (with or without alcohol)
Returning to beverages, or frozen beverages, or dessert… the equivalent of a frozen cocktail dessert is found in the Mojito Passion Fruit Ice Lolly (THB300). The alcoholic concoction is made in house and frozen into a popsicle. I love the passionfruit tang in this one, and, as you well know, rum is my poison.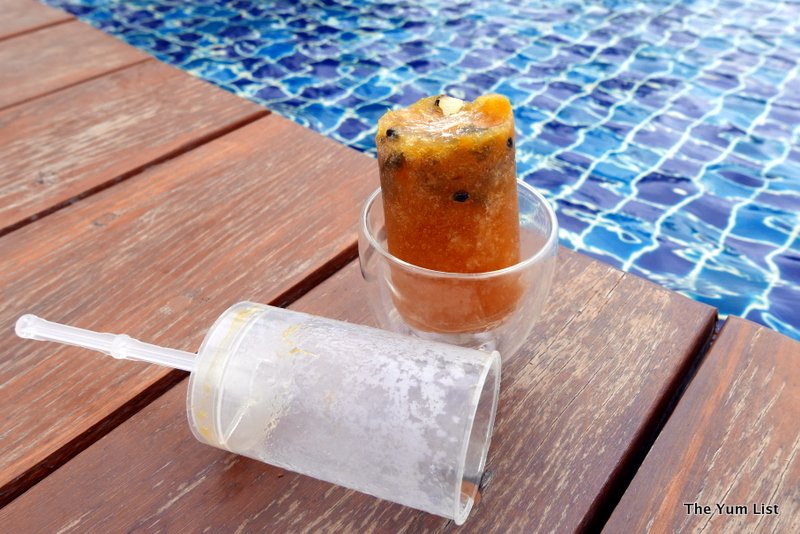 Sweets at Tides
Who can resist coconut ice cream served in its own shell? Not me! "Coco Helado" in a Nut Shell (THB300) is The Ritz-Carlton, Koh Samui's house made ice cream, creamy and full of natural flavour. Presented in a hollowed out coconut shell, it's an ideal finish to lunch beside the sea.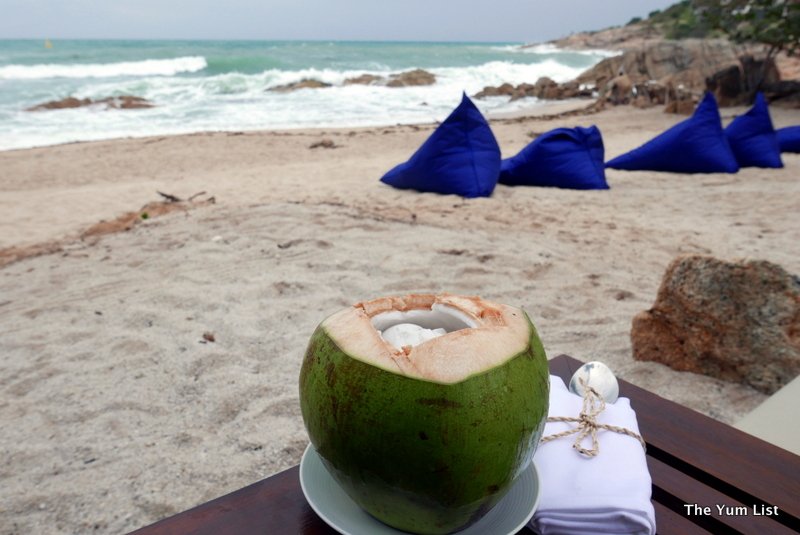 Reasons to visit: great seaside views; must-order at least one or more of the ceviches; coconut ice cream is fab; and for fun refreshment you can't go past a cocktail-inspired ice lolly.
Tides, Cevicheria and Cocktail Bar
The Ritz-Carlton, Koh Samui
9/123 Moo 5, Tambon Bophut
Koh Samui, Surat Thani, 84320 Thailand
+66 77 915 777
www.ritzcarlton.com/en/hotels/koh-samui