Words: Matt Jones    Photos: Monica Tindall
Situated at the epicentre of what is quickly becoming known as the new Korea Town, Han Wa Dam is quite literally the 'Korean place to gather with friends, chat and drink wine'. Occupying an enormous 4500 square foot site on the ground floor of the Menara Hap Seng Building in the Golden Triangle of Kuala Lumpur, Han Wa Dam's neighbours include the Korean Chamber of Commerce and Café Pascucci.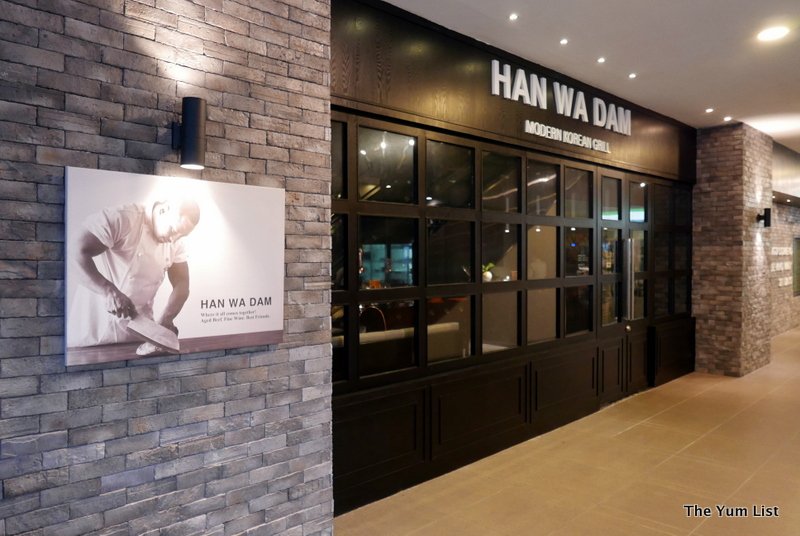 The first KL Branch of a Korean chain of currently eight restaurants, the concept is a modern take on traditional Korean dining culture. Laid out into four distinct dining areas, guests can choose the communal internal dining area featuring both private booths and larger open tables, an alfresco section that looks out onto lush tree greenery, or one of the four private dining rooms (which have been flexibly designed to become one enormous space or a series of separate rooms depending on the size of your function). Dining is all seated at tables, a more western take than the traditional Korean style of floor seating.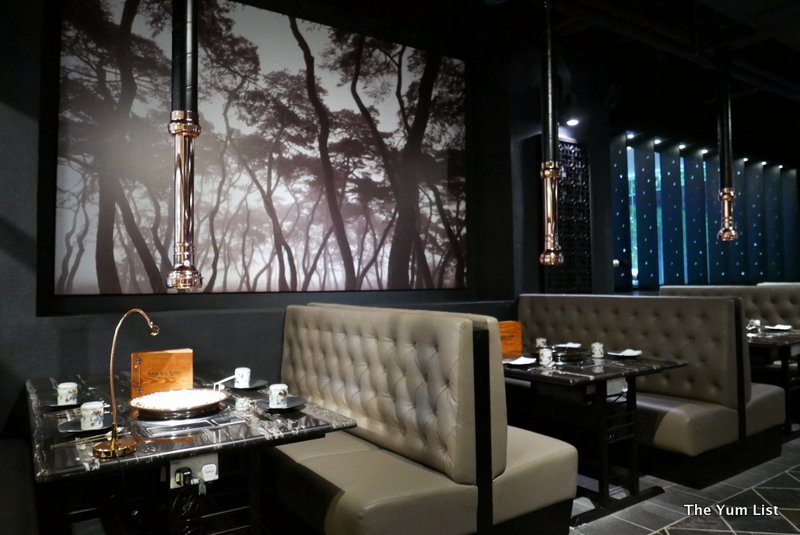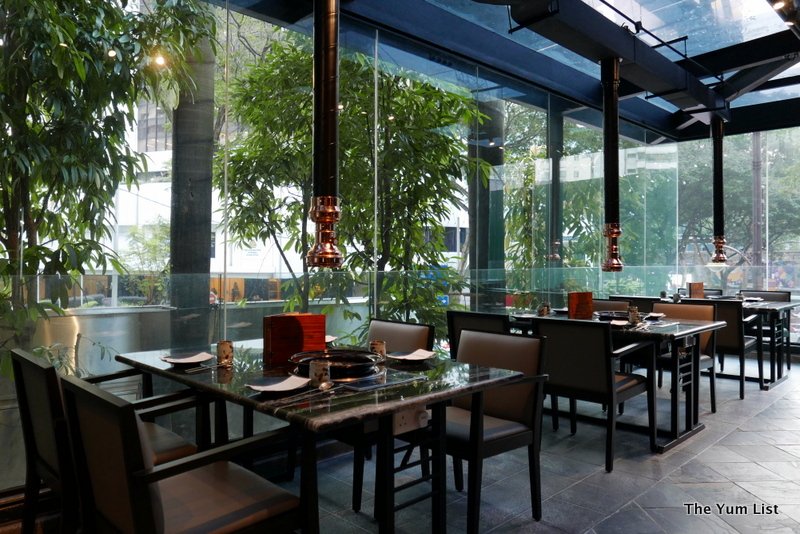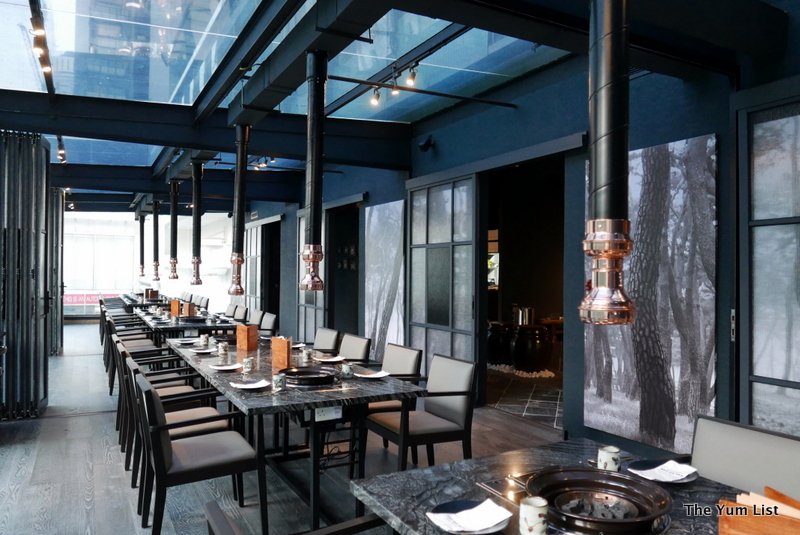 Sumptuously designed in layers of black and charcoal, the interior fit-out has been crafted to echo the signature Korean BBQ cooking style that Han Wa Dam specializes in. Tables are topped with imported black Italian marble in a wood grain design, hand selected by owner and chief entertainment director Wayne (who told me that if you ask for his friend Wayne the Korean Waiter to cook for you at table he may just be able to introduce you to him). Walls feature a mix of antique Korean mother of pearl shell inlaid panels, and emotionally evocative over-scaled black and white photographic prints of the pine trees that the charcoal traditionally used in the gogigui comes from. The result is a cool, calm and relaxing set of interconnecting spaces that is both elegant and sophisticated.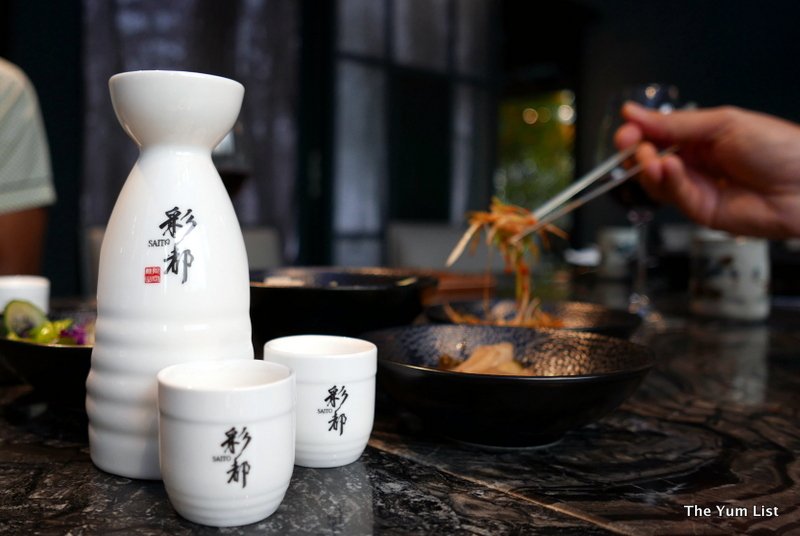 Lucky enough to score Wayne the Korean waiter to cook for us, first out rolled a set of traditional and updated condiments; a fresh and colourful array of spicy house-made kimchi, pickled vegetables in frozen stock (delish!), a white Winter kimchi (not spicy, and equally delish), chilli spring onions, and a lightly dressed western mixed green salad. These unlimited refillable sides accompany the 'Meat on Charcoal' selections, which arrive just as quickly loaded on rectangular slate plates. Masterfully cut and decoratively presented, the meats are sourced from Australia, Japan and America.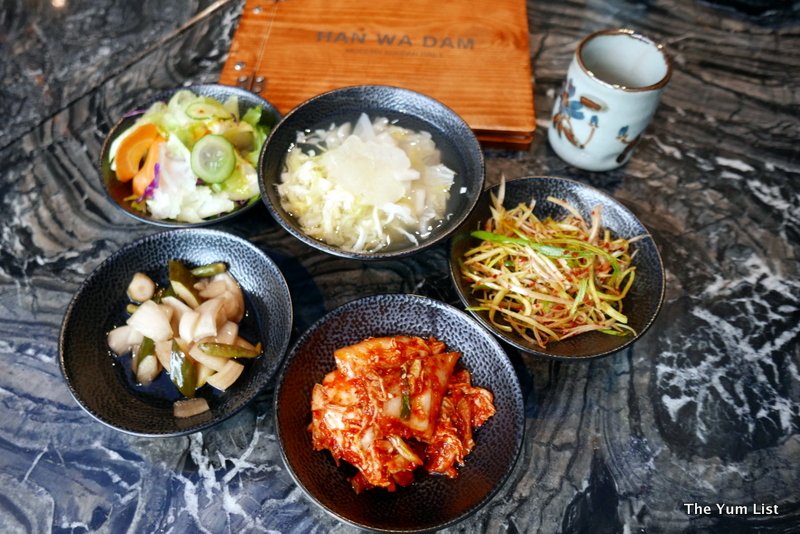 We started the carnivorous portion of our feast with the finely sliced 'Ox Tongue' (RM70), cooked only momentarily on the BBQ grill plate, quickly followed by the 'The Beef Brisket' (RM90) and 'Boneless Prime Short Ribs' (RM120), a melt in the mouth experience that has the delicacy of soft butter. The slightly gamier 'Spring Lamb Chop' (RM90) went down an absolute treat with us two Aussies (well, technically three if you count Holly my Shetland Sheepdog who was more than happy to help 'do the washing up' when I got home and presented her with the three stripped bones), before finishing with the absolute crowd favourite, 'Marinated Beef Ribs' (RM100); a more-ishly sweet take on the traditional soy and sugar marination technique. I also managed to pinpoint Wayne down to his personal favourites when I asked, to which he promptly and unflinchingly replied, "Everything."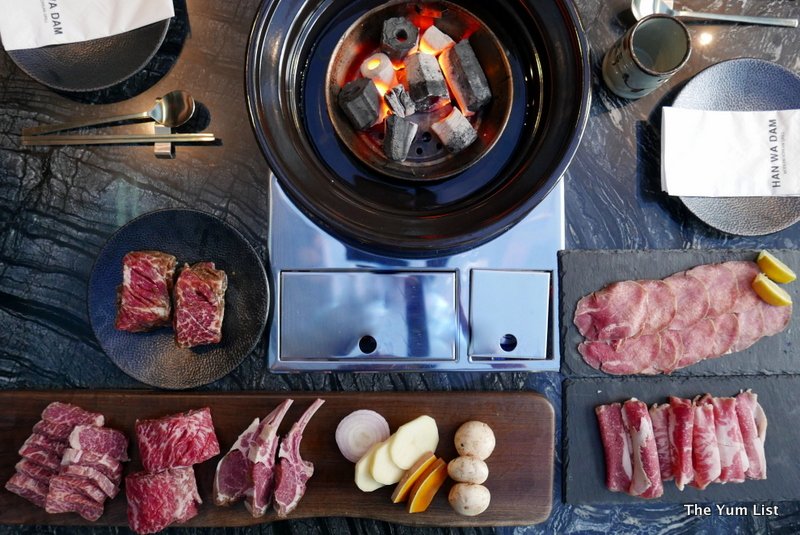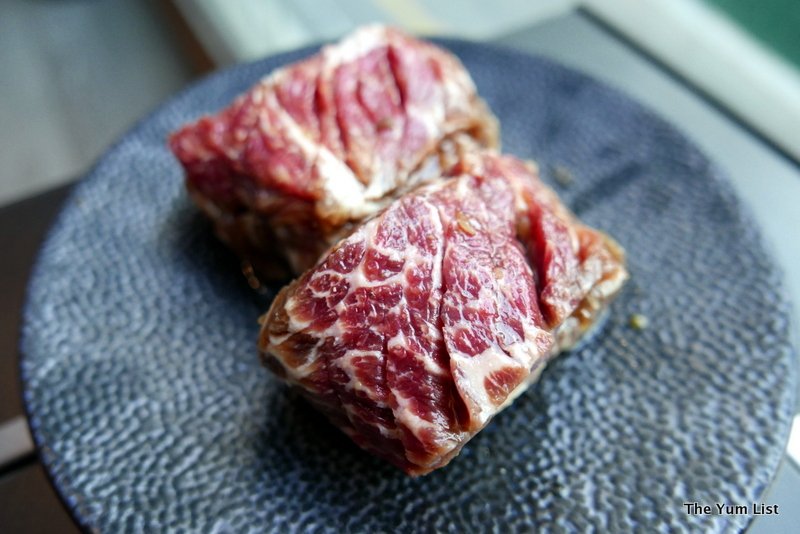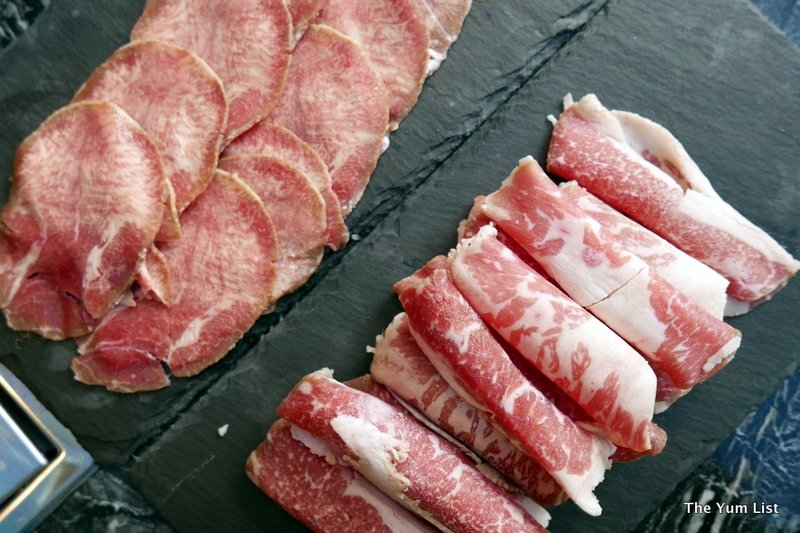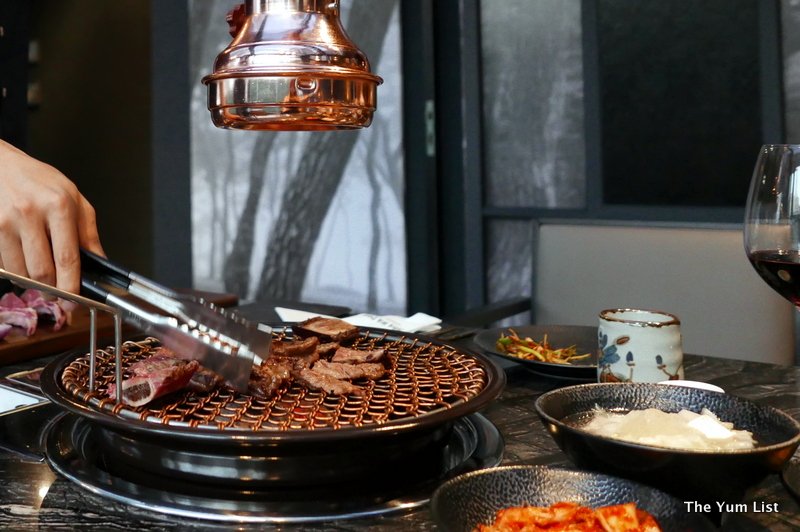 After a second round of the condiments set (so delicious and oh so healthy), we moved on to the 'Home-made Kimchi Pancake' (RM18), a dinner plate-sized flan of fermented kimchi that, despite having no cheese in it, gave off the most fabulous cheesy pizza-like taste. Also from the 'Side Menu' dishes, we tried the 'Egg Souffle' (RM18). Exactly as you'd expect from a deep dish soufflé, the result was a big light and fluffy egg omelette with a ginger, shallot and sesame seed garnish.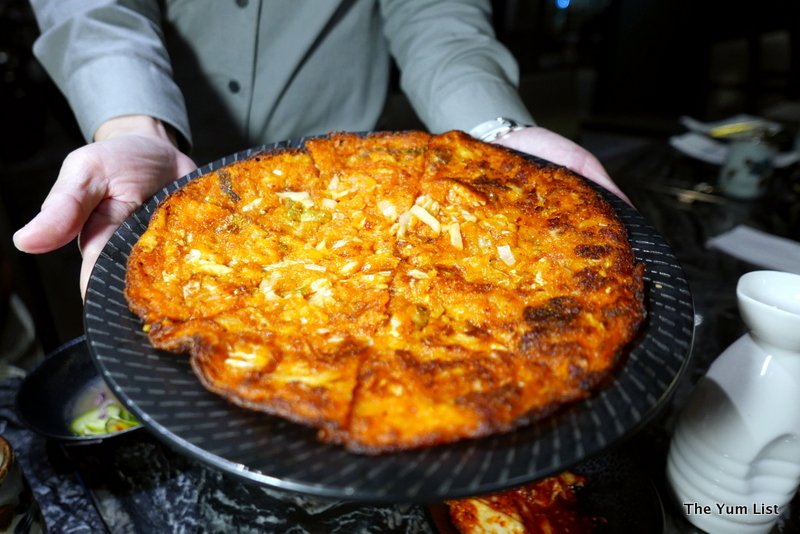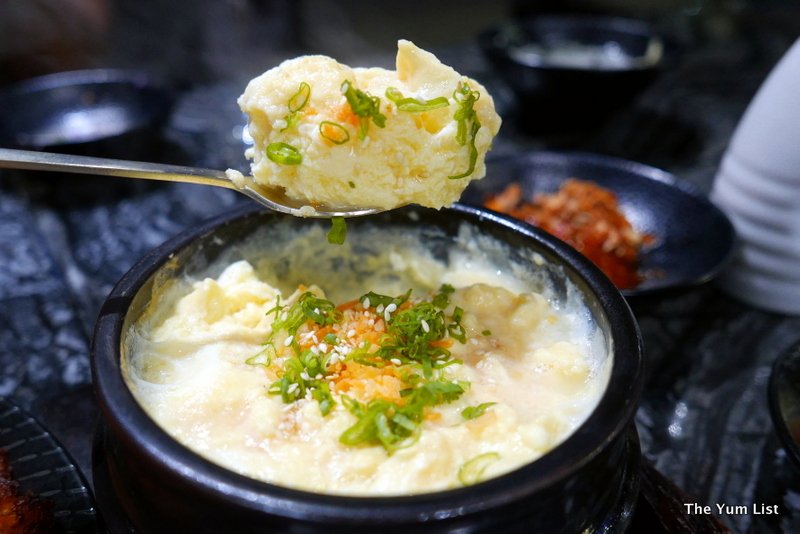 Typically, at Han Wa Dam you order your meat and sides which are cooked at the table (if you're the chef type feel free to cook for yourself, but otherwise the floor staff will cook it to perfection and plate it for you), then a rice or noodle dish. We thought we'd give the 'Cold Buckwheat Noodles' (RM29) a try and obviously selected right because this cold dish of buckwheat noodles swimming in a soup of frozen beef broth icicles was absolutely delicious (if not filling).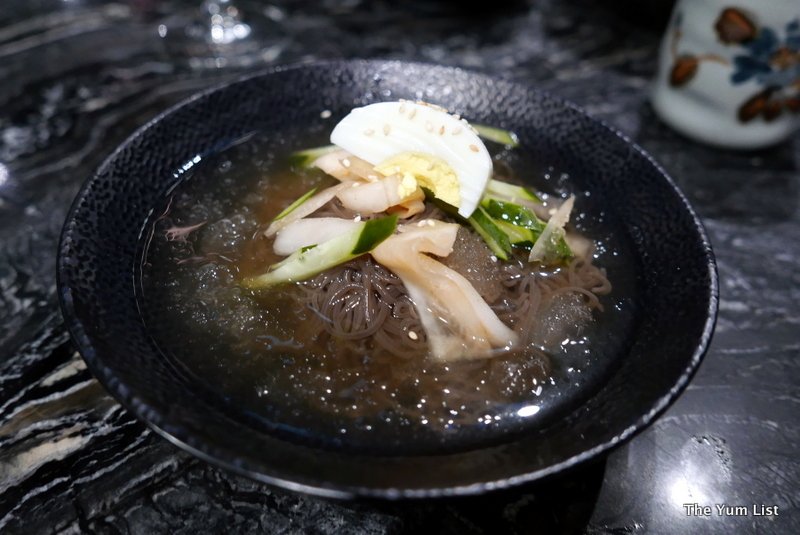 For a super refreshing experience, be a great big kid and finish with the 'Gelato Han-La-Bong from Jeju Island' (RM6); a palate cleansing flavour explosion of Korean Yuzu gelato (that I happily ate all of Caning's and half of Monica's. As well as my own. Yum!).
On the drinks side of things, Han Wa Dam offers a compact choice of ten red wines and four whites (as well as a small selection of whiskies and sake), our choice being a bottle of the Australian 'Henry's Seven Henschke' (RM438), the perfect drop to complement our tray of red meat cuts. As Wayne informed us, Han Wa Dam literally translates to 'drink wine and chat with friends,' so firmly in line with their concept they actively encourage patrons to bring their own wine to enjoy, and will happily open yours for you and pour it with no corkage charge. How lovely is that!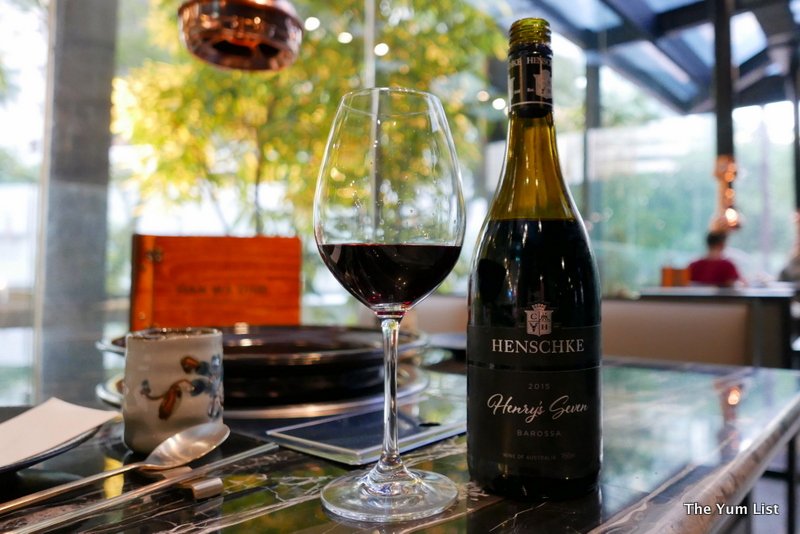 Reasons to visit: a contemporary Korean barbecue experience; high-quality cuts of meat; free-corkage on all wine!
Han Wa Dam is open Monday to Friday for lunch 11:30 am to 2:30 pm, and Monday to Saturday for dinner from 5:30 to 10:30 pm (closed Sundays). Get on down to Han Wa Dam!
Han Wa Dam
Korean Grill
Lot G001 Ground Floor
Menara Hap Seng
Jalan P Ramlee
Kuala Lumpur, Malaysia
+6 03 2022 1881