Monica Tindall
Not one for crowds, Pak Tai at The Ritz-Carlton, Koh Samui provides for us a very pleasant dining experience with Southern Thai Cuisine served in private dining booths.
A lantern-lit pathway leads us to the cosy alcove of Pak Tai where we slide into cushioned bench seats and delight in the intimacy of the space. Although the walls are open, our bay is covered making all-weather-dining possible. The restaurant is in a u-shape around the swim reef (a giant open-air seawater aquarium) and musicians and dancers entertain from the other side of the pond. The volume of the performance is loud enough to enjoy but soft enough to still detect the sounds of the nearby waves lapping the shore. And, the breeze, oh the breeze, it strokes our skin in cool sensual streams.
Drinks at Pak Tai Restaurant
Wine, beer and soft drinks are the main beverage offerings at Pak Tai – although, this is The Ritz-Carlton, so you can order just about whatever takes your fancy and the staff will attempt to deliver it. Our tastes are simple though, and beer and wine satisfy our desires for the evening. I'm happy with a glass of white wine, and hubby a Thai beer.
The nose of my Pala Fiori Vermentino di Serdegna DOC, Italy (THB540) is a combination of floral notes, freshly plucked green vegetables and a hint of tangy citrus. The aromas are mirrored in the palate – what I smell is what I taste –, the body has a decent depth and the flavours remain in a tenacious conclusion.
Hubby thinks that nothing beats the local Chang Beer (THB250) when it comes to accompaniment for Thai food. It's a simple, light lager, uncomplicated, that takes the edge off some of the spice.
Our drinks are served alongside, a plate of Nam Prik. This Thai appetizer is a common offering at the beginning of most meals. Apparently, across the country it's different from region to region. Generally, though, a selection of fresh vegetables with a dipping sauce (pork, chilli paste, peanuts, tamarind) of varying levels of heat are commonalities. It's fantastic pickings with the crunch of the veggies refreshing our palates and the spicy dip opening our appetites.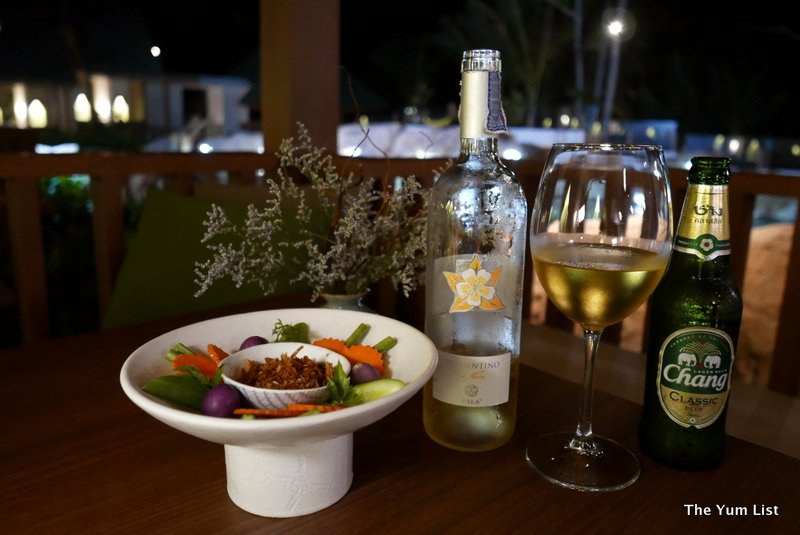 Appetizers
Ooh, I do like wild fern (I know these from Borneo) and so the starter of Yum Pak Kood (THB590) catches my eye immediately. It's a salad of wild fern with prawns, roasted coconut, red onion and a mildly spicy (says so on the menu, but for western standards, even after my 16 years of Asian life, it's not really "mild") lime sauce. It's fresh and delightful. The lime comes to the forefront in a habit-forming tang and the tongue is left prickling with a chilli-induced zing.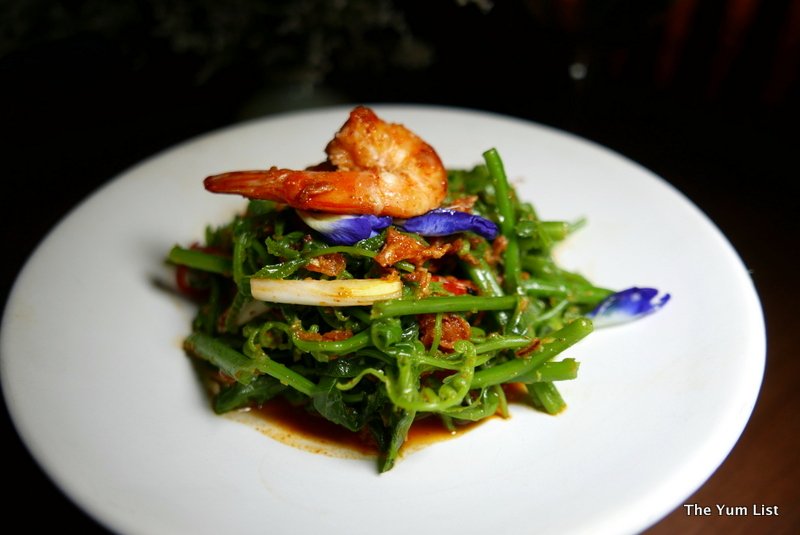 Soup
Hubby is spice aversive so his entire order is based around, "What is not spicy?" from each section. From the soup selection, Kati Talay (THB550) fits the bill. It's a seafood coconut soup jazzed up with turmeric and kaffir lime leaves. There's a gentle sweetness to it and that balance of sweet and tangy famously evident in Thai food that causes addiction. Slurp, slurp and it's done.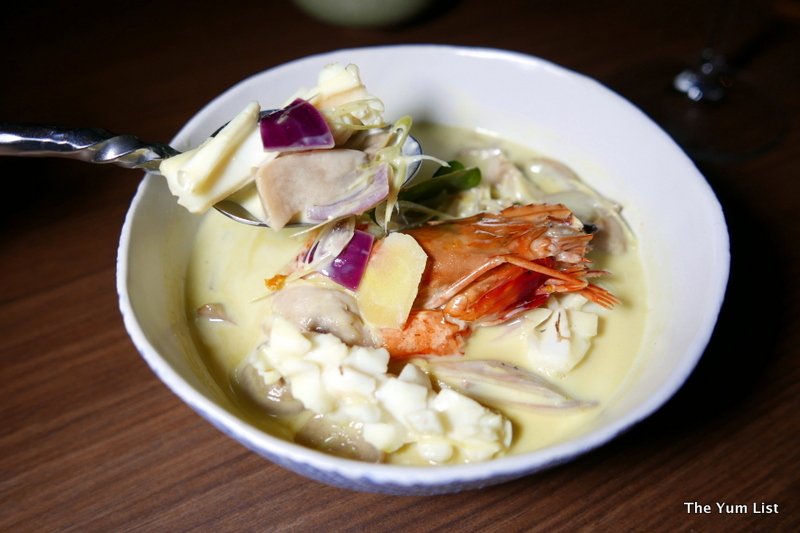 Curries
Roasted duck curry, Gan Phed Ped Yang (THB 820), is a sweeter dish with pineapple, cherry tomatoes, grapes and other seasonal fruits. The duck is tender and the spice of the curry is smoothed over with velvety luscious coconut milk.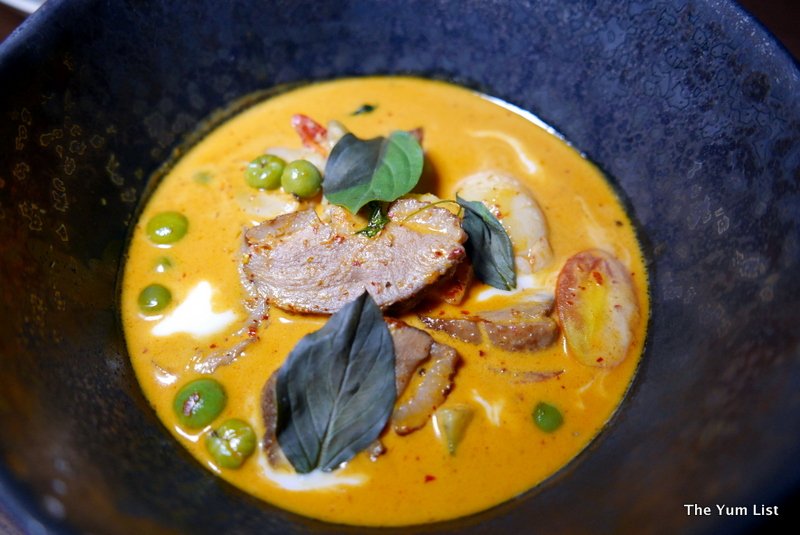 Fish
Hubby's fave, the Pla Kapong Neung Manao (THB830), is a steamed seabass fillet with a chilli and lime sauce. Presented on a long rectangular platter white fillets sit in the juices of the light sauce and herbs and crushed chilli adorn the top.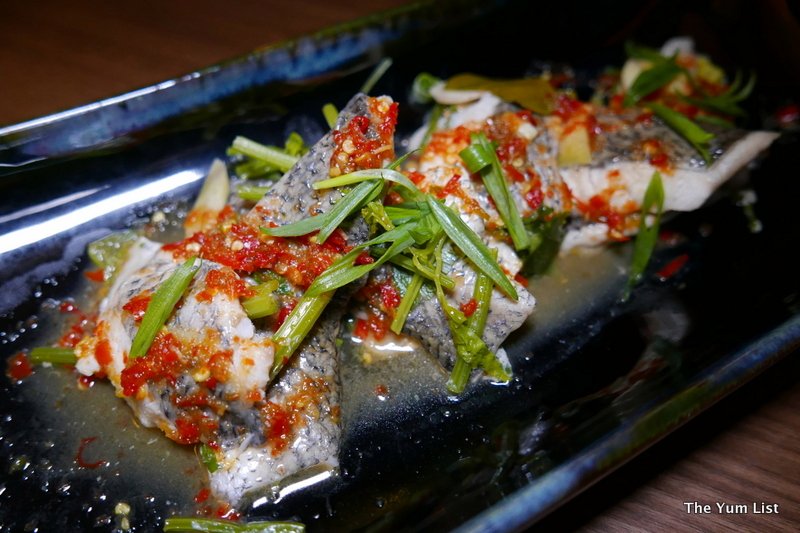 From the Wok
A specialty to Koh Samui is the Pak Liang Phad Kai (THB450). It's a vegetarian option made by quickly frying local spinach, garlic and egg in a very hot wok. Popeye can eat his heart out as we can feel our biceps enlarging with each tasty bite.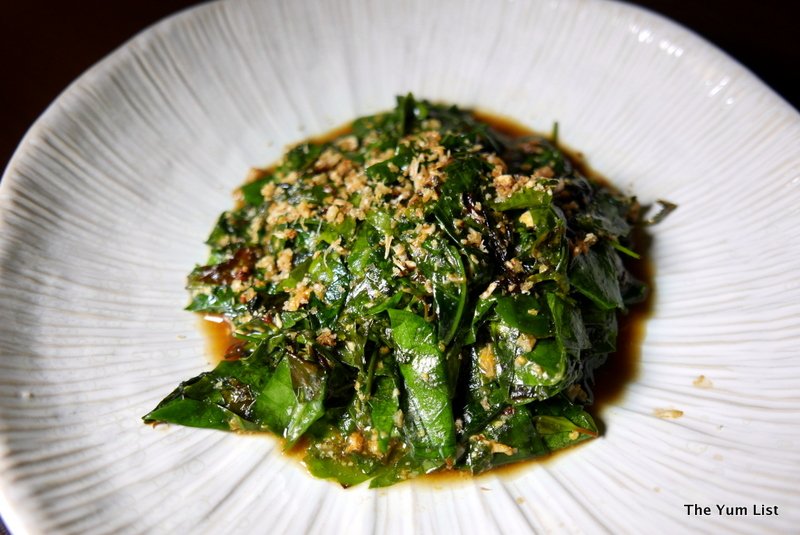 Instead of simple steamed rice, we opt for something a little fancier, and also native to the south of Thailand, the Khao Yum Pak Tai (THB550). Essentially, a rice salad, it's displayed in lines along a wide platter. Coconut powder, betel leaves, lemongrass, cucumber, green mango, rice coloured with butterfly pea and topped with a halved boiled egg, shredded carrot, long beans, kaffir lime leaves, chilli and dried fish parade the length of the dish. It's meant to be mixed together with the side sauce, boo doo, a southern style, fermented fish sauce that is delectable belying its pungent aroma.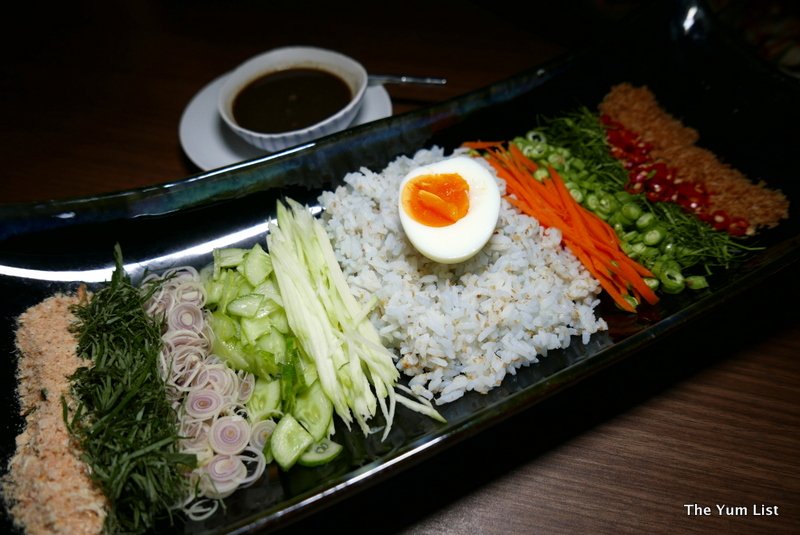 Dessert at Pak Tai
Kanom Jaak (THB320) comes recommended as the most treasured local pick of the sweets. Coconut rice pudding is wrapped in palm leaves and chargrilled over hot coals. The edges are scrumptiously toasty and caramelized and the insides are similar to a comforting warm sticky mocha – only miles better!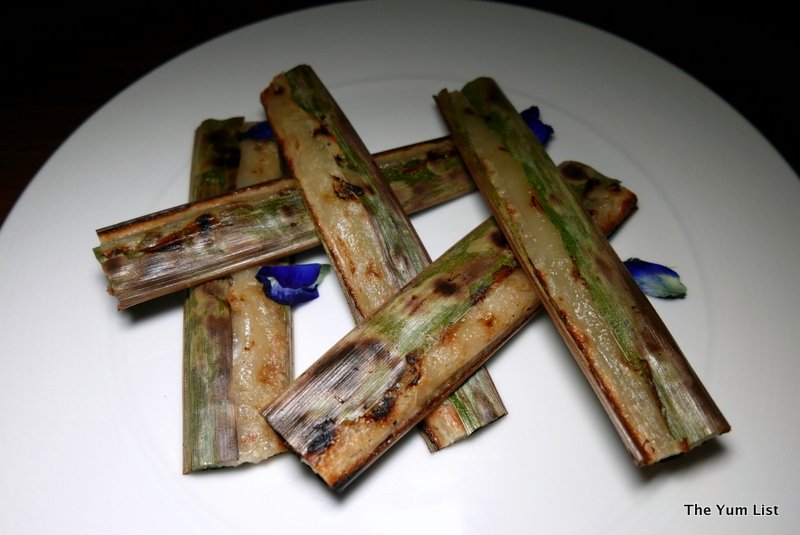 The classic Mango Sticky Rice (THB320) comes with a line-up of green and white triangles of sticky rice. The green hue and soft flavour similar to vanilla comes from pandan. Sweet tart mango, black and white sesame seeds, a drizzling of savoury coconut sauce, and lastly a scoop of velvety house-made coconut ice cream completes our meal with a satisfying, oh-my-god-this-is-so-delicious ending.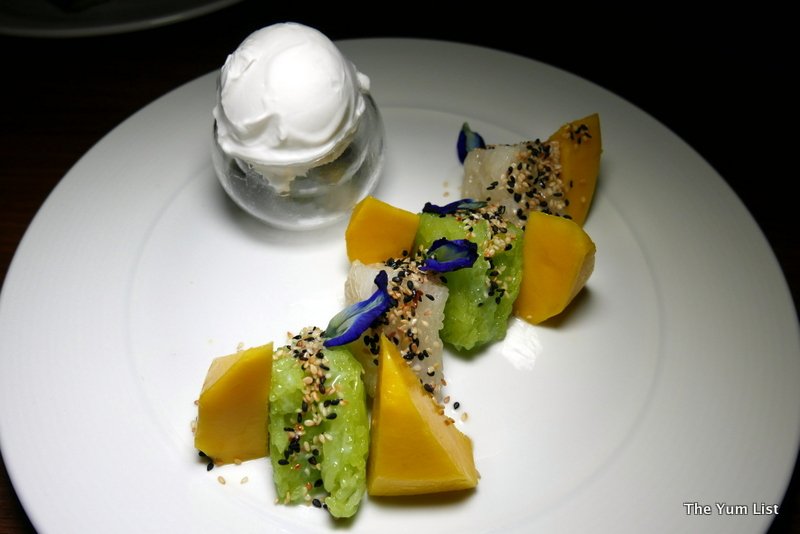 Reasons to visit: romantic private dining booths, live traditional Thai music, fine cuisine with distinctly Southern Thai flavours, don't miss the Kati Talay, Gan Phed Ped Yang or the Kanom Jaak.
Pak Tai, Southern Thai Cuisine
The Ritz-Carlton, Koh Samui
9/123 Moo 5, Tambon Bophut
Koh Samui, Surat Thani, 84320 Thailand
+66 77 915 777
www.ritzcarlton.com/en/hotels/koh-samui