Words: Matt Jones    Photos: Monica Tindall
Stepping inside this ode to contemporary Japanese designed bar is like walking into your best friend's (albeit well-heeled ones) dining/kitchen space. Lined in white marble and trimmed in blonde timber, this sophisticated yet casual experience is the newest side-kick to Mr Chew's Chino Latino Bar. Occupying the downstairs entrance of what was once a duplex penthouse apartment, the feeling is immediately one of a relaxed, friendly vibe; a place where you can bring your friends and buddies and really let your hair down. Perfect for a pre-dinner warm-up, happy hour frolics for some after work fun, or just somewhere to wind down after dinner – the restaurant attached is equally amazing so if you're heading into Mr Chew's anyway then the Kirin Bar is well worth a visit.
A theatrical and interactive mix of food and fun, the Kirin Bar invites you to experience the space completely for yourself. With no real defined division between the 'bar side' and the 'customer side', easy relationships are formed from chatting with the chefs, owners and bar staff, and guests are even welcome to pour their own drinks and enjoy the concept of being their own hosts here!
The mixologists will serve you with any of their in-house specialties, of which we, of course, started with their signature 'Mr Chew's Takeaway G&T' (RM42), novelly served in a beautifully printed cardboard Chinese takeaway box (thoughtfully provided by Ophir Gin, the gin used in the cocktail), mixed with Three Cents Aegean Tonic and topped off with sliced guava sprinkled with crushed pink peppercorns.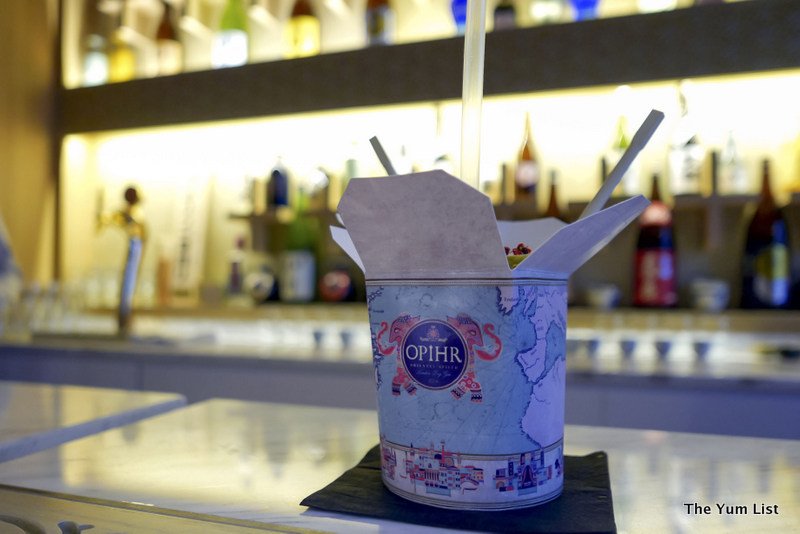 The bar top is a specially designed slab of white marble with a cantilevered timber Kirin-wave carved bench, and apart from being just a beautiful detail, I discovered played a very important role; it hosts the spectacle of the 'Sake Bomb'! Who would have thought that a beer could be so much fun? We joined in with Priscilla, Kirin Bars' Marketing Manager for this mini event. Atop glasses of beer sit precariously balanced shots of sake and, after awaiting instruction from our friendly barman, chorused the required "ichi ni san SAKE BOMB!", banged hard down on the timber table top with both fists each (sumo wrestler-style), and raced each other to the resulting drink. Trust me, you won't stop at one round. For a Korean twist, the 'Poktanju' is equally fun, made with Kirin Ichiban and Korean soju (RM28 each).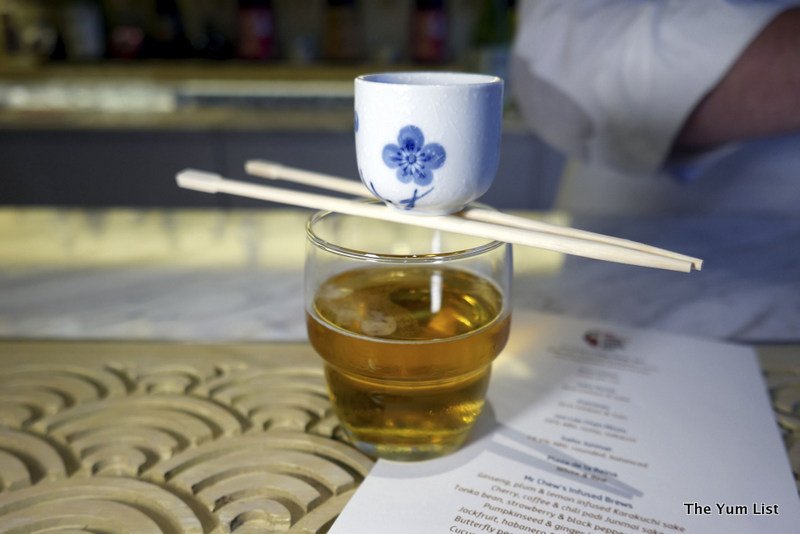 After this initiation into distinctly Japanese bar culture theatrics, we warmed up with a 'Joo Lee Chan Miszu', a flavour-saturated sake that moves from a rich alcohol aroma to nutty and then tobacco aftertastes and served in a porcelain teacup. Similarly, try the 'Saito Junmai', a beautifully rounded and balanced sake.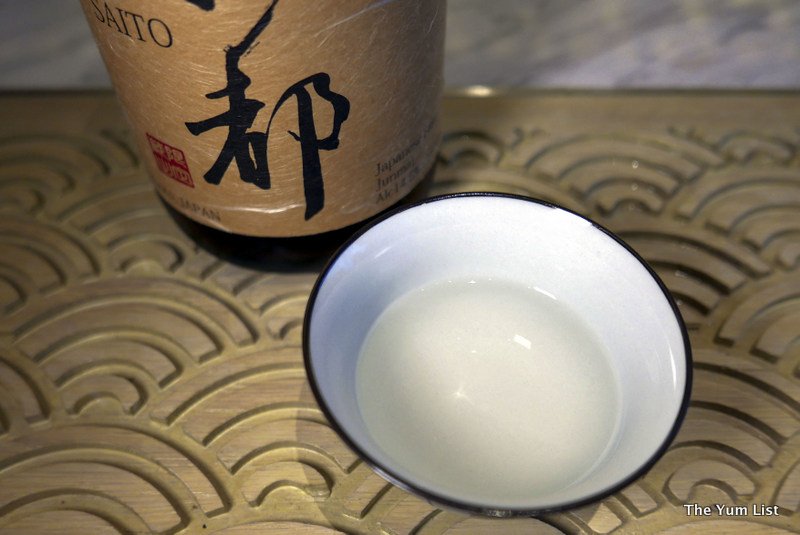 But the real taste sensations come from the 'Mr Chew's Infused Brews' section of the drinks menu. These 45ml serves of house-made and home-brewed sake and soju concoctions are really something different. Taking three to four days to fully mature and develop, the selection of seven infusions mean there's a flavour to suit everyone's palate. The 'jackfruit, habanero and agave nectar Laojiao Baiju' was Monica's pick; clear, refreshing and sweet (from the jackfruit) with banana notes and a jab of hot habanero spice, while I voted for the 'pumpkinseed and ginger lily infused soju', where the pumpkin seeds are roasted, crushed and strained to create the depths of flavour. For a more earthy, delicate one the 'ginseng, plum and lemon infused Karakuchi sake' will suit, or the more controversially crafted 'tonka bean, strawberry and black pepper Karakuchi sake' (tonka bean is banned in the Middle East) with a slightly thinner viscosity and distinctly toffee taste. Others on the menu include 'Butterfly pea and jasmine tea infused Junmai sake', 'Cucumber and water chestnut infused Junmai sake' and 'Cherry, coffee and chilli padi Junmai sake'.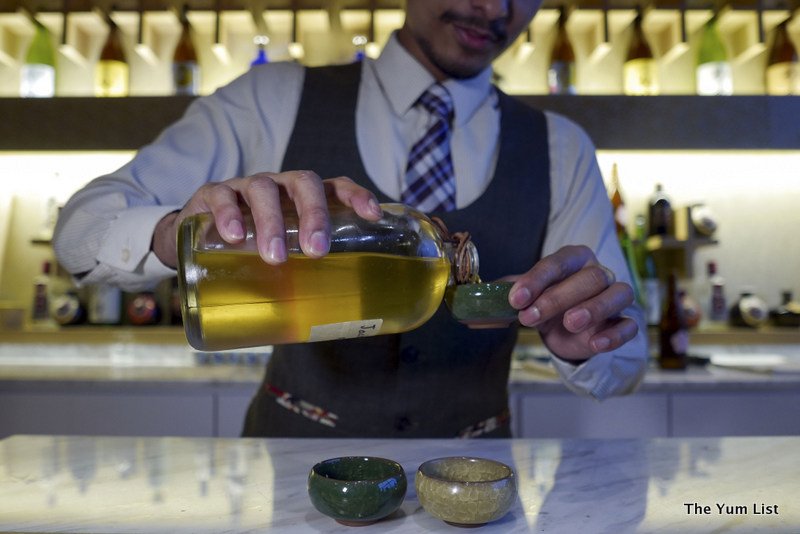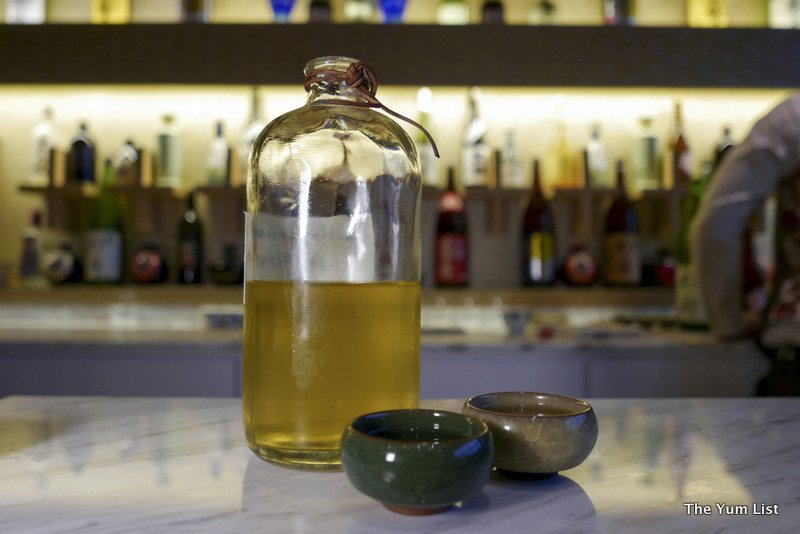 For some equally unique bites, snacks are available from the Small Plates and Restaurant menu, and they are truly hors d'oeuvre events. The best-selling house specialty is the 'nori taco with sushi rice, salmon belly & salmon roe and tobiko mayo' (RM28); a sumptuous battered nori sheet shell of a taco that crunches and oozes with each bite that will have you ordering a second one before you even finish the first. The 'glutinous crisp and sticky rice cakes with sweet and spicy glaze' (RM17) are exactly what they say; a spicy kick of crunchy sticky sweetness all covered in sesame seeds, or try the tad zestier 'crisp fried barramundi & Thai basil filled noodle rolls with chilli lime fish sauce dip' from the 'Rolls, Buns and Dumplings' menu (RM26). Ittadakimasu!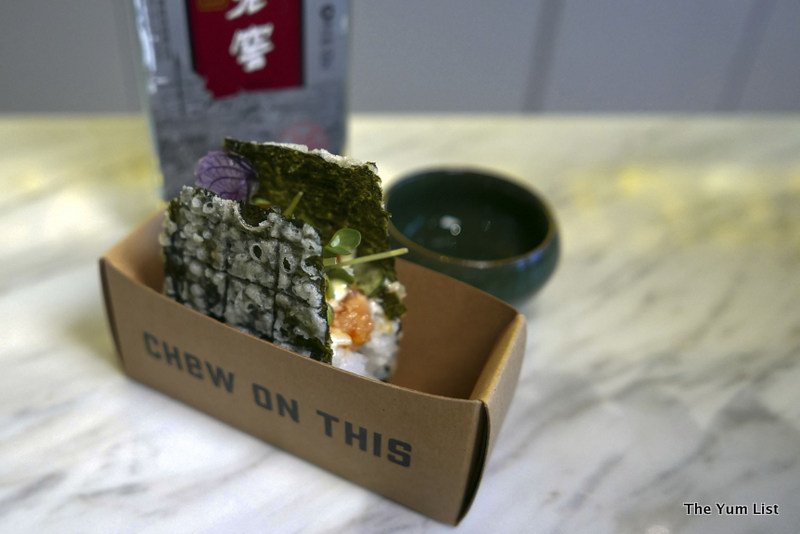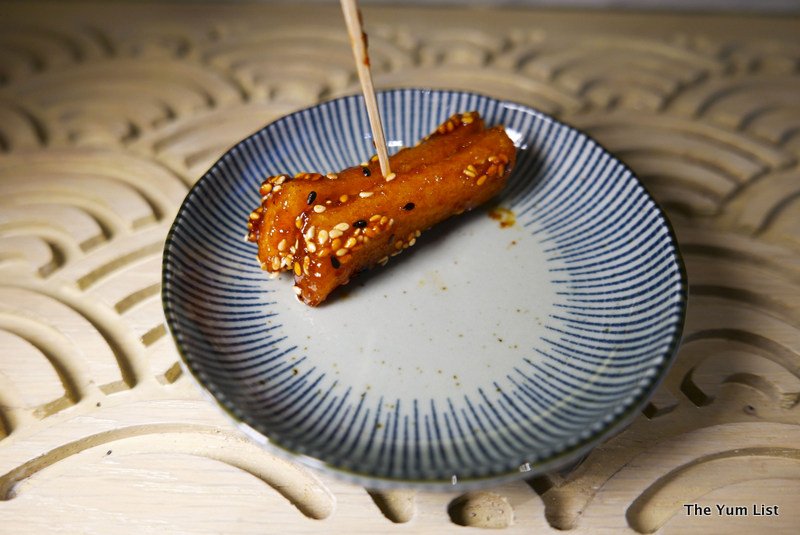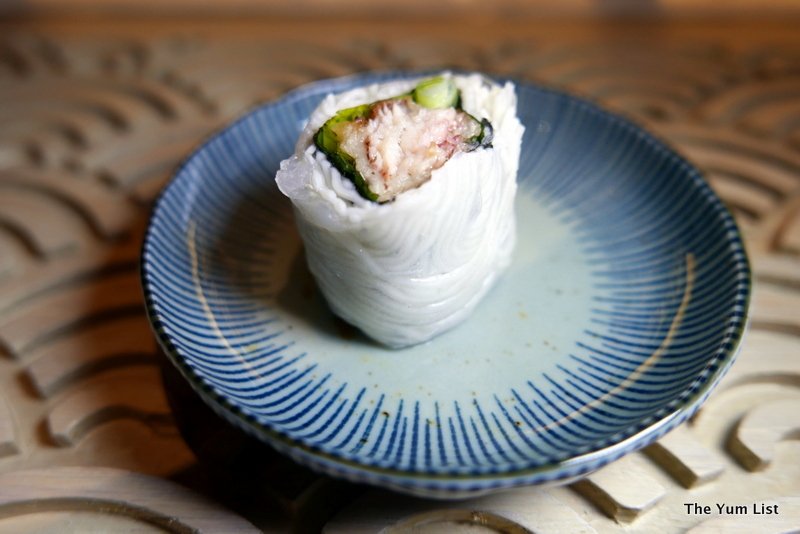 Reasons to visit: fun new bar concept that makes you feel as if you're in a friend's home; specialty house-infused sakes; don't miss a Sake Bomb!
Kirin Bar hosts happy hour two for one drinks from 5 – 8 pm Monday to Friday, and is open every day from 5 pm – 1 am.
Kirin Bar @ Mr Chew's Chino Latino Bar
The Penthouse
WOLO Bukit Bintang
Corner of Jalan Bukit Bintang and Jalan Sultan Ismail
Bukit Bintang, 55100 Kuala Lumpur
Malaysia
+60 3 4065 0168
www.mr-chew.com