Monica Tindall
Jibby East came as a surprise to me on my café hop around Melawati. Holding a corner lot in the Sime Darby property sales gallery, it's elevated on a hill, walled with glass and surrounded by leafy green foliage. The entrance is marked by a giant vibrant mural depicting a lush tropical scene – a hot spot for Instagrammers taking selfies – and the interior has a mix of small tables and communal dining. The staff have dubbed it their "hidden forest," and it's one that I'm glad to have stumbled across.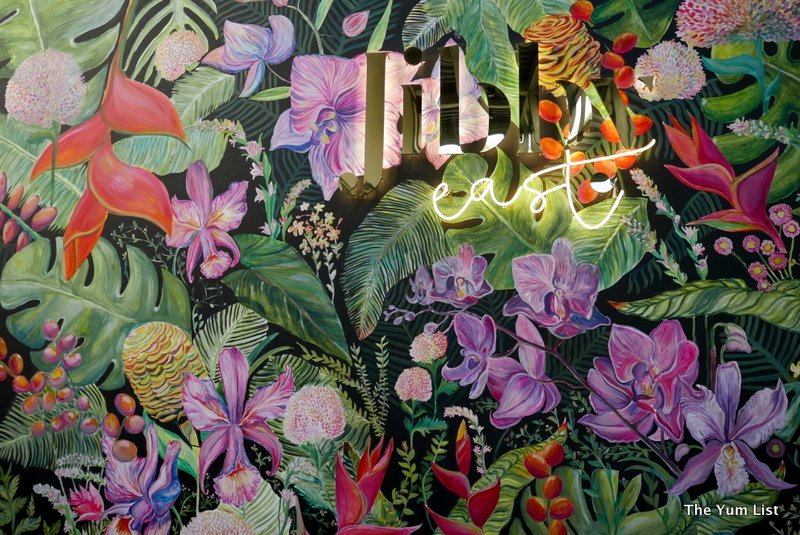 Executive chef and director of the Serai Group, Najib Hamid, aims to provide guests with a refined selection of tastes, a mix of Pan Asian and Western cuisine, attributing inspiration to his years working in Melbourne. Open for brunch, lunch, snacks and dinner the menu is varied and most guests should find something to suit their desires here.
Greeted warmly by restaurant manager, Salman Khan, we're happy to have an insider's perspective and welcome his recommendations of sampling a number of dishes across the menu.
Tapas – Sharing is Caring
One of the staff's favourite dishes is first out of the kitchen. Chilli Blue Swimmer Crabmeat Egg Drop Drip with Crispy Mantao (RM27) is a tasty recipe, made for sharing (if you so choose). There's a good balance between sweet and spicy and the mantao buns are moist and fluffy within and golden on the rim.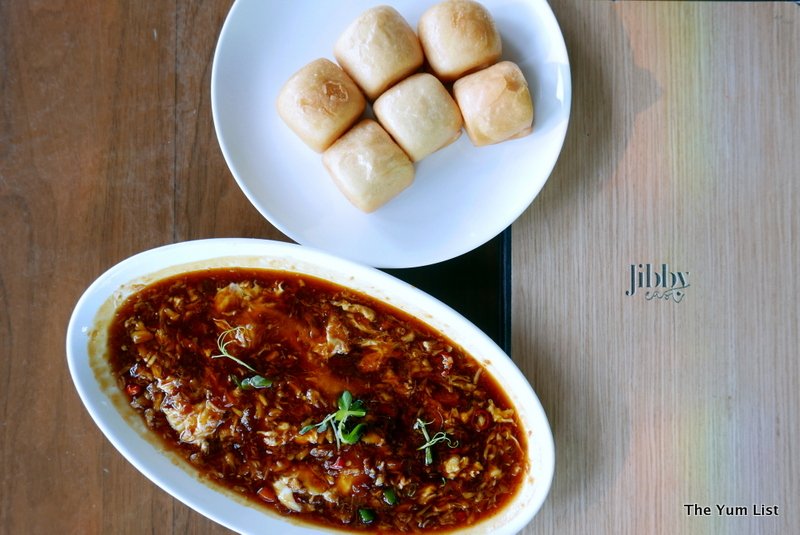 Buttermilk Battered Onion Rings with Onion and Chilli Jam (RM17) are cooked perfectly. The batter is superbly crisp with not a drop of oil in sight. The jam is made from scratch and offers a sweet respite from the savoury.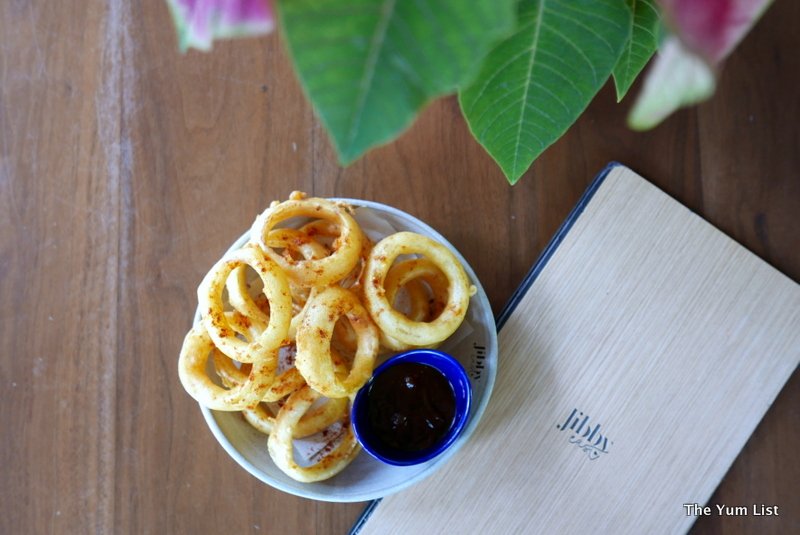 Main Menu, Jibby East, Melawati
For something more filling the Parmesan Crusted Panko Chicken (RM42) is a solid order. The beautiful tower of yumminess gives a clear signal that the chef highly values presentation. A creamy basil sauce surrounds silky Parisian mash, which is crowned with the crusted chicken breast and then topped again with sautéed mushrooms and onions. As we slice in, breaking open the crusty pocket, melty mozzarella oozes out gifting us a visual and tasty treat. This turns out to be a favourite for both of us.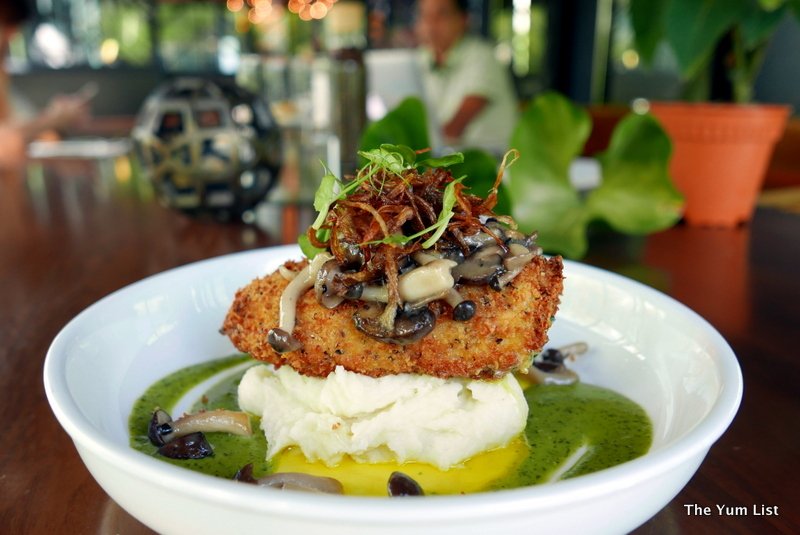 Asian Food, Jibby East
I'm lazy when it comes to food. I don't want to peel shells, shuck oysters or get my fingers dirty. As such, I'm appreciative of the Thai BBQ Boneless Beef Ribs (RM38) that take the work out of ribs by serving them, bone-removed, ready to fork the melt-in-the-mouth meat directly in my mouth. Beansprouts, fresh coriander and slices of red chilli top the ribs providing both a contrast in colour and a fresh break from the sweet stickiness of the sauce. This is one decadent mouth-filling dish!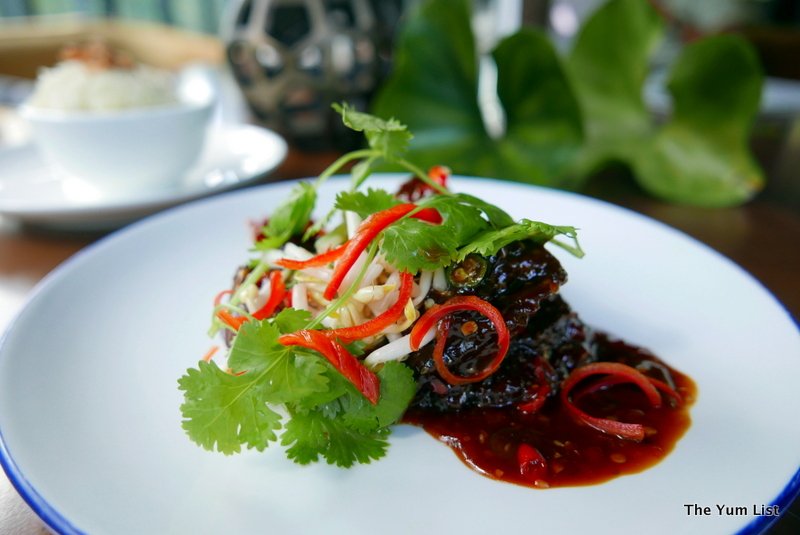 Pizza
One of Jibby East's best-selling pizzas is the Biggie Smalls (RM35). It's slim crispy crust holds a pile of goodies for those who love meat and a sweeter style of sauce. Minced beef, turkey chorizo, maple glazed beef bacon, mozzarella, and onion and capsicum jam are brightened with verdant rocket leaves. Make no mistake though, those bits of green do not even count as a vegetable serving when presented with this meat mountain.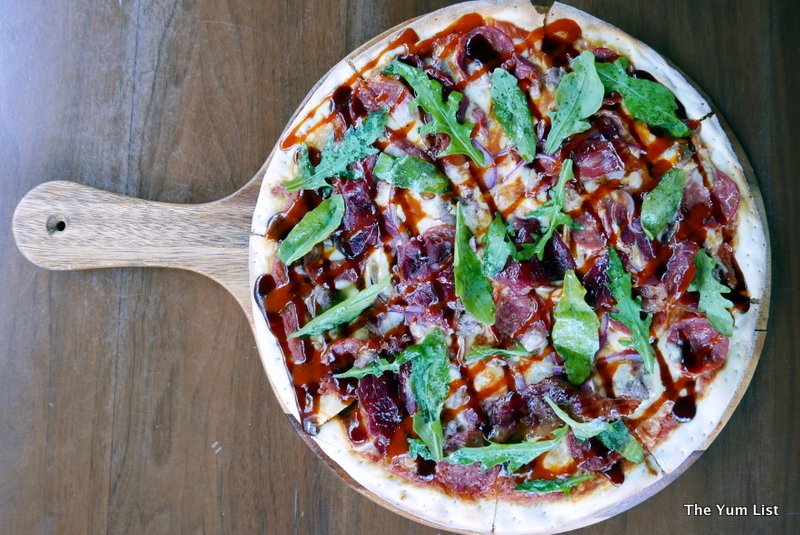 Dessert at Jibby East
Jibby East's signature dessert is the Nutellava (RM25). Chocolate soil beds the dense cake and a ball of vanilla ice cream tops it. Slicing in reveals a thick Nutella stream making the Nutella lover in me let out a gasp of delight. Alongside the sweets on Jibby East's menu are a selection of cakes of the day. Available this this week is Pavlova (RM18.50) – actually, it's so popular that it's always on the list. Made in layers with a sticky textured meringue, it's easy to cut into slices. Fresh cream and berries are threaded throughout counterbalancing the rich layers.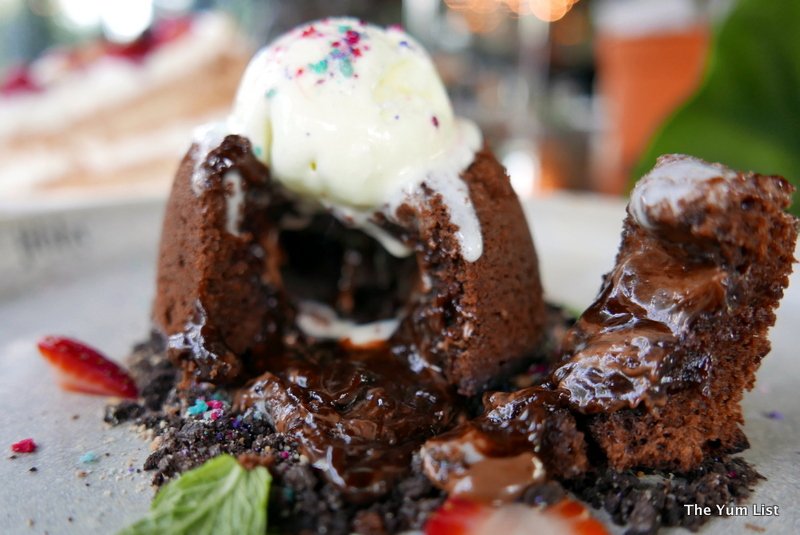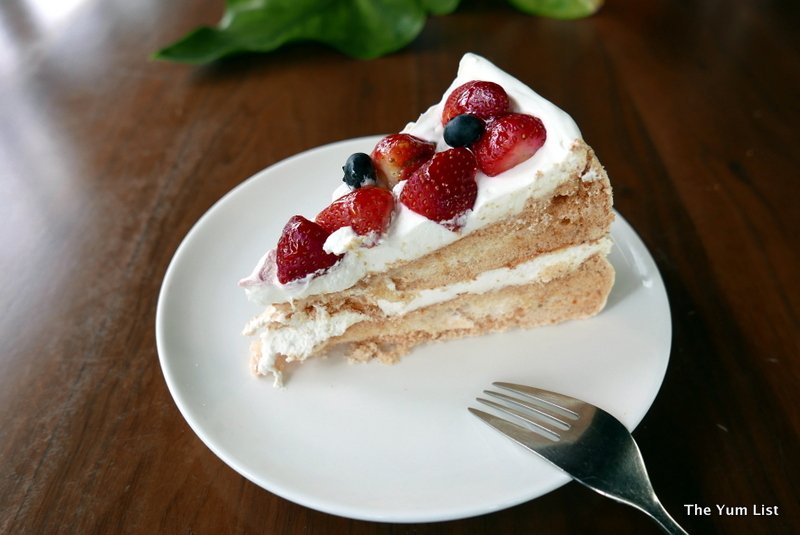 Specialty Coffee at Jibby East
Jibby has their own blend of coffee. It's a medium to dark roast blend of Indonesian beans from Sumatra, West Java and Lintong. There are notes of berries and vanilla on the nose and a hint of chocolate and nuts in the mouth. It's nicely balanced and does well in our Latte (RM12). I find the older I get the less milk I like in my coffee and so the Nitro Coffee (RM17) is an excellent option for my preferences. It's chilled, perfect for warm weather, and has a wonderfully fruity finish with a balanced acidity and creamy head.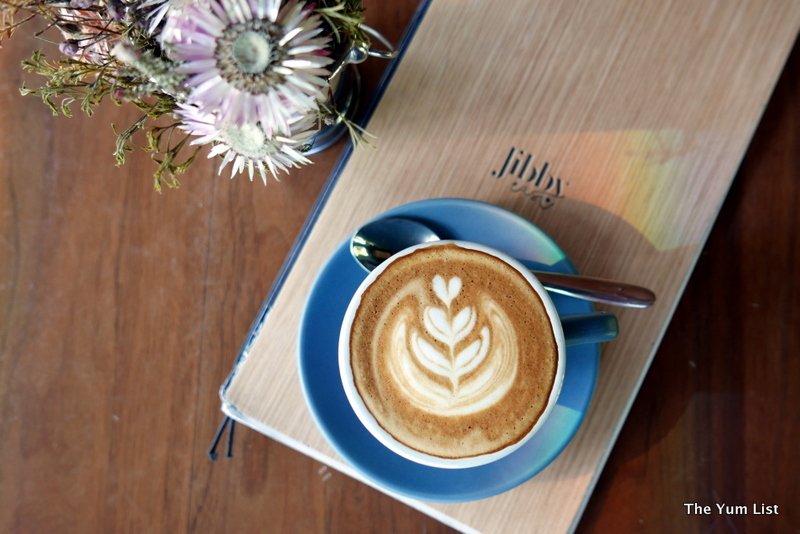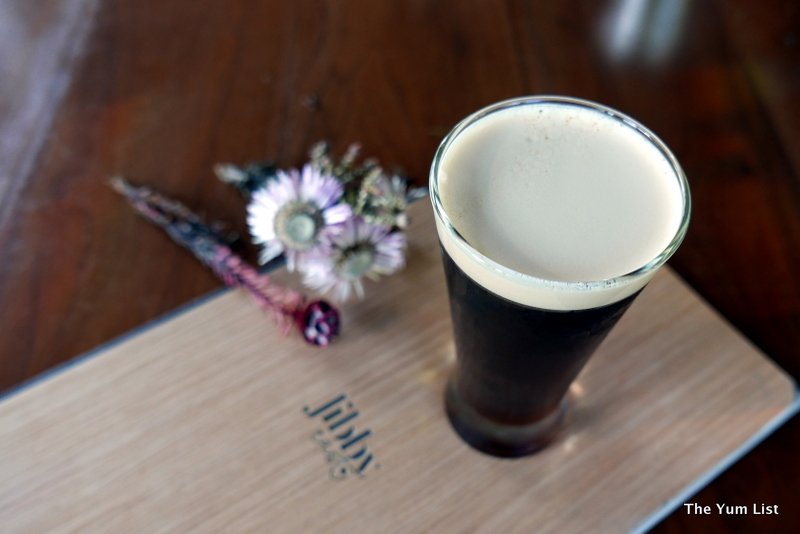 Mocktails
Besides having great coffee, the team at Jibby East pride themselves in making some mouth-watering mocktails. For something refreshing, Salman suggests the Lychee Mint (RM18). It's an ice-blended made with lychee, watermelon, lime juice, a touch of sugar and garnished with a fresh lychee and mint leaves. If you'd rather something creamier, the recommendation is the Coconut Aloha (RM22). Another ice-blended beverage, fresh coconut, coconut flesh and coconut ice cream are combined and served in a coconut shell. Both are sweet, nicely chilled and thirst-quenching.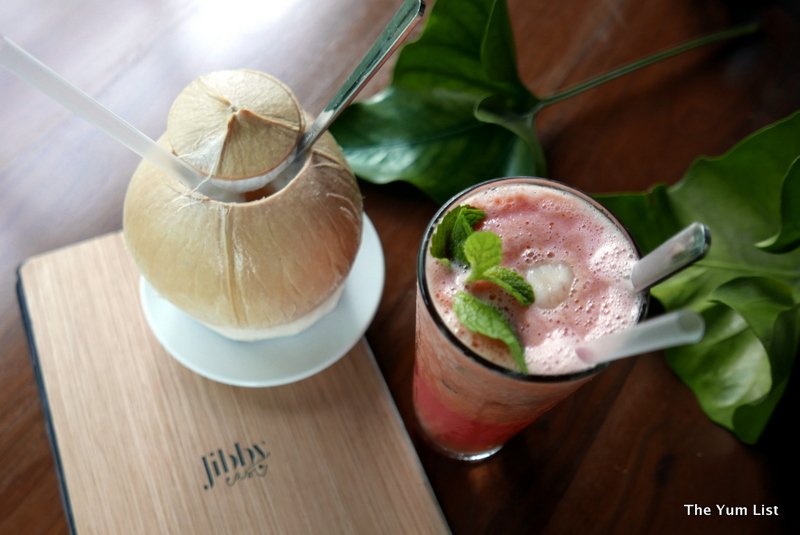 Reasons to visit: pretty green location; refreshing mocktails if you have a sweettooth; my favourite dish is the Parmesan Crusted Panko Chicken; excellent coffee – the house espresso blend is very good and you must give the nitro coffee a try.


Jibby East Cafe & Restaurant by Jibby Group
KL East Gallery, Off Middle Ring Road 2
KL East, Kuala Lumpur
Malaysia
+6 03 4162 8050
Open daily 10:30 am – 10 pm
www.facebook.com/jibbyeast