Words: Alison Brand   Photos: Monica Tindall
"A speakeasy bar in a shopping centre?" I can hear you asking. Yes, these were my initial thoughts as well when I was given the details of Three X Co, the newly opened 'speakeasy' style bar in Bangsar Shopping Centre. Upon ascending the escalator to the third floor of Bangsar Shopping Centre, I was told to look for 'Ben's Barber' in the space where Mr Brooks previously occupied. After doing a full lap, there it was, a barber adeptly attending to a client lying back in his barber's chair. I was directed towards a Muhammad Ali poster and told that the bar was behind the wall (that was really a door). It felt a little like I was on the set of a James Bond movie, about to enter into some kind of mysterious secret men's club!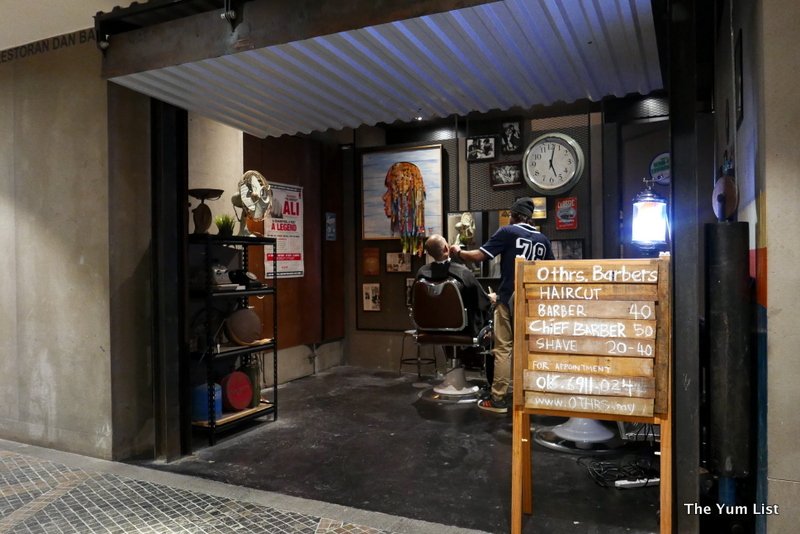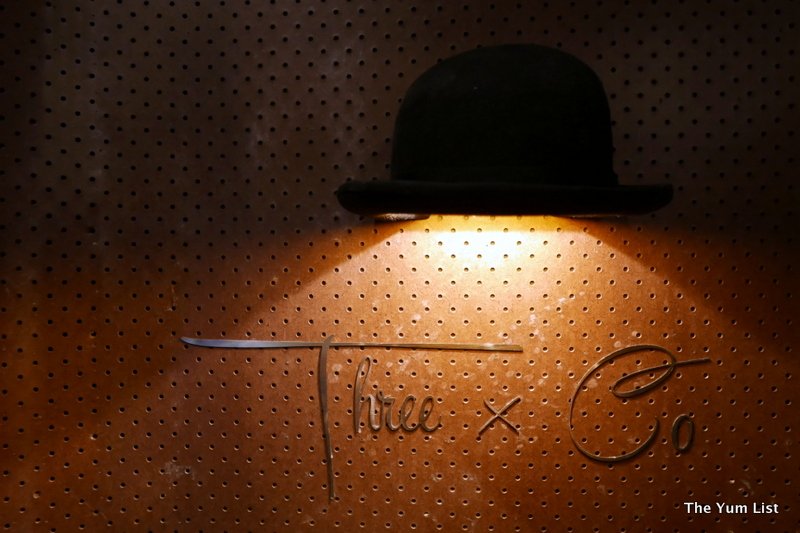 The popularity of 'speakeasy' style bars in KL is clearly the driving force behind the growing list of establishments catering for those who like to savour their drinks and enjoy a conversation at the same time.  The interiors of Three X Co feature deep teal walls and dark leather furnishings, with the lights kept low just to add to the feeling of being able to relax, savour your drink and enjoy a conversation, all while maintaining an element of clandestine obscurity in quiet luxury. This speakeasy is the latest venture to be spearheaded by partner David Hans, winner of the Giffard West Cup 2017. He has expertly created a menu featuring a range of first-class cocktails, as well as a top shelf filled with world famous whiskey and bourbon varieties.
Mixologist Chris was responsible for expertly preparing our drinks for the evening, with first on show being from the Three X Co Signature Series. 'Mr Wong's Choice' (RM48) is based on Chinese herb-infused bourbon, Fernet Branca, Pei Pa Koa and Liquorice. Served over a large ice cube in a tumbler, the heady mix of herbs and liquorice was one to awaken the taste buds on a Friday evening! Moving right along, we were then presented with 'Angers Potion' (RM40) served in a gorgeous round flask, filled with pink watermelon juice, Menthe Pastille, Giffard Creme de Cacao White, Don Julio Reposado, Campari and lemon juice. The lightness of the watermelon juice mixed with orange and minty tones made this cocktail a fresh favourite for sure.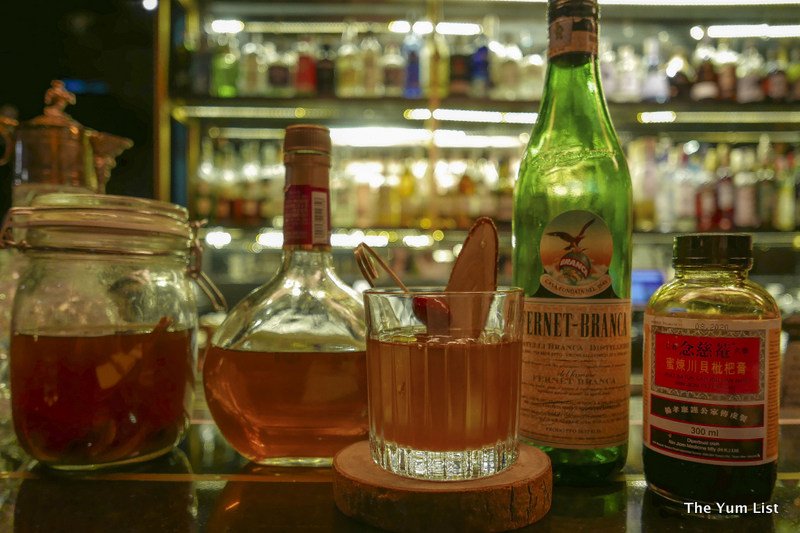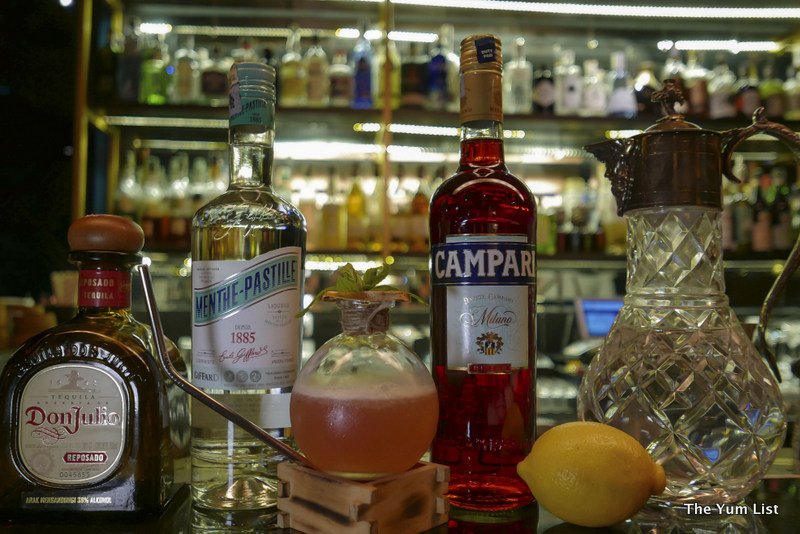 'Eastern Poem' (RM45) arrived looking like a Chinese herbal tea cure-all. Served in a beautifully decorated Chinese ceramic mug, this cocktail is a mix of Chrysanthemum infused gin, Pei Pa Koa, Yuzu tonic water and ginseng rootlets. The delicate flavours of the flower infused gin were the perfect backdrop to the rest of the elements of this cocktail, and with the obvious health benefits… this drink was a winner!! Again Chris was busy constructing another masterpiece as we indulged, with the 'Flower Tantrum' (RM40) arriving next looking like frothy topped delicate green perfection in a long-stemmed glass. Based on Tanqueray London Dry Gin, Chris combined Green Chartreuse, elderflower, basil leaves, white grapes, lemon juice and egg white to complete this oh-so-pretty cocktail. Topped with a gorgeous orange flower and fresh basil leaf, the blend of elderflower freshness with just the hint of basil lifted this drink to the next level.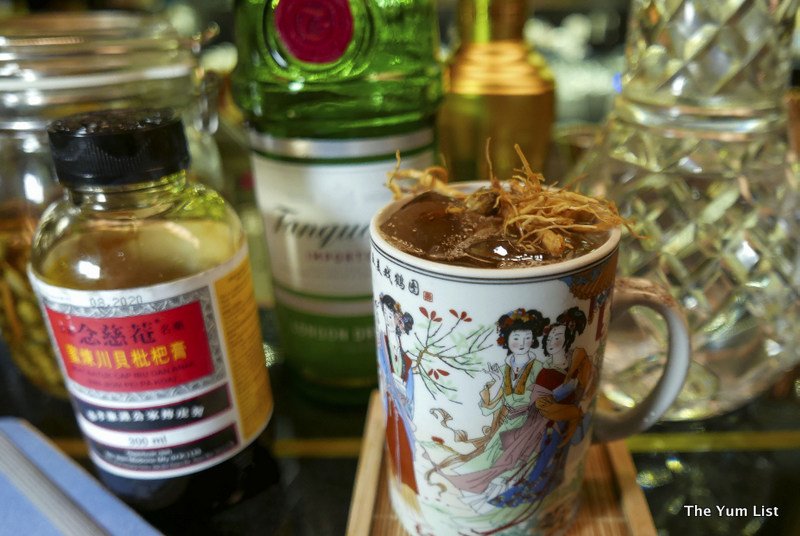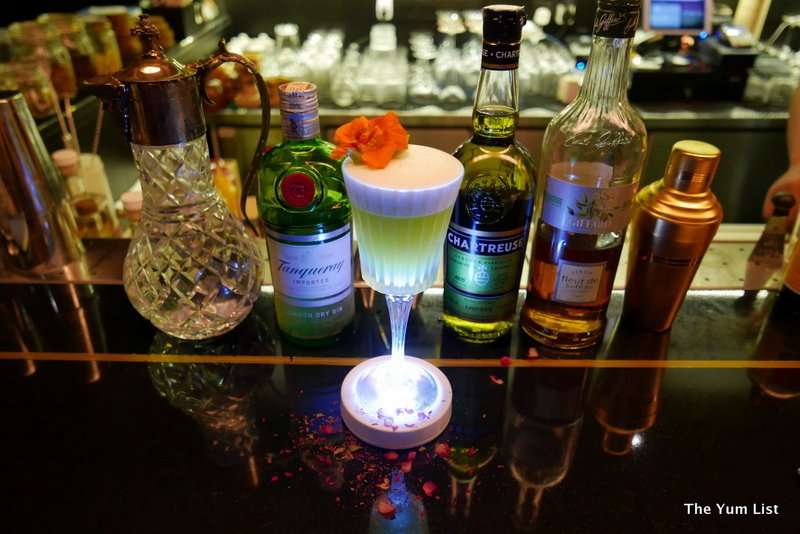 'My Thyme' (RM40) was personally chosen for us by Angeline, the manager of Three X Co. And it was easy to see why this is one of her favourites, with Vodka, Lychee Liqueur, Bianco Vermouth, French Alsace Riesling and thyme working their magic in a smooth as silk blend of fruit, making our Friday evening feel even more cool, calm and sophisticated than it already was.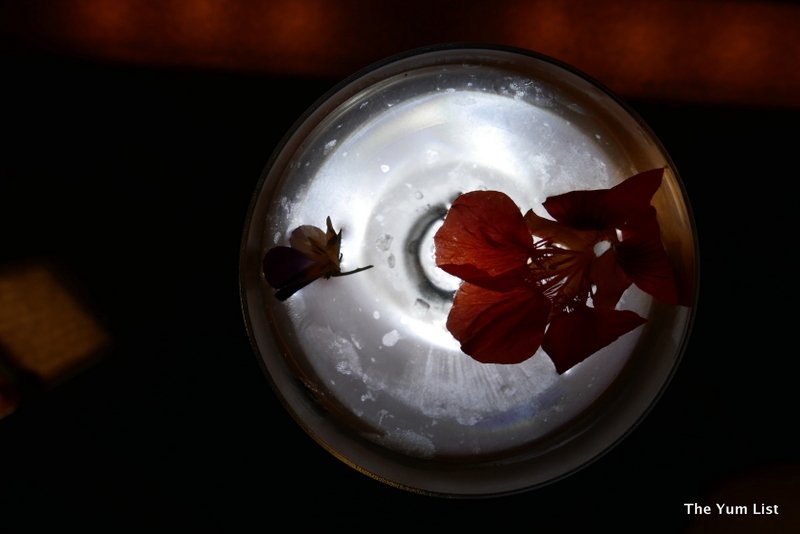 We were then given the chance to experience another cocktail from the Signature Series. The 'Gentleman Speak' (RM48) was a mix of Wild Turkey 101, Grand Marnier, Viriana China-China and grapefruit bitter. Mistakenly thinking this would be one just for the boys, I was now looking at my possible front runner for the evening, which was a significant call given the fabulous array of cocktails we had experienced during the evening.
Completing the evening was a round of Signature Shots, not officially on the menu but a special finishing touch provided for us (and for guests requesting some extra fun). Tequila and fresh lemon juice, followed with a chaser of candied lemon slice, salted sugar and coffee grounds was superb, and if I hadn't already had enough alcoholic indulgence for a sizeable army, would easily have called for another round…!!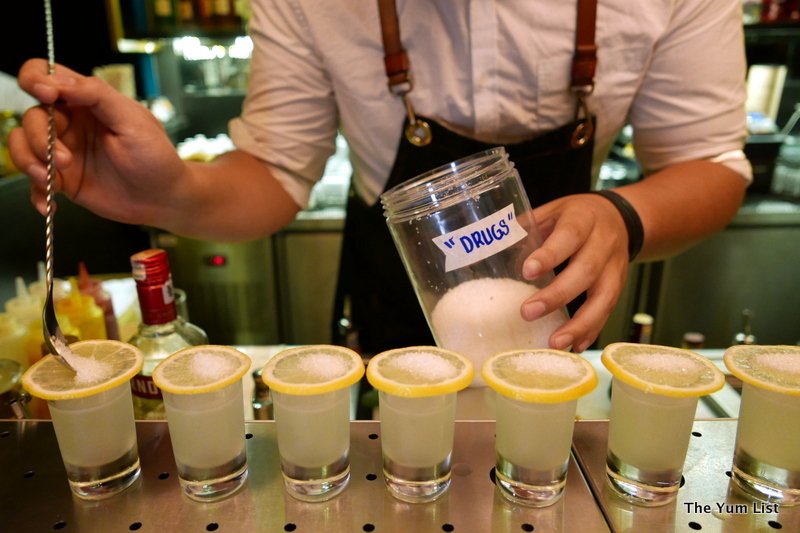 Reasons to visit Three X Co: killer cocktails on offer for reasonable prices, and the understated luxury and relaxed atmosphere of the entire experience. Easy accessibility within Bangsar Shopping Centre also make this speakeasy one to add to your list of destinations.
Three X Co
Level 3 (look for the men's barber)
Bangsar Shopping Centre
Jalan Maarof, Bukit Bandaraya
Kuala Lumpur 59000
Malaysia
www.facebook.com/threexco/
Opening Hours: Monday to Saturday – 5 pm to 2 am