Monica Tindall
Meatology Restaurant and Bar in TTDI, the same name as the book by Chef Yenni Law, boasts all things made in-house, all things done in a warm community spirit, and of course, all things extraordinarily meaty.
Standing proud as a neighbourhood icon for the past fifteen years, the team behind Meatology has more than proven themselves, passing the only assessment that truly matters in the end, the test of time. When asked to reveal the secret of her success Chef Yenni humbly replies something about being value-for-money and insisting on making everything from scratch. We sense it's more than that though; I suspect part of the charm of Meatology is chef Yenni herself. Unassuming and committed to her work, there's a quiet confidence that you'll be well taken care of when dining at her table.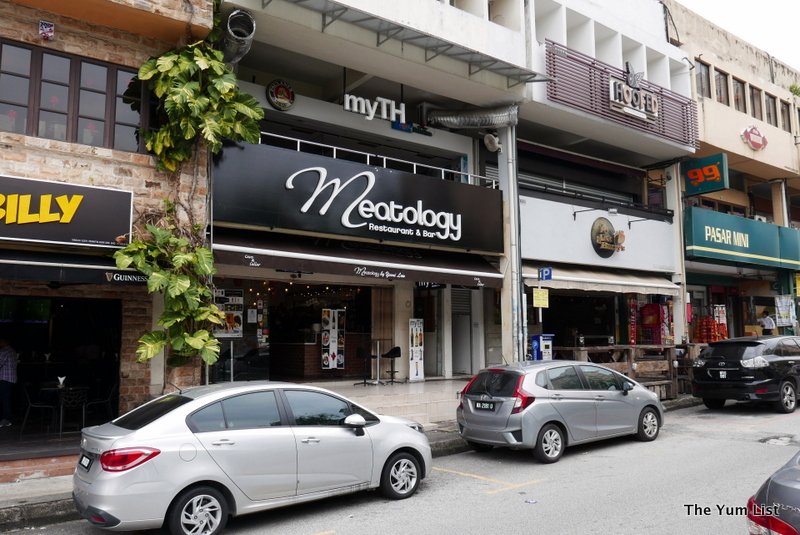 Drinks at Meatology
Besides having their own bar in the entrance, Meatology is also connected to Myth bar upstairs, gifting the restaurant a well-stocked list of liquors. We start with a couple of refreshing cocktails to take the edge of the warm afternoon. A frozen Strawberry Margarita (RM26 or 3 for RM63) and Vodka Lime (RM 13) quench our thirst nicely and offer excellent value for money. The former is fruity and light, hubby's preferred, the second has a little more of a sour tang accompanied by a salted rim, and takes my fancy.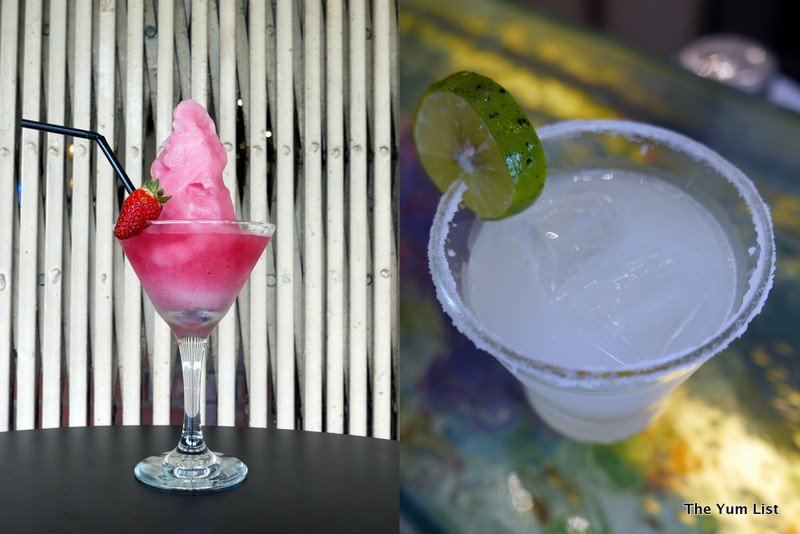 Appeteasers
The meaty menu means protein-packed starters, mains and light bites. From the appeteasers section, Poison Pork (RM28.80), so named "because it's so good, it's everyone's poison," holds lusciously caramelized bacon, garlic, chilli and, of course, roasted pork. To prevent the common fight over the crackling on top of the roast pork, chef adds extra! Yenni informs us that the roasted garlic cuts through the fat in our stomachs as we digest – so, obviously, we can enjoy this dish without guilt.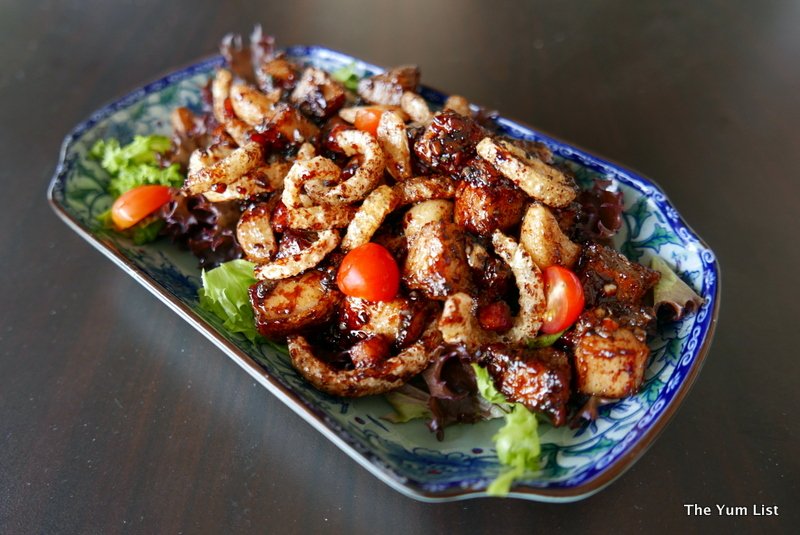 Leaf & Greens
The idea of the Yee Sang 365 (RM32.80) in the Leaf & Greens chapter is that you can enjoy celebratory food all year round. This salad is one of my favourite Chinese New Year dishes so there are no complaints from me knowing that I can now get it 365 days. Tuna sashimi, octopus, jellyfish, pork crackling, salad leaves, shredded green apple and pickled papaya are all tossed together for prosperity in a citrus dressing. As everything is made minutes before in-house, it's one of the freshest yee sangs we've come across. There's not a single artificially coloured something from a packet here. The mix of light and moist does well with the contrasting crunchy pieces of crackling.
Mains at Meatology
We quickly learn that flambé is a technique that Chef Yenni has mastered, passed on the skill to her team, and is something that resurfaces throughout the menu. Steak on Fire (RM53.80) is our first show with 220gm of Australian tenderloin flamed table-side. It's cooked medium-rare, finished off in the oven giving it an even pink all the way through. Lastly, the flaming caramelizes the edges and infuses the seductive flavour of brandy into the edges. A white garlic pepper sauce is warmed in the pan after the meat is plated and makes a great companion not only for the steak but also for the mashed potatoes and veggies that accompany it.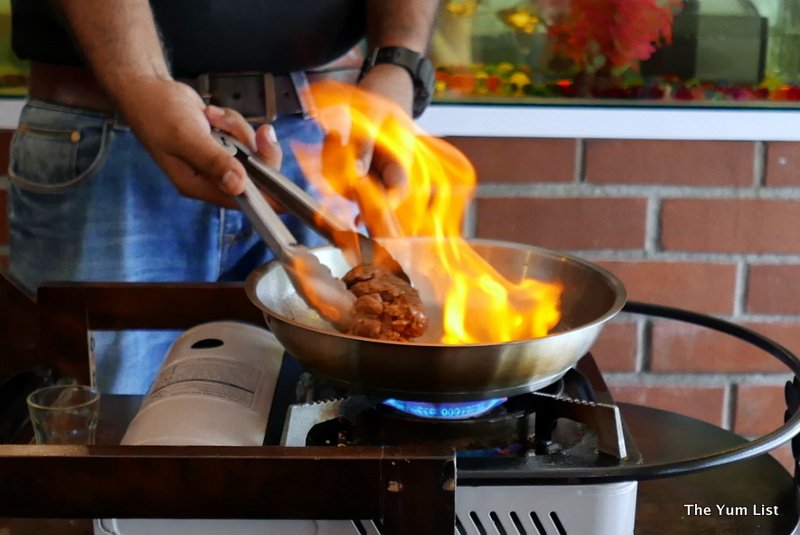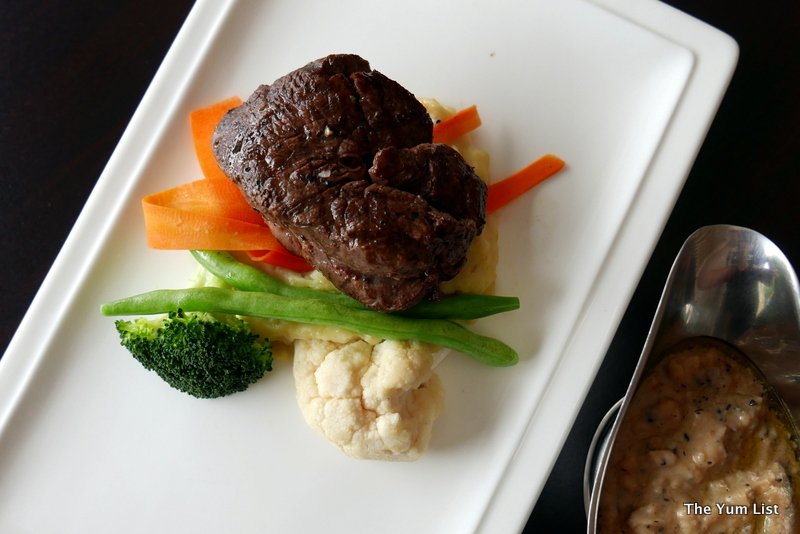 Lamb
Perhaps the only kitchen in KL serving smoked lamb, Meatology's version is marinated in beer and then smoked in applewood chips for the appetizing Beer Smoked Lamb Muscle (RM43.80). A steady side of veggies and mashed potato complete the meal in comfort.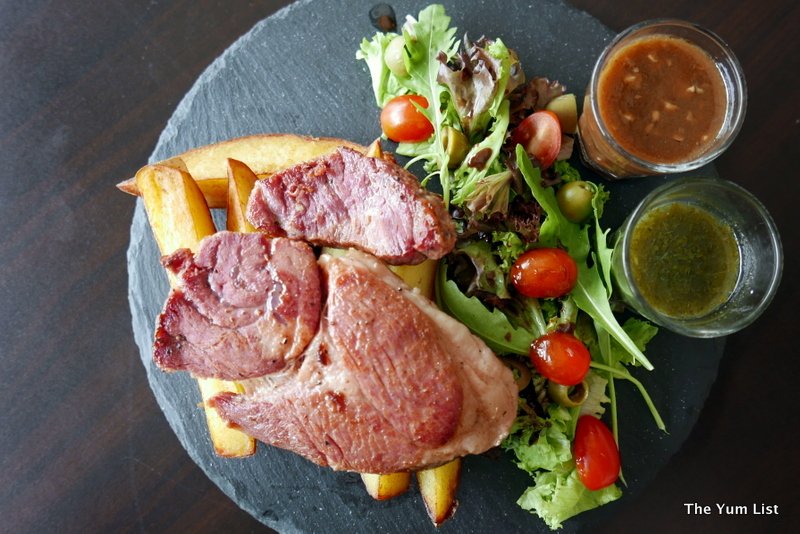 Hog
Meatology offers two types of ribs, those that "fall off the bone" and those with "more texture." We try the former with the Meatology Ribs (RM48.80), which take 250g of Spanish pork ribs and flame them in brandy (if you want the latter more textured style go for the Smoked Bacon Ribs). They're slow-cooked for a minimum of six hours and coated in Meatology's house-made barbecue sauce. It's recommended to first try the ribs on their own, and the second round adds a squeeze of lime. The sauce is sticky and sweet but not overpowering and the drops of citrus present a compelling tang.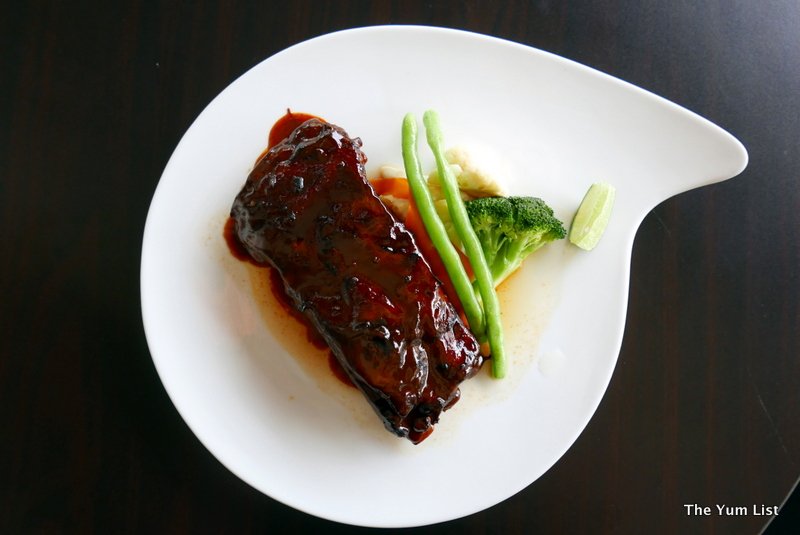 Another hoggish recipe is the Spanish Neck on Fire (58.80), which submits 300gm of Spanish neck muscle and flambés it, again tableside, in rosemary and red wine. The pork is brined with herbs such as bay leaves for several days before cooking ensuring the marinade is infused throughout the meat.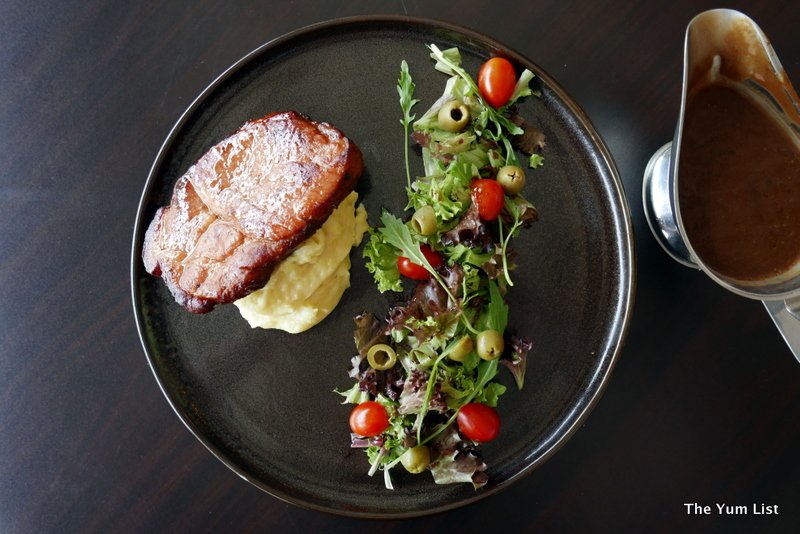 Pizza
If you're not porked out yet, you might consider the Wild Boar Pizza (RM29.80), a spin-off of the Wild Boar Curry in a clay pot on the appeteasers menu. Basically, it's a thin yet sturdy crust holding the pork accompanied by melted mozzarella and Parmigiana. There's a mild spice to the flavours and it's highly addictive. Order an icy cold beer and you've got yourself a happy afternoon.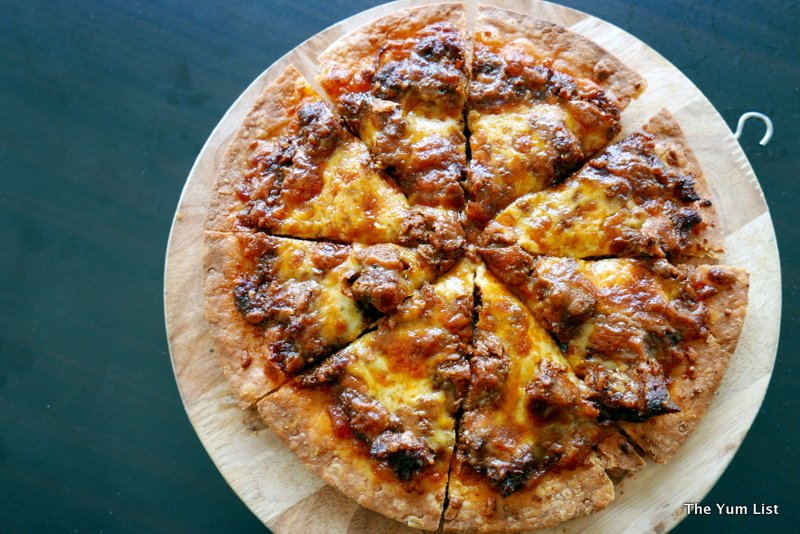 Vegetarian
Despite the name, Meatology actually has a handful of vegetarian dishes. Spaghetti Veggies (RM25.80) feeds my mild addiction to ginger torch, making the bud into pesto with a habit-forming edge. It's backed up with plentiful vegetables, chillies and garlic and even though it's a pasta dish it's light and refreshing.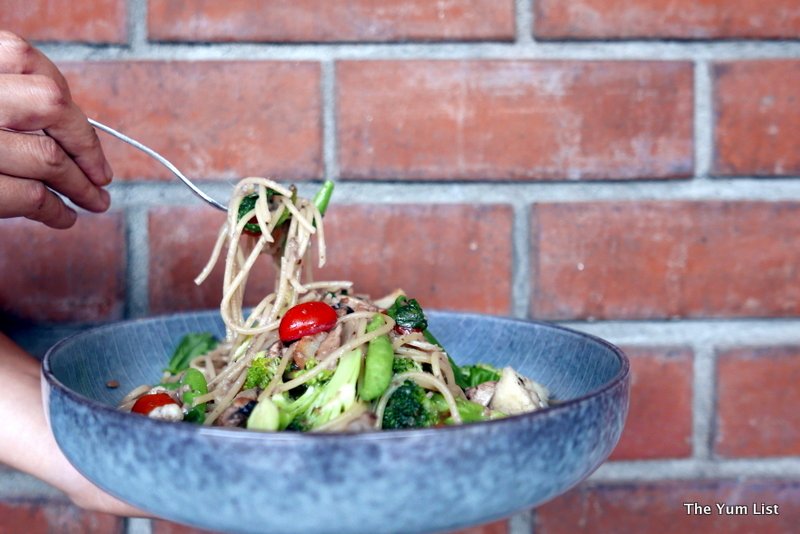 Dessert at Meatology
Insistence on preparing everything from scratch continues through to desserts with both hot and cold options on the menu. Rum and Raisin Ice Cream Pie (RM18.80) is a scrumptious number with the real flavour of rum gently infused in the house-made ice cream. If you want a more spirit forward experience though you can follow the routine of the regulars and order a shot of whisky (RM8) to pour over the top.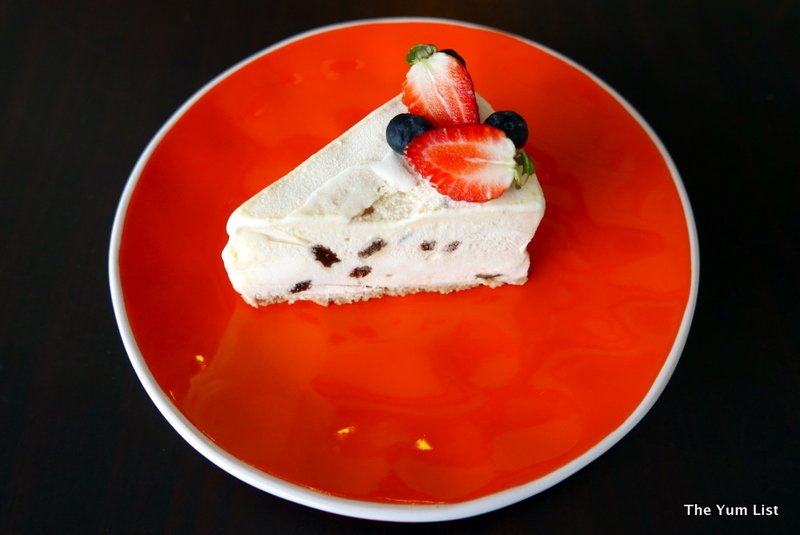 We go out in flames, literally, with the Suzette on Fire (RM23.80). Once again, it's tableside service with the traditional French pancake accompanied by a flambéed whole orange and a brandy orange sauce. After plating, a creamy scoop of vanilla ice cream is placed on top melting sensuously into the warm bed.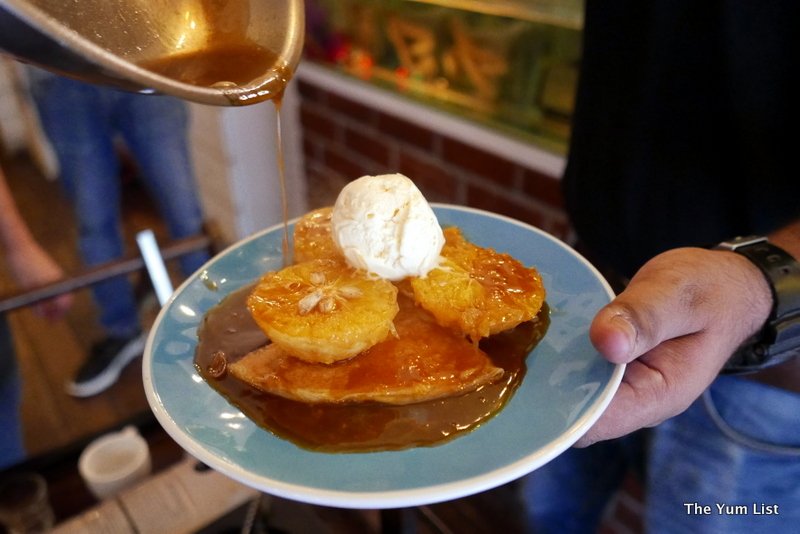 Reasons to visit: meat, meat and more meat; value-for-money dishes; a bit of excitement with flambé done tableside; our favourite dish is the Meatology Ribs with a squeeze of lime on top and we're pretty darn happy to have access to chef Yenni's lushed up yee sang recipe year round too.
Meatology Restaurant and Bar
16, Lorong Rahim Kajai 14
Taman Tun Dr Ismail
60000 Kuala Lumpur
Malaysia
+6 03-7727 4426
Open Monday – Saturday from 3 pm
www.facebook.com/MeatologyKL