Words: Patricia Podorsek   Photos: Monica Tindall
In the mythological spirit of Chinese New Year, allow me to tell you a story. Once upon a recent day in KL, a writer for one of the city's food blogs was driving across town through the nearly empty streets. Many of the citizens had made their way to far-flung corners of the country to be with family over the holiday season, and she was enjoying the ability to drive fast on deserted highways. What she encountered at her destination, Naughty Nuri's in Desa Sri Hartamas, was not what she expected on a holiday weekend: Surprise dancing and a lively crew in the middle of an otherwise quiet Friday afternoon. Plot twist!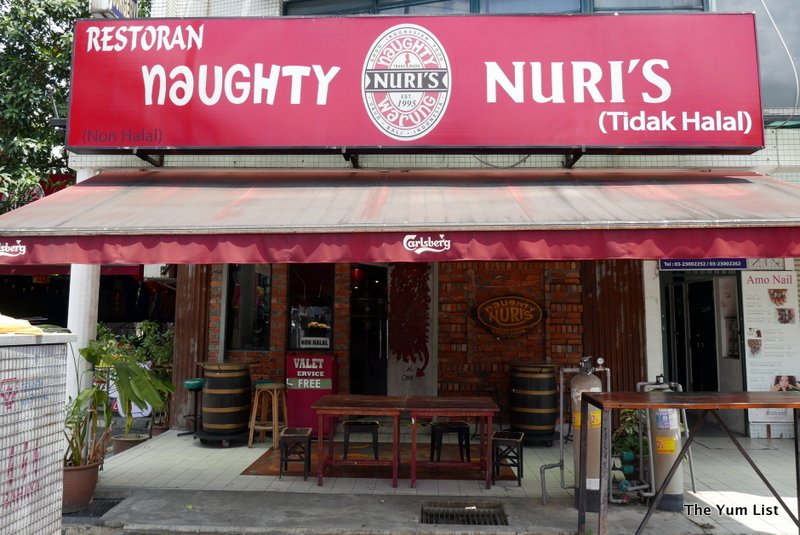 Naughty Nuri's Desa Sri Hartamas
Originally started in Ubud, Naughty Nuri's is not an unfamiliar friend to KL. With four outlets in the Klang Valley, they are well-known for the quality of their BBQ pork ribs and cold martinis. With a focused, limited-range menu, they can do what they do very well. Our protagonist and her mates were happy to try it all out!
Pork, Pork and More Pork – Naughty Nuri's Menu
Allow me to bring you into the story with us. We began with the Signature Roast Pork Salad (RM32). Here mixed greens are tossed with yellow watermelon and papaya in a gingery dressing. Super crispy bits of pork belly, including both fat and skin, are sprinkled on top. As a salad lover, I enjoyed the mix of veg and meat, sweet and savoury. Fresh and light for a hot day.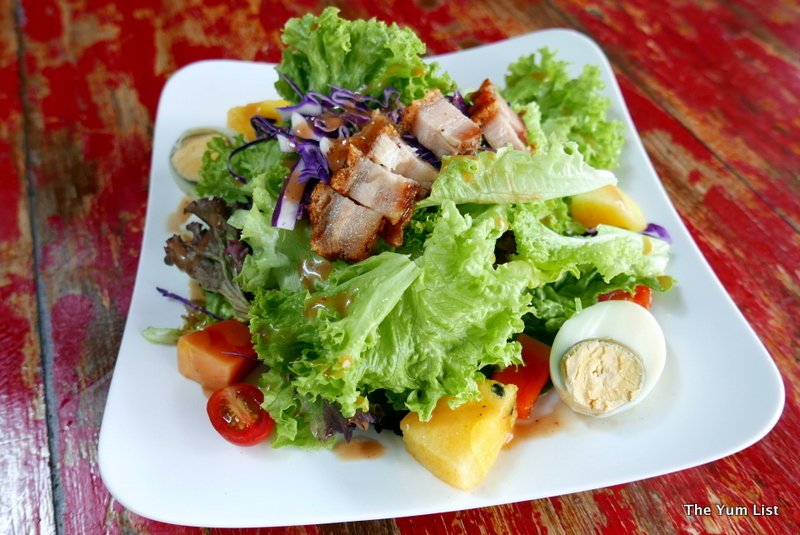 Naughty Nuri's is best known for their ribs, and the 1995 Signature BBQ Spare Ribs (RM60) live up to their reputation. Amazingly tender, moist, flavorful ribs come dressed in a homemade sweet and spicy sauce, enhanced by a squeeze of lime on top. As an American with a long-standing BBQ rib tradition, these are some of the finest I have ever eaten.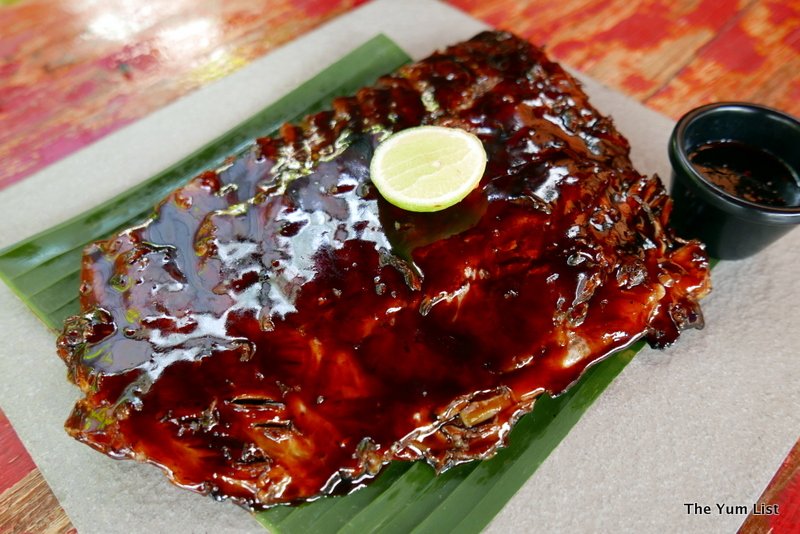 Delving into all this pork indulgence is thirsty work. Thankfully, the bartenders at Naughty Nuri's know how to shake up a cocktail.
And by SHAKE, I do mean SHAKE.
At the server's suggestion, we opted for a Lychee Martini, a Mango Mojito and a Classic Margarita as our first round. All the martinis and margaritas on the menu (of which there are several options, all in the RM29-35 range) arrive with a three-person song and dance that can't help but get you fired up about being there and being a part of it. "Shake! Shake! Shake!" brings servers and managers to your table, shaking your drinks over ice while they twirl, sing and play the tambourine. You might think that this routine would get stale after a while, but all of them (and there was more than one round of drinks for this party!) looked like they were having a blast. Their enthusiasm was contagious, and before I knew it, a quiet Friday afternoon had turned into a party. Even the Harley club guys at the adjacent table got involved in the action!
With tasty beverages in hand, loosening up with some music and entertainment, more snacks were definitely in order. Naughty Nuri's BBQ Satay Lilit (RM30) flavours ground pork with SE Asian seasonings and wraps it around a stem of lemongrass. These satays come with a spicy kecap manis that adds depth to the skewers and provides a little chilli kick at the end.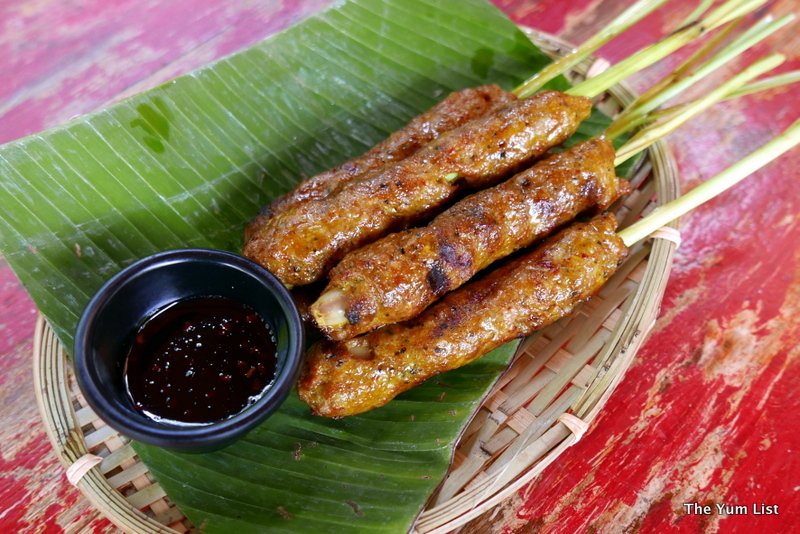 You know you're in for ongoing pork delivery when you first pass by the hanging roast suckling pigs on your way through the restaurant. The porky conveyor belt next delivered Naughty Nuri's BBQ Pork Loin (RM30). The smoky undertones of this main reminded me of ham but the cut was thinner and not as salty. As with the ribs and satay, meat lovers will not be disappointed by the singular focus of the plate.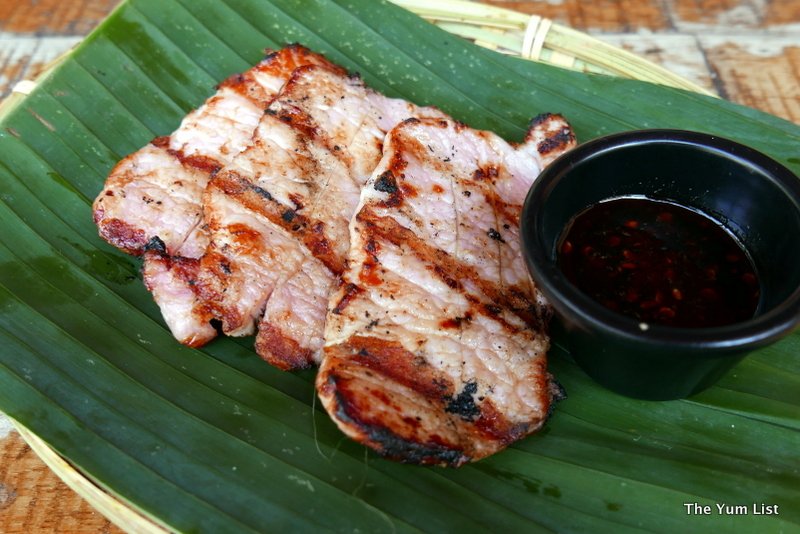 More cocktails were required after more of this thirsty eating. This time we selected the Orange Poke Martini, Asam Boi Mojito and a classic Senget Martini with olives. Two more martinis meant more Shake! Shake! entertainment, and more enthusiasm from staff and neighbours alike. Who knew a weekday could turn up this much fun? It is not hard to imagine how it all might multiply on a Saturday night around 11!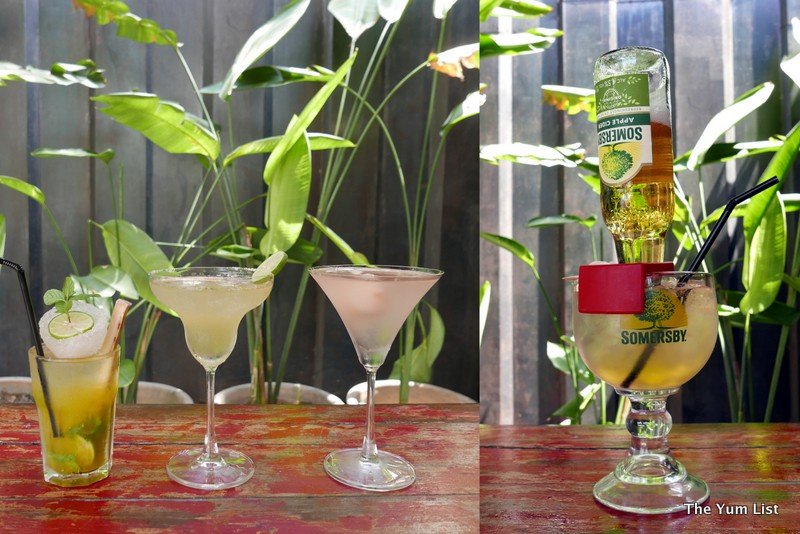 Last from the mains menu at Naughty Nuri's we tried both the Indonesian Style Nasi Goreng and Mee Goreng (RM30). Tastily fried grains are served with prawn crackers, a fried egg, and yep, you guessed it, more pork! I just couldn't get enough of the strip of fried pork belly served with both. Juicy, meaty, and flavorful, it makes the dish.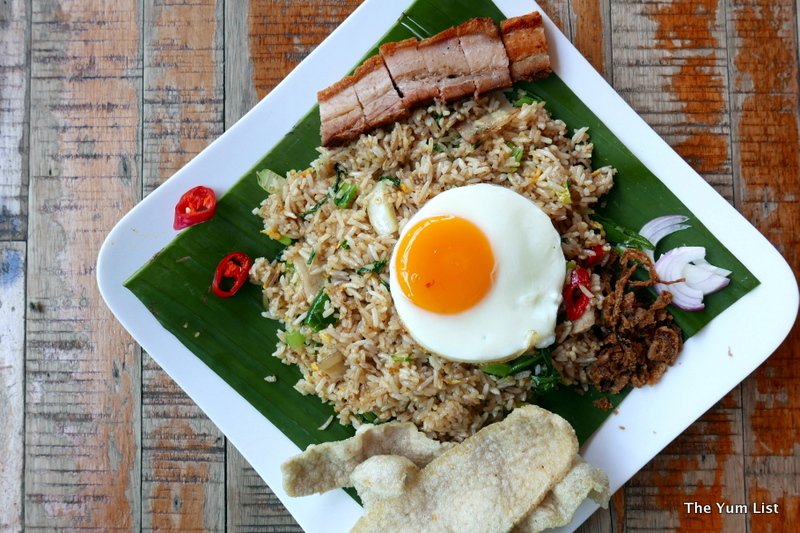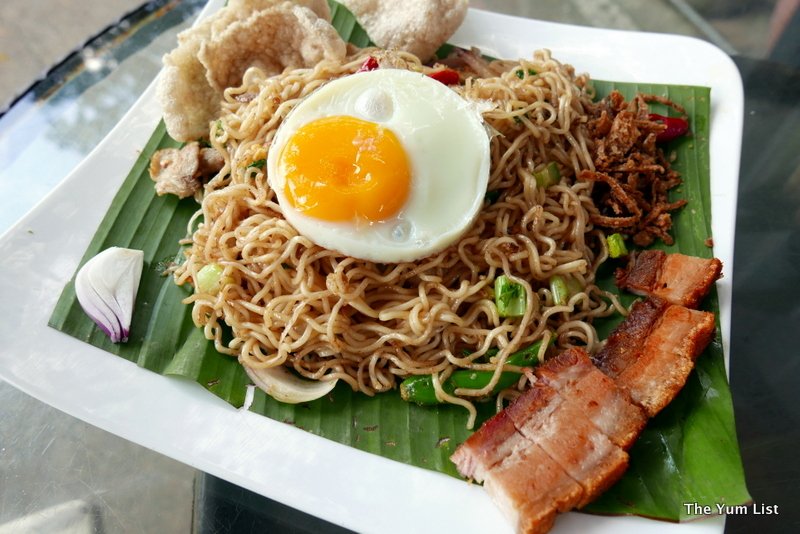 Ready for the climax of our meal, I should tell you that even the desserts at Naughty Nuri's jump on the porky bandwagon. The Sizzling Bacon Chocolate Cake (RM28) may sound sceptically unappealing, but the bacon simply adds a richness to the cake that other fats cannot provide. Served with chocolate sauce and ice cream, the layers of richness demand a friend or two to help you lick up the lusciousness.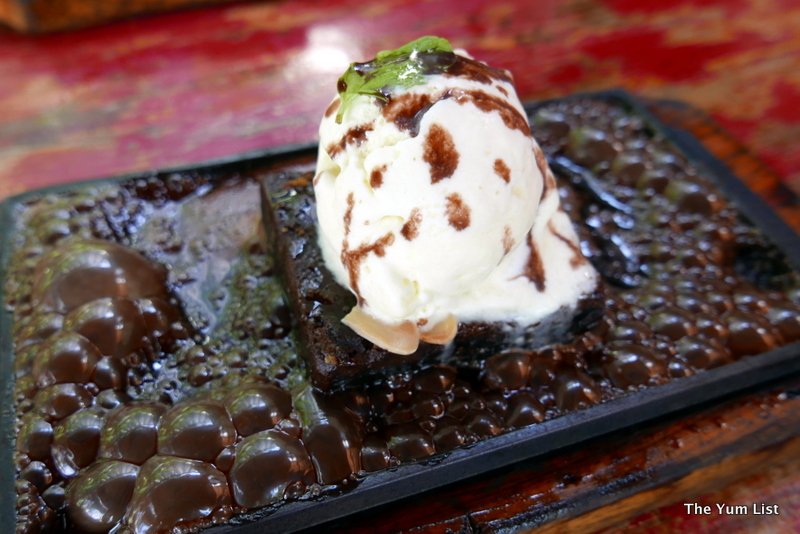 Similarly, the decadent Volcano Oreo Cheesecake (RM30) stacks cookie cheesecake atop a thick biscuit foundation then flambes it alongside chocolate sauce and ice cream. Again, friends are needed for the eruption of sweetness in this dessert as well.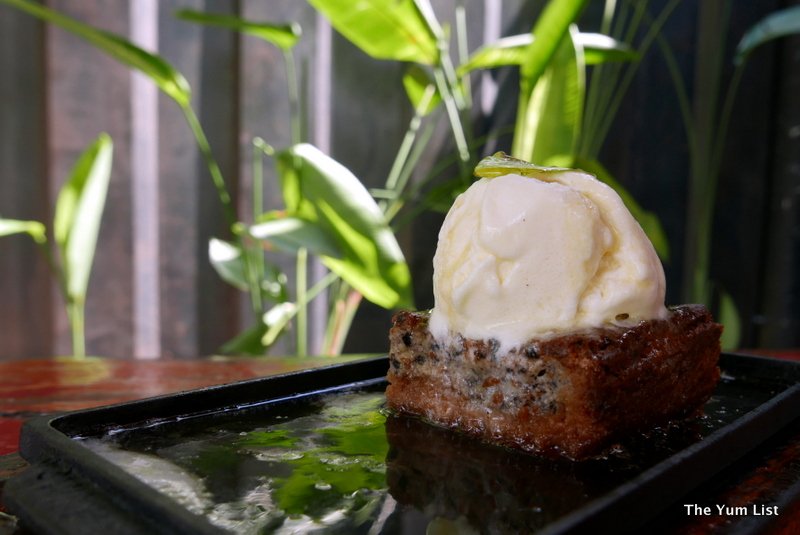 Turning the page on the last chapter, our server brought us a Summer Lars (RM45). Here, Somersby Cider is flipped into a Lychee Martini. Its arrival may have generated less fanfare than the previous rounds, but there was still plenty of enthusiasm in the effervescence of this drink.
At this point in the afternoon, our writer and her friends felt satisfied with the narrative of the day. The challenge of finding fun in KL over the Chinese New Year weekend was met with courage and delivered the happy ending to our heroes that every story deserves.
Moral of the story: porky goodness and crowd-pleasing cocktails can be found at the legendary Naughty Nuri's in Desa Sri Hartamas.
Epilogue: This Wednesday 28th February from 11:00 a.m. to 4:00 p.m., Naughty Nuri's is hosting a special event, Now Everyone Can Eat, featuring hundreds of ribs to be given away at designated times. Reservations can be made at http://bit.ly/naughtyribs
Naughty Nuri's, Desa Sri Hartamas
No.2, Ground Floor, 20/70A
Jalan Sri Hartamas 22, Desa Sri Hartamas
50480 Kuala Lumpur
+6 016 556 4611
www.facebook.com/nnkualalumpur