Words: Craig J Selby     Photos: Monica Tindall
This outlet is now closed in Bangsar.
The dragon on the wall is both impressive and a tad intimidating at Kouzu Bangsar. Stretching the entire wall, this fantastic piece of 'almost' pop-art signals that this venue is going to be a little different. And it certainly lives up to that impression.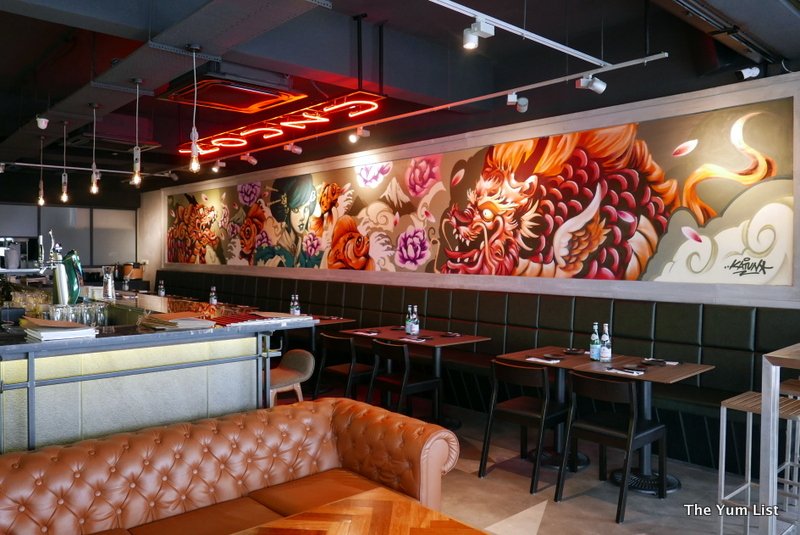 Drinks at Kouzu Bangsar
It was a typical hot, sunny KL afternoon when we first visited Kouzu Bangsar, so we desperately needed something to quench our thirst. We started with a house pour sparkling sake – mildly sweet to taste, with a fresh floral aroma. My nose hinted at grapefruit, my tongue hinted at more. It was certainly a refreshing drink for the afternoon and strategically served just before our gastronomic journey started.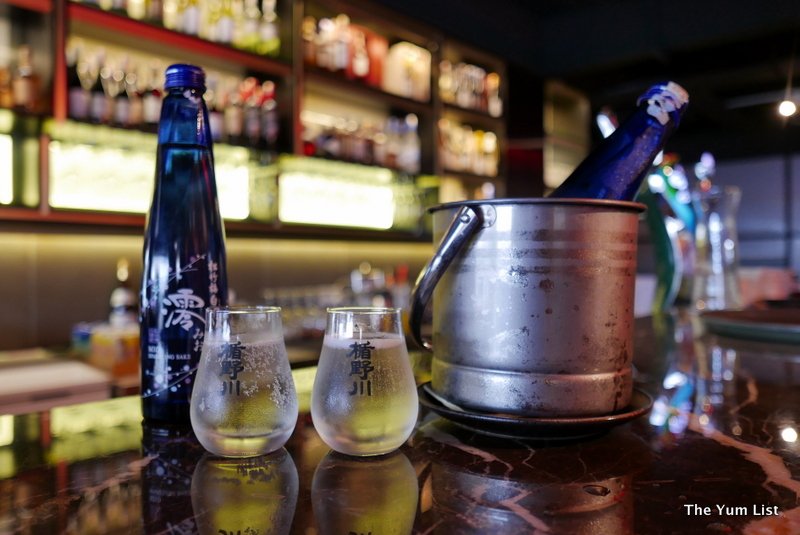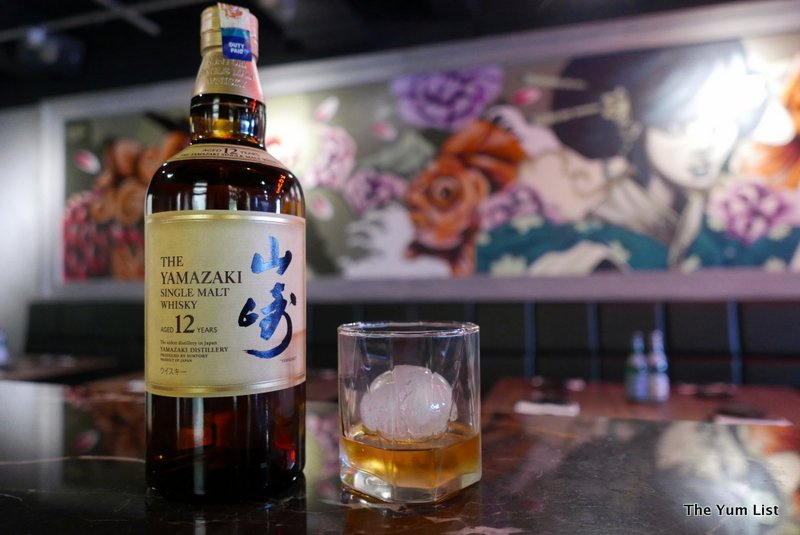 Kouzu Bangsar Menu
Our first taste of the menu was the very-reasonably priced Kouzu Bento Set (RM 19) – a great lunch with salmon sashimi, chicken karage, California roll, and chilled soba. I was impressed with the tasty thick slices of chilled salmon and added a dab of wasabi for a little-heightened impact. Tender chicken morsels were deep fried with a crispy batter that goes crunch when you bite into them. Yummy. The California roll was chock full of fresh ingredients, and the chilled soba offered a nice simple accompaniment to the overall dish. It was a good portion size too – just right for an express lunch.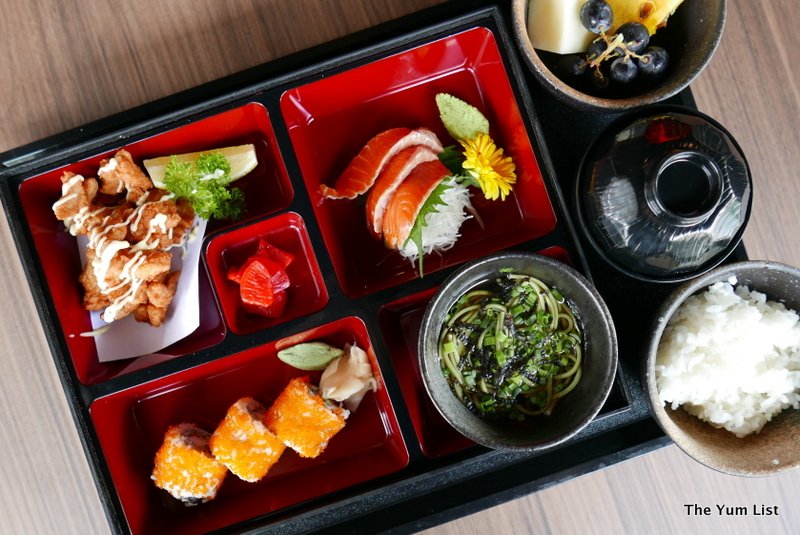 Beyond the bento box (a Japanese staple), we were offered some more innovative dishes recently added to the menu. The Avocado Miso Gratin (RM 26) was an unexpected delight. Deliciously creamy, this warm avocado dish allowed both the avocado flavour and the miso to shine. I loved the softness of the dish, but the distinctiveness of the flavours that came through was what made it memorable.
For sushi lovers, the picturesque Dragon Roll (RM 15) not only looks great but delivers in the flavour department too. Reminiscent of a dragon in battle, the colourful sushi offers a medley of texture, bright tones, and flavour. Judiciously involving tempura shrimp, sashimi shrimp, ebiko, yukari, and caviar, this deep sea dragon delivers strongly on flavour. The wasabi mayo and teriyaki sauce give extra depth and invite both sweet and savoury into the mix.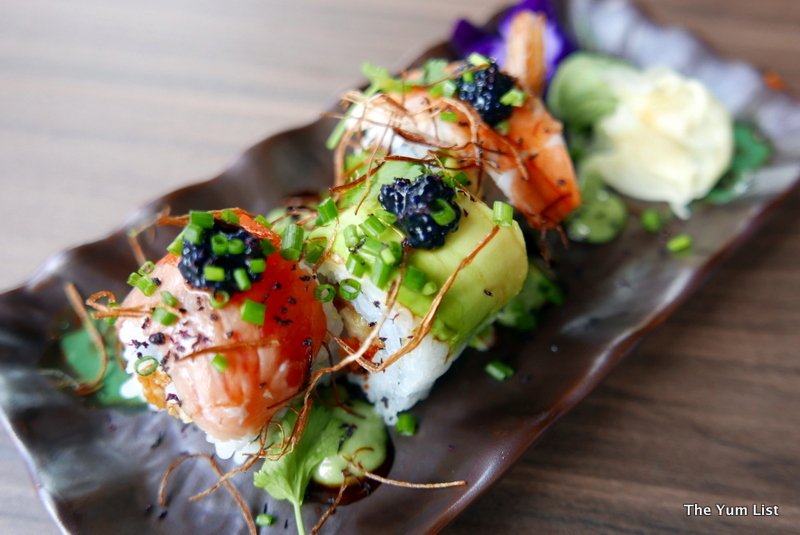 Ishiyaki Bibimbap (RM 30) is a unique take on a more commonly-known Korean dish. Using Japanese rice, it's combined with unagi, scallop, shrimp, dried shitake, ebiko, and onsen tomago in a stone hot pot, and this visual symphony soon becomes one equally for the taste buds. The mix of seafood is softened by the rice and the egg, which I recommend breaking and mixing in before eating.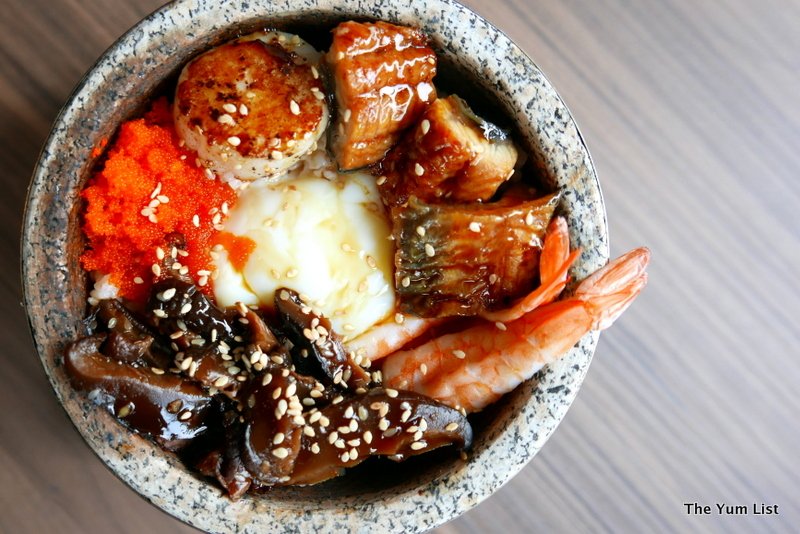 For a chilled dish, try the Hiyashi Somen (RM 25), which are thin chilled noodles, with a strong truffle addition. It's a great dish but the intense truffle might be a deal-breaker for the inexperienced. It's certainly, a dish to have with lighter food, so as not to confuse flavours too much.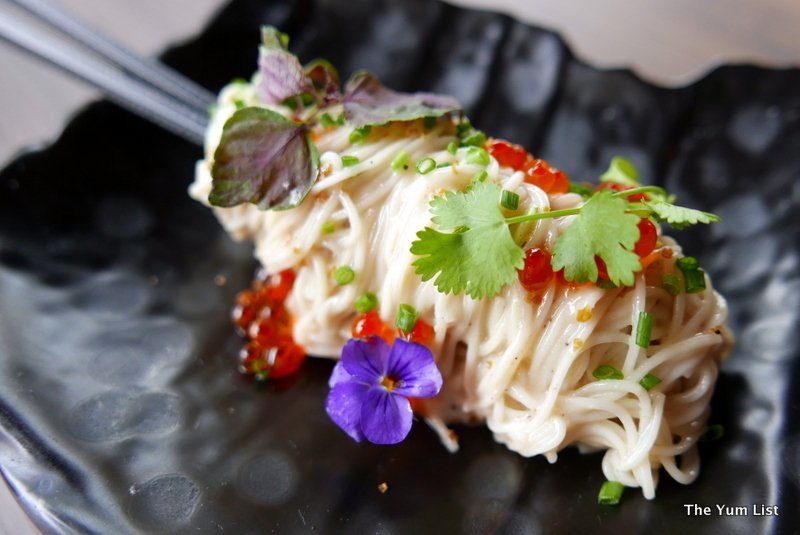 What better to go with the chilled noodles, than a nice ice-cold Asahi, I mean, frozen Asahi. Yes, the beer is frozen and comes directly from the tap. It's an icy-slush for adults.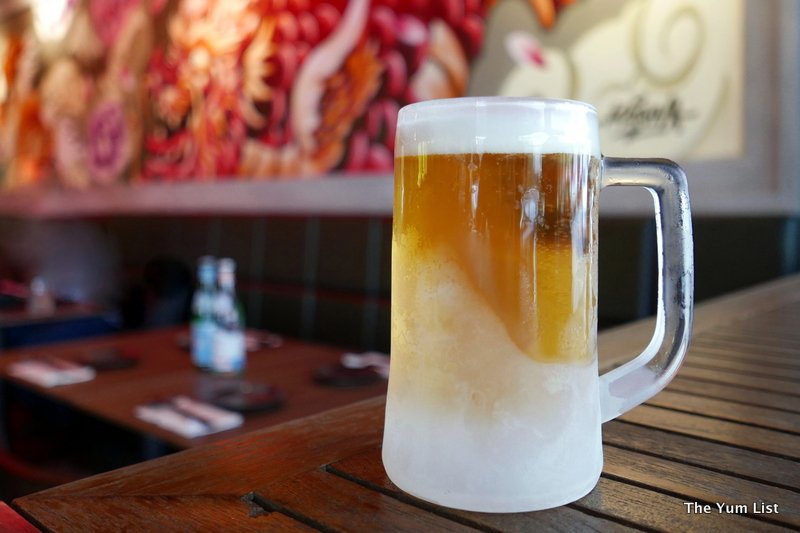 The pan-fried Gyoza Kaizen (RM 22, 3 pieces) were delicious. The burst of moisture as you bite into the individual gyoza met expectations, with the surprise being these were a seafood dumpling, rather than traditional meat. It's a simple innovation – yet so tasty.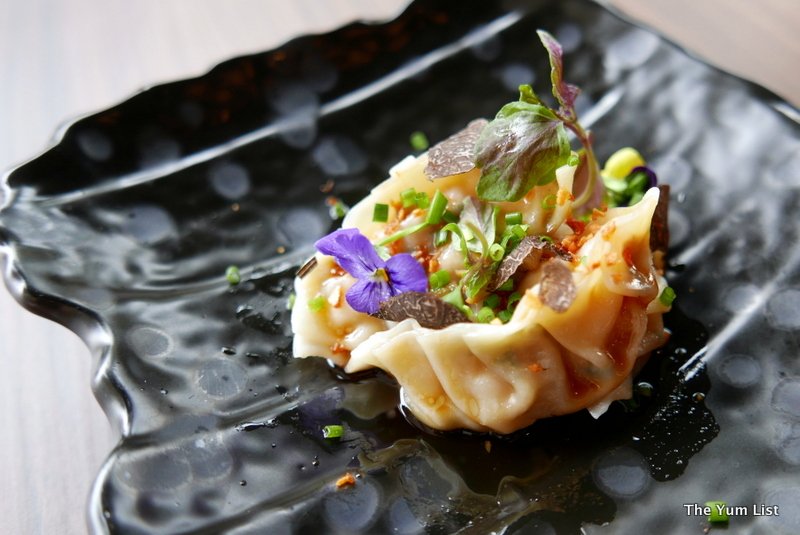 Oddly enough, one of my favourite dishes from Kouzu was actually a salad. The Yasai Heritage Salad (RM 17) brought together a great selection of fresh green leaves with citrus. I love peppery flavours, so the inclusion of pennywort (something new for me) was great. Fresh orange added both sweetness and acidity to the dish, which was topped off with grated coconut and a ponzu vinaigrette. Refreshing!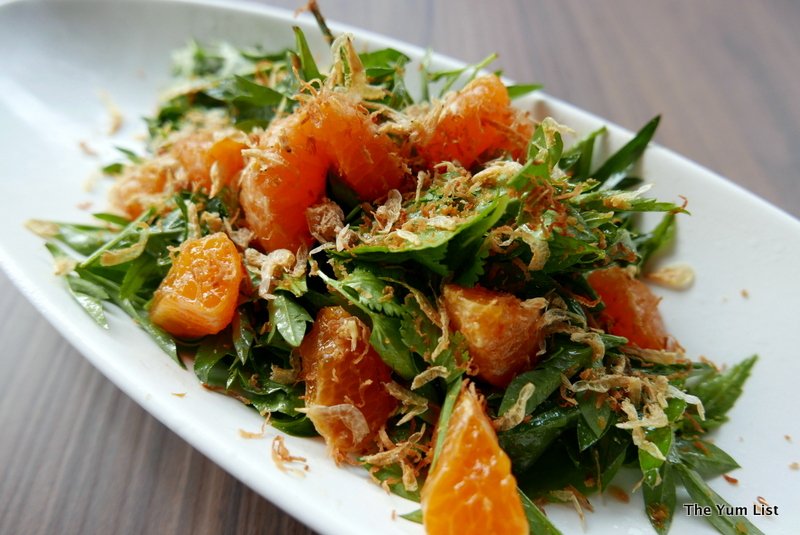 If you want something truly different, try their version of pizza. Forget dough, use rice! We had the Jidori Yuzu Kosho Pizza (RM19) – a rice-based pizza topped with tender grilled spring chicken, rich tomato paste, mozzarella cheese, yuzu miso, fresh pineapple, wasabi mayo and teriyaki sauce. What a great combination! If Monica hadn't told me about the rice base, I would not have guessed it for myself – the taste is fantastic, and the texture remains somewhat familiar.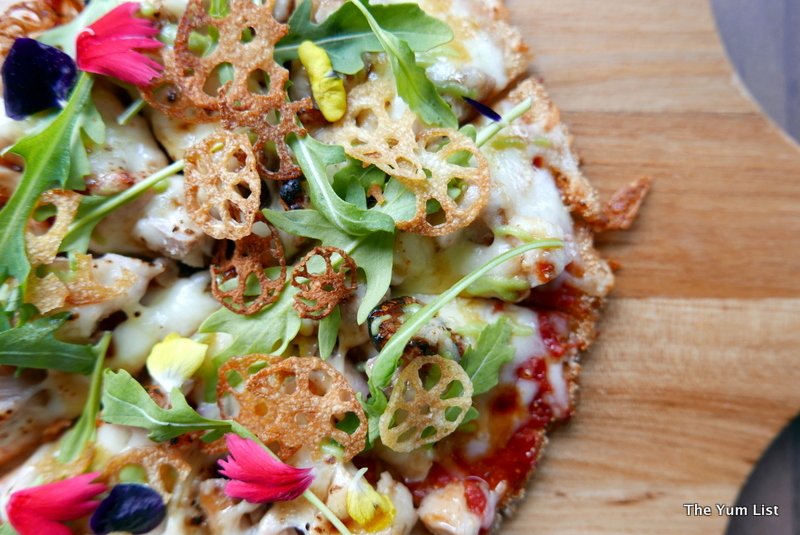 The ultimate serving, however, was their newest addition to the menu – Halal Beef Miyazaki (RM 220). Not only did Kouzu source for some of the finest beef in Japan, they also sought Halal-certified beef, giving their guests something few others in KL have. This melt-in-your-mouth steak is literally that – smooth, beefy, tender. A pure treat, and at a good price too. Lightly grilled to retain some rareness, you know you've hit gold upon the first bite. The light char sealed the beef and ensured the delicious fat flavour within the meat shone through with each bite.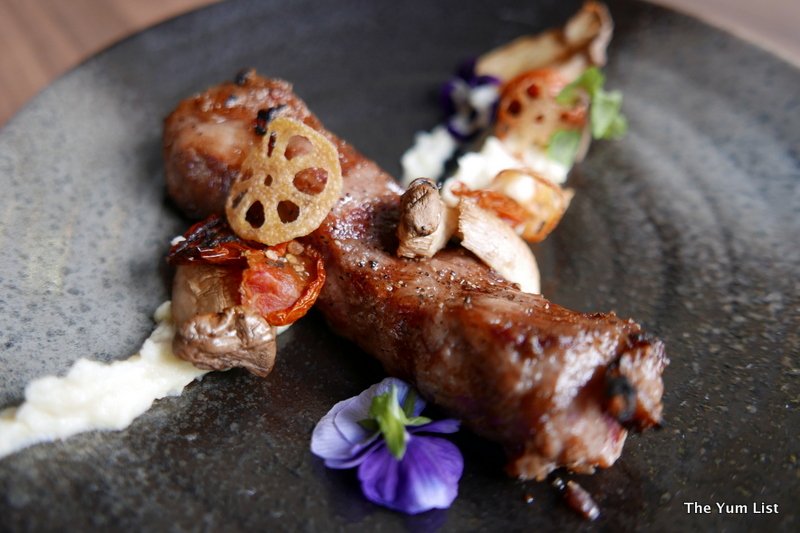 If we take the price point, location, service and ambience all into account, Kouzu Bangsar has got to be one of my all-time favourite Japanese restaurants in Kuala Lumpur. And that was before I tried the beef!
Reasons to visit Kouzu Bangsar: That dragon art!  Excellent cuisine, friendly service, great drinks, and that mural (seriously).
Kouzu Bangsar
19 Jalan Telawi 3
Bangsar Baru
59000 Kuala Lumpur, Malaysia
+6 011 6050 0995
www.facebook.com/kouzubangsar
This is Kouzu's second outlet. Read about their first branch in TTDI here.