Monica Tindall
Khatulistiwah, formerly Espresso Lab in Melawati, has recently launched with the core philosophy of creating value for the customer. Understanding the ever increasing cost of living in Malaysia alongside the desire to live a good life, the team behind behind the Melawati coffee shop wanted to design a concept where Malaysians could get a quality experience for a reasonable price. You could say it's a happy bridge between a traditional kopitiam and a new wave café – the flavours are distinctly Malaysian, the quality is premium and the end bill is somewhere in between.
Coffee at Khatulistiwah, Melawati Coffee Shop
As coffee is grown around the equatorial belt, Khatulistiwah is a nod to the prime product in the café, house roasted beans. Norien, a master roaster with nearly 20 years-experience, is the coffee boss, or "head Spice Girl" as her workmates have fondly dubbed her. She roasts the beans for the café (which are also available for retail sale on their website) in a shoplot directly behind the café.
Norien says that they wanted to play up the nostalgic element of an old-school kopitiam with Khatulistiwah while providing consumers with an unadulterated blend of 100% coffee beans. By using premium beans from Africa, South America and Indonesia in differing amounts Norien creates three blends giving an upscaling of quality while maintaining the stronger Malaysian style flavours.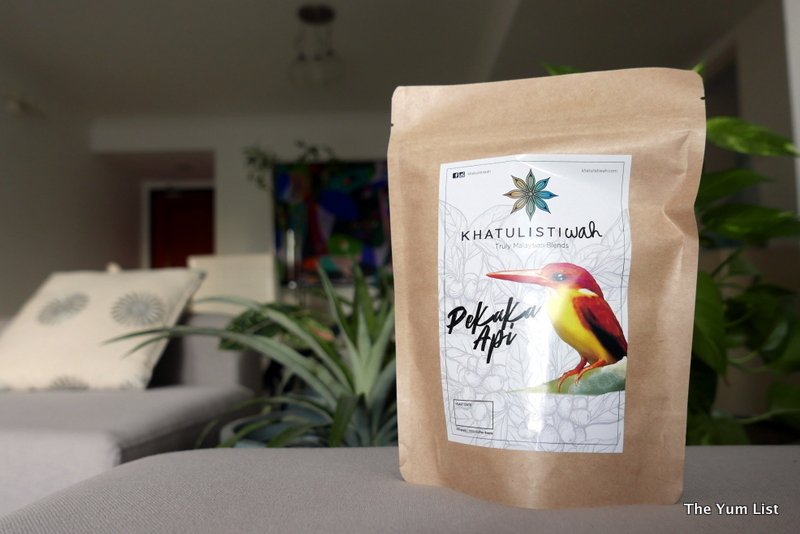 Three Blends of Khatulistiwah Coffee
Named after Malaysian birds, the current three blends range from strong wake-me-up potions traditionally associated with those dark legendary Kopi-O brews in kopitiams to a blend with a touch of fruit and chocolate in the finish more commonly used in contemporary espresso-based coffees.
I ease myself into the tasting session with a Latte (RM9.90) made on the Enggang (hornbill) blend composed of Guatemalan, Ethiopian and Indonesian beans. Strength is found with the Robusta component, while Guatemala gives it the chocolatey notes and a whisper of fruitiness is gifted by the African bean. This is a good value cup, or rather mug. It's a double shot, perfectly brewed and topped with milk foamed to a silky texture.
Local flavours are found in the Murai Batu (magpie) made Kopi SuSu (RM7.90) style – black coffee with sweetened condensed milk. It's brewed in the cone drip, now trendily upgraded as the Hario V60 and features Sumatran Robusta and Colombian Arabica. It's a powerful cup with a bold earthiness and nutty undertone tempered by the sweetened milk.
The last of trio is the Pekaka Api (kingfisher), which is also recommended to be brewed Malaysian style – hand brew. Indonesia Robusta and Ethiopian Sidamo maintain the robust Indonesian accents yet add a complexity with soft floral and berry expressions.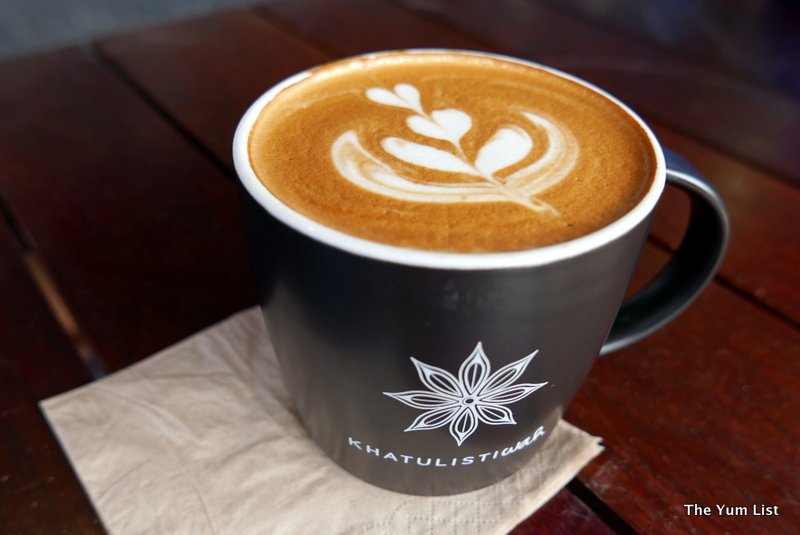 Khatulistiwah Sodas
Continuing the tradition of local coffee shops, Khatulistiwah make their own Malaysian style sodas (RM11.90). They're made in house with a base of soda water and then flavoured with a variety of syrups. I try the Rose Selasih which has a subtle floral flavour with a hint of lemon and a sprinkling of basil seeds floating around the base. The Berry Berry, although not overpowering, is a little fuller and sweeter, reminiscent of a fruit punch.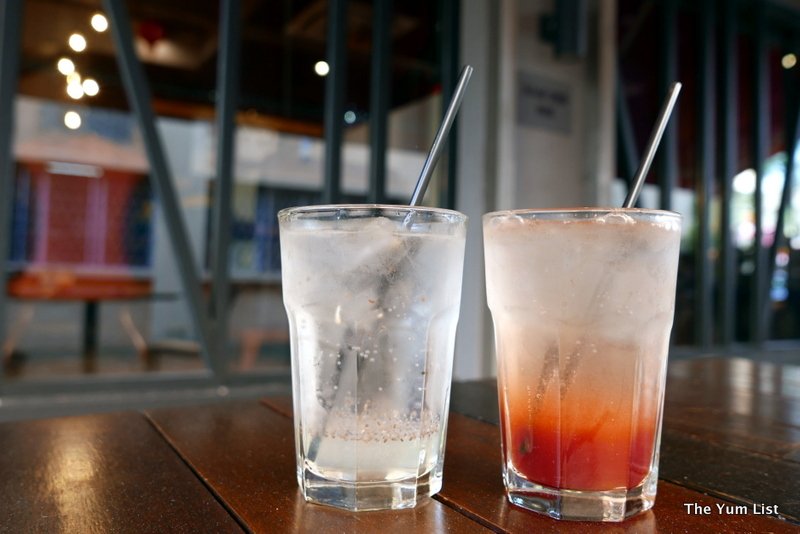 Khatulistiwah Menu
The food menu is simple at Khatulistiwah offering a couple of heartier dishes, a few light breakfasts and a handful of sweets. Hailing from Kelantan, Nasi Kerabu (RM13.90) makes a tasty main with its oven-baked chicken marinated with galangal, ginger, curry powder and mixed seeds such as anise. Fish crackers give some crunch. Half a salted egg, fried desiccated coconut, shredded cabbage, ginger torch and ulam raja back up the protein alongside a mound of blue rice coloured with the butterfly pea. Sauces for extra kick include: the tumis, made of chilli, coconut milk, and fermented prawn paste; air lada – chilli water – featuring pounded chilli with vinegar and salt; and lastly, the budu – fermented anchovy sauce – which is a pungent addition widely used on the East Coast.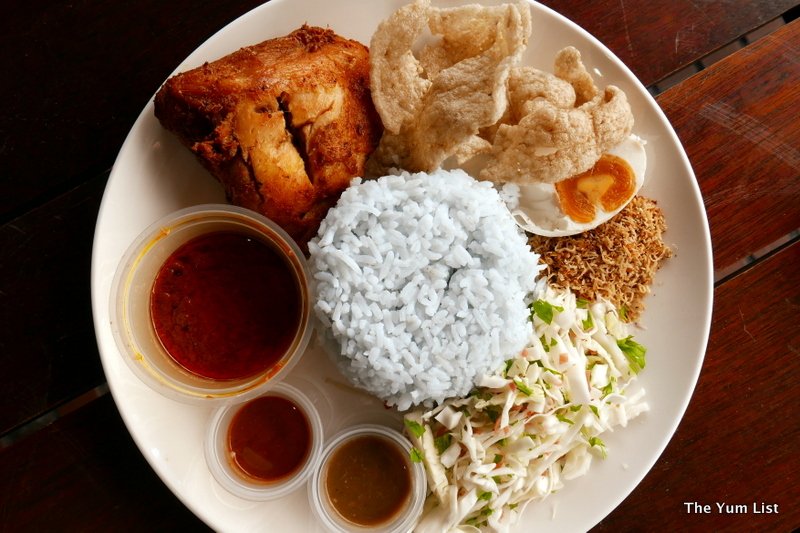 Sweets at Khatulistiwah
A mixed of Malaysian snacks, Kuih Muih, is for the choosing at the good value price of RM3.50 a plate. The recipes rotate depending on the inspiration of the chef. Today I try fried vegetarian popiah, pulut panggang – spicy shaved coconut rolled in sticky rice and wrapped in a banana leaf and gula hangus, a burnt sugar cake.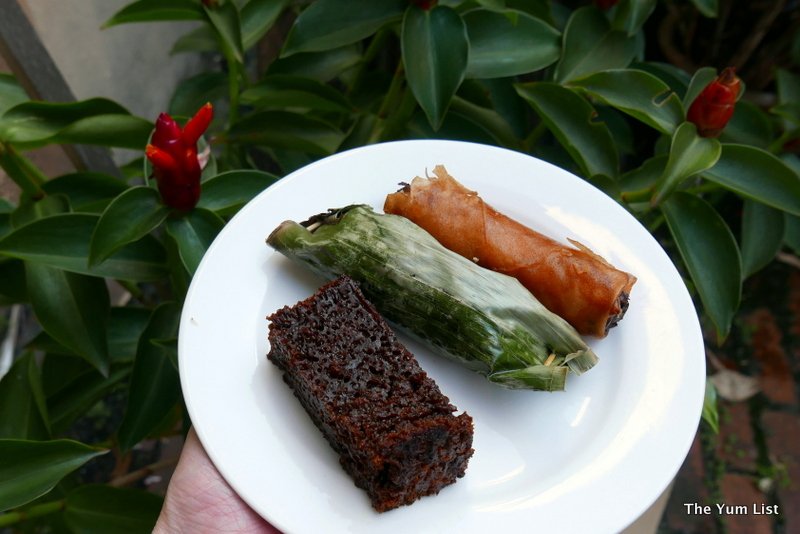 Reasons to visit: a cool expression of the contemporary coffee scene with a distinctive Malaysian flavour; value-for-money coffee locally roasted by Khatulistiwah's in-house coffee roaster.
Khatulistiwah – Truly A Malaysian Blend
Melawati Coffee Shop
11 Jalan Bandar
Taman Melawati
53100 Kuala Lumpur, Selangor
Malaysia
+603 4161 7863
www.facebook.com/khatulistiwah
www.khatulistiwah.com
Open daily from 7:30am – 12:30am