Words: Robin Pascucci    Photos: Monica Tindall
Mont Kiara, you're welcome. Actually, that acknowledgement should be coming from Filippo Tomelleri, Ra-Ft's "Director of Storytelling" and Andrea Rossi, their "Director of Coffee Bean Counting" rather than from me because this neighborhood is going to want to thank them for choosing this location for the new branch of Ra.Ft Cafe-Bistro.
This modern café in the newly opened Arcoris Plaza on Jalan Kiara is already well on its way to becoming the hottest spot in the neighborhood, filling up completely on Saturdays and Sundays before word has even had time to get out to the whole community. The setting itself feels welcoming, with its chic contemporary style of sparse metalwork on a high ceiling and the warmth of brickwork and dark wood. The real warmth of Ra.Ft Mont Kiara, however, comes from the personal welcome of the staff and Filippo as they make their rounds chatting with customers and making them feel like old friends.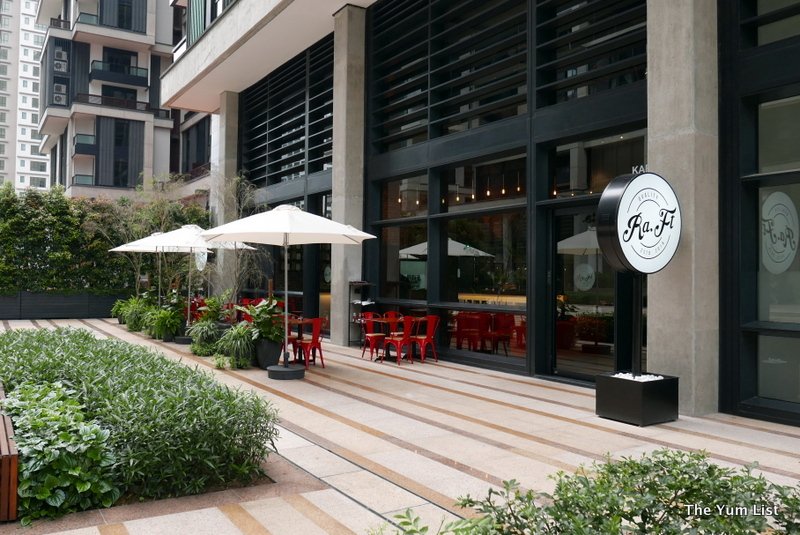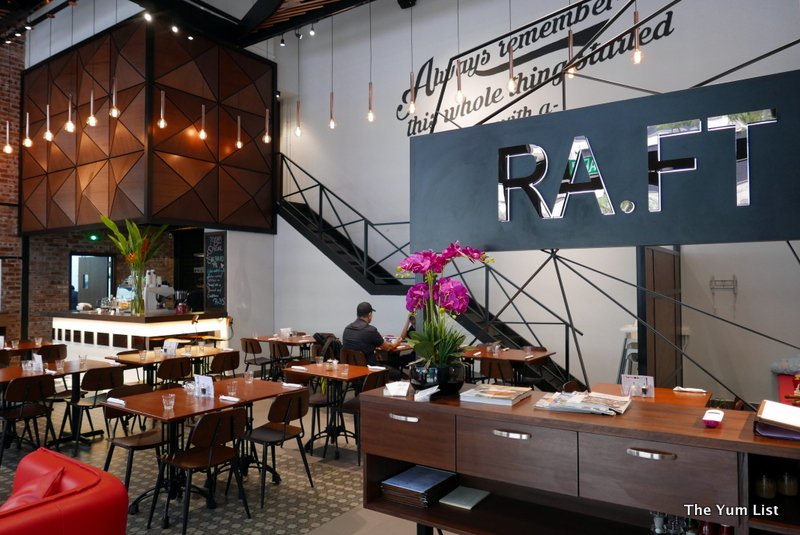 Ra-Ft Mont Kiara Café-Bistro Menu
Ra-Ft Café-Bistro is all about quality and choice. They make as much as they can in-house. They roast their own coffee beans, bake their own bread, and home-cure their own salmon. They take recipes they love from places they've traveled and put their own touch on them, turning the Vietnamese Pho, for example, into a comfort soup with a chicken broth base rather than beef. They allow customers to customize as many items as possible, giving them at least three choices from salads and most of the items on the breakfast menu (available all day). That means that French toast, for example, can come with bananas and chocolate sauce, bacon and maple syrup, or caramelized apples. They have options for all dietary preferences, from carnivore to vegetarian to gluten-free.
Drinks at Ra-Ft Café-Bistro Mont Kiara
But let's start with the drinks. Ra-Ft café Mont Kiara offers a long list of coffees and teas (they're open from 7:30 am if you need your morning fix). We tried the Mochaccino (RM 9), a coffee with a thick layer of chocolate waiting to be stirred in at the bottom of the glass. The Ra.Ft coffee blend is a combination of Asian, Central American, and South American beans – a darker roast with low acidity and an Italian finish that is perfect for espresso. As a perfectionist, Filippo says he handpicks through the beans after he roasts them, getting rid of any that are not up to standard. Bags of this primo coffee are also available for sale.
Juices are fab and fresh too with four mixed varieties on the menu. We tried the Liver Cleanser (RM 16) – a blend of orange, beetroot, and carrot juice. It's refreshing, citrusy and not overly sweet – a great compliment to one of the sweeter breakfast dishes on the menu.
Ra.Ft Café-Bistro also offers a compact list of alcoholic beverages. Wines by the glass are priced at RM 27 or RM 160 per bottle. The Soave Classico Monte del Fra, is a light, fruity Italian white and the Jules Mediterranee Rose, from the renowned Cote de Provence Roses, is a classic dry rose that partners well with a range of dishes. Lastly, the pride of Verona-born Filippo, the Passimento Romeo and Juliet, is a full-bodied red from the home of Shakespeare's star-crossed lovers with a picture on the bottle of the romantically graffiti-covered wall in front of Juliet's supposed abode. The flavor of the wine lived up to the creativity of the bottle and after a glass of it, I could envision it as the object of one of Romeo's soliloquys.
During aperitivo hours drinks come with a plate of mini-toasts topped with chef's inspiration of the day. We tried the hummus, olives, and a dash of cinnamon; and pesto, tomato, and Parmesan – both tasty recipes.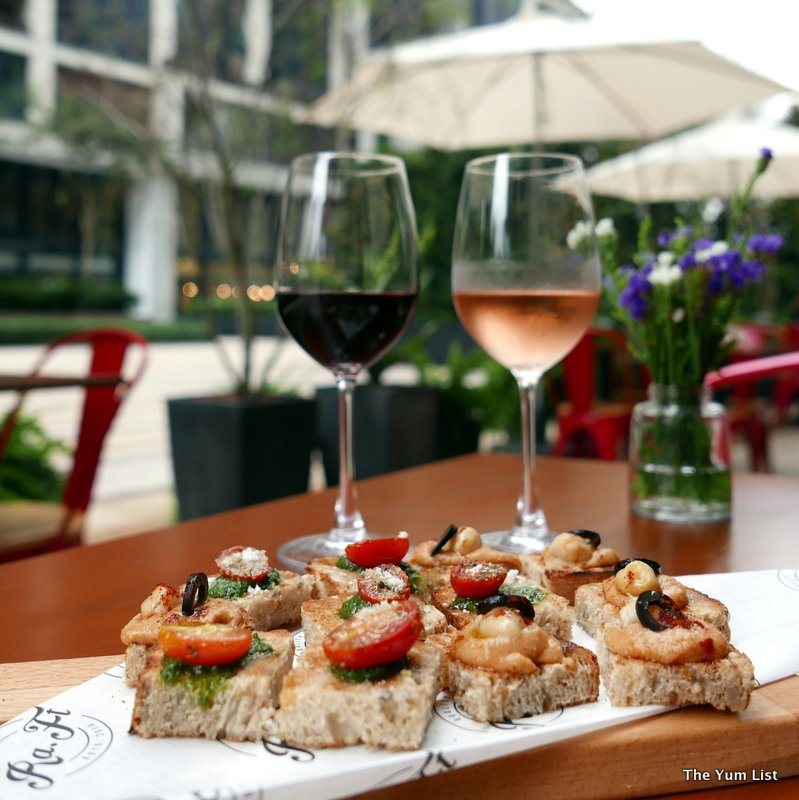 And for those who prefer beer… drum roll please… the café has three different kinds of craft beer at RM 31 apiece. Just when you thought all the good craft beer had left the neighborhood, it's back. We tried the Aussie Happy New Beer White IPA, the Canadian Brewdog Punk IPA, and the American Rogue Dead Guy Ale. All of them were flavorful with varying degrees of hoppiness. Boutique brews will rotate regularly so there's always something new to try.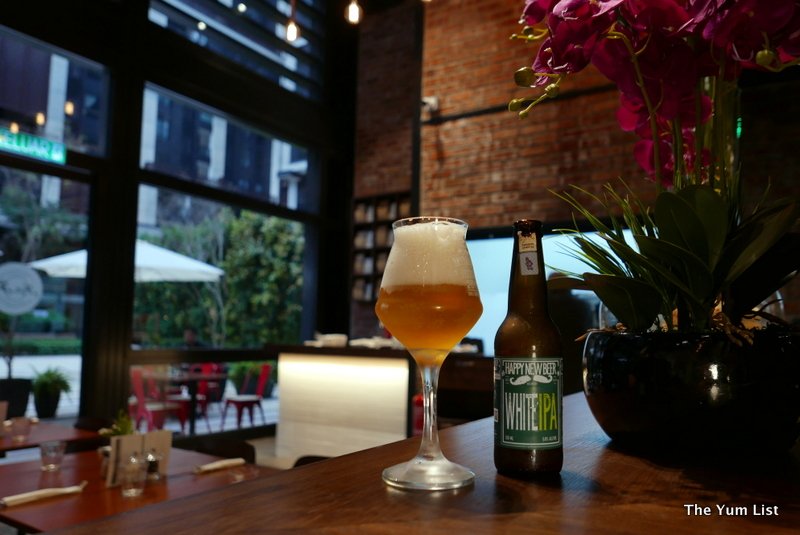 Food Menu at Ra-Ft Mont Kiara
Ra.Ft's menu is a comprehensive offering of all-day breakfast, lighter lunches and heartier dinner items. We think eggy beginnings are a brilliant way to begin a day so sampled both the Gourmet Eggs Benedict (RM 29) and Eggs Royale (RM29). Both start with a house made English muffin and eggs poached the old-fashioned way (in boiling water with vinegar). They're then topped with a light hollandaise sauce with a touch of tarragon – very flavorful but not overly rich the way that some hollandaise sauces can be. The Royale is lushed up with home-cured salmon – sweet, slightly salty, and not too fishy and the Gourmet completed with crispy Parma ham.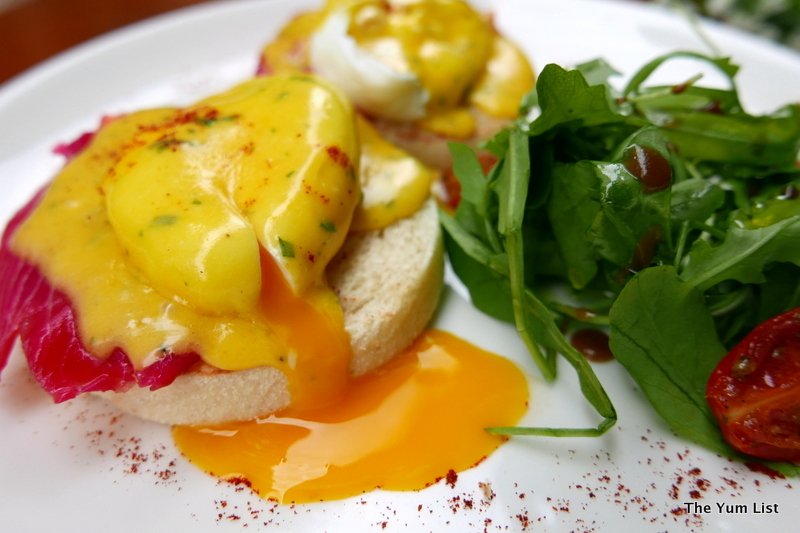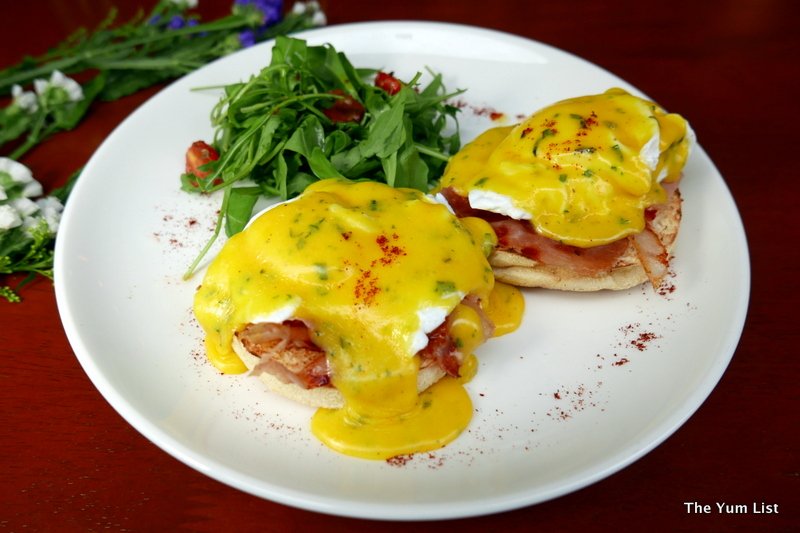 For the pancakes tasting Mon suggests I simply write, "Bacon-stuffed pancakes. Full-stop," and trust that bacon lovers will understand. I'm compelled to write more of a description though so I'm here to let you know that the pancakes (RM 20.50) were fluffy and light but still solid enough not to float off the plate or drown in syrup. They were salty and sweet and filled with bacony goodness.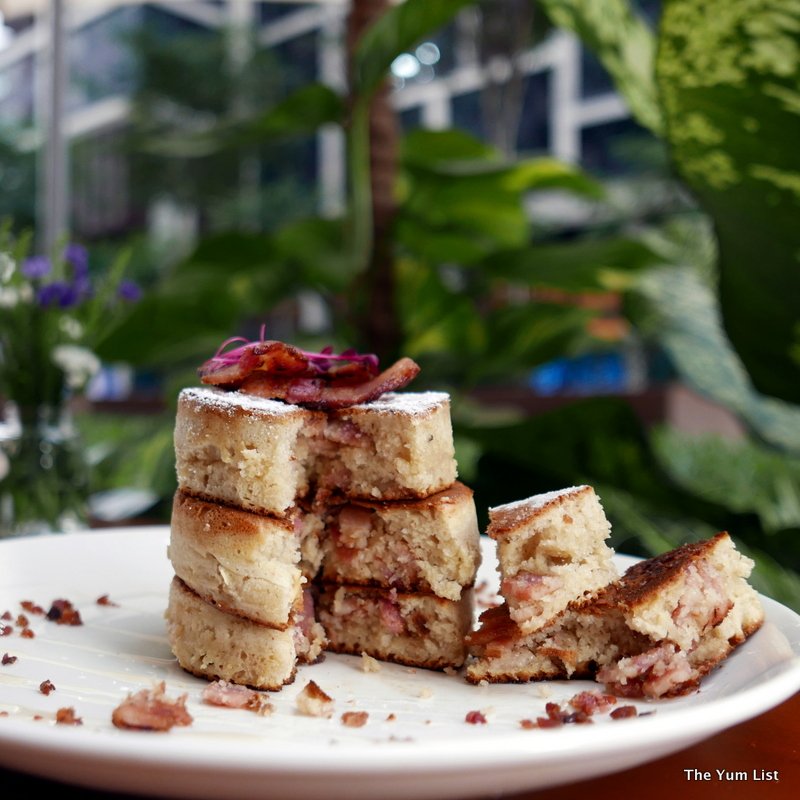 Many of our friends will be pleased to know that both gluten-free and vegetarian options are available on the menu. One such example is The Botanist (RM 23.50), a whole garden of greens on a slice of multi-grain gluten-free bread. It had broccoli, kale, zucchini, pea sprouts, and mashed peas – pretty much every shade and flavor of green – and a poached egg hiding underneath it all. It tasted as healthy as one might imagine, with each green trying to out-shine the others.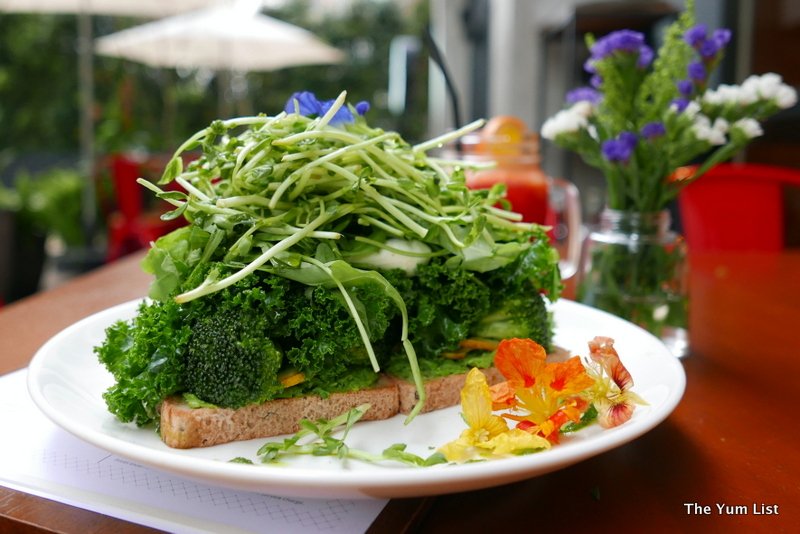 From gluten-free we went to gluten-full and tried out one of the pasta options: the Creamy Salmon Pasta (RM 28). The spaghetti was cooked perfectly al-dente and the sauce was a creamy tomato with shallots and fresh dill – rich in flavor but not heavy, and the salmon morsels were fresh and moist. This will be my go-to pasta dish when I return.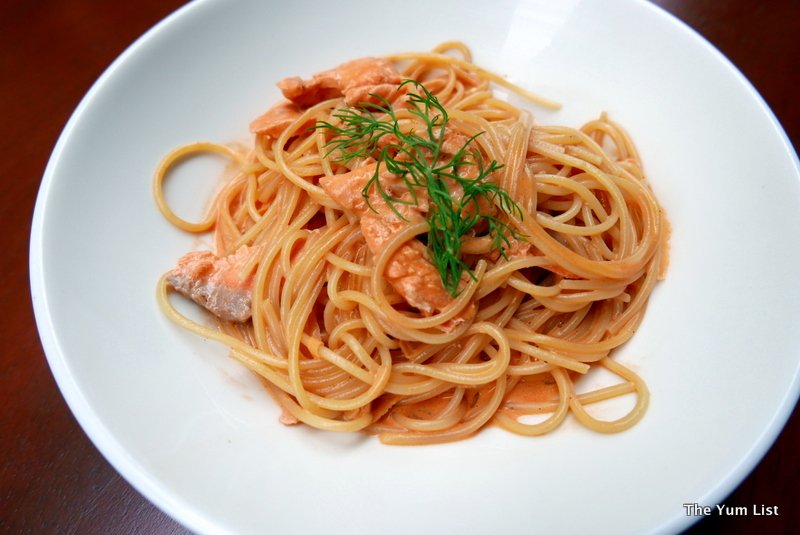 Fish and Chips (RM 35) was Caning's choice featuring fresh sea bass fried in a cornflake batter, which, in addition to holding in the moisture of the fish, gave it a better crunch than its traditional cousins. A light garlic aioli, smashed peas and basil, and a home-made coleslaw partnered the fish and a small mound of fries were cooked to perfection.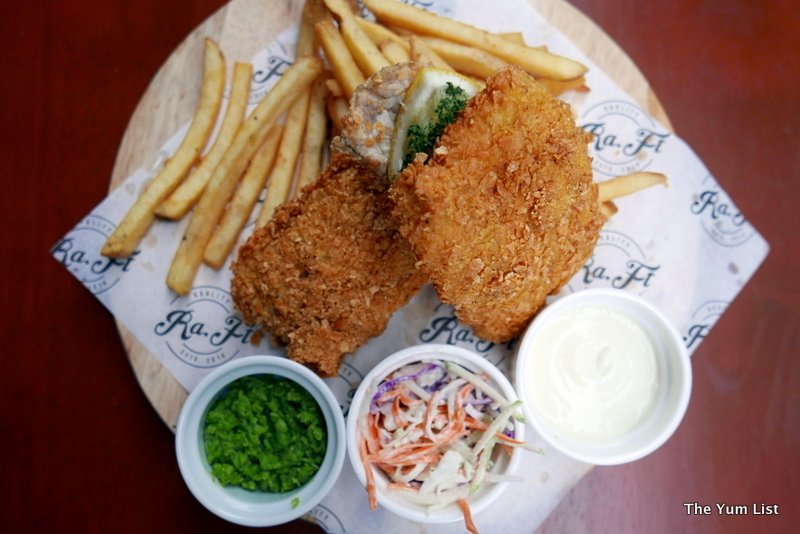 The team at Ra.Ft Café Mont Kiara love to play around with recipes and so daily you'll find specials on the blackboard. It was our lucky day as fresh out of the oven were Bomboloni (RM 8) on our visit. These were much like sugar-coated donuts, but one was stuffed with a divine vanilla custard and the other with Nutella. These little bundles of yum go perfectly with coffee. Sweet tooths might consider them for breakfast or sharing after dinner as dessert.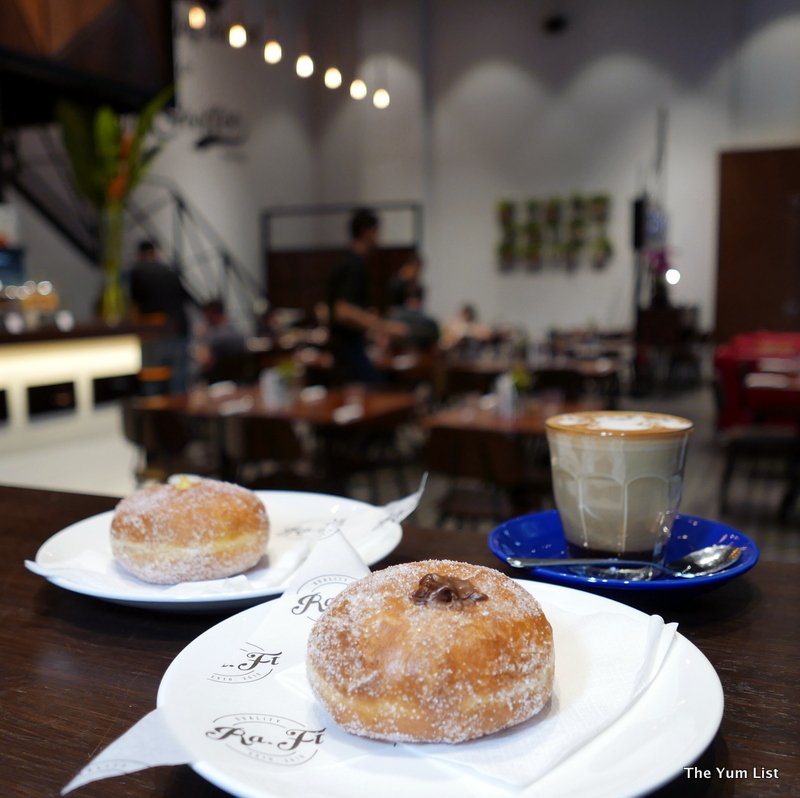 The delicious food and drinks at Ra.Fat café Mont Kiara will draw people in, but it's the warm neighborhood feel of the place that will keep them coming back. Filippo and Andrea are invested in this café as one can only be in a dream job. And as Filippo pointed out in the words painted on his wall, "Always remember this whole thing started with a dream and coffee."
Reasons to visit: all-day brekkie; craft beer; yummy desserts; great coffee and an all-round feel-good environment.
Ra.Ft Mont Kiara Café-Bistro
Ra-Ft @ Arcoris Plaza (Mont Kiara)
Lot G16 & G17, Ground Level, Arcoris Plaza
10 Jalan Kiara, 50480, Mont Kiara
Kuala Lumpur, Malaysia
www.ra-ft.com
(+60) 3 6412 2127
Open Daily: 7:30am–10pm