Words: Han Sen Hau   Photos: Monica Tindall
Ah… hello fellow Yummies. It's been a while. To make up for lost time, let me tell you about a pretty nifty speakeasy that I've discovered one night while walking around Petaling Street.
The air was unusually cool for this time of the year, and the streetlights flickered and hummed with a tired buzz. I had just finished dinner with a friend, and we were both in need of strong spirits to warm us up for the chill night. We walked past an assembly of animated aunties with cigarettes in one hand and chopsticks in the other, slurping on their noodles as they gossiped and guffawed over the day's business, their shrill laughter penetrating the descending mist that blanketed the dark, musty alleys of Chinatown.
We were walking along Jalan Balai Polis, and the friend had recommended a watering hole down Jalan Tun H S Lee, though I was distracted by an uncharacteristically bright wall lamp down Lorong Panggung, casting a beam of light on two burly men in suits who appeared to be guarding a pair of unprepossessing doors, with blue paint peeling off the wood. Lorong Panggung was the kind of street mothers would forbid their daughters from walking alone at night… even if there were a couple of well-dressed men standing sentinel. The alley loomed out into the darkness, with the graffiti on the walls losing their colour, shape, and form the further you looked. The lamp now looked foreboding, yet strangely inviting.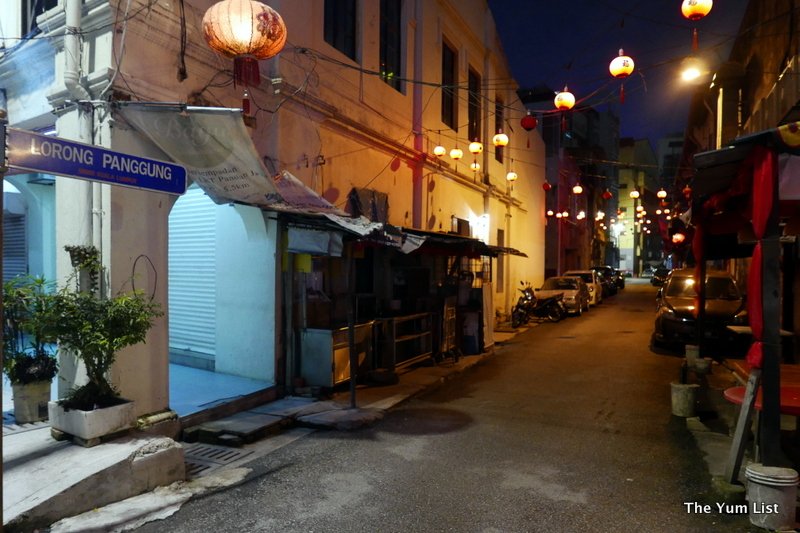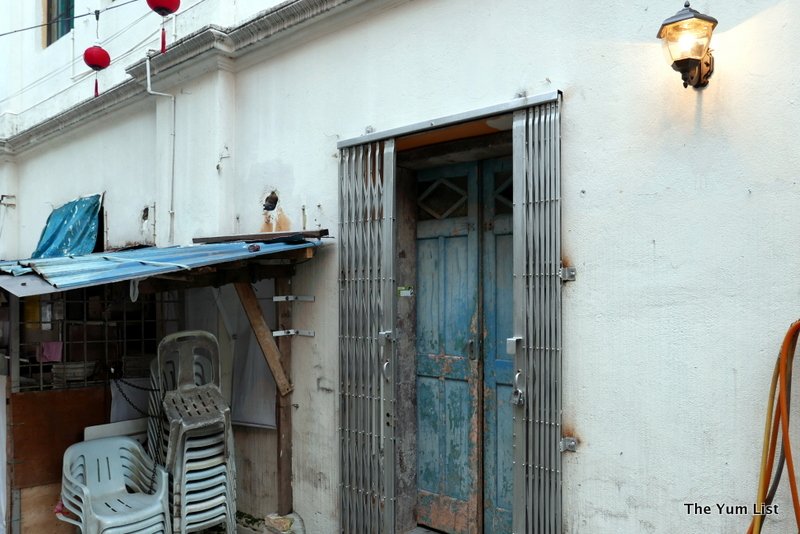 Curiosity got the better of my feet, and I found myself walking towards the two men when one of them said,
"You lookin' for BarZhen, bro?"
… which completely killed the murder mystery suspense up until that moment, but our eyebrows rose the moment "bar" escaped his lips, and the faint music beating from beyond the double doors convinced my friend and I that we have discovered something potentially exciting.
So we walked in, swivelled right, and ascended a flight of stairs at the end of a dark hallway, illuminated by the lights from the first floor. The setting at the top of the stairs was a stark contrast from what we've seen so far, with its maroon walls, vintage posters, and medicine cabinet; the latter of which marked what could only be the entrance into the bar (oh the secrecy!).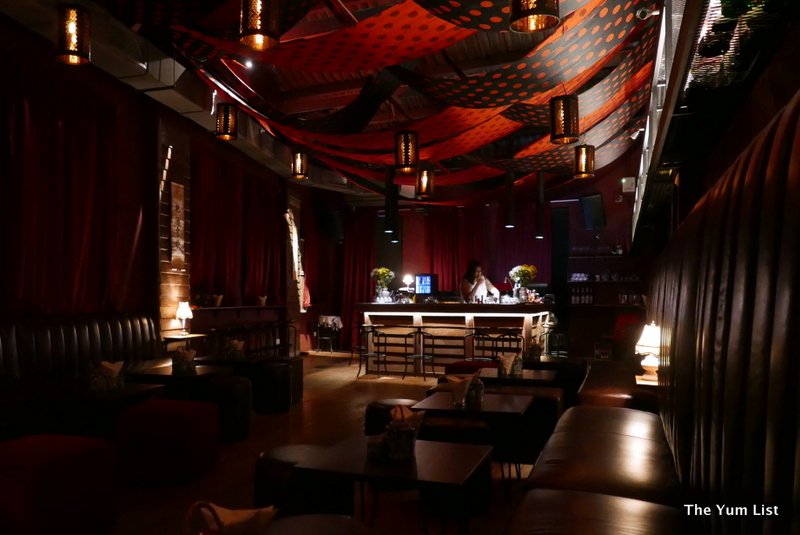 We pushed open the double doors to reveal the Queen of Hearts' secret parlour… sans the hearts, though complete with bottles of alcohol. Tanesh, the manager, welcomed us to our seats and through him, we learnt about the bar's interesting origin, most notably, its name. Literally called the "Eight Treasures", BarZhen is a reference to the famous decoction in Chinese herbology that many have used as a panacea to cure a variety of illnesses. Not surprisingly then, many of the bar's signature cocktails utilise potent herbs to give you that eye-opening kick, often accompanied by a sigh of precipitous wonder. This can definitely be said of the bar's bestselling Lychium Maca Osmanthus Tea.
What's better than tea? Spiked tea. Don't let the presentation of this fool you. Though served hot in a teapot and poured into tiny teacups, the Lychium Maca Osmanthus Tea is anything but meek. It's easy to understand why this is so popular among patrons. With its ridiculously fragrant bouquet redolent of osmanthus and syrupy consistency, your mind will be battling your tongue as they attempt to decide if you're sipping tea, or downing the smoothest and sweetest vodka. They provide two teacups, but you would never deign to share this.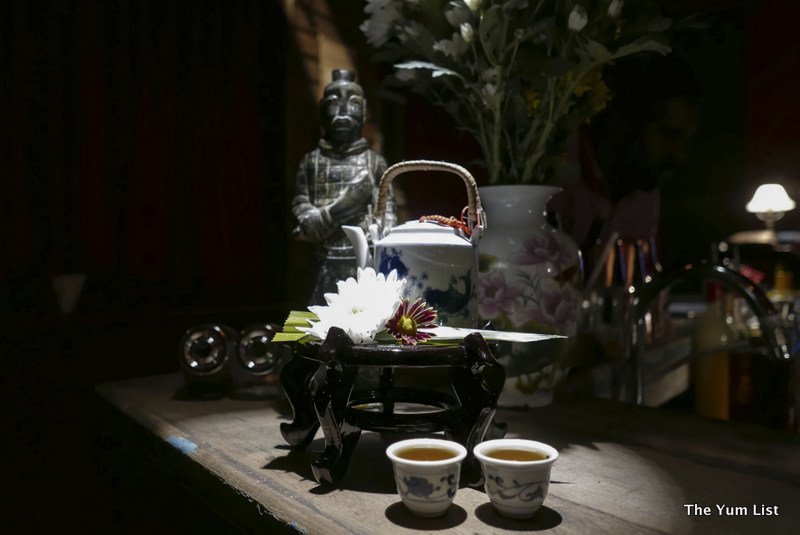 The similarly oriental Red Dates Clover Club looks beautiful served in a bowl and lid, fit for a dowager empress as she would gracefully lift this intoxicatingly sweet concoction to her lips, while carefully making sure her gilded nail guards don't poke someone's eye out. Raspberries feature very strongly in this one, though the kaffir lime leaves and egg white mellow down the immediate sweet entry.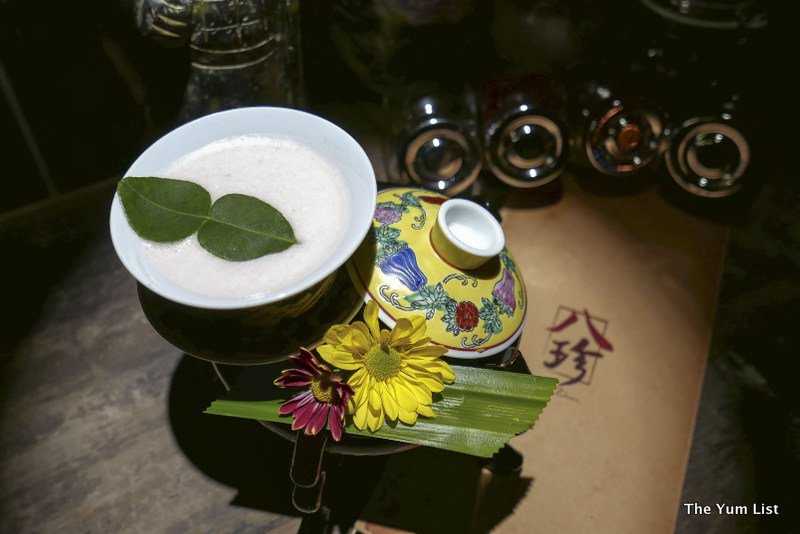 Beyond the exotic, we also had a pair of subtle yet seductive elixirs expertly brewed by Vee, the bartender. First up is the delicate Morinda Rose Salted Cocktail. The foam crowning this really makes the drink, and it's best enjoyed slowly, so you'll get to enjoy the lingering sweetness that trickles down your throat after every sip. On the other hand, the Tongkat Ali Kopitini slaps you awake from any drunken haze that may have clouded your better judgment. Frankly, this is the one drink I wouldn't mind having every morning before I read my emails. If it looks like coffee, and it smells like coffee, then it's probably a really strong rum-based espresso martini that would be perfect to give you a head start for that 9:00 am meeting.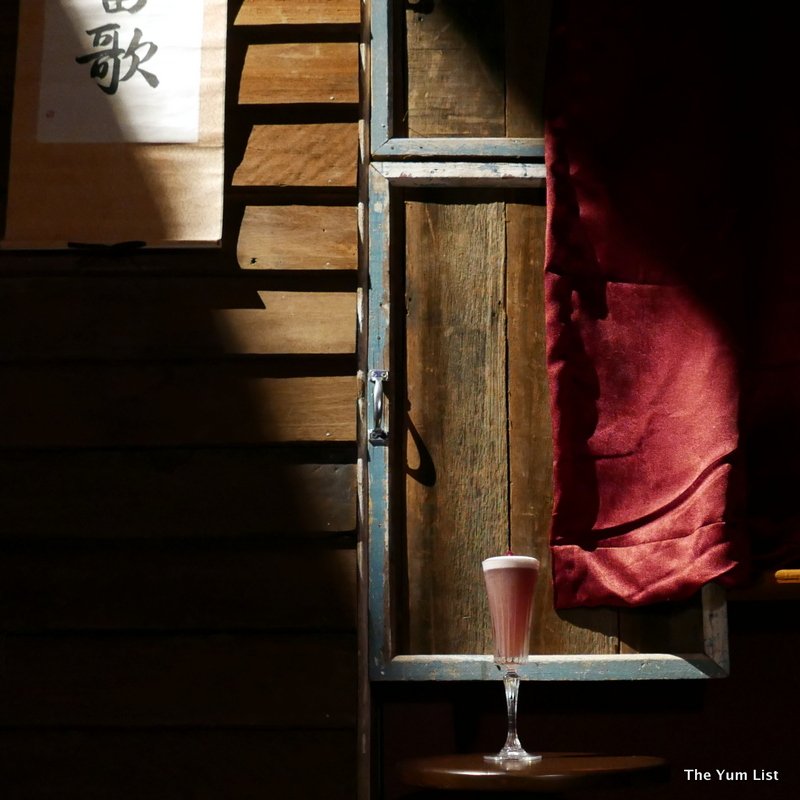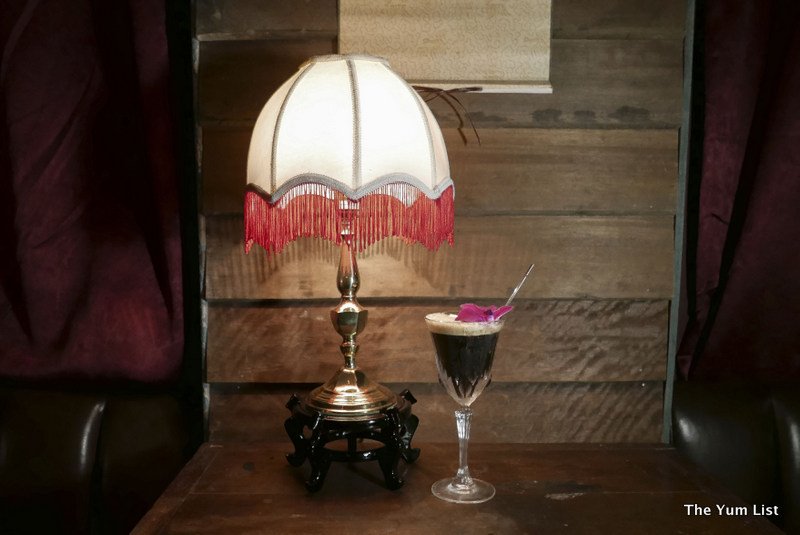 After we were done with the mesmerising, we pushed through with a failsafe classic that's been updated with a modern twist: the Smoked Ginseng Osmanthus Old Fashioned. Just through its name, you can tell there's a lot going on in this drink, even before Vee fills up a bell jar with smoke for that coveted photo op. Like what you'd expect from an Old Fashioned, there's strong whisky to jolt your senses; but unlike the usual bar staple, there's no sugar in this except for the perfumed osmanthus that swirls together with hits of ginseng, which doesn't overwhelm the palate with a sharp bitterness.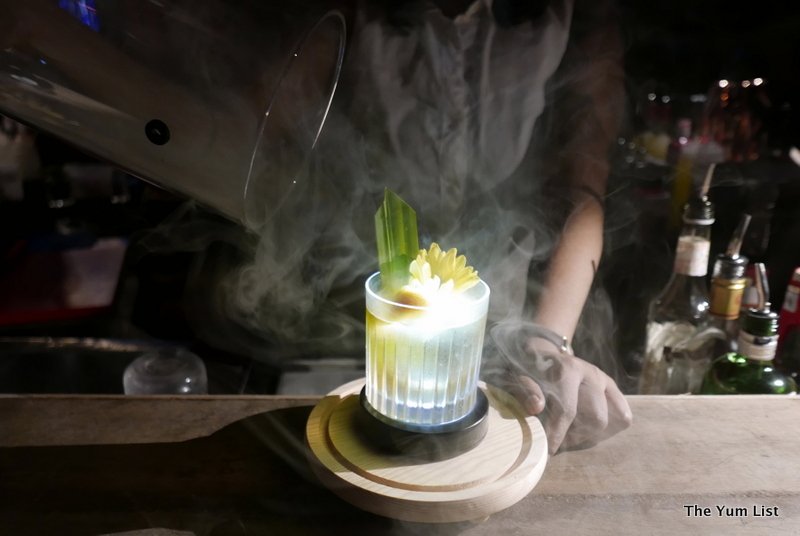 The same cannot be said for the final Eucomia Lai Chee Kang Cocktail though, which is an acquired taste. Having grown up consuming typical Malaysian desserts like Bubur Cha Cha and Tau Fu Fah, seeing Lai Chee Kang pop up in a bar menu was fascinating, and set expectations. It certainly looked like the prototypical dessert, but its flavour was unlike anything we've ever had. This could probably be attributed to our unfamiliarity with its core ingredient, eucommia, which looked like the carapace of insects and tasted like really strong Chinese herbal medicine. We'd recommend this to all you daring souls out there who seek that certain je ne sais quoi and potent for a Saturday night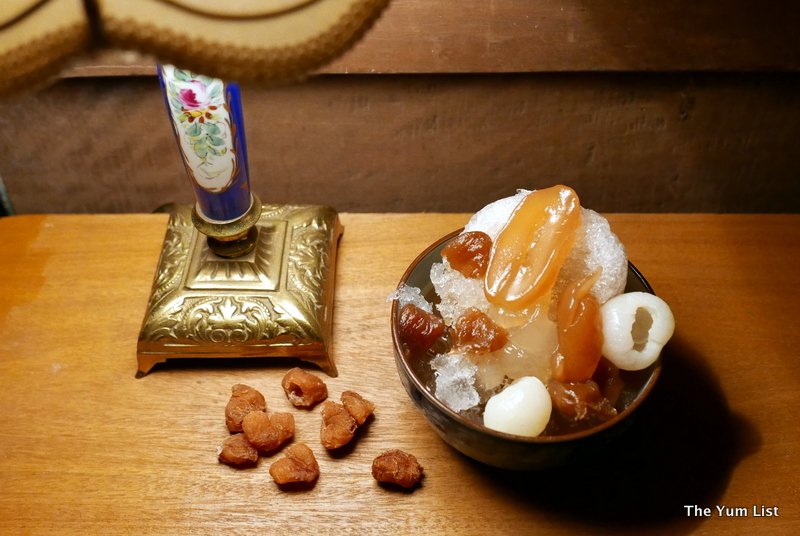 Seeing that the bar is barely a month old, we were amazed by the cocktail selection and how each drink was a completely different experience from each other. On a more macro scale of things, it is also very heartening to see how BarZhen is able to hold its own against neighbouring establishments such as PS150 and BotakLiquor. Having sampled more than half of their available cocktails, BarZhen has successfully reassured me that there is always something new to create and discover if only one is daring enough to slip into strange and unexplored frontiers. With great risk comes great rewards, and I am certainly looking forward to discovering novel flavours the next time I stray into Lorong Panggung once more.
Reasons to visit: beautifully presented and crafted cocktails to tickle the palate; the Lycium Maca Osmanthus Tea is a must-have at every visit; it is the place to visit if you want to impress your friends with your knowledge of the local drinking scene as the walk up to its entrance is as mind-blowing as its drinks.
BarZhen
5 Jalan Balai Polis, (it's actually a little off Jalan Balai Polis and along Lorong Panggung)
Petaling Street,
Kuala Lumpur, Malaysia
www.facebook.com/barzhen
Instagram: @barzhen
Open 5pm till late from Tuesday till Sunday; closed on Mondays.