Monica Tindall
M Marini Grand Caffè and Terrazza has a shiny new location. Not too far from its old spot in the KLCC mall but miles apart in terms of setting, the latest digs are blessed with double story ceilings, glass walls, indoor and outdoor spaces and a good garden of green. And, what better way to celebrate the upscaled surrounds that with Sunday brunch?!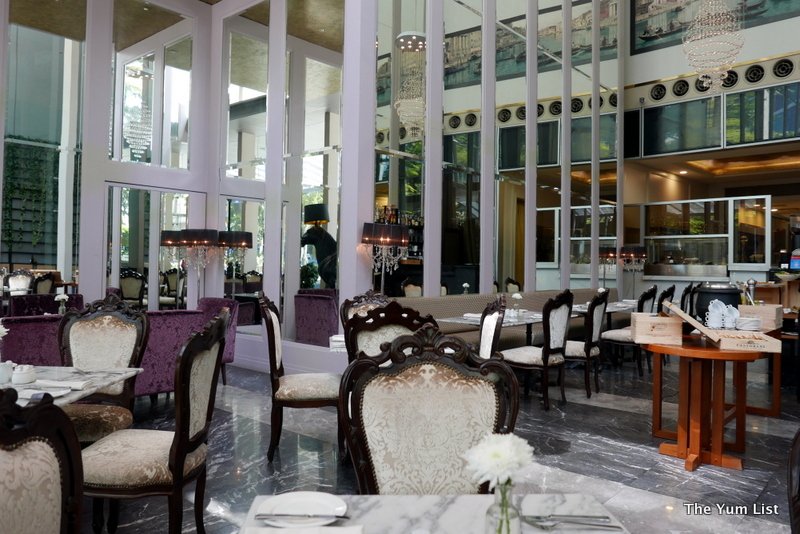 Sunday Brunch at M Marini Grand Caffè and Terrazza
Every Sunday the team at M Marini Grand Caffè and Terrazza are running one of the most affordable brunches in the city. A spread of antipasto, mains and desserts are accompanied with a free-flow of wine and beer, if you so choose, and sells from RM98++ and RM168++ respectively. There's a play area for the kiddos and a pool table for the bigger kids that provides entertainment while the adults are enjoying themselves
All guests are greeted with a flute of San Feletto prosecco from Valdobbiadene and the friendly staff seem intent on ensuring each guest does indeed experience a Sunday funday at M Marini Grand Caffè and Terrazza. Service is attentive and not once are our glasses left empty during our two-hour brunch. In fact, we need to gently put the brakes on the service to ensure that Sunday funday does not turn Monday workday into all day hellday.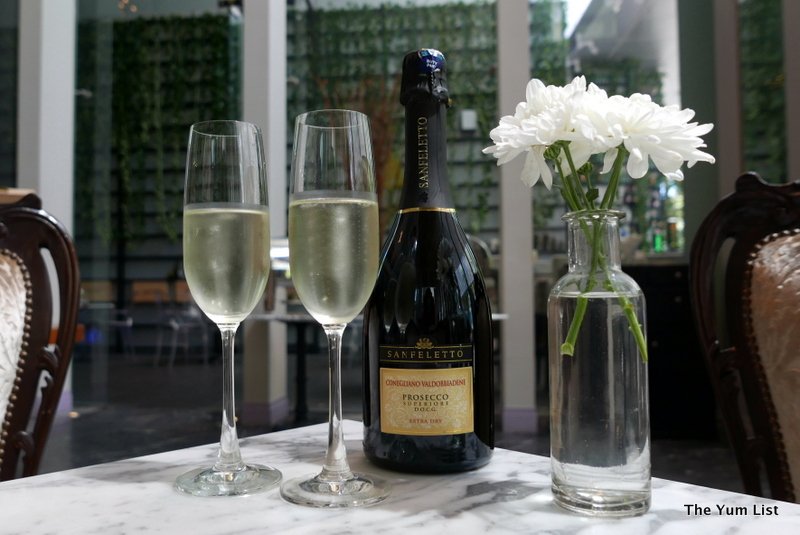 Antipasto Spread at M Marini Grand Caffè and Terrazza
Both hot and cold antipasto line the smorgasbord of Italian starters. I recommend beginning with the cream of mushroom soup, which thick and creamy and packed full with mushroom pieces.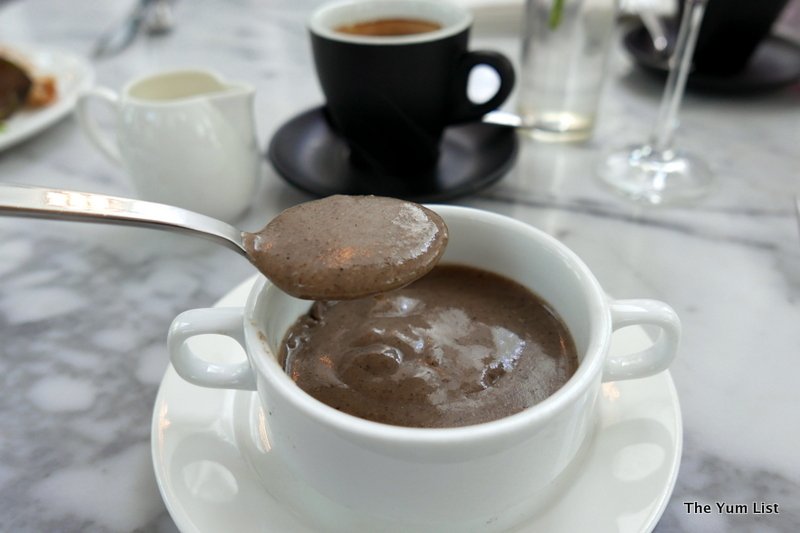 Moving from there, there's a solid display of fresh salads: seafood with mussels, prawns and squid; grilled seasonal vegetables with extra virgin olive oil; turkey tonnato with tuna mayonnaise; roasted chicken with deviled quail eggs; rustic Greek salad; caprese salad and make-your-own Caesar salad.
Hot items continue with chicken sausages, two types of lasagna (vegetarian and chicken), fries and pizza comes out direct from the oven. We're encouraged to take a slice right from the pan and try vegetarian and Hawaiian toppings.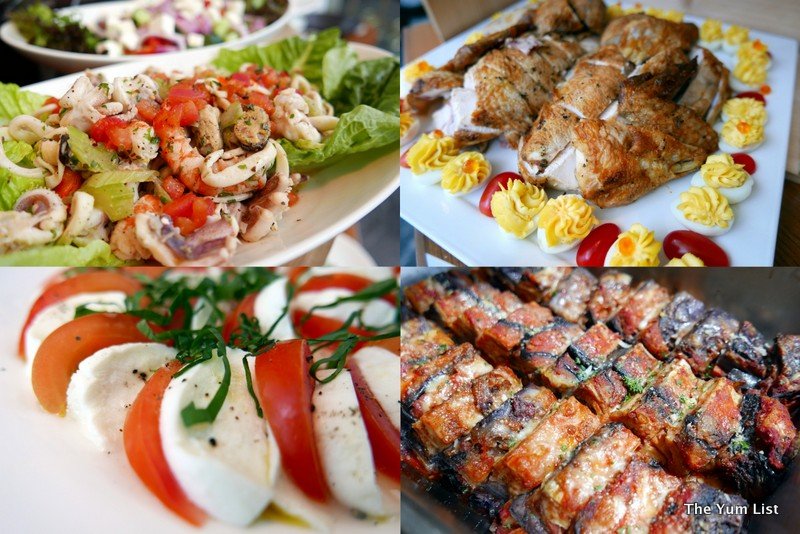 Go easy on the starters though, as there are still hearty pastas and mains served a la minute to come!
Pasta
Pasta mentaiko is one of the most popular items on the menu. Spaghetti is lightly coated with aglio olio and lushed up with spicy cod fish roe and nori. I can see why it's a favourite as the pasta is al dente and the spice gently develops into a full kick. A classic comes in the form of spaghetti carbonara, which is a creamy recipe given added texture and flavour with generous pieces of smoked duck breast.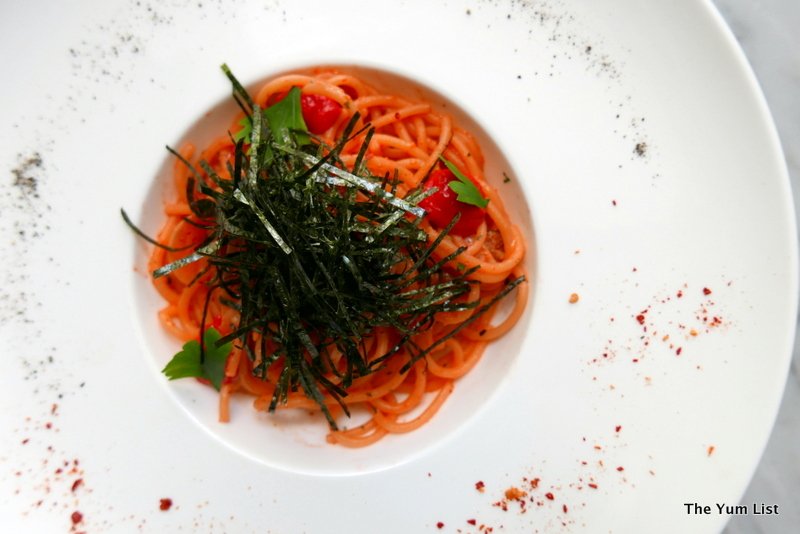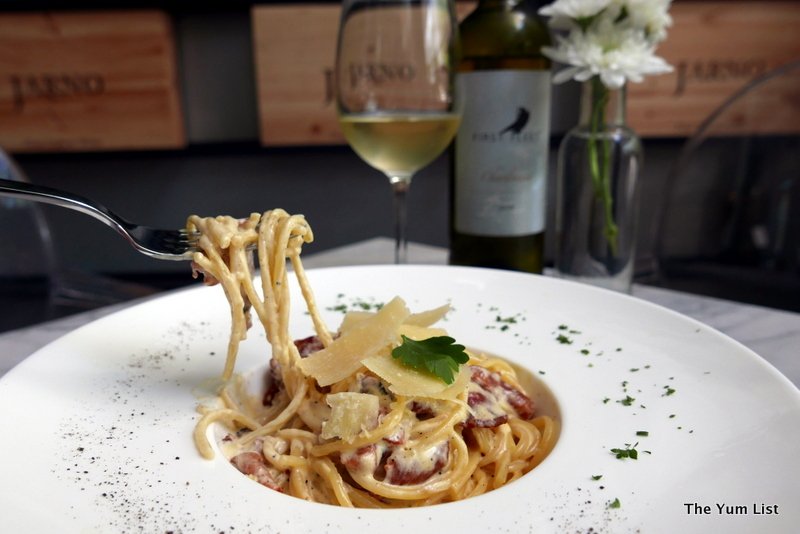 Mains at M Marini Grand Caffè and Terrazza Sunday Brunch
The boneless lamb shank fits the fall-off-the-bone cliché as the meat is superbly tender and soaked in a rich gravy. The wagyu beef cheek follows the same description and it's really just up to personal taste preference (lamb or beef) as to which one to order. Both come with crisp green broccoli and mashed potatoes perfect for soaking up the rich sauce that drenches the meat.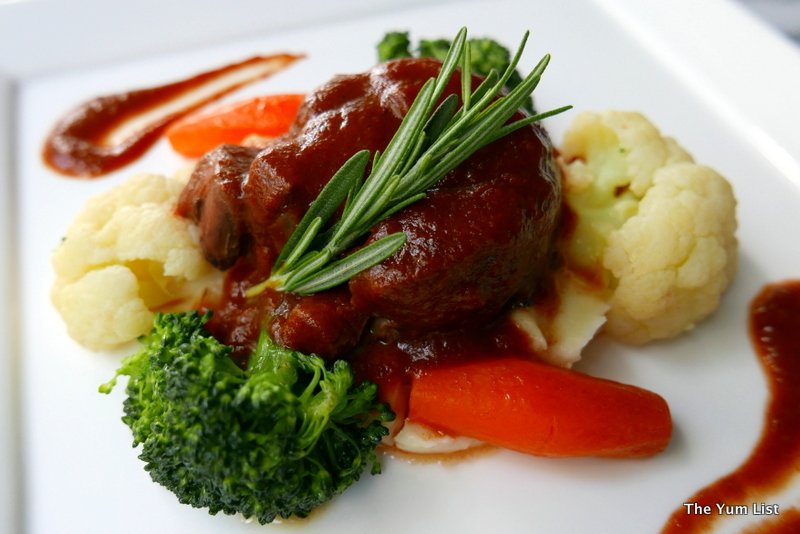 Pan-seared chicken roulade is stuffed with turkey ham, spinach and gorgonzola and comes with a side of mashed potatoes and capers sauce. These are tasty rolls of poultry and my favourite of the mains. Continuing with something a little lighter, the airy batter on the Norwegian salmon fillet keeps the fish nicely moist within while maintaining the crisp coating. There's a sticky teriyaki sauce drizzled atop with extra on the side that adds a few drops of sweetness. Mashed potatoes and fresh greens turn it into a complete meal.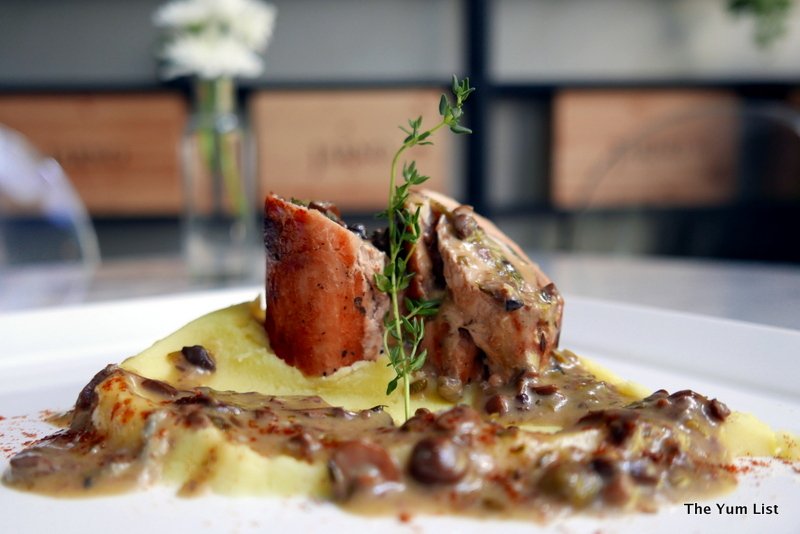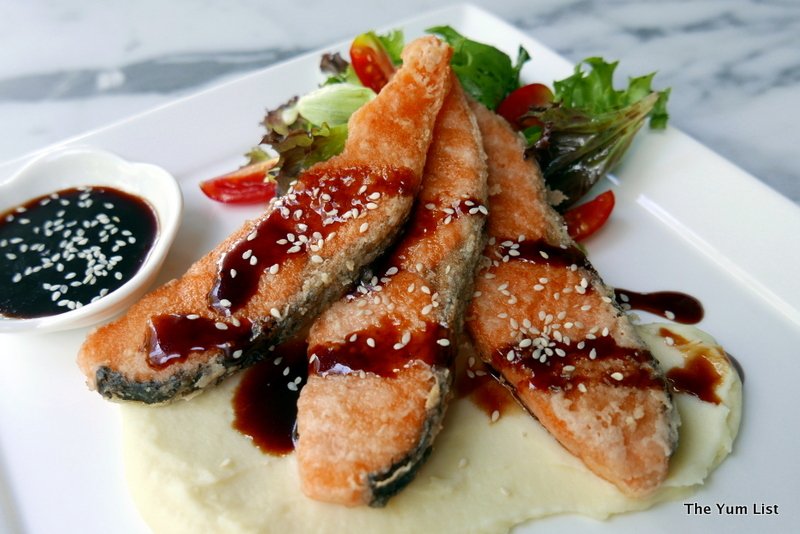 Desserts
An iced tray of petite shot glasses holds a variety of Italian sweets. Classic tiramisu, mini fruit tarts, panna cotta, crème caramel and chocolate mousse provide more than enough for a sweet ending. Hubby enjoys the velvety panna cotta while my chocolate-loving taste buds put the mousse as number one.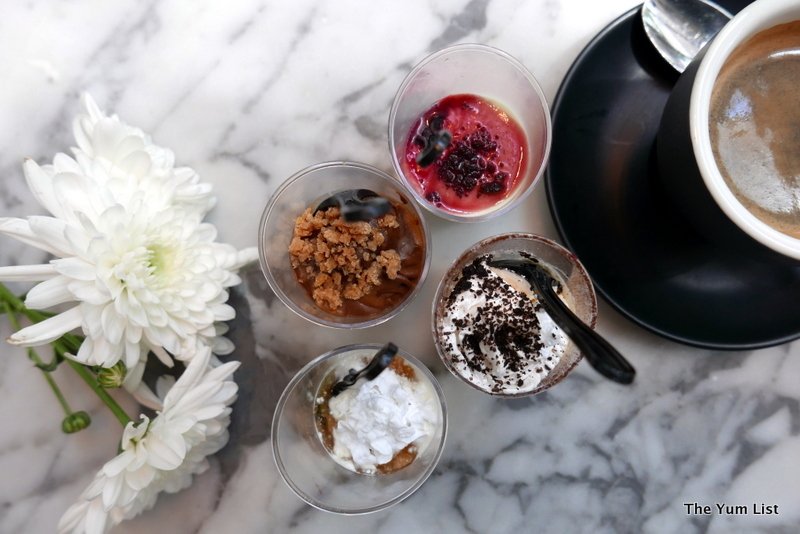 Free-Flow Wine and Beer
To further lubricate conversations and good times guests can choose to top up their brunch with a free flow of wine and draft Tiger beer. Serving today is a First Fleet Chardonnay from Australia and a Pearly Bay blend of cabernet sauvignon and shiraz.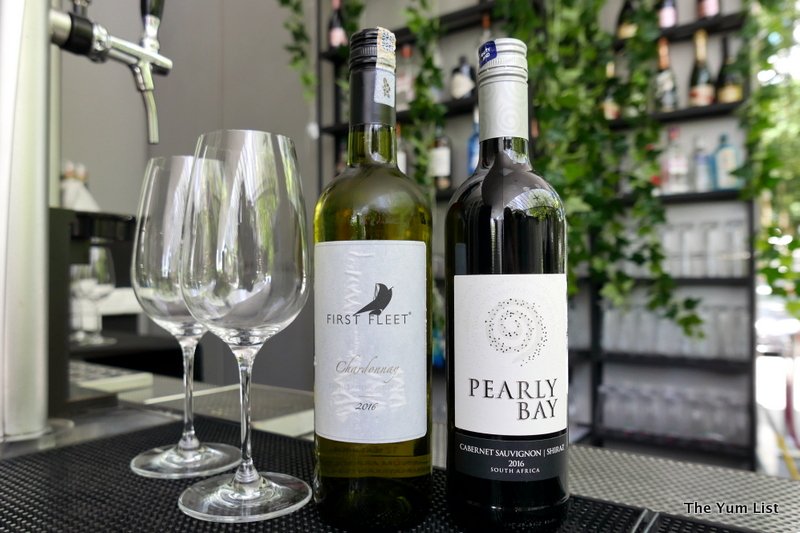 M Marini Grand Caffè and Terrazza's gourmet Sunday brunch is pork-free, runs from 11:30am to 2:30pm and is priced at RM98++ per person including coffee with children below seven eating for free. Children aged 7 – 11 years are charged RM58++. Guests can include two hours of free-flow wines and beers for an additional RM70++.
Reasons to visit: pretty location, nicely flushed with natural light perfect for a cheery Sunday brunch; reasonably priced.
M Marini Grand Caffè and Terrazza
Lot1.02, Ground Floor,
ONE KL, No.6, Jalan Pinang,
50450 Kuala Lumpur
www.mmarinis.com
[email protected]
+6 03 2386 6030
* Pork-free