Words: Matt Jones          Photos: Monica Tindall
The InterContinental Hotel Kuala Lumpur is once again affirming its 5-star status with their latest promotion of Vintage Wagyu Beef in Tatsu, the Japanese cuisine restaurant on Level 1.
In the refined elegance of the Tatsu dining room, a cosy and intimate ode to contemporary Japanese design with its matte black tiled floor, evocations of burnt charcoal wall paneling, and signature blonde timber spindle back chairs and dining tables, you can enjoy this monthly special soon to become a permanent fixture on the menu beginning early April.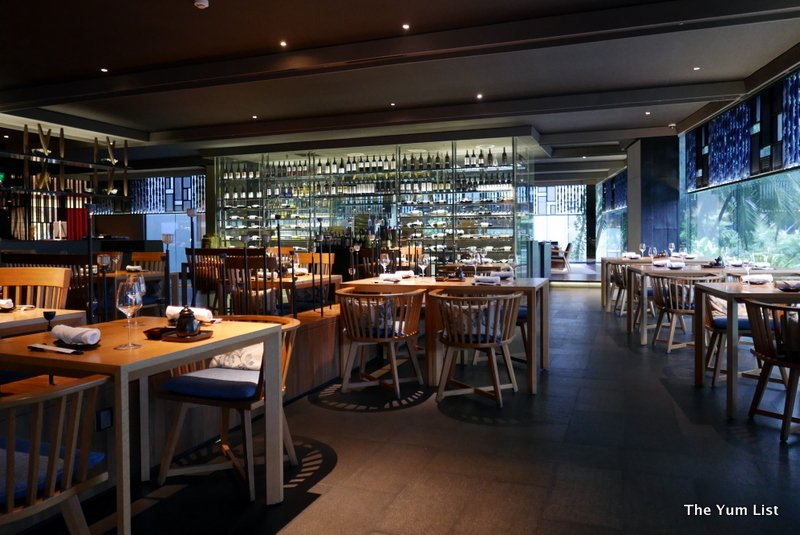 Inspired by the fact that many restaurants serve a few Wagyu beef dishes, Roy Assadi, the InterContinental's Food and Beverage Manager, saw that no other venue was specializing in this rare but delicious Japanese delicacy, and in collaboration with Head Chef Tommy came up with an exciting and innovative new menu section. What started with Roy's idea to create an imported dry-aged beef menu evolved into a speciality to showcase wagyu beef in a form and setting, unlike any other typical Japanese interpretation.
For the months of February and March, the Tatsu Wagyu Beef Promotion will be featuring different cuts of meat and grades from the different Kens and regions of Japan, all hand-picked and freshly flown in from the highest-end farms and suppliers Japan has to offer. Given the rarity and diversity across Japan, different regional cuts will be featured monthly, and we were lucky enough to sample Miyagi and Kyushu this month, which was particularly poignant for me having lived in Sendai City in Miyagi Ken for three years. It was wonderful to be culinarily transported back to what, at one time, was home for me. Next month (or week, given the resounding popularity of the event so far), when this limited regional supply runs out, another region will be featured, so there will be a constantly revolving selection.
To best represent this prized bovine, Head Chef Tommy and Chef Nazul (together with new star Chef Kiki) have designed a set of dishes to bring out the most of the flavours and textures. Depending on the region and the cut, the chefs will recommend to you, at table, the specific type of dish that should go with each.
Typically, two regions are featured at a time, with two cuts from each. From Miyagi, best known for its rich yet clean aftertaste and fine-grain glossy marbling, the Grade A5 Sirloin (RM490/200g), arrived first as a yakiniku spectacular complete with hot coal hibachi, sushi platter of finely sliced beef and wedges of capsicum and white onion, and Chef in tow, who cooked at the table for us. Most guests, however, wanting to show off their own BBQ expertise, cook themselves at the table. Chef Kiki informed us that for this dish they had chosen the female cattle for its buttery-soft, mouth-watering texture, and creamy palate with a delicate umami character.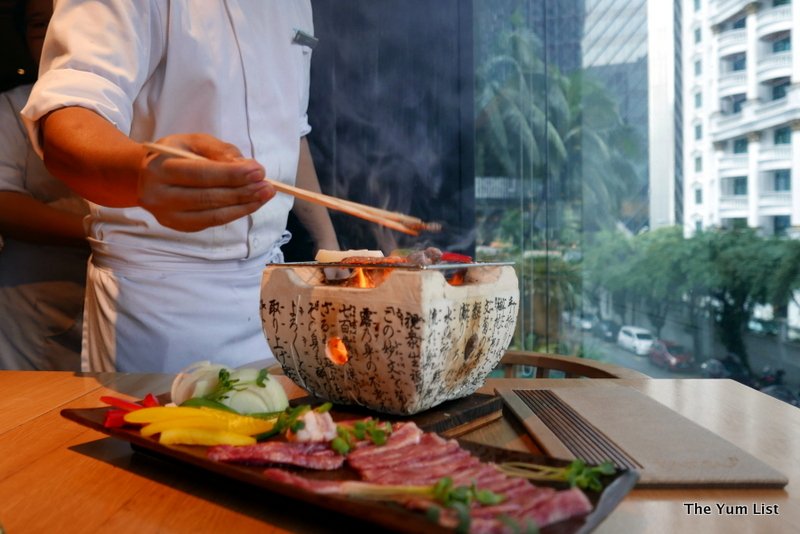 The A3 Miyagi Sirloin (RM398/200g) came teppanyaki-style, lightly seared on four sides to seal in the flavour and left beautifully pink and medium-rare red inside, with a pared-back accompaniment of sliced button mushrooms and fried slivers of crunchy garlic to emphasize the delicate flavours and give a textural contrast.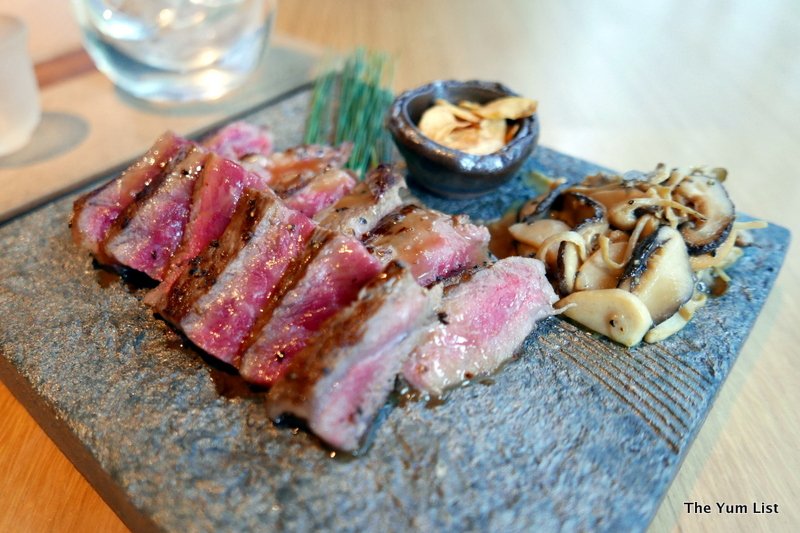 From Kyushu, where the well-marbled wagyu has a distinctive and refined rich sweetness and unique aroma, we enjoyed the Grade A4 short ribs (RM248/200g) as a rich and flavourful nabe bowl of sukiyaki. This soup dish has a luscious oiliness to it so you can taste the rich fat flavour, adding another layer to the meat. Sweet and intense from the caramelised onions, teriyaki and Chef Nazul's secret sauce (of which Chef Kiki only gave a wry smile when quizzed about how he made it, the only giveaway being it also contained mirin, the Japanese rice wine vinegar) the sukiyaki is faithful to its Japanese origins and features enoki mushrooms and flower cut carrots.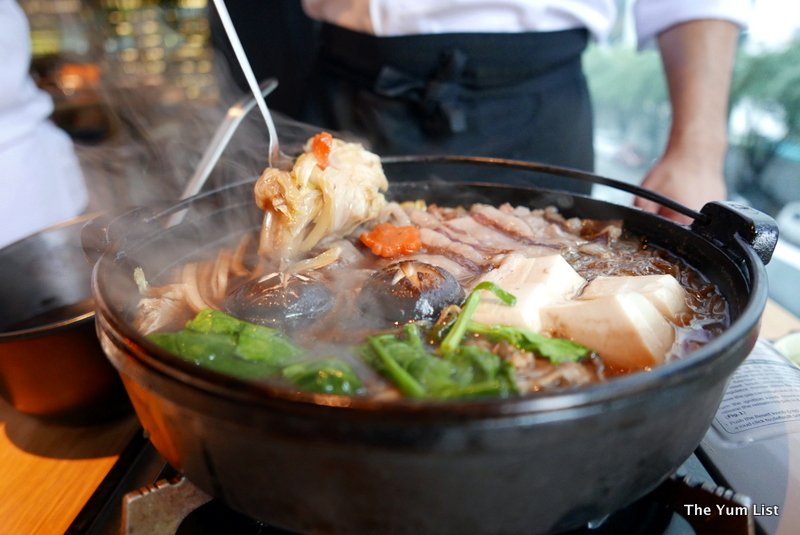 Our fourth and final grade A4 Sirloin (RM630/200g) was a Tataki dish of lightly seared beef fillet slices arranged with spring onion, onion, radish sprouts and fried garlic slices for a set of crisp, crunchy and clean textures with a decidedly salad-like freshness.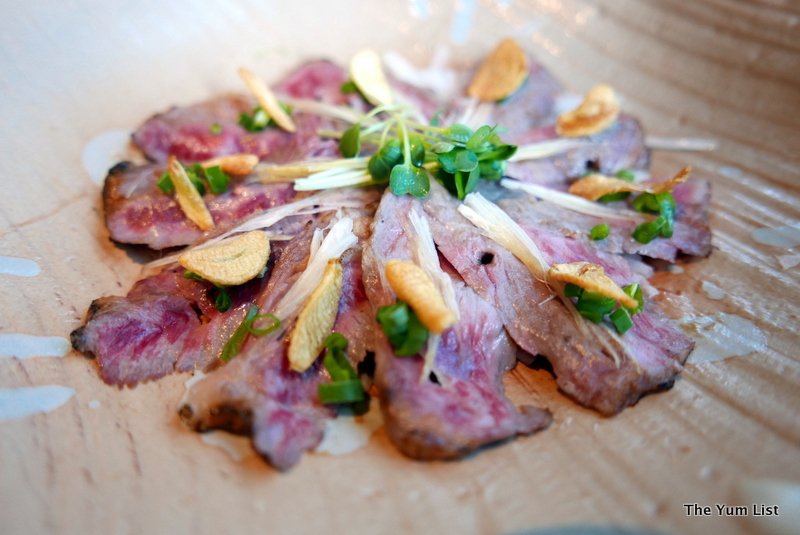 Naturally, Tatsu has an extensive and deliberately selected sake and shochu menu so you can regionally match your sake with your beef for a holistic dining experience. To complement our Miyagi menu we went with the area's Ichinokura Yamahai Junmai (RM85/100ml), a delicate and light sake best served chilled.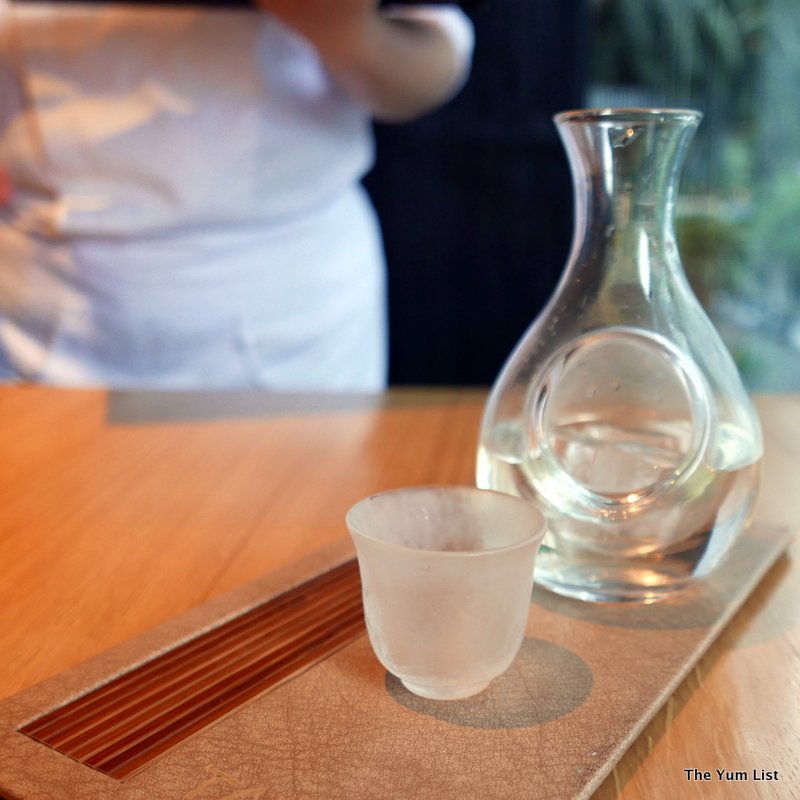 Available for lunch and dinner, the Wagyu Vintage Beef promotion is proving immensely popular so bookings at Tatsu are preferred. As a special bonus, Gourmet Collection Members can enjoy a 25% discount and CIMB Citi Bank cardholders 20%.
Reasons to visit Tatsu: Wagyu Vintage Beef Promotion!
Tatsu, Japanese Restaurant
InterContinental Kuala Lumpur
165 Jalan Ampang
50450 Kuala Lumpur, Malaysia
kualalumpur.intercontinental.com