Anda Dehli – Arrive a Visitor, Depart a Local
Monica Tindall
How do you stand out in Delhi, a city of close to 20 million people?
Pick up your guests in an iconic HM Ambassador car!
Delhi Airport Transfer
Fondly dubbed "the king of Indian roads," India's first owned and made car and its distinctive bulbous form is no longer in production. The Andaz Delhi team, however, have lovingly restored an entire fleet of Ambassador vehicles and greet guests at the airport ensuring that there's no mistaking, right from the outset, that a stay at Andaz Delhi is going to be an experience to remember.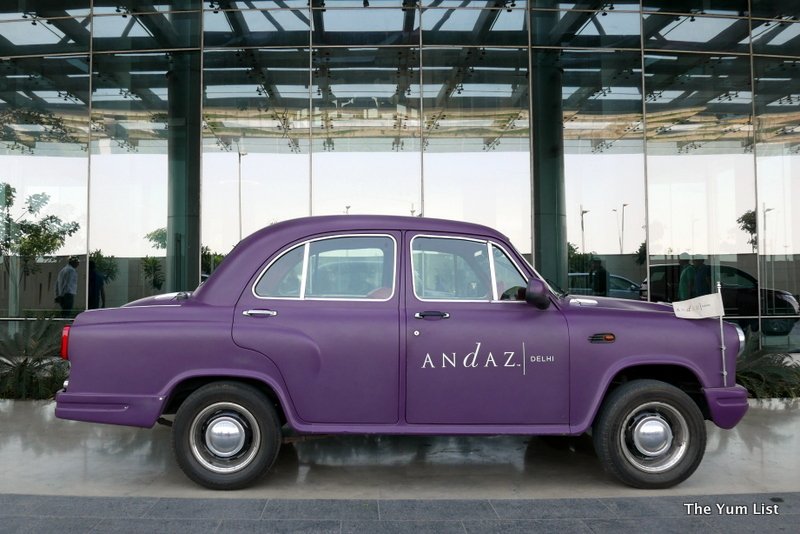 A Destination Inside a Hotel
Andaz Dehli's goal is to bring the destination inside the hotel. Art, food, style and service reflect a contemporary India with strong historical connections and this storyline is woven throughout our entire stay.
Staff dressed comfortably in white sneakers welcome us into the hotel with such warmth that we feel as if we've just arrived at the living room of an old friend (an old friend with a very good sense of interior design). There's no formal desk cordoning staff off from guests but a more organic arrangement of furniture. The "kitchen" with a coffee machine, snacks and a long wooden communal table sits to the right and a "lounge and library" to the left. In the short time from the airport to our room, all of my worries about our first visit to India have been quashed and replaced instead with an energetic desire to discover.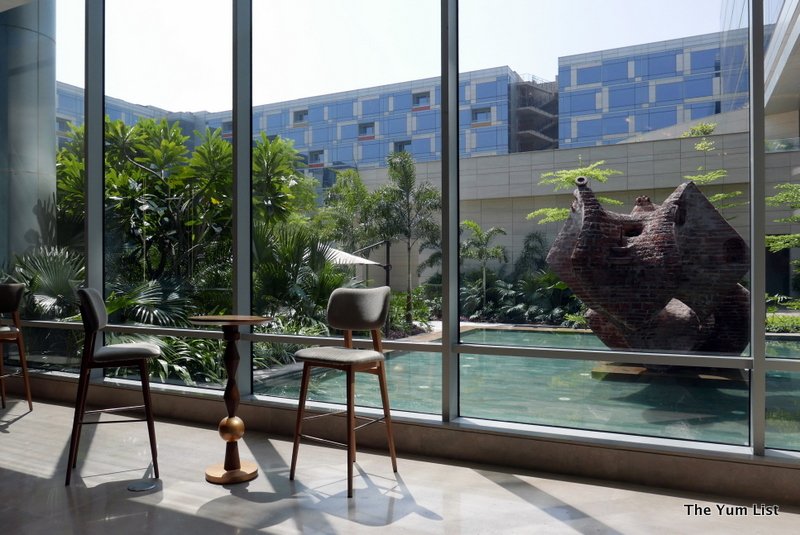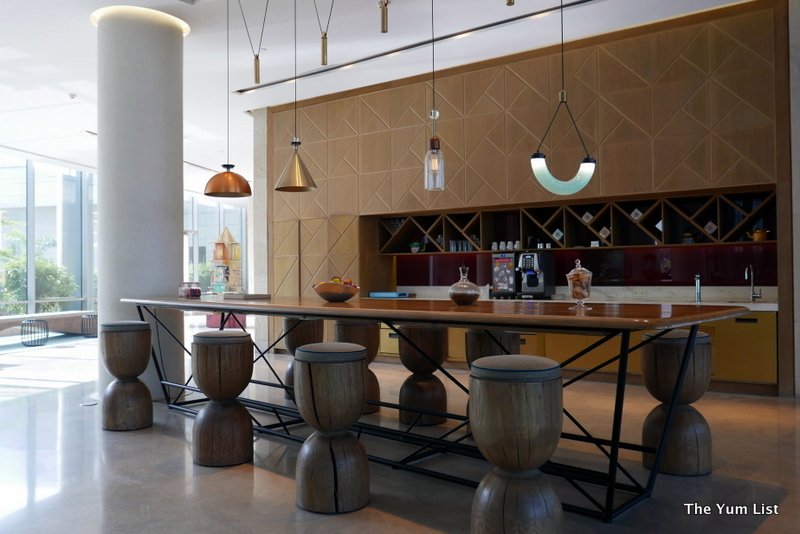 Luxury Lifestyle Hotel Delhi
401 guestrooms give guests 401 reasons to love Delhi! Each room is fit with a unique art piece and every single work has a story that goes with it; all of which can be found in the book of the same name, which is on display in rooms making pleasant reading material to get us orientated to the city.
We arrive on a night flight so pretty much have a hot shower (great pressure and instant hot water) and then hit the sack. And, what a lovely sack it is. The king-size bed is dressed with light cottons over a soft yet supportive mattress with pillows that mould to our form. We truly appreciate the individual temperature control on the air-conditioning and with a simple swirl of the dial, we're cocooned in fresh air ready for sleep.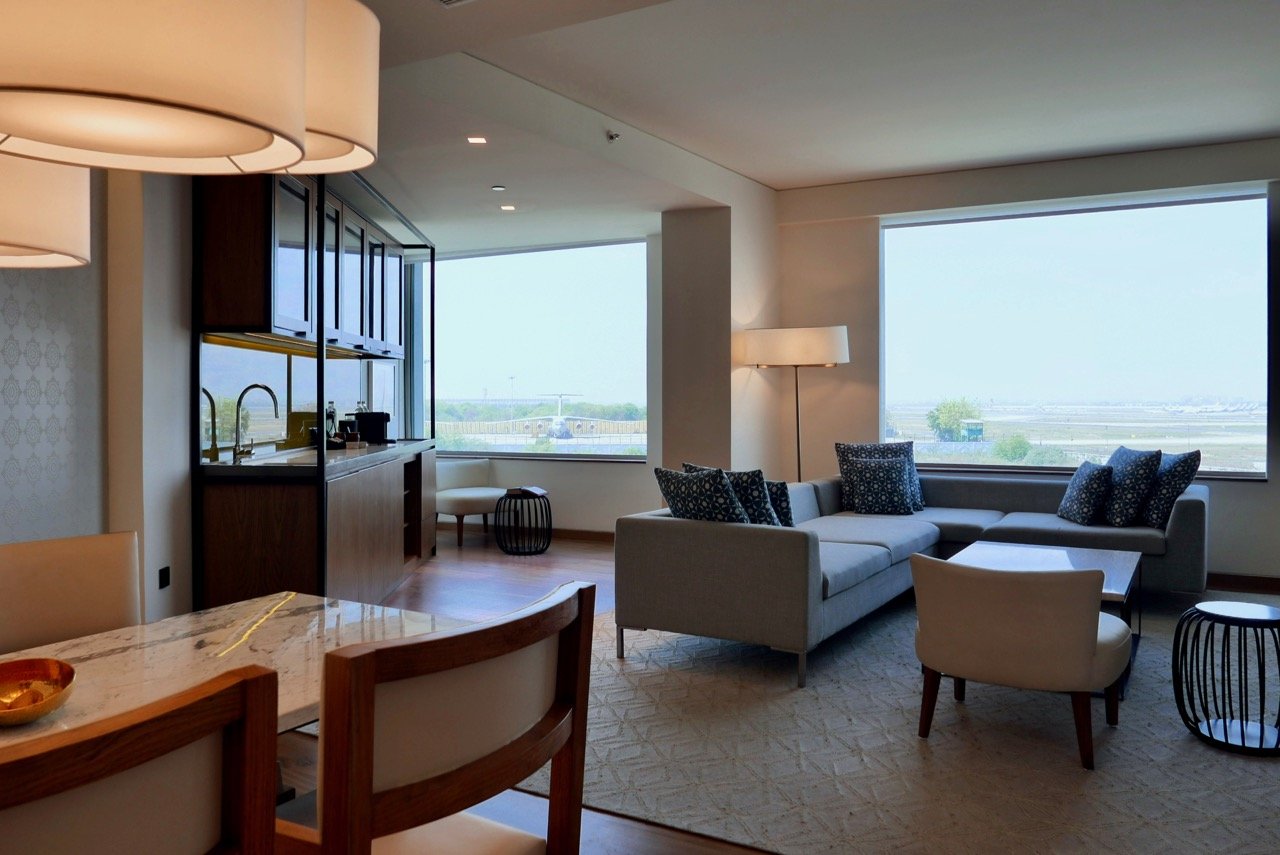 It's not until the next morning that we realize how incredibly well-built the room is. Raising the automated blinds with the push of a button our view is revealed; the runway of Indira Gandhi International Airport! Planes land and take off minutes apart, and… we have not heard a single peep! The double glazing of the windows has not let in a sound yet we still get to enjoy this action-packed view.
The daybed by the window is an ideal spot for sipping and nibbling on some of the artisanal goodies from the complimentary mini-bar while taking in the runway excitement. Espresso coffee and gourmet teas drink smoothly from Andaz' custom-made kullar vessels and we get a taste of local with popular snacks from Haldirma's and Patanjali.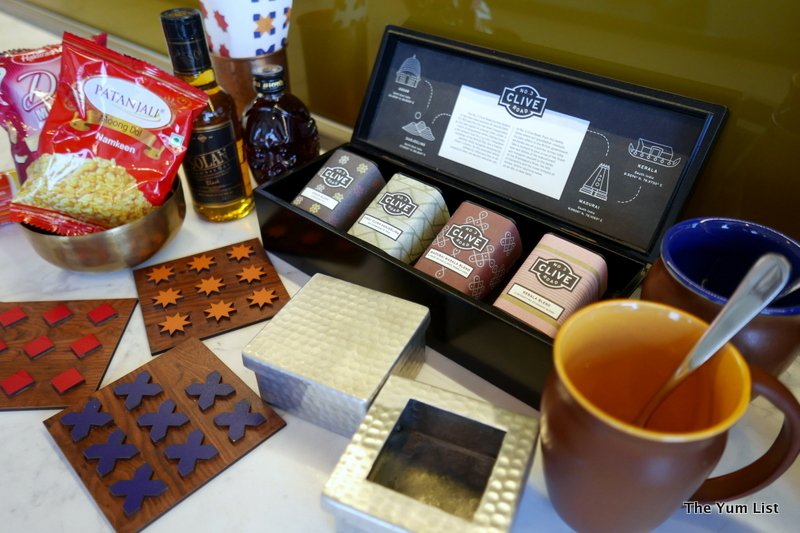 Awakening with the assistance of caffeine, at first the suite looks simple with minimalist overtones but taking a few minutes to be still, we find the attention to detail impeccable. The beige wardrobes are covered in leather resembling old-school luggage; taking a closer look at the sofa below the window we find the cushions are "strapped" on with leather belts too. The feature wall is dotted with hundreds of raised circles mimicking the block print pattern you might find on local fabric and the in-room amenities are modern with local influence. There's even a charpai – woven Indian bed – as the bed footer.
Natural botanical-scented bath products give a feeling of lush, colourful light cotton robes – Indian yakuta – add character and, we're impressed that the slippers are not wrapped in plastic and are also sustainable in design. A SmartTV gives a full variety of visual entertainment including multiple TV stations and access to the Internet (from where we could catch up on the latest from Netflix if we so chose).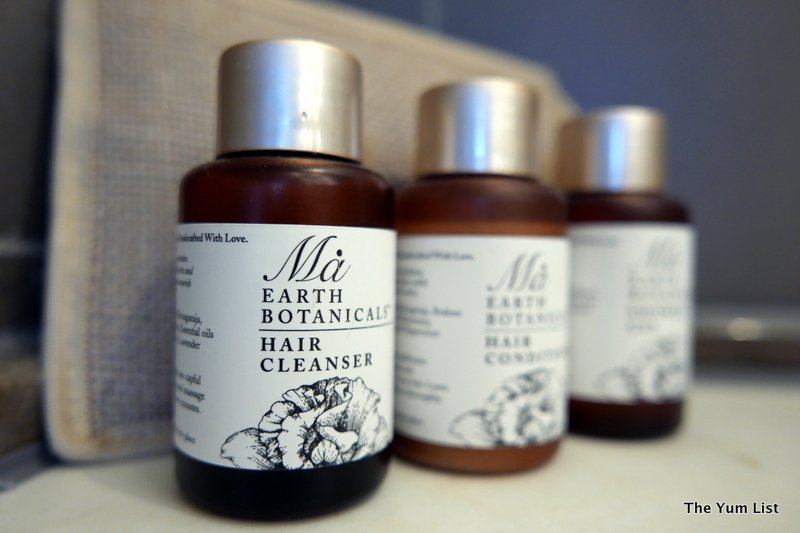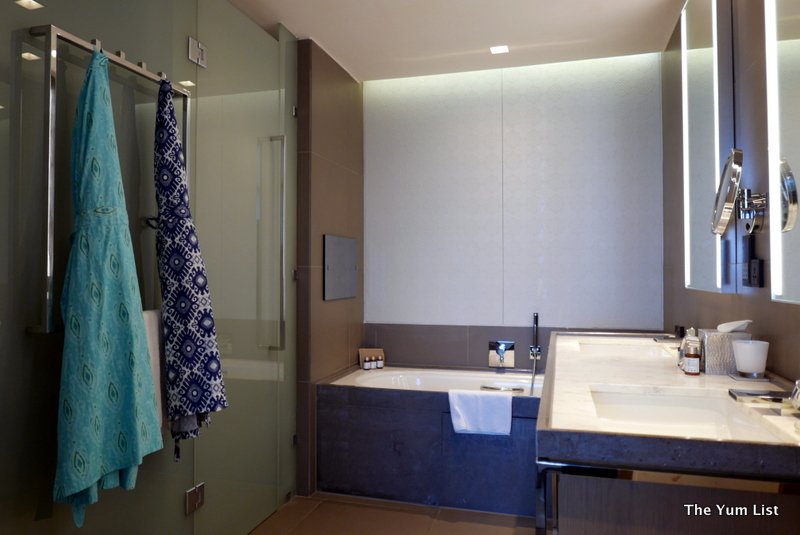 Art Fills the Hotel at Andaz Delhi
Art and artisanal products are not only found in the room but fill the hotel with interest and wonder. There are obvious pieces such as the enormous mobile installation in the entrance and curious multi-media pieces in the lounge and courtyard. Often though, it's the quirky details such as a telephone in the shape of vibrant red lips that woo us. One of the most popular pieces (#selfie) is the giant pomegranate sculpture, signifying abundance and welcoming guests into Andaz Delhi's all-day-dining restaurant, AnnaMaya. And, while we're on the subject of food…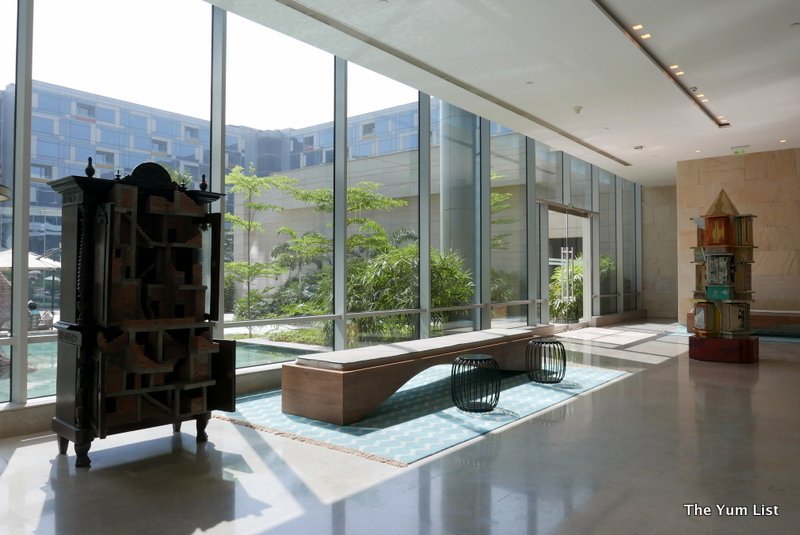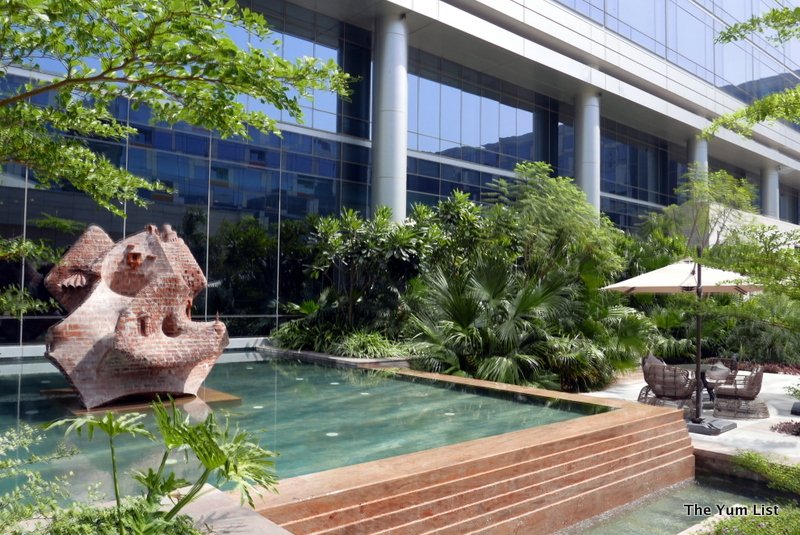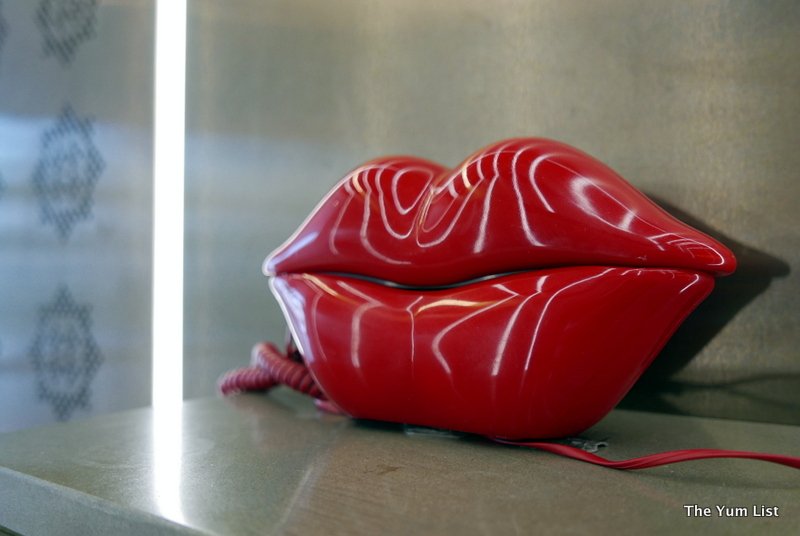 Dining at Andaz Delhi
Even if you're not staying at the hotel I think a trip to AnnaMaya just for breakfast is well worth it. Modelled off a food hall with multiple stations and open kitchens the large space is like wandering through a market, a pristine and stylish one at that. Strong ethical practices see chefs sourcing organic, sustainably grown ingredients locally with solid support for providers empowering impoverished communities to be self-sustaining. Not only can you eat with a clear conscience here but you're guaranteed superb freshness and quality of product.
The breakfast spread is a feast for gourmets. Each and every station is carefully curated. I'm in awe of the sheer number of exotic fruits, nuts, seeds and legumes in the continental section and it's supported by a range of milk; almond, soy and so on. The western bakery could be a shop all on its own with the multitude of freshly baked loaves and pastries on display, and the egg station sure gets a workout during our visit. What's terrific to admire though, are the local stations producing all sorts of flatbreads, fried foods and curries. We can't seem to get enough dosa, naan and paratha and know we'll pay later for our carbaholic beginnings but it all just tastes so good! The menu at AnnaMaya holds many more goodies to behold as the day progresses. Read our full AnnaMaya review here.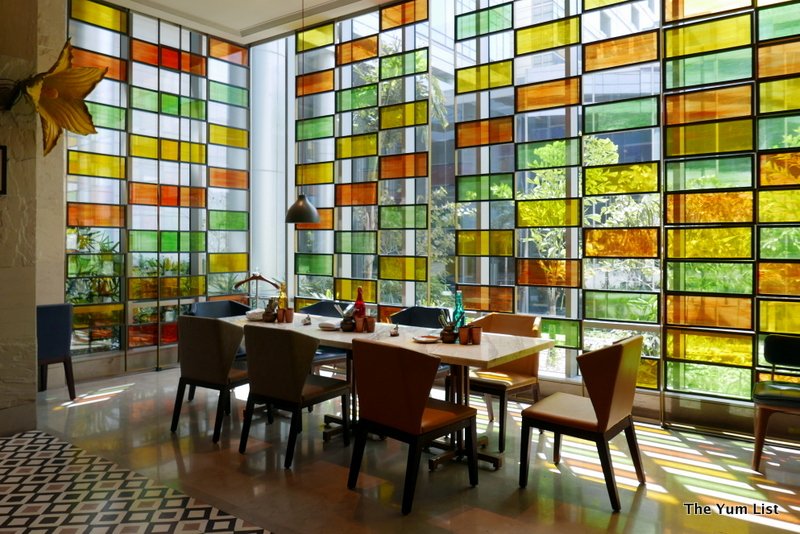 Andaz Delhi is a gourmet destination in itself. Beyond the must-visit AnnaMaya, the hotel sports the fantastic Juniper Bar featuring close to 40 different gin infusions. Again, find a comprehensive review of Juniper Bar here. Lastly, the recently opened Hong Kong Club at Andaz Delhi captivates both in design and menu. A strong concept surrounding Cantonese food and Zodiac cocktails, alongside live music and a vibrant late-night scene, make the Hong Kong Club merit a second (and perhaps third and fourth) look. Check out our suggested dishes and comments on the bar via this link.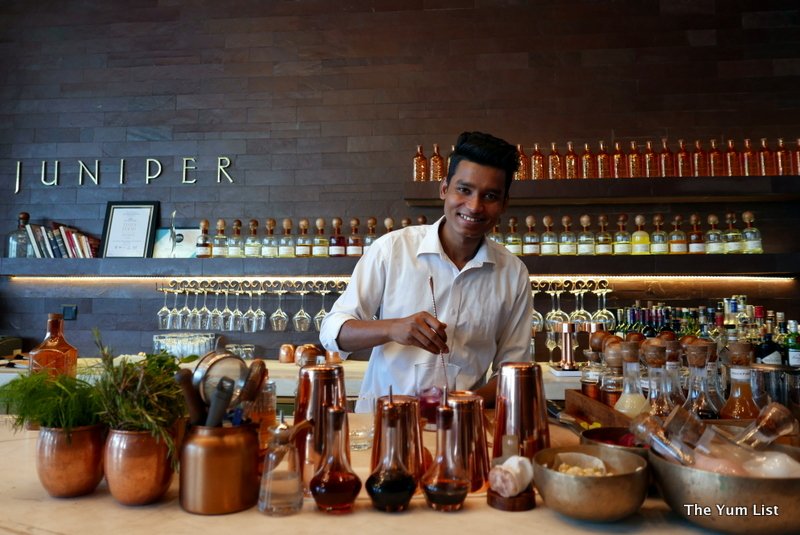 Facilities at Andaz Delhi
After reading the "first time to India" travel blogs, our stay in Delhi is quite the opposite of what I was expecting. Imagining such noise, pollution and chaos that not even the most luxurious hotel in Delhi could shelter, I am delightfully surprised. The courtyard presents a green oasis centred by a pool lined with sunbeds and umbrellas and a lawn set with yoga mats. Coffee cups dot the garden, evidence that I'm not the only one who finds the verdant grounds enchanting.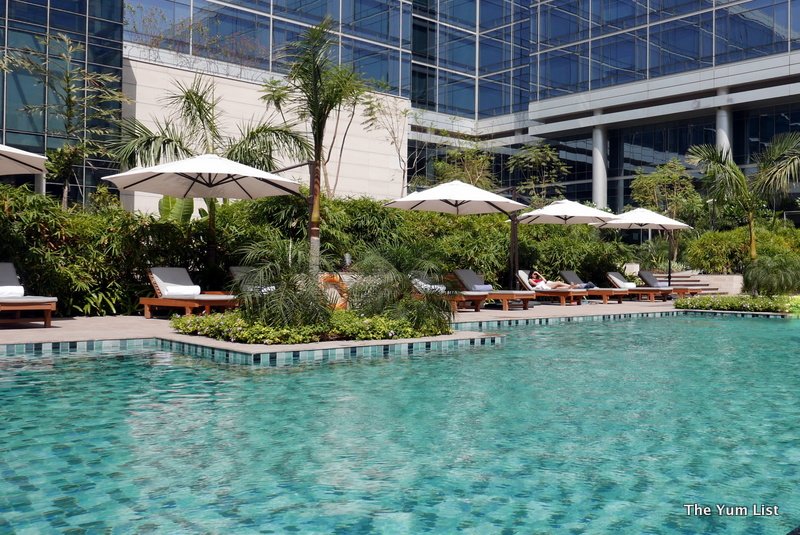 The facilities go way beyond the usual gym and urban spa but extend to a complete wellness experience with the Andaz Spa. Based on the four elements of earth, air, fire and water the physical design and formulation of the menu are both organic and individual. Perhaps the most significant highlight is the interactive apothecary bar. Staff devise personalized scents and products to suit customer's needs and desired outcomes and guests can even try blending some ingredients themselves.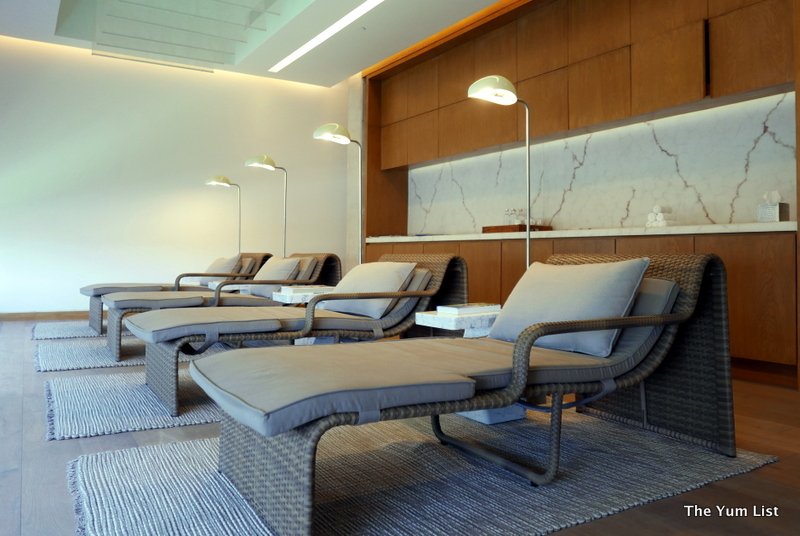 While hubby has an enlightening meditation session with yoga and wellness guru, Krishna, I revive with Andaz' signature massage using a combination of acupressure, reflexology and four oils blended by hand in the Andaz Spa's apothecary centre – relaxing, detoxifying, well-being and traveller's fatigue. My therapist's slight frame belies her strength. Her technique is superb working with consistent pressure and purposeful strokes. A combination of short deep determined kneading with long firm movements using combined fingers, thumbs and the heal of the hands soon work away the tightness and stress built up throughout my body.
Our culminating experience in Andaz Spa embodies the concept that we've felt from the moment we arrived at Andaz Delhi. We're impressed by a warm encounter with local, a harmonious flow of both space and relationships, and a confidence in identity that is so secure that it can fully encourage the individuality of its guests to flourish.
Reasons to visit Andaz Delhi: convenient location for a stopover, night flight arrival or early morning departure from New Delhi; luxury lifestyle hotel in Delhi with a refreshing contemporary look on local culture; excellent facilities including the Andaz Spa; gorgeous breakfast; gin tasting at Juniper Bar; a night out at Hong Kong Club; overall, it must be one of the top luxury hotels in Delhi.
Andaz Delhi, Luxury Lifestyle Hotel
Asset No. 1, Northern Access Road
Aerocity, Hospitality District
Indira Gandhi International Airport
New Delhi, Delhi 110037, India
delhi.andaz.hyatt.com
+91 11 49031234