Monica Tindall
Agra, the home of the Taj Mahal is abuzz with activity during the day but the evenings have very little happening. Hotels do their best to fill the gap and Courtyard by Marriott Agra has done this with style, entertainment and delicious regional cuisine with their signature restaurant, Anise.
Anise is an Indian fantasy. Flames shoot from torches lining the garden path between the hotel and outdoor courtyard. A decorative arch marks the entrance and frames a colourful bar making a spectacular introduction. Further in, the open-air setting is bordered with a hedge and palm trees and is lit with enormous bowls holding flickering flames. Local musicians entertain guests and, as performers rotate daily, you could return every night of the week and witness a different show.
The team at Anise Indian Restaurant specializes in Mughlai and North Indian food. Head chef, Asif Qureshi, is from Lucknow where they are known for complex spice mixes. He travels every month to his hometown to collect the necessary elements to custom make all of his recipes from scratch. With up to 80 ingredients in any one mix, it must take years to perfect the art of blending.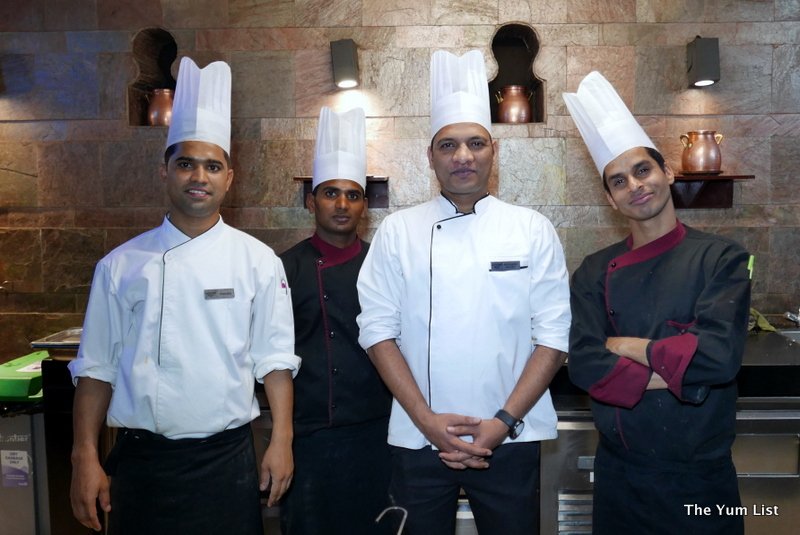 Anise Menu, Agra Fine Indian Restaurant
Chef Asif assures us that the food is flavourful but not with heat. The offerings are extensive and we're happy to have some help deciding what to order. There are considerable vegetarian options. Actually, vegetarian seems to be the standard and items that are not are marked as "non-veg."
While we wait for the requests to be placed, papad is served as Anise's table bread. It's a thin crispy roll made with gram flour so it's naturally gluten-free. Mint, garlic and pineapple chutneys are yummy additions.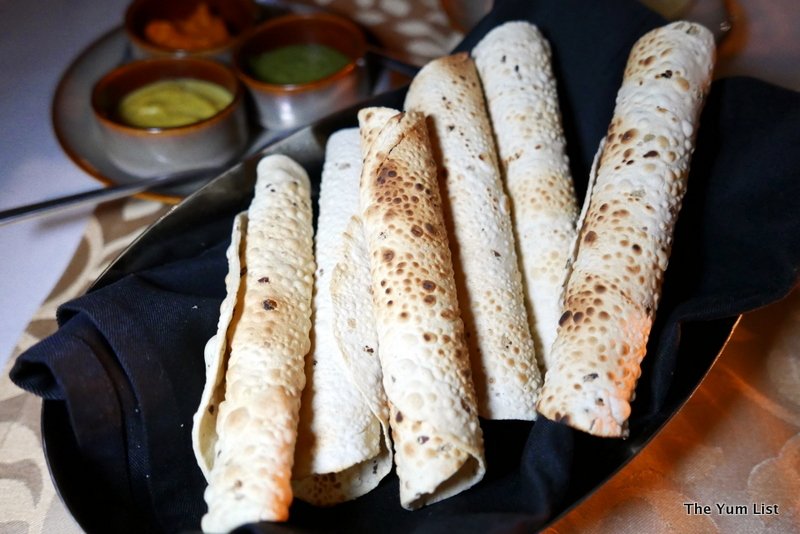 Starters at Anise Restaurant
Our entry is the "non-veg," Gosht Ki Galawat (1095), which features melt-in-the-mouth smoked minced mutton marinated in 85 different spices (chef's secret blend). The patties are cooked on the pan and served on mini paratha. Our waitress, Angira, reveals that she is from Lucknow and tells that this is her favourite dish. "When you eat it you will feel the mouth meltiness and then you will taste the spice – each and every one," she shares proudly, and she is absolutely right; the dish is superb.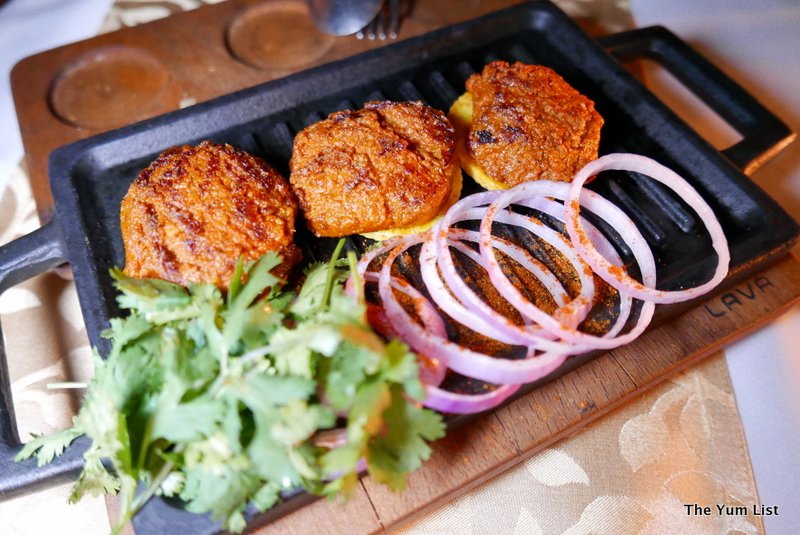 Zafrani Paneer Tikka (845), a cottage cheese dish with saffron and yoghurt, is stuffed with nuts and cooked in the charcoal oven. We find the textures and nutty elements highly enticing. It turns out to be a favourite for both hubby and myself.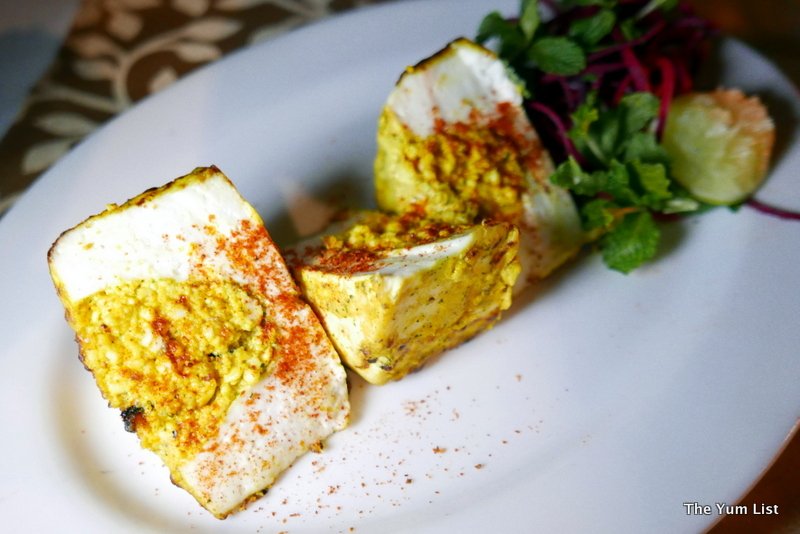 Impressively served in a copper receptacle that resembles a mini-tandoor, the Tandoori Bharwan Mushroom (845) is another must-order. Coal in the bottom of the pot smokes stuffed button mushrooms on skewers that are coated in fresh cilantro and ginger. They are moist, with a good meatiness to their bite and packed with character.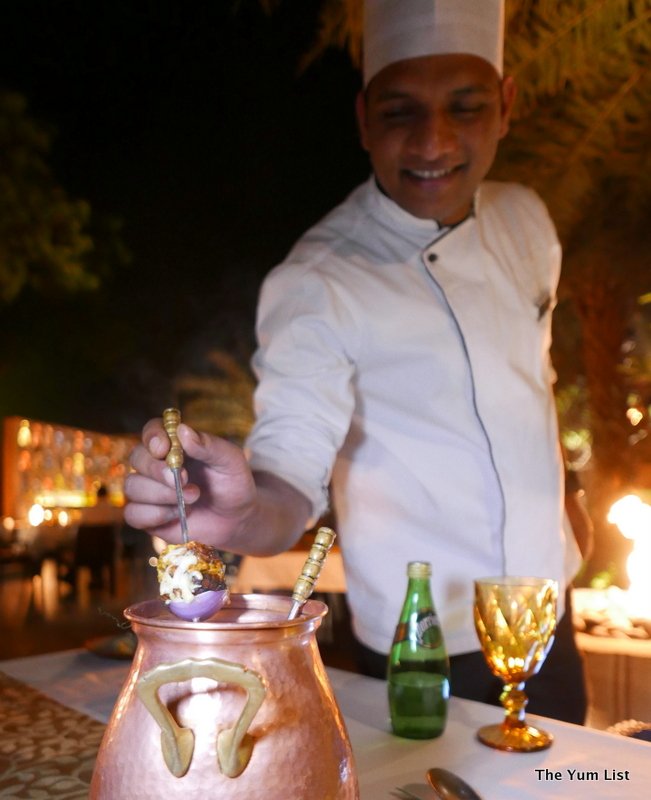 Shorba (soup)
The soup we try is familiar yet exotic. Tulsi Tamatar Ka Shorba (445) mirrors an Italian broth with tomato and basil but is given a definite oomph with black cardamom. It's a light soup with a kick of pepper of the end.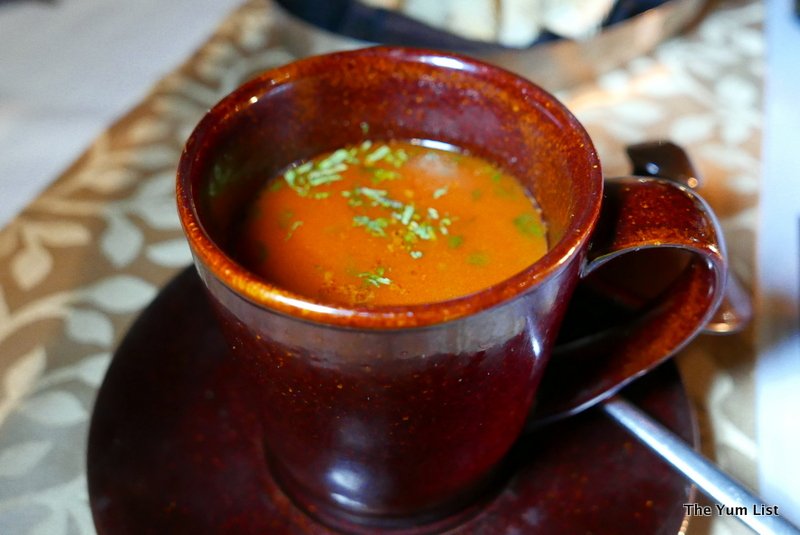 Main Menu at Anise Restaurant, Agra
The main courses at Anise Restaurant come sharing-style in ceramic pots along with a selection of Garlic Naan and Warki Paratha. Naan is known to most foreigners but the warki paratha is something new for me. It's a bread of multiple layers and very aromatic. It has a mild sweetness and a hint of fennel: absolutely scrumptious.
The trio of saucy dishes encourages us to soak up every last drop with the bread (and even to order a second round for mopping purposes). Nalli Nihari (1195) is a delicious slow-braised Indian lamb shank cooked in its own stock with aromatic spices. Paneer Firdoshi (945), a little sweet, is one of the chef's signatures – cottage cheese tossed with coarsely ground spices and peppers. Lastly, another speciality, is the Anise Ki Khas Dal Makhni (795), a rich mix of black lentils cooked overnight in a copper urn. All are creamy, incredibly aromatic and with only a whisper of heat.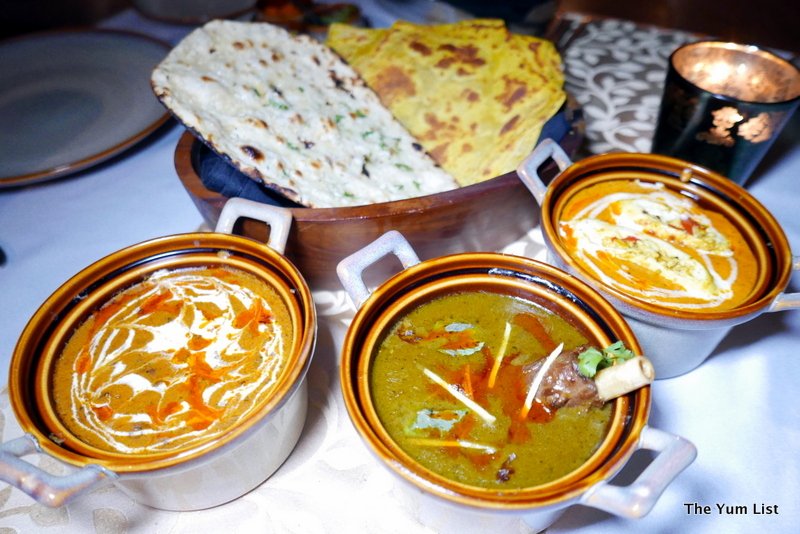 Desserts, Anise Restaurants, Agra
Although stuffed to the brim we can't leave without a taste from the pastry chef so are convinced to try the Indian Dessert Sampler (545). Besan Shrikhand Tart resembles a key lime pie except with a gram flour shell that's filled with cardamom-infused shrikhand (strained yoghurt). The second of the trio, Rasmali, seems as though it's a dish that would transport many back to their childhood. Soft spongy cottage cheese patties are soaked in thickened sweetened milk furnishing a little springiness as we put them in our mouths and delight in the liquid that seeps from the sides. Lastly, Shahi Tudka sees deep-fried bread soaked in sugar syrup and topped with rabri (milk) and pistachios. Yes, they are intensely sweet, and no it's probably not advisable to eat these daily, but while in India I choose to indulge.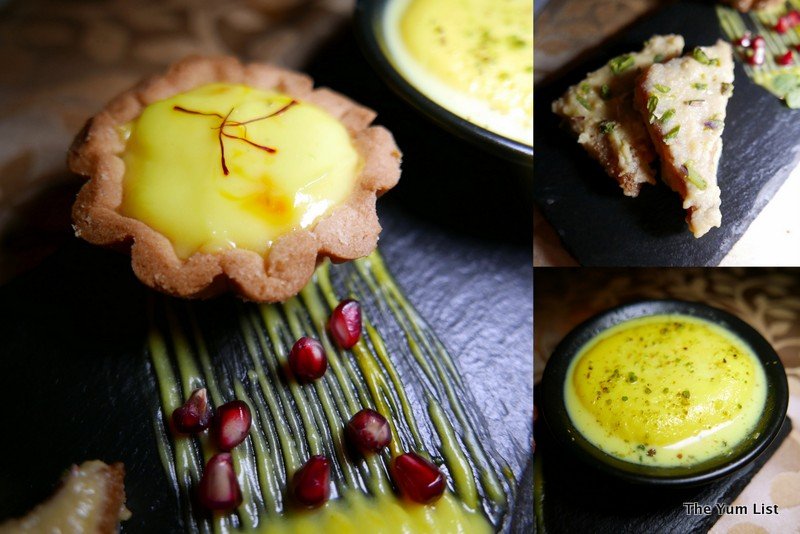 Reasons to visit Anise Restaurant at Courtyard by Marriott Agra: beautiful open-air setting; friendly, knowledgeable staff willing to explain each dish in detail; mouth-watering Mughlai cuisine (all of it – ask the chef to choose for you).
Anise, Indian Fine Dining Restaurant
Courtyard by Marriott, Agra
Taj Nagri, Phase II, Fatehabad Road
Agra, 282001 India
www.marriott.com/hotels/travel/agrcy-courtyard-agra/
+91 562 662 7777