Monica Tindall
Delhi's culinary scene is hotting up with the recent addition of the Hong Kong Club in Andaz Delhi. Just opened, the restaurant and bar has already gained a following with reservations a necessity to guarantee a seat on the weekends.
We can see why! The concept here is strong. There's a story behind everything and these anecdotes are woven throughout the food, beverage and design. The narrative begins with an Indian sailor who fell in love with a Cantonese beauty on his travels. Unfortunately, for a variety of historical reasons, the romance did not end in wedlock. Returning to India, the sailor vowed to keep the romance alive and created Hong Kong Club, Andaz Delhi in honour of his beloved. It's all about celebrating whatever you have a romance with: food, drink, architecture, people.
The double story building is impressive in design with glass walls and distinctive seating spaces. A magnificent oval bar centres the space opening up to an atrium, meaning its action can be viewed from just about anywhere in the restaurant. Private rooms are often sold out for celebrations (particularly popular for bachelorette parties we hear) and the choice of intimate booths, open lounges and dining tables intends for nearly any desire to be catered for.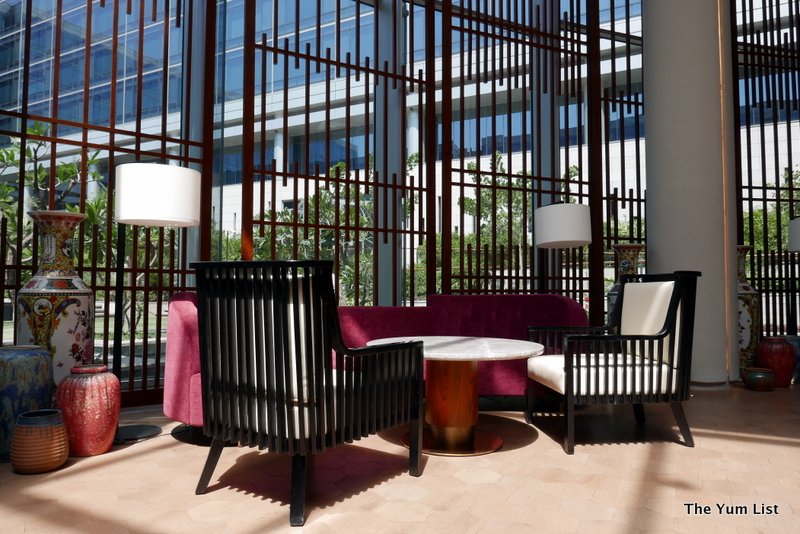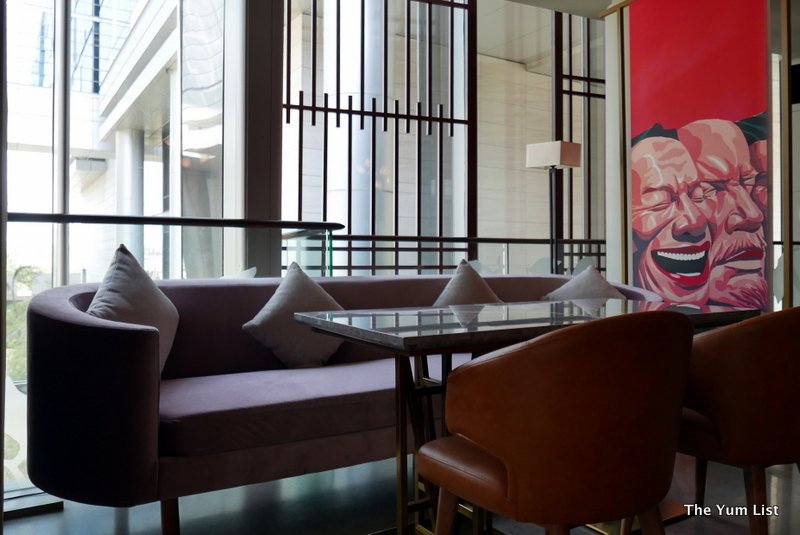 Drinks Menu Hong Kong Club, Delhi
As the bar is the heart of the restaurant it's the best place to begin (and end) an experience at Hong Kong Club, Delhi. Inspired by the twelve signs of the Chinese Zodiac there are a neat dozen cocktails on the menu, each making fine sipping on their own or paired with the Cantonese dishes in the food offerings.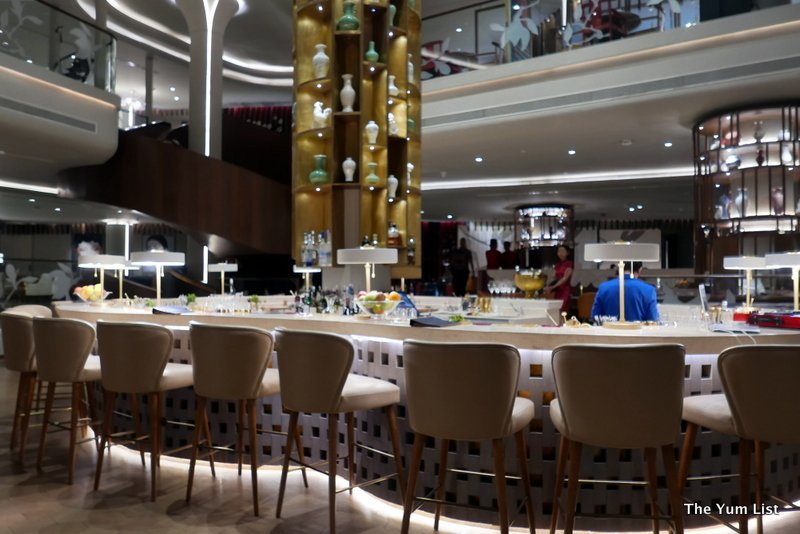 As it's the year of the dog we can't resist the Eclipse (1250), a tribute to the canine. The Dog Tiangu is the celestial being that is said to eat the sun and moon to cause an eclipse. People pray to be in his favour as his appearance could spell doom. "Like Tiangu, this cocktail has a bite." Vodka, Champagne, rose tea and tarragon cordial flavour the beverage and Eclipse black pepper tincture gives it a hue of the night. Indeed, it does have an edge of bitterness to it that is smoothed over by the rose.
Hubby is unashamedly a rooster lover and so the Sun Born Ruler (1250), in honour of the bird, is our next order. The Fenghuang are mythical birds that rule over all others. "Like the Phoenix, the Fenghuang originated in the sun and is said to only appear in places of utmost peace and happiness. It's a bold drink with an almost sherbety profile to it. Based in Cognac this drink is shaken with yuzu, raspberry and orange blossom syrup, egg white, mandarin and raspberry powder.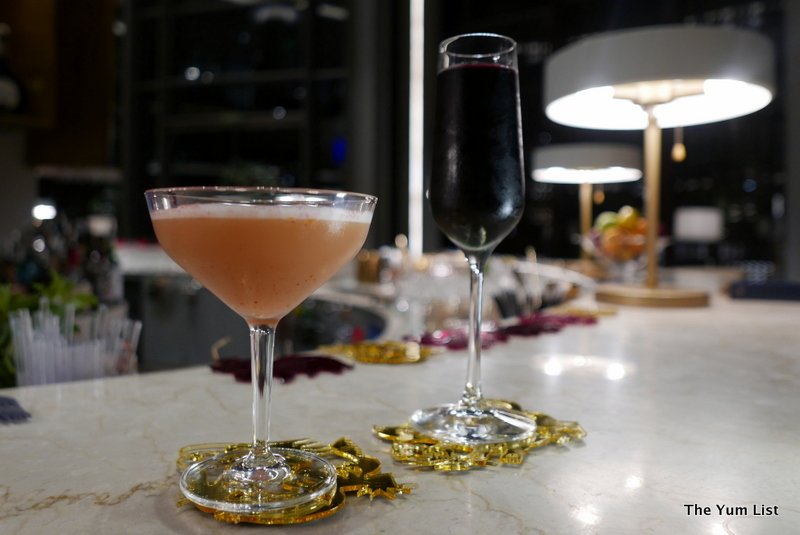 Andaz Delhi, Hong Kong Club, Menu
Chef Fuhai and executive chef Alexander Moser created a menu for Hong Kong Club, Andaz Delhi, inspired by traditional Cantonese cooking. Sourcing local ingredients, they have composed a menu with punchy flavours and an edgy twist.
Dim Sum at Hong Kong Club
We hadn't planned on ordering dim sum but our waitress tells us that it's something the kitchen is known for. We're not ones for arguing so Crystal Dumplings (780) and Shumai (880) are our first order. The former are steamed bundles of prawns, asparagus and crispy garlic and the latter a luxurious mix of lobster, crab and spinach. Both are fine renditions of the classics and we're glad we were easily persuaded into this request.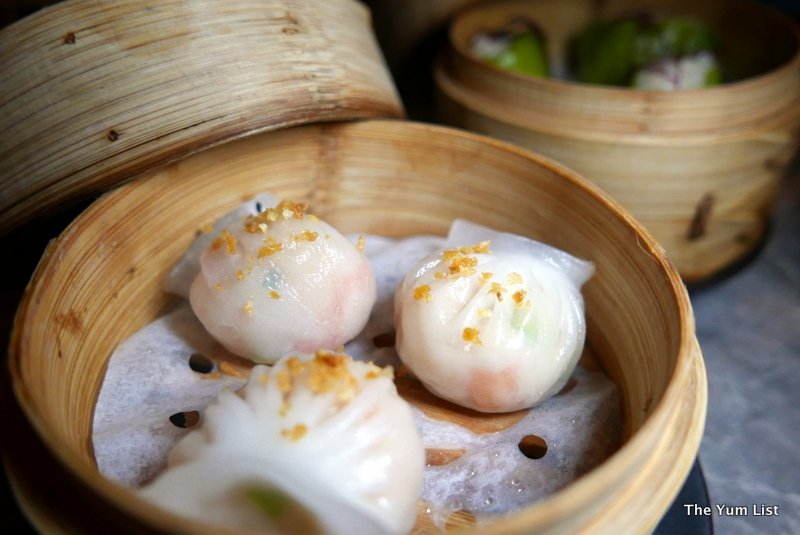 Appetisers
Loving the vegetarian options throughout the Andaz Delhi kitchens, two plant-based requests are our choices. Marinated Green Asparagus (520) and Lotus Root with home-made chilli sauce (480) are fresh and do the kitchen proud. Both are interesting comparisons in heat, the lotus is laced with chilli and the greens with mustard.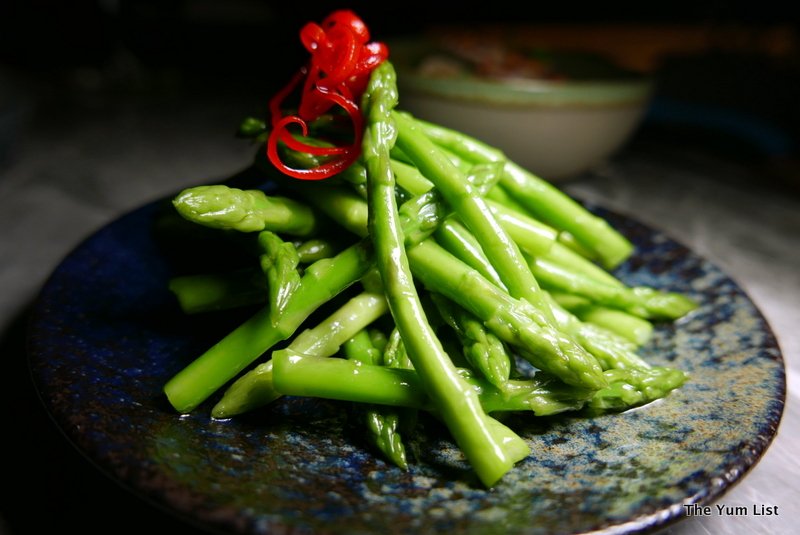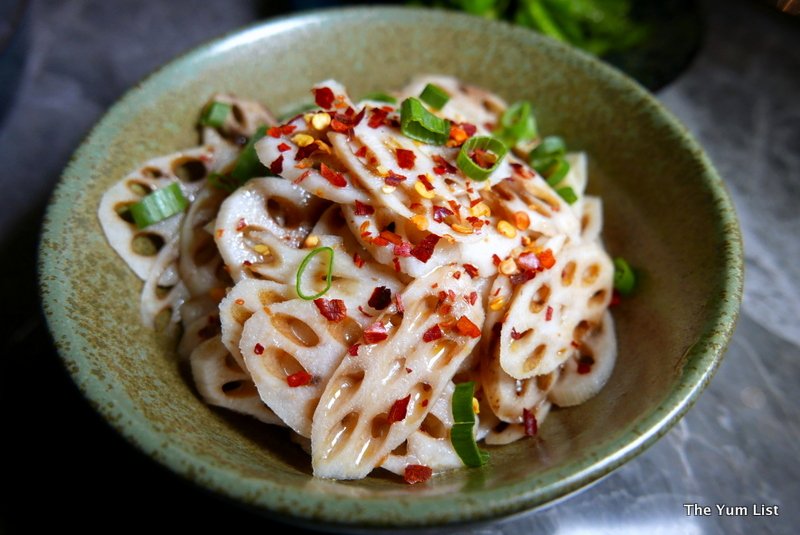 Soup
Clear Mushroom Broth (1280) with Kashmiri morels is a seemingly simple soup yet rich with flavour. You might raise your eyebrows at the price of the soup but the Kashmiri morels cannot be cultivated, they only grow wild, subject to prevailing climate conditions and the skill of the forager in the finding them.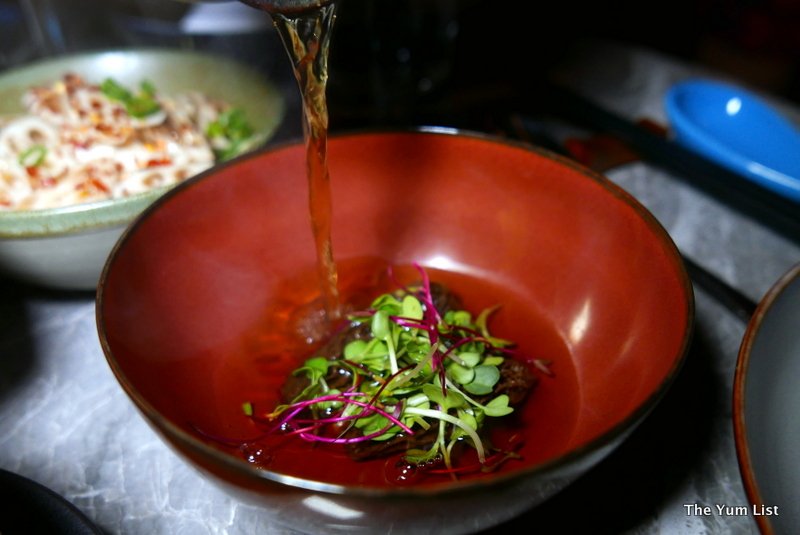 Fish at Hong Kong Club, Delhi
Fresh Fish (red snapper) (1580) is steamed with light soy, ginger and scallions and is wonderfully moist. It's such a simple dish yet so tasty. This light and healthy dish is perfect for those wanting something full of flavour yet wholesome at the same time.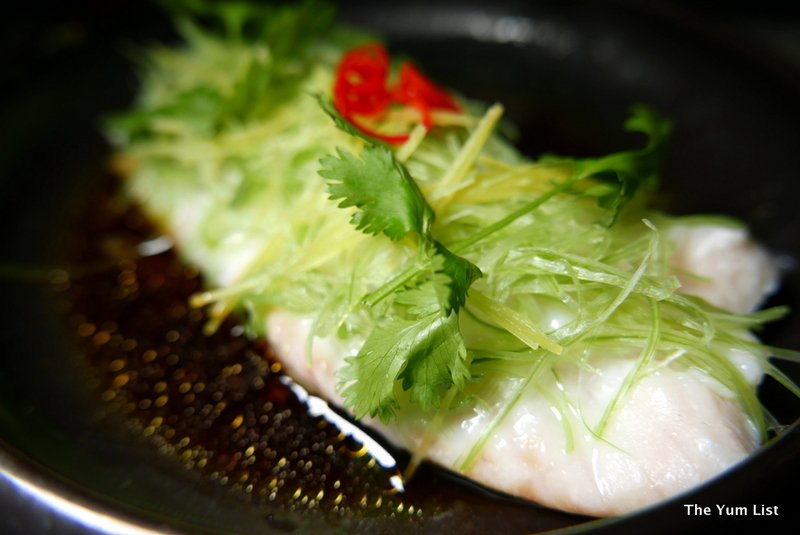 Wok & Rice at Hong Kong Club, Andaz Delhi
Pork Loin (880) is served with broccoli, baby corn and spring onions. The sauce that coats the meat and vegetables is mildly sweet and thick. It's a great accompaniment to the Wok-fried Bamboo and Red Rice (920) with preserved olive leaves. The rice on its own has a great texture but paired with the pork it is truly delicious.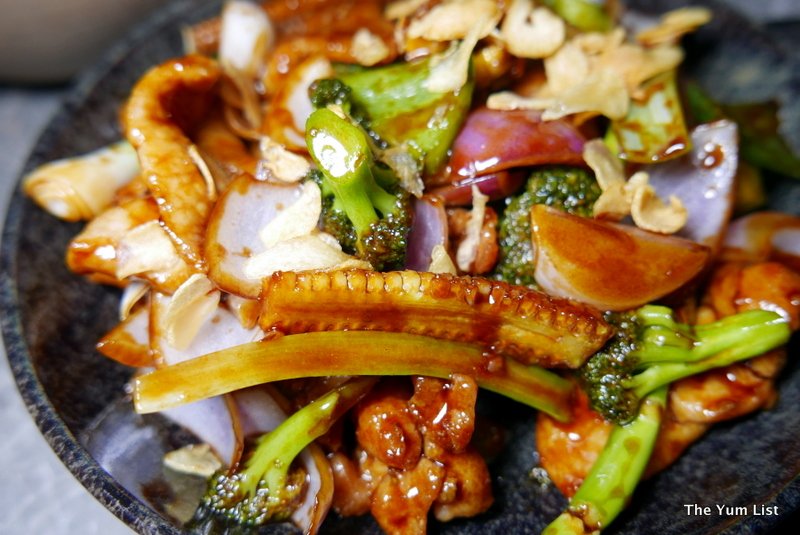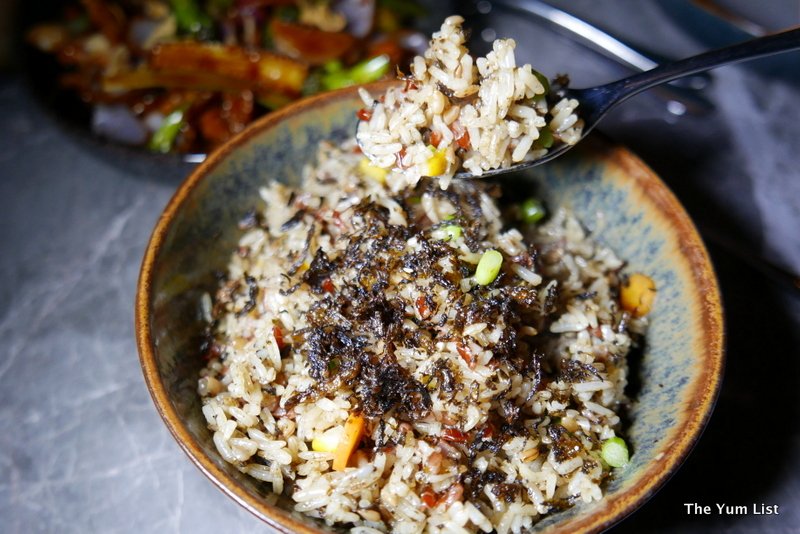 Dessert at Hong Kong Club, Delhi
Lastly, Burnt Fruit (780) is torched with wild honey and sesame. Although I taste the sweetness and sesame, most of the platter seems more fresh than torched. It's a fantastic mix of fresh fruits: strawberries, coconut, figs, pomegranate, pineapple, papaya and gooseberries, and a flawless ending to a delicious meal.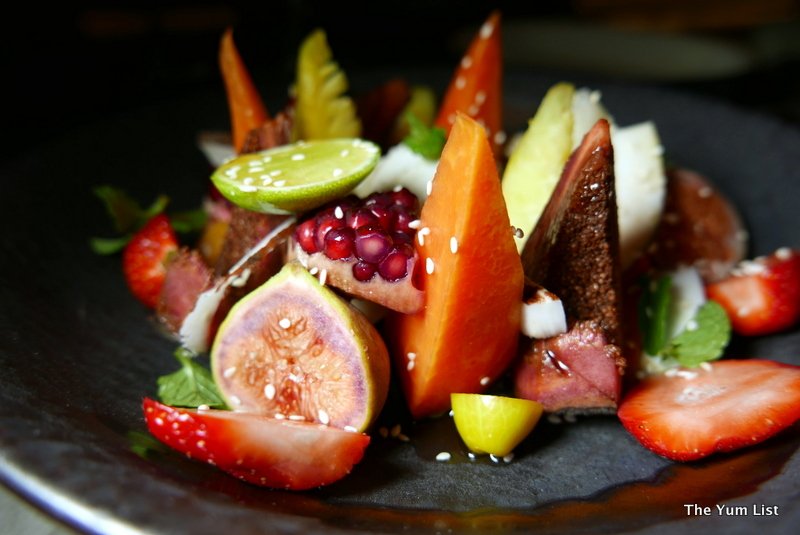 Reasons to visit: stylish setting; a hot spot that picks up energy with a DJ and live music as the evening progresses; good Cantonese menu – I particularly loved the lotus roots and fresh fish and hubby delighted in the pork loin and mushroom broth.
Hong Kong Club, Andaz Delhi
Asset No. 1, Northern Access Road
Aerocity, Hospitality District
Indira Gandhi International Airport
New Delhi, Delhi 110037, India
https://delhi.andaz.hyatt.com
+91 11 4903 1234
@thehongkongclub
#hkcdelhi
Private rooms are available with booking.
Opening hours Hong Kong Club, Delhi: Daily 6 pm – 4 am.