Words: Heather Onderick     Photos: Monica Tindall
When I think of Bukit Bintang, I think neon lights, dirty streets, the occasional rat squirrelling out of one gutter hole into another, bustle, people lounging in cafes with greasy noodles, airy thosai and an over sweetened fruit juice. However, in a quiet corner, down Jalan Bedara, at the end of the street, you will find quite the contrary.
Enter Drift Dining and Bar and you could be in Melbourne, Barcelona, or Cape Town. With industrial slate grey interior and chunky wood blocks building a chic bar, lined with a panoramic artsy photograph of a waiter coming up from foam and Marvin Gaye tunes playing in the background, this space is a place to go to relax and imagine you are somewhere else in the world. And, let's face it, when we want a good Sunday brunch, it needs to be easy and breezy like Sundays should be.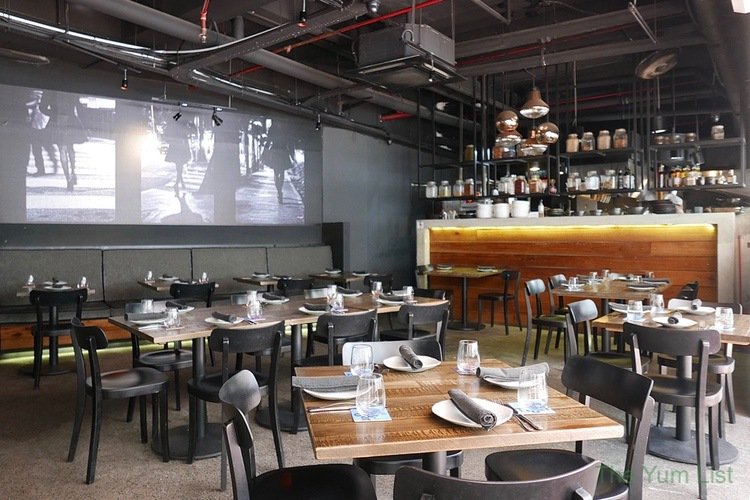 Drift Dining and Bar's Sunday Boozy Brunch – Free Flow Beverage
Drift Dining and Bar's Sunday Boozy Brunch is just that, with delectable bites plated fresh to order and drinks coming within seconds of you waving your magic wand, or finger.
We try the Bloody Mary, because even if you don't like tomato juice, it's always interesting to see how they are done. For me, it's better than expected: a thinner tomato juice, a hint of chili and a drop of Worcester – just what I need after a fun-filled Saturday night. Dry and airy prosecco is also available, depending on what menu you order. You can stick with the straightforward RM120 option for food only, which comes with a free flow of orange, cranberry and apple juices. Upgrade to the RM250 and you can add in wine, beer and Bloody Marys. Or go all in, for RM350 and get all of the above along with free flow sparkling wine.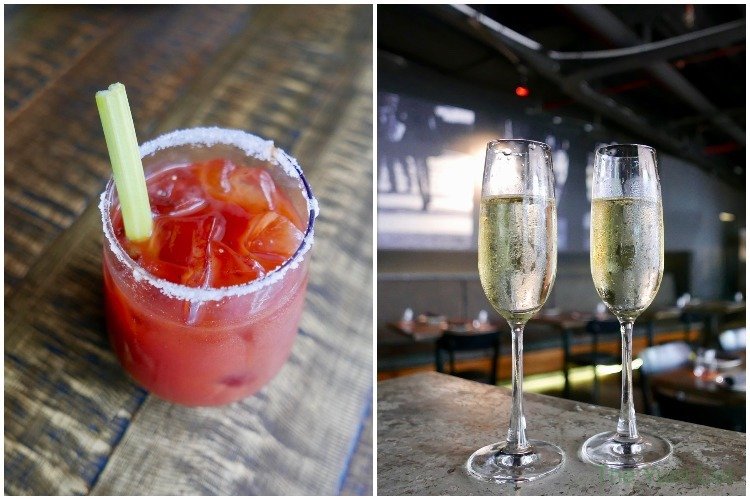 Drift's Sunday Boozy Brunch Menu
Round 1
The plates come parading out at our command.  First, Irish oysters, tasting as if we had gone hunting for them hours before and Mom had shucked them fresh in the kitchen, get gulped down. They're a soft mouth of textured saltwater, flavored with vinegar, shallots and a dash of lemon. Alongside, the pearly oysters arrive the fire engine red tiger prawns. They are meaty and the creamy Thousand island sauce is a pleasant accompaniment. Finally, in the first wave, the Eggs Benedict served with smoked salmon on a fluffy brioche bun, prove a nice alternative to the toasted English muffin tradition around town.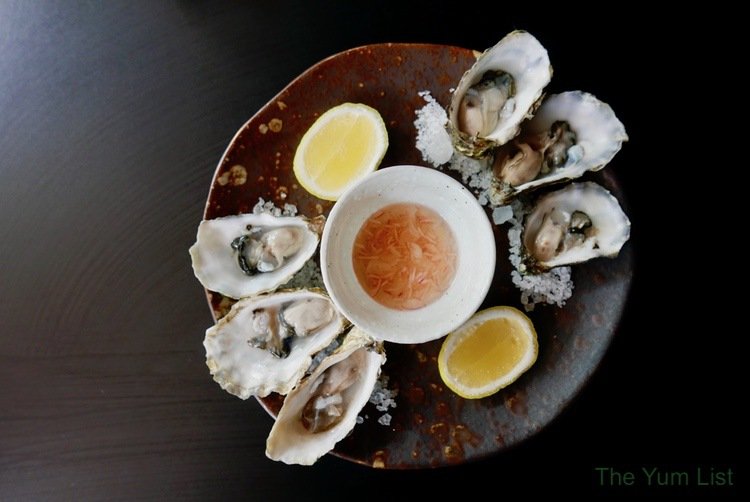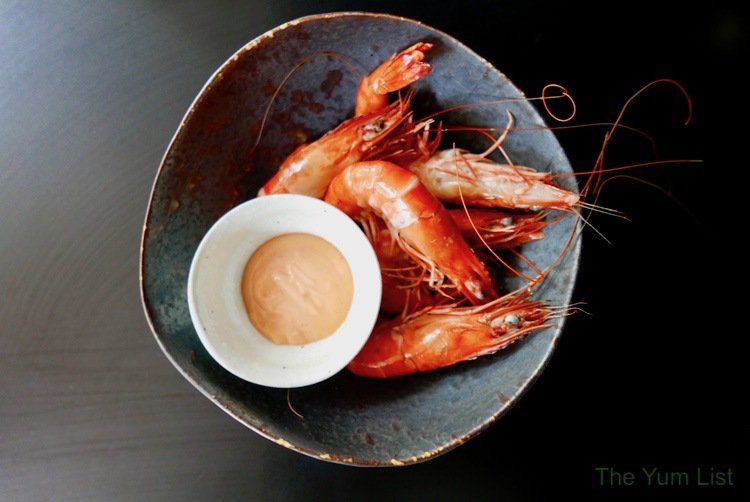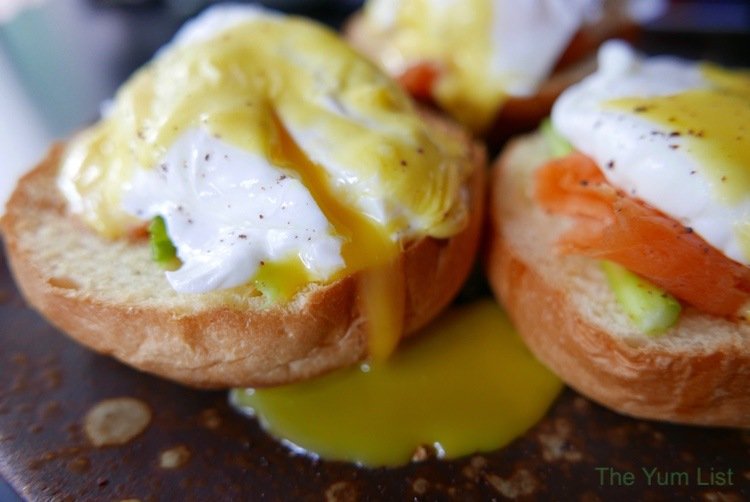 Round 2
The second round of plates offers a more picnic-style brunch feel. First up, the chicken tortilla wrap is filled with a slightly sweet mayo, avocado, pulled chicken and crispy cabbage. At this point, with the flour wrapped tortilla and black slate ambience, we needed a little color. The green papaya carrot salad comes to the rescue: lively, fresh and tossed with a bit of spicy bean paste. This plateful of vegetable sunshine served on a raku plate is vivacious in both looks and taste.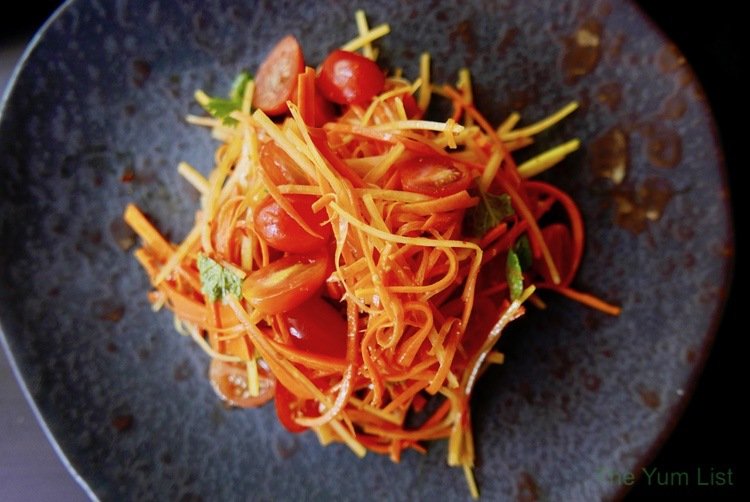 Round 3 – Meat Fest at Drift Dining and Bar
Our last round of dishes is a bit of a meat festival. Juicy, tender pink lamb, comes out, lightly coated in a peppercorn sauce, with crunchy grilled vegetables on the side. The true star of the meal, however, is the roast pork belly, with a slightly caramel softer skin on top, and succulent chunks of fatty pork, over an Asian inspired ginger pumpkin puree. To balance those salty, earthy flavors, the chef paired this with a sour green apple, onion and fennel salad to create a fantastic medley of flavors (Mon said she'd be happy even with the pumpkin puree and apple salad alone).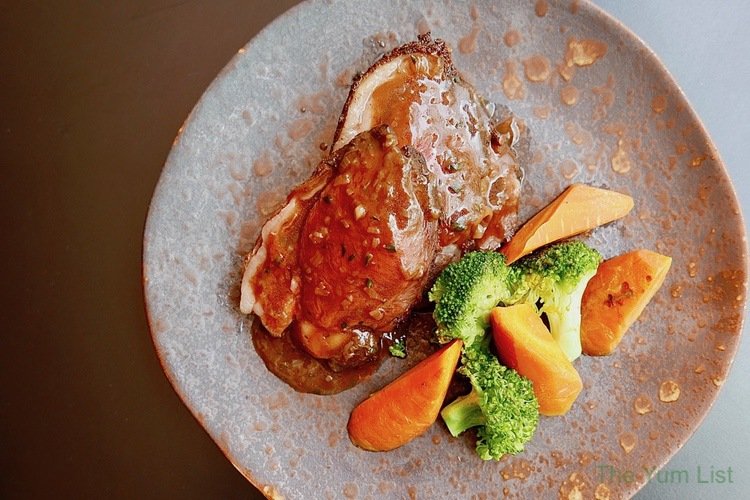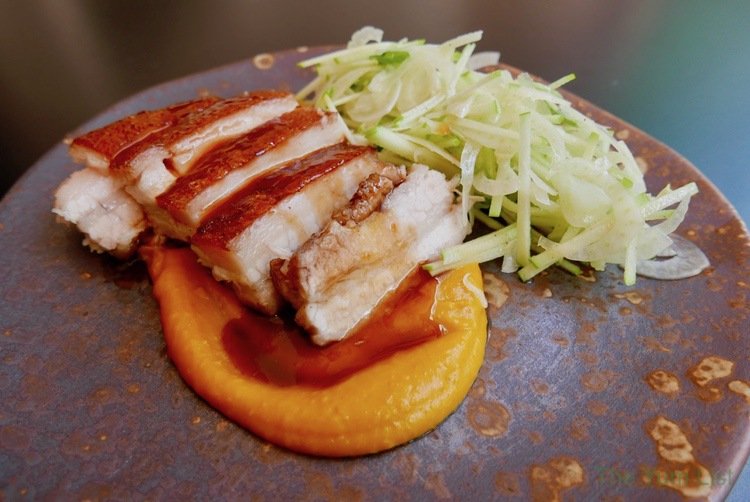 Round 4 – Dessert at Drift
After countless orders of our favourite dishes and prosecco that just keeps on flowing, we don't have an appetite for dessert. Chocolate brownies with a berry sauce are the sweet ending today but we hear the sweets will change soon.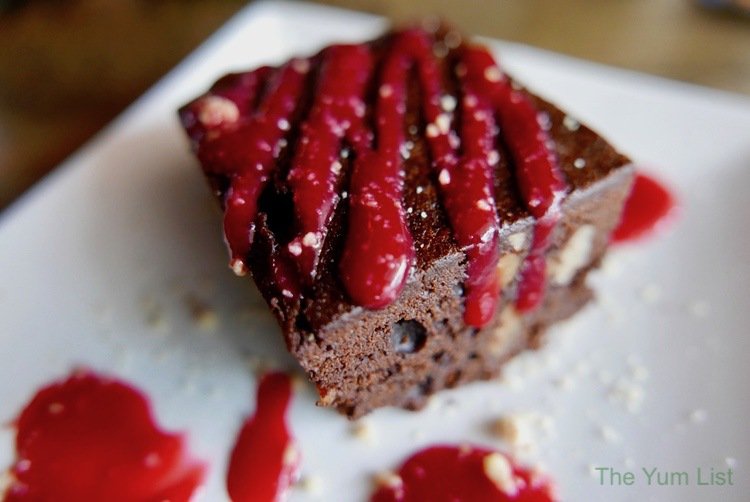 Drift's Sunday Boozy Brunch is light and not carb heavy, which many around the city tend to be. If you are looking for fresh to order plates with a wide array of food groups and flavors, it's worth booking a table. The best part is, you can order the plates again and again until you are full.
Reasons to visit Drift Dining and Bar's Sunday Boozy Brunch: contemporary, relaxed setting; four hours of feasting and sipping; quality compact menu will every item made on the spot and served directly to the table.
* The next Sunday Boozy Brunch will be held on June 3rd from 12 noon until 4 pm. Every brunch from then on will also have a bouncy castle for the kids!
Drift Dining and Bar Sunday Boozy Brunch
38 Jalan Bedara, Bukit Bintang
50200 Kuala Lumpur
Malaysia
+6 03 2110 2079
www.driftdining.com