Words: Chris Moore     Photos: Monica Tindall
It is not very often that I am left fumbling for the words to describe something or someone. I most often have something to say, and even more so have something to write. But my recent experience as a whole at Nathalie Gourmet Studio in Publika left me virtually speechless. From the food to the wine, to the unbelievable amount of sensory stimulation, I departed at a complete loss for words, and not at all in a bad way.
Whimsy – Nathalie Gourmet Studio
Whimsy is setting out to take the Kuala Lumpur dining scene and turn it completely on its head. Their current venture, which takes the culinary ingenuity of Nathalie Arbefeuille (who has been voted as 'Outstanding Chef of the Year' by Time Out Magazine), is designed to transport guests on an epicurean journey delighting their sense of taste, smell, sight and sound. By combining 360° projection technology with the food of a Michelin-star mentored chef, this journey is not something you want to miss.
Whimsy – A Once In A Lifetime Culinary Expedition
Take your most vividly exuberant dining experience and multiply it 1000 times, and just then maybe you will come close to the experience that is being offered by Whimsy and Nathalie Gourmet Studio between May 14th and July 31st. Add to this a variety of wine pairings from Chateau de Lafont and Martell Cognac, and I write with the utmost confidence that you are about to embark upon a once-in-a-lifetime culinary expedition.
The evening begins, in what would soon feel like the somewhat ordinary restaurant space, with an artistically presented trifecta of finger foods served alongside a magnificent flute of Champagne Cattier Brut. Though the Smoked Salmon with Ginger Hokkaido Scallops and Caviar Ring, Broccoli Gorgonzola Spiral and a Red Detox Juice with Pomegranate Jelly are just the beginning, the flavours and textures are meant to awaken your appetite and senses and serve as a testament of what is yet to come.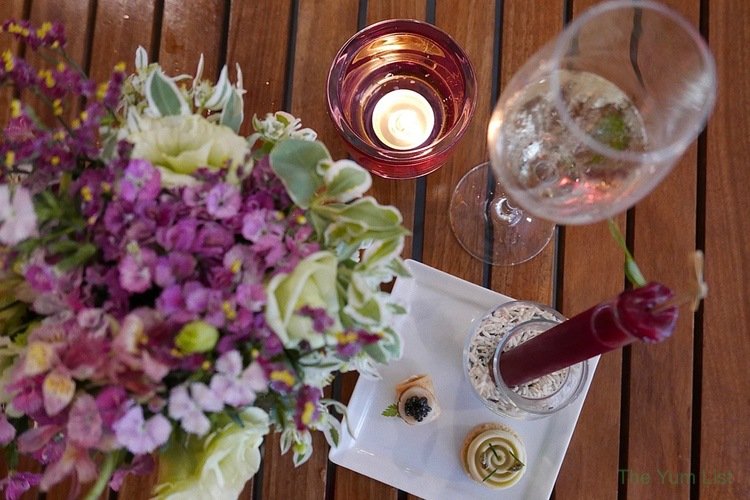 Whimsy – Savour Every Flavour, Satisfy Every Sense
First Course
Upon entering the 360° projection dining space, one is immediately taken back by the magnitude of what is about to begin. Guests' names digitally adorn the walls; individualized dinner plates grace the table; and, the sights and sounds from the technology dance from floor to ceiling. As one's senses begin the process of adjusting to the surroundings, the Red Planet is served, and the amazing culinary abilities of Chef Nathalie become apparent. Japanese Momotaro tomatoes are prepared and served in three different textures and shaped to resemble a far-off planet from the solar system, with a vibrant and flavourful basil pesto and mozzarella cream. The freshness and acidity of the tomatoes are incredible and the nutty pesto is matched magnificently by a chilled glass of Chateau Tuquet Monceau Rose that bursts with strawberry and raspberry notes.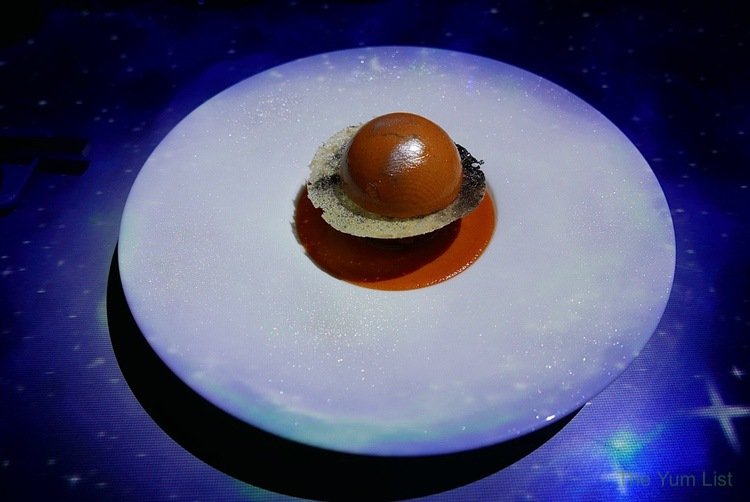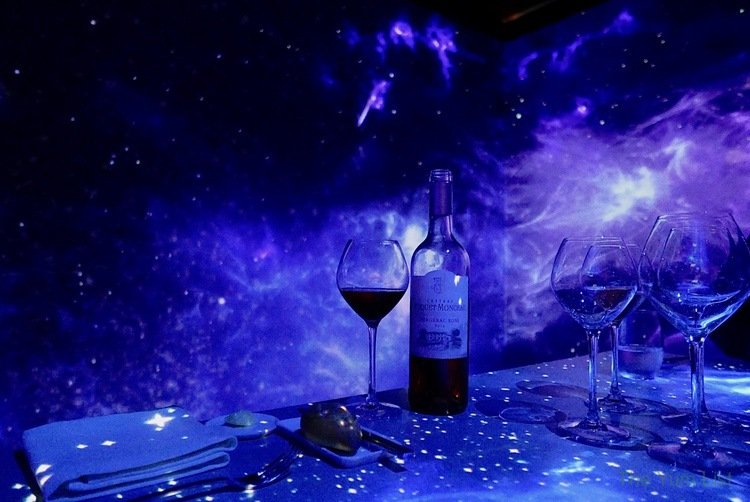 Second Course
The second course of the night, stylishly called In The Woods, is an earthy and decadent mushroom soup that epitomizes the culinary style and flavours of southern France. Crispy foie gras, artichokes, fresh porcini mushrooms and shaved truffles are artfully layered and submerged in a rich duck and truffle consommé. Everything about this dish is remarkable, and though each individual element could be consumed on its own with sheer delight, Chef Nathalie's ability to bring the flavours together alongside the amazing 2009 Chateau de Lafont is something beyond words. And as magnificent as the soup is, I'd be amiss to not express the pure bliss in sipping on the 75% Merlot and 25% cabernet franc blend. The big flavours of cherry, currants and pepper are a seemingly perfect match for the earthiness of the soup.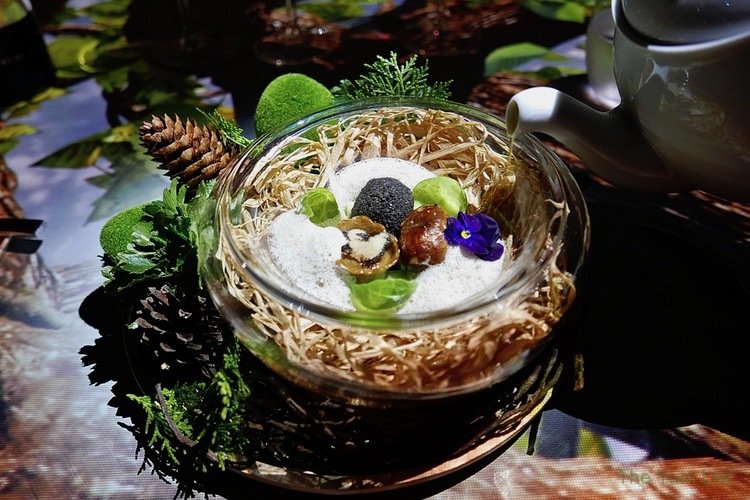 Third Course
Following a playful bit of interactivity with iPads and the projection technology, the third course – Under Water – is presented as a glorious serving of caramelized Hokkaido scallop and poached oyster with pearl cream, alongside a white wine dieppoise sauce and mushroom mousseline. The brininess of the sea is paramount in the dish and the sweet profile of the seafood medley is remarkable with the Chateau Tuquet-Monceau Blanc, a 50% sauvignon blanc and 50% Semillon blend that has a slight acidic profile from the sauvignon blanc and fruity sweetness from the Semillon. The biggest problem with the whole course is trying to slow yourself down and actually savour the food with the wine.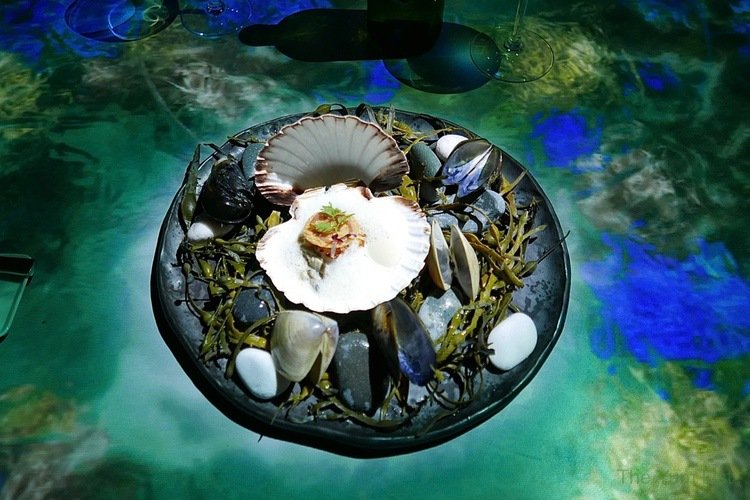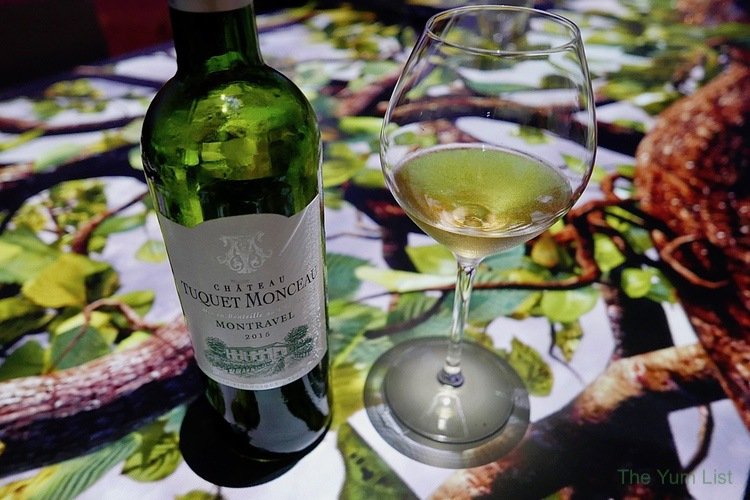 Main Course
In keeping with the idea of flavours from the sea, the main course, delightfully called Circus, takes an unprecedented and spirited approach to stuffed chicken. Organic free-range chicken is stuffed with lobster and served with a creamy paella risotto, and gelatinized herbs and capsicum shaped into various designs that resonate the fun that is had at the circus. Thankfully, the vibrant and delightful Chateau Tuquet-Monceau Blanc is paired again with this course, which makes the sorrow and disappointment of the empty glass from the serving prior short-lived.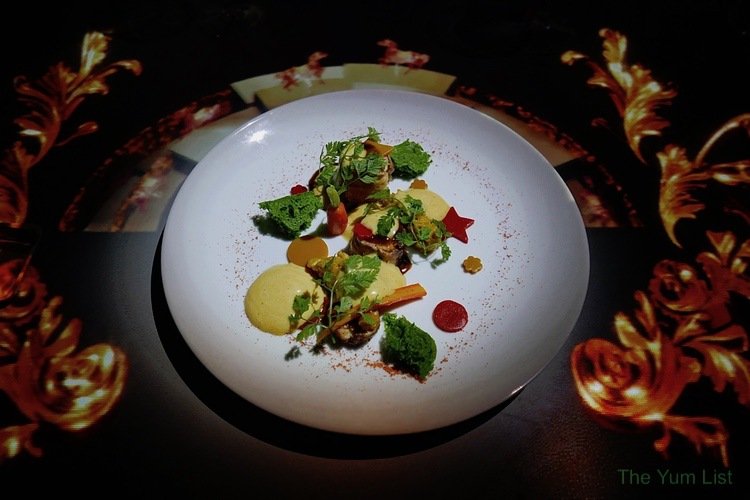 Whimsy Dessert at Nathalie Gourmet Studio
For the final offering of the night Chef Nathalie held nothing back in her quest to leave you as a diner, speechless. The dessert offering of Make a Wish Perfect Apple is equal parts artful, ingenious, and delicious. Preserved lemon mousse is moulded around fennel, green apple and dill coulant and encased inside a faux candy apple shell. The artistry of the dish is beyond description, and the shame lies in the need to break the apple shell to discover the glorious filling. On top of that, the sweet, syrupy notes of the Sauternes Thomas Barton Reserve dessert wine are a perfect match for the herbs and tartness of the filling and an absolute pinnacle in terms of culminating the evening.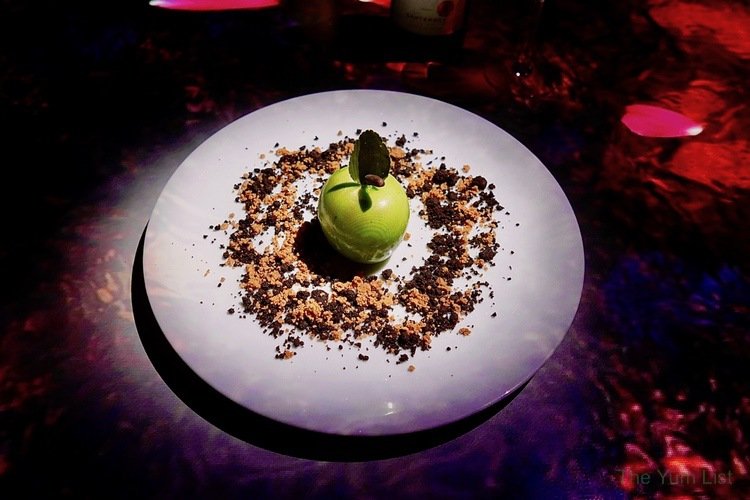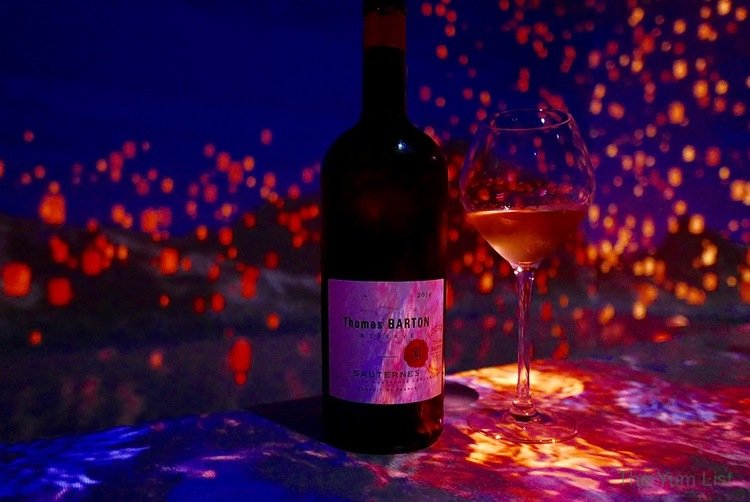 Through this undertaking, the desire of Whimsy is to push the boundaries of dining and entertainment in Malaysia, while creating the most amazing and memorable experiences for those fortunate enough to secure one of the 10 seats per serving. It is safe to say that Whimsy has succeeded in their quest to create one of the most memorable dining experiences you will ever have.
* Dinner is priced at RM699++ per person including a welcome mocktail and still water. Wine pairing is additional.
Reasons to visit Whimsy @ Nathalie Gourmet Studio: a one-of-a-kind dining experience not to be missed!
Whimsy @ Nathalie Gourmet Studio
Unit A4-01-5, Solaris Dutamas
Jalan Dutamas 1
50480 Kuala Lumpur
Malaysia
nathaliegourmetstudio.com
+60 3 6151 6610
Whimsy Projection Mapping Dinner
whimsy.com.my
Check out another projection mapping dining experience in Kuala Lumpur here and also check out what's happening in Singapore here.