Words: Claire Matheson     Photos: Monica Tindall
Secret VIP entrances. Private Dom Perignon rooms. Floor to ceiling windows in the clouds looking down on everyone else far below. Welcome to how the top one percent live.
For those of us who live in Asia, the news that there are some exceedingly wealthy people in this part of the world is not news at all. When I say wealthy, I'm talking head spinning, leave you in the dust of my Maserati, weekend trips on my private jet wealthy. While this kind of lifestyle is beyond most of our wildest imaginations, wouldn't it be fabulous to walk in their shoes and to live for just a moment in sheer, crazy luxury, even for only one night? Wouldn't it be salacious to peek behind the curtain? To peer into their lives and see what it's like? Well perhaps, for one night at least, you can wine and dine as you belong in this inner circle of privilege.
Stellar at 1-Altitude
While some guests at Stellar at 1-Altitude number among the very top tiers of societal status hierarchy, their vision of delivering exceptional food art and innovation is not confined to those with deep pockets. Stellar caters for the gourmet, the food lover; their patrons are those who see food creation as an art form. With high end, artisanal fare and cleverly thought out wine pairings, Stellar at 1-Altitude lies just within reach of us commoners. Their six-course Constellation is priced at $S140++, $S130++ for their Vegetarian Constellation, with additional wine pairing for a further $S98++, and $S190++ for their eight-course Chef's 'Omakase' Experience. We are here to taste their new menu. After reading on, you may want to change your 'save it for a special occasion' to 'I can find an excuse'.
Views from Stellar at 1-Altitude
At 62 stories high, Stellar soars above Singapore and the views are nothing short of breathtaking. If you dare, put your toes to the edge of the glass and gaze straight down. Their concept is "texture, purity of flavour and quality of ingredients" with a team that delivers "genuine hospitality" and "an exceptional dining experience." Specialising in progressive Australian cuisine, Stellar's menu features some of the world's best seasonal produce – salmon and gin from Scotland, French and Swiss cheeses, Abalone from Australia, truffles from wherever location on the planet is currently in season, and locally farmed sustainable snapper, with herbs from their very own in-house garden located next to the kitchen, which we will visit later. If you're a fan of wagyu, their beef is from their champion Tajima Wagyu farm partner in Riverine New South Wales, highly awarded by the Australian Wagyu Association.
A Bubbly Beginning
We begin our night's adventure with a glass of buttery smooth, vanilla Veuve Clicquot from Reims in the Champagne region. On a personal note, this is the Champagne my family chooses to celebrate special occasions with, so it's an exceptional drop in my books. Newman takes us for a tour of the Dom Perignon room complete with light projection table illuminations which feature the origins and stories behind each course. Opening up into a larger private room, the space looks out over The National Gallery and St Andrew's and is ideal for small weddings, intimate business gatherings and exclusive events. There is even a private entrance away from the main restaurant for those VIP clients who would prefer anonymity.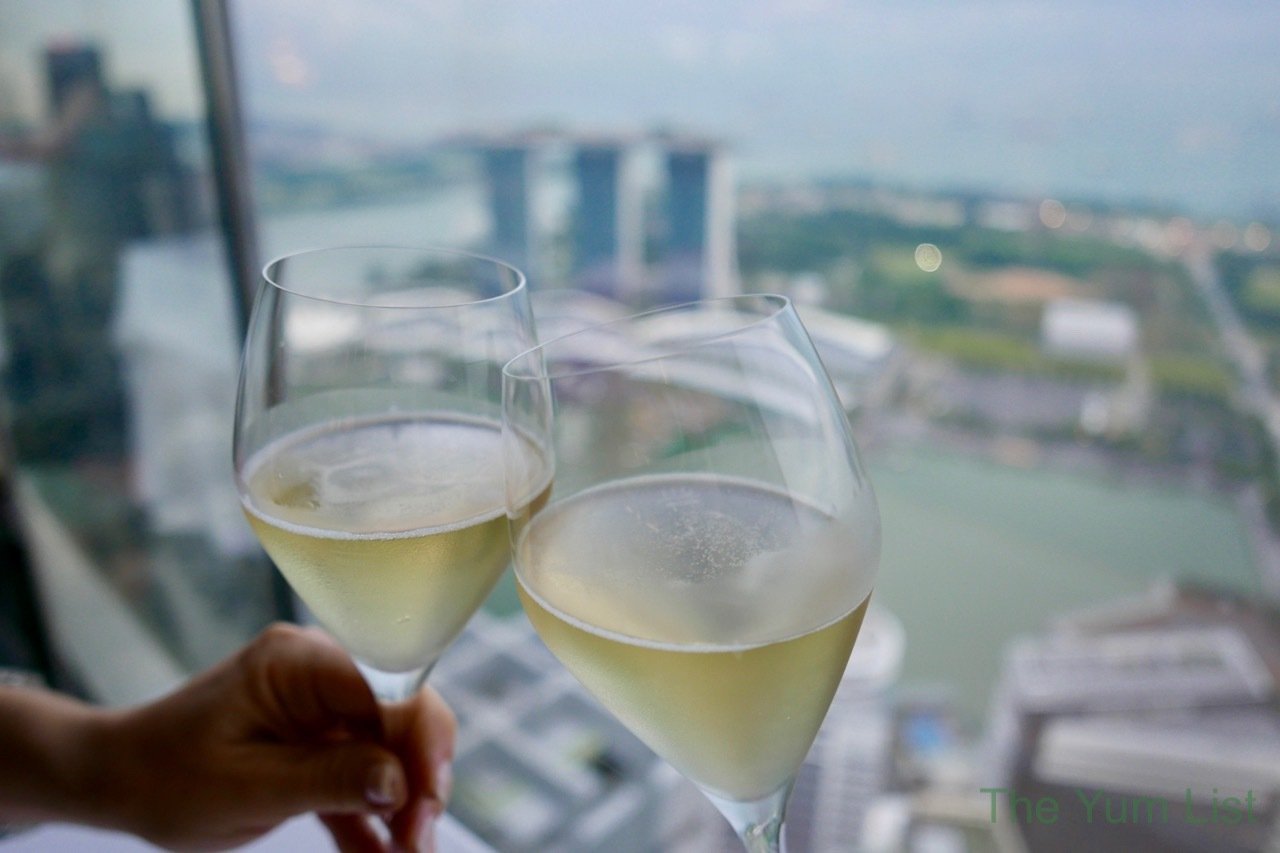 Stellar at 1-Altitude Menu
Our lovely waitress Nicole brings us two amuse-bouche to kick off our food journey. The first is a salty-sweet Vegemite Porcini Puff perched on a miniature Vegemite jar. A cheeky nod to our Australian heritage from Head Chef Michael Di Placido, he has tampered down the strength of the Vegemite and built it on a background of mushrooms to make it palatable for all tastes while remaining true to origin. The second bite is a single cannelloni tube of firm yet supple pasta filled with finely diced juicy tomatoes, arranged with a frothy basil foam, and nutty, biscuity pistachio crumble. The house charcoal sourdough is also brought out with olives, butter, a bowl of radish slivers and a spoon of codfish and milk paste. Still warm, the sourdough is doughy and crisp, the deep black striking against the opalescent white codfish, with soft seafood tones.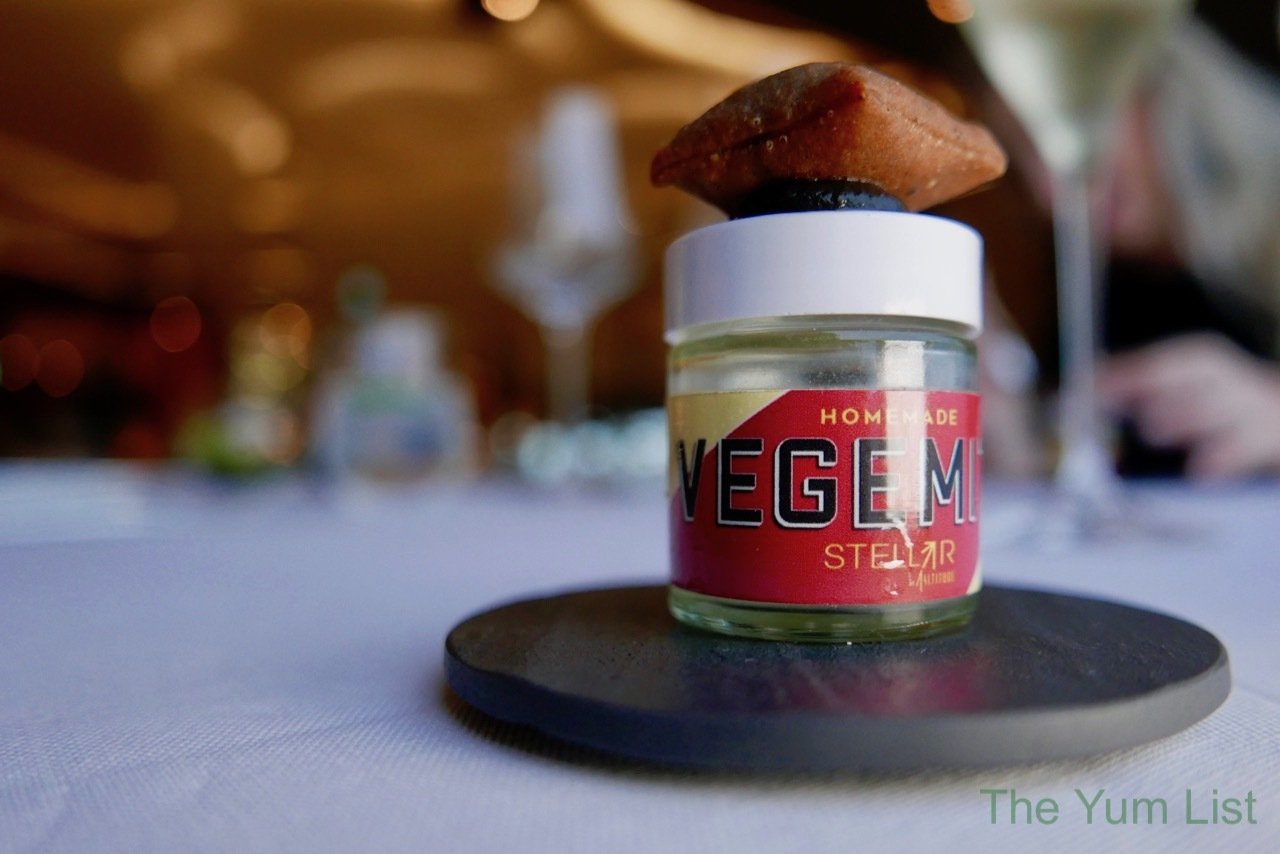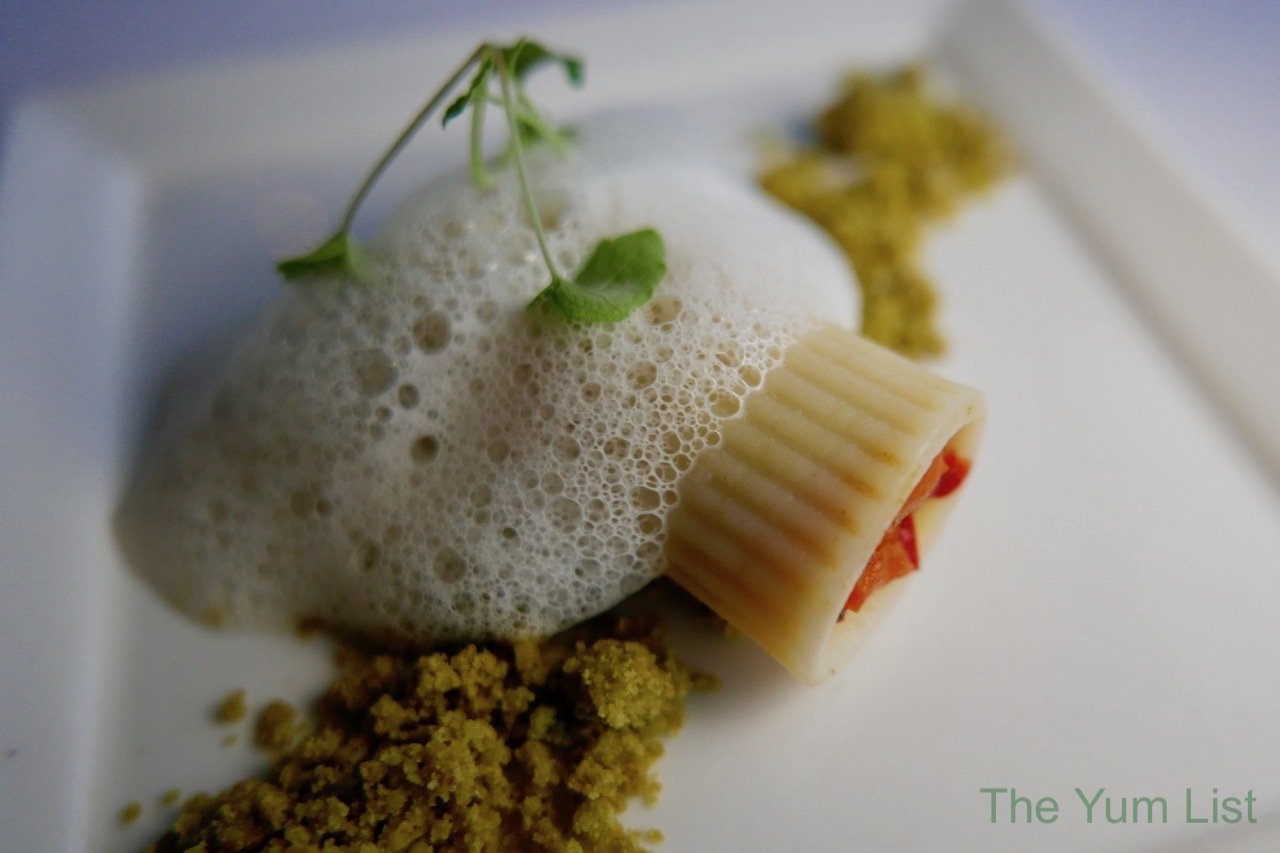 Michael appears at our table with Restaurant Manager Gabriel. Grinning mischievously they pour a jug of liquid nitrogen into a hole in the centre of a large white bowl laid out with four white fingers of Hokkaido scallop and red snapper sashimi. Pure in flavour and springy in texture they are kept cool through the supercooled ceramic while puffs of condensation waft around your head. Further heightened by a citrusy, tart kumquat and yuzu syrup and a pomegranate, passionfruit and peach sauce, they pair exceptionally with New Zealand's 2017 Auntsfield Single Vineyard Sauvignon Blanc. This bottle has ripe citrus, passionfruit, peach and mandarin notes painted on a faint mineral canvas. The Auntsfield estate was Marlborough's first, established in 1873 by David Herd, the area's first winemaker. The name is legendary among New Zealand whites.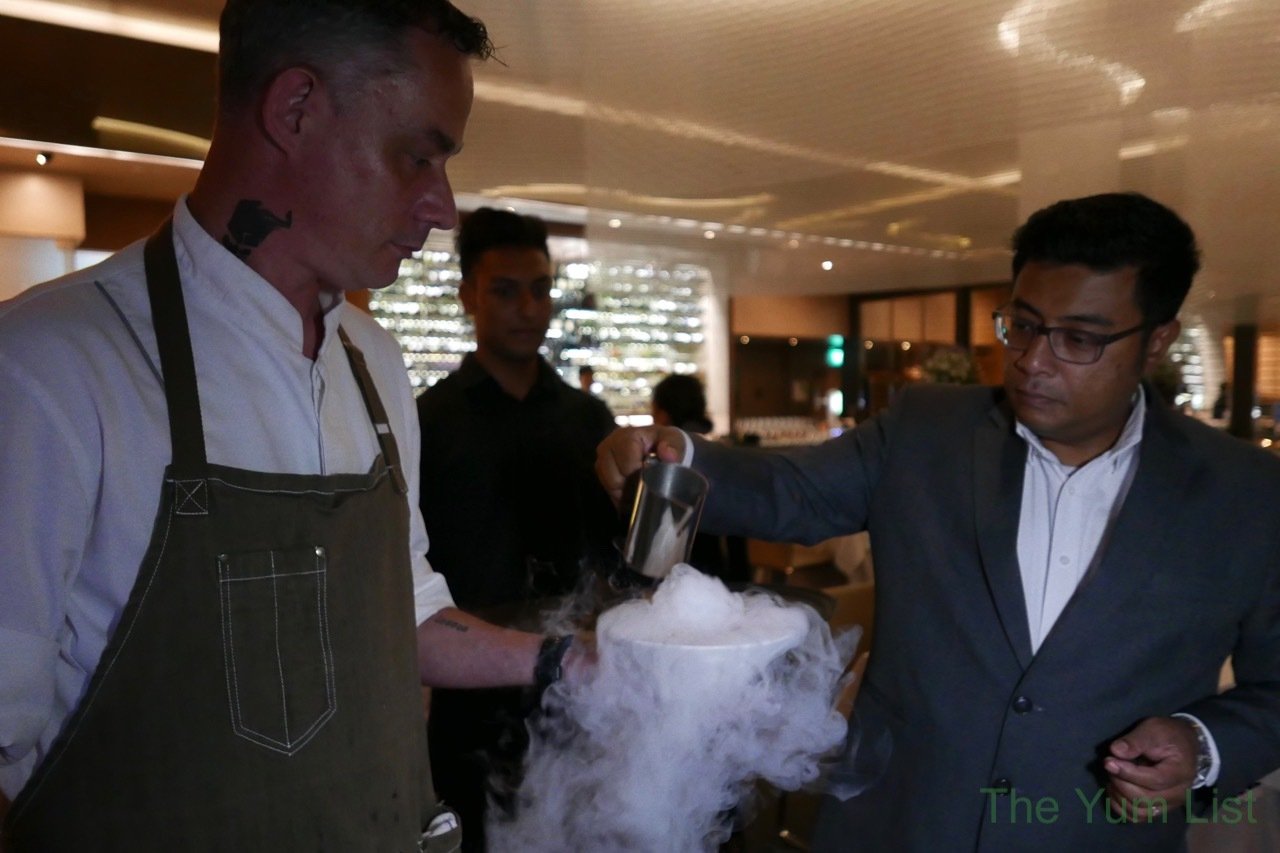 Our next dish is Michael's ultimate salad, titled My Dream Garden. Though deconstructed, it is deceptive in appearance and taste; dramatic while playful and approachable. Laid out and drizzled with lemon juice oil are crisp, acrid Chinese parsnip, caramelised carrot Vichy, roast broccoli, braised mushrooms, baby turnip, and an enchanting beetroot crumble, gritty and crunchy yet charmingly so. All elements of the garden are represented. We are learning that Michael's dishes each have a certain beguiling flair: highly creative yet understated, lacking gaudiness.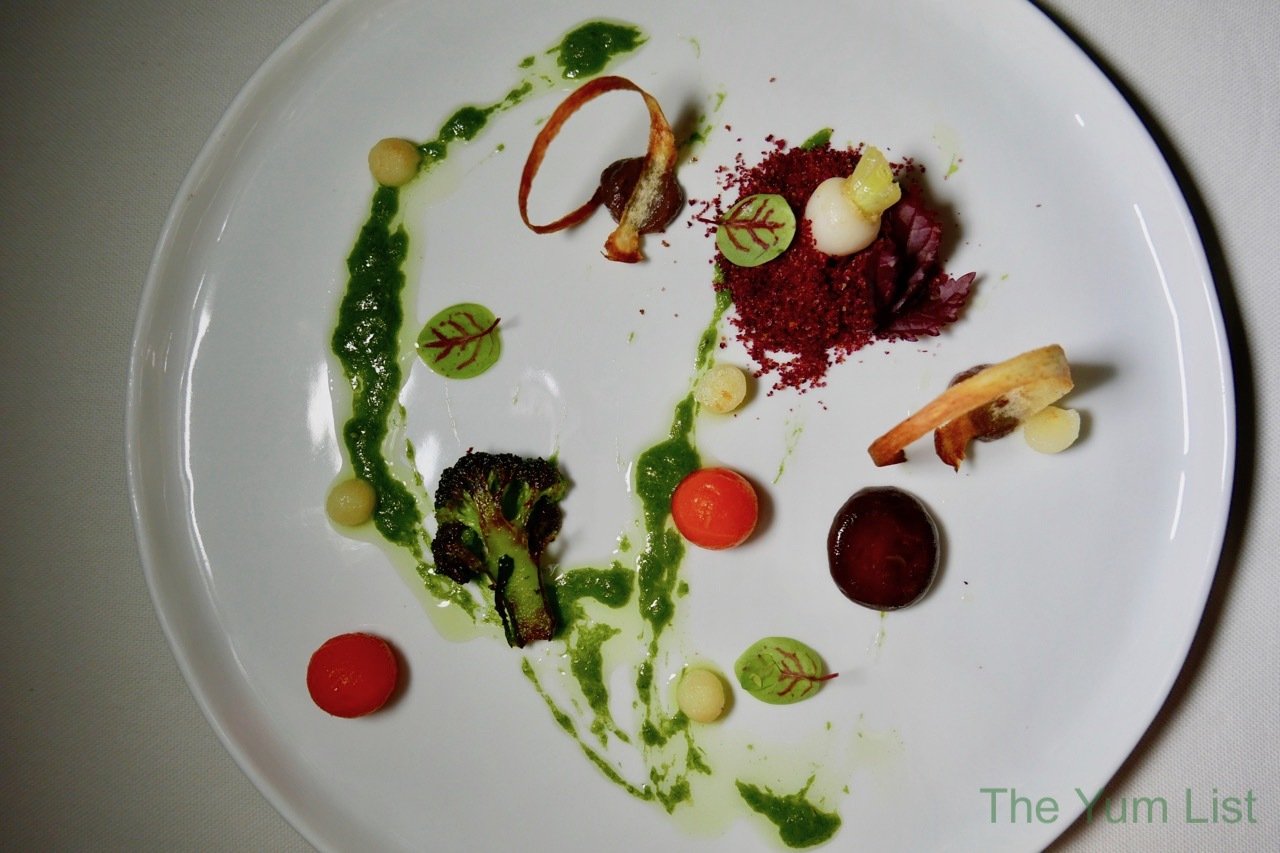 Detouring from the usual dishes degustation diners come to expect, our subsequent plating is a cheesy parmesan risoni, a type of rice-grain-sized pasta that is lighter and easier to digest than heavier risottos or rice dishes. Sprinkles of pancetta and burstingly fresh garden peas are tossed through the risoni, while a leg of intensely flavourful Alaskan King Crab rests atop, decorated with shavings of elegant and woody black winter truffle. To pair we are drinking a glass of the equally elegant Château de Berne 2016 Esprit Méditerranée Rosé. With strong strawberry and raspberry qualities, the additional floral tones are iconically representative of Provence. Our entrées conclude with a bowl of aerated Porchini Veloute soup, melding the earthy richness of mushrooms with the nutty, woodiness of more truffles.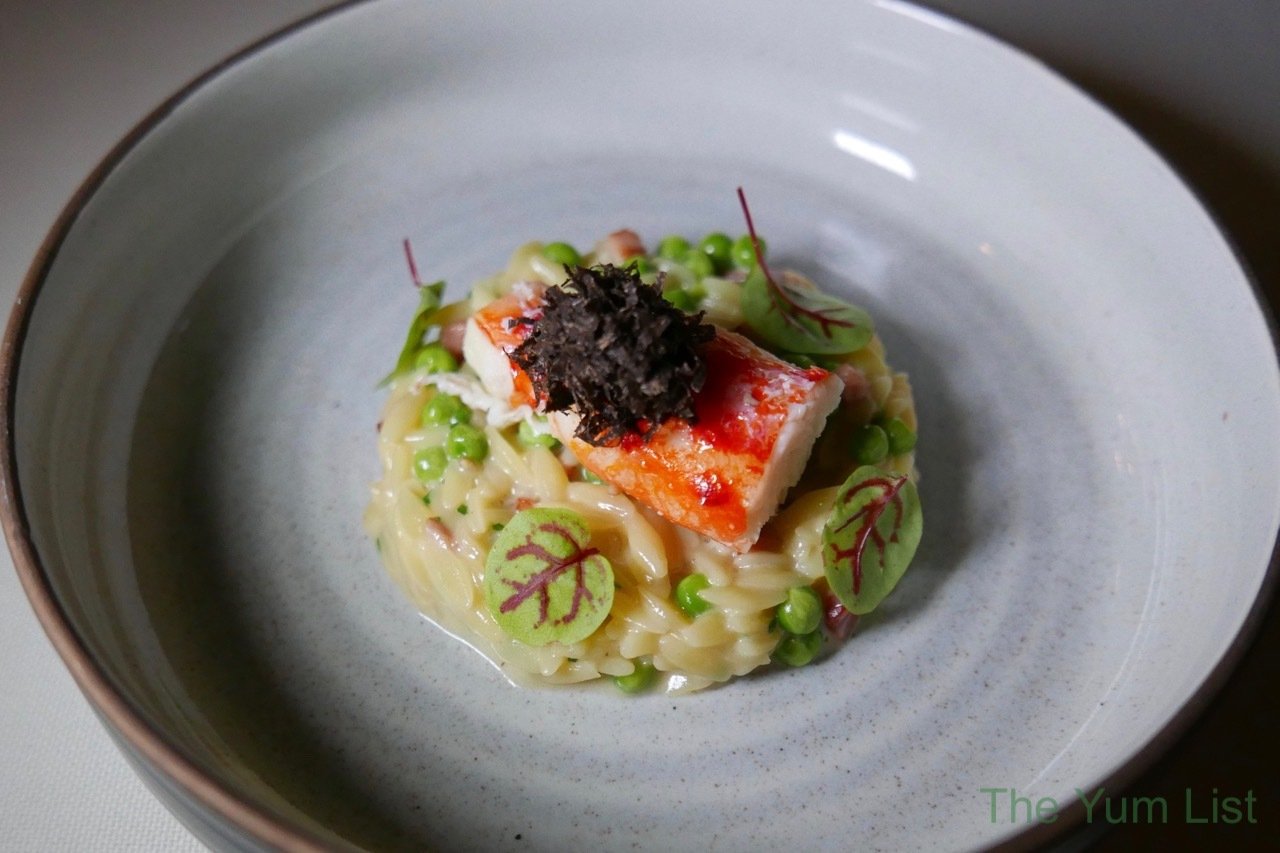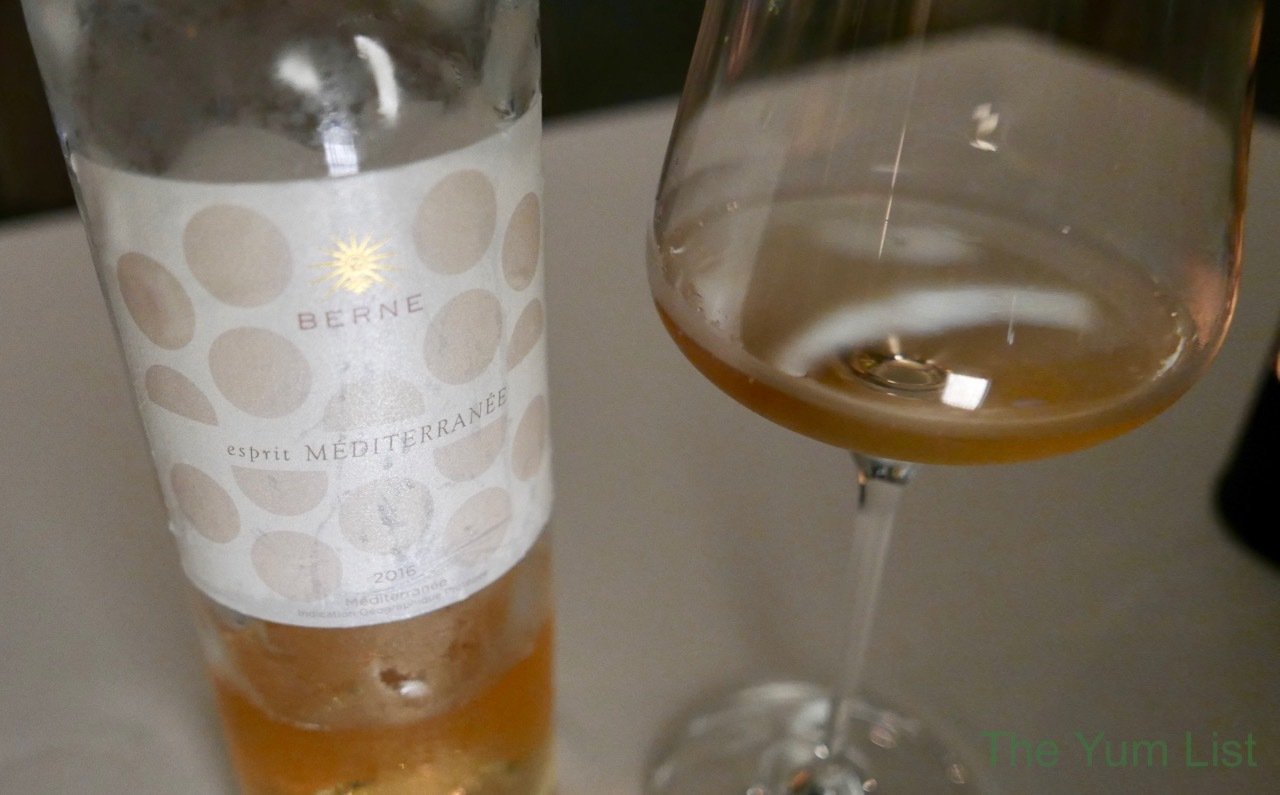 Culinary Director, Christopher Millar, Stellar at 1-Altitude
At this point, we are joined by Christopher Millar, Stellar's Culinary Director. Originally from Melbourne, Chris was awarded multiple Chef's Hats before working internationally in London and then in Singapore where he has gone on to further collect numerous accolades. Chris talks us through the brand's additional venues, including farm to table dining at The Summerhouse, sophisticated, and jazzy fare and music at Monti at Collyer Quay, sincere and laidback family dining at Bee's Knees and vibrant European dining at Botanico both located at The Garage in the Singapore Botanic Gardens. They also operate the other venues onsite including The Gallery Bar at The Rooftop and Altimate on 61, where you can head for a cheeky glass of Moët & Chandon before or after your meal.
As an interlude and to allow us to stretch our legs between courses, Chris takes us to visit the kitchen adjacent indoor herb garden where we taste cuttings of sweet pea, red amaranth and micro coriander, all grown on site. The herbs are changed regularly and used to accent and garnish most dishes. You can't get more farm to plate than this. A spoon of lemon sorbet is offered which Chris douses in Surrey's Silent Pool Gin. The sorbet elevates the citrus and floral flavours of the 24 botanical World Spirit Award gold medalist gin. Thankfully we are each given a glass with Double Dutch Tonic before returning to our seats.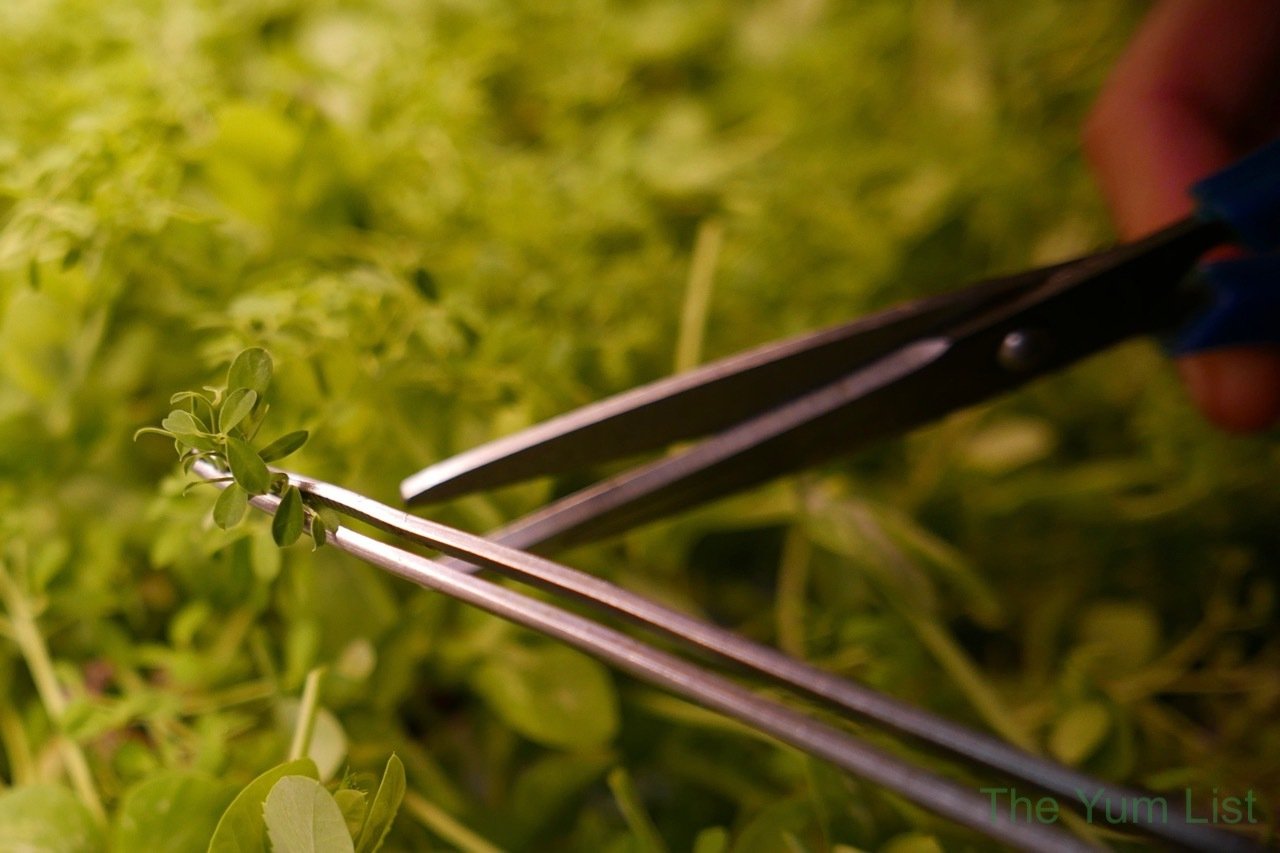 Our trio of mains begins with a New Zealand South Sea roasted John Dory fillet with a sweet, almost berry-like beetroot caviar garnish. The fish is thicker, meatier than other ocean varieties and is accompanied by balls of comforting, chewy, practically spongey gnocchi. To intensify the taste, Gabriel arrives with a bottle of 2015 Louis Jadot Chassagne-Montrachet, kept fresh with a Coravin vacuum system. Its vibrant nose gives way to a refined and robust palate, the complex, syrupy finish coating the mouth with initial hints of straw before giving way to a bold acidic aftertaste. This is a sensational bottle of French white from Burgundy, justifying the visit alone.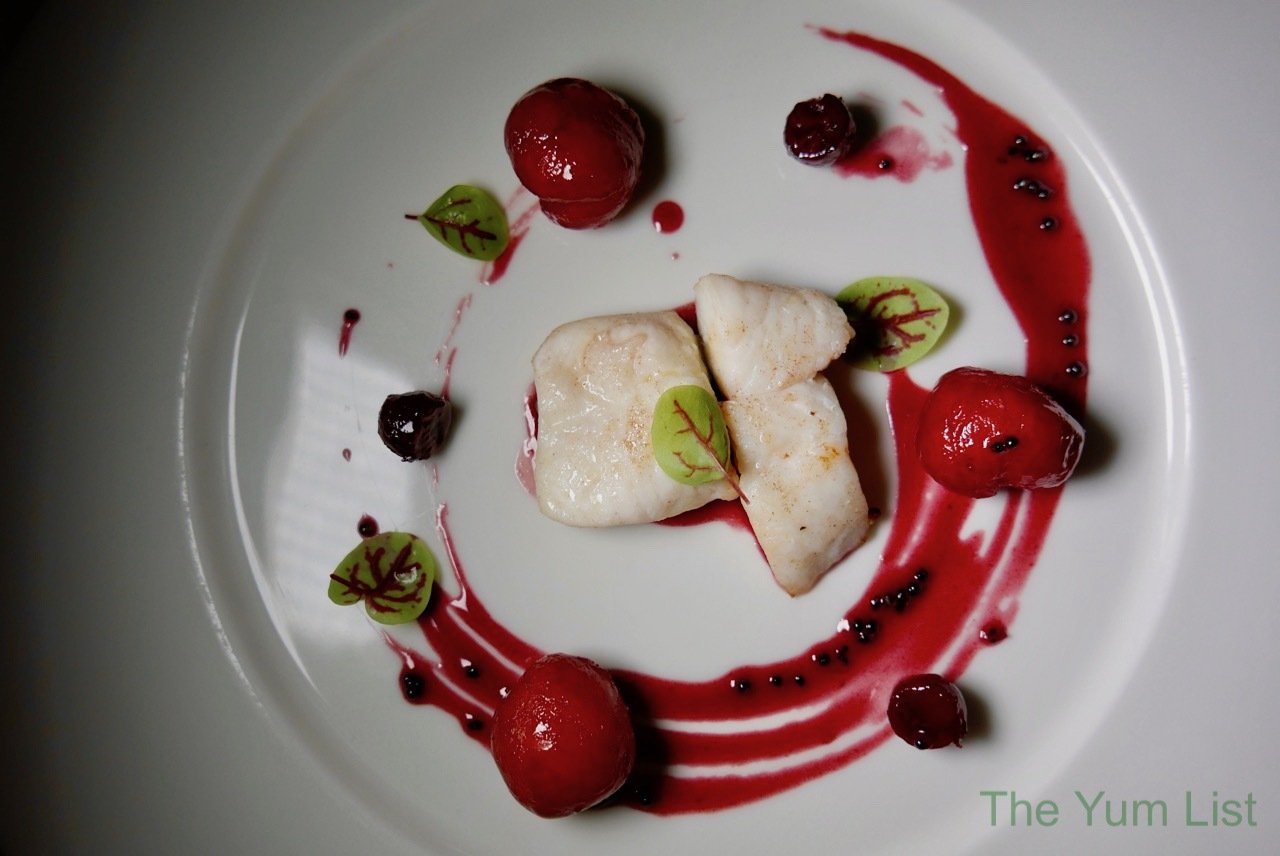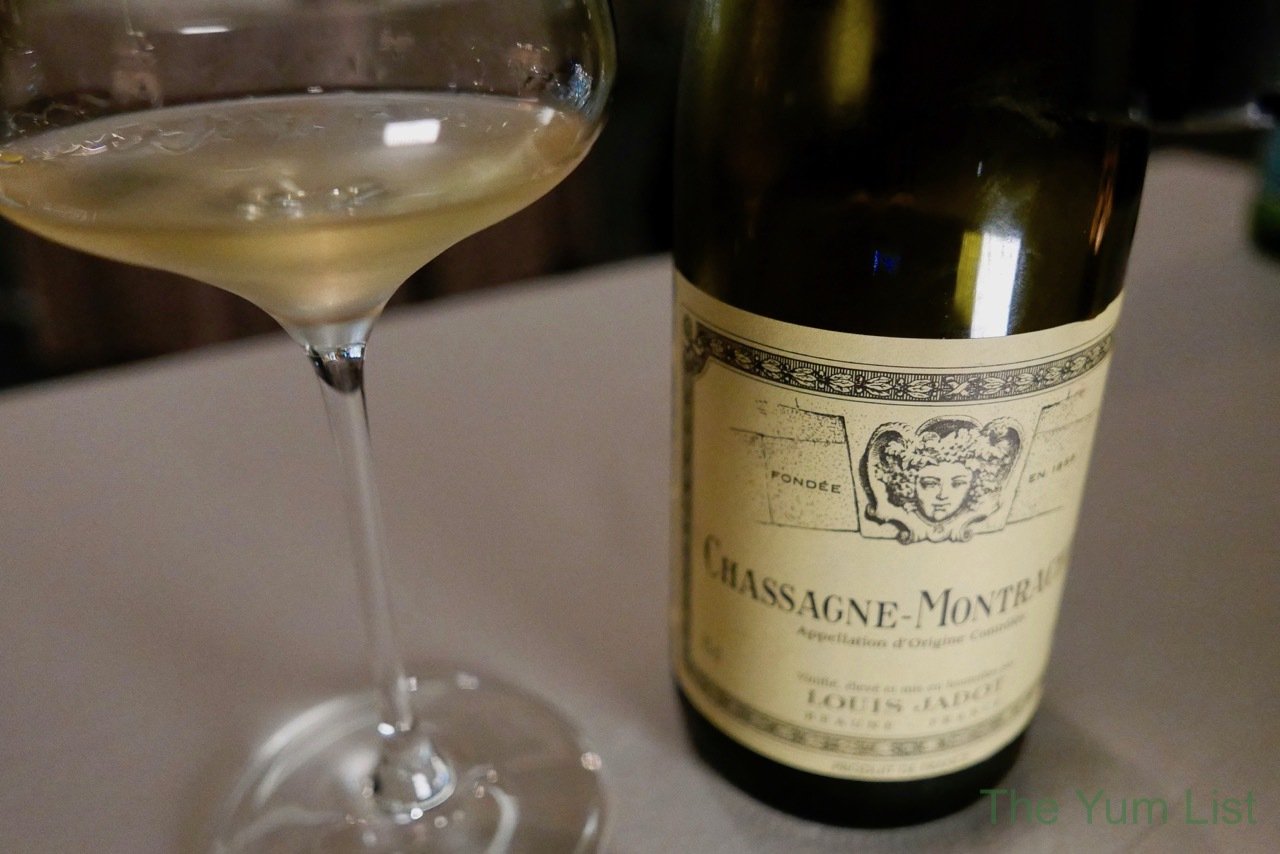 Between fish and red meat comes poultry, and Michael has created roasted Guinea Fowl with a creamy porcini mushroom sauce. While the Guinea Fowl is more memorable and flavourful than chicken or other white meat dishes, the real ovation goes to the heirloom carrot and cinnamon puree, transforming the plate into a festive and spice-laden reminder of holidays. With this meal, we drink a glass of 2014 Morton Estate Pinot Noir from Marlborough, New Zealand. Fruity and light with a gentle, soft initial approach the wine builds in tannins and richness to a raspberry and red cherry crescendo, the hints of spice brought forward by the cinnamon in the dish. Notoriously difficult to grow and produce, Pinot Noir has become a favourite for drinkers in the Asian region, the stronger fruit notes pairing well to Asian cuisine and the lighter profile more suited to warm climate red drinkers.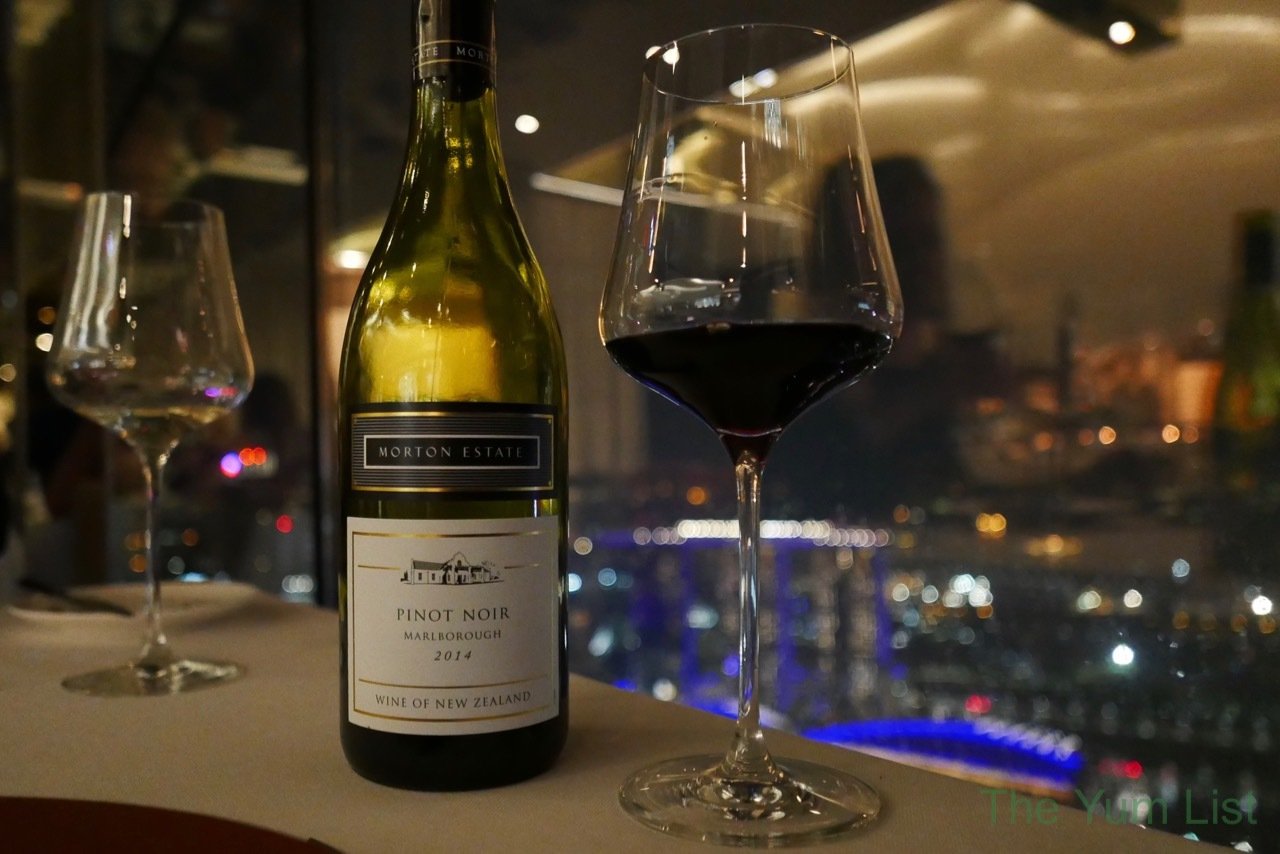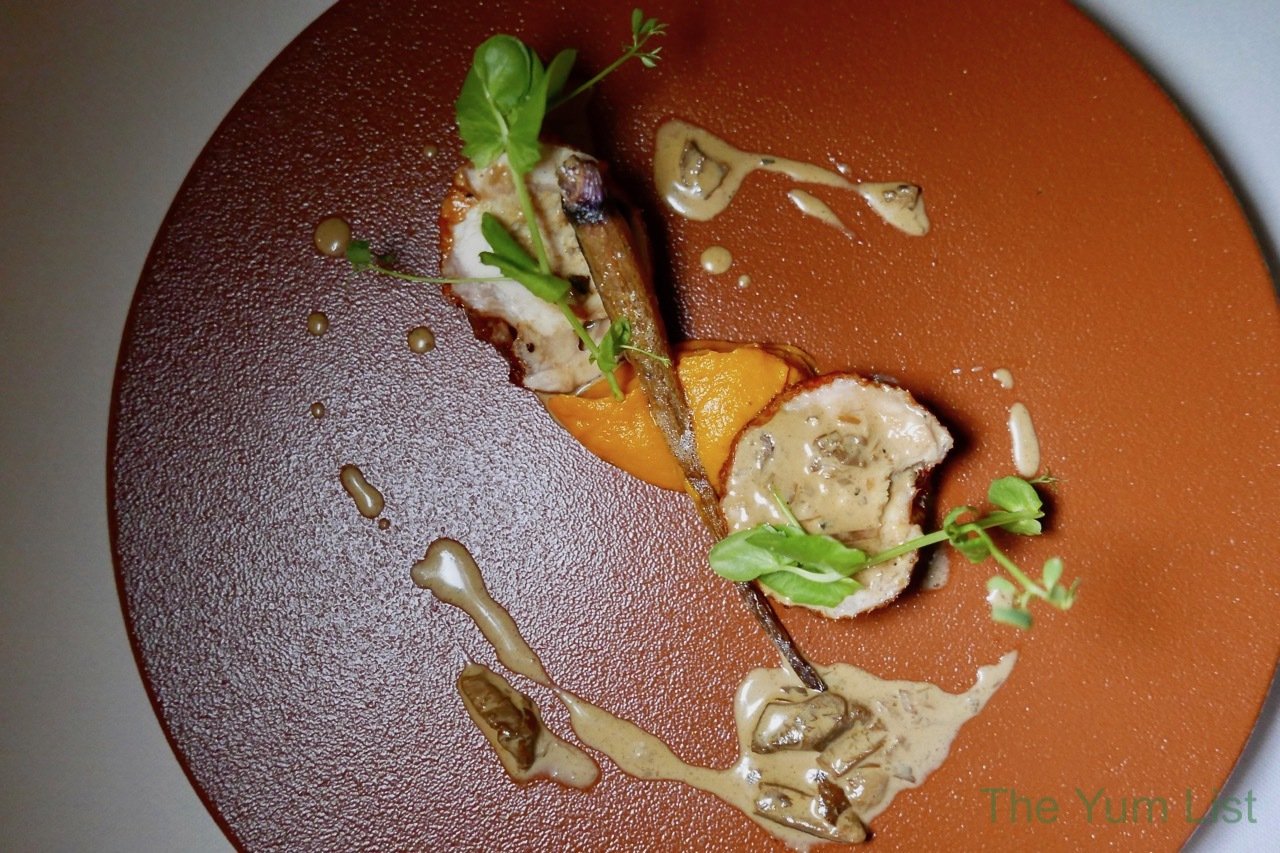 For the final main, we are treated to Stellar at 1-Altitude's showstopper, the dish they have staked their reputation on, their Australian Wagyu Steak. Excessively rich, the meat is cooked for up to 48 hours via sous-vide, resulting in just-held-together tenderness, the flavourful fat melting through the dark flesh to develop the taste. The wagyu is drizzled with red wine sauce and presented alongside salty butter poached cauliflower, fresh morel mushrooms and smokey, silky charlotte potatoes arranged in a tower. Bold red meat requires a bold red wine, and we are brought a glass of Kairos Zýmē Rosso Secco, made in the heart of the Valpolicella Classica sandstone quarry in Verona, Northern Italy using sustainably minded processes. Blended from no less than fifteen varietals, it uses the appassimento technique, where grapes are dehydrated immediately after picking and before pressing or fermenting stages to increase the intensity, flavour, colour and alcohol content. The grapes undergo a metabolic change, improving their balance and brilliance while lending a glossy texture and a savoury, earthy taste to the wine.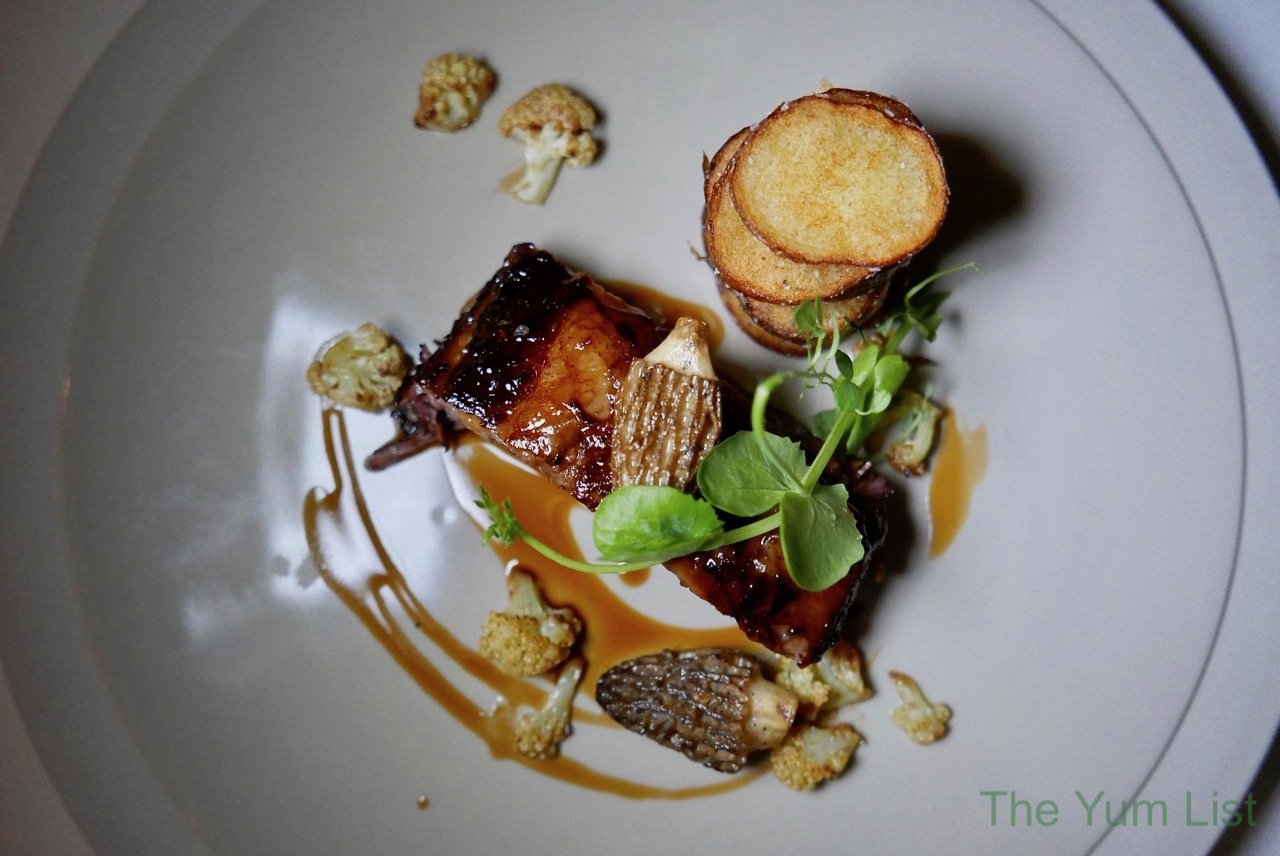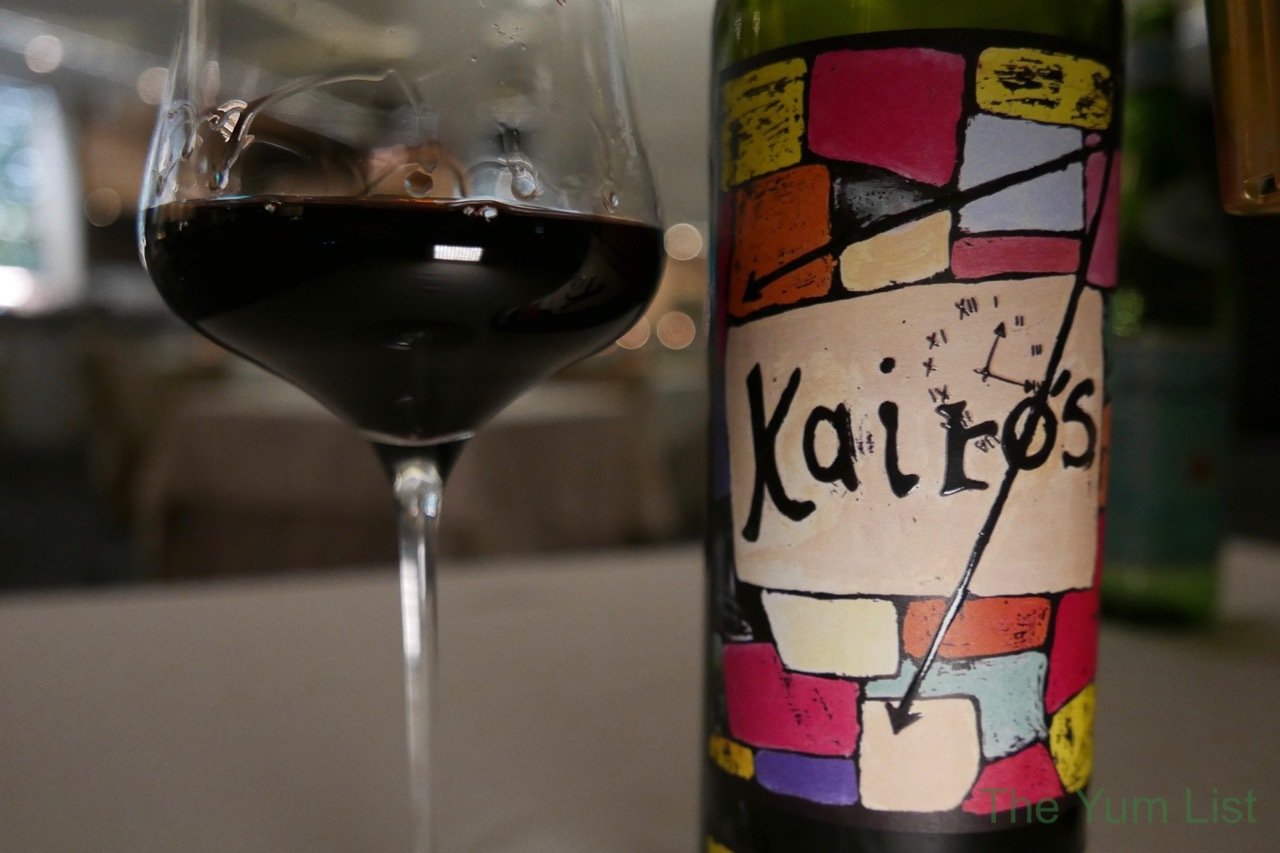 For our final course of the evening, Brian, one of Stellar's pastry chefs visits our table to perform the theatrical at-table plating of the dessert course. He begins by drizzling a mint green sweetened cornflour sauce artfully across the glass, carefully placing a triple-tiered tower of salted caramel, hazelnut brownie and white chocolate mousse piped in layers and separated by crunchy almond biscuit. A second pastry features lemon curd sandwiched between buttery sablé cookies, topped with fresh mango, raspberries, oat crumble, violet flowers, mint leaf and a scoop of mango sorbet. Lastly, a few dollops of meringue are piped onto the glass and scorched with a blowtorch to caramelise the sugars. To accompany our sweet treats, we each have a small glass of De Bortoli Noble One, an Australian Botrytis dessert wine and one of the most highly awarded wines on the globe. The Botrytis, or Noble Rot is a carefully cultivated fungus grown on the grape vines under certain conditions, known to sweeten or create honey tones within the wine, producing particularly high-quality dessert wines.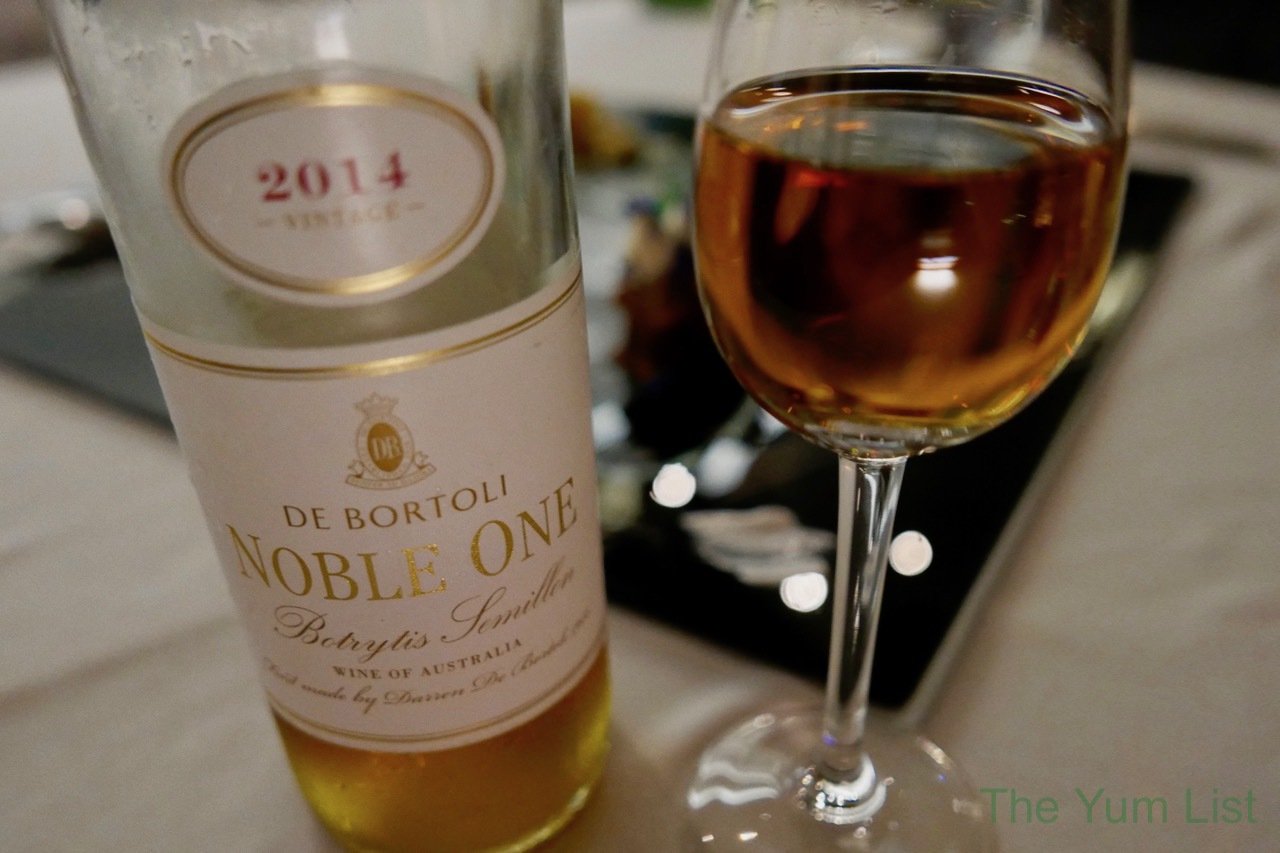 Stellar at 1-Altitude – An Elevated Experience
While Stellar at 1-Altitude purports to be Singapore's highest located gastronomic sensation, their degustation menus reach lofty elevations that surpass their 62 stories. Chris Millar and his superb team of highly talented, dedicated and meticulous staff are able to provide a level of exceptionally decadent luxury that most of us will only have the pleasure of experiencing on a select few occasions. The food is of exceptional quality, masterfully and artistically prepared. The wine is elegantly thought out with pairings designed to reflect and amplify the beautiful layers of texture and flavour. If I were ever to miraculously join the category of the fabulously wealthy, I imagine I would secure a weekly reservation. Outside the realm of fantasy, I may have to dream up an excusable 'special event' for my next visit.
Reasons to visit Stellar at 1-Altitude: one of the most exquisite wine paired degustation menus in South East Asia. The views are also nothing short of spectacular.
Stellar at 1-Altitude
Level 62, 1 Raffles Place
Singapore 048616
www.1-altitude.com
Opening hours Stellar at 1-Altitude:
Monday to Friday: 12 noon – 2 pm & 6:30 pm – 10 pm
Saturday: 6 pm – 10 pm
Sunday: 6 pm – 9 pm