Monica Tindall
Self-described as "slick, sexy and new-age," Gobo Upstairs Lounge & Grill is the place to take a date at Traders Hotel, Kuala Lumpur. Its sixth-floor position boasts enormous windows framing the iconic Twin Towers and gifts sensual views of the KL city centre skyline. Combine those panoramas with a suave lounge, elegant dining area and seriously gourmet menu and you've ticked all the boxes for a setting of romance.
Drinks at Gobo Lounge
We begin in the lounge where the bartender whips us up a pre-dinner beverage. For me, it's a classic Negroni (RM43) and for hubby an Ultimate Mojito (RM40) made with Brugal Añejo rum, a dark rum giving the beverage an increased intensity not found with the usual white rum. Seriously, I don't know why all mojitos are not made with dark rum; they're sooo much better.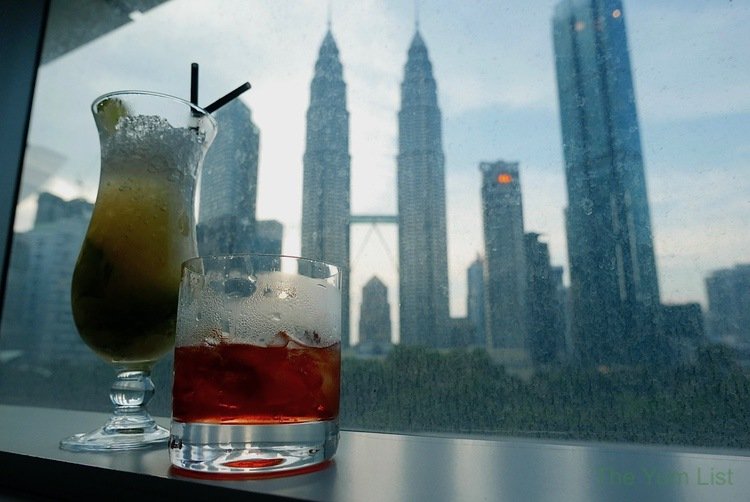 As tummies rumble, the dinner menu beckons and we move to the dining area. Away from those bewitching vistas, we can focus on the food.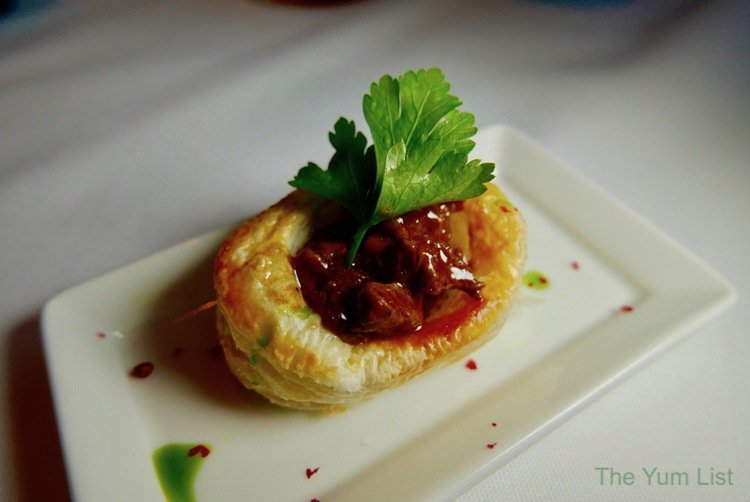 Amuse Bouche
Black pepper beef in a pastry puff acts as a little teaser to the kitchen's strength – beef. Despite having an excellent range of seafood and vegetarian options, Gobo Upstairs is known for its succulent cuts of beef charred to perfection.
Starters
I don't need to study the menu too long as the Honey Beetroot Salad (RM39) has immediately caught my eye. Roasted walnuts, dried cranberries, feta cheese and honey balsamic dressing accompany the red veg. It's a scrumptious mix of earthiness, freshness, tangy-ness and just the right amount of sweetness. The balsamic plays a starring role in the dressing so is a delight for those appreciating its strength. If, however, you had imagined a softer more honeyed relish you might consider asking for the dressing on the side.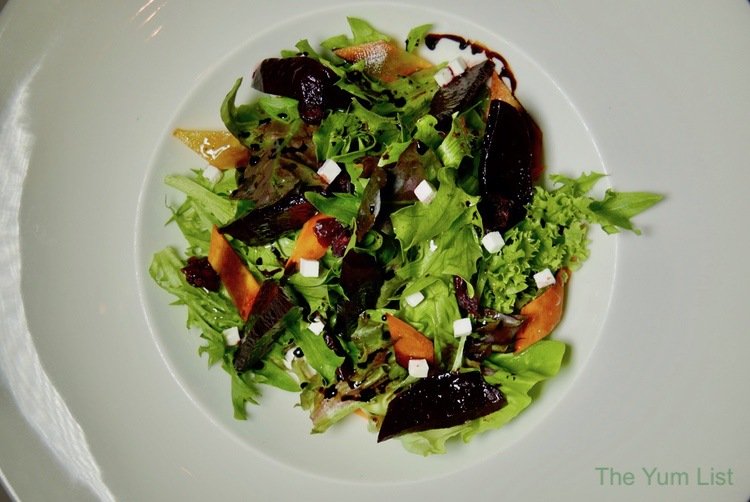 Hubby also gets a light start with the Garden Vegetable and Herb Salad (RM35). The original version is a vibrant mix of capsicum, red radish, roasted walnuts, grilled onions, red onions, shaved carrots, asparagus, micro herbs, pumpkin puree and house dressing. Because of allergies, he takes the best bits out (walnuts and onions), which the kitchen team are only too happy to oblige. It's fresh, crunchy and yum.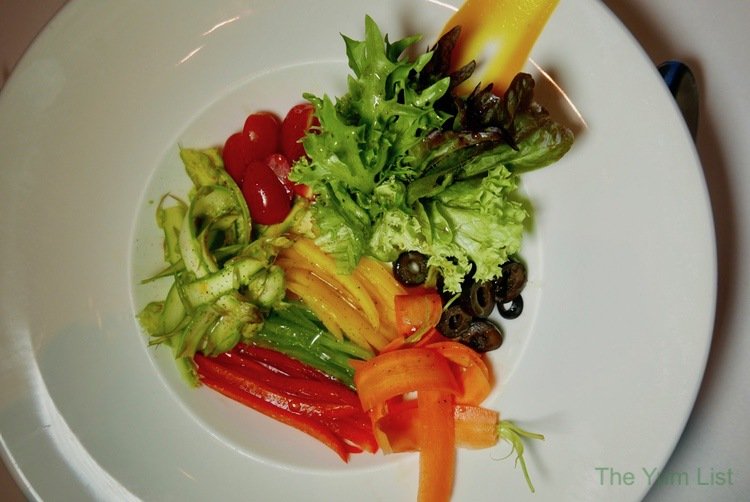 Soup
Hubby eyes a classic, Mushroom Soup (RM29). Clearly made with a generous bounty of fresh mushrooms, the soup is roughly blended with pieces of the fungus giving texture. A drizzle of truffle oil boosts the profile just a little.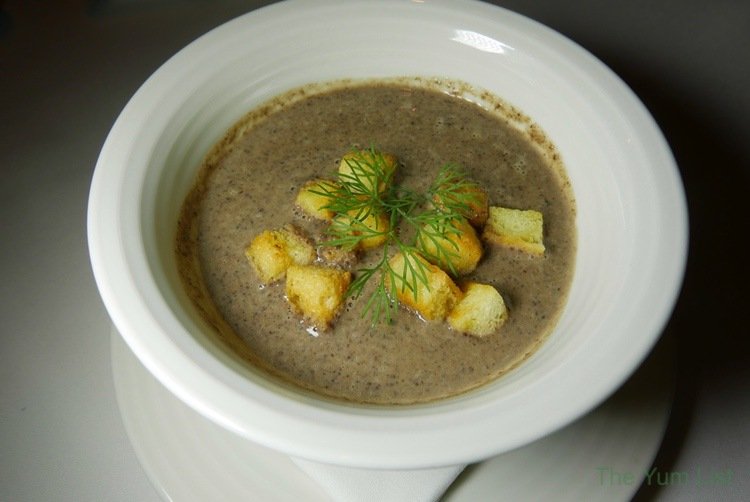 Mains at Gobo Upstairs
Crispy and Tender (RM160) features a little from the sea and a lot of the land with a 200gm sirloin steak topped with a crispy soft shell crab. Fondant potatoes, glazed asparagus and béarnaise sauce side it. It's been cooked just as requested, nicely marked around the edges, scarred from the hot grill, and nicely pink in the middle.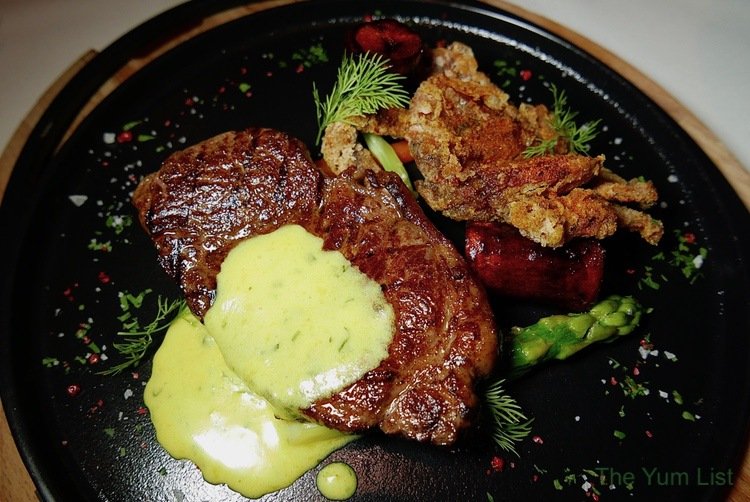 I possibly don't do justice to this restaurant known for its steaks, but the Spinach and Ricotta Pappardelle (RM58) has called my name (don't you hear it?). Pine nuts, sage, zucchini, lemon zest, white wine and Parmesan cheese sounds fab to me. The pasta is brilliantly al dente and the toppings liberal.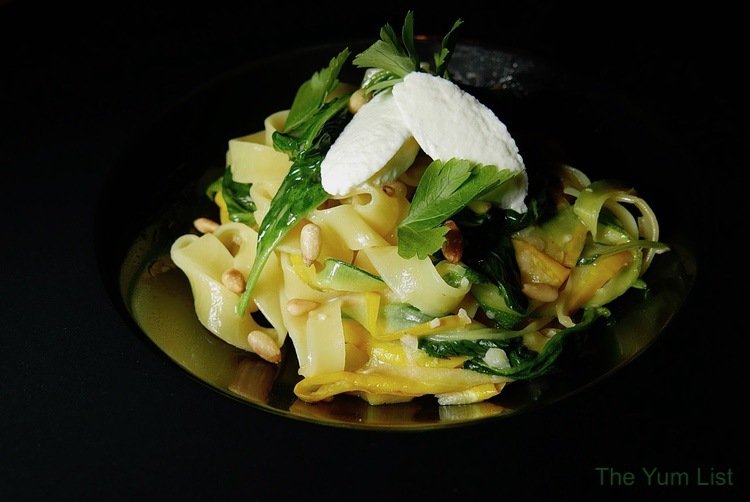 With our mains, we opt for a glass of Mud House, Pinot Noir (RM48) from Central Otago New Zealand. A fragrant nose of earth, spice and berries, follows through with fruit in the mouth, fine tannins and a smooth, long finish.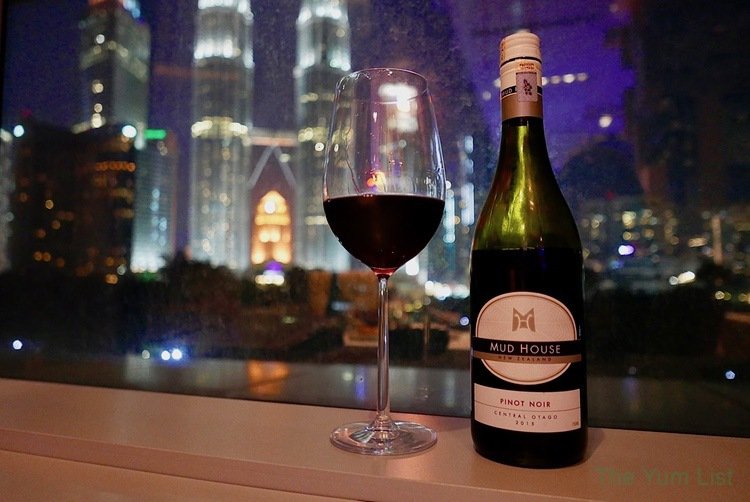 Dessert
Desserts are bumper in their portions, so we could have easily shared just one. We take the job seriously, however, so do our best with two sweet endings; the Old Fashioned Cheese Cake (RM27) and the Cherry Bommm (RM30).
The cheesecake is a classic baked number, thick and sturdy and only mildly sweet. Fresh strawberries, a berry sauce and pistachios surround the dessert adding a layer of fruitiness and a bit of nutty crunch if so desired.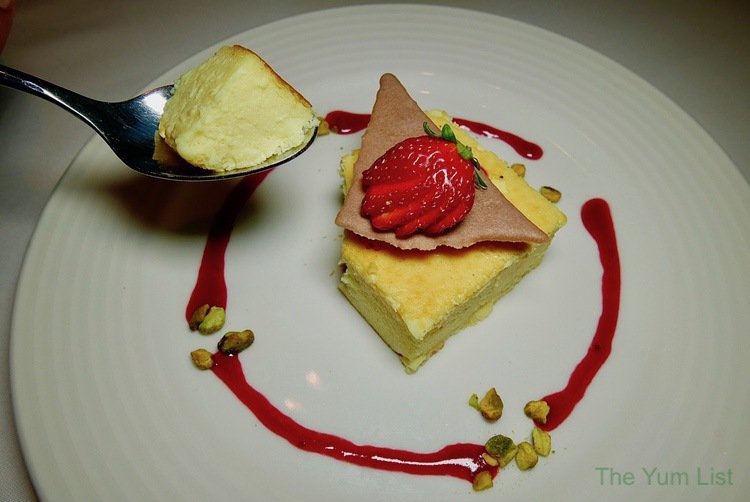 Our hostess, restaurant manager, Ally is responsible for the choice of the Gobo Upstairs' signature, the Cherry Bommm. She convinced me that it is literally "the bomb." A white chocolate sphere is broken open with a stream of warm milk chocolate to reveal a cherry mousse nucleus. Biscuit crumbs moat the castle and provides a fabulous texture to swirl through the chocolate sauce. It's rich, sweet and very, very good.
Service has been excellent, the food high-quality and the views superb. I can unfalteringly recommend Gobo Upstairs as a suitable restaurant for a good meal in a nice setting.
Reasons to visit Gobo Upstairs: fab views; fresh salads; great grilled meats.
Gobo Upstairs Lounge & Grill
Traders Hotel, Kuala Lumpur
Persiaran KLCC
Kuala Lumpur City Centre
50088 Malaysia
+6 03 2332 9910
[email protected]
www.shangri-la.com/kualalumpur/traders/
Gobo Upstairs Opening Hours
Lunch: 12 noon – 2:30 pm
Dinner: 6:30 pm – 10:30 pm
Dress code: smart casual