Words: Chris Moore    Photos: Monica Tindall
Walking up the dimly lit staircase adjacent to Tom, Dick and Harry's in TTDI, I wasn't entirely sure of what I was about to encounter. I mean I had never heard of the establishment I was about to visit, and the recent Google search provided very little help. I sure was hoping that I wasn't about to stumble upon a 'gentleman's spa' that requires a secret handshake, buzz code and retina scan just to get through the locked door. Thankfully, I was relieved to find that at the top of the climb I stepped into one of the coolest looking wine bars I've seen in Malaysia, and not some Madame looking at me with total bewilderment.
The climb itself is but a single flight of stairs. The staircase is actually very inviting. But alas, I needed something to hook your attention and now that I have it, Justwine is downright awesome. A new addition to the ever-expanding food and beverage scene in TTDI, Justwine is everything you might want in terms of good food, good wine and live nightly music in a funky and chic environment. For me, the defining feature is the arched, brick-lined ceiling. From the moment you walk in it feels like you've been transported into the secret cellar of an ancient chateau in France, surrounded by tables from centuries ago and wines that scream for oxidation. The dark lighting coupled with the dark furnishings and an amazing selection of wine beckons you to sit down and crack into a bottle and to take in the live music filling the air.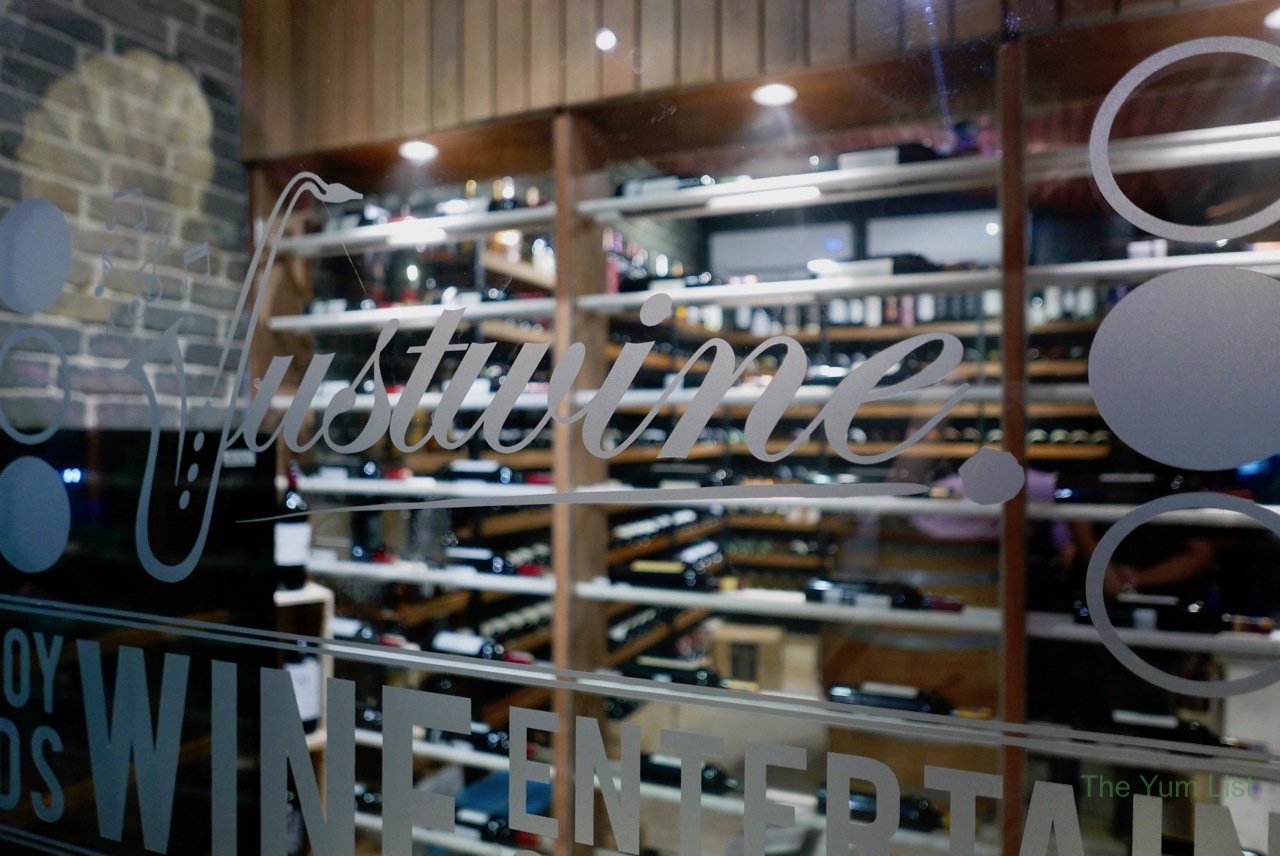 Drinks at Justwine TTDI
Many of the wines available at Justwine are self-imported, which means two very important things. Firstly, that the price point is much more favourable than other restaurants and stores because there is no third party handling charges to recoup. Secondly, because they are importing themselves the selection of wines that are available are unique and many of the labels and vintages are not available elsewhere in the city. Add to this a selection of imported Italian craft beers, and Justwine is more than just your typical wine bar.
A very easy drinking starter wine, the Silverleaf 2015 Merlot from the Margaret River region of Western Australia is ripe with sweet cherry and plum notes and a pleasant opener for the night. And though while pleasant is good, the Stanley Estates Sauvignon Blanc 2016 (RM140) from the Marlborough Valley in New Zealand is exceptional. The single vineyard white is bursting with magnificent lime and passion fruit aromas on the nose and lingers with huge flavours of crisp green apples. The Marlborough region is known around the globe for their incredible white wines, and the Stanley Estates is a testament to why this is.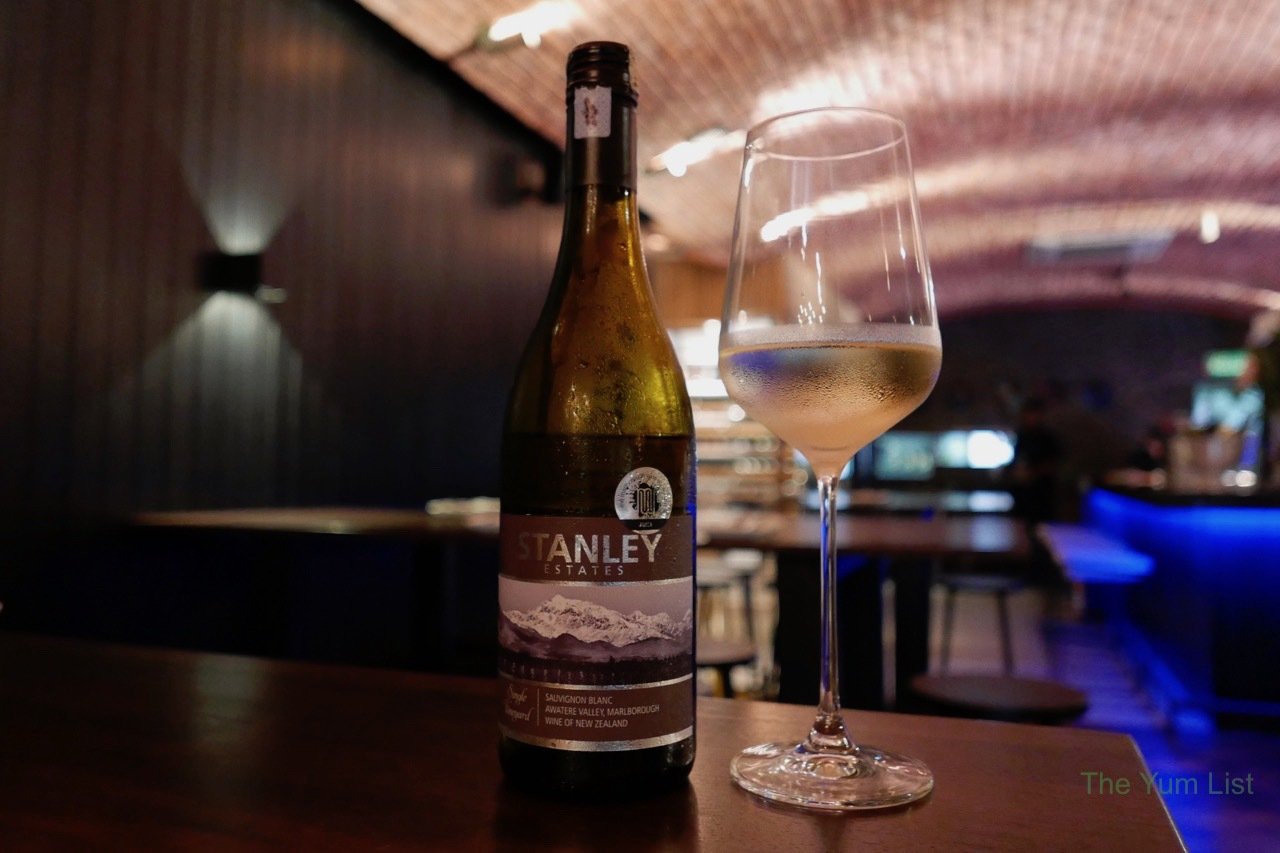 However, being a fan of full-bodied red wine, the appeal in the easy drinking nature of both the Silverleaf and Stanley Estates is quickly surpassed by the big and bold flavours of the Balduzzi 'B' 2013 (RM220) from the Maule Valley in Chile. The hand-picked grape blend of 85% cabernet sauvignon and 15% Carmenere is elegant and lovely and exactly the thing you could imagine drinking with barroom jazz echoing off the brick façade. Should your palate be more inclined to old world wines though, perhaps the Cantina Zaccagnini Montepulciano d'Abruzzo 2015 (RM160) is a better option? Deep red in colour with legs that would drive a man wild, the spice and pepper notes of this wine is amazing. Whatever your preference or price range though, you are destined to find something spectacular at Justwine.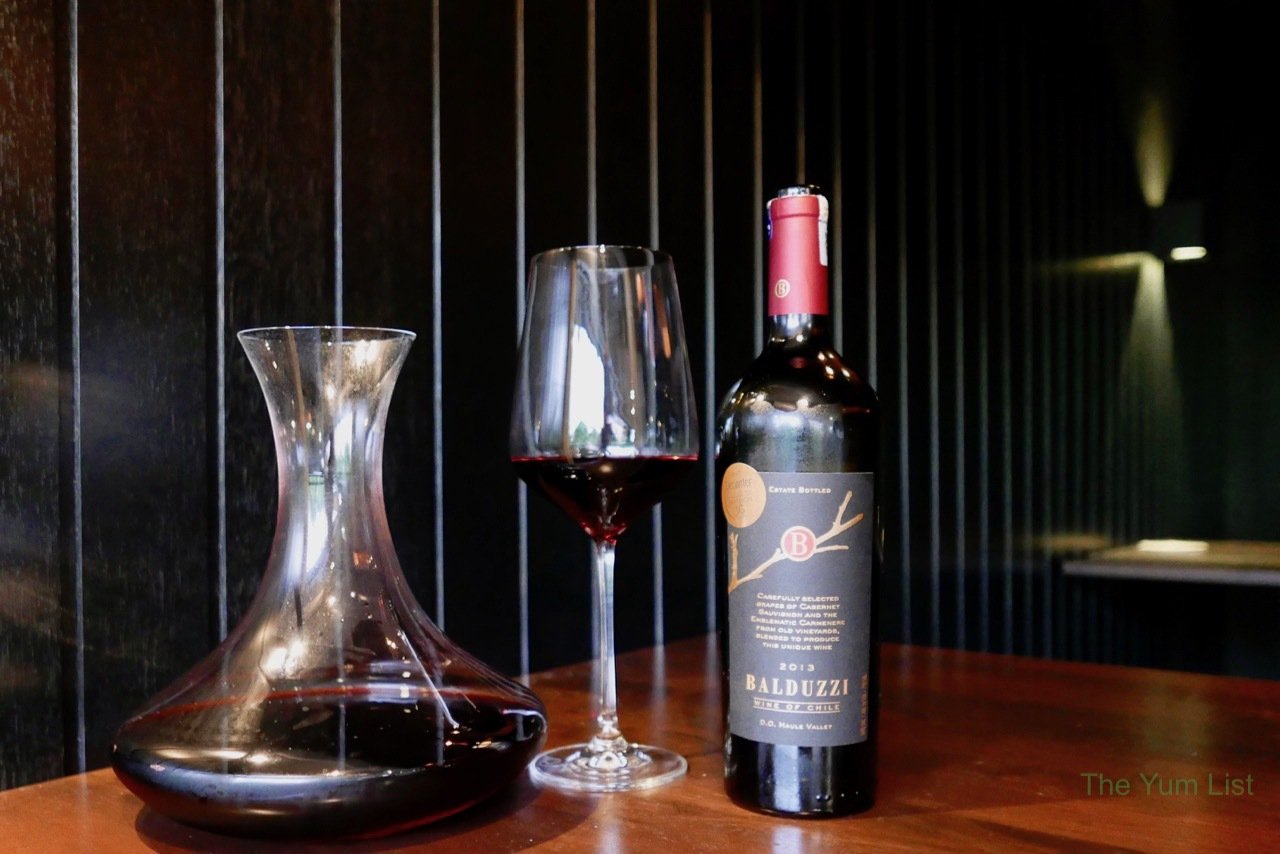 Italian Craft Beer, Malaysia
In the rare event that you're just not feeling like fermented grape juice, Justwine also has a selection of Italian craft beer by Birradamare (RM30) to satisfy your other thirst cravings. With selections from the lighter varieties of pilsners and lagers to caramel amber ales and IPA's, there is a bottle for everyone. If you're looking for a recommendation, the Dammenipa IPA is typical of an English IPA with loads of floral aromas and a great amount of bitterness, and the Roma Bionda is an amazingly easy drinking lager, with a slightly heavier body and more pronounced malt notes. 

Dining at Justwine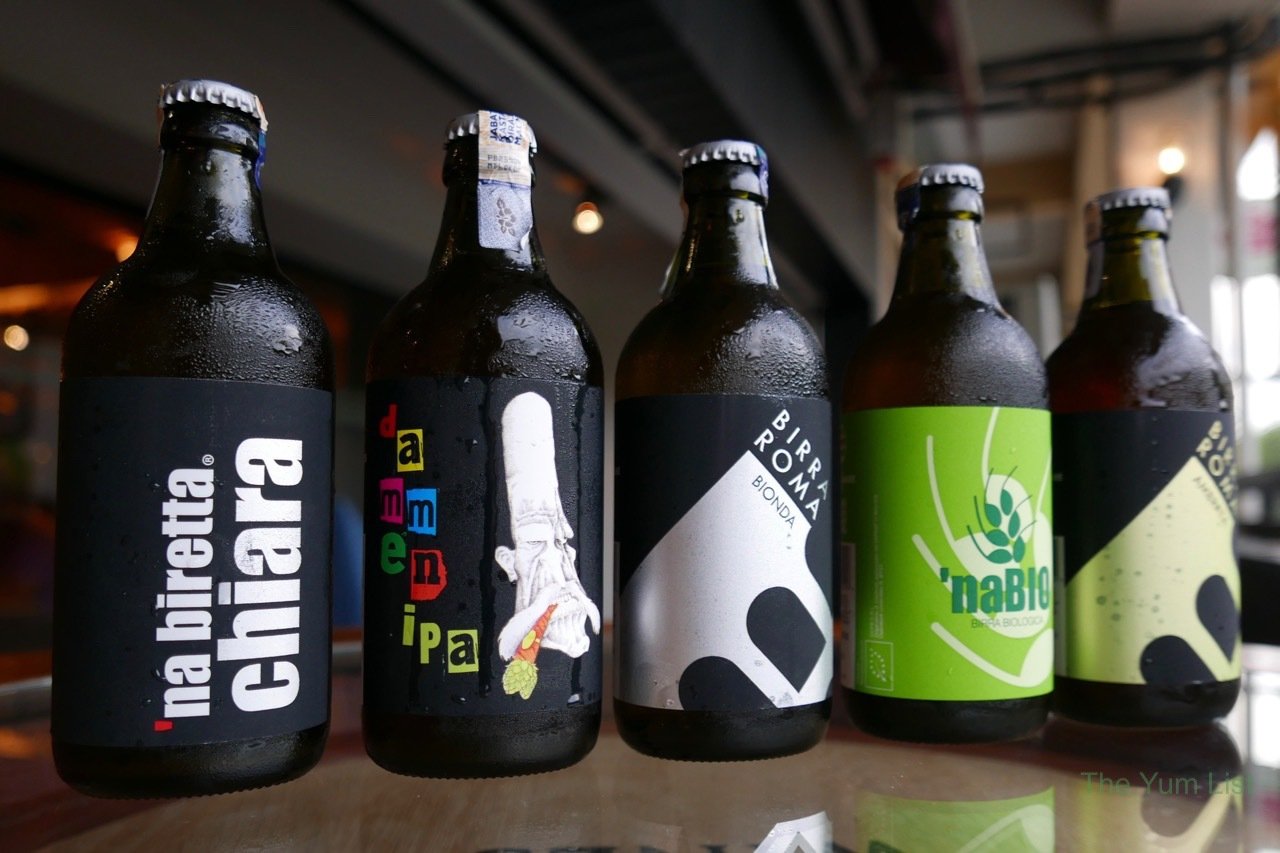 Food Menu Justwine
As one might expect, good wine demands good food, and Justwine doesn't disappoint in this category either. With a pork-based menu of options ranging from small plates for sharing to Asian inspired appetizers and main course selections, I am confident in claiming that you will leave both full and satisfied.
For starters, the Cheese Platter (RM45) is a perfect pairing with any of the wines you have to choose from. Healthy sized portions of Danish blue, Brie, Grana Padano, organic cheddar, and Havarti are served alongside dried apricots, walnuts and crackers. And, since cheese is never just enough, get a serving of the Jamon Iberico (RM65) to go with it and I would say you've got yourself a pretty tasty first course to share. The Iberico ham is shaved paper thin with chunks of sweet rock melon and drizzled with balsamic reduction and the combination of sweet, salty and tangy flavours is heavenly. But, because cheese and meat also requires a bit of a carb to really bring it together, Justwine's choice of Salmon or Mushroom Bruschetta (RM35) should not be overlooked. The salmon bruschetta is a beautiful serving of fresh bread topped with smoked salmon, dill cream and balsamic pearls, while the mushroom option is piled high with sautéed mushrooms and garlic and topped with shavings of Parmesan cheese. Both choices are delicious, and if you find yourself struggling to decide which one, get them both because I guarantee they won't go uneaten.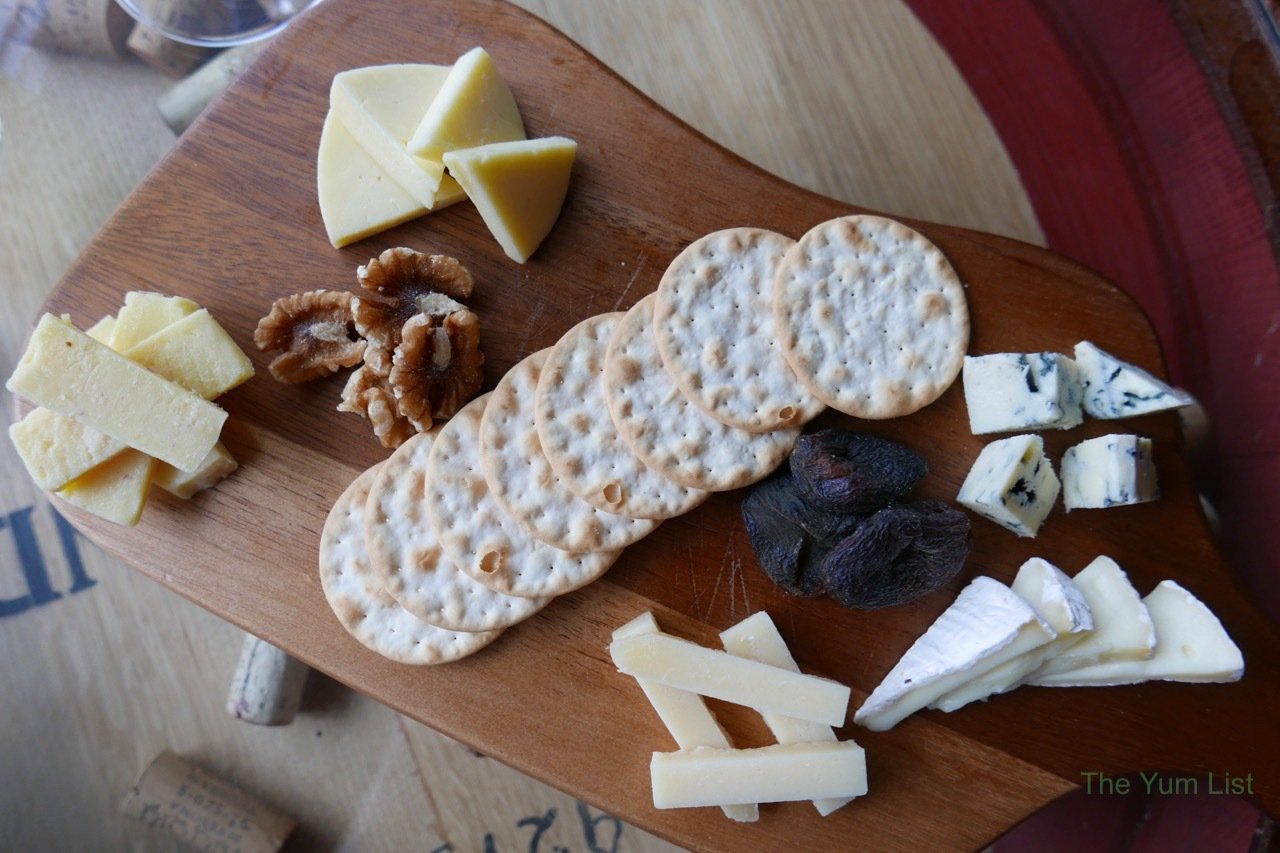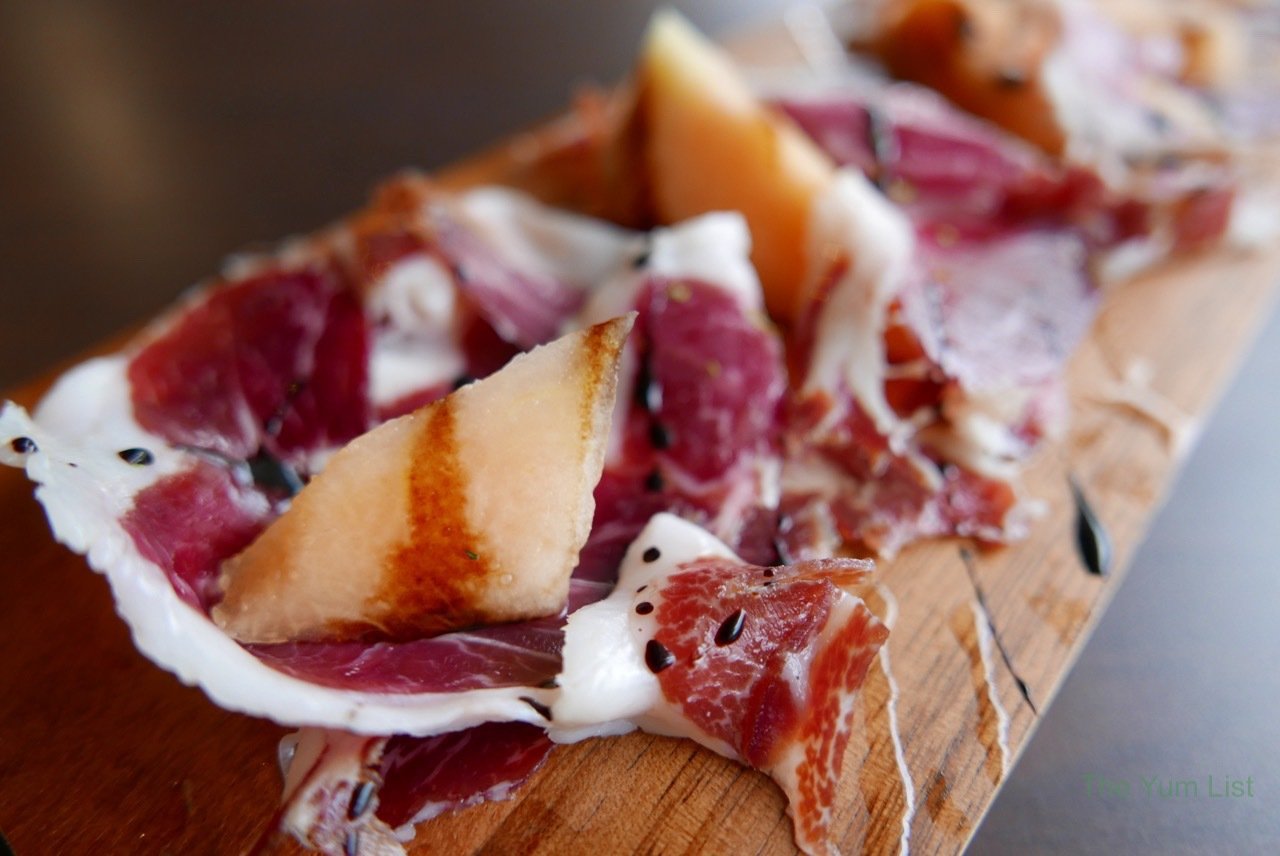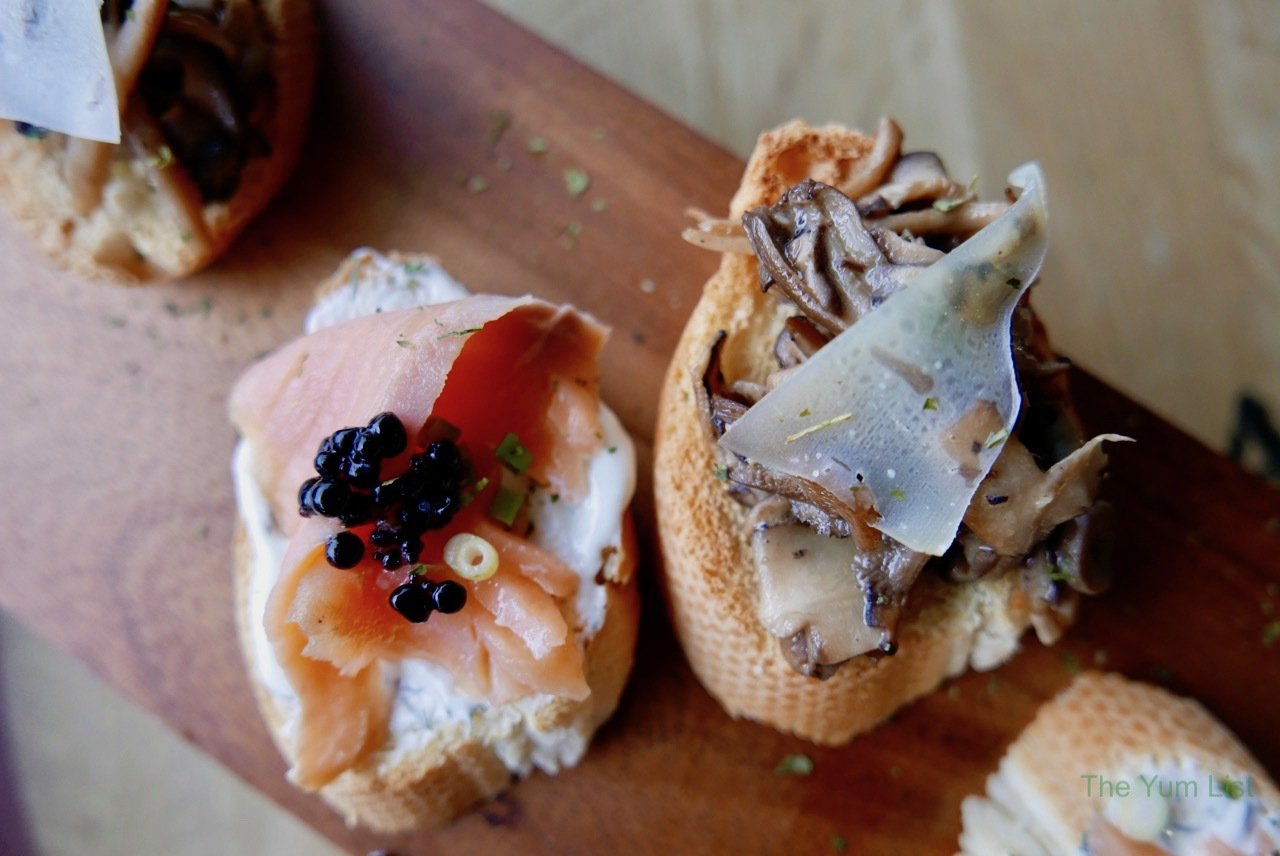 For some more hearty yet slightly less healthy choices, the Salted Egg Chicken (RM18) is downright divine. Tender chunks of chicken are coated with salted egg and deep-fried with a perfect crispy coating and topped with sliced fresh chillies. The salted egg is a noticeable but not overpowering and the chillies add the perfect amount of heat.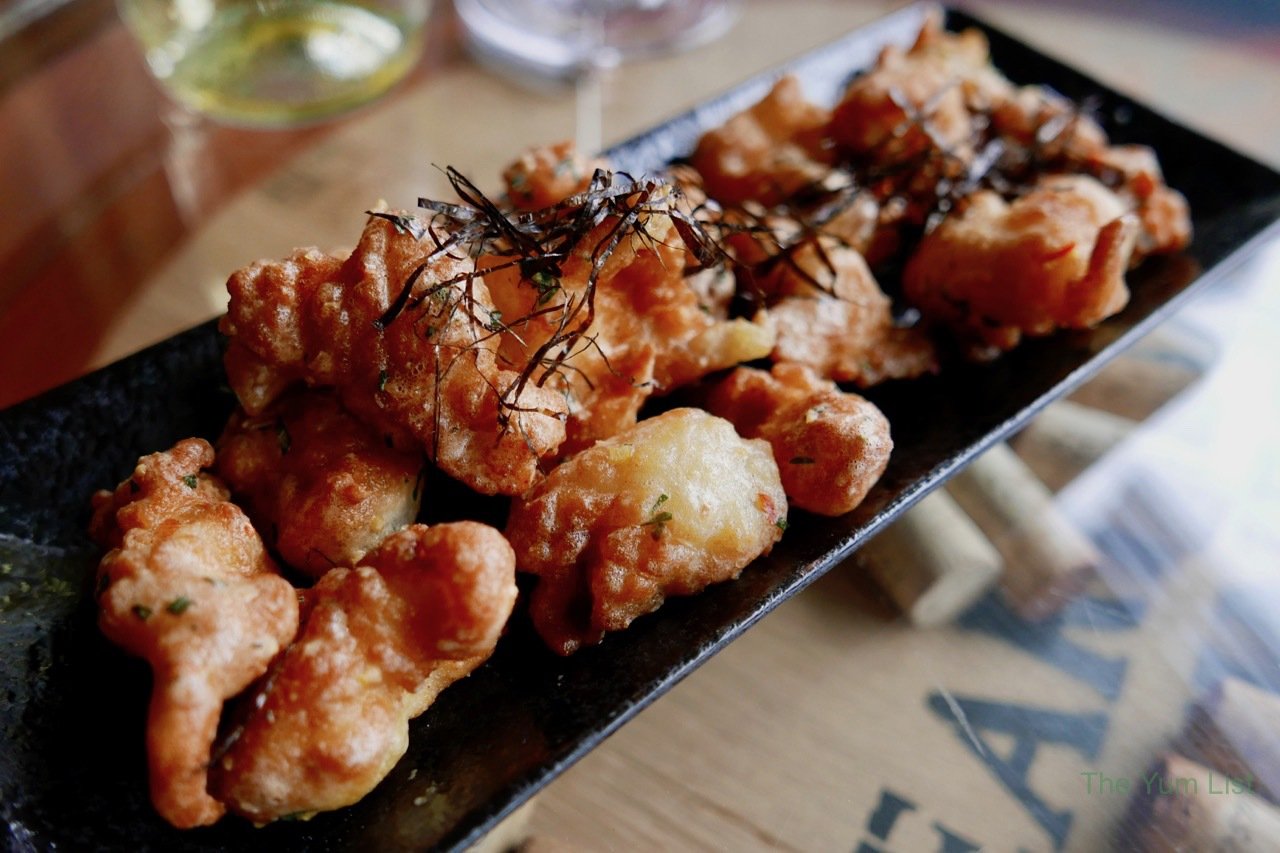 The Chilli Soft Shell Crab (RM25) is equally as amazing with local soft shell crab deep fried crisp and golden and served with homemade chilli crab sauce and homemade Chinese bao buns. The chilli crab sauce is so good I felt no guilt or remorse eating it by the spoonful without any other accompaniment.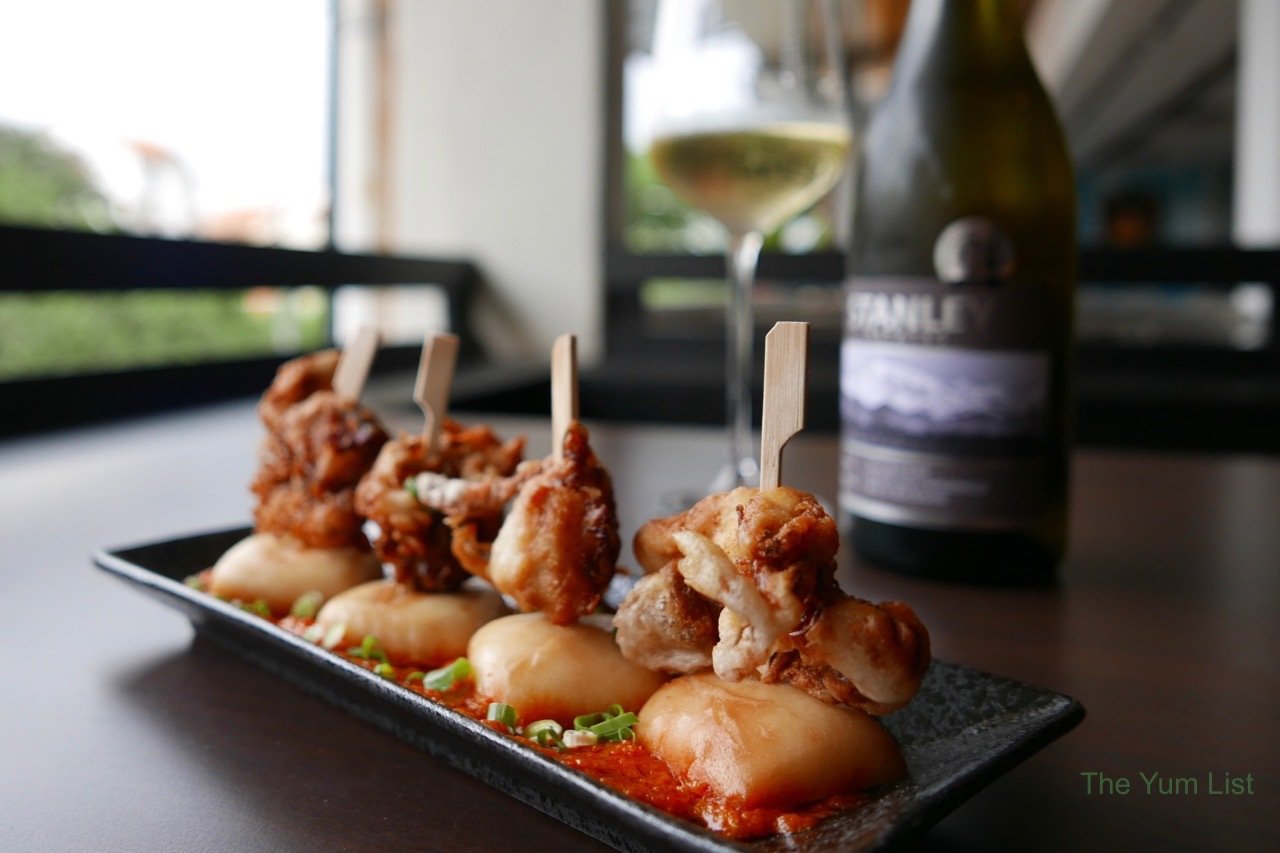 The Pork Belly Sisig (RM20) might be one of my favourite things I've tried in a long time. Being inexperienced in the concept of the dish, I was blown away by the tenderly grilled pork belly with crispy skin that is then chopped into small pieces and mixed with fried egg, onions and chillies. The amazing flavour of the pork and heat of the chilli is complimented perfectly by a nice big red, for example, the Balducci 'B'. But be forewarned that this may or may not be a dish you choose to share, as I for one would lean to the latter. 

In terms of more fulfilling main course options, the Bacon Prawns (RM50/250g) and the Duck Leg Confit (RM38) are nearly impossible to decide between. The freshness of the sea prawns is clear and apparent, but grilling them over an open flame and then wrapping the lucky shellfish in strips of bacon only magnifies the sweet flavour of them. While the duck leg is cooked perfectly, the meat being both tender and juicy and the skin perfectly crisp, and served alongside creamy mashed potatoes, a black pepper sauce and arugula salad, the dish is equally as delicious as it is satisfying.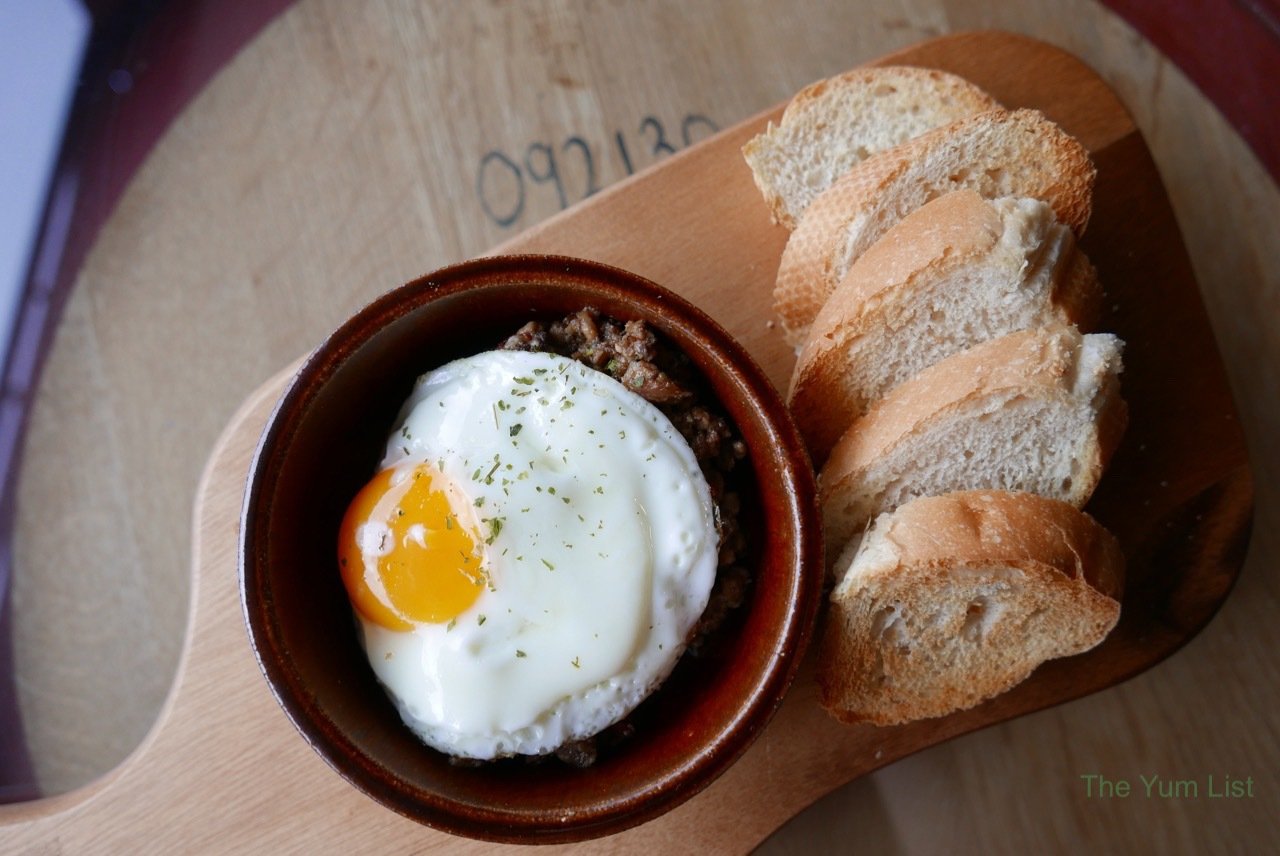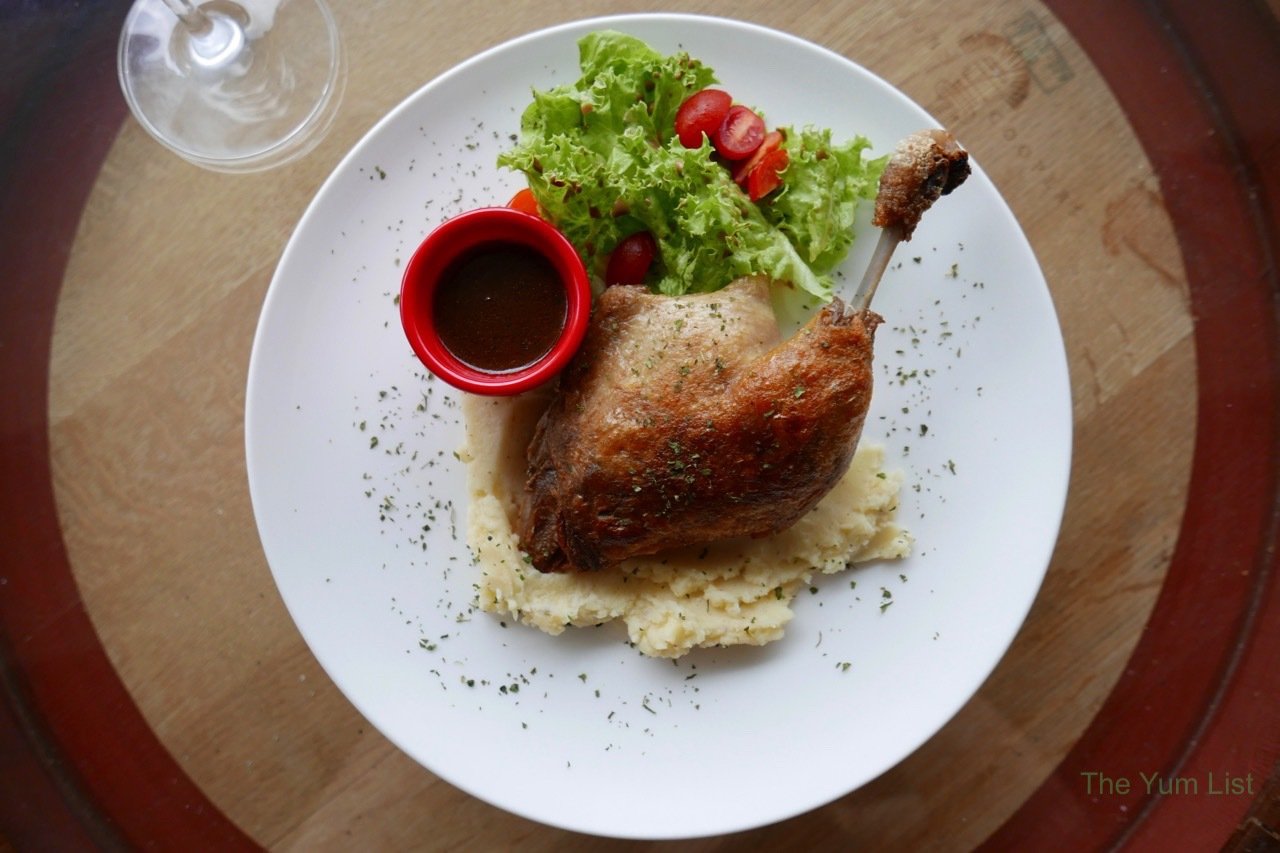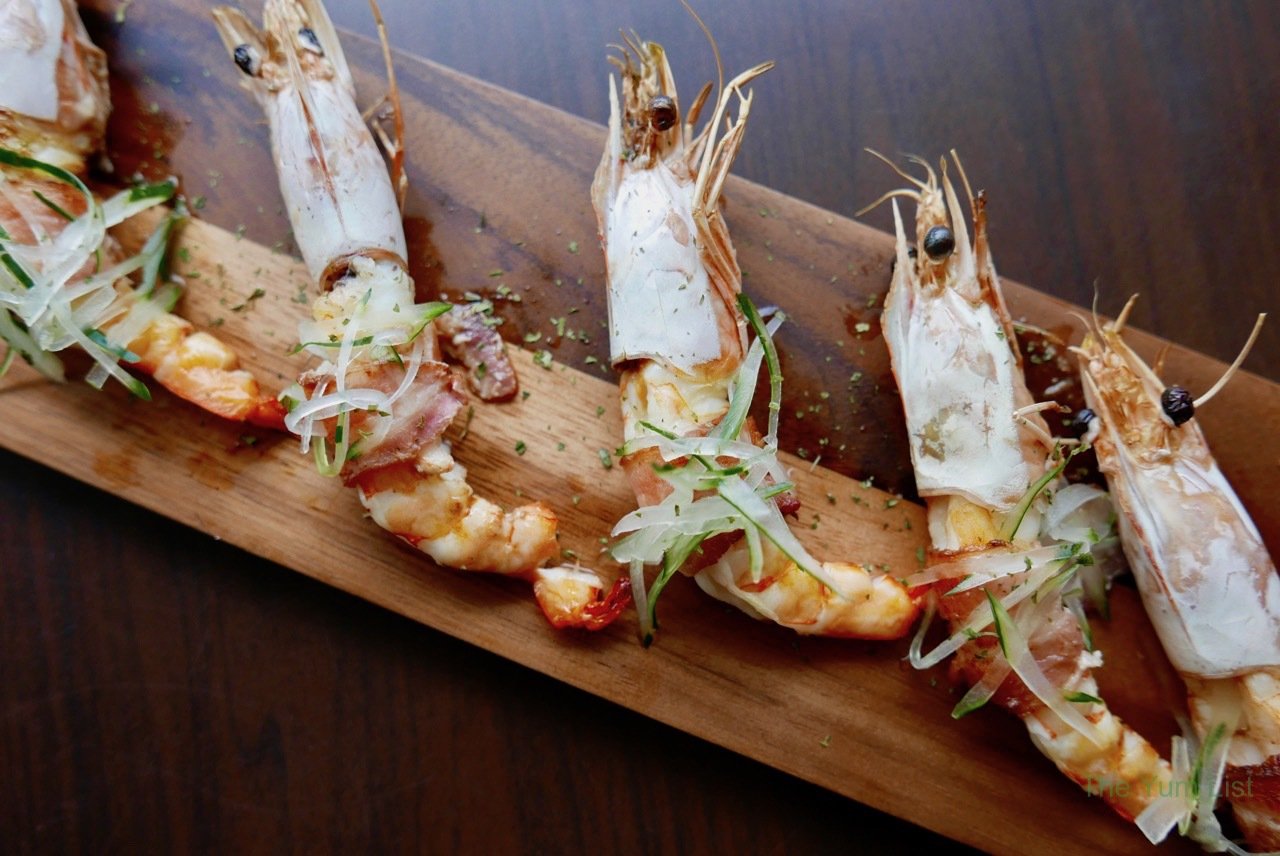 Though Justwine is new to the food game in KL, they show no signs of that 'rookie' mentality that I would use to describe someone who is inexperienced or unknowing about the venture they are about to undertake. From the attention to detail in the plating and glassware, to the level of service from the staff, to the high quality of product being put before you, Justwine is a place worth visiting and checking out for yourself. Believe me, you'll be glad that you did!
Reasons to visit Justwine TTDI: Three simple words – Pork Belly Sisig; the incredible selection of wines at near wholesale prices means you are bound to find a great bottle without breaking the bank to do so; the Salted Egg Chicken and Chilli Crab are flat out amazing; listening to live music in such a funky and cool environment is a perfect way to sip a nice glass of wine any day of the week.
Justwine TTDI
1st Floor, 18A Lorong Rahim Kajai 14
TTDI, 60000 Kuala Lumpur
Malaysia
+60 12 698 8033
www.facebook.com/justwinettdi