Monica Tindall
Chinese restaurants in Singapore face fierce competition. From aunties who have perfected a single recipe over numerous generations in the country's most popular hawker stalls to Michelin-starred chefs with an abundance of resources at their fingertips, it's hard to stand out in a city that takes its food so darn seriously and one that has celebrated dishes at all price points.
That's why I enter Man Fu Yuan, the Chinese restaurant at InterContinental Singapore, with an inkling of scepticism. How on earth can a hotel restaurant contend? Turns out that having a creative chef, fab food and beverage team, and one fantastic heritage building means that making your mark is not so tough after all.
Man Fu Yuan, in operation for about 20 years, is a stylish setting with soft natural hues, cool shades of grey and a multitude of private and semi-private spaces; some completely closed off from prying eyes and others gently divided with soft flowy fabrics. Shanghai jazz buzzes from quality speakers lifting the mood with notes of old-school glamour. The space is contemporary and, while the menu maintains its roots in tradition, the introduction of ten new signature dishes gives the culinary offerings a chic update too.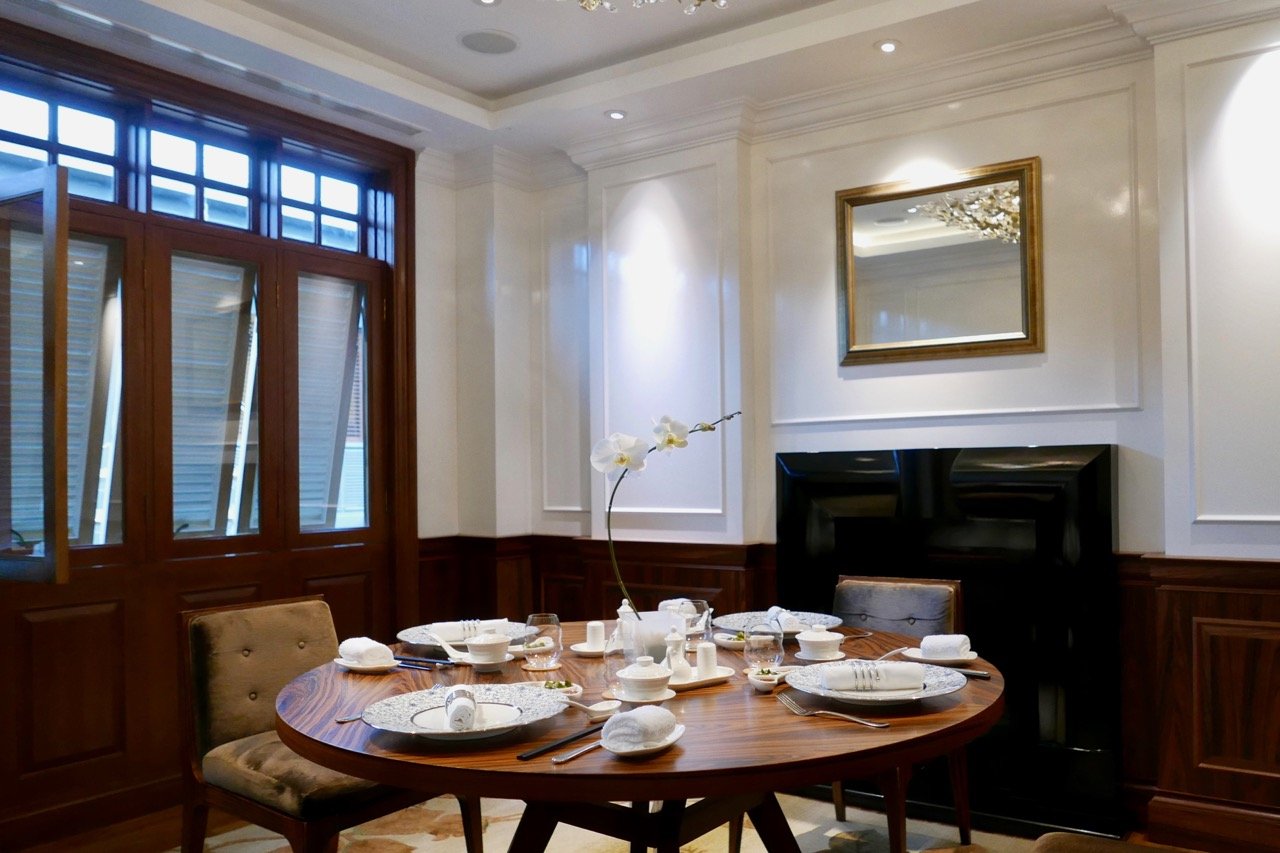 Food Menu Man Fu Yuan
Chef Eric Neo draws inspiration from his travels to shift the direction of the menu. He cites many of his favourite dishes added in, noting influence from other Asian cultures in terms of ingredients and a brush from the west in modish plating. The essence is still essentially Cantonese but guests will find just enough deviation from tradition to garner delight.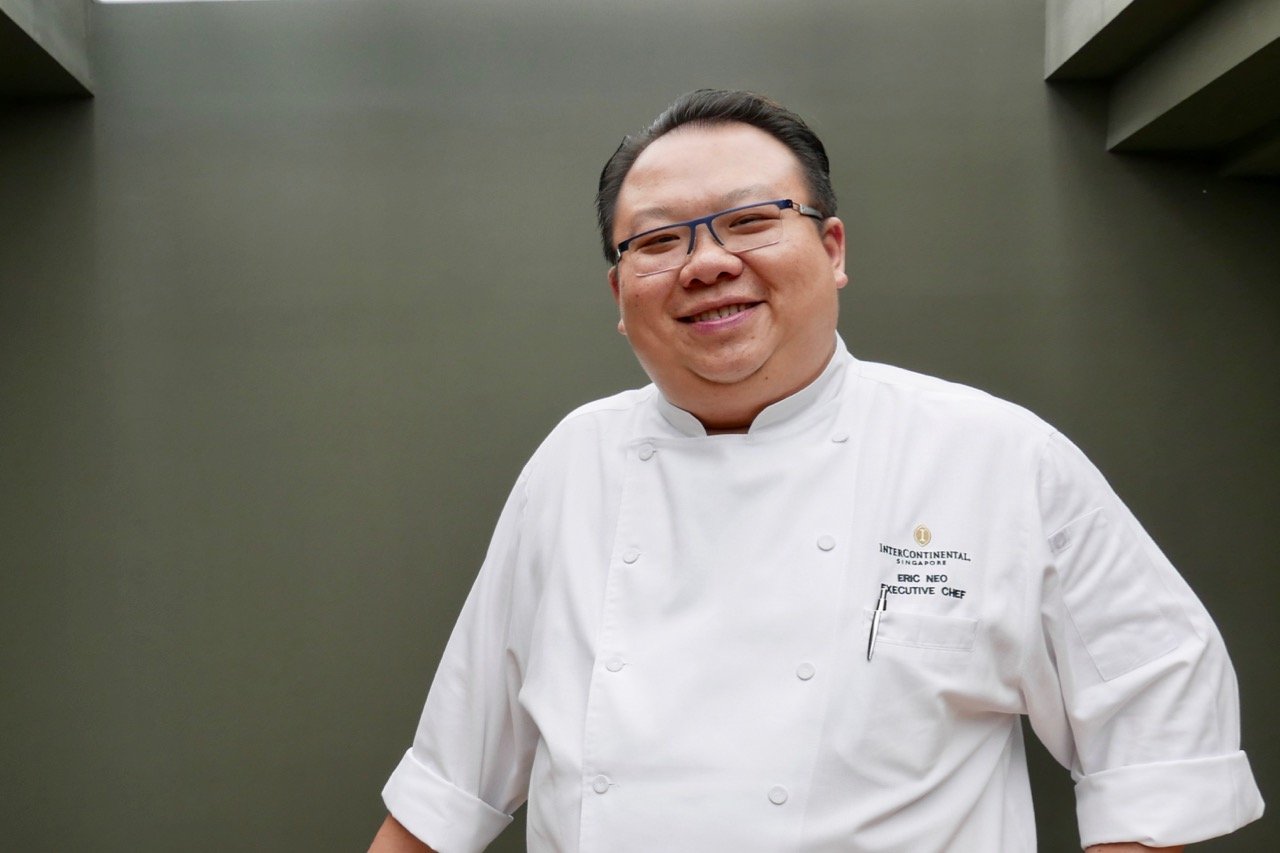 Starters
Deep-fried Pork Shoulder Dumpling ($26), Smoked Kagoshima Pork Belly Char Siew ($28), and Mango Passionfruit Prawn ($30) can all be ordered a la carte but today I have a sampling platter enabling me to savour a little of each. The siew mai, a tradition in any respected dim sum joint, gets a makeover with chef Eric's version. Pork shoulder is used instead of regular minced pork. They're deep-fried rather than steamed and each bite of yum is topped with wasabi mayonnaise and tobiko roe. On the other end, the prawn has too been deep fried, only this time crowned with a sweet and sour passionfruit sauce – and topped with herring roe. Lastly, the char siew is an absolute dream. Oodles of soy sauce and sugar are caramelized around the meat and then it's all smoked. The plentiful sauce is scrumptious making we want to lick the leaf that it is served upon (I maintain self-composure though you'll be glad to hear) and the meat is soft within with an addictive chewiness around the edges.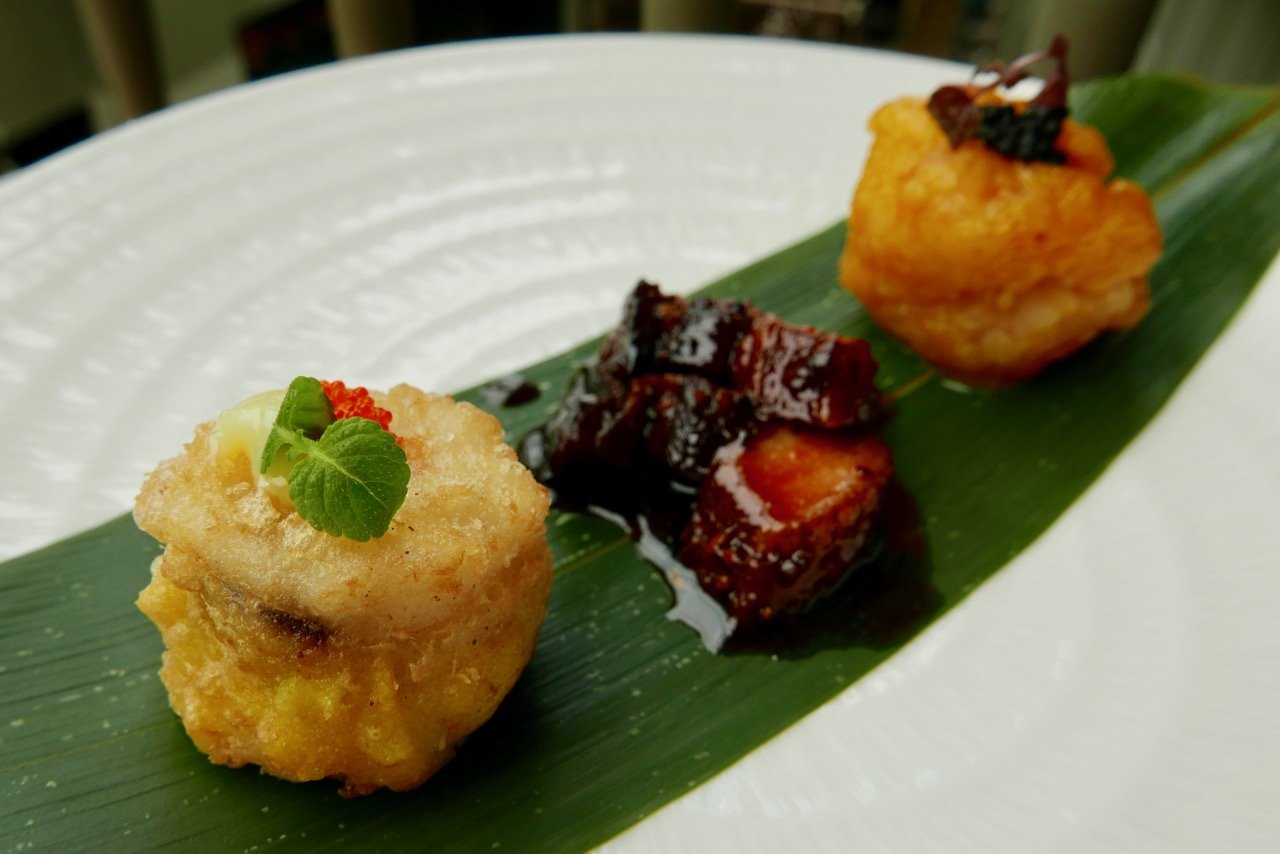 Soup
Seems an unwritten law that a fine Chinese restaurant must have Double Boiled Chicken Soup ($58), and so it is at Man Fu Yuan. Chef Eric simplifies the convention basing the broth solely on chicken bones (the norm is a mixture of meats) and over boiling them to get a milky hue. The rest of the ingredients are added including dried scallops and wolfberries, and then everything gets put in the steamer for the second boiling. Generous pieces of fish maw are added for extra collagen – good news for those wanting beautiful skin.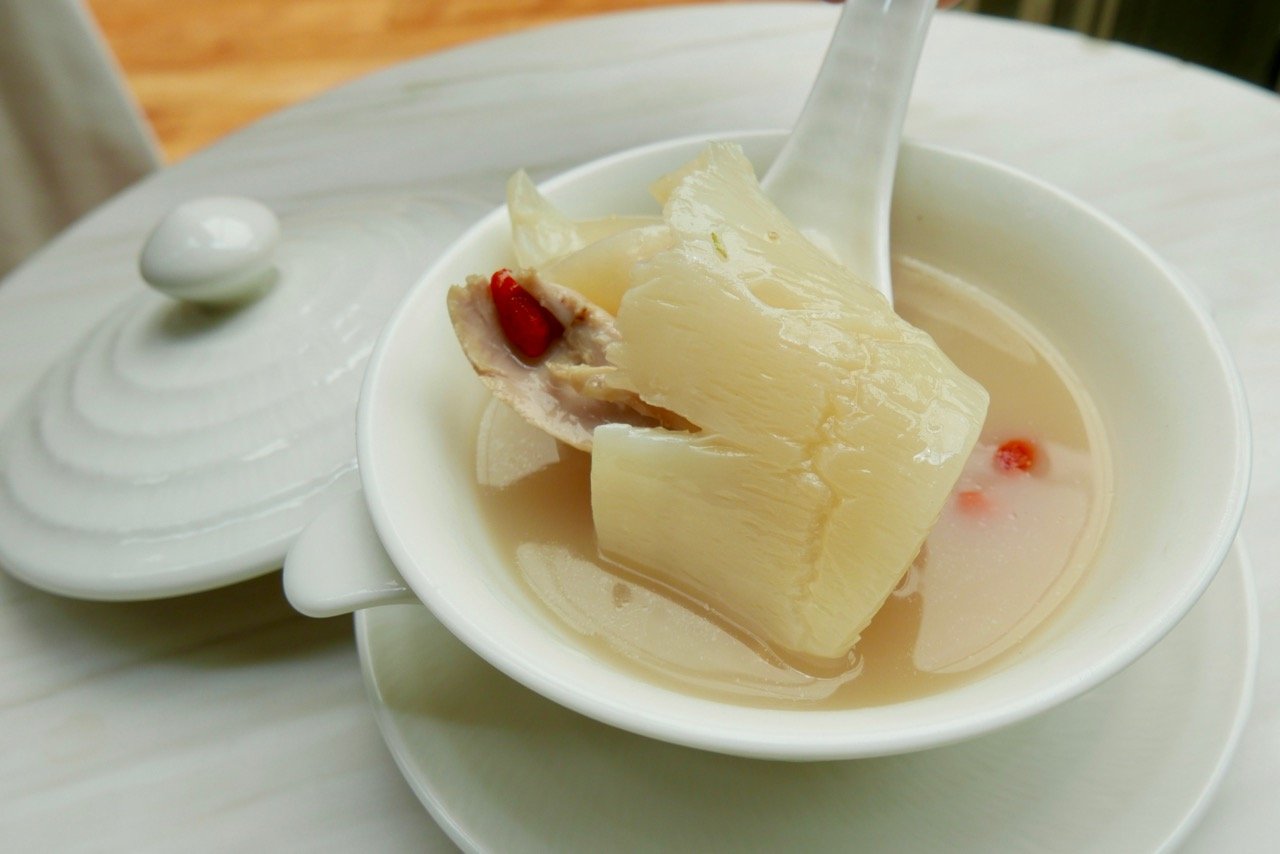 Fish
Miso Shoyu Baked Cod ($26) presents a popular dish with a genius twist. Marinated with Japanese soy sauce, the naturally oily fish is then pan-fried so you can appreciate the different layers of the white flesh and black soya. The skin is capped with miso and mayonnaise then blowtorched to award a charred flavour. The dish itself is intense in profile but the clever inclusion of scrambled egg whites balances out the potency. It's prettily presented with micro greens and edible flowers.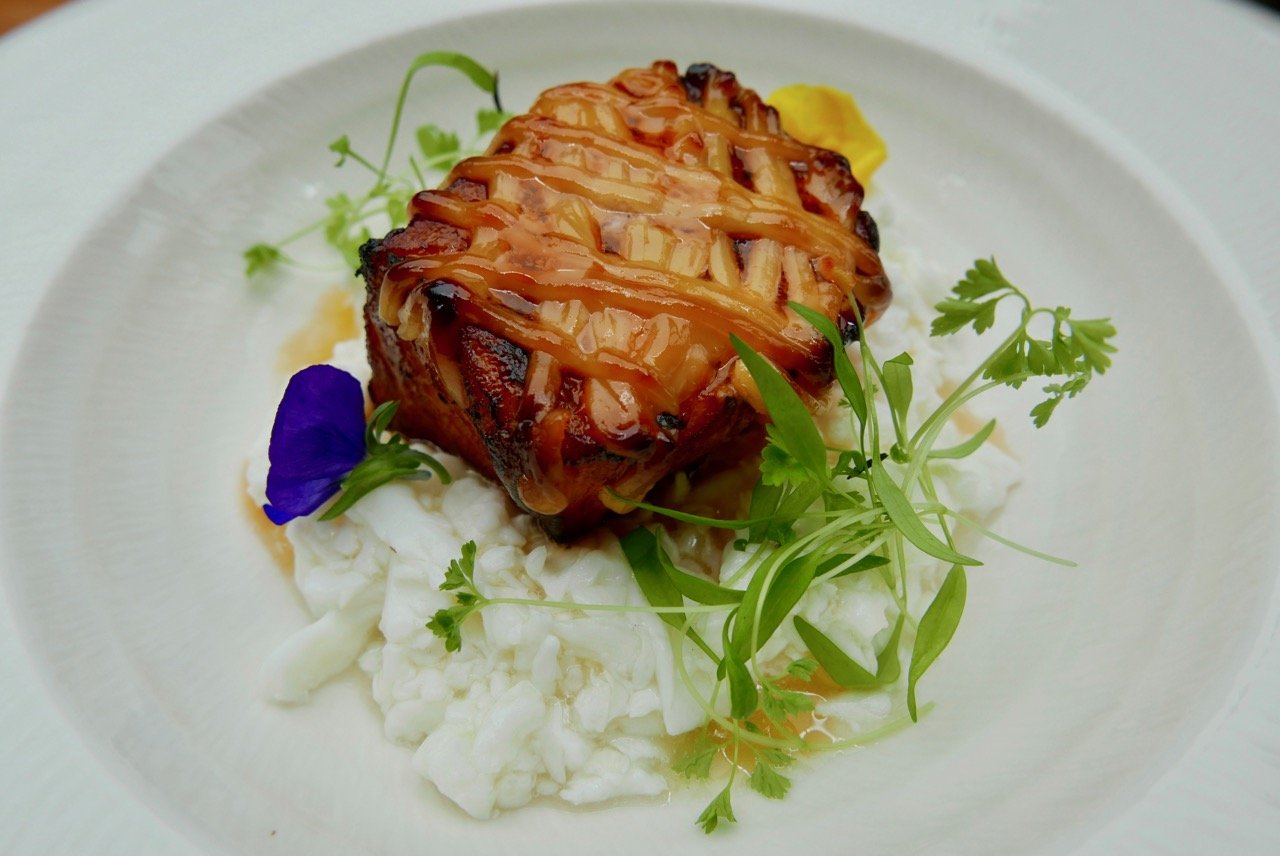 Prawn
Tiger Prawn Vermicelli ($14) should go over well with seafood lovers. Using lobster bisque as a stimulus, Chef has translated the recipe with Chinese wine and superior broth. The rice noodles are highly absorptive so it's best to mix them well to soak up all of the stock.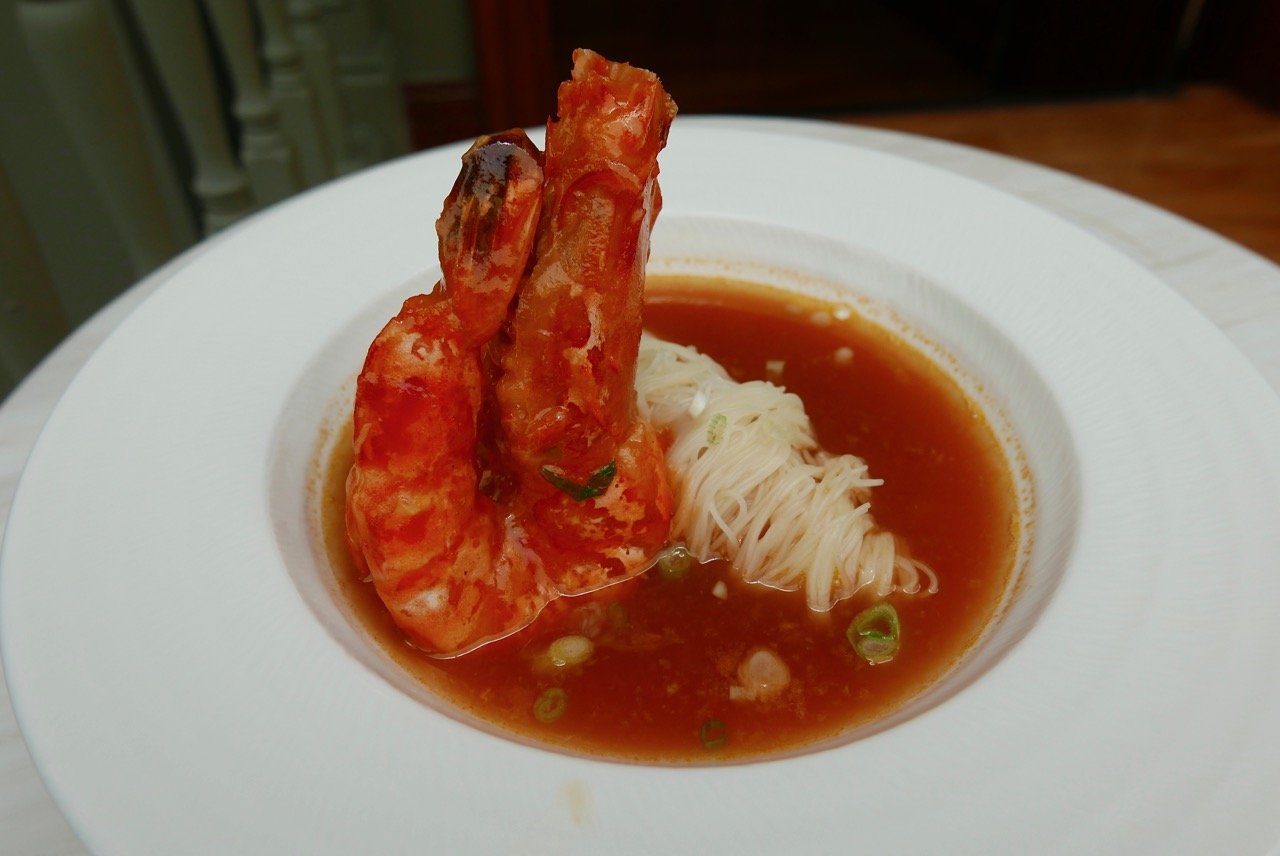 Dessert at Man Fu Yuan
Again I get a tasting portion so I may try a duo of desserts: Chilled Coconut Jelly ($14) and Deep-fried Purple Sweet Potato Custard Ball ($14 – 6 pieces – usual serving). Arriving in a swirling liquid nitrogen fog, the jelly of coconut water, gelatin and coconut cream is set in a whole coconut and topped with aloe vera cubes proving a refreshing sweet. The warm purple bun on the side has all the ladies exclaiming at its beauty and then oohing and aahing as it's forked open and a slow ooze of salted egg custard spills out.
Drinks Menu Man Fu Yuan
A solid wine and spirits list is supported by a curated set of premium teas. Displayed in a wooden box, guests are invited to smell the leaves and read the tasting notes before deciding on a blend or take recommendations for pairings from the knowledgeable staff. I've heard there's a signature cocktail though, so you know where I'm headed.
The Blue Butterfly ($20) is as pretty as it sounds. Served in a balloon glass, it's an appetizing combo of Earl Grey infused vodka, Maraschino liqueur, soda water, blue pea flower and lemon juice. There's a faint bitterness from the tea and the bubbles open the palate (similar to the feel of a gin and tonic). The liqueur adds depth to the overall profile and a slice of lemon and sprig of rosemary garnish the glass. Give it a little stir before drinking as the lemon juice is added at the very end and is what causes the butterfly pea to change its hue from blue to violet. This beauty does equally well as an aperitif or easy afternoon drinking (oh boy wouldn't I love a bucket of these to drink with the ladies by the pool as the sun is setting).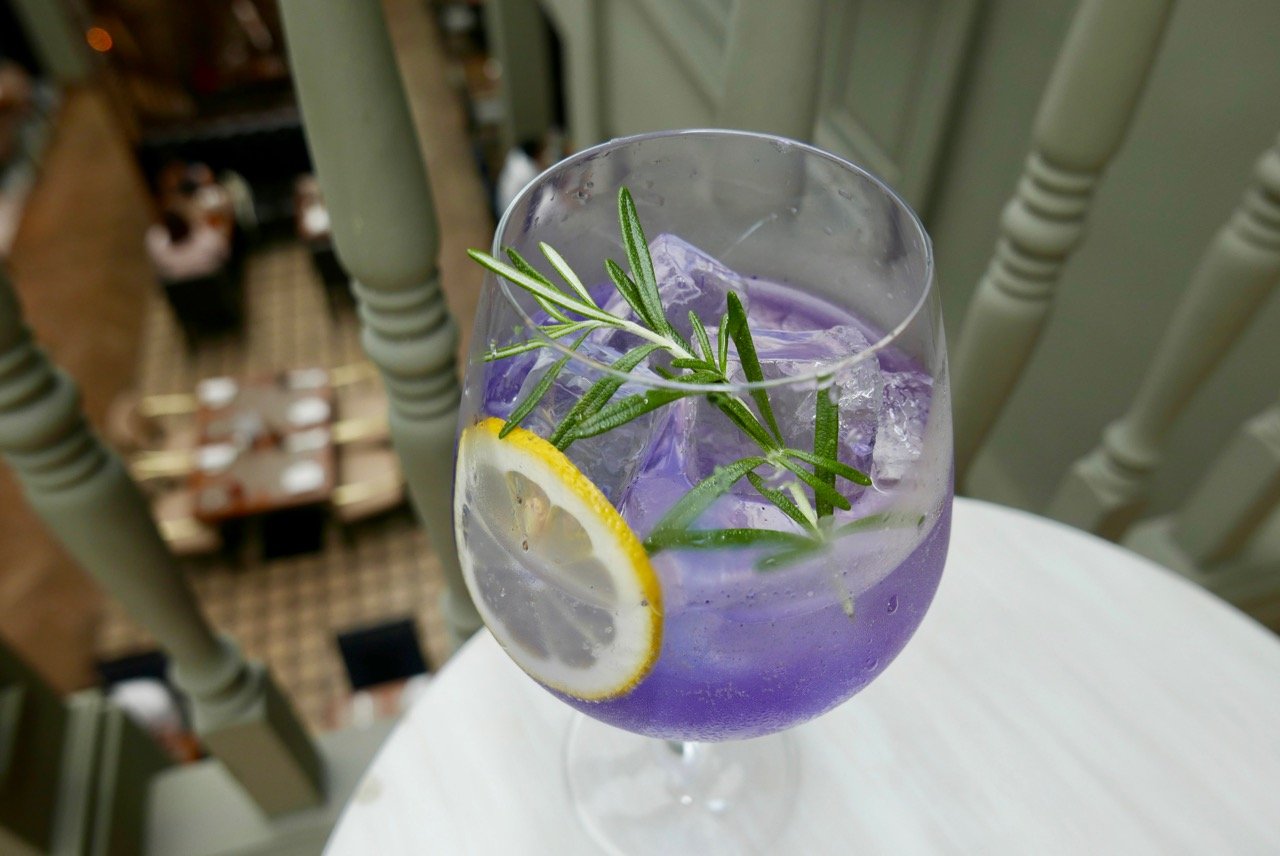 Reasons to visit Man Fu Yuan: a variety of choice in seating with private and semi-private spaces; must try the signature Blue Butterfly cocktail; edgy Cantonese cuisine – my favourites were the char siew, mango passionfruit prawn, baked cod and be sure to try the sweet potato custard ball – yummm.
Man Fu Yuan, Chinese Restaurant
InterContinental Singapore
80 Middle Road
Singapore, 188966
+65 6285 1008
ManFuYuan.sg
[email protected]
Man Fu Yuan Opening Hours:
Lunch: 11:45 am – 3 pm
Dinner: 6:30 pm – 10:30 pm