Monica Tindall
Majestic white architecture contrasts golden hills in a structure that seems to rise from the sand and provide an oasis to travellers wandering the ancient hills of the Aravalli Range in Rajasthan. A contemporary palace, JW Marriott Jaipur Resort and Spa is a luxurious haven, weaving the rich cultural heritage of the region together in one royal tapestry.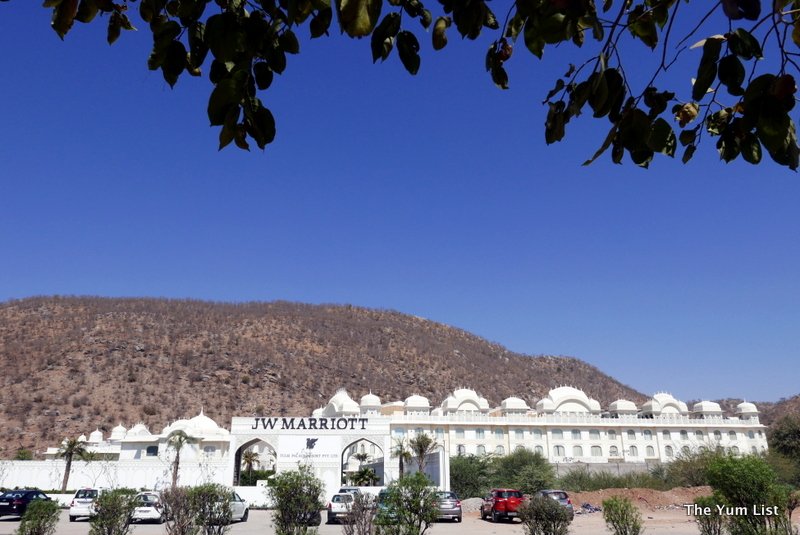 Location – JW Marriott Jaipur Resort and Spa
Around a four-hour drive from Delhi, Jaipur is often the first or last stop on the itinerary for travellers completing the Golden Triangle, and ticking off one of the New Wonders of the World, the Taj Mahal, from their bucket lists.
Located about 25km out of the Pink City of Jaipur, known for its distinctively coloured architecture and endless opportunities for shopping, JW Marriott Jaipur Resort and Spa is far enough from the city's bustle to provide a peaceful sanctuary for guests, yet with comfortable access to the area's attractions.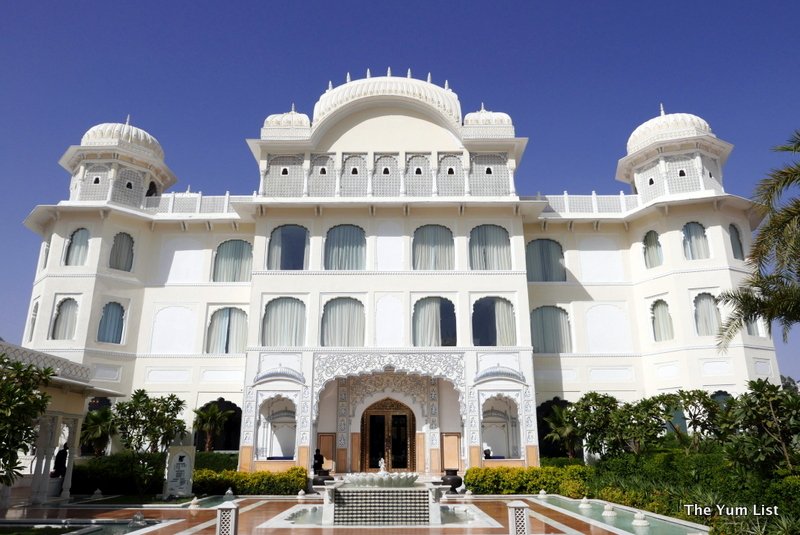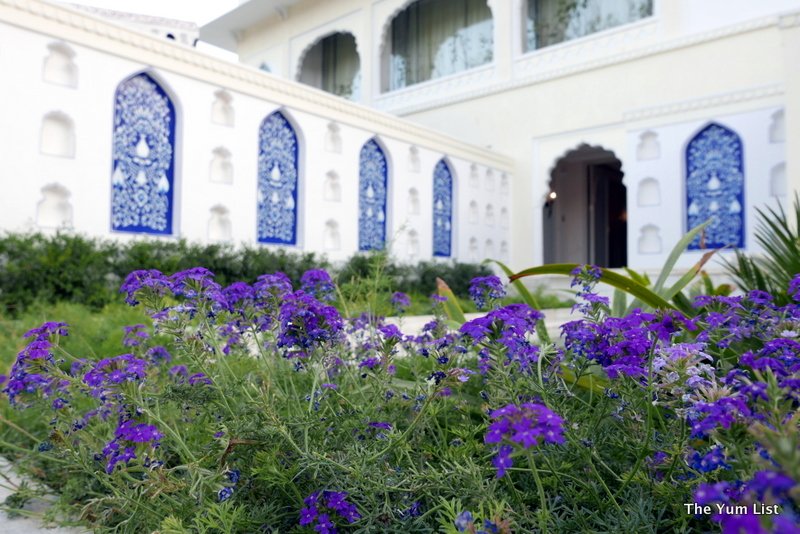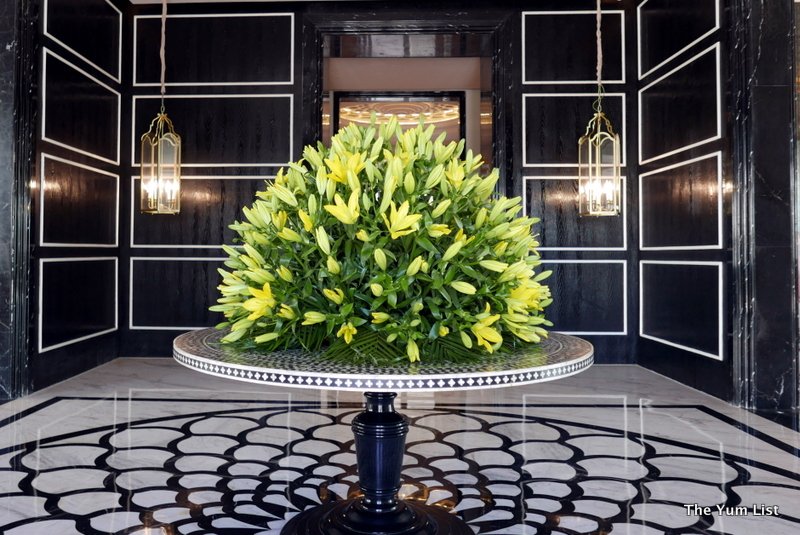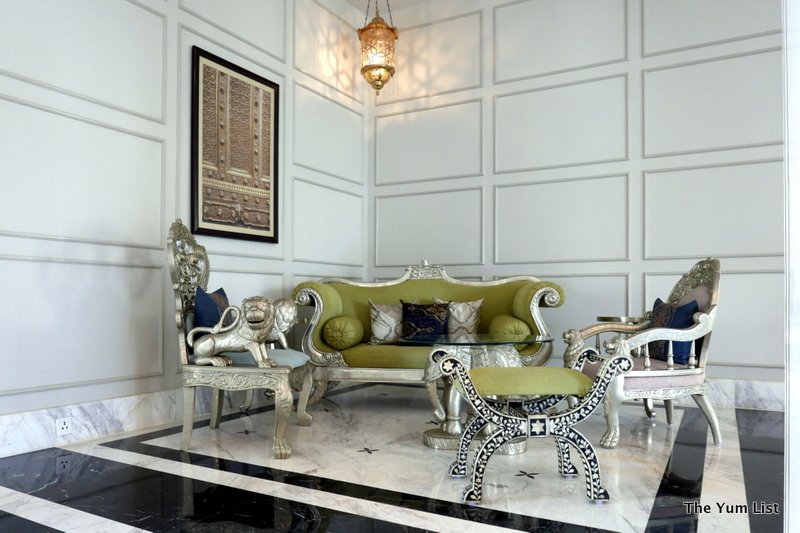 Rooms
This five-star resort is composed of 200 rooms and villas. The modern-aged palace draws inspiration from classic design and architecture and paints it with a vibrant inclusion of cutting-edge technologies and contemporary comforts.
A Royal Pool Villa welcomes us after a long road journey from Agra and a dip in our private plunge pool is the first thing on our agenda. Besides the pool, the villa is enclosed by a private courtyard and garden with a shaded daybed and dining area.
Indoors, a spacious sleeping and living area is sided with a bath and dressing room complete with bathtub, rain shower and walk-in wardrobe. Thoughtfully selected bath products are lush and the bath salts are much appreciated for a long soak after a day on the road. The room also gets three ticks for dream-inducing bedding, instant hot-water and high-pressured shower, and tea and coffee making facilities that include an espresso machine.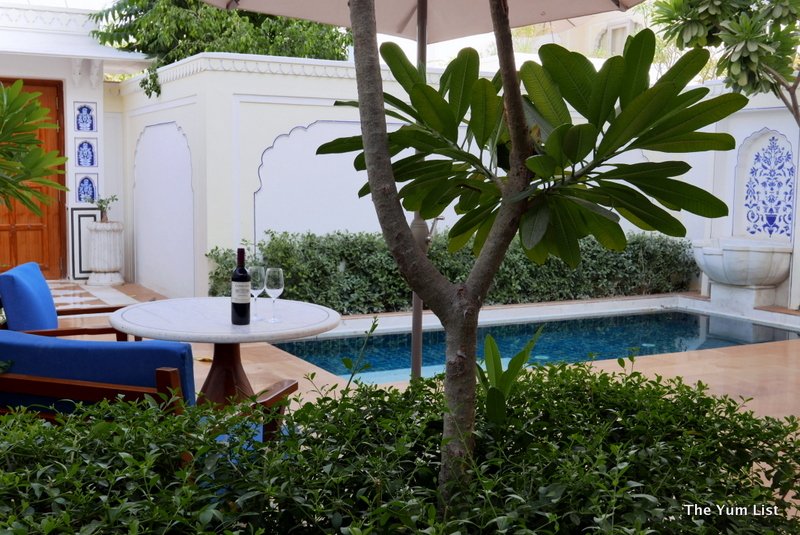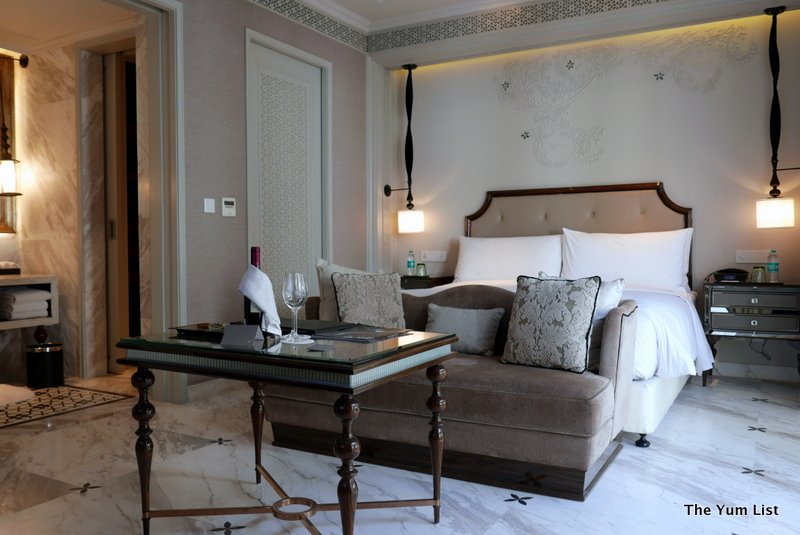 Dining at JW Marriott Jaipur Resort and Spa
There is a fantastic selection of dining options at JW Marriott Jaipur Resort and Spa. The quality of the all-day-dining restaurant, Sukh Mahal, is extraordinary. Read a full review of the menu here. And, a dinner at Mohan Mahal should be on every visitor to Jaipur's must-do list, whether staying at the resort or not. Lit only by candles, it's a unique dining experience not to be missed. Read more on that here.
Jharoka, Lounge and Bar, is the place for hot beverages during the day and something a little stronger in the evenings. While Jharoka is more elegant in style, Preet Mahal is its relaxed sister located poolside. Cocktails, wine and light bites are hot items here.
At our time of visit, JW Marriott Resort and Spa had just opened and as such, Hawa Maha was not yet quite ready. We hear though, that this rooftop restaurant will soon be serving delectable Mediterranean cuisine under the moon and stars. The setting is certainly stunning. I imagine a cocktail here at sunset would be simply divine.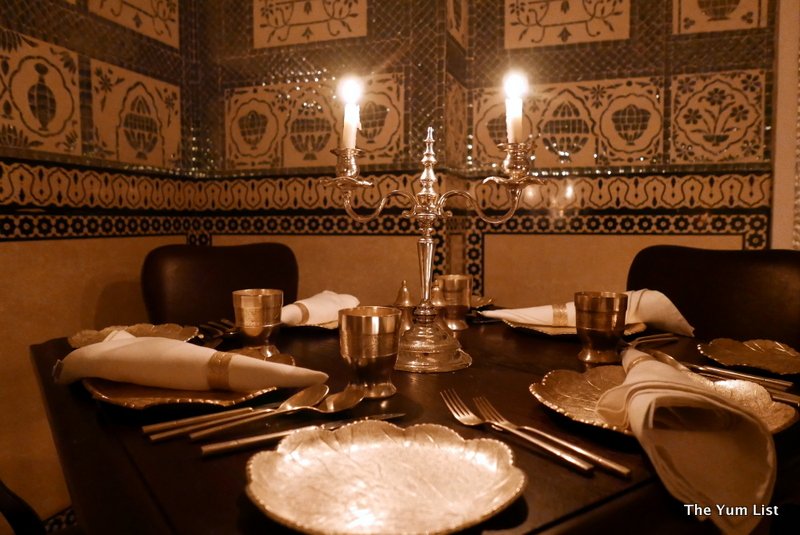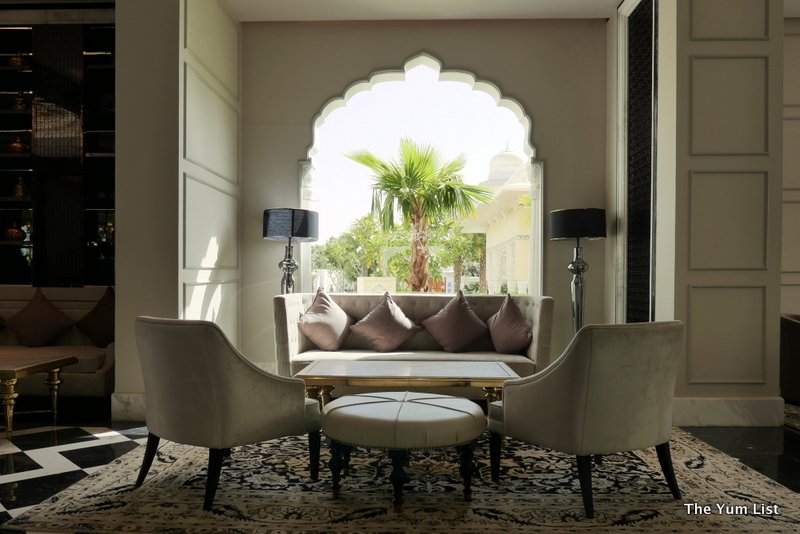 Facilities and Recreation
A temperature controlled swimming pool (with kid's pool and whirlpool) is the central feature of the common area. Surrounded by potted plants, sun chairs and umbrellas it's a hive of activity during the day.
JW Fitness Centre & Spa offer distinctive opportunities to unwind. The gymnasium is well-equipped with quality cardio and strength machines, and the spa's treatment menu is comprehensive.
I try the Renew – Intense Muscle Relief (90 minutes, INR 8500) treatment and drift off into a state of bliss with a mix of aromatherapy and deep tissue massage. Thumbs, heels of hands and elbows are used to reach deep, working out knots and relieving tension. It does wonders for my tight shoulders and back – a result of too much time spent writing on the laptop. Hubby opts for the Re-energize (90 minutes, INR 8500) package, which combines cupping and kneading techniques, good for muscles tight from sports. He doesn't say too much about the technique, other than, "fabulous," and I later learn that he slept for most of it – a good sign.
Activities at JW Marriott Jaipur Resort & Spa
There's a lively spirit that runs throughout the resort. Whether it be in the kitchens, by the pool or around the grounds, there is always something to marvel at. One day we're greeted by an elephant uniformed in regal robes; another day we're entertained by musicians playing a variety of local instruments around the resort. Every afternoon, there's a high tea of local sweets, masala chai and games on the lawn. We can even grab a bike and go for a ride, or participate in daily yoga sessions in the morning if we like.
Getting out and about though is also easy with JW Marriott Jaipur Resort and Spa's curated local experiences. City tours, visits to the Elephant Village and even a look behind the scenes at the ancient craft of rug making can be arranged. Name your destination, and a driver and itinerary can be arranged without you having to give it a further thought. Read about some of the top things to do in and around Jaipur here.
A stay at the five-star JW Marriott Jaipur Resort and Spa is a memorable experience. Packed with culinary delights, inspirational beauty and warm hospitality, I'd book a room here again in a heartbeat.
JW Marriott Jaipur Resort & Spa Review: a contemporary palace, splendid in design and welcoming in service; excellent food and beverage options; must eat at Mohan Mahal for an exquisite dining experience; the Royal Pool Villa with private plunge pool is our top pick for rooms.