Girls Just Wanna Have Fun at Ash & Elm – When the Ladies Do Lunch
Words: Claire Matheson  Photos: Monica Tindall
Sometimes girls just want to have fun. And wine. And a buffet.
When the girls get together for a girls' date, the hunt for a spectacular lunch buffet goes with the territory. No matter how diverse our lives are, finding a moment in our busy schedules to come together over good food and good wine is something we should all make time for. A touch of glamour doesn't hurt either, even if it's only for a few hours. Finding a fabulous buffet with a selection of fine wines, globally awarded chefs and an abundance of natural light for all your best selfies? Pure gold! Add an in-house charcuterie, fromagerie, wood-fired oven and charcoal grill kitchen to the list? Stop what you're doing and book me a table!
French-born Food and Beverage Manager Pierre greets us at the door to Ash & Elm at InterContinental Singapore. Designed as a European brasserie with semi-buffet lunch, Ash & Elm's cathedral of light is a must for those who worship at the altar of good food. It's three theatres of food preparation – the charcuterie, wood-fired oven and exposed grill kitchen – are open and inviting, with a marble bar that hosts an elegant and extravagant buffet during the breakfast and lunch settings, transforming into induction cooktops to bring the action out amongst the diners. A seat at the bar can also be requested for those wanting to be seated in the front row, with the best view of the dramatic dinner performance. Fellas listen up, if you're looking for date night ideas, there's nothing like treating your other half to dinner and a show!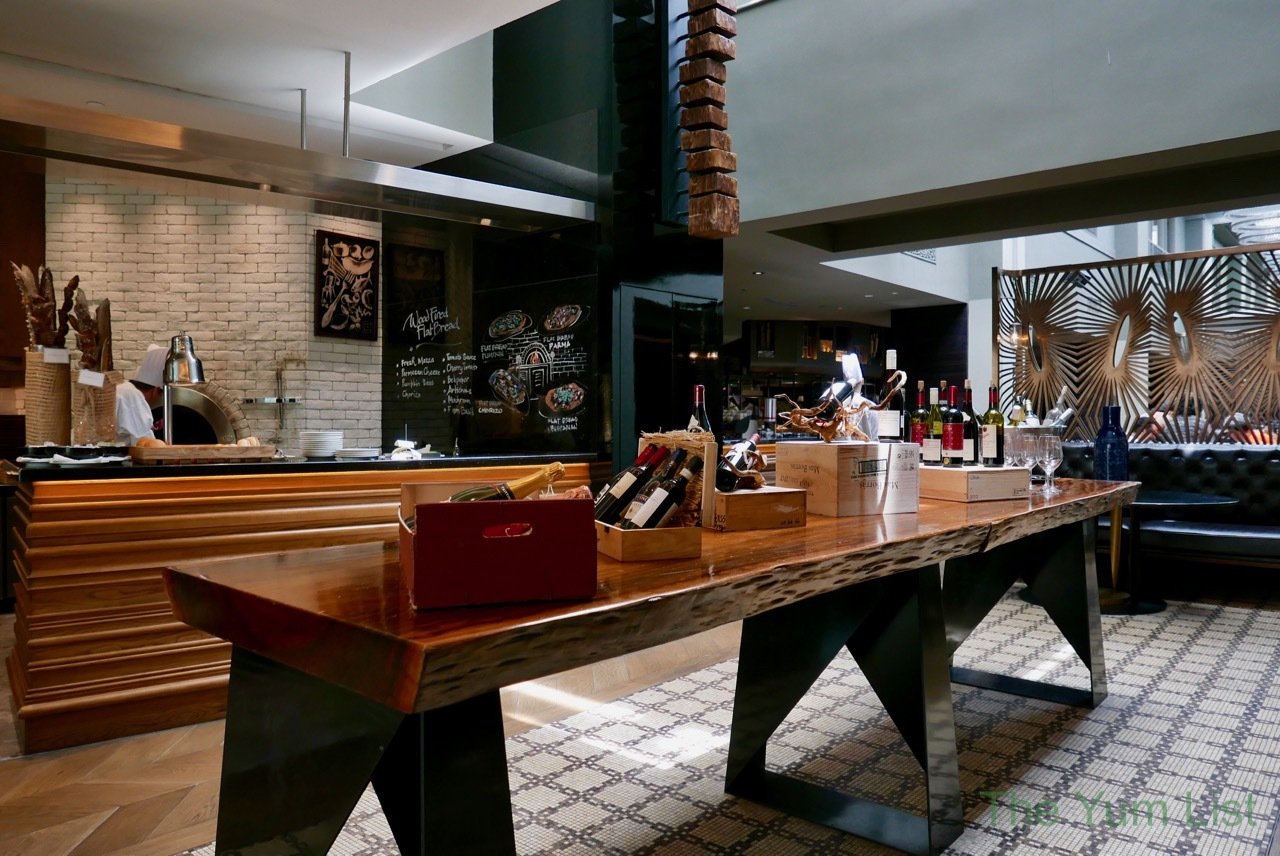 Drinks Menu Ash & Elm
Exceedingly charming, Pierre gives us a quick tour before discussing our wine options for the day. To start, we try their current feature wine, the M de Minuty Rosé from Côte de Provence (S$15+ per glass or S$68+ per bottle). Blended from Grenache, Cinsault and Syrah varietals, the blush glass is fruity yet rounded with peach and citrus notes. Pierre suggests drinking it in a traditional south of France style, with a splash of grapefruit syrup on ice, known as a Rosé Pamplemousse. Forget your traditional mimosas, these girls have decided, this is the new brunch ideal.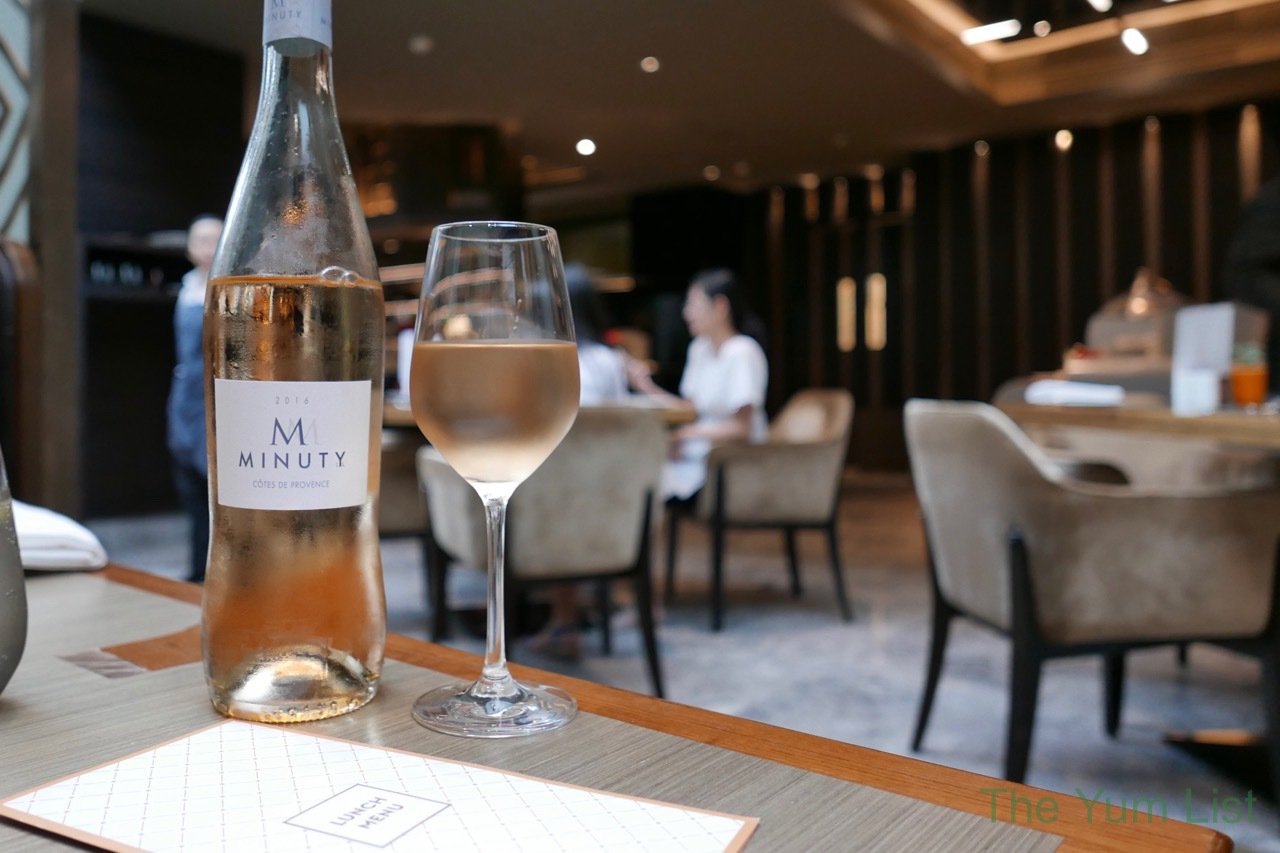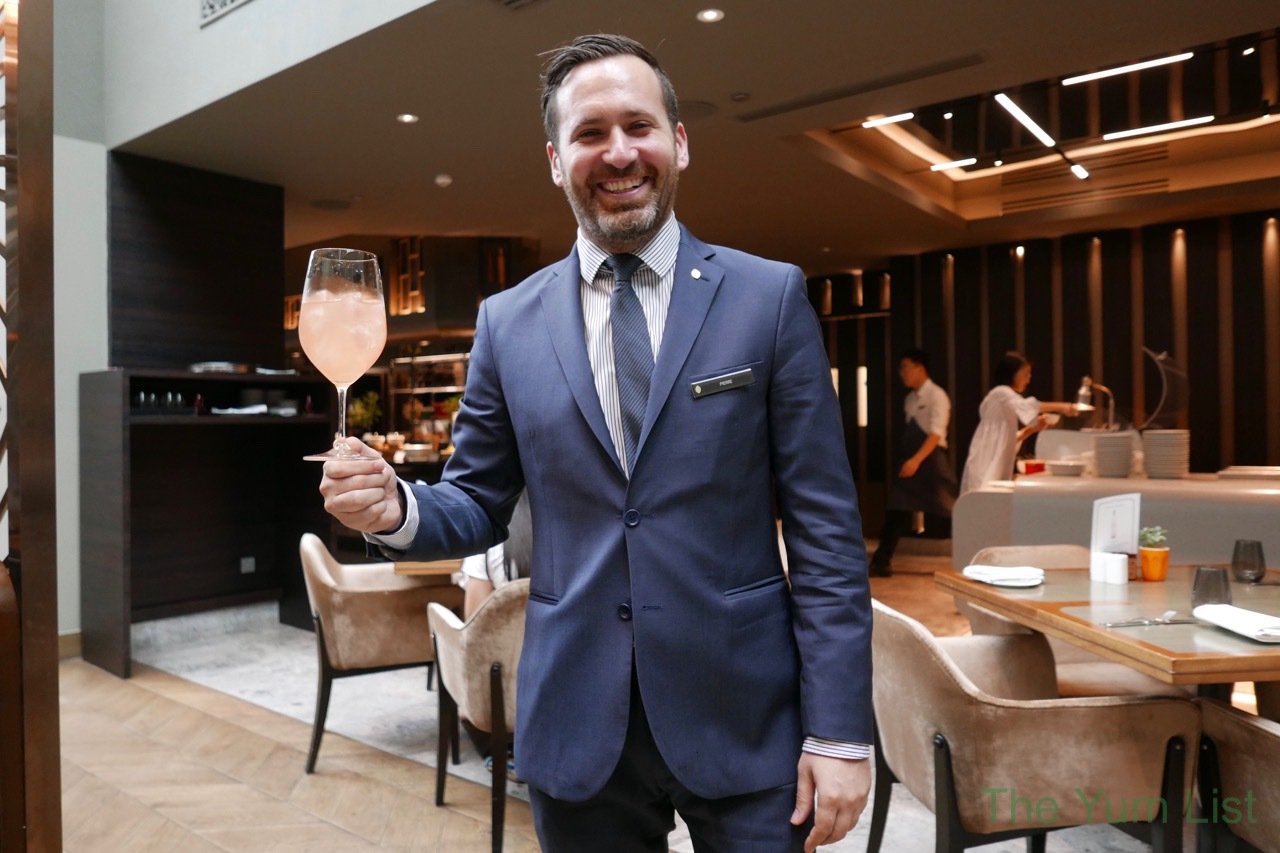 Monica and I are introduced to Executive Sous Chef Philippe Duc, who trained and worked at Alain Ducasse before leading the team at the two Michelin Star awarded InterContinental Hong Kong's Spoon. Philippe oversees InterContinental Singapore's restaurants and bars. Congenial and cheerful, he is everywhere at once. One moment greeting guests, the next he is hard at work in the open kitchen, ensuring every dish is of the highest quality. A cheeky conversation about new world innovation versus old world charm ensues, because after all, you can never get French and Australians in the same room as each other without us reverting to wine talk. All in good fun, as we agree we are all fans of any decent drop. Although, the Pamplemousse is something Australians might need to adopt!
In addition to Ash and Elm's sensational wine list, milkshakes, fresh and chilled juices, smoothies, mocktails, soft drinks and mineral waters, tea and coffee are all available, with tea tarik, barley and iced lemon tea bringing a local flavour to your order should you wish. When you're lunching with the ladies, an extensive drinks menu is essential! After all, there's only so much eating you can do, but the conversation must continue, so please, go ahead, top up our glasses!
Appetizers
We begin with a sampling of cold cuts and cheeses, freshly sliced to specification, including chorizo, house-made beef pastrami, air-dried pork belly, a marbled Rosette de Lyon pork salami, Ash and Elm housemade smoked pork loin and a bowl of gherkins, olives and pickled onions. Ash and Elm internationally source the highest quality meats, and the plate in front of us represents the best of Europe paired with in-house preparation techniques. From the perfect temperatures of their cheese fridges, we try Fontina semi-soft cow's cheese from Italy, Manchego semi-soft sheep's cheese from Spain, Saint Nectaire semi-soft cow's cheese from France, along with a selection of grapes, raisins, walnuts and water crackers, representing only a selection of their available choices.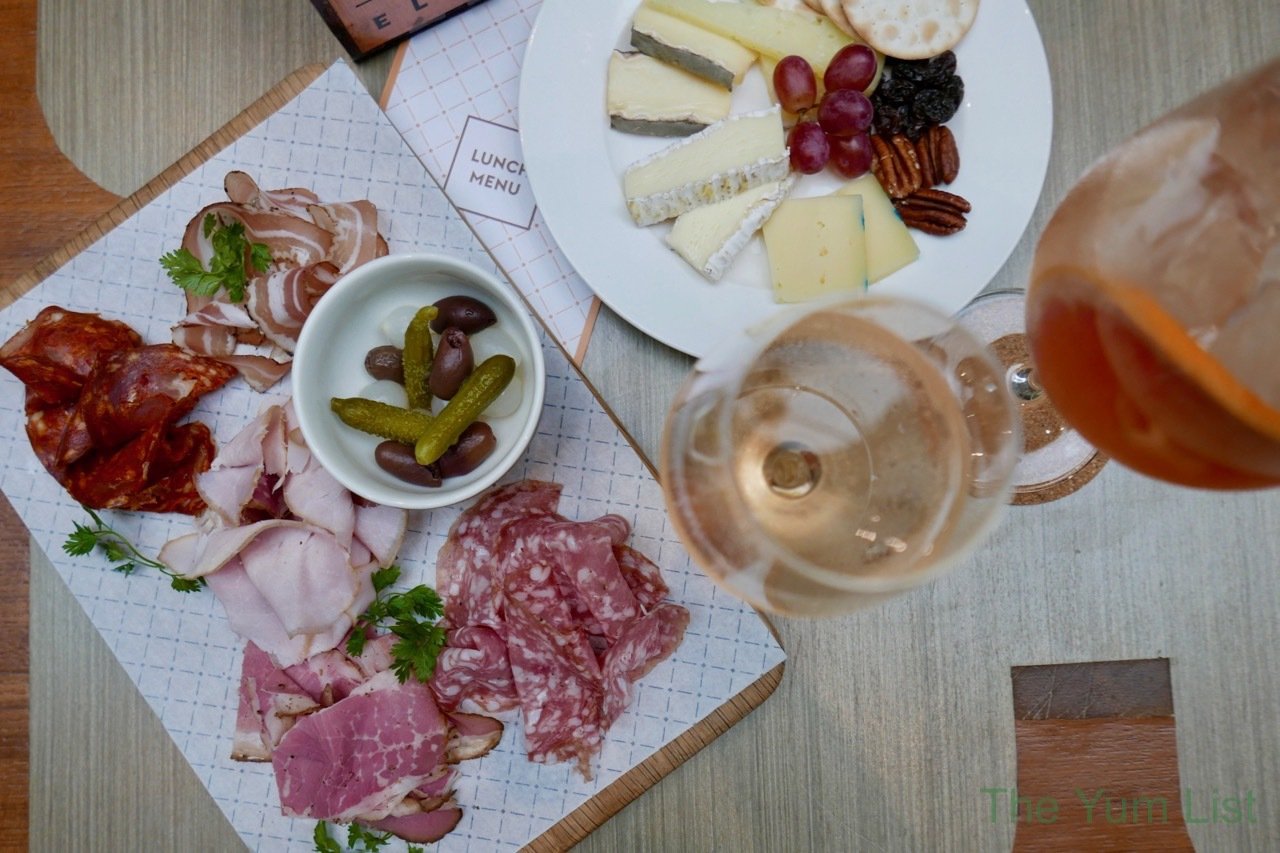 Philippe plates us a sampling of the appetiser buffet, with a capsicum and seasonal mushroom salad, a pork and semi-sundried tomato pasta salad, a hummus and pine nut 'shot' replete with capsicum stalk, and a refreshing pomelo and grapefruit salad. We also enjoy a prawn and chicken caesar salad, with large juicy prawns, olives, slivers of bacon and quail eggs, and a light smattering of creamy dressing; as well as a hearty lentil vegetarian soup. With many other dishes still on offer, we are in danger of being too full to taste the a la carte menu, so we wisely choose to move onto the main course. Guests can have their fill of the Appetiser and Dessert Buffet on its own for S$28+ or with an accompanying main for S$38+.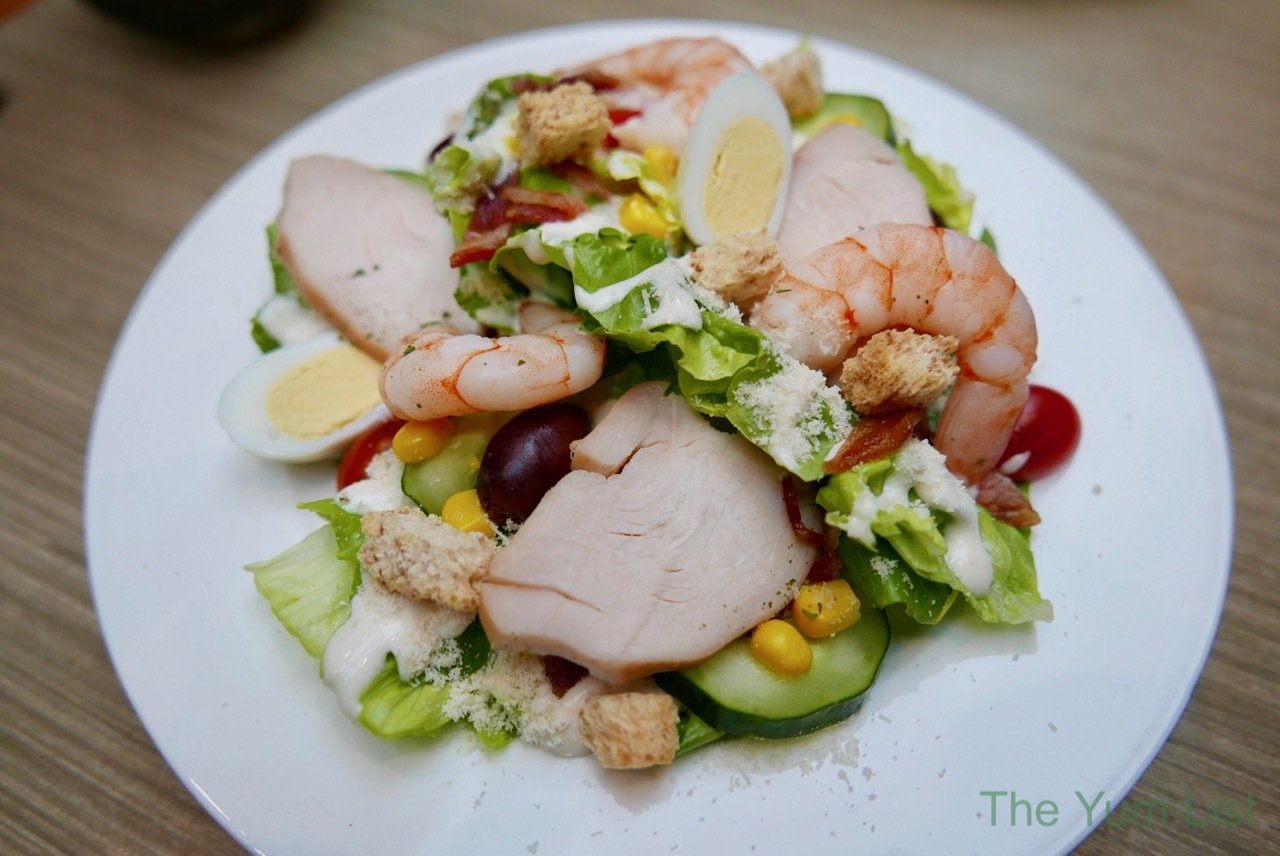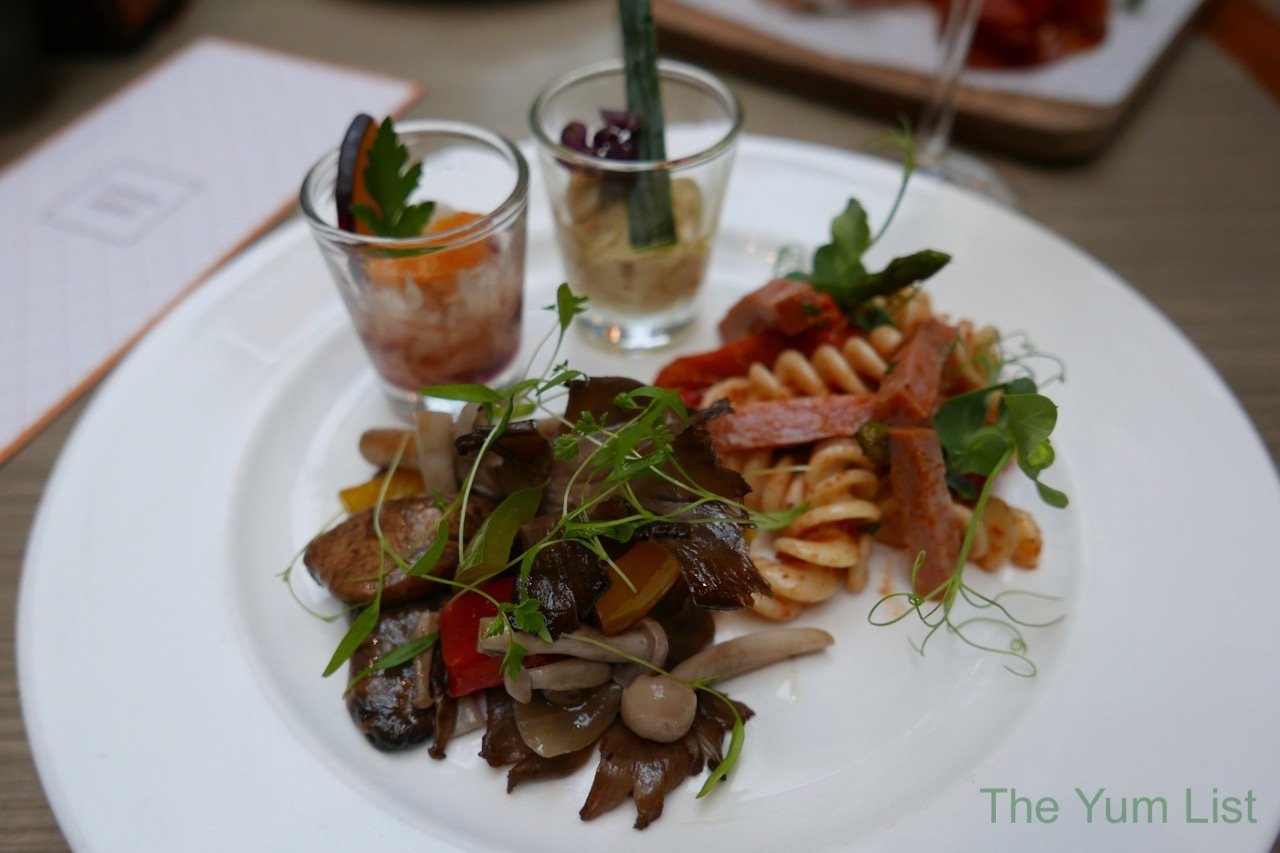 Main Menu Ash & Elm
For mains, we follow Philippe's recommendations (always wise) and try his speciality: the Salmon A La Plancha, cooked using the Spanish method of a flat round iron plate which sears and smokes the food simultaneously. Fluffy and light with an astonishing faint smoke flavour, it is served with crisped skin on a bed of spinach, croutons, pine nuts and a frothy, citrusy, salty lemon caper sauce. The Parma Arugula Flatbread is no mere pizza, cooked using their special in-house flatbread cooked up by pastry chef Ben Goh, this is topped with the finest prosciutto, heapings of shaved parmesan and crisp arugula. Simple yet superlative.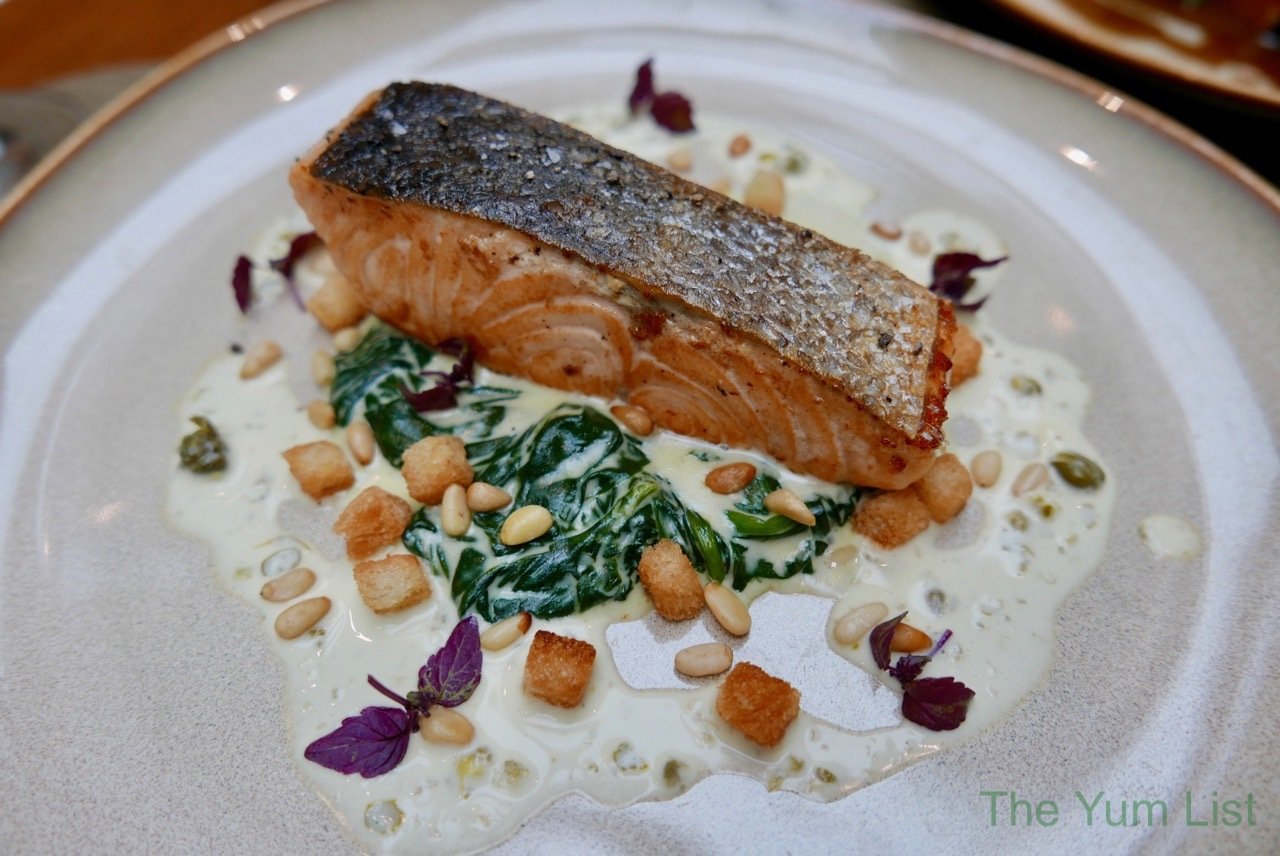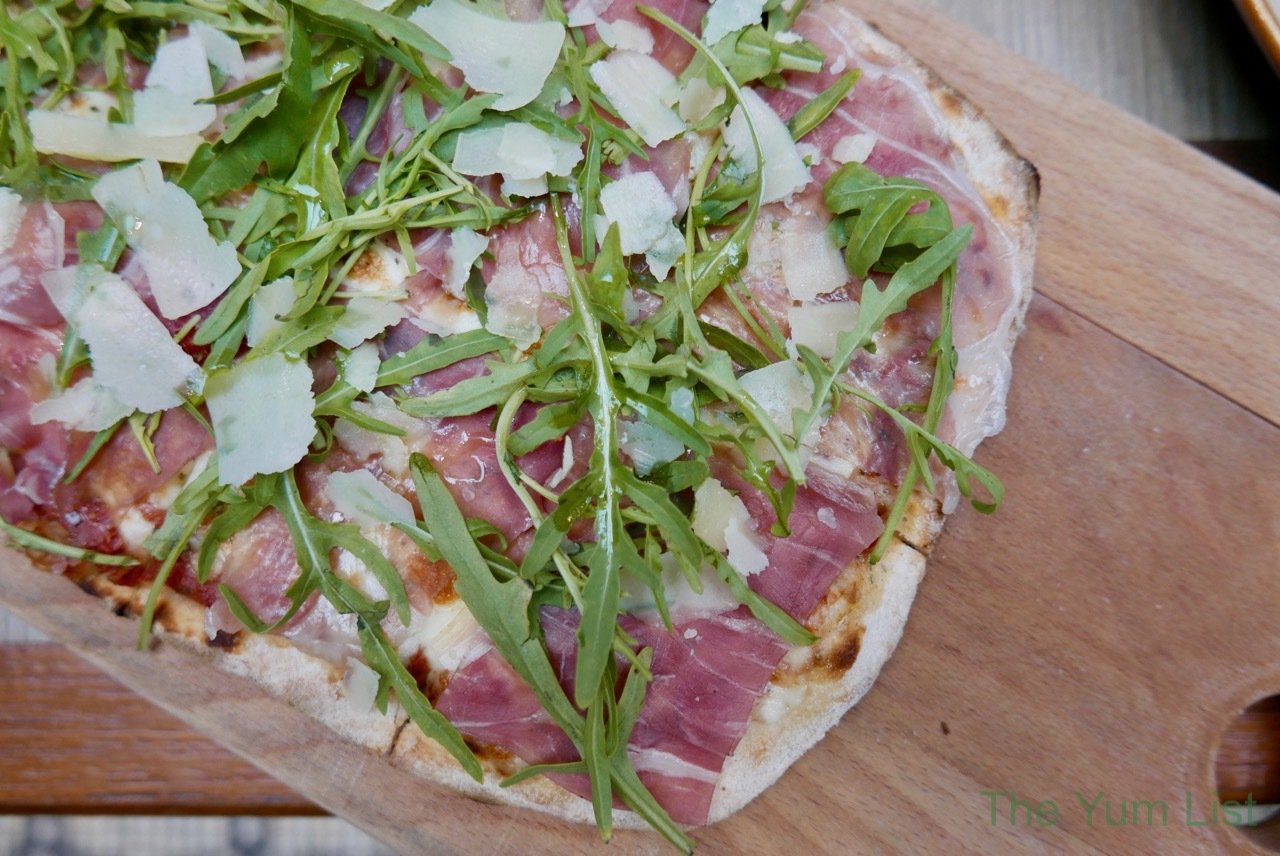 Boost the Menu Ash & Elm
For a further S$10, the champion of the a la carte menu is the Braised Beef Cheek. Rich, tender, slow-cooked beef served with cheesy polenta gratin and seasonal vegetables. It is beef for the true aficionado. Those in the know will readily tell you high-fat content beef like Wagyu is meant to be eaten sliver thin and in minute portions, never as a steak. Beef cheek is the opposite, low in fat content, it has some of the strongest, unadulterated flavour of the animal due to its high blood circulation in the cheek, meaning it is both lean and tender, without the dryness of other lean cuts. Whether eating pork or fish, the cheek should always be your first choice for any meat. Pierre brings around a bottle of 2014 Château LouMelat Cuvée J.J. Lesgourgues Côte de Bourdeaux for us to sip with our red meat. Dry with strong cherry and raspberry scents, and a lasting tannin, it adds new depth to the moist beef when taken as one.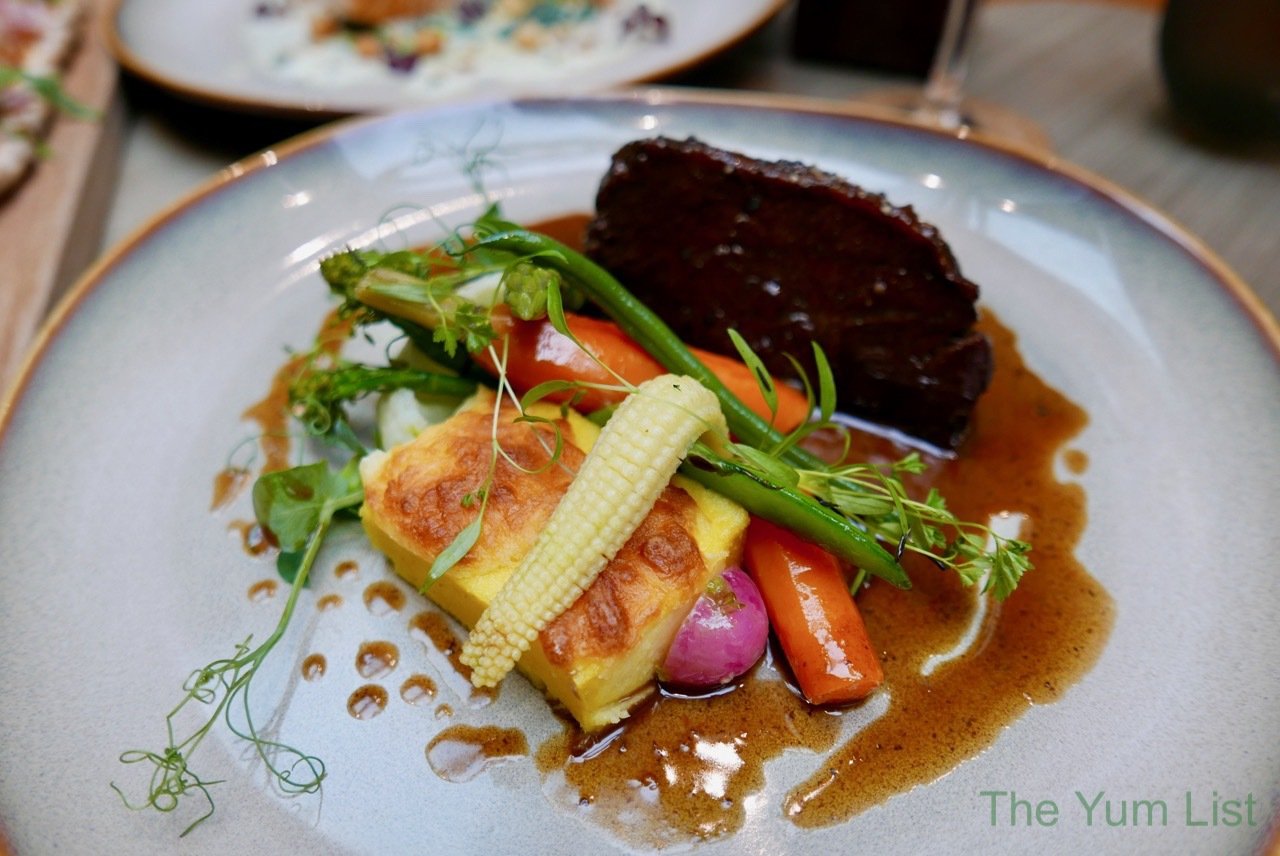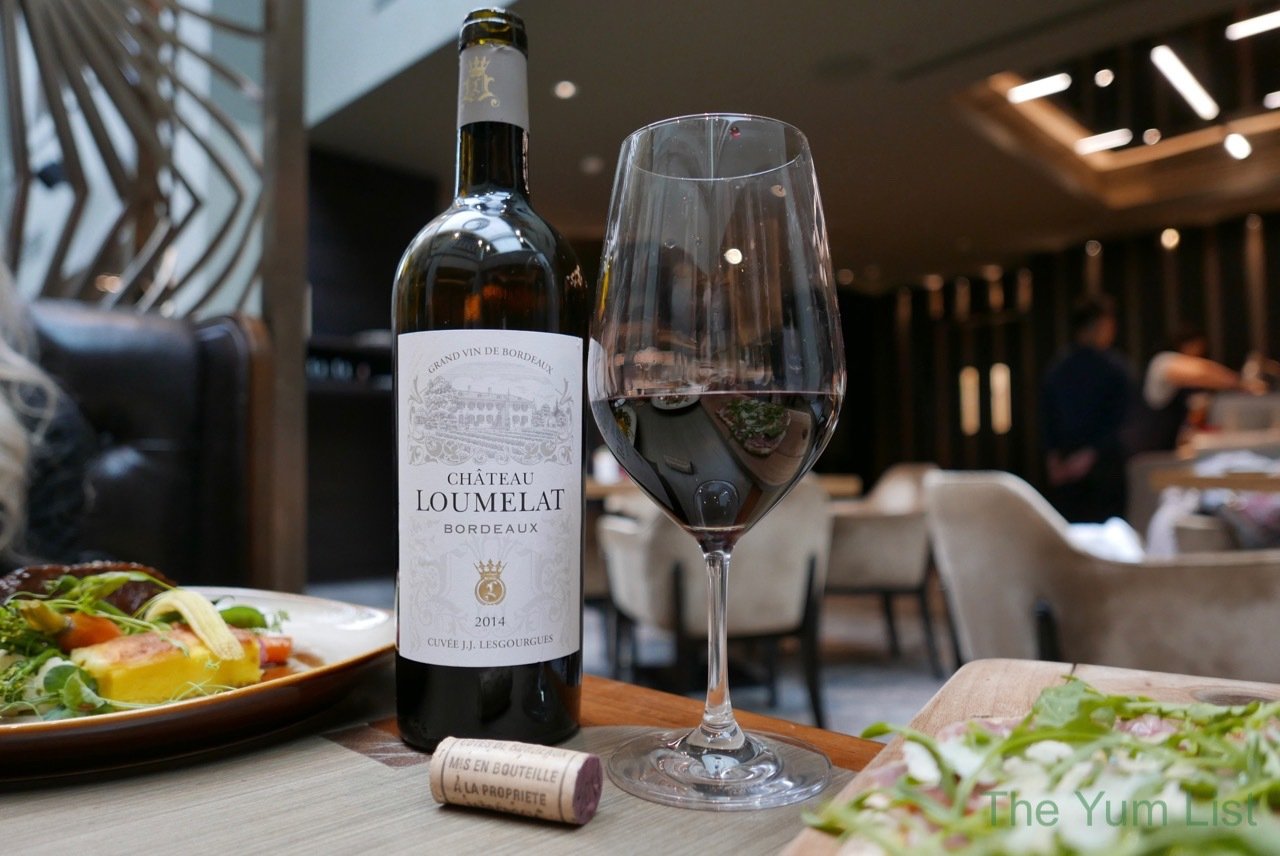 Dessert Menu Ash & Elm
Sweet little petit fours are delivered to our table, each immaculately presented with garnishings of chocolate flowers or sugary pearls. They are almost too cute to eat, but we dive in, cracking crunchy outer coatings and layers of buttery biscuit bases with our spoons. The decadently creamy tiramisu has a strong kick of espresso, while berry coulis topped chocolates melt with the heat of your tongue. A rich mango mousse is paired with lychee, and the lavender sponge layer cake is exotically floral. I may have helped myself to a second plate! We are also served French crepes drizzled with chocolate biscuits crumbs, flaked almonds, raspberry and cream sauces, with scoops of house-made raspberry sorbet, mint choc chip and tea ice cream. A plate of fruit containing watermelon, rockmelon, guava and dragonfruit satisfies those at the table who feel they have indulged too much. I'll admit, that even I declined the chocolate fondue portion of the buffet, as I had reached my limit, tempting as it was.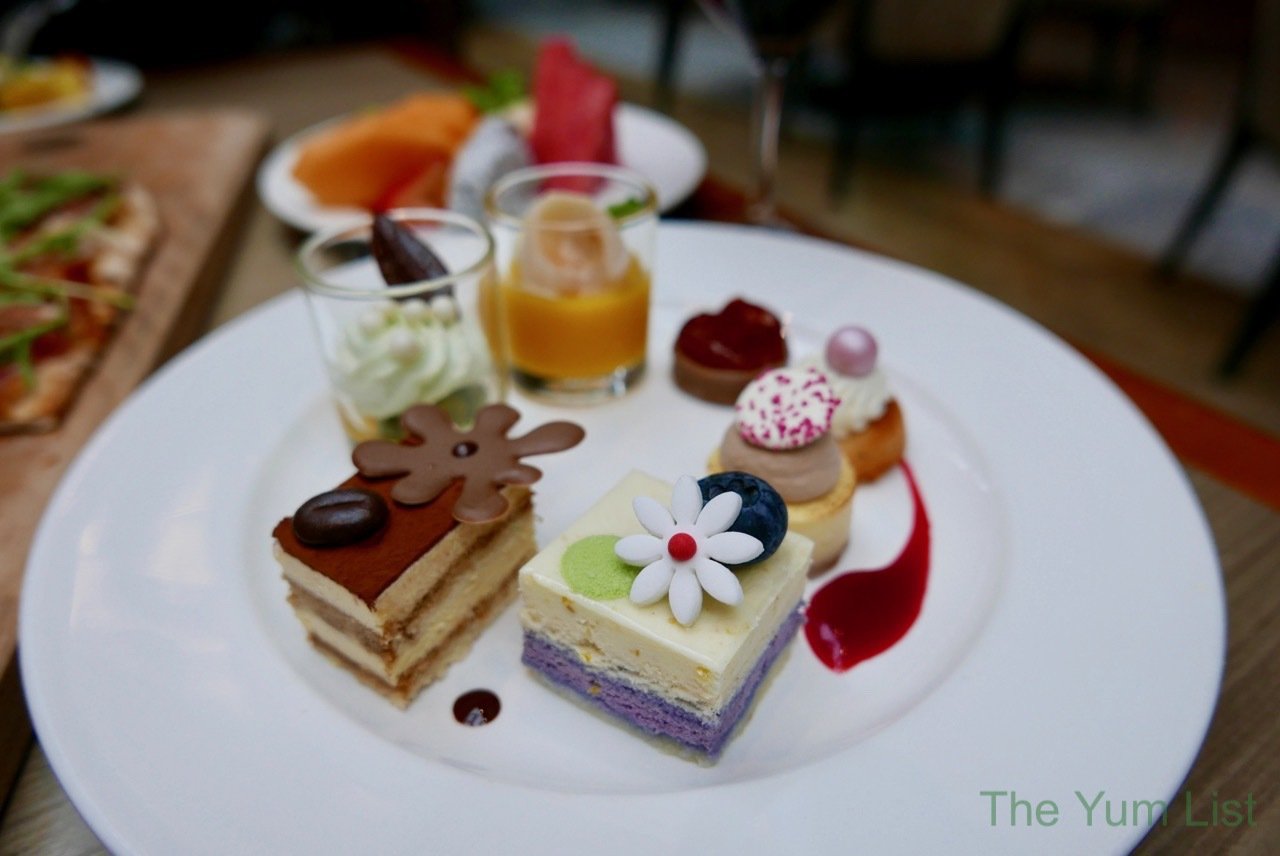 As we sit and digest, we chat with Erich Garber, Director of Food and Beverage at InterContinental Singapore. His lifetime of work in hotel F&B has led to his vision of open kitchen dining, where patrons receive all the drama and theatre of the food preparation, performed live as a key part of their dining experience. His vision has been strikingly realised in Ash and Elm, and he continues his vision in other sections of InterContinental Singapore, revealing grand plans for the refurbishment of the Victoria Bar due for completion in October this year. Sparing no expense, we will definitely be back for a visit when it opens. Co-designed by the great minds who brought us Atlas Bar, It will be truly sensational!
With a buffet to suit all tastes, Ash and Elm provides the optimum backdrop to a girls day out. Whatever your appetite, you are catered for. Some of us girls love to sit and pick at a plate of cold cuts and cheese, whilst others like to hoe into a great steak. Some will love to graze selectively, while others will taste everything on offer. Whether you have a sweet tooth or prefer savoury, at Ash and Elm everyone can have their ideal meal, with high-quality ingredients and premium preparation, meaning the focus can be on you celebrating each other's company. What is more, they can be booked for lunch meetings and celebrations for up to 40 guests, so they may well be the perfect venue for your next occasion. If you're in the mood for full decadence, book on Sunday for their Champagne Brunch with seafood.
Reasons to visit Ash & Elm: Honestly, everything! You're not going to have a bad dish here. The M de Minuty Rosé Pamplemousse is sensational, and Philippe's Salmon A La Plancha and Braised Beef Cheek are reasons alone to visit.
Ash & Elm
InterContinental Singapore
80 Middle Road
Singapore, 188966
+65 6285 1008
https://singapore.intercontinental.com/
Opening Hours Ash & Elm
6 am – 10:30 am
12 noon – 3 pm
6 pm – 10:30 pm