Monica Tindall
The beautifully adorned Sukh Mahal is the JW Marriott Jaipur Resort & Spa's all-day-dining venue. Offering international and local cuisine with open kitchens, it's the place where guests from around the world can satisfy their cravings stemming from both their stomachs and aesthetic desires.
A trio of colours in the décor reflects the change of light throughout the day from the early morning freshness of white marble, to warm midday bronze metallics to black marble giving a nod to the evening. Mosaic floors, chairs, carved cornices and even the ceiling, mirror the block print design that is seen on many Indian fabrics. During the hotter months, a table in the air-conditioned inside is best, but in the cooler weather, a table outdoors poolside is very pleasant.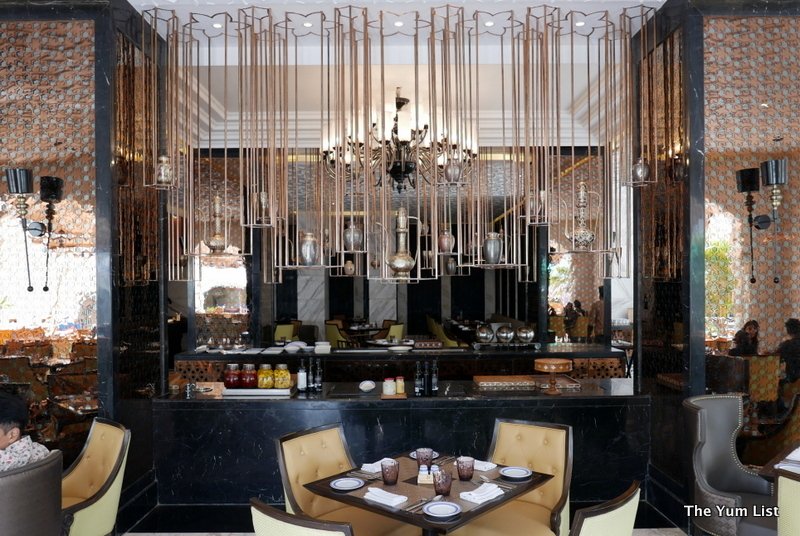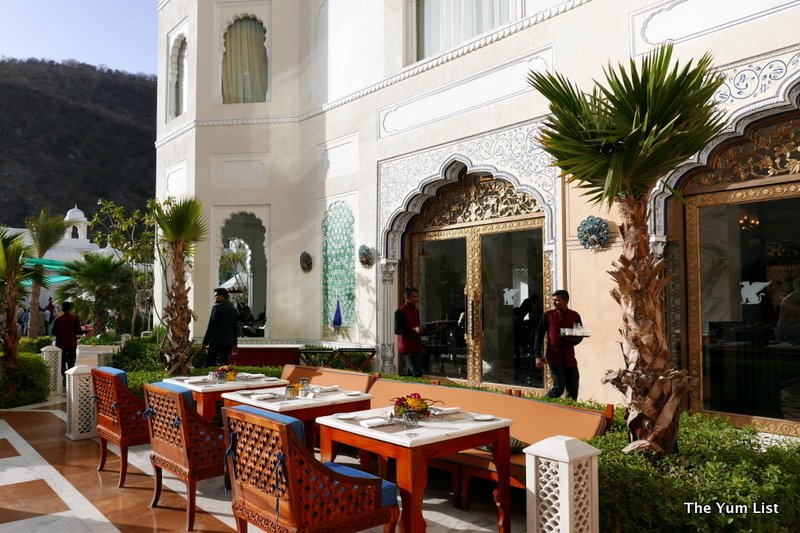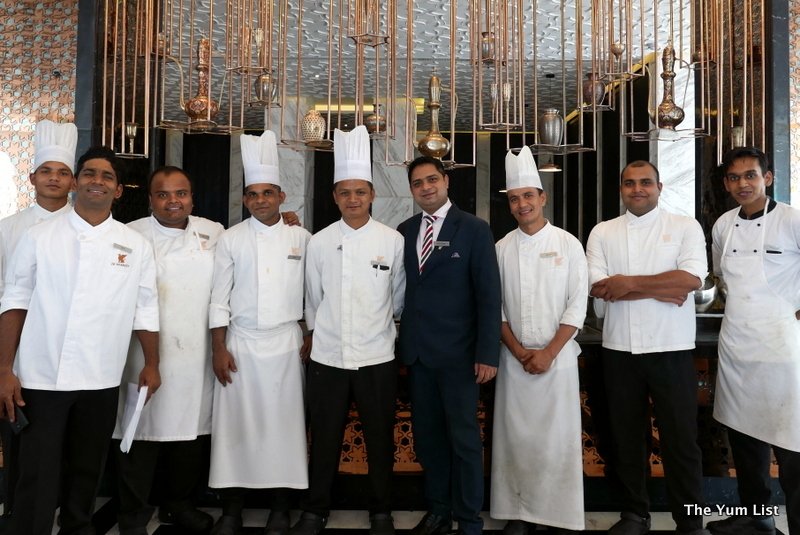 Sukh Mahal Menu
While my culinary radar is tuned into local recipes, I can't help but notice the magnificent western and international spread. Each day Indian food gets a permanent station, as do salads, hot dishes, cheeses and desserts. These recipes, however, change significantly day to day. Not only that, but two international cuisines are given a focus nightly in live cooking stations. The first night we dine it's Japanese teppanyaki sizzling on the hot plate and Italian pasta made to order. The second night we nibble on nachos and Mexican tortillas and appreciate, though we don't try them, that there is a selection of Thai curries cooked a la minute as well.
I usually focus on local dishes at buffets, not only because I'm interested in discovering local flavours but also because that section is commonly the best. This is not the case at Sukh Mahal. The western dishes rival those of any native chef. The spread of salads alone should convince you. Of course, there are veg and non-veg sections and the rainbow of ingredients would make many of my girlfriends very happy. But I digress, I want to tell you about the fabulous local dishes.
Indian and Jaipur Cuisine
Breakfast at Sukh Mahal, JW Marriott Jaipur Resort & Spa
I'm a huge brekkie fan and the Uttapam made with a fermented rice batter is something I'm sure to crave departing India. These savoury pancakes are filled with onion, tomatoes, chilli and capsicum and cooked on the hot plate bringing flavours of the south to the north. A variety of lentil stews and sambals, along with chutneys of tomato, coriander and coconut, are delicious but unnecessary as the pancakes are tasty all on their own.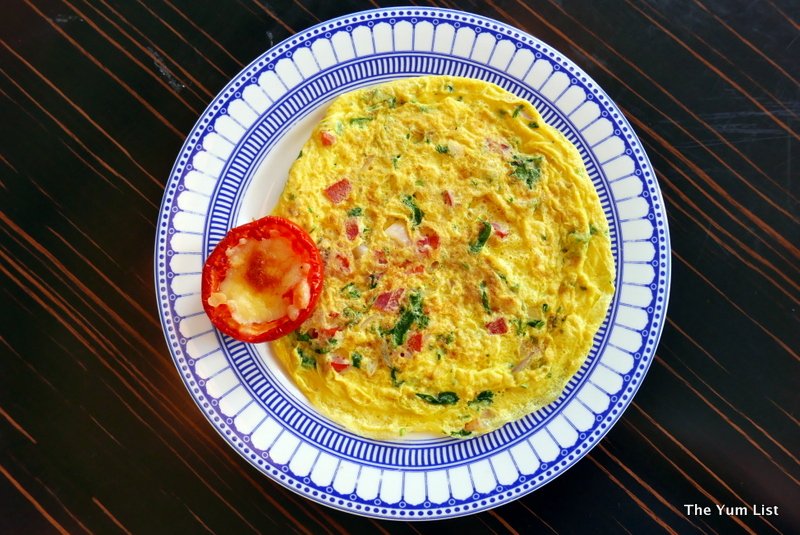 Poha seems to be a popular dish in the north with each region making their own version. This pressed rice recipe has a multitude of condiments but the ones that come to the forefront are curry leaves, mustard seeds, turmeric and lemon. On the side, chopped tomatoes, chilli, onion, lemon and gram flour crisps can be added to your liking.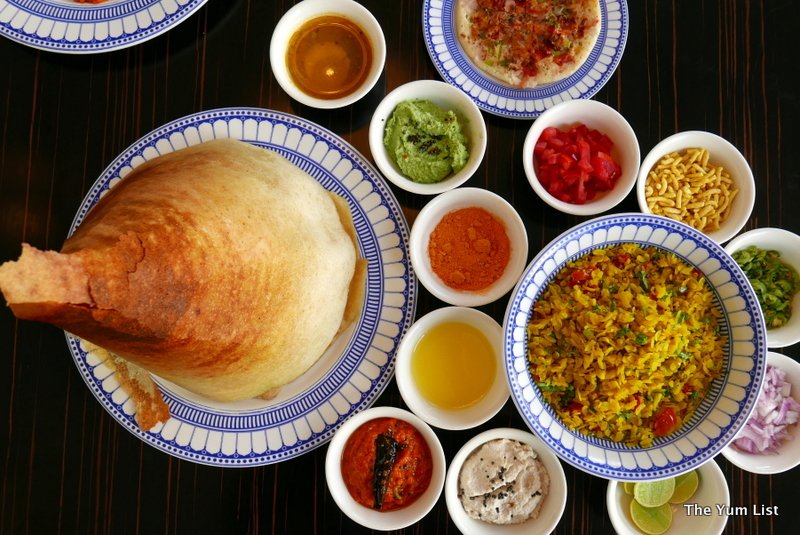 Dosa, made from a similar batter to the Uttapam, is crepe-like in appearance, a little spongy in the thicker middle and crisp on the outside and thinner edges. It can be rolled into a cylinder and served flat on the plate or shaped into a cone and placed standing like a party hat. Again, the side condiments are plentiful: gunpowder (a famous blend with a base of toor dal, moong dal, chana dal, red chillies, and cumin seeds, clarified ghee, coconut, coriander and tomato chutney.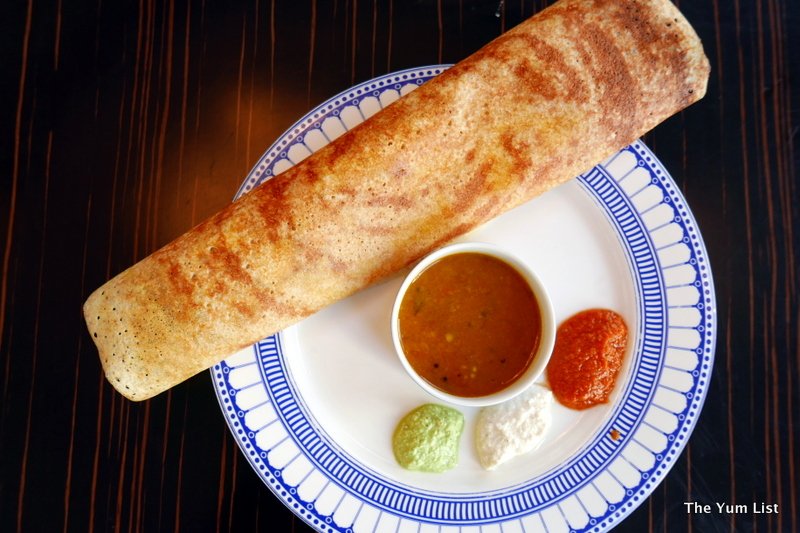 Later in the Day at Sukh Mahal, JW Marriott Jaipur Resort & Spa
Later in the day, we try a popular vegetarian starter, the Bharwan Paneer Tikka (680). This grilled cheese dish has quickly become a favourite on this trip. There's something about the texture and nuttiness of the filling that keeps us coming back for more. Cashews and pistachios are crushed with mawa (concentrated milk) and a variety of spices for the filling before being pan-seared into warm deliciousness.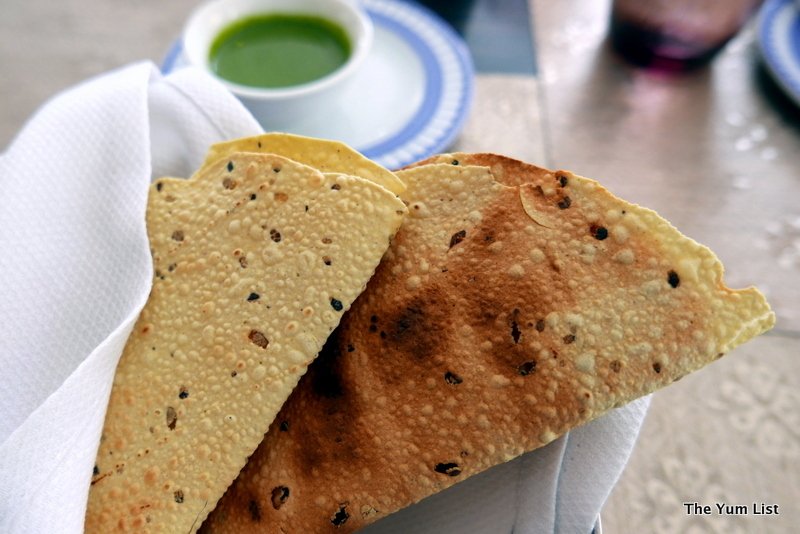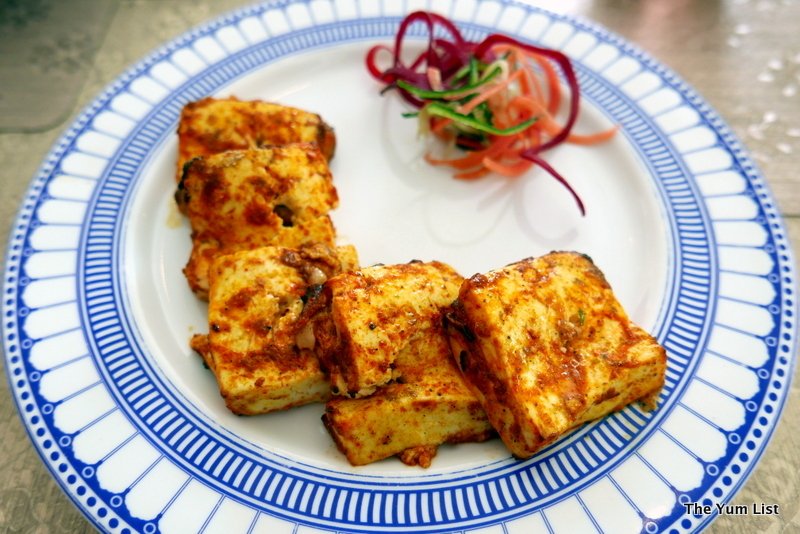 Moving into something heartier, Laal Maas (840) is a local speciality of spring lamb braised with Mathania chillies (a red variety coming from a nearby district of Rajasthan with the same name) and yoghurt. There's a mild sweetness due to caramelized onions and when the gravy separates into the base and oil, the oil brandishes a vibrant pink hue – caused by the fiery red chillies native to this region.
We back up the lamb with a Rajasthani vegetarian classic, Gatte Ka Saag (640). Dumplings of gram (chickpea) flour are seasoned with onion, chillies, salt and pepper and braised in a yoghurt gravy. The dumplings are quite sturdy in texture, giving something hearty to bite into. In all honesty, however, I'm such an addict for the creamy curry that I'd be happy just with the gravy and some naan to soak it all up.
While there are a host of Indian bread available, a simple Butter Naan (240) is recommended for our complex curries. We have to force ourselves from ordering another round, despite our fondness for the bread and gravy combo, for fear of not being able to stand again before closing time.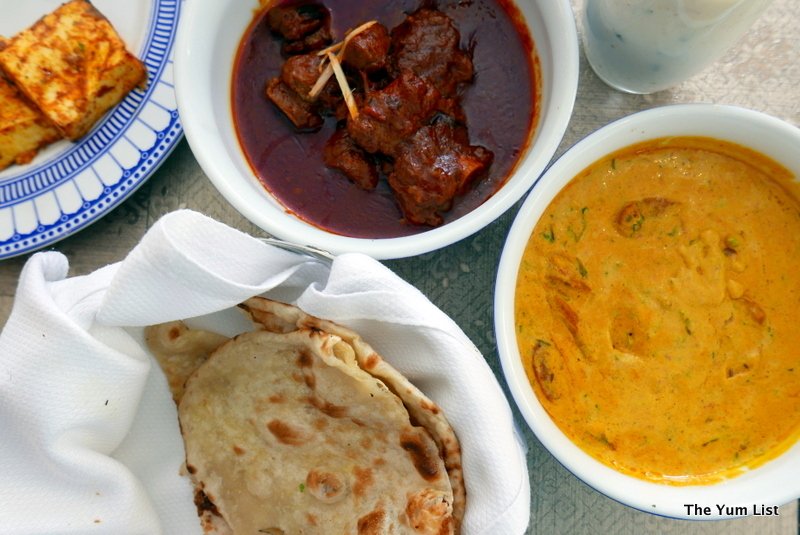 Do take note of the pretty blue plates which are sourced locally. Known simply as "Blue Pottery," the ceramics are made by local artisans with a special preparation of quartz stone powder, powdered glass, Multani Mitti (Fuller's earth), borax, gum and water.
Desserts at Sukh Mahal
Oh boy, there is a mouth-watering bundle of tempting Indian sweets available at Sukh Mahal. From Doodhiya Kheench (a warm wheat porridge with milk, cardamom, saffron and nuts) to Churma Laddoo (whole wheat flour, semolina, milk, ghee, cardamom and jaggery) to Badam ka Halwa (sugar, ghee, dried fruits, almonds, semolina) and a multitude of mithai (sweets) in between, sweet tooths find a sugary heaven.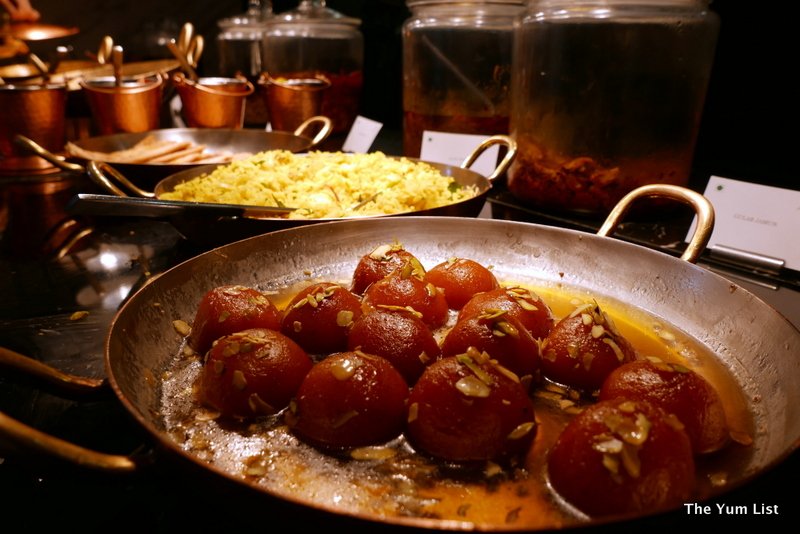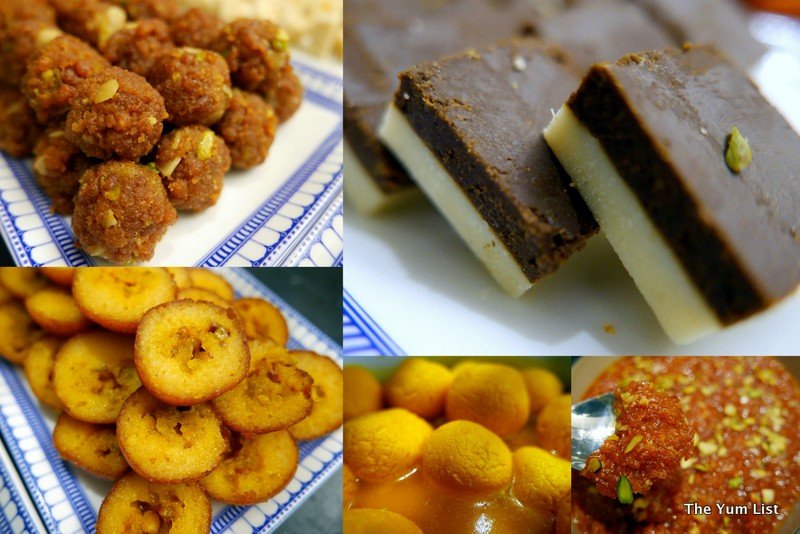 Drinks at Sukh Mahal
A refreshing drink for summer and also useful for taking the edge off the heat of some of the curries is the Masala Chaas. This spiced buttermilk beverage is made with yoghurt, green chilli, cilantro, curry leaves, black salt and chaat masala (a complex mix of spices). It's only partially blended giving the beverage texture.
Reasons to visit Sukh Mahal: beautiful setting, helpful gracious service, excellent international buffet, scrumptious Indian cuisine.