Monica Tindall
The most magnificent views of Jaipur are seen framed by the arched windows of Once Upon a Time restaurant. Set atop Nahargarh Fort, the entrance is directly aside the main gate and the dining area actually sits above the entryway. This Indian fine dining restaurant in Jaipur gifts guests with a taste of Rajasthani cuisine with vistas rivalling any of the best-located restaurants in the world.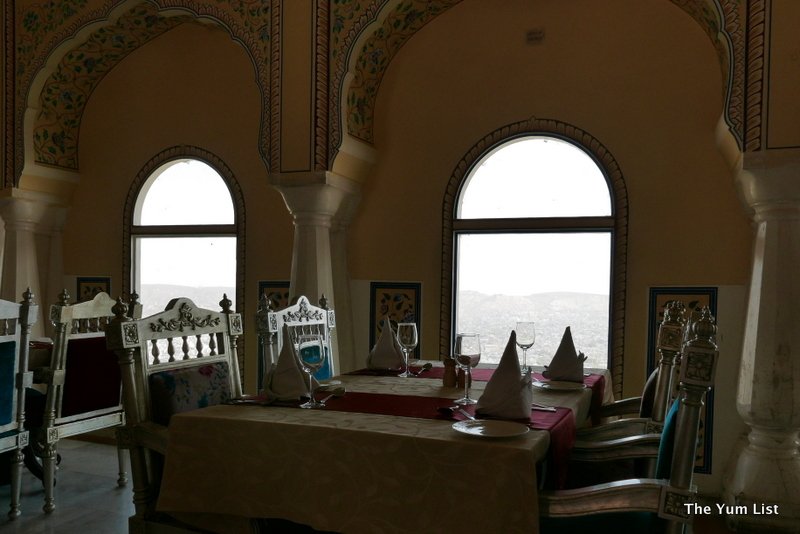 Restaurant With the Best Views in Jaipur
We visit during the day and benefit from sweeping views of the mountain-cradled city. The most popular time to visit, however, is late afternoon as the sun is about to set. The fading light from the west casts an orange glow across the city. The central al fresco courtyard is the favoured place to dine once evening has commenced, offering live music and a star-filled roof.
Guests dining in Once Upon A Time have exclusive access to parking inside the gate. All other vehicles must park in the public space provided outside. It's a tight squeeze driving through the arch but our skilled driver, provided by JW Marriott Jaipur Resort and Spa, has done this many times before.
Indian Fine Dining Restaurant in Jaipur
Greeted by smartly dressed staff, we're welcomed with rice and gram wheat papads on our table as we browse the menu. They're crunchy snacks and all too easy to quickly consume so we must take care not to fill up before the meal arrives.
Drinks Menu at Once Upon A Time
Hubby feels like a king with his Maharaja Lassi (225), or so he boldly tells the service staff. It's a famous Indian refresher made with curd and given a royal yellow hue with saffron.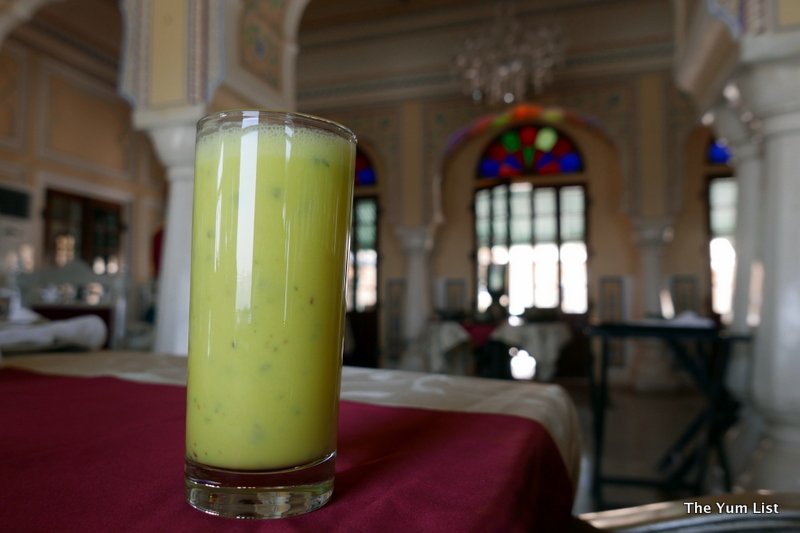 Once Upon A Time Menu
Soups
Beginning with something light, the Shahi Murgh Shorba (280), chicken soup, looks deceptively simple yet proves a flavourful broth with small pieces of chicken adding texture.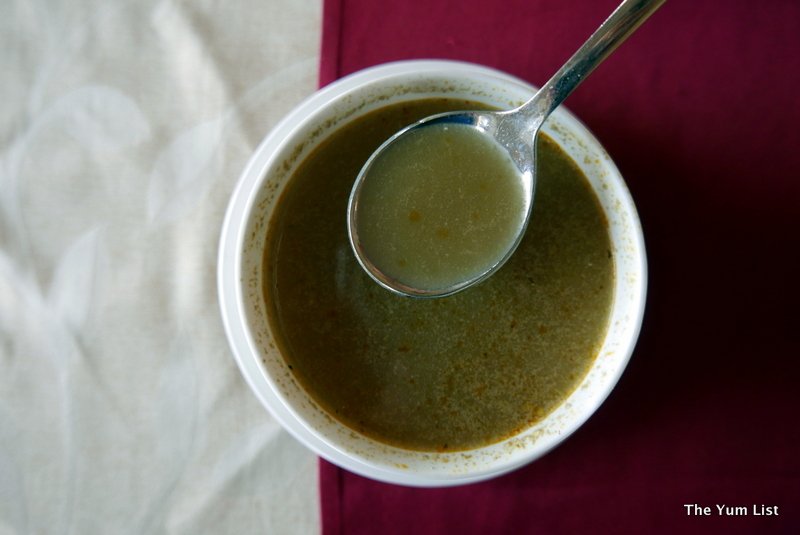 Starters
While hubby's choices are mostly non-veg, I love that there are so many plant-based options in India and find the Jal Mahal ki Khoj (655) a very filling starter. Barrel-shaped potatoes are stuffed with crushed nuts, dried fruit and cheese and cooked in the tandoor. Superb!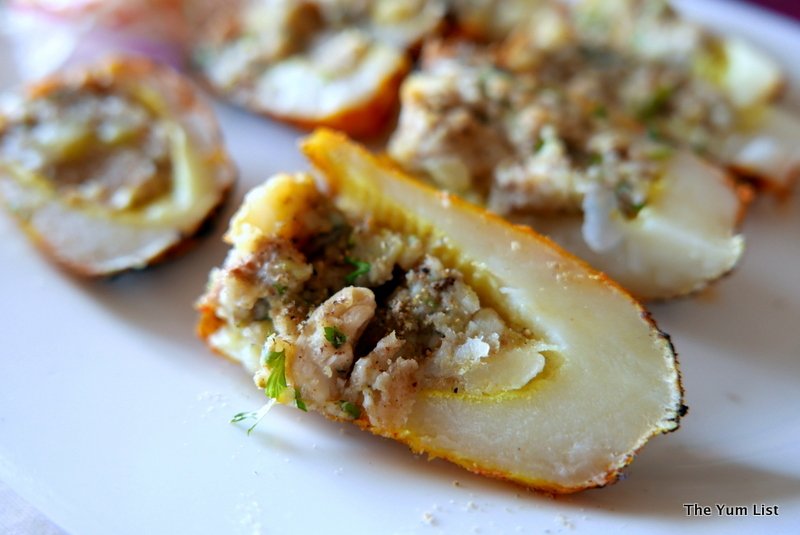 Hubby's starter of Mahi Hariyali Tikka (895) keeps him satisfied. Pieces of moist white fish are marinated in chef's special green masala and charred around the edges imbuing a warm smokiness throughout the flesh.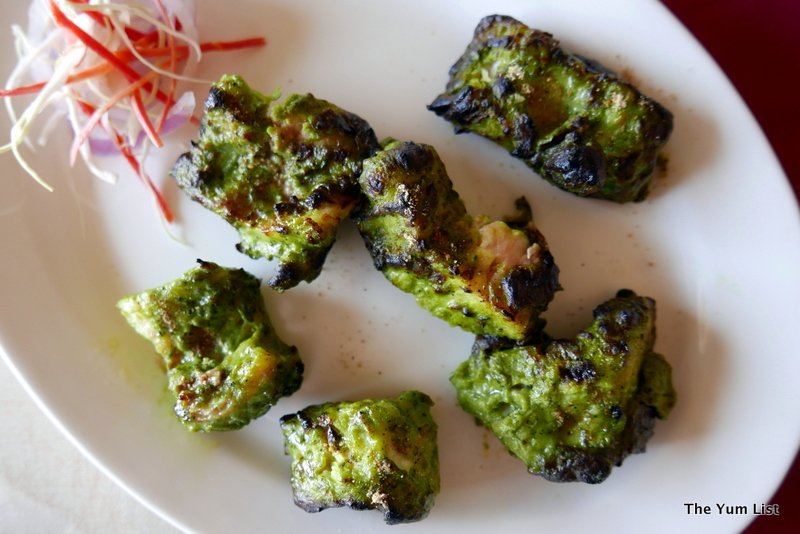 Main Menu at Once Upon a Time Restaurant
We order a mixture of saucy dishes that are perfectly soaked up with warm Tandoori Paratha Pudina with Mint (180) and Cheese Naan (220). I've grown rather fond of the handmade white cheese found in abundance in the region so can't resist the Paneer Palak Naguri (895). This recipe sees the semi-soft cubes of cheese simmered in a deliciously creamy spinach sauce. After the plateful of potatoes to begin, I'm thinking I may have over ordered with the addition of Kaju Mutter ki Mel (895). It sounds too irresistible not give it a try though: cashew nuts and green peas are braised in a rich spicy tomato and onion gravy – delish right? Yep. Confirmed. Meanwhile, hubby reports that his main, Murgh Shekawati (895) is a tasty item worth a repeat order. This traditional Rajasthani dish of chicken cooked in a mildly spicy saffron coloured sauce is one of the restaurant's best-sellers.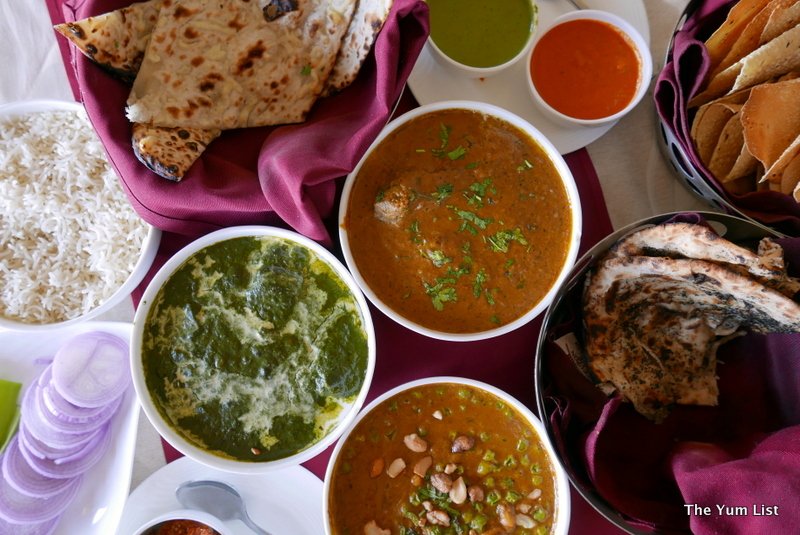 We leave with happy hearts and satisfied tummies. Service has been gracious and knowledgeable, the views fantastic and the food superb. For a special meal, a visit to Once Upon a Time Restaurant should be on every gourmet's list when visiting Jaipur.
Reasons to visit Once Upon a Time Restaurant: fabulous views of Jaipur; fine Rajasthani cuisine.
Once Upon a Time Restaurant
Madhvendra Palace
Nahargarh Fort
Jaipur, Rajasthan 302002, India
+91 91160 48101