Monica Tindall
Mohan Mahal at the JW Marriott Jaipur Resort & Spa offers a one-of-a-kind experience that no serious gourmand should miss.
Inspired by the Shish Mahal (Mirror Palace – built by the king for his queen who loved to sleep under the stars), there's not a single electric light in the restaurant; the entire room is lit solely by candles and their reflection off thousands of tiny mirrors. It took two craftsmen three years to complete the mosaic interior, and thanks to their dedication and fine Indian cuisine by JW Marriott Jaipur Resort & Spa's chefs, now we too can dine as if Royals of Rajasthan.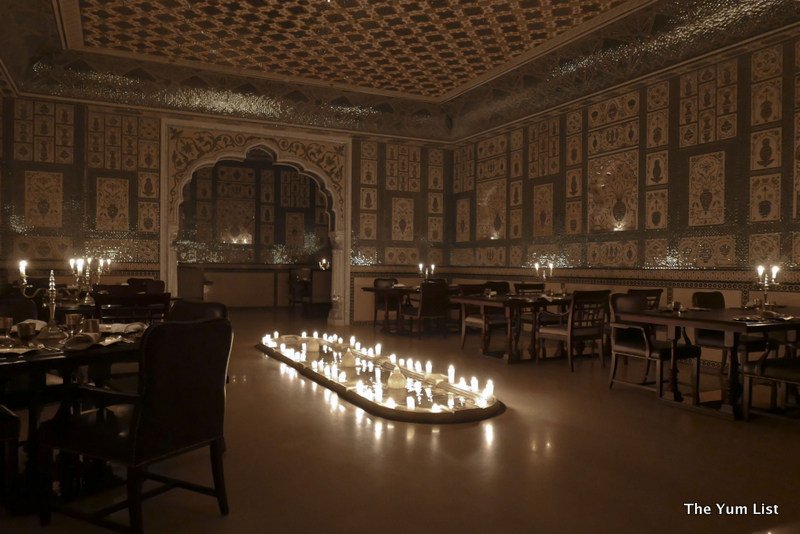 Mohan Mahal Menu
Mohan Mahal, JW Marriott Jaipur Resort & Spa's signature restaurant, offers a dinner set of Rajasthani cuisine (veg or non-veg thali) priced at INR 3500 + per person.
Soup
A local soup of Khado begins our northern food journey. Made with yoghurt, gram flour and tempered with coriander seeds, red chilli and cumin, it has a pleasant sour tang and is a tasty warm-up for what's ahead. Bati, whole wheat crackers cooked with charcoal, are similar to croutons but a good bit denser and give the cream a good nutty crunch.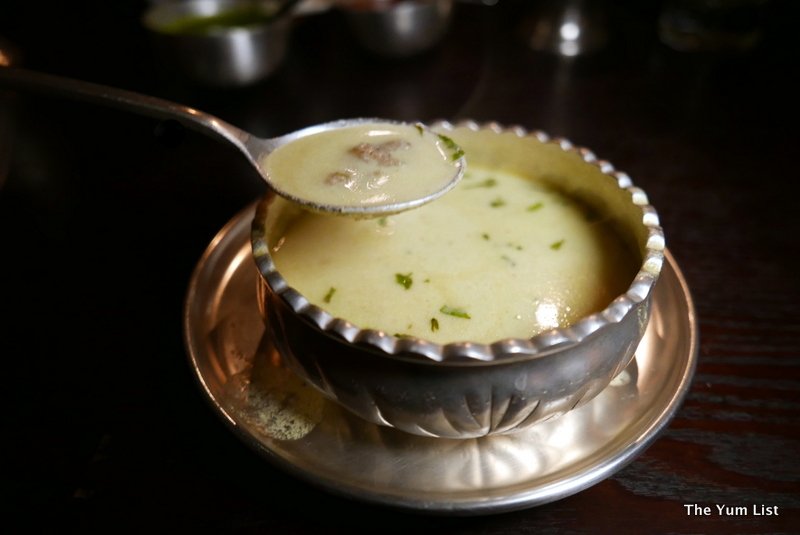 Starters
A silver platter holds a trio of appetizers; Paneer Ke Sooley, Sangri Ki Shammi and Papad Mangodi Ke Kebab. The first is our favourite; stuffed cottage cheese marinated in Mathania chilli and cooked in the charcoal oven. The second, Sangri Ki Shammi, mashes local wild berries and beans together into a patty with yoghurt and green chilli. They're grilled until slightly charred and go nicely with the yoghurt chutney. Lastly, Papad Mangodi Ke Kebab, are deep-fried dumplings of dried lentils and gram flour. The tomato and jaggery gravy does well with these crunchy bites.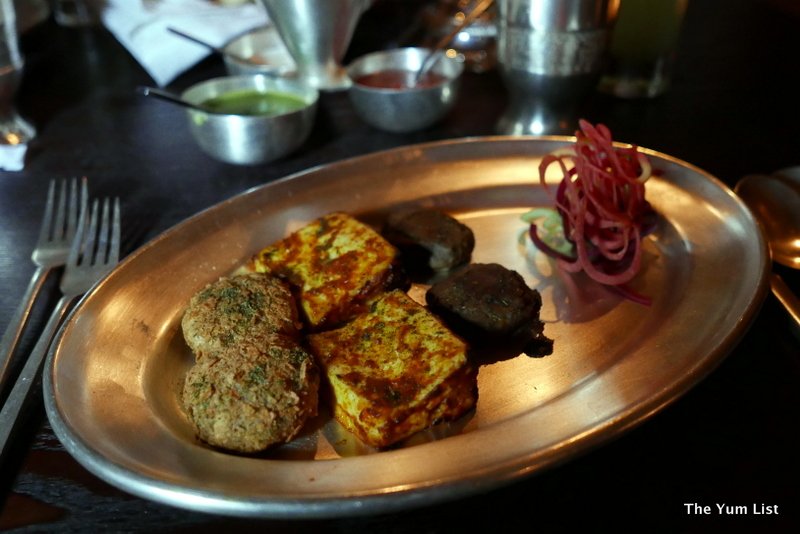 Mohan Mahal Rajasthani Thali
A beautiful thali holds a kaleidoscope of small dishes, some familiar, most new to us, and we can't wait to begin exploration.
The first we try, the Paneer Dana Methi, is often used as a local medicine for people with stomach upsets. The cottage cheese braised in a pumpkin and tomato gravy and tempered with fenugreek seeds is absolutely scrumptious.
Next, cooked for six hours, the Shahi Gatta Curry is rich in flavour. Gram flour dumplings filled with khoya (reduced milk) and dried fruits and nuts are braised in a superbly creamy onion, yoghurt and gram flour gravy.
Continuing around the circle, native wild beans and berries are cooked with tomatoes and yoghurt in the Ker Sangri. Being seasonal, the fruit and veg are preserved as a way of keeping them throughout the year. They're mildly sweet, salty and sour and are mixed with curd and local spices. Panch Puran masala is a key seasoning from the region used to flavour this Rajasthani dish with five spices; cumin, coriander, onion seed, fenugreek and fennel.
Pappad Mangodi Ka Saag is another unique dish of sundried lentil dumplings and lentil crackers with tomato, onion and herb gravy.
We love dipping, picking, mixing and trying various dishes on their own. Seeking some assistance, however, we learn that the locals combine the dal, baati and choorma together for an authentic experience. Dal Panchmel is a mix of five lentils grown locally with ghee, cumin, red chilli, garlic, coriander and asafoetida powder (an extract from a desert plant imparting a flavour similar to that of leek) and a whole lot more that I can't keep up with. Baati (whole wheat dumpling slowed-cooked for two hours in ghee over charcoal) and Choorma (similar to baati but made with gram flour) crumbled together with sugar and pistachios, add texture, sweetness and nuttiness, and expand in the mouth ensuring that all taste buds benefit from a little tickle.
Steamed Basmati Rice, Missi Roti (braised gram roti with chilli cooked in the clay oven), Plain Roti (whole wheat flatbread), and Bajra Roti (millet flour flatbread) are ideal sponges for lapping up the rich sauces.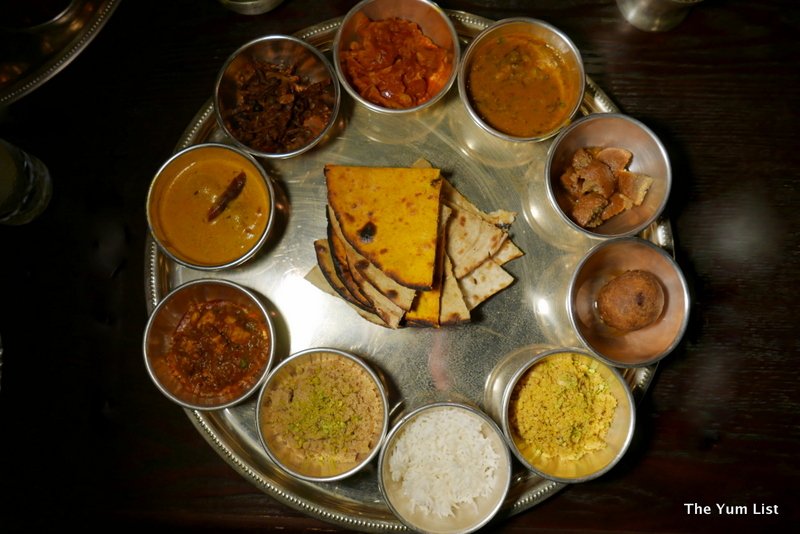 Dessert at Mohan Mahal
We started with a trio and also end with a trio, this time a sweet triage of Malai Ghevar, Lapsi and Doodh Ke Laddu. The first is a classic Rajasthani dessert of deep-fried pastry made with reduced milk and flour, dipped in sugar syrup and topped with reduced milk. A single piece takes around 10 – 15 minutes to prepare, ending with multiple layers of pastry. The second is broken wheat cooked with sugar syrup, lots of ghee and cashews, and the last, are deep-fried gram flour and milk dumplings soaked in sugar syrup. Each with various portions of sticky, oozy, fragrant bites of ambrosial deliciousness.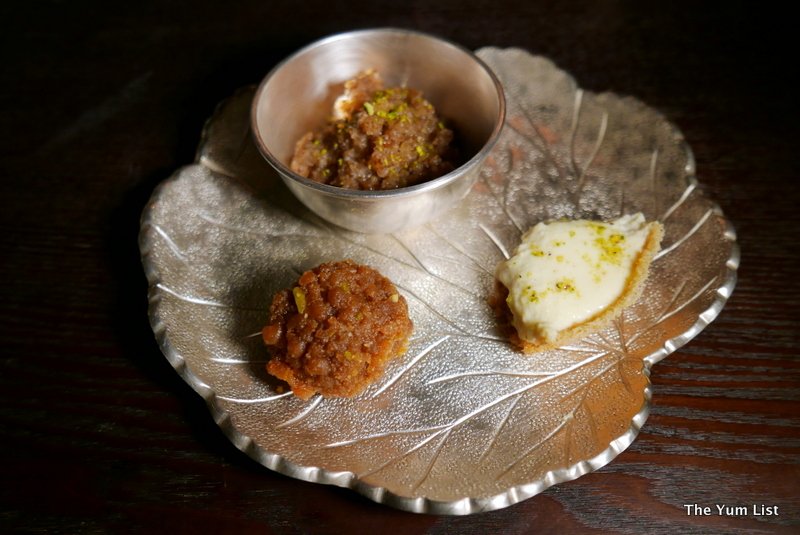 Our dining experience at Mohan Mahal feels as if we've uncovered the secret gem of Jaipur; a masterpiece in setting crowned with fine food and service.
Reasons to visit Mohan Mahal: incredible setting lit only by candles, fine Rajasthani cuisine, gracious service.
Opening hours Mohan Mahal: daily for dinner