Words: Patricia Podorsek    Photos: Monica Tindall
With no shortage of hipster eateries in our beloved Bangsar, you'd think that any appetite might be satisfied by the vast array of Double-Glazed Miso Pretension and Sous Vide Snazz. Yet menus still tend to be dominated by flesh. Most continental menus wouldn't dream of dropping their grilled chops or bacon-dressed salads. Likewise, Asian palates crave the salty kiss of fresh prawns and fish curry. Non-flesh eaters are the ones left hungry for choice in the Malaysian market. One restaurant is working to change that.
Vegetarian Menu W1 Bangsar
For the month of May, W1 Bangsar is offering a "Lean Green" menu of five artful creations targeting the vegans and vegetarians in our community. The bestsellers of these five will make the cut for the permanent menu in the weeks that follow.
Drinks Menu W1 Bangsar
As with any good British gastropub, drinks are the opening to a great meal. Thankfully, no one has yet conceived of a Meat Martini, so the vegetarians among us are safe. Steamy afternoon that it is, a Pimm's Cup #1 (RM25) hits the spot for refreshment and revival. W1 Bangsar's version of this English classic pours booze and bubbles over loads of citrus slices and ice. With it's 'gulp-ability' rating, the good news for you and your friends is that it's available by the glass AND the carafe (RM80).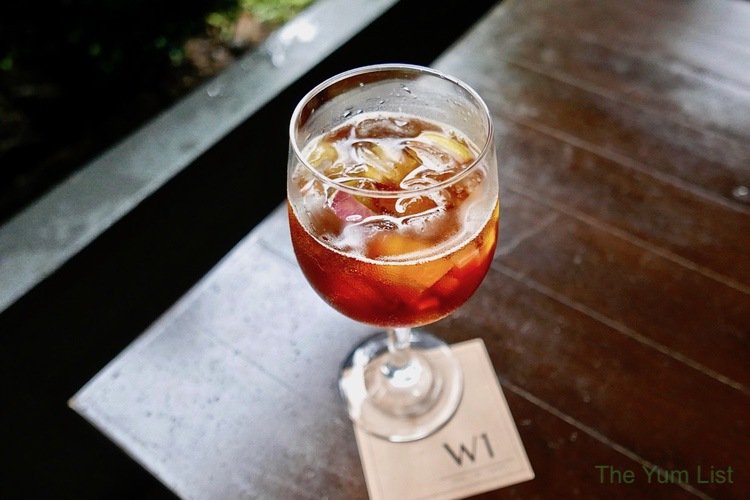 Another light bit of effervescence is the Strawberry Mojito, still in the R&D phase. This glass of bubbles brings the understated flavor of fresh berries, without being too sweet or syrupy. W1 Bangsar has several streetside tables and the cold drinks offer relief to the post-storm humidity of our visit.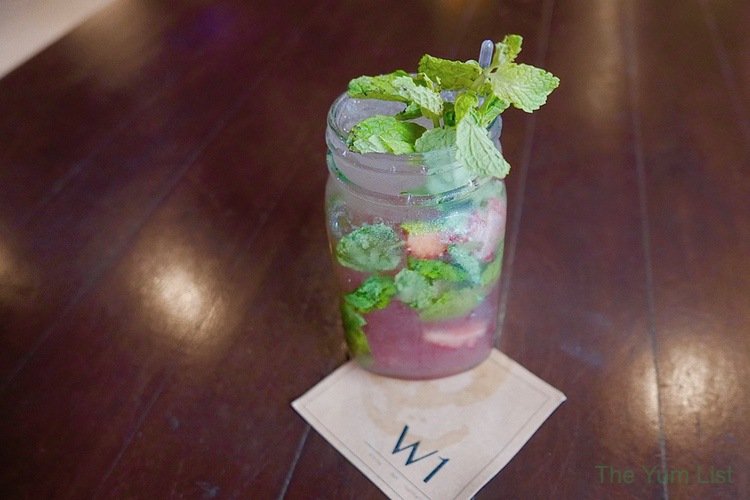 My favorite kind of refreshment adds caffeine to the cocktail spur, so we are delighted to indulge in a glass of Morning at the Met (RM30). Here Absolut is added to espresso in true martini fashion but then is dressed up with a splash of Frangelico and creme de cacao. The hazelnut undertones bring a subtle richness to the drink, already adorned by creamy foam.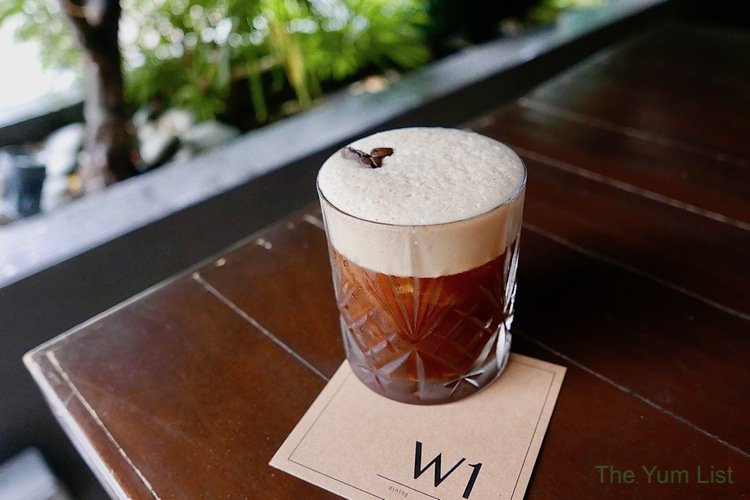 Meatless Every Day at W1 Bangsar
Perked up, we are ready for the main event. The first item off the Lean Green menu is W1 Bangsar's Cauliflower Steak (RM18), which roasts a half head of cauliflower to crisp-tender and tops with a walnut caper salsa. Very garlicky beetroot tzatziki adds tang and color to the plate, balancing the textures and overall presentation. Garnished with a grilled scallion, I loved the way the flavors unpacked in each bite and found myself wishing for a little bread to soak up the last of the olive oil when it was done.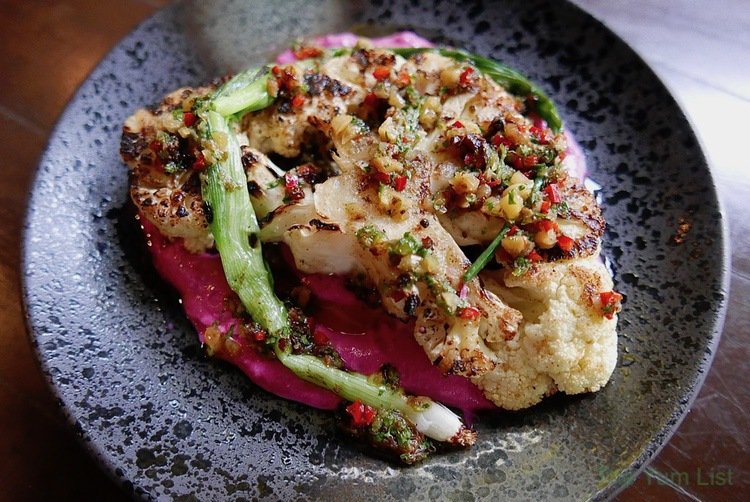 Next up is the vegetarian staple Falafel (RM14). Now, we all know there is falafel and then there is Falafel. W1 Bangsar's version is not the frozen-mealy-deep-fried variety, but homemade patties gently moulded and pan-fried for a finish that does not require a pita wrap to enjoy. Served on a bed of green tahini with a side of garlicky tomato tabbouleh, these bean cakes balance texture with fresh herbs and spices.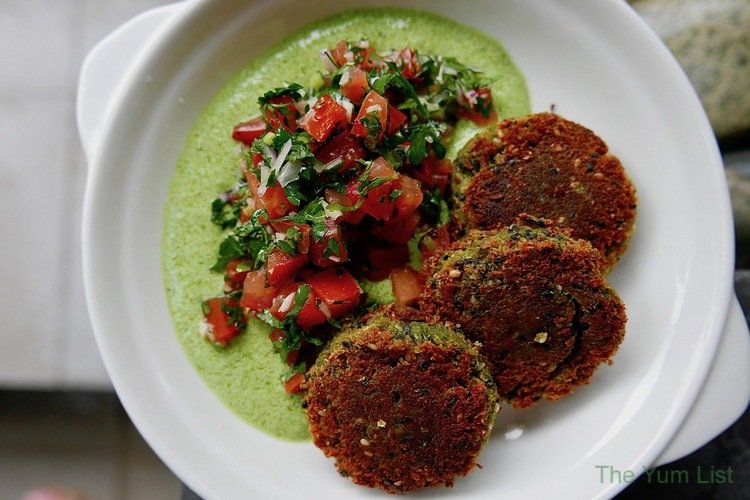 Winning the award for fusion on the new menu is the Stuffed Eggplant (RM22). Chunks of fried tofu give the stuffing a meaty texture, further enhanced by slices of red pepper and crunchy pine nuts. The creamy sauce marries feta cheese with cumin-y undertones and the occasional burst of fennel. Delicious.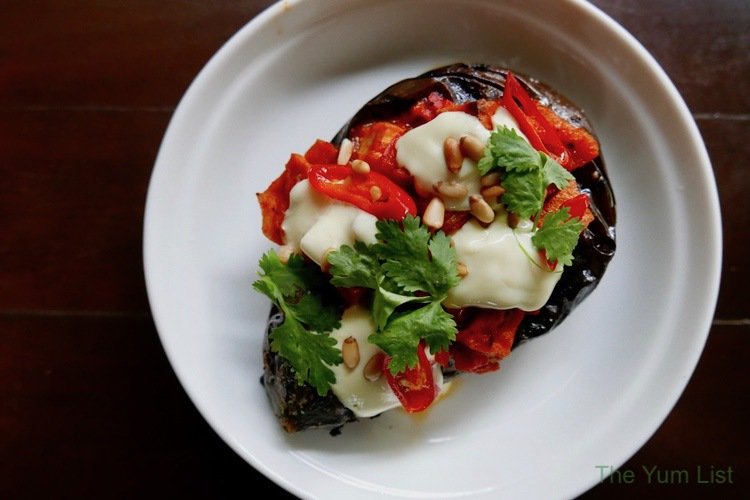 The black bricks and exposed ceiling pipes create an urban chic ambience to W1 Bangsar, an artsy spirit that is somehow both graffiti and goth. Twinkle lights add warmth, as do the splashes of red, including a red lightning bolt on the face of Queen Elizabeth! W1 is working to build its nightlife as well as its cuisine. At least once per month, they host special theme-based evenings like Masquerade or Mumbo Jumbo. If you look closely at the photo, you'll see that poor Winston is still recovering from the last one!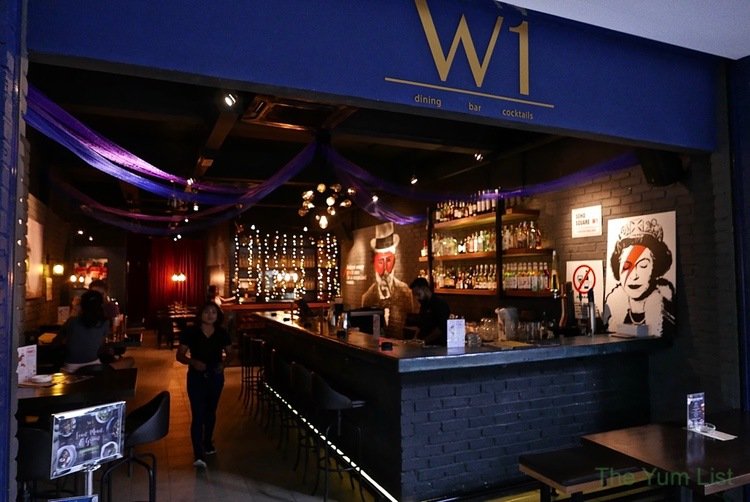 Our next course arrives with the Grilled Avocado (RM22), an absolutely fabulous cohesion of texture and taste. Grilling the avocado produces an uber-creamy centerpiece that offsets the graininess of quinoa and the crunch of sesame and pumpkin seeds. Thin scallion grass adds a little bite to the kick of chili oil. The glue that brings the flavors all together is the sweet and smoky burnt onion puree. Spectacular. This is one of the two dishes that win my vote for a permanent position on W1's menu.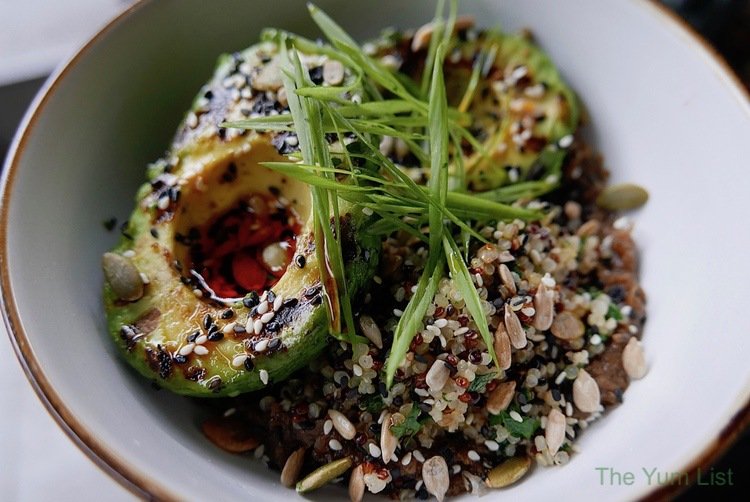 But the one dish we all agree is the favorite for the contest is the Roasted Carrot (RM18). Long spears of sweetly roasted carrots lie atop a bed of cauliflower rice flavored with tahini, currants, pistachio dukkah, and brown butter. I'm not sure I understand the magic of turning a humble carrot into something so special, but I am willing to trust this rabbit out of the hat. Or out of the kitchen, as the case may be.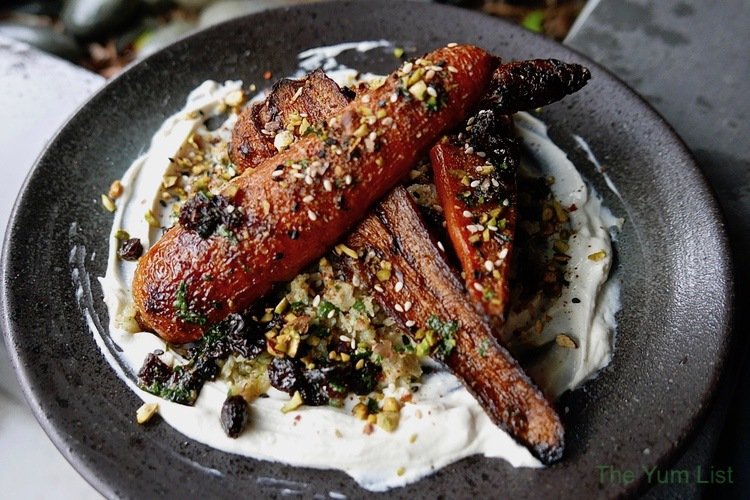 Dessert Menu W1 Bangsar
Never one to say no to the demands of my sweet tooth, I am happy to sample the Sticky Cola Pudding (RM20). Dense chocolate cake is garnished with vanilla ice cream and poured over with caramel sauce. You can never go wrong with a chocolate and vanilla mix, but I'm even happier to try the Peanut Butter Shots. W1 makes their own peanut butter vodka! Mixed with something creamy, these are a reason to skip dinner altogether.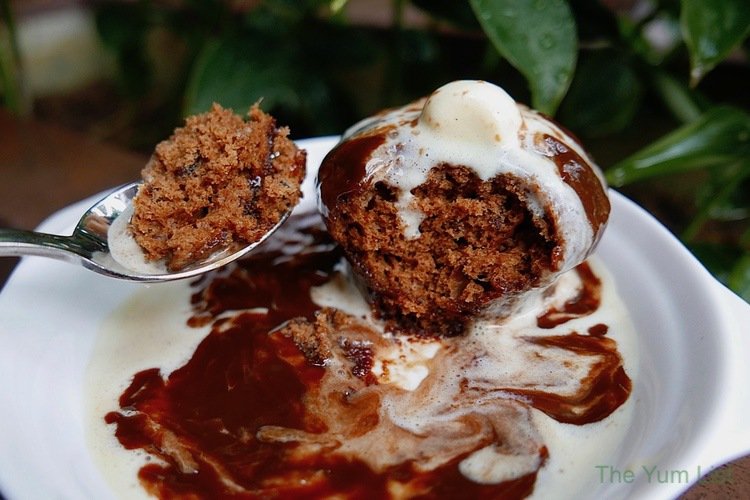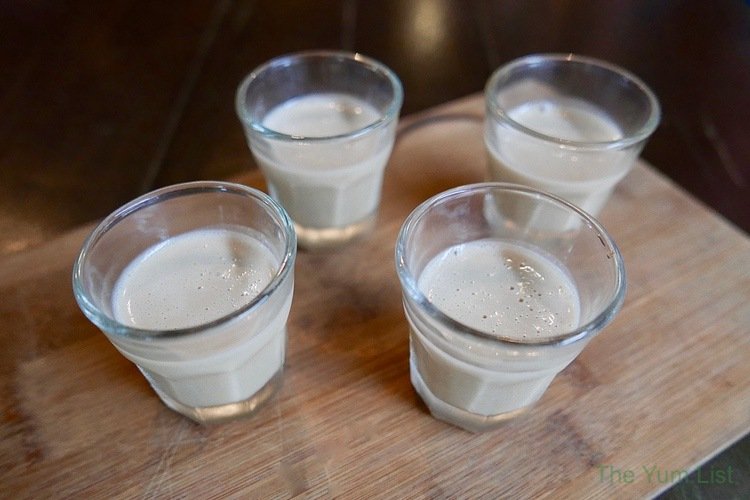 Vegetarians and carnivores alike will find favor with the menu and experience at W1 Bangsar. This hipster restaurant delivers style in its ambience, its food, and its cocktails.
Reasons to visit W1 Bangsar: A trial "Lean Green" menu runs through the rest of May. Make sure to try the Roasted Carrot and the Grilled Avocado.
W1 Bangsar
22 Jalan Telawi 2
Bangsar Baru
59100 Kuala Lumpur
+6 016 221 6512
www.w1asia.com/index.html
Opening Hours W1 Bangsar
W1 is open for dinner Tuesday – Saturday from 4:00 PM – 1:00 AM. They extend their hours on Sunday to include lunch, from 12:00 PM – 10:00 PM. They are closed on Monday.