Words: Shaun Humphries     Photos: Monica Tindall
I've only spent a grand total of 19 days out of my 39 years in Japan, but in that short time, I haven't found much not to love. The polite, respectful culture, the efficient, modern transportation, and of course, the delicious, inventive food, make Japan an awesome place to visit.
Unfortunately, Tokyo is a 7-hour flight from KL. But fortunately, we've got plenty of local spots to sample Japanese fare. And, a recent rainy Saturday evening The Yum List's visit to Mo-Mo Paradise's new location, provided an outstanding opportunity to devour one of my favourites – shabu-shabu.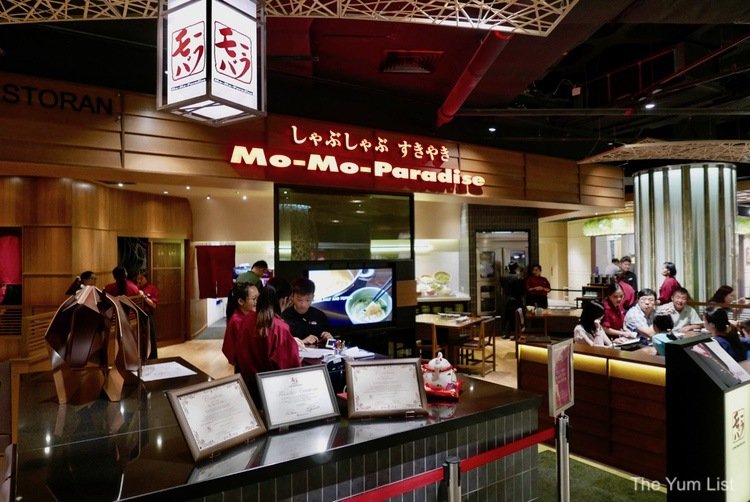 Mo-Mo Paradise J's Gate, Lot 10
Located in the freshly opened J's Gate food emporium on the 4th floor of Lot 10, my first impression of Mo-Mo Paradise was that of a casual, fun spot to cook and eat a meal with friends. Walking in, my eyes floated to the comfy seating arrangements, the overflowing fresh salad and vegetable bar, and the slick, built-in tabletop burners.
Greeted by our friendly server Mylene, and restaurant manager Cherry, we were given the complete rundown of how it all worked. Basically, we had a large pot of boiling broth and could throw in as much meat, veg, noodles and anything else we could find. After everything was properly cooked and seasoned in the broth, we were supposed to take it out of the soup, quickly dip it in a number of sauces, and then fire it down the hatch.
Of course, Mylene and Cherry's instructions were much more refined and informative than that, but I have a very short attention span when I'm hungry.
Our first, and most important choice of the night, was to decide what type of soup to heat up – the sukiyaki or shabu-shabu. Sukiyaki-style broth offers a rich flavour, seasoned with soy sauce and sugar, while shabu-shabu is like a hot pot, cooked like soup, and tends to be more savoury and less sweet.
To make things easy, we went with both styles. The Mixed Soup Course (RM76/person) includes all you can eat beef (chuck roll, brisket and shoulder blade), pork (shoulder loin and belly), vegetables, rice, ramen, udon, ice cream, tea and water. By adding RM4.50 per person, you can get free flow soft drinks and coffee too. We skipped the pop though and went right for the booze.
The Hakutsuru Sake (RM15 per 100ml or RM115 per 1.8 litre) was a perfect complement to a night of gorging on meat and noodles. Drinking shots both warm and cold throughout the meal cleansed my palate in between bites and kept my headlight and airy for the task at hand.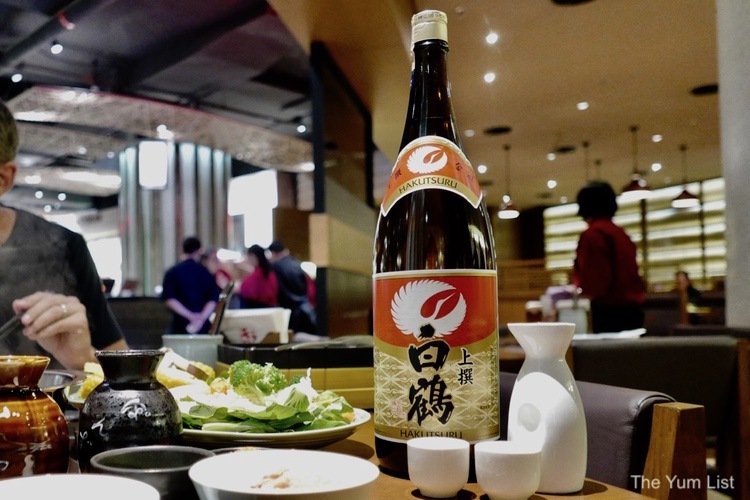 Even though Mylene and Cherry provided perfect instructions on how to prepare the food, I pretty much let them do all the work.
In the sukiyaki broth, the ladies first added vegetables like corn, eggplant and mushrooms to the pot. And then as the soup boiled, they swished a piece of meat back and forth, grabbed some vegetables and dipped it all into a raw, fresh kampung egg. At this point, all I had to do was take the chopsticks from them, open my mouth, chew and swallow. So rich and delicious.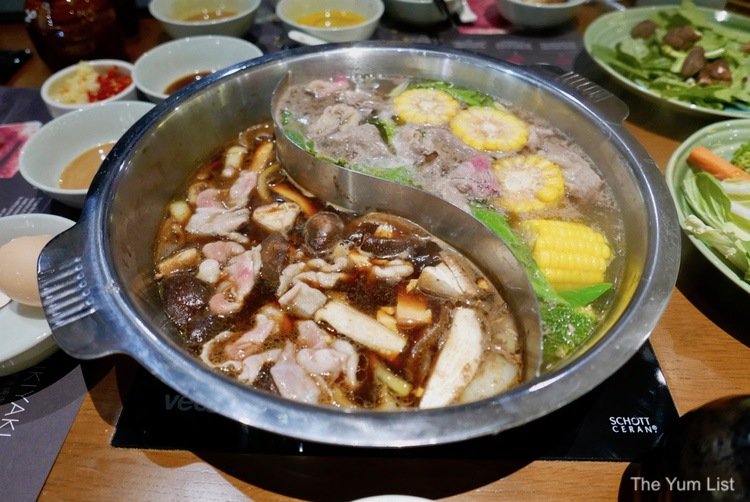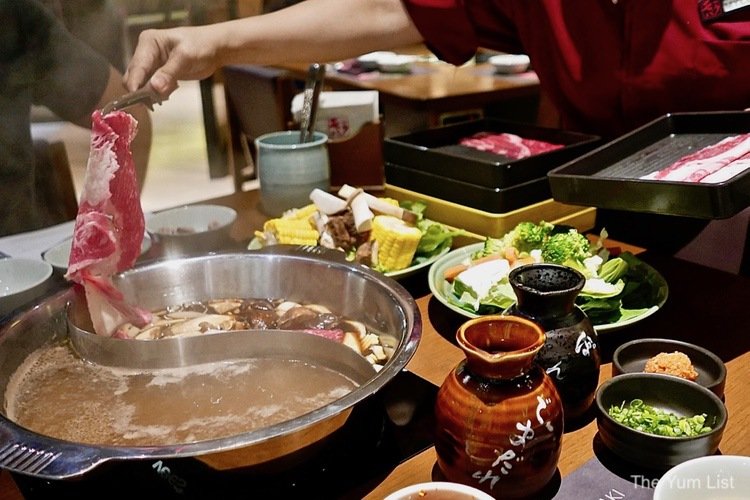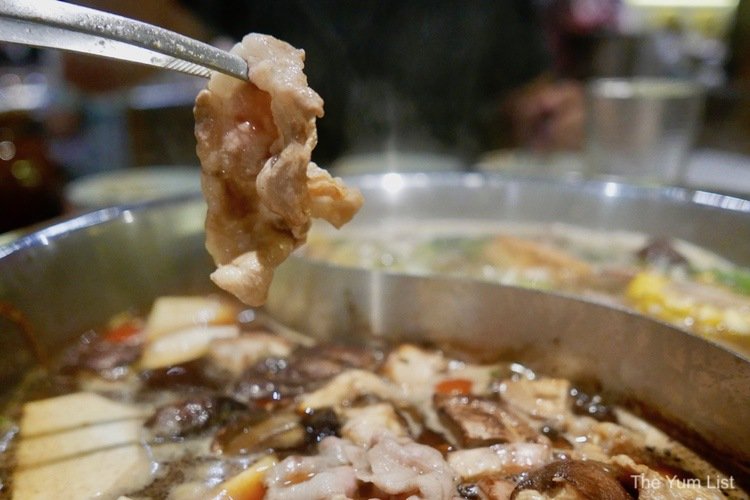 The shabu-shabu was a simpler process. Mylene started us off by adding the meat to the broth followed by the veg. Once that was cooked, it was all ready to be dipped into one of two delicious sauces – and that's when I took over.
Both the ponzu, a citrus-based sauce with a tart-tangy flavour similar to a vinaigrette, and the gomadare, a creamy sesame sauce featuring a tinge of garlic and ginger, went along great with the soft, melty meat. And when I added in extra bits of garlic, chillies and spring onion, the flavour was off the charts.
After a while, I lost all control of myself and started dipping everything into all the sauces at once. Definitely not recommended by experts like Mylene and Cherry, but I was enjoying myself and they politely indulged me.
As the meat and veg continued to freely flow into and out of the pots, we also threw in some ramen and udon noodles. It was at this point where we had to raise the white flag when it came to adding more cuts of meat. Because although it was tasty, we didn't want to get a case of the gout.
Slurping up the noodles and scraping my dipping sauce bowls dry, my belly had expanded beyond any reasonable limits, so naturally, it was time for dessert.
A refreshing bowl of chocolate and vanilla ice cream was a very swell way to end the meal along with a few more hits of sake. And even though we took our time, we were still well within the 100-minute time limit allotted for each table.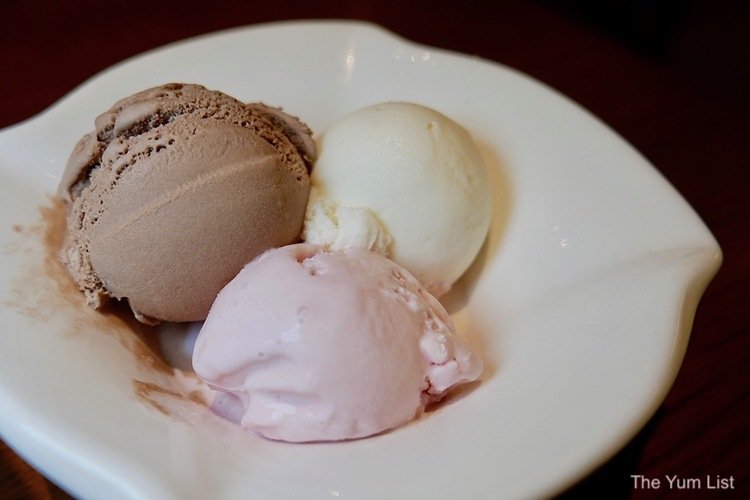 As we said our goodbyes and I apologised for the mess I made, I couldn't help but think of all the new things I could boil and dip on my next visit.
Reasons to visit Mo-Mo Paradise: A casual, comfortable place to share a fun meal with family and friends. The experience of cooking, dipping, slurping and laughing together is well worth the price of admission.
Mo-Mo Paradise
J's Gate, 4th Floor, Lot 10 Shopping Mall
50 Jalan Sultan Ismail
50250, Kuala Lumpur
+603-2110 3588
www.facebook.com/momoparadisemy
Mo-Mo Paradise Opening Hours:
Daily 5 pm – 11 pm