Words: Tania Henry   Photos: Monica Tindall
Tight traffic jams, tooting horns, mysterious alleyways, wait staff using the pavement as their personal stage in an attempt to entice you for a bite to eat, and chattering businessmen perched on bar stools sipping late afternoon spirits: one might think that I was describing the bustling streets of Rome but I am actually referring to the bar district of Kuala Lumpur, the famous Changkat. Tucked away between 'Never Mine Bar' and 'Sutraa Kitchen Bar' lies a surprisingly authentic piece of Italy right here in KL – The Italian Market.
Stepping from the hot and busy streets we were welcomed warmly by the chef Marco. He lead us proudly through his industrial style restaurant of concrete walls, steel shelving, terracotta striped floors and weathered wood tables all dimly light by an abundance of Edison lights. The well-stocked bar created an ambience of its own, bottles of all shapes and sizes ranging from Chivas Regal 18 whisky to Grey Goose vodka. The spirits all centred around eloquent bottles of grappa with necks as long as a dancer's legs ready to be indulged as an after-dinner delight.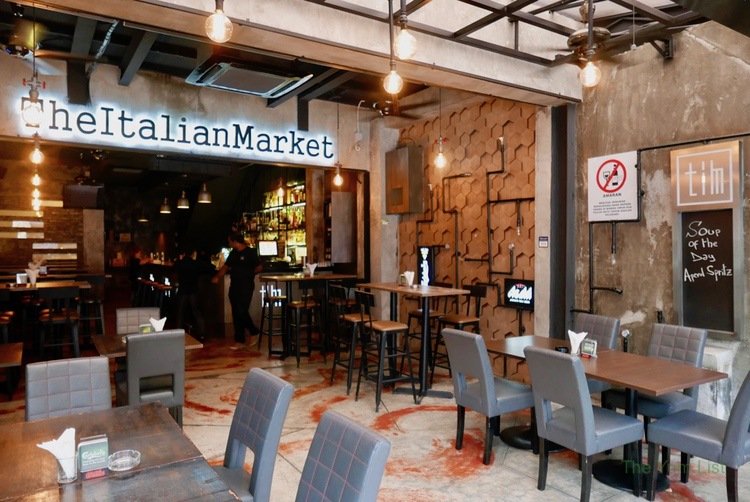 Drinks Menu The Italian Market
Sitting at the edge of the restaurant we attempted to catch the last rays of sunlight for the day as Marco brought us out an Aperol Spritz (RM34). He enjoyed telling us how the spritz is traditionally shared amongst friends on a warm summer's day in Europe. I imagined ladies lunching in fields of sunflowers in Le Marche. Low in alcohol, the drink felt light and bubbly, slightly bitter, yet pleasantly refreshing. Luckily it's a warm summer's day every day in Kuala Lumpur, so does that make every day an Aperol Spritz kind of a day? Our next pleasure was the Marconi 46 Gin from Poli (RM24). The Italian Market (and its sister restaurant Sassorosso) is the only establishment in Kuala Lumpur to stock this artisanally crafted gin. At 46% alcohol, this gin comes from a family run distillery at 46 Marconi street, Schiavone, Italy's premier Grappa region.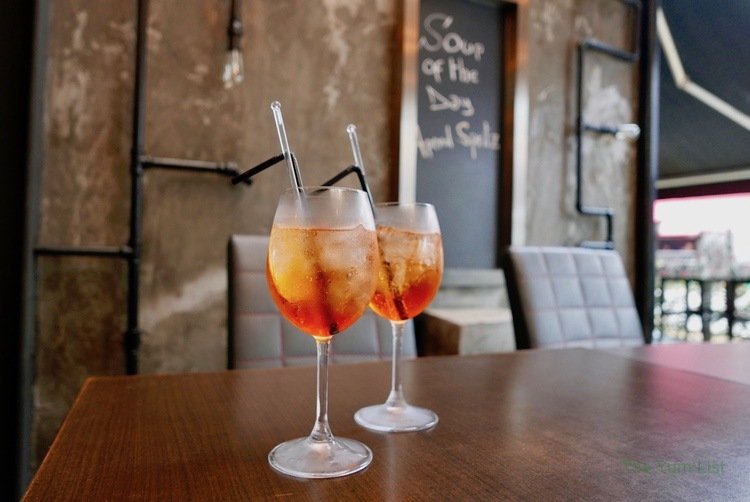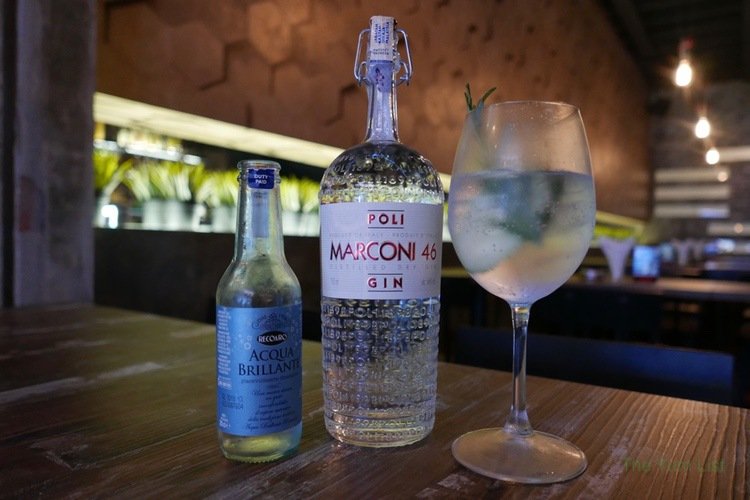 To Begin at The Italian Market
As we chattered away a mix of Italian imported Cold-Cut Meats and Cheeses (RM44) was presented to us. Without further adieu I tasted the first cheese a taleggio, it was creamy, fruity and mild. Next, the decadent and complex Parmigiano Reggiano, looked exactly as it tasted, golden, sharp and rich. Last but definitely not least the Gorgonzola, my personal favourite of the three. It literally melted in my mouth like the finest quality butter, yet left a piercing after-tang of a blue-vein cheese. The meats were finely shaven, a 24-month cured Prosciutto di Parma and two types of salami from the Milan region, one a little sweet, one a little spicy. A freshly baked flatbread sprinkled with rosemary and dusted with salt flakes were used to bring this all together. Would it be dramatic to say I fell in love with the cheese platter? Marco's food has that effect on you.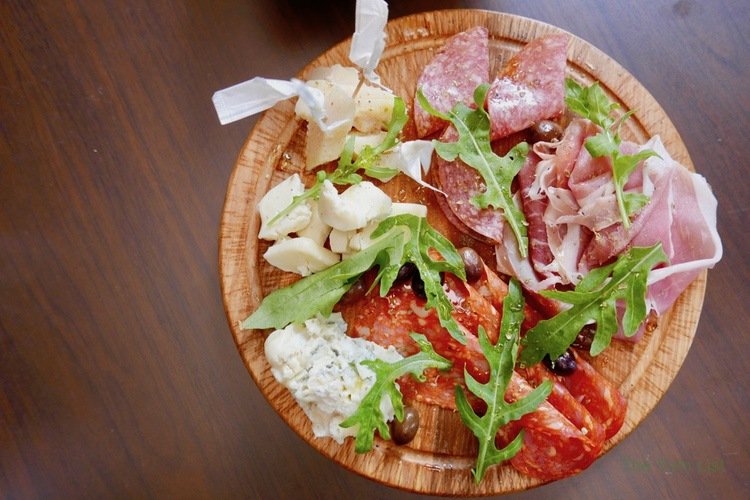 Italian Wine
As we nibbled away Marco educated us on the importance of wine in Italian cuisine 'you use wine in the food, while you cook the food and while you eat.' Is there anything Italians don't do with wine? Since knowledge is best consolidated in practice we tasted a bottle of Marco's house-pouring, a 2015 Feudo Arancio Grillo (RM24 glass; RM119 bottle). Award winning, this wine comes from the province of Ragusa in the south of Sicily. Crisp and chilled, the first sip tickled my taste buds with a delicate acidity, a balanced harmony of tropical fruits and inklings of jasmine flower.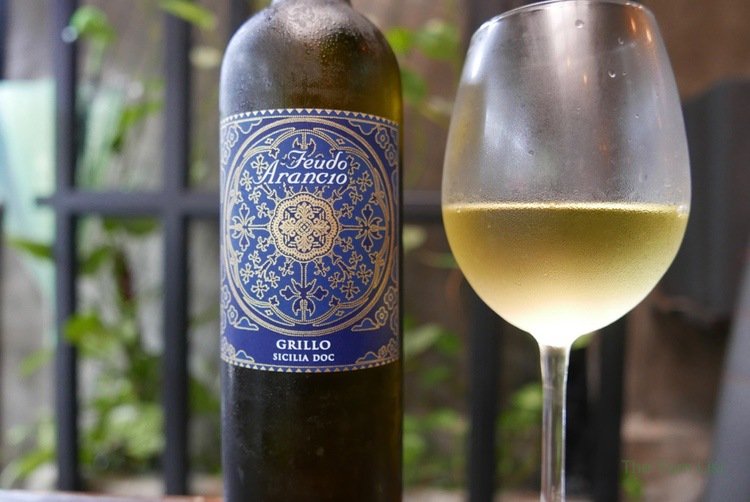 Pasta and Pizza Menu The Italian Market
Whilst enjoying this glass of wine, the pizza and pasta arrived. A Parma Pizza (RM32; 8 inches), Linguine Pesto (RM24), Carbonara (RM26) and the stand out for me Gnocchi alla Sorrentina (RM24). Marco's menu is designed to share, so luckily I could try them all. I picked up a slice of pizza and folded it gently in my hands. The soft dough was perfectly made in what Marco described as a 48-hour process, the crust was not too thin and not too thick, homemade fresh tomato sauce and a sizeable proportion of prosciutto balanced out with a sprinkling of rocket. Next, I reached out for a scoop of pesto pasta. This dish made of fresh linguine, in-house basil sauce, chopped tomatoes, pine nuts, and if you desire made to be vegan-friendly. The carbonara stuck to the basics and with just five quality ingredients the end result was the best I'd ever had. Shaking his finger Marco bellowed 'you make carbonara with cream and my grandmother in Italy is going to die!' But before I knew it, I was closing my eyes in true gratification for the little pillows of dense homemade gnocchi smothered in fresh tomato and basil sauce with clumps of imported buffalo mozzarella – Buon Appetito!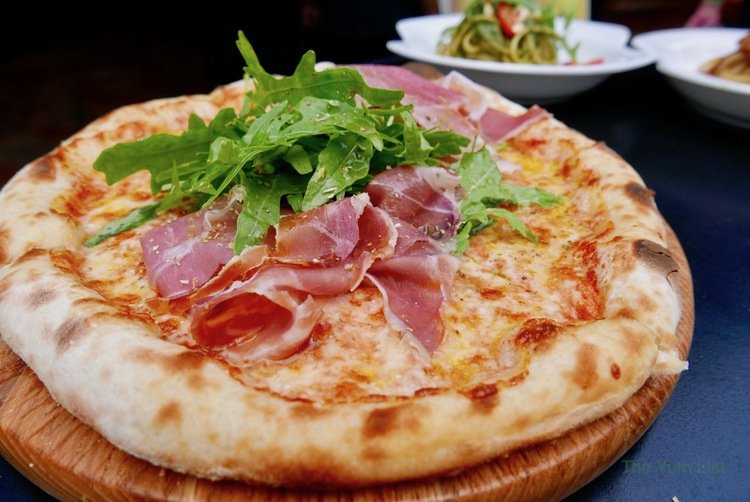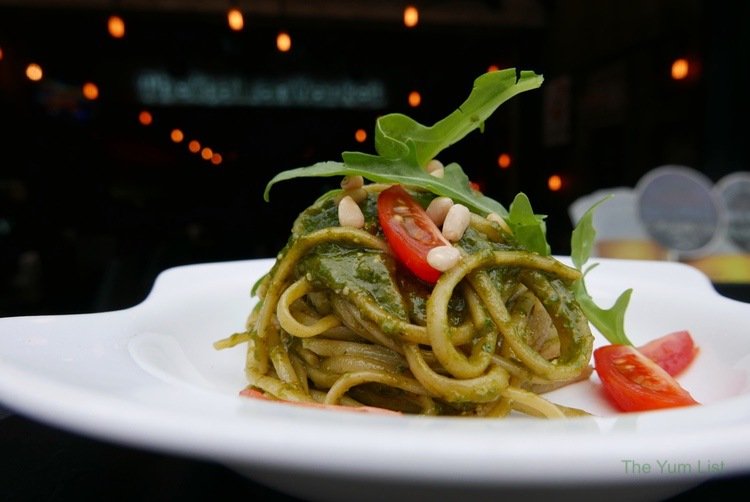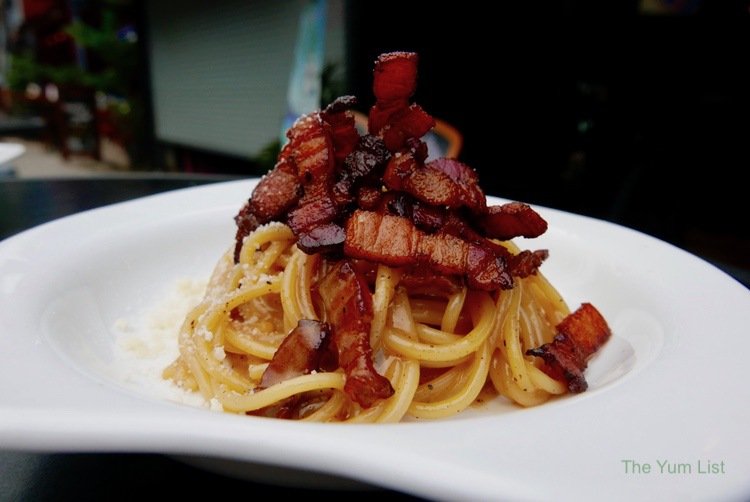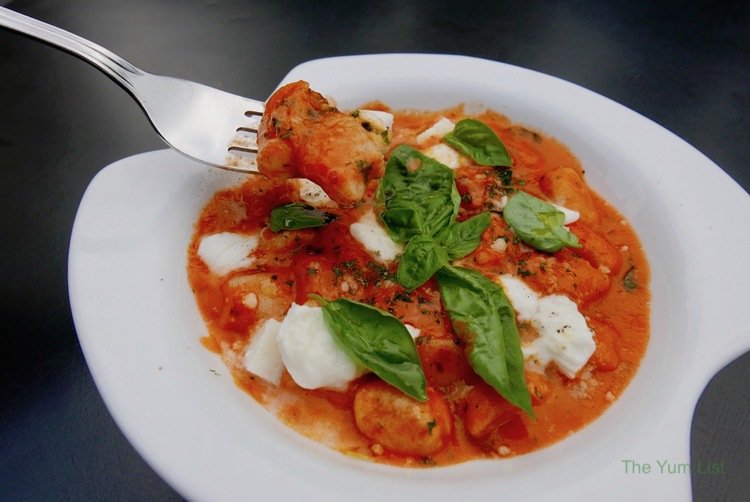 Italian Red?
Time for a red wine? As the dishes of pizza and pasta were removed from the table with not a morsel of food remaining we poured a glass of liquid velvet, Feudo Arancio Syrah 2015 (RM28 glass; RM128 bottle). With grapes grown and fermented in Sicily, this drop was warm and persuasive. Its body had aromas of wild black fruits and ended on a spicy note of black pepper and thyme. Marco's drink menu at The Italian Market is extensive. He has white and red wines imported and categorised into the various regions of Italy and also imports signature drops from France, Australia, Chile and New Zealand. Prosecco and Champagne, dessert wines, dry martinis, enticing cocktails and every spirit you can possibly imagine. With 60% of Marco's guests Italian he cannot have them going home dry.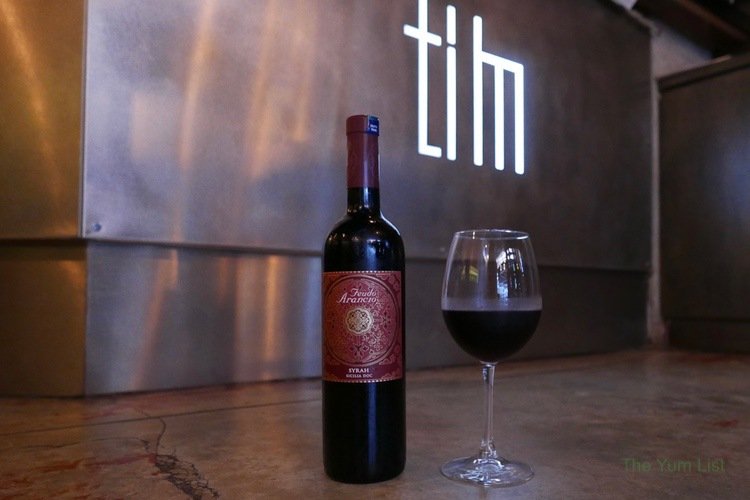 Meaty Menu at The Italian Market
Just as the red wine relaxed my body even further a selection of meat tapas came out. Amongst them a 24-hour Marinated Sticky Pork Ribs (RM28). Slow cooked for three hours the pork literally fell away from the bone and in the end, I found myself wondering if it was socially acceptable to lick the Double-Malt Italian beer marinade off my fingers. Luckily, the Italian Rabbit Cacciatora (RM34) distracted me as I enjoyed the taste of rich meat braised in white wine with rosemary, anchovies, capers, and black olives. Both dishes were served on a bed of warm potato mash allowing us to soak up the leftover sauces.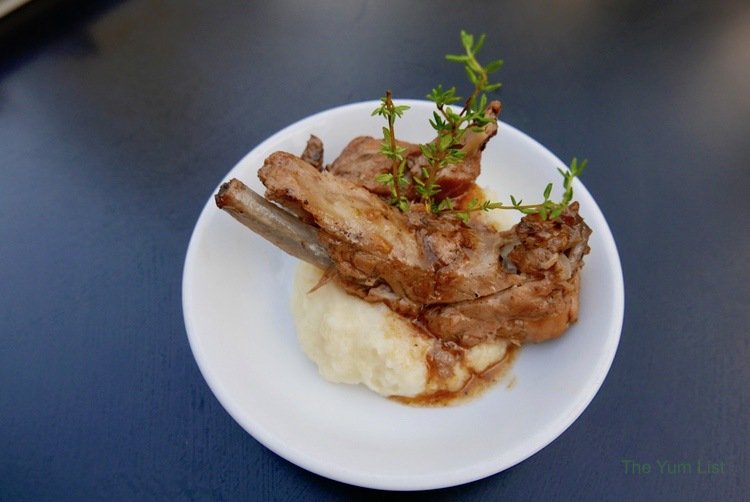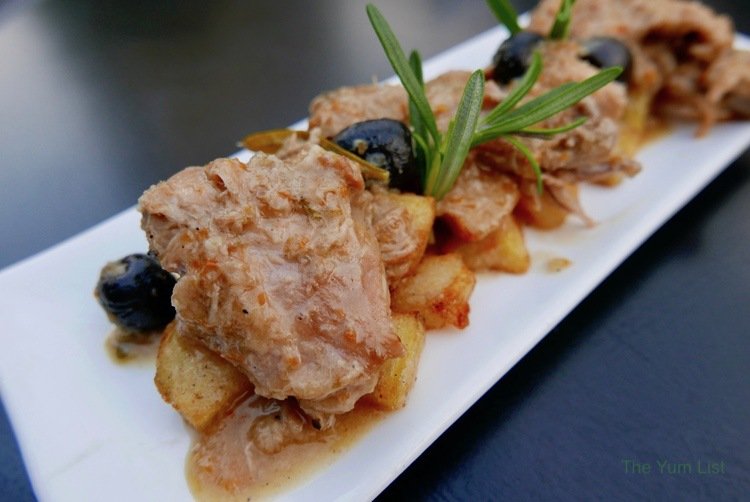 Dessert at The Italian Market
To finish us off we chuckled over a play on words as we licked the spoons from a delicious little Tim-Ramisu (RM18). One of the most popular and famous Italian desserts, Marco's version certainly gave justice to its good name. Layers of mascarpone cream, liquor and sponge cake added a fabulously sweet end to the meal.
Chef Marco
Overall The Italian Market is a must do in Kuala Lumpur and the secret behind its charm is the chef Marco. His knowledge and genuine passion for good food was infectious. Marco preached the importance of seasonal, regional and quality ingredients ensuring a delivery from his Italian source arrives in Changkat every few days. He values a no-waste philosophy and does not waste a granule of food, he turns unused pizza dough into flatbread, flatbread into crackers and crackers into breadcrumbs. A chef who learnt to cook in his grandmother's kitchen Marco stays true to his homeland, calling his kitchen staff his family and treating his restaurant his home.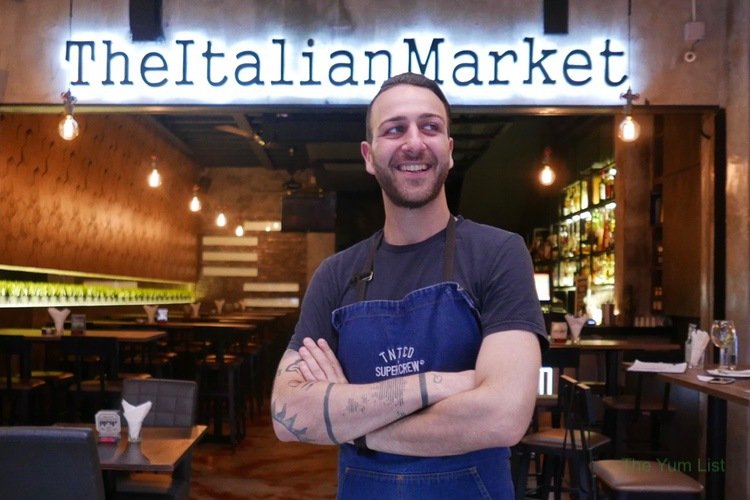 Reasons to visit The Italian Market: Mouthwatering imported cheeses and cold cut meats; traditional, quality Italian dishes including freshly baked lasagna every two or three days; refreshing Aperol Spritz to cool you down on those hot Kuala Lumpur days.
The Italian Market Opening Hours
Tuesday – Sunday: 3:30 pm – 2 am