Entier – French Restaurant Bangsar
Words: Patricia Podorsek
Photos: Monica Tindall
Okay, students. Let's begin today's session with a little philosophy. Aristotle was the first to dabble with the idea that "The whole is greater than the sum of its parts," later attributed to Gestalt Theory. Is such a thing even possible when it comes to food?
Entier, Alila Bangsar
The 41st floor of Bangsar's newly opened Alila Hotel harbours Entier, a fine dining establishment featuring authentic French fare with a "nose-to-tail" concept. This is an emerging theme in Malaysian restaurants. For seven million of us to live sustainably in the Klang Valley (and 7 billion in the world!), we need to be thoughtful about how we use our resources. Too often, parts of animals and plants that source our food are discarded, cast away without purpose. Entier's Chef Masashi hopes to build a deeper appreciation of where our food comes from, while still maintaining the culinary excellence he engenders after two decades in top restaurants in Europe.
Entier means "whole" or "entire", hence my philosophical question at the start. I can appreciate that the dishes on the menu include such unusual ingredients as oxtail and lamb belly, but will the full experience of Entier add up to more than simply the items on the menu? Let's find out.
Pacific Standard Bar
Our experience does not start in the restaurant as you might expect, but next door at Pacific Standard Bar. Pacific Standard is a 1960s America themed bar that serves cocktails with a twist. Mon tried the freshly tropical Mai Tai with pineapple juice so fresh I think there may have been a palm tree tucked around a pillar somewhere. I opted for the cool Lady Georgian with its mix of vodka, grapefruit juice and thyme. With sweeping views of the city at sunset and Reuben the Master Mixologist, we couldn't have asked for a better kick-off to the evening.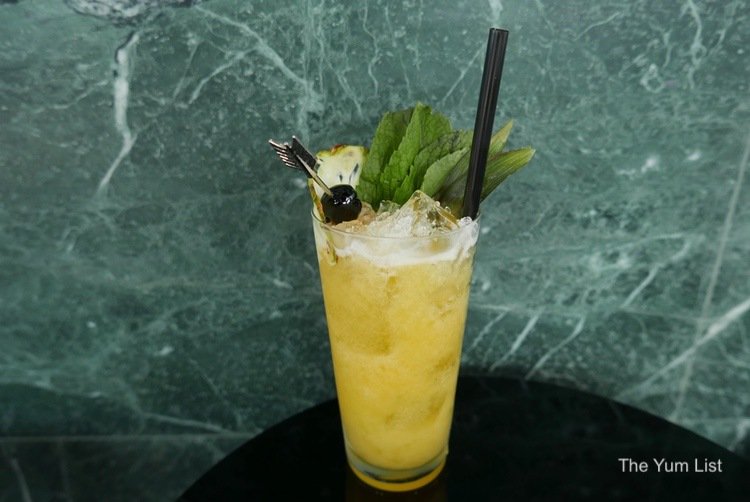 Entier, French Restaurant, Bangsar
Walking into Entier, the 41st-floor views continue, wrapped in clean lines of wood and window. Personalized name cards and gifts of chili oil makes us feel like honored guests. We get our first taste of Chef Masashi's skill with the amuse bouche, first a spherical mouthful of zesty gazpacho delicately laced with minced spring onion. The second biting is a petit four made of lamb pave and mashed potatoes. Both are single delightful bites of whole courses – talk about a wake-up call for the mouth!
French Wine Menu at Entier
To complement our evening at Entier, French wine specialist Laurent Robert joins us to present a selection of French wines to enhance the regional flavors of the menu. To launch a festive evening, he opens a magnum of his own label, bubbles from Champagne made exclusively with chardonnay grapes. The soft fruity aroma belies the airy quality of the drink, finishing with crisp notes of toasted almonds and brioche. Fabulous.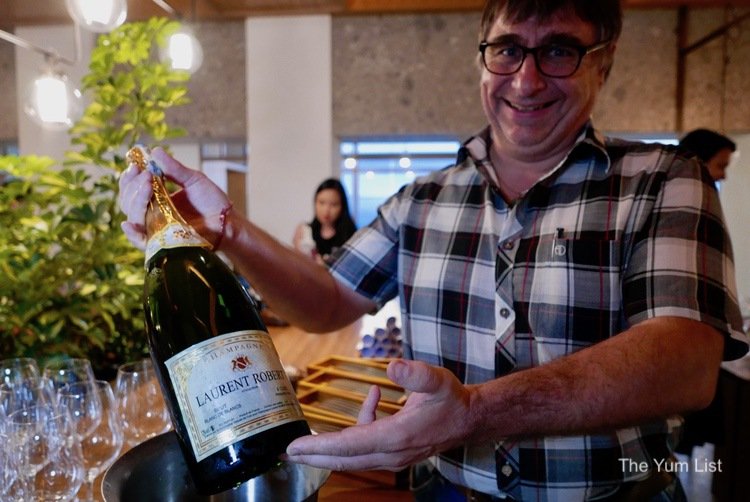 Entier French Dining Menu
Entier has set the menu to be one for sharing family-style, with several plates that are large enough for up to four people. This is great news for someone like me, who loves to sample as many combinations as possible! For the entrees, our set of new friends enjoy spicy marinated baby cuttlefish served as a salad with juicy heirloom tomatoes, fresh herbs, and stracciatella cheese. This beautiful variation of a caprese salad is like capturing summer in Italy all on one plate. The second entree delivers house-cured Scottish salmon atop a creamy bed of seaweed and sorrel. The texture of the fish is both firm and soft, melty in nature with a kiss of dill at the finish.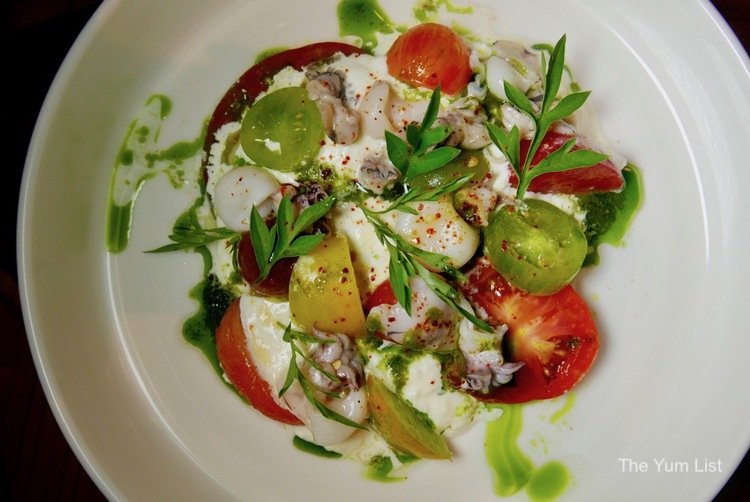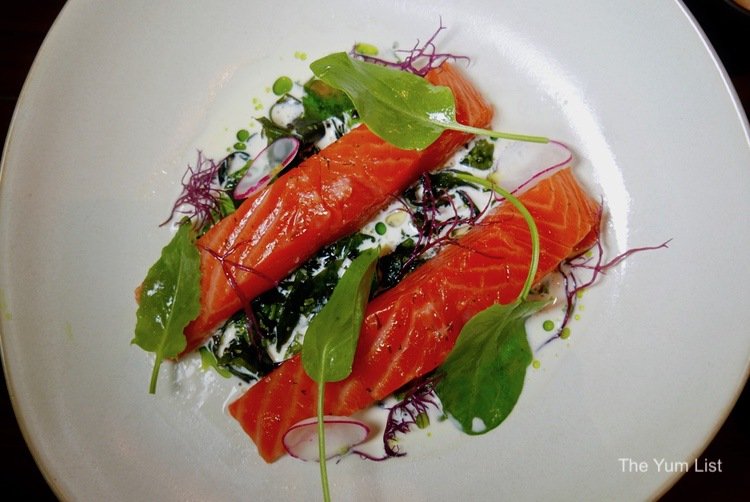 Laurent introduces us to a white Burgundy to accompany the starters. The 2015 Domaine des Poncetys-Saint Veran – produced in a local school in France – brings the tropical fruit aromas not atypical for a chardonnay with a lingering note of stone fruit. The buttery texture pairs well with the creamy base of the salads.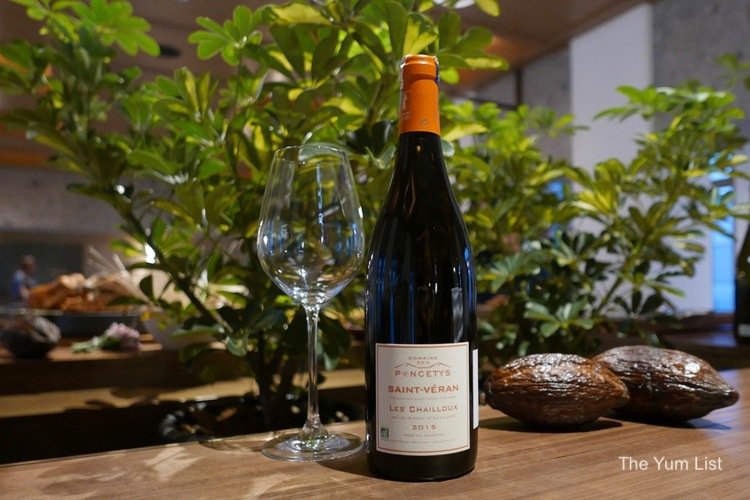 Our next set of delectables is where we begin to observe the full spirit of Chef's nose-to-tail work. The "tail" arrives with a crock of oxtail consomme, darkly textured with threads of star anise and cinnamon. Sitting atop is a slider, braised tail meat sandwiched between doughy slices that remind us of a Chinese steamed bun. Adorable and delicious both!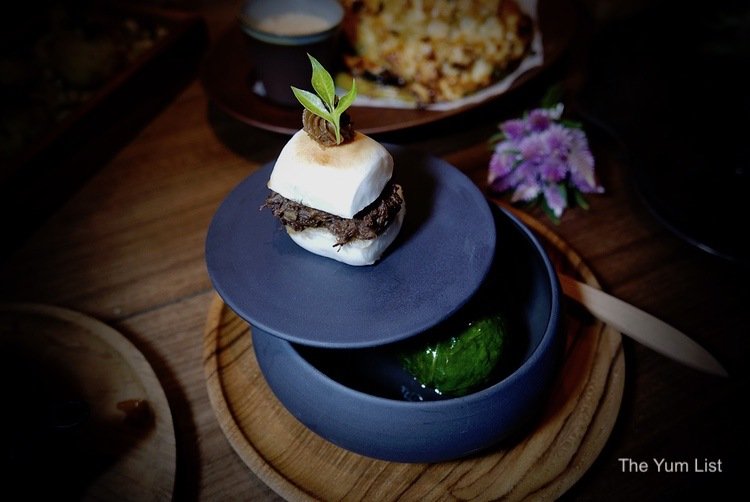 With the next dish, things really start to get interesting. My prior (and limited) experiences with tripe did not entice me to ever consider such gag-able flesh again, but given the evening so far, I was feeling a little risky. And I was not disappointed. Blending textures with two preparations of this organ meat scripts an entirely different experience for me. First, thin strips are braised in their own honeyed jus for a juicy and tender base, then topped with crispy fried strips of the same. With a little betel leaf to add a peppery edge, I was pleasantly surprised at how normal it seemed to eat stomach. It's funny how we have conceptions about what parts are acceptable to eat and which ones are not!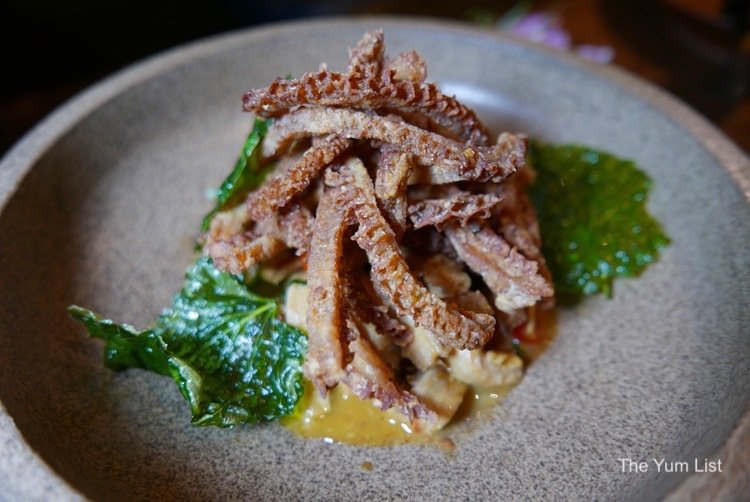 The final piece of this round includes a crispy croquette concealing a whole escargot encased in potatoes seasoned with garlic butter and herbs. I was happy to take a small break from the exotic, as if you can call 'snail' boring!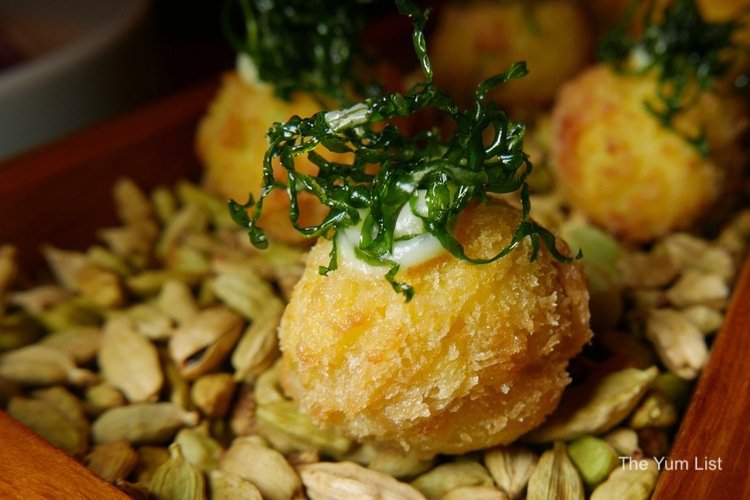 Entier Menu of Mains
Throughout this course, Laurent plies us with a lovely 2015 Burgundy. This light-hearted pinot noir (also produced in a school!) sings with overtones of berries and cherries adding minor notes of licorice and spice. Delicious.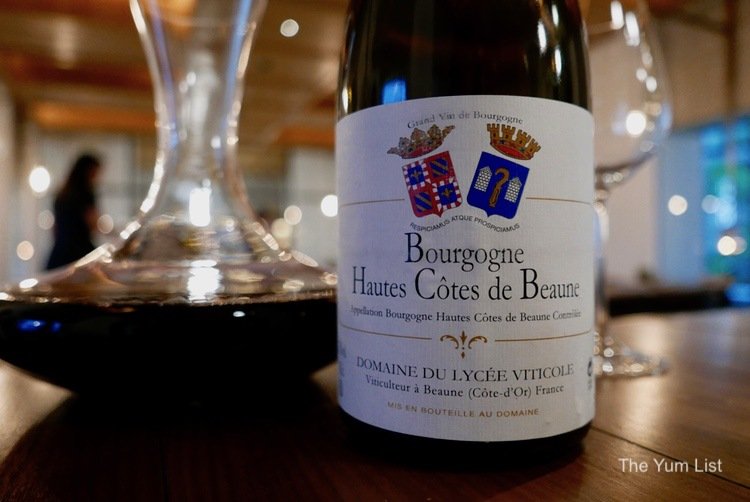 Most prominent among the sharing dishes is the whole roasted chicken. Chef bakes a spring bird with an internal slathering of fresh herbs and an external crust of salt dough. The result is very tender, very juicy, very flavorful poultry with plenty of jus to spare. By using the fat to enrich mashed potatoes, you see how he is honoring every part of the chicken. Paired with a 2015 Bordeaux by Chateau Ferthis, and you could almost end the meal right there.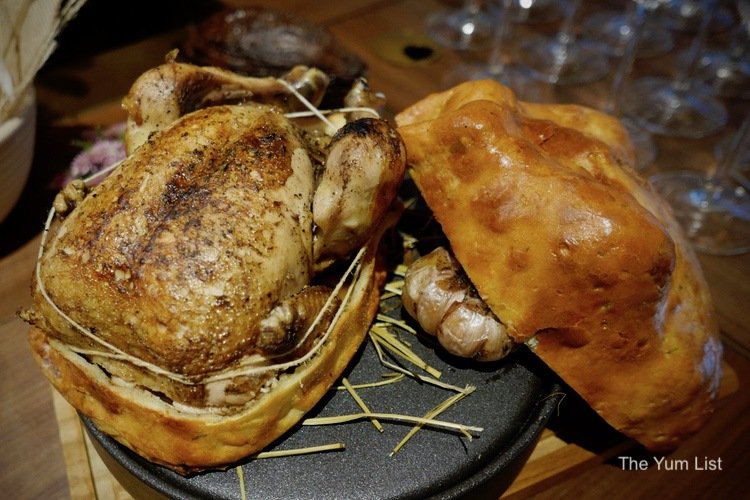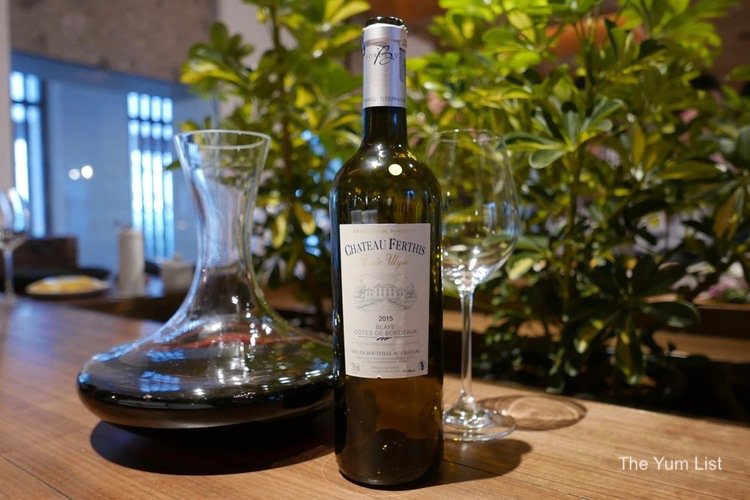 But we won't, of course. The arrival of the meat is next. The first is a Josper-grilled cut of Australian flank steak topped with matchstick fries and watercress. Cooked to a perfect medium rare and dressed in red wine shallot sauce, this meat cuts with the side of a fork and melts in the mouth. Alongside the flank is similarly grilled Australian lamb belly, fatty and flavorful, complemented nicely by miso, charred garlic and an herb salad. Meaty meats require robust wine and the paired Rhone Valley Crozes Hermitage delivers. A 2016 Syrah, aromas of smoky bacon, raspberry, pepper and violet add complexity and depth to the mains.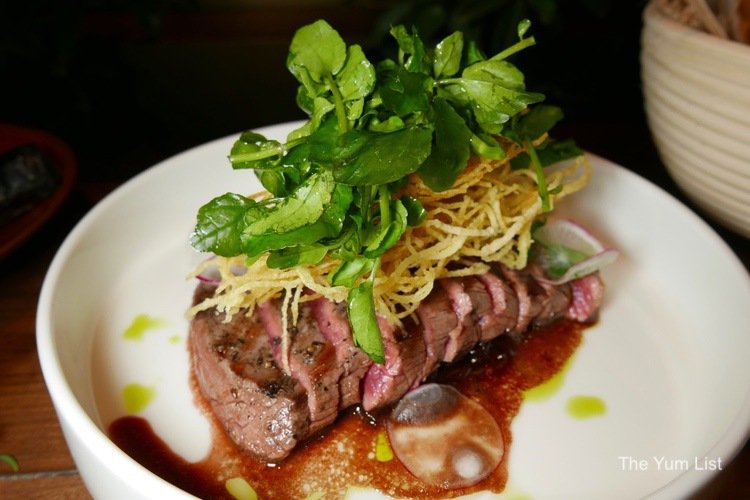 Two vegetables arrive family-style alongside the meats. More Josper grilling highlights the deep earthly nature of whole leeks with a bit of caramelization. More impressive but no less tasty is the whole head of cauliflower roasted with mornay sauce, cheese and fresh thyme. I'll admit a weakness for the sweet and nutty taste of roasted cauliflower in its most humble display, but to dress it like a queen makes me want to prostrate myself before it!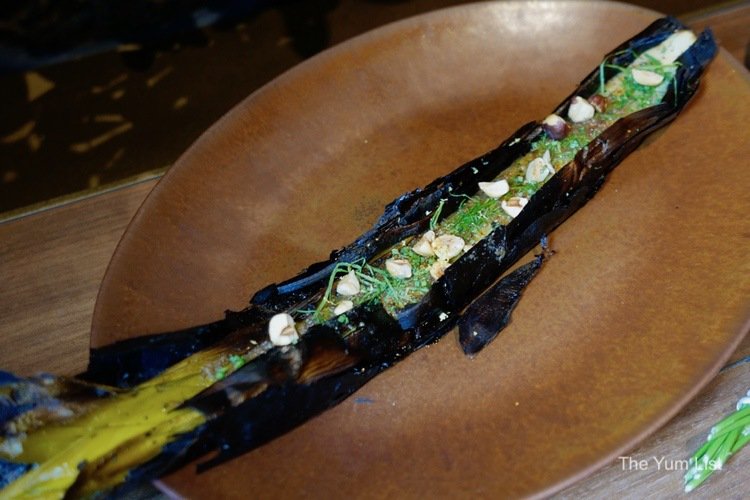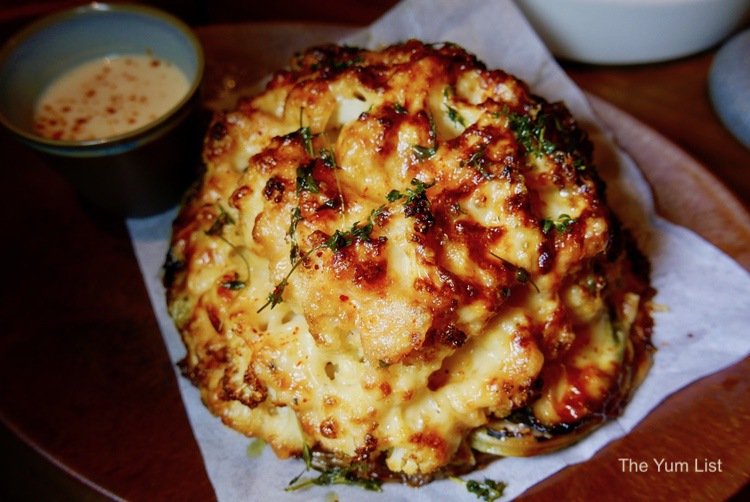 French Dessert Menu at Entier, Alila Bangsar
Why I might have expected the desserts to be any less impressive I'm not sure. I mean, really. If cauliflower can bring me to tears, I might get positively weepy over 70% single origin chocolate from Pahang! Especially when the pastry chefs turn it into rich chocolate ganache graced with hazelnut feuilletine and chocolate cardamom ice cream. Yes, ice cream with cardamom. Absolutely divine. The spice adds beautiful layers and other goodies on the plate like honey oat crumble add texture.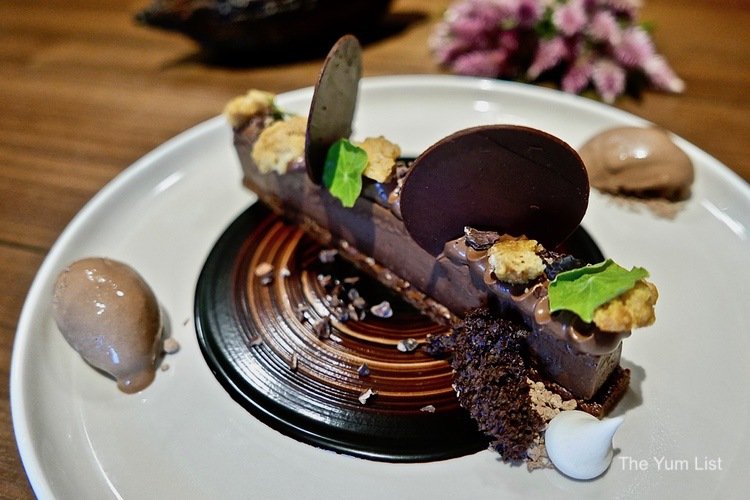 Interesting ice cream doesn't stop there. The Lemon Creme Brulee, a glassy crust that breaks into creamy citrus is lovely by itself, but the basil ice cream that comes with it adds whole new dimensions. Yes, basil ice cream. Refreshing with lingering notes of licorice, it is a delightful companion to the lemon.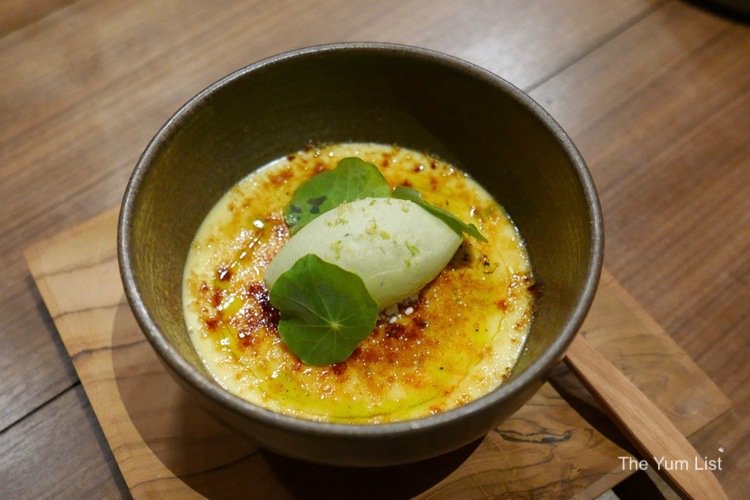 Fruit lovers will appreciate the mango dessert, sorbet and pudding enhanced with fresh fruit, mochi and sponge cake. This lighter alternative might be welcome as everyone begins to loosen the notches on their belts…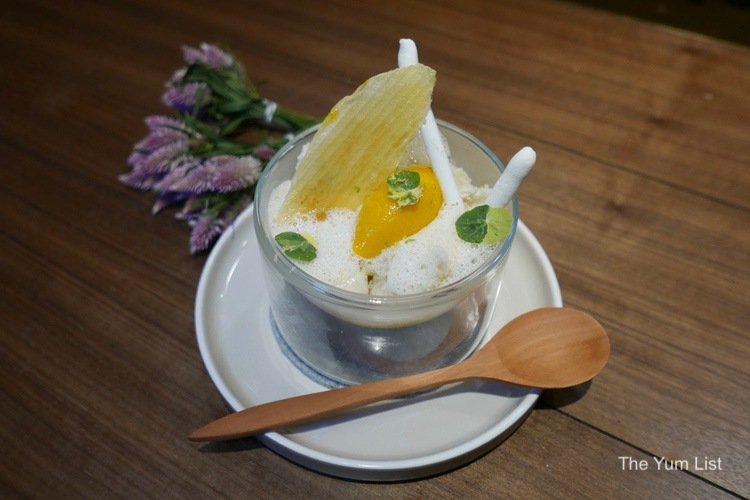 Not to be outdone by the pastry chefs with their captivating choices, Laurent offers us one more bottle from France, a Gewurztraminer from the Alsace region, a well-rounded wine with a touch of sweetness to complement the desserts.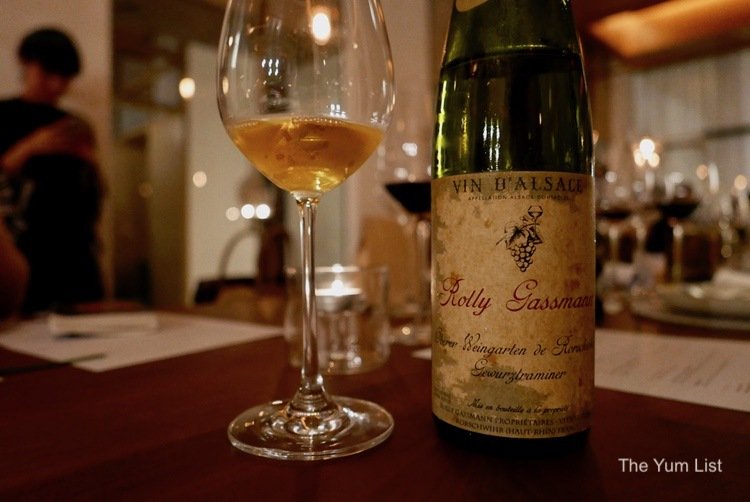 Chef Masashi leaves us with one additional gift. Little boats made from cacao pods ferry more of that dense cocoa to our table in the shape of chewy macarons and powdery fudge squares. This is just one more example of exceptional ingredients expertly composed into symphonic food.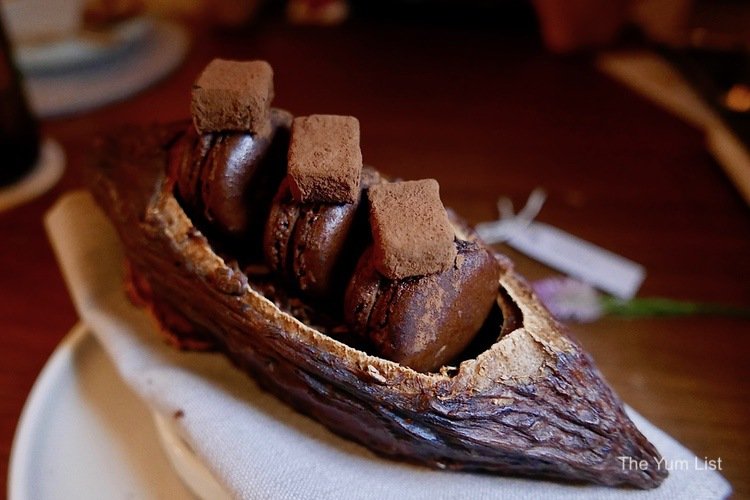 So back to our original question: Does the full experience of Entier add up to more than simply the items on the menu? With Entier's WHOLE array of sweeping views, extensive wine list, beautifully prepared entrees, sharing plates, mains and desserts, I think we can all safely agree that this fine dining experience is greater than the sum of its parts.
Reasons to visit Entier French Dining, Alila Bangsar: Enjoy a top-rate French fine dining experience while also honouring the Earth that gives it to us.
Entier French Restaurant
Level 41, Alila Bangsar No 58
Jalan Ang Seng, Brickfields
50470 Kuala Lumpur
016-263 0596
entierfrenchdining.com
Entier Opening Hours:
Mon – Fri: 6:30am – 10:30am, Sat-Sun: 6:30am – 11:00am (Breakfast)
Tue – Sun: 6:00pm – 11:00pm (Dinner)
Find more restaurants for special occasions in KL here, and stay up-to-date with the latest gourmet and travel recommendations for Malaysia here and here.