'The highest of the high teas'
Words: Tania Henry Photos: Monica Tindall
Killer views. Plush silver-threaded armchairs. Handcrafted Italian china. Linen napkins. Attentive waitstaff providing gold-standard service. A luxurious affair. An afternoon tea for two. Our afternoon tea at the 53rd level Altitude restaurant in the newly opened Banyan Tree Hotel and Residences was one to be remembered. Doing what ladies do best we caught up in style as we chattered the afternoon away nibbling on sweets, devouring savouries and sipping on tea (okay and maybe a cocktail or two).
With a cascading water feature, a dapper doorman, marble walls and low-key instrumental music my arrival to this urban oasis felt strangely reminiscent of a scene from Gossip Girl in the Waldorf Hotel. The Altitude restaurant itself oozes richness, beauty and class and consists of pockets of plush armchairs with sunken marble tables, glittering chrome lighting and a larger wooden table through the middle. With floor to ceiling windows, we were treated to breathtaking uninterrupted views of KL's city skyline including both the KL and Petronas Towers. I can already preempt that this restaurant will shortly become a must-do when visitors come to stay. Why shouldn't we show off this incredible city we live in?
Tea and Coffee at Banyan Tree KL
We started the afternoon off with some fragrant Organic Earl Grey (RM26) by Harvey and Sons and with an extensive tea list, it was hard to choose. My earl grey came with a cute little description telling me of its origin and helping me depict the subtle flavours of bergamot. We also enjoyed a freshly brewed Illy Americano (RM24), which kept us energised for the afternoon.
Afternoon Tea Banyan Tree Kuala Lumpur
The afternoon tea set (RM88) is simply superb and I still cannot believe that the price is so low for 5-star quality. Austrian chef Alexander Waschl has created a bold and innovative high tea unlike no other with unique seafood creations accompanying the usual suspects.
Setting the standard from the beginning we were welcomed with a Garden Herb Garlic Tuile, Rosemary Coral Crisp and Lobster Cone. The coral crisp looked like a piece of coral plucked straight from the sea and the lobster cone was a delicious blend of soft lobster meat inside a crunchy deep fried cone – melt in your mouth seafood with a crunch!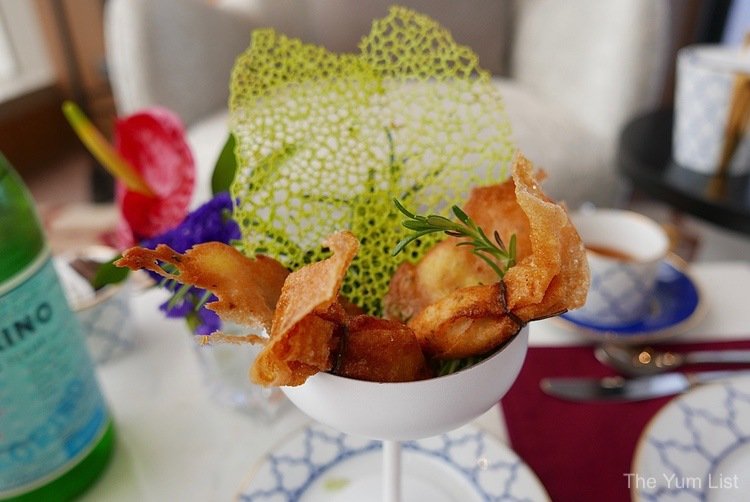 The Foie Gras Delights came next; a delightful mouthful of duck liver on a freshly made pancake with cranberry sauce. The duck liver was rich, buttery and delicate, the sauce both sweet and nicely tart and the pancake balanced the two. Land Meets Sea was a beetroot savoury macaron with house-cured Atlantic salmon, sour cream, edible flowers and fresh dill. The salmon was subtle in flavour but the quality unmistakable. The Classic ended things off well with shavings of roasted beef and horseradish sauce tucked into a soft white bun. The beef was tender, the horseradish added a kick and the soft bun gently pulled it all together.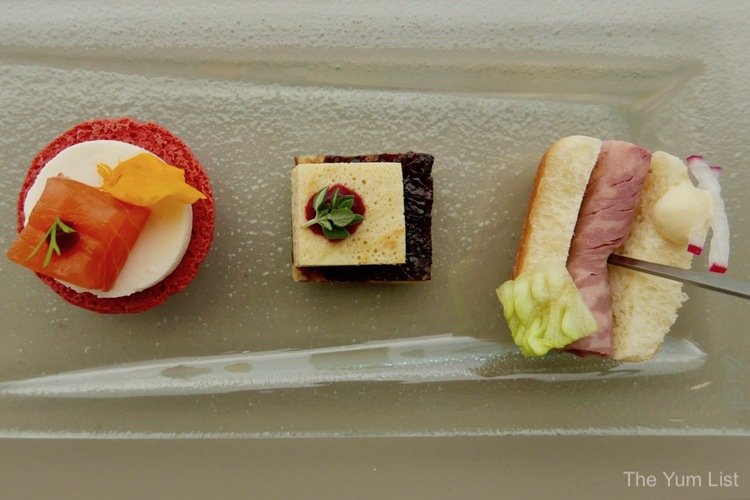 The Sea Wave was a sea urchin pannacotta, sprinkled with shaved bottarga (a cured fish roe). I enjoyed dipping the slices of granny smith apple into this creamy concoction to create a tart, sweet and salty flavour which I am sure would dazzle most seafood lovers.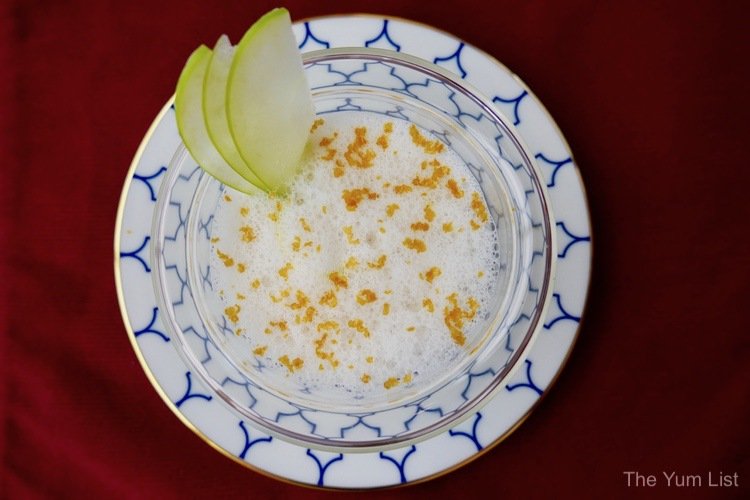 The Cracker, though, was my personal favourite. It confused my senses in the best way possible as it looked like an espresso latte but tasted like a curry. With speckled crab meat, curry sauce, fresh lemongrass and ginger it tasted strong and flavoursome.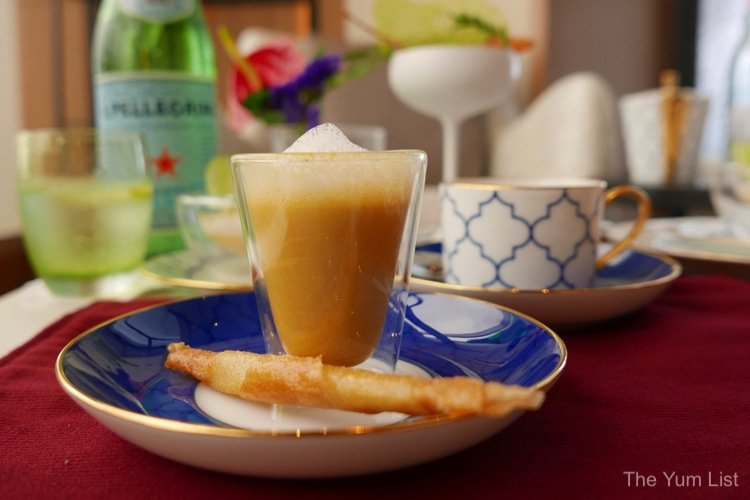 A masterpiece of a seven-item sweet platter arrived with our next coffee and I truly was in awe. Our first sample was doughnuts hung from an edible Banyan tree root of 55% Verona chocolate. Next the Pistachio Macaron with 50% less sugar than usual recipes, a soft chocolate and nutty infill and beautiful crispy exterior. The Briolette Bites were dreamy little mouthfuls of raspberry and violet mousse cake covered with 35% glazed white chocolate and the aptly named Mango Passion-Fruit Explosion combined passion fruit mousse, mango jelly and green tea sponge. With three layers the taste was a blend of sweet jelly, tangy passion fruit and a crunch at the end from the roasted hazelnut. The Strawberry Eton Mess was a devilish blend of coconut meringue that cracked in your mouth and oozed vanilla pastry cream, fresh strawberry sauce and almond sponge. Representing the local cuisine was the Teh Tarik Choux-Choux. The pastry fell into teh tarik pastry cream amidst flavours of chocolate hazelnut.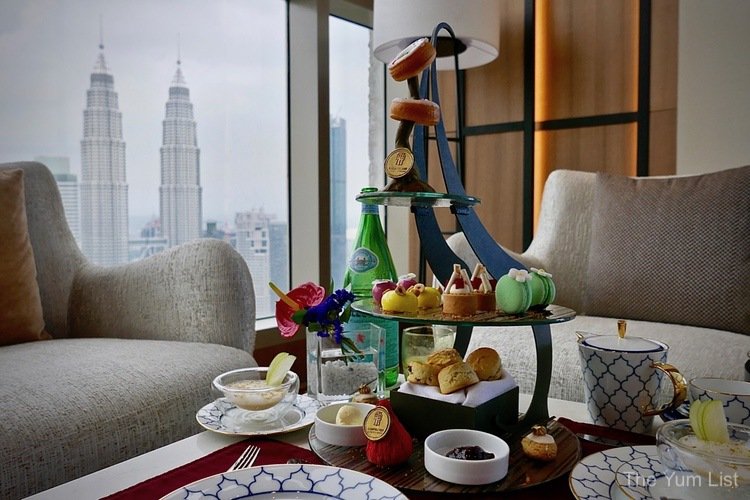 With strategy and some unusual restraint, I left the best two desserts till last. The Banyan Tree Kuala Lumpur signature Cherry-Choc cake consisted of a cherry mousse and red-velvet almond sponge. This cake combined sea salt chocolate, cherry mousse, jelly and soft almond sponge too.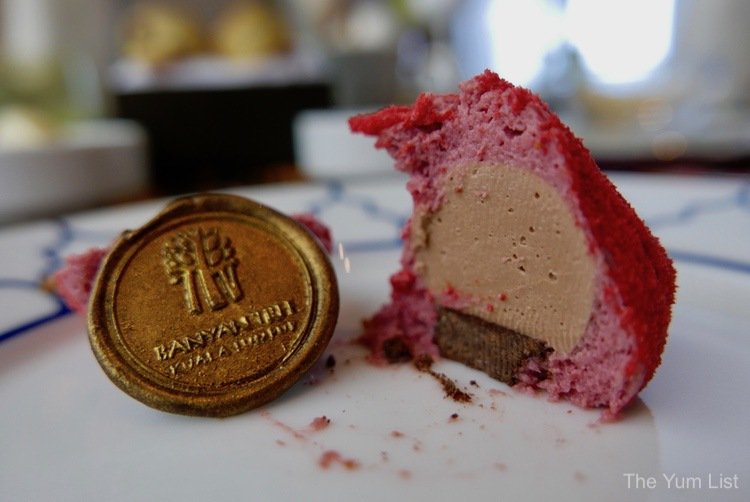 Finally like any high tea, we enjoyed the scones which definitely did not disappoint. Still warm from the oven these mini scones tasted comforting with homemade cherry jam and authentic clotted cream.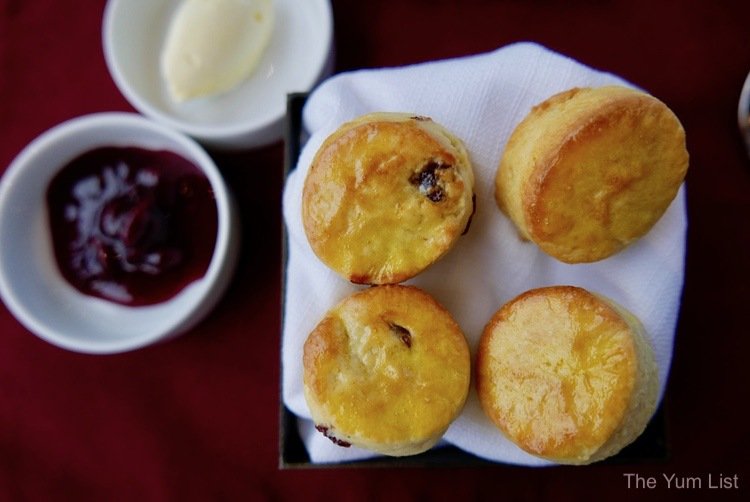 Cocktails at Altitude, Banyan Tree KL
To finish the afternoon off we moved to the bar to be entertained by the energetic mixologist who delighted in re-telling exploits of past thrill-seeking adventures. He mixed us a Kopi-O-Tini (RM45) which was the smoothest blend of Maker's Mark whisky, Amaro Montenegro, Cointreau and a fresh espresso – it tasted just like a chocolate orange milkshake! We also took a harder, but satisfying punch with the Release the Kraken (RM45), a mix of Kraken dark spiced rum, Fernet Branca, Punt E Mes and Luxardo Bitters.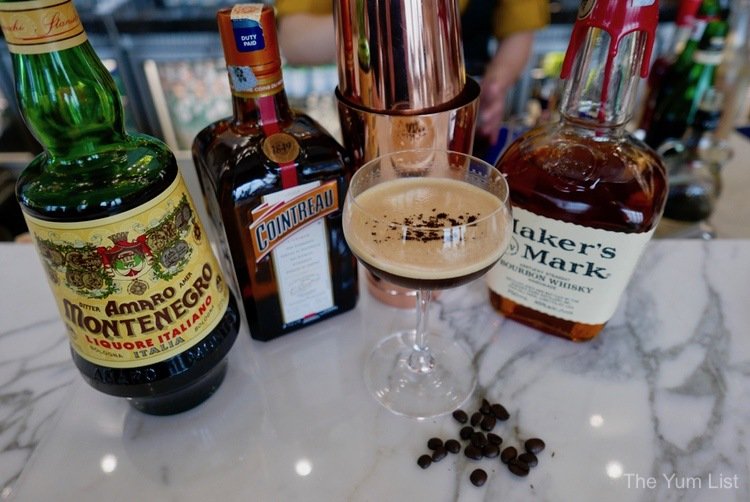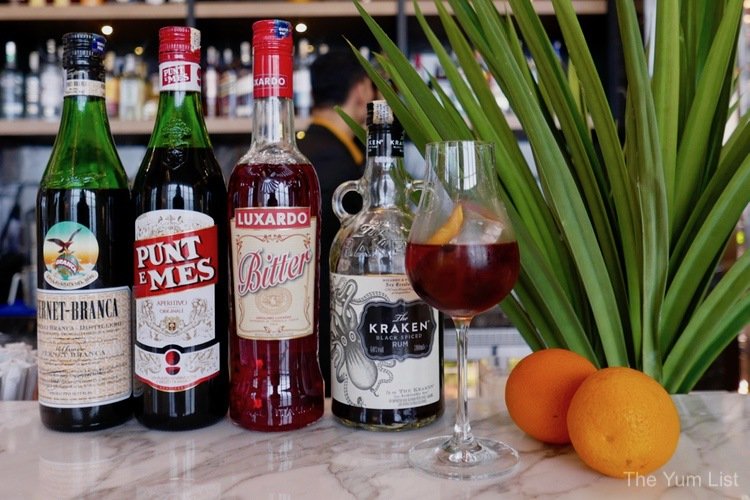 Reasons to visit Altitude, Banyan Tree KL for Afternoon Tea: Direct access via a footbridge from the Pavilion making it the perfect place to rest and revive after a shopping adventure; Floor to ceiling windows allowing for breathtaking view of the city skyline; Innovative and delicious savouries and sweets; literally, the highest tea in the city.
Afternoon tea at The Banyan Tree is available from 2:30 – 4.30 pm every day.
Altitude
Level 53, Banyan Tree Hotel and Residences Kuala Lumpur
2 Jalan Conlay, 50450, Kuala Lumpur, Malaysia
+603 2113 1888
www.banyantree.com
Afternoon tea fan? Check out other afternoon teas in Kuala Lumpur here.