Words: Nathaniel Jay      Photos: Monica Tindall
I could easily begin and end my dining experience at Fat Olive Food Garage with the Mixed Tapas Platter! Really, it is that good. The rest of the menu is imaginative, focused and delicious but truly I would die happy if that platter was my last meal.
Fat Olive Food Garage
Fat Olive Food Garage is located in the Verve Shops in Mont Kiara. The restaurant is industrial, dark, rustic and absolutely charming at the same time. The large storefront windows allow a great amount of natural light to pour in, expanding the space while keeping it from feeling heavy. There is a great deal of metal and repurposed wood that truly gives the inkling that you are in a food garage. One of the dining tables is in fact, the bakery table from the previous location.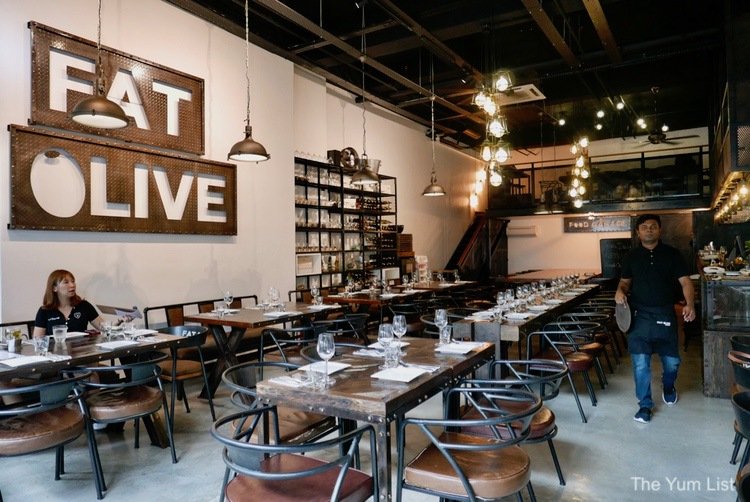 Back to that Platter
The Mixed Tapas Platter (RM155+) is a beautiful, behemoth, representing the joy and simplicity of cooking with great ingredients. It is advertised that it is good for two to four people and I would support that claim. There are 10 items on the Mixed Tapas Platter: smoked chicken croquettes with arugula and Parmesan shavings; Spanish tortilla; Serrano ham; Iberico chorizo, salami cold cuts; mussels in spicy tomato sauce; deep-fried calamari; baked eggplant and zucchini with Mozzarella cheese; sautéed tiger prawns with chili and garlic; condiments of aioli, semi-dried tomato sauce, olive oil, balsamic and homemade sourdough bread. I especially enjoyed the bread, preparing small sandwiches for myself with the aioli and cold cuts. The chicken croquettes were crispy on the outside with a savory mousse-like filling inside that melted into my mouth when I took a bite. The eggplant was dancing in a smooth, rich tomato sauce… it all, seriously, was very good.
A bottle of El Miracle Brut Cava, Macabeo-Chardonnay from Valencia Spain (RM30/glass and RM150/bottle respectively) was the perfect mate for our beginning. This one is easy to drink with little persistent bubbles. The nose was citrus, the taste slightly dry and a clean and fruity finish lazily lingered.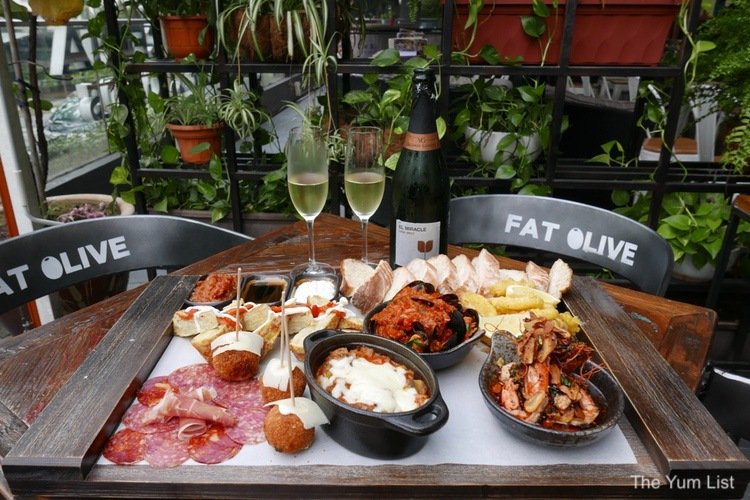 The Rest of the Menu at Fat Olive Food Garage
Do bring friends to Fat Olive Food Garage as there is so much to try; Dates Stuffed with Anchovies (RM22) being one such dish. These beauties were draped with bacon and presented as an open-faced sandwich with semi-dried tomatoes and croutons. The play on salty, sweet and sour was reminiscent of Thai cooking with the attention to balance. The anchovies were light and played a gentile complement. If you still have space after the tapas platter, this is a must-order.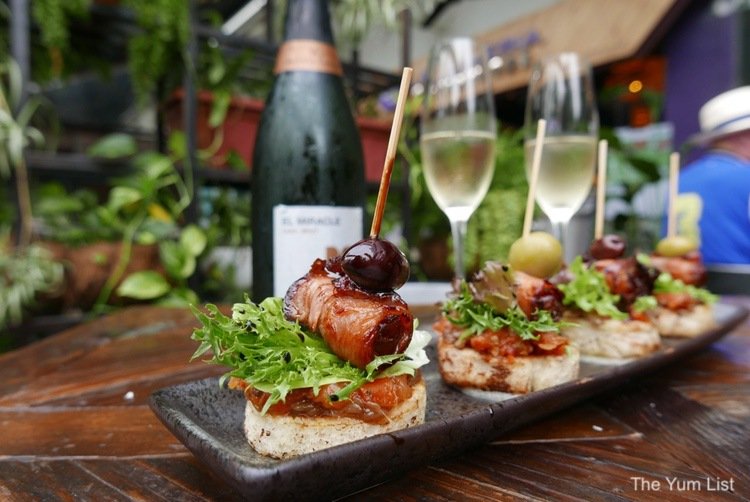 A special of the day, Scallops, was a rainbow of colours and came served inside glass lids cloudy with smoke. The base of the dish was a bright, savory pumpkin puree topped with wilted local spinach and a fantastic beetroot mash – roughly mashed beetroot that is lightly pickled with apple cider vinegar and olive oil. The crowning glory was a golden-seared diver scallop topped with briny crab roe. Again, release the belt buckle a few notches and place an order for it too.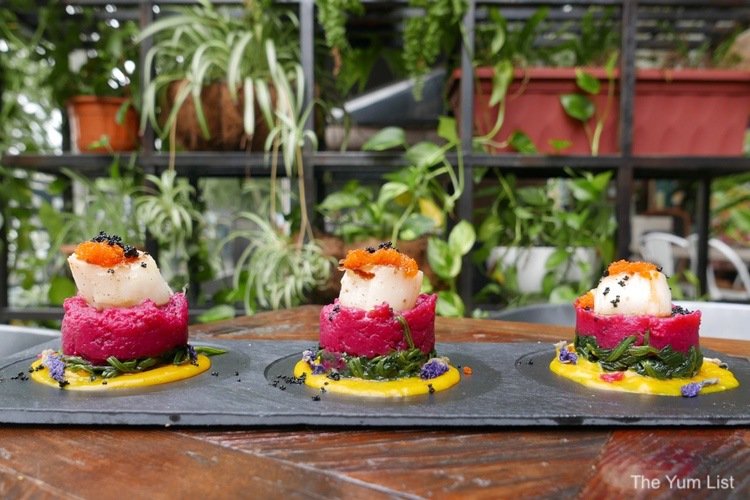 One of my side projects has been to track down the best burger in KL. And, here, I think I have found it: the Iberico Pork Burger with Semi-Dried Tomatoes, Caramelized Onion, Melted Mozzarella, Bacon, Coriander-Green Apple Shreds & Jalapeño Aioli (RM38). Wow! I should be able to come up with something better than wow. But, really it is a wow! It's an American-sized burger but the taste is ALL Spanish. The sourdough bun is made in-house. The patty is juicy and succulent. The jalapeño is a little spicy but then is immediately cooled down by the green apple and the fresh coriander ties everything together.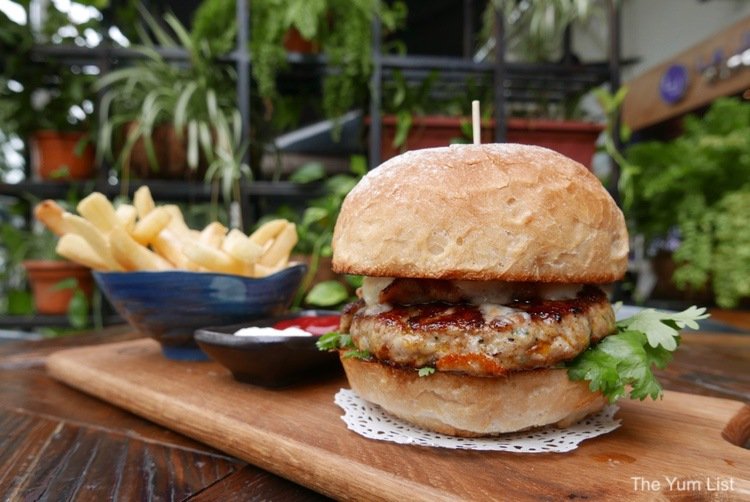 With the last drops of our cava disappearing, we turned to Sangria (RM28/glass or RM110/jug). Voluptuous glasses were filled to the brim with a perfectly balanced red wine blend packed with small chunks of diced fruit. The owners apologized for not having a comprehensive cocktail list but we're of the firm belief that Cava, this Sangria and some tasty Gin & Tonics to come, are more than enough and provide ideal accompaniments to the menu.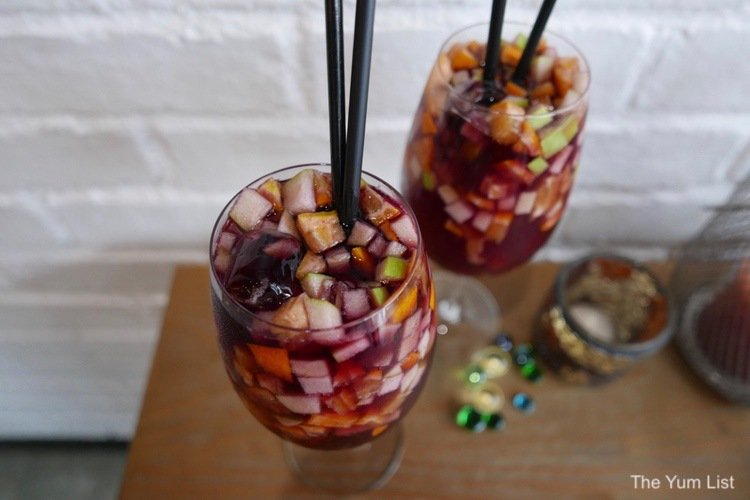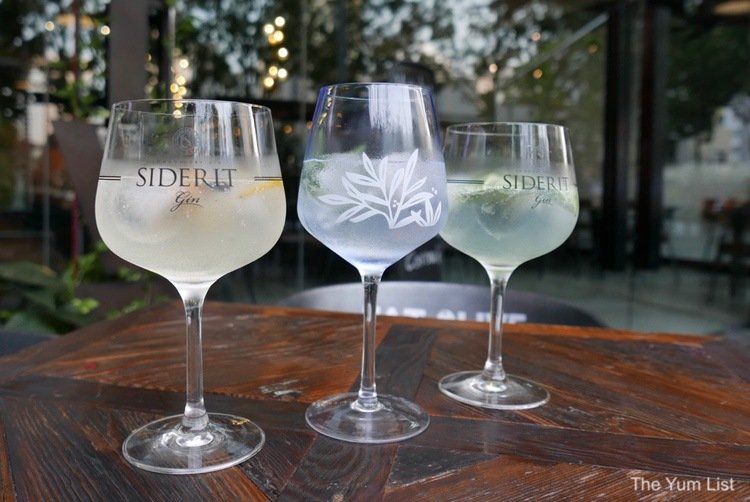 More Food at Fat Olive Food Garage
Back to the food, we next tried the Iberico Chorizo & Portobello Puff Pastry Napoleon (RM32). It was a mixture of spicy chorizo pieces and unctuous Portobello mushrooms in a crispy house-made dough topped with a little powdered sugar.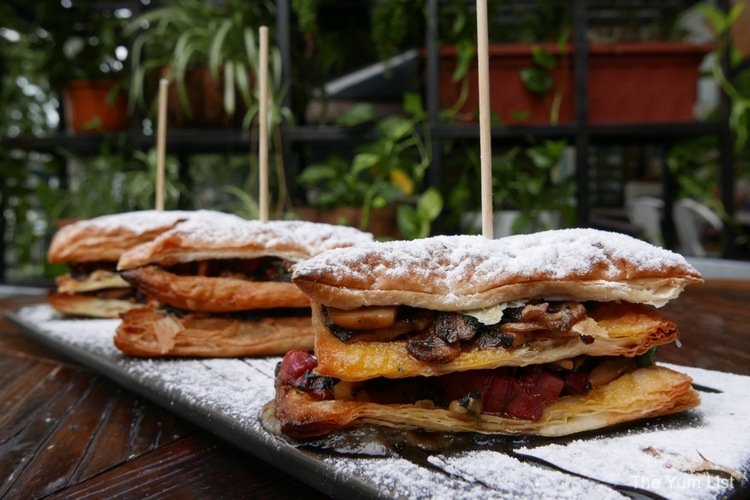 We found another fine example of value-for-money in the Foie Gras Special (RM88 for 50g). The goose liver was served on a bed of spiced fruit chutney cooked in red wine and topped with a little peppery arugula. Orange and foie gras are natural friends and here they met with the garnish of lightly poached orange zest.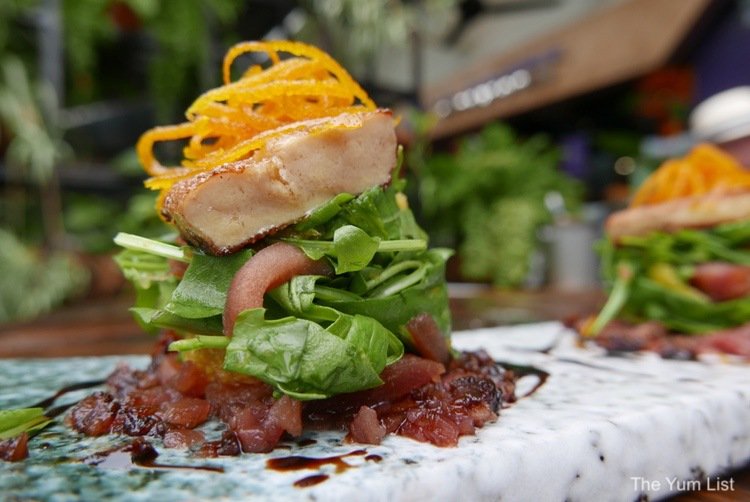 Continuing to adjust our pants, the final savoury recipe we indulged in was the Sea Salt Grilled Prawns (RM68). It was simple and elegant, allowing the prawns to shine with their natural briny taste. Cooking seafood in salt is a great method for keeping fish moist and flavorful. Each prawn was gracefully perched on a warm salt cake and accompanied by a lemon wedge. A dollop of jalapeño aioli on the marble slab was enough to complete the crescendo of flavors.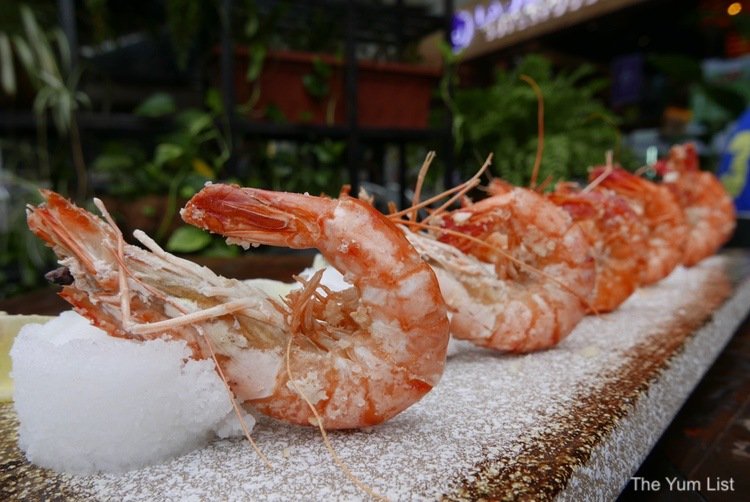 Dessert Menu Fat Olive Food Garage
On the menu, dessert is simply listed as Dessert Petite (RM8). Freeing the chef to work with seasonal produce, the sweets change with the chef's inspiration. On this day, we finished our meal with a light, flourless chocolate custard, garnished with a physalis. There was also a classic creme caramel topped with more of that lightly poached orange rind. The small portion of sweetness was just the right amount to complete our meal.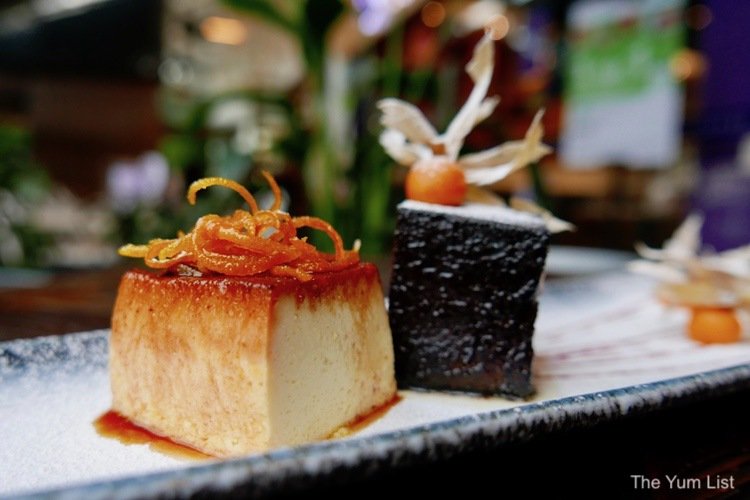 Reasons to visit Fat Olive Food Garage: The Mixed Tapas Platter is an experience all on its own and represents the character of the restaurant; The Iberico Pork Burger is the best burger I've eaten in KL (I'm going back to try the beef burger next); generous portions; great flavors; reasonable prices; agreeable indoor/ outdoor setting.
Fat Olive Food Garage
G-3 VERVE Shops #8,
Jalan Kiara 5, Mont Kiara
50480 Kuala Lumpur,
Malaysia
+60 3 6419 5868
Opening Hours Fat Olive Food Garage:
Monday 11:30 – 22:30
Tuesday 11:30 – 22:30
Wednesday Closed
Thursday 11:30 – 22:30
Friday 11:30 – 22:30
Saturday 10:30 – 22:30
Sunday 10:30 – 22:30
Looking for more restaurants in Mont Kiara? Find more of our recommendations here.