Words: Kitty Lang    Photos: Monica Tindall
What can I say about W1, that hasn't already been said by the steady stream of faithful reviewers and customers, since its opening just last year? I was excited, for the first time, to review somewhere I already know and love.
We know it is a British themed pub, located in the bustling bar area of Bangsar, of course, bedecked in Banksys' and Winston Churchill Britpop art, but did you know that despite that, it is actually pork-free? Hosted by the ever gracious, waistcoat-wearing, Danny, who spent many years cultivating his art in London, W1 celebrates all things you might find in a smart, West End bar. Being a Brit myself, I slightly cringe at the irony of frequenting W1, but it is So. Damn. Good. I initially heard about W1, right here, on The Yum List, and was not disappointed when I first tried their almost synonymous, Scotch Egg and yummy Duck Gyoza.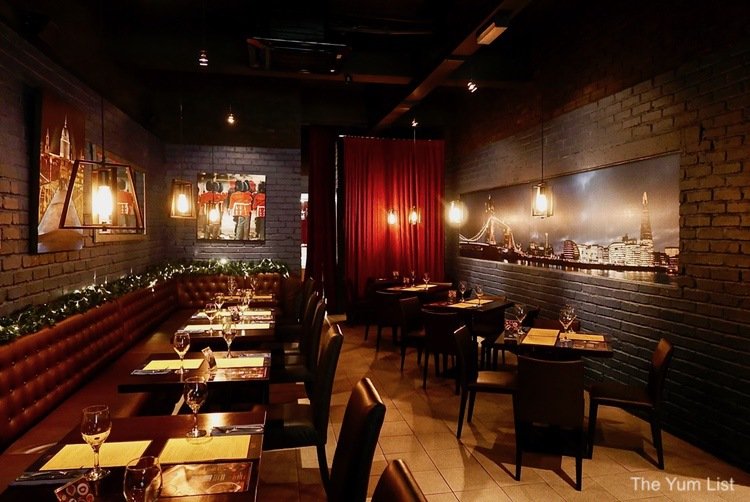 Summer Additions – W1 Bangsar Menu
Now, I've set this up, I rather feel the need to justify myself. Our visit was not because Danny asked us to come and review his new summer menu (for which he would have been entirely justified), rather that I was looking for any excuse to go there. Danny has an effusive charm that makes you feel like old friends, rather than customer and proprietor:
"Would you care to try out our new summer cocktails?"
"Well yes, Danny. Yes, I would!"
As an added treat, the new 'London Vibe' summer collection of eats, is a regal nod to the cacophony of flavours and nationalities that you might find at Borough market food stalls or the bustling, multi-cultural food heaven in Camden Market. If you find yourself in London, they really are a wonder to behold that I would strongly encourage you to visit – a foodie heaven. Forgive me, I digress.
We had barely sat down before Danny came brandishing our first, quintessentially British cocktail, a good old-fashioned Pimms & Lemonade (RM 18 glass / RM 63.5 carafe). Served in a wine glass, jam-packed with lime, lemon, strawberries and mint, perfectly balanced, this was a refreshing start to our leisurely Sunday lunch. Save for the distinct lack of rain (and slightly essential, tennis), we could easily have been at Wimbledon.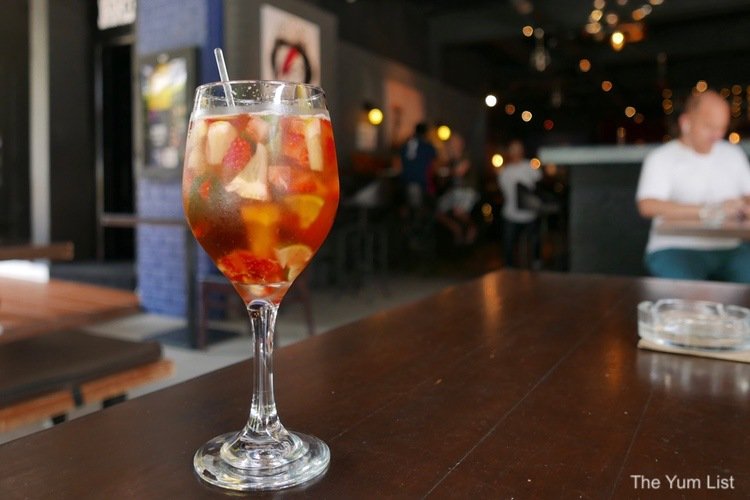 The first of the new dishes that graced our table, whilst Queen Lizzie watched on, was the Duck Noodles (RM 24). A spicy duck confit required little more than a spoon to separate the delicious, melt-in-the-mouth flesh. The homemade fat noodles were juicy and plentiful and all brought together by Sichuan chilli, a big hit of sesame oil and relieved by the pak choi.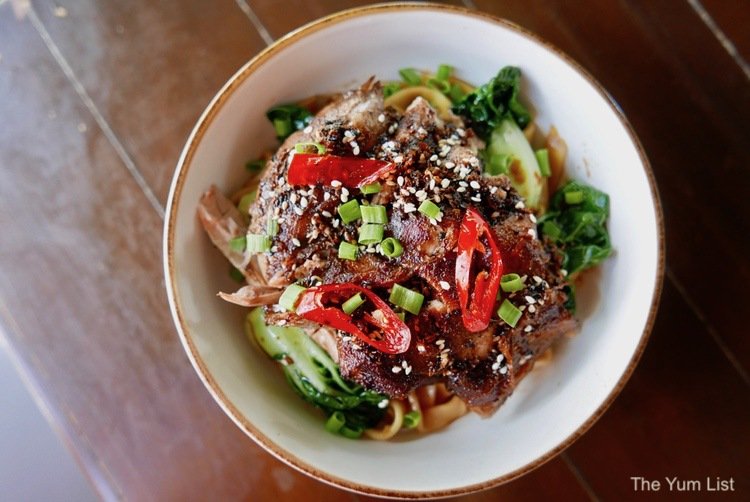 We had just got stuck into the duck when our next dish of Baked Cheese Meatballs (RM 26) appeared. Plump, meaty balls of beef, slathered in a rich, cheesy sauce and griddled bread, created a carnivore's heaven. I'd recommend wearing loose clothing!
More food arrived, in the shape of Chicken Taquitos (RM 19), my personal favourite. Corn tortillas, stuffed with chicken, topped with home-made guacamole, salsa and pimento cheese, which had just the right level of zing and freshness. W1 are certainly not shy on the portions!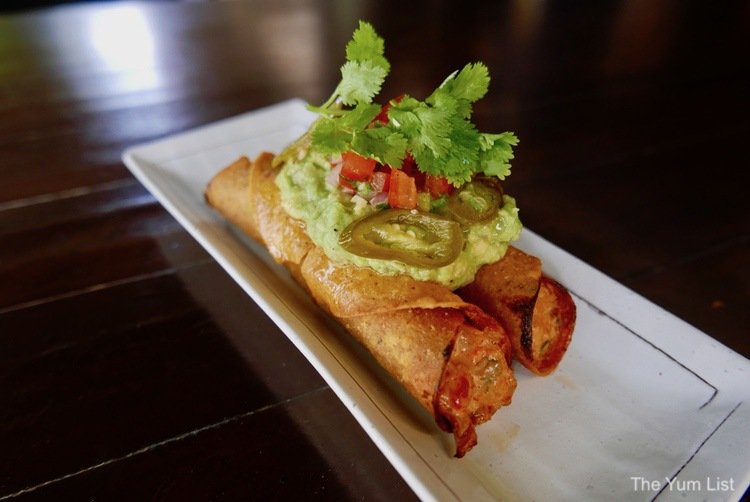 To round off our tapas style dining, we were presented with the most enormous Steak and Egg Sandwich (RM 28). Accompanied by match-stick fries, the sandwich was in fluffy, fresh bread (the same yummy bread used in the meatball dish) and generously spread with granary mustard to complement the striploin with the egg, veritably dripping down our arms as we got stuck in. I'd suggest if you are taking someone here on a first date, this dish would have the same level of attraction as trying to eat spaghetti. Otherwise, crack on!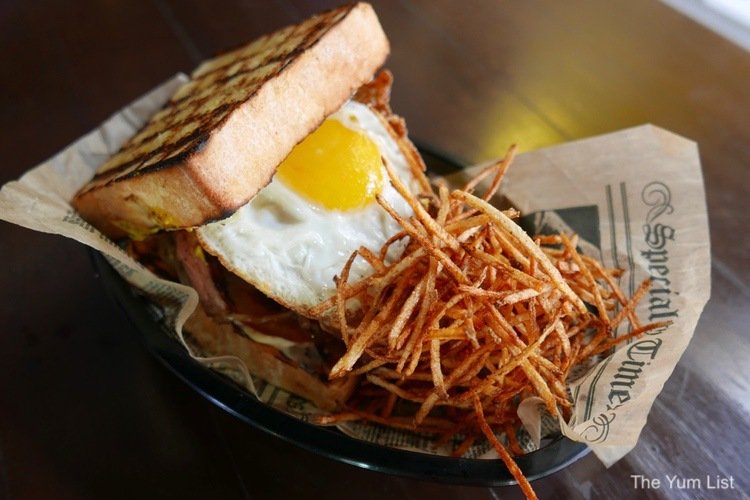 Drinks – W1 Bangsar Menu
After some refinement and adjustments, the summer cocktail menu is now launched, so we were excited to try the finished articles.
Sticking to the British summer theme, we started with a Strawberry Mojito (RM 24) jauntily served in a Kilner jar mug. White rum was muddled with mint leaves and sugar syrup, with the addition of loads of fresh strawberries, lifting the refreshing classic.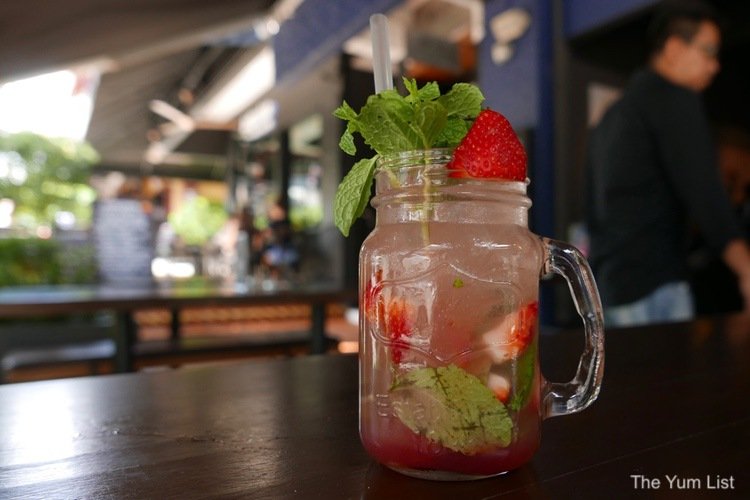 A juicy, ripe peach is a real treat (granted, not native to the UK) but very much a summer flavour. So I wasn't disappointed with the Peach Collins (RM 28) which was a lovely, summery twist on a Tom Collins. Vodka was artfully blended with peach liqueur, Cointreau and peach juice to create a beverage, suitable for the sunniest of days.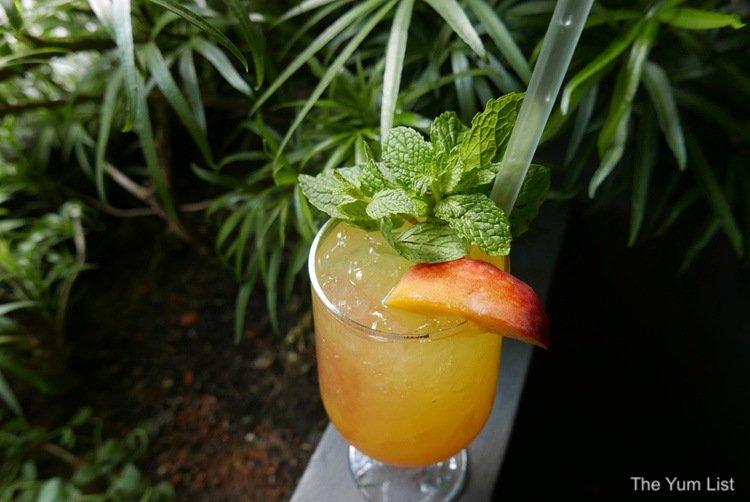 What meal would not be complete without a tasting paddle of shooters? Apparently this one! I hadn't necessarily considered a Sunday lunch-time as optimal for downing hard liquor, but who are we to judge? The vodka-based after dinner shots (RM 15) were playfully created, with Peanut Butter (pretty much-sweetened peanut butter infused vodka) being creamy and thick, Peaches & Cream comprising peach vodka with a generous helping of cream on top, Bounty, which was like drinking an alcoholic liquid of its namesake and topped off with Nutella which was the rogue of the tasters, being tequila-based. An adults' sweetie shop, if you like.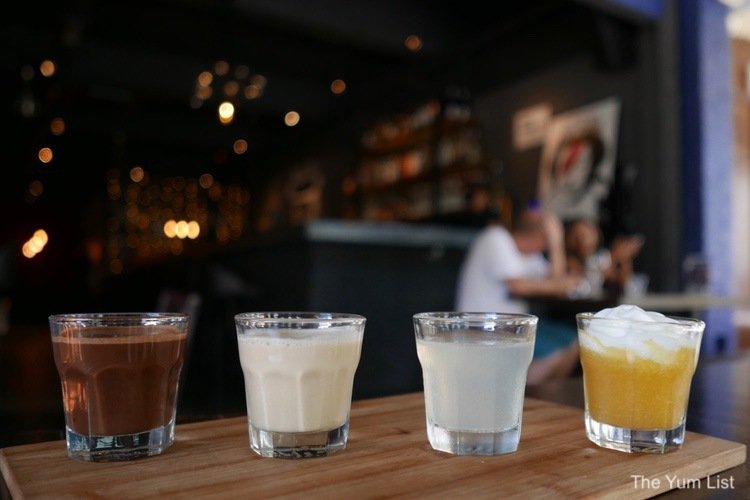 In case we worried about being deprived of alcohol, we were served a couple of gin cocktails. Bombay with Grapefruit and Cumin (RM 19 single RM 30 double) divided the table. The cumin really was rather overpowering, but I quite liked that as a sipping drink that you take your time over. Finally, we had Brokers with Thyme & Lemon (RM 19 single RM 30 double). The thyme adding a subtle background herbaceousness to my favourite spirit. This one was a winner all round for our group of ginophiles.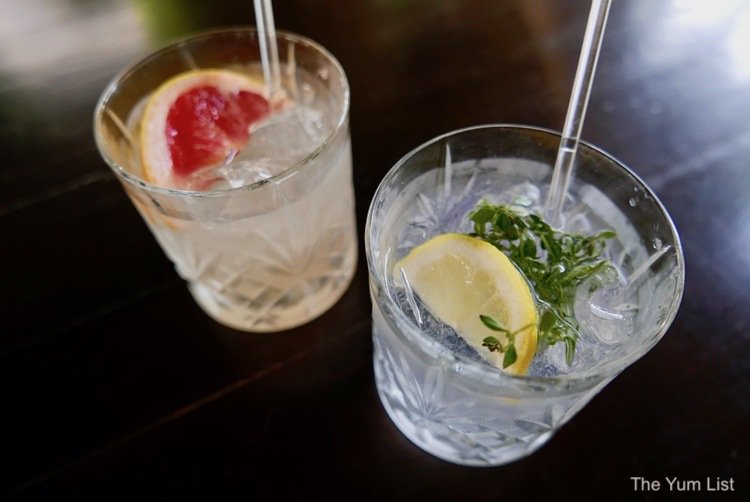 As ever, the ambience was laid-back, service attentive and a lovely place to hang out for a Sunday afternoon. In addition to their new summer menu, they have Sunday brunch drink deals, including bucks fizz (or mimosa) and happy hour on several options. It's guaranteed, in the words of the great Arnie, "I'll be back!"
Reasons to try out the new summer additions on the W1 Bangsar menu: Consistently good food; a lovely summery twist on cocktails; super ambience; attentive service
W1 Bangsar Menu
22 Jalan Telawi 2
Bangsar Baru
59100 Kuala Lumpur
Kuala Lumpur, Malaysia
+6 016 221 6512
www.facebook.com/W1asia
W1 Bangsar Opening Hours:
Tuesday – Saturday 4:00 PM – 1:00 AM.
Sunday 12:00 PM – 10:00 PM.
Monday closed