Monica Tindall
Have you ever dreamed of just dropping everything, exiting the rat race and living a simpler life, enriched by nature, family and food just like that imagined in every Italian love story? Well, fantasize no more as a taste of that life is now possible. With everything to satisfy the desires of those who'd like just a nibble, those who'd like a whole dish and those who want the complete change of lifestyle, Living Apulia is your ticket.
Living Apulia – Luxury Accommodation in Italy's South
Planning for our exploration of Italy's south and the pursuit of la dolce vita, we came across the Living Apulia website listing properties for sale, long and short-term rental and hotels. At first, it was the stunning photography that caught our attention but as we read on we discovered a concept very similar to that of The Yum List – a curated list of recommendations that have been personally experienced and approved.
Whether it's an "ancient fort, elegantly restored farmhouse, charming bed and breakfast or a luxury boutique hotel," the Living Apulia site has something to inspire the imagination and warm the heart of every daydreamer. Beautiful architecture, Italian authenticity, attention to detail and an emphasis on customer service weave the properties together in a rich tapestry of possibilities that is the Apulian lifestyle.
We met Alex and Henry from Living Apulia and asked them to give us a taste of future possibilities with a visit to some of the properties they currently represent. Really, though, let's be clear, if you can dream it, Alex and Henry will dedicate themselves to finding it. They have a number of discrete clients whose properties are not shown publicly, just waiting for the right interest to come along.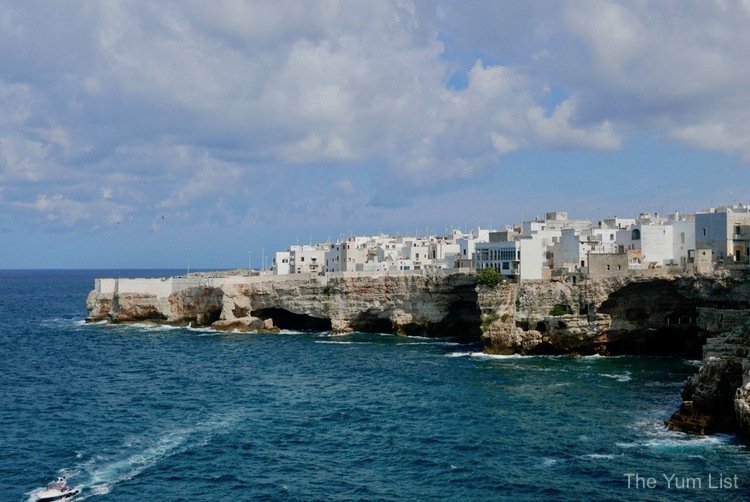 We begin our visit with a journey in the countryside, to a collection of trullo hidden amongst the olive trees. Crisp air and windy roads lead us off the main road and just the peak of the distinctive cone-shaped rooves of the trullo give some indication as to what awaits. Clear blue skies and the verdant orchards provide a brilliant backdrop for the famous circular structures of the south.
Combine that distinctive architecture with the eye for style of the editor for Elle magazine and you get a truly chic property. Five bedrooms and bathrooms sleep nine guests and multiple terraces, lounges and outdoor spaces furnish plentiful areas for leisure.
A fantastic pool fringed with manicured gardens begs for long summers of lounging, cocktails and endless relaxation. A fabulous Moroccan style lounge and dining area beg to be occupied with friends and family eating, drinking and conversing, and, of course, superb produce flourishing in the southern terrain.
A perfect summer is easily imagined with Trulli Ambrosia.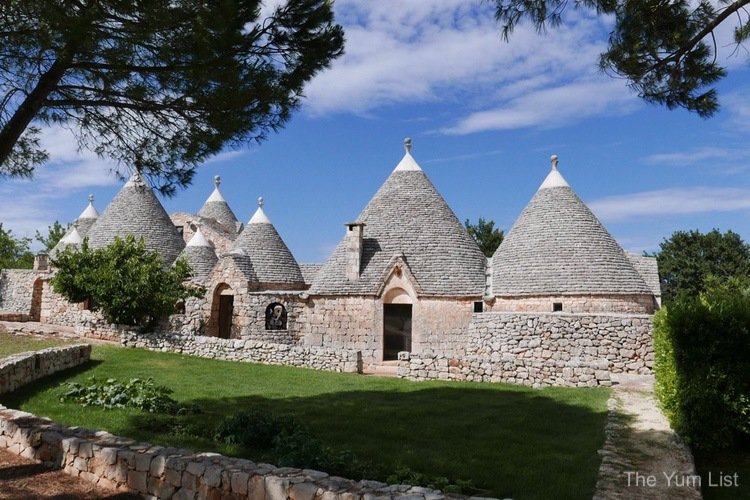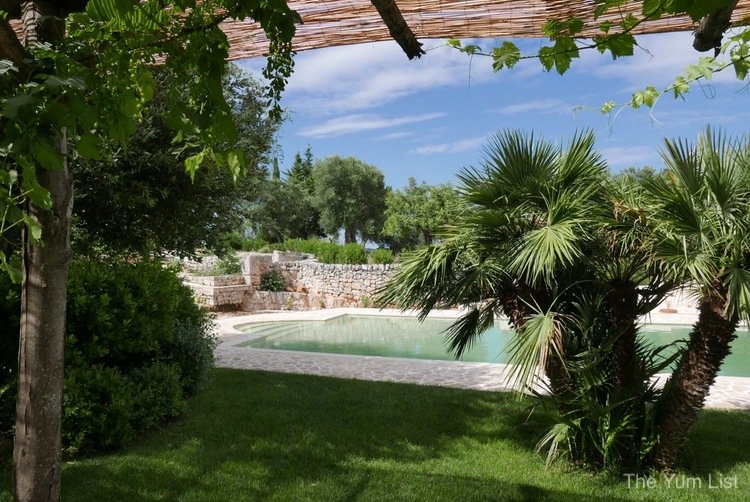 Our first impression of the next property, Villa Cenci, is with an aperitif by the pool. Lush lawns topped with hay bales roll down to the large blue pond, bordered with sun chairs and umbrellas. We can't help but delight in the pleasures of Italian slow life. Aperol Spritz in hand, good company and picturesque views enchant us so much so that a few hours slip effortlessly away without us noticing. That is what time seems to do in Apulia.
The hotel Villa Cenci sits on 13 hectares in Valle D'Itria. Five minutes from the beautiful town of Cisternino, 40 km from Brindisi and 75 km from Bari, it's close enough to a population to benefit from all the conveniences yet far enough removed to make guests feel the tranquillity that the countryside brings.
Generous gardens, filled with acacia trees, oaks, pines, palms, magnolias and pretty lilacs, surround the trulli rooms. Built with stone and a conical top the rooms provide a real taste of the region, not just a place to rest your head at night but an immersive experience into the architecture and culture of the land.
*Book directly with LAP and mention The Yum List and you'll get a special rate.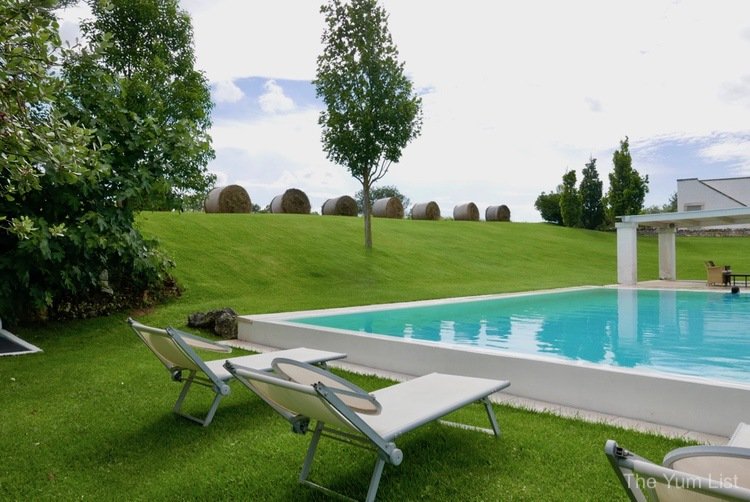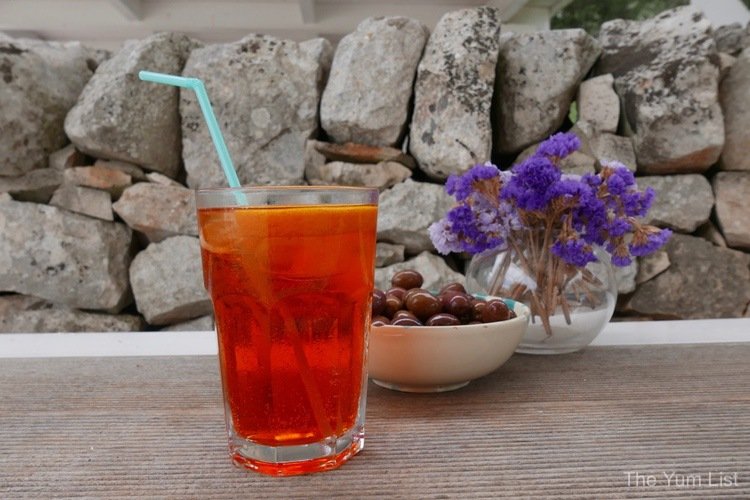 Right next to our own digs for the summer, Twin Geckos, is a distinctive type of accommodation, a masseria. Dating back to the period between the 16th and 18th centuries, masserie were both accommodation and storage for workers toiling the lands of wealthier owners.
Masseria Palombara has since been turned into a bed and breakfast and is up for both rent or purchase. The property is just a few minutes to the Adriatic Sea in one direction and three kilometers to the beautiful town of Ostuni in the other. It's rare to find such land that offers both views of the sea and the city.
Sitting on 30 hectares Masseria Palombara is home to 1300 olive trees, an orchard with countless types of stone and citrus fruits, six guest rooms and a main building that also sits atop an ancient underground olive press. The property is truly magnificent making a wonderful stay for a vacation or even consideration as an investment to buy.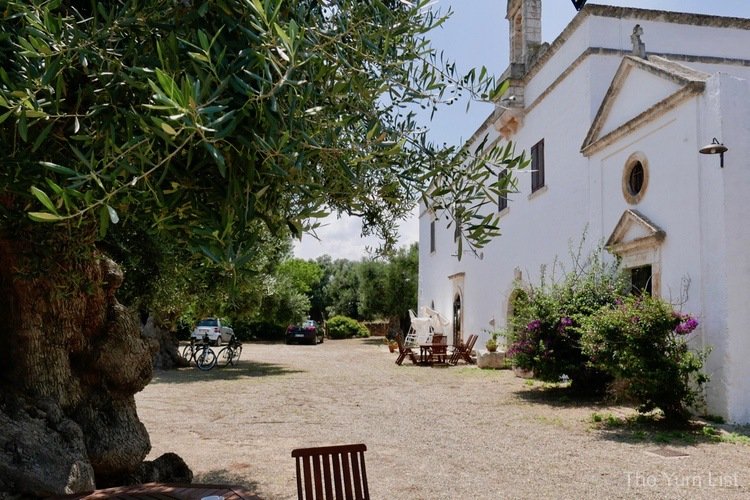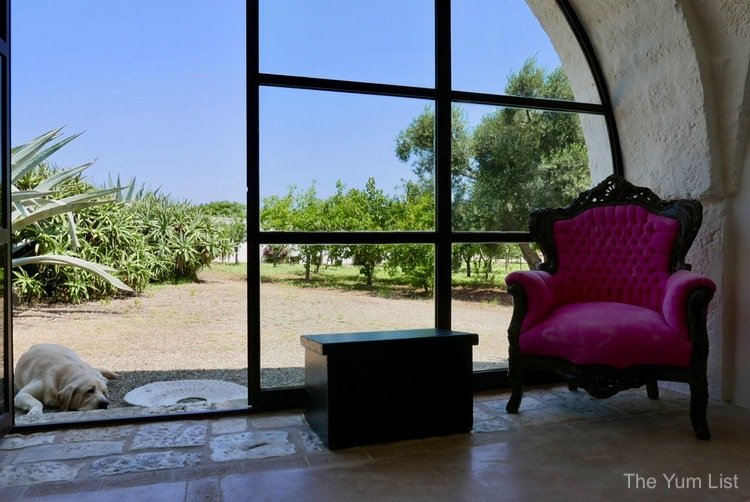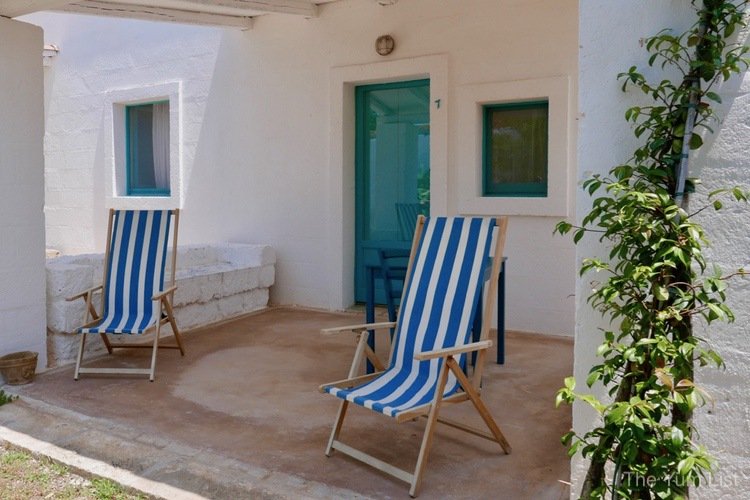 Not On The List
Shh! This one is not officially on their website but we get a sneak look inside a 1,780 m2 farmhouse from the 16th century begging to be snapped up by a creative mind and turned into a boutique hotel, luxury or artists' residence. Masseria Grande is on 60 hectares of land including arable land, olive groves, and grazing land and is representative of old Puglia family prosperity in agricultural business.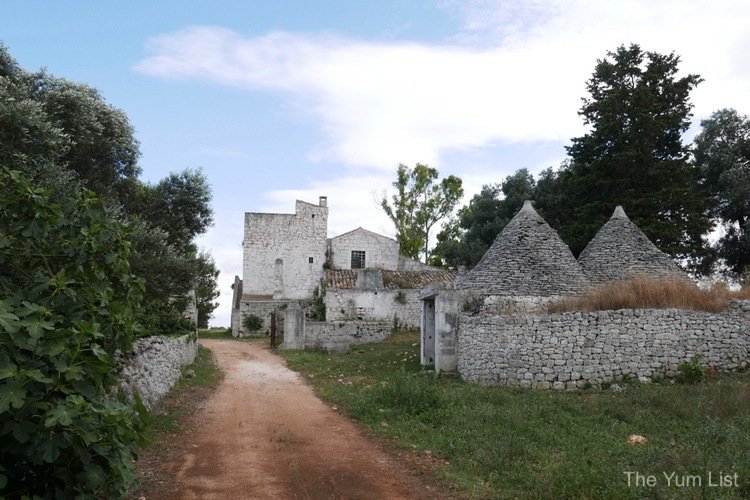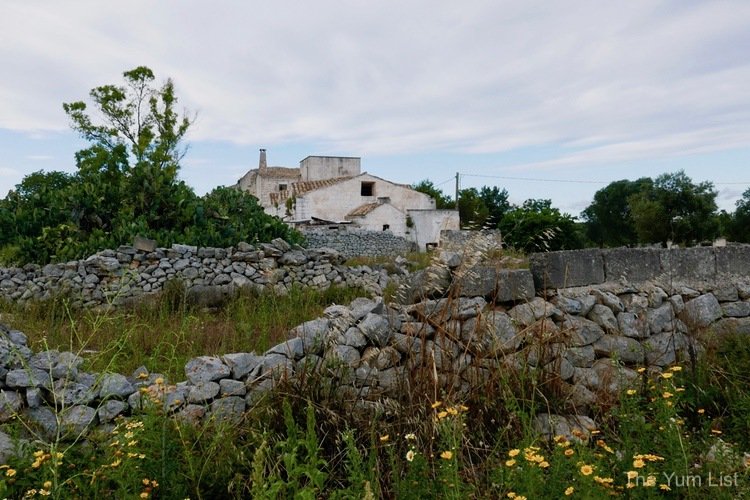 Besides the listed properties for rent or sale, Alex and Henry have lots of exclusive "off-market" opportunities for the true Puglia pioneer spirit. Simply tell them what you're dreaming and they will search tirelessly to make that fantasy a reality.
Check out the LAP website here.