Words: Kitty Lang      Photos: Monica Tindall
MTR: "A legendary name in South Indian comfort food, this super-popular eatery has had Bengaluru eating out of its hands since 1924." – Lonely Planet
As a lover of Indian food, I was excited to try MTR, a vegetarian Indian restaurant, originating from Bangalore back in 1924 by its two founding brothers.
As with so many lovely eateries, much of the charm of the restaurant arises from its history and evolution. The Brickfields branch, (the first in KL, launched in December 2017), is the latest in the family- run international chain. Jayanthi and Arvind, our hosts, painstakingly hand-chose their staff, bringing the head-chef from the very successful branch in Singapore, following on from his original stint in Bangalore.
Jayandhi also takes a very hands-on approach, quality testing every dish, every morning. If only I knew her secret to staying so slim! Charmed by one of their young daughters, our Sunday lunch was a real family affair.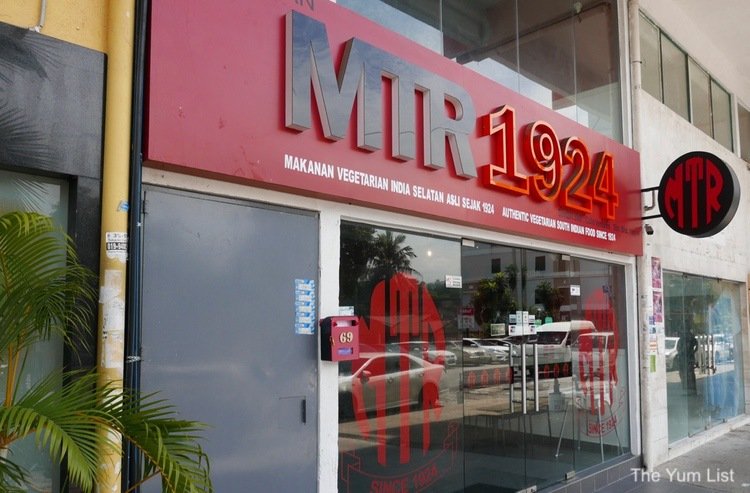 As Arvind walked us through what we were going to try, I was grateful for the loose clothing I'd put on.
We started very promisingly with the Bisi Bele Bhath (RM 9), which was a porridge-like rice dish with lentils, assorted vegetables, spices, curry leaves and tamarind pulp. The flavours tumbled over each other like a rolling sea, with a really lovely, warming balance of spices. The popadoms and raita added a coolness and crunch, whilst ghee served separately, added another layer of richness. Even if that was the only dish I was served, I would have left MTR, one happy lady.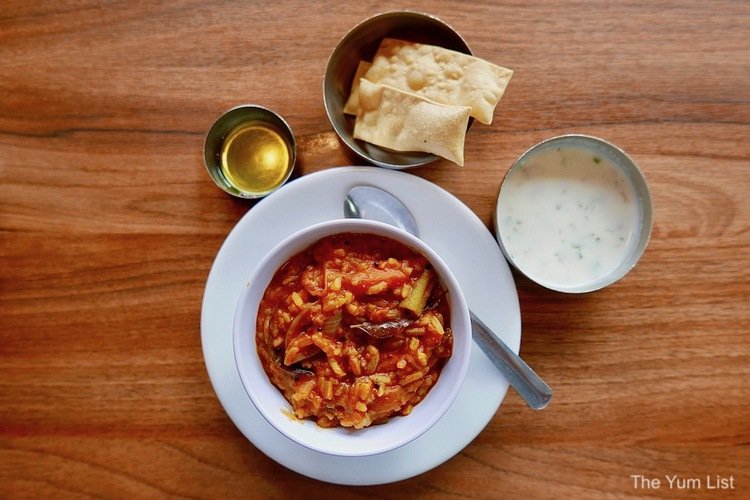 Mango Lassi (RM 11) was just as it should be. The sour yoghurt complimented the sweet mango making it silky and tangy. I did, in fact, go back for seconds. Yummy!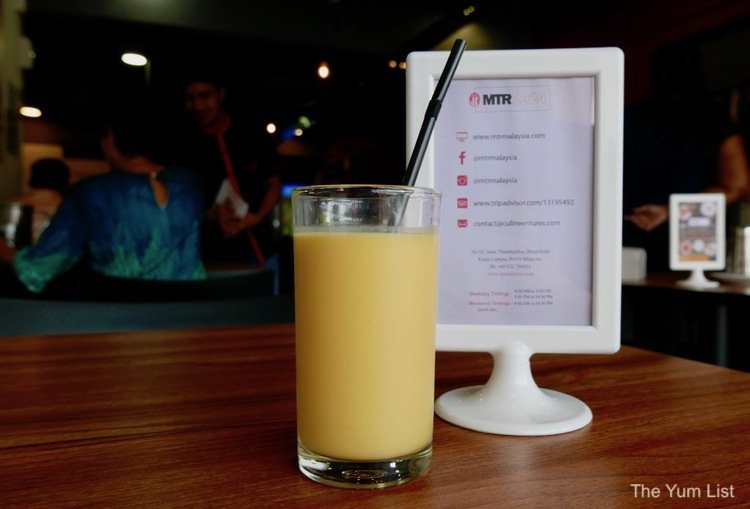 Our second dish was Onion Rava Dosa (RM 11.50). I took a sneaky peak into their immaculately clean kitchen to watch it being made. Chef expertly flipped and folded the semolina crepe, cooked on the griddle, flavoured with onion, green chillies, coriander, grated coconut and ghee. Soft sweet onion in the middle was delicious and all was served with sagu and chutney. The portions were huge, so go there hungry!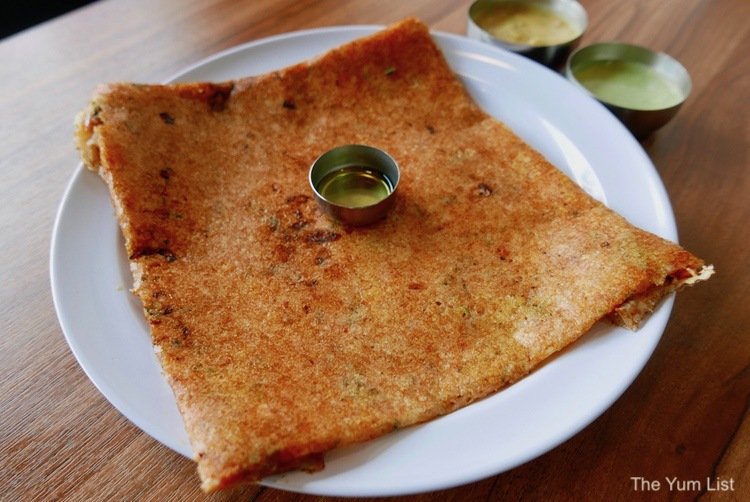 Udelim Vada (RM 6.60) was our next intriguing dish, a fried lentil doughnut, with bright, green chillies, somewhat denser than its sweet sister, this savoury version was really crispy on the outside, whilst light and fluffy on the inside… very filling, without being stodgy. Sambal and mint sauce accompanied it to add an extra zing.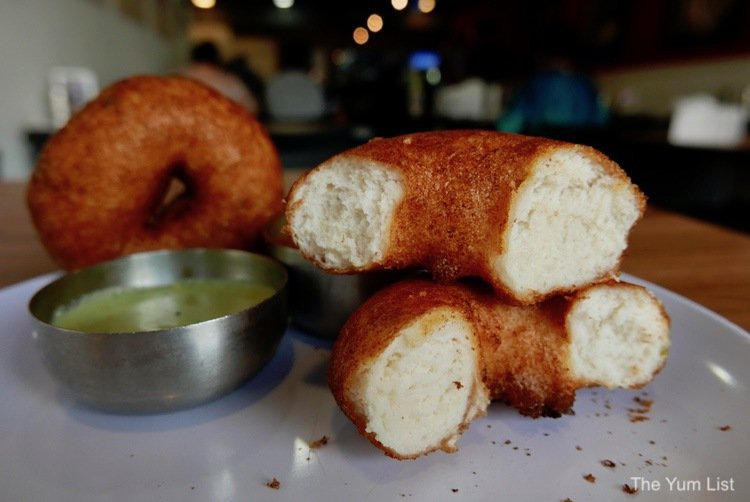 To continue our Indian culinary journey, we were next treated to the Masala Dosa (RM 8.50). The rice and black gram crepe was stuffed with the most delicious, soft, spiced potato, again laced with ghee and served with green chutney and lentil sambal. The flavours and mouthfeel were all so good, I hadn't paid any heed to the lack of meat. This is a firm favourite of Monica and in fact, our delightful hosts.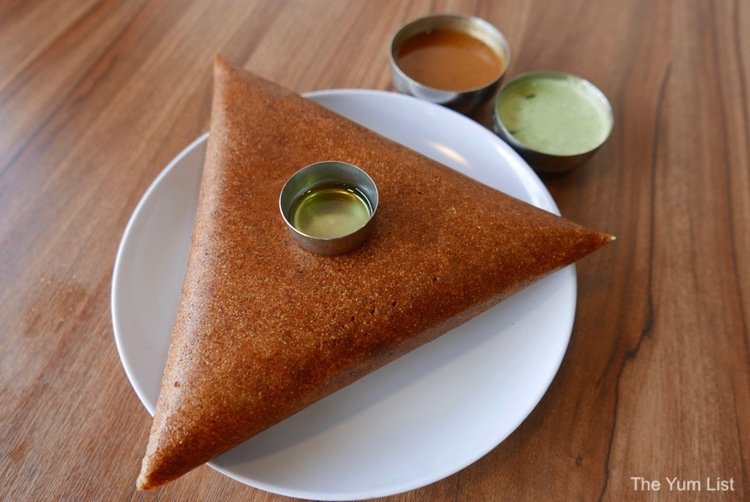 Steamed semolina cakes, in the shape of Rava Idli (RM 7.50), were made with yoghurt, coriander, cashew nuts, curry leaves and mustard seeds. Super fresh tasting with a spongy texture, served with ghee (not fattening according to Arvind…), chutney and potato sagu. This was proudly invented by MTR during World War 2 where rice shortage was an issue and remains to this day, one of their most popular dishes – quite unique and certainly worth a try.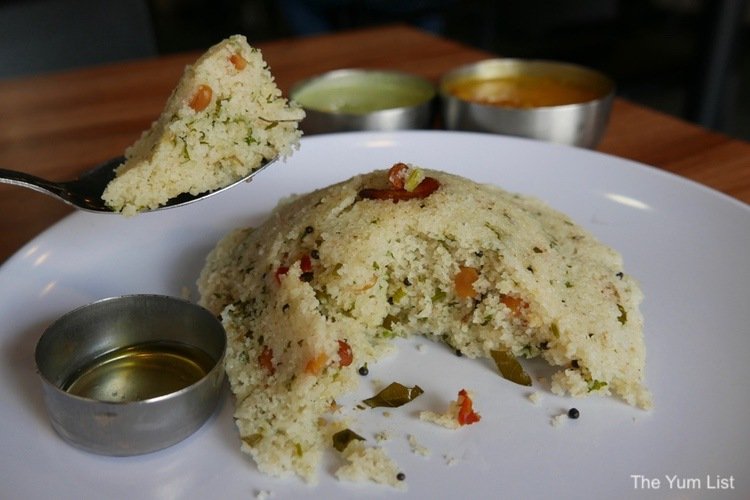 Next, happy that we carried on past each delicious dish, we had my absolute favourite one, Pudi Dosa (RM 10.50). As regular readers will note, I err to the more sour dishes and this was no exception. I was puzzled at how the slightly tart flavour of the thick, crumpet-textured crepe was achieved. We discovered that the batter is made at least half a day in advance, to allow it the chance to ferment. Topped with mildly spicy chutney powder and the afore-mentioned spiced potatoes, this is a dish I would certainly go back for!!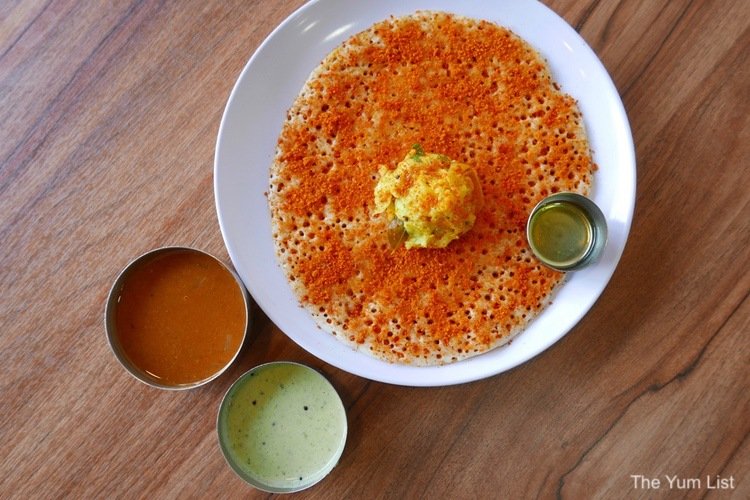 Dessert Menu MTR, Brickfields
Every meal deserves a sweet ending and so it was with the Chandrahara (RM 9.50). Only made on weekends, Maida flour forms the base of the kneaded dough and is deep-fried, served with khoa. Khoa is milk boiled with cardamom and can be sweetened, but unnecessary, given the natural sweetness of the milk. The slightly chewy and crunchy centrepiece, married nicely with the creamy milk.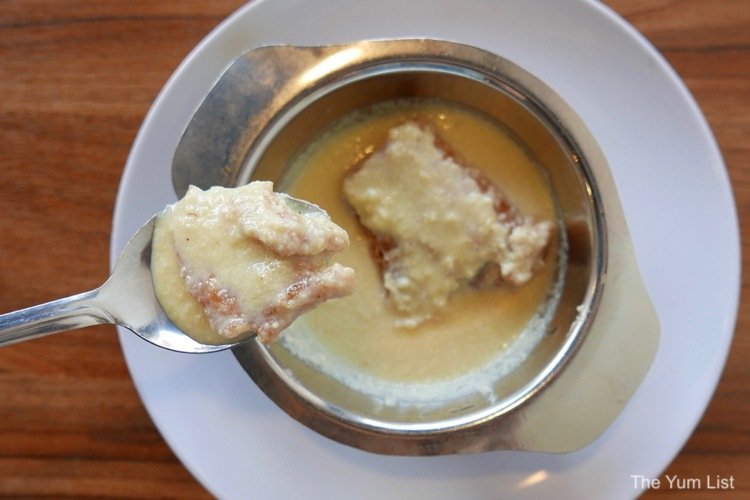 Paired with dessert was MTR's very special Coffee (RM 5.20) with warm milk. A slow drip traditional filter coffee, showed off the proudly sourced, single estate beans, the estate who have been exclusively supplying MTR for the last 70 years. The story goes that they smuggled coffee from the Middle-East to create the birthplace of Indian coffee.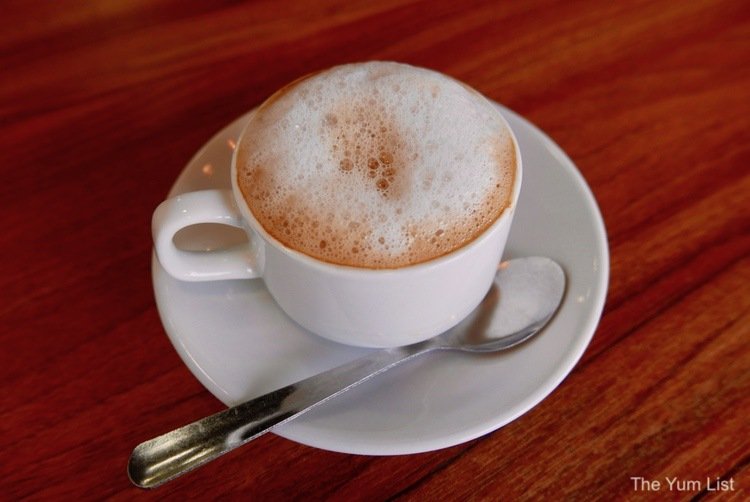 Full to the brim, we left having a sense of a lovely family Sunday lunch, with people who genuinely care about the food they serve. Despite being open just a short while, the restaurant was full to the rafters, clearly with those who had already become regulars, which given the quality of the food, with the incredible value for money, is really no surprise.
Reasons to visit MTR, Indian Vegetarian Restaurant: amazing value for money; Pudi Dosa (my fave); Masala Dosa (Mon's fave) exceptional standards; jovial family vibe.
MTR, Indian Vegetarian Restaurant
69 Jalan Thambipillay, Brickfields
Kuala Lumpur 50470, Malaysia
+6 03 2276 4924
[email protected]
mtrmalaysia.com
MTR Brickfields Opening Hours:
Monday to Friday: 8 am – 3:30 pm and 5 pm -10:30 pm
Saturday & Sunday: 8 am 10:30 pm
Check out our constantly updated list of vegetarian restaurants and restaurants offering vegetarian food in Kuala Lumpur here.