Monica Tindall
I'm not sure what I expected to find at Pierre's Bistro and Bar at InterContinental Dubai but it certainly wasn't a tropical pink fantasy with flamingoes, jungle palms, gold-trimmed stools and chairs resembling royal thrones. Chef Pierre Gagnaire is known for his fine-dining Michelin-starred restaurants, yet the mood here is relaxed and contemporary with a significant sense of fun in the quirky design. It's much removed from the white-clothed tables and silver service sometimes associated with upscale dining.
While the setting may be casual, no expense has been spared in time, money or effort in ensuring that the dining experience is exceptional. Premium ingredients informed service and masters in the kitchen (and behind the bar) interweave to create a memorable culinary offering.
After selfies have been taken in the royal chair in the entrance and pics of the "Oh Boy!" turtle and cockatoo have been Instagrammed, it's time to take a seat at the bar.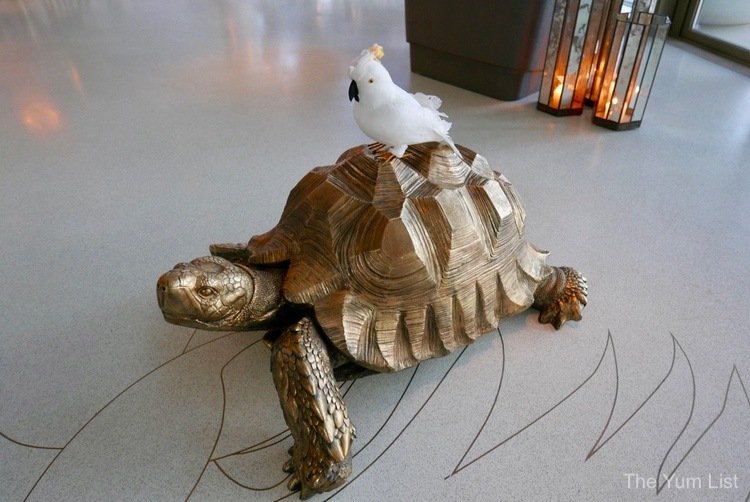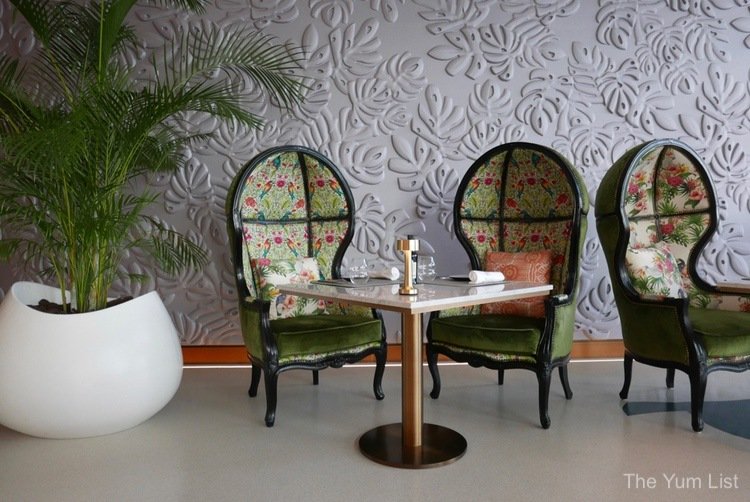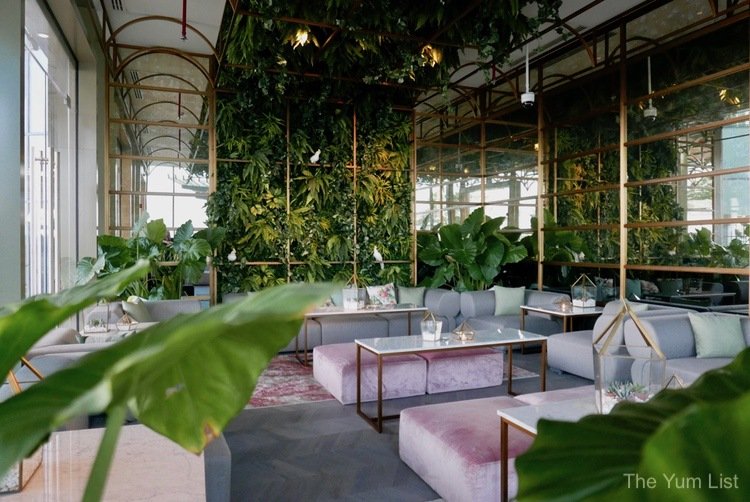 Drinks at the Pierre's Bistro & Bar
The bar menu at Pierre's Bistro & Bar is a simple list of the classics but we're quickly told that drinks can be made to order. Just tell the bartenders what you're in the mood for and they'll do their best to oblige. I choose the French 75 (AED 45) and both Noel and Unni, the gentlemen behind the bar, suggest trying it with a twist. Who am I do disagree with the experts? Bombay gin, St Germaine (elderflower liqueur) and fresh lemon juice are topped up with Taittinger Champagne and served in a traditional flute. It has the sharpness of the original recipe with a floral layer in the variation. Hubby sticks to what he knows, a Gin & Tonic with Tanqueray finished off with Fever-Tree Indian Tonic (AED 45). We munch on purple and white potato chips so finely shaven that they're thinner than the pages in the menu we're browsing.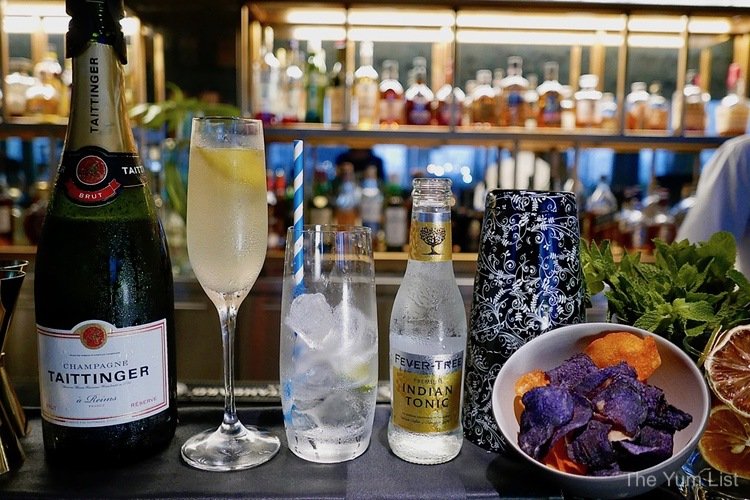 We could happily pass more time at the bar chatting with bartenders Noel and Unni but Chef Mathieu Balbino, head of the kitchen at Pierre's Bistro & Bar, has a whole menu of French recipes with a modern touch enticing us to add some solids to our diet.
Pierre's Bistro & Bar Menu – Dessert First
As we move into our booth of studded leather bench seats, walled with a mirror and unusual art pieces, Noel drops by our table letting us in on a little secret, "The Apple Tart is soooo good. Chef is going to want you to try his Meringua Tart, and it's delicious, but you MUST order the Apple Tart. It takes 45-minutes to prepare. I'll put the request in for you okay?" Again, no arguments here.
Menu Pierre's Bistro & Bar
As if in tag team unison, Unni appears next at our table. "Any suggestions?" I ask. "Yes! I love to suggest!" Unni enthusiastically replies. He continues to walk us through the menu offering personal insight into each dish clearly emphasizing his favourites. Once more, we appreciate the recommendations and happily ask Unni to do the ordering for us.
Once the kitchen has received our request, a magnificent selection of bread is delivered and has me wondering if I'll actually need anything other than that and a glass of red wine for dinner. A wooden slatted board holds a fan of thin crispy bread called cartafatta in three versions: black olives, Parmesan cheese and garlic. And, while they resemble some European crispy flatbread you might be familiar with, the texture is something else – once broken and placed on the tongue they disappear almost like powder. The board also holds chef Pierre's favourite and signature bread; soft and milky buns. To me, they look positively similar to mantou, Chinese steamed buns (that have been baked) and make a perfect combo with the Saint Malo hand churned butter by Jean-Yves Bordier. On the side, a traditional baguette pokes its crusty nose out of a paper bag and our waiter, Nazar, noticing our delight over the crunchy edges and dense middle, tells us that he can also pack us some to take home (yes please!).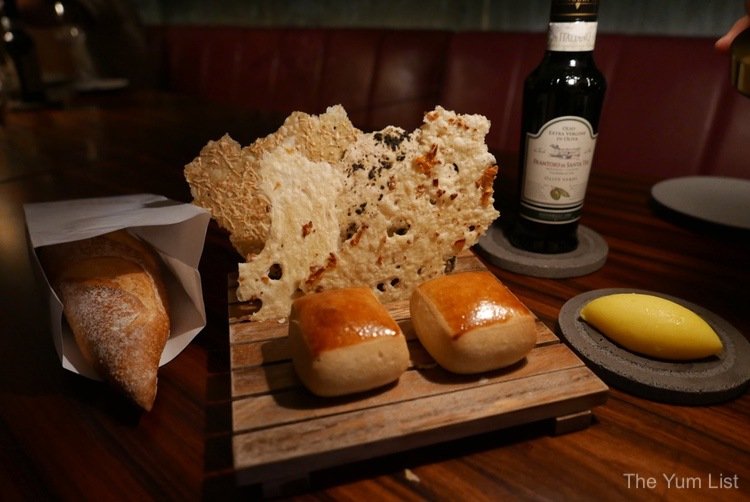 Crudo
Raw
Oysters, both plain and Gaya style, are recommended as musts. On their own, the Gillardeau oysters, self-proclaimed by the producers as the "Rolls-Royce of oysters," are firm and plump with a moderate salinity. Gaya Oysters (AED 100), named after the famous Michelin-starred restaurant by Pierre Gagnaire, enhances the natural mollusc flavours with lemon gel, sardine rillettes, frozen banana and coriander. It sounds like an unusual blend but the components are in such minute portions that they truly serve to augment rather than to overpower. On a side note, the producers of Gillardeau oysters are so convinced of their supremacy that they laser brand every shell to arrest counterfeiting. A 2016 Petit Chablis, Pas Si Petit, La Chablisienne, France (AED 70) makes a fresh companion with its elements of citrus and bright lively finish.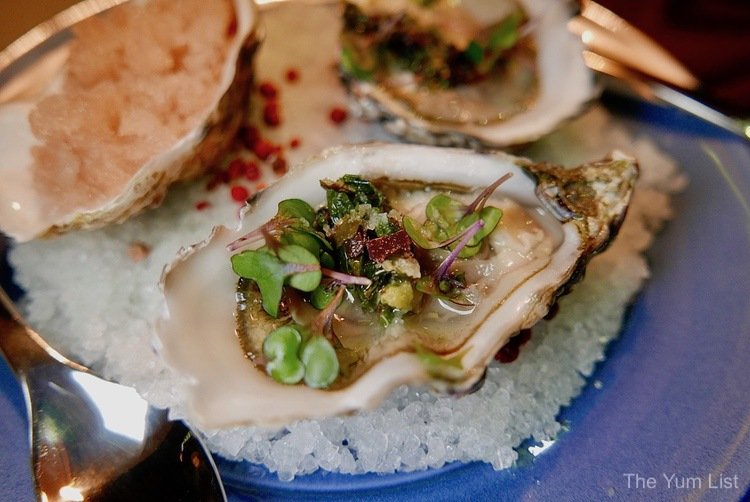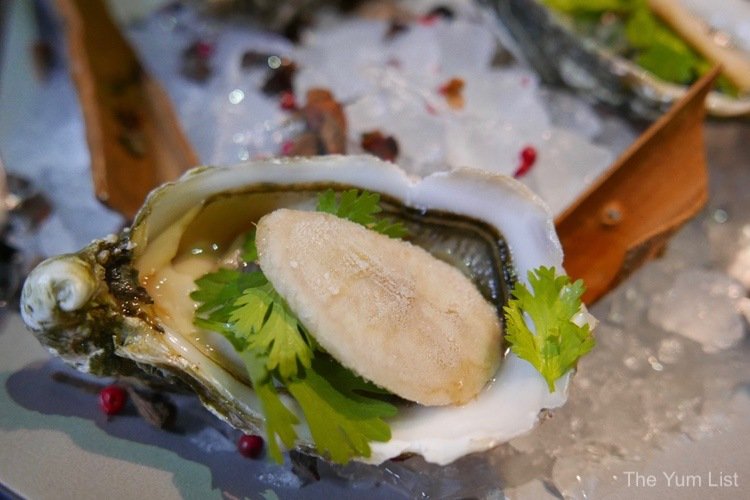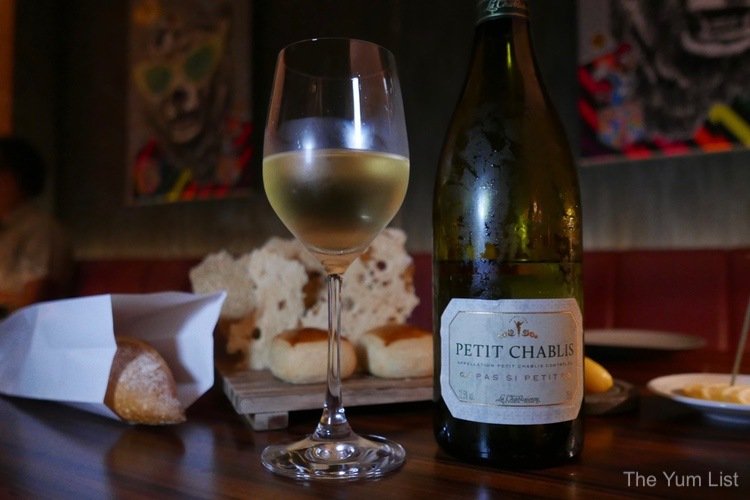 Tuna Tataki (AED 80) is served on a crispy rice cake (not a dry rice-cracker as I was imagining but an actual wet rice rectangular prism deep-fried and filled with moist grains of rice) which adds a salty element balancing out the fruit salsa on top. The topping is a delicious combo of yuzu, mango and enoki mushrooms – genius. And, sticking to our light, refreshing theme for seafood, a 2016 Pure Rose Cotes de Provence (AED 60) is our next wine mate. Ripe berry aromas and good depth in the palate pair well with the tuna and this wine could easily carry over to the next dish as well.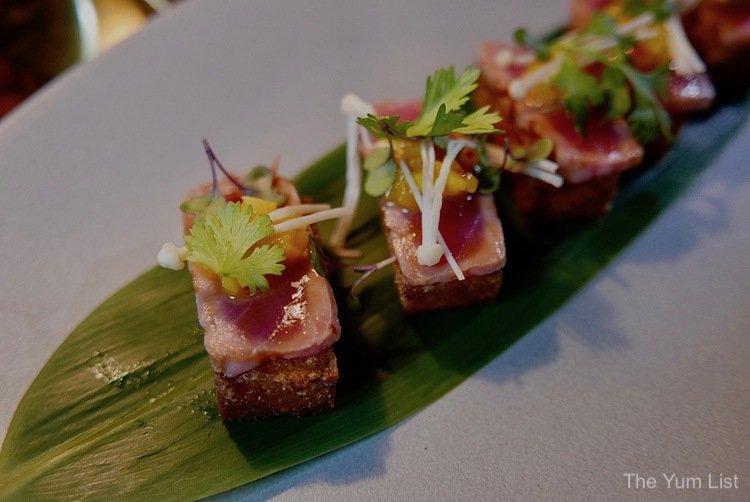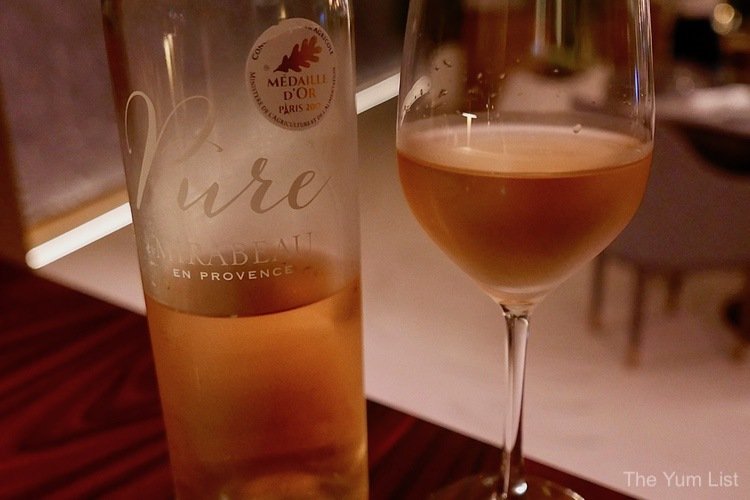 To Start With at Pierre's Bistro & Bar
Pour Commencer
A glass bell protectively guards Madagascar Prawns (AED 90) infusing in them the chicory smoke they've minutes-before been enveloped in. The smoke permeates all of the ingredients and plays a see-saw in flavour with the vibrant "Sketch-up" sauce that crowns them all. Coming from another of chef's Michelin starred numbers, Sketch in London, the sauce has an earthy beetroot base with lemongrass. The prawns have been poached with lemon and orange zest and are served amongst a bed of verdant baby spinach with thin slates of black bread and preserved lemon consummating the summit. Unni confides that the prawns are, "so amazing that people don't share them. It's one of the most favourite dishes on the menu – once guests have tried them they repeat the order on every visit."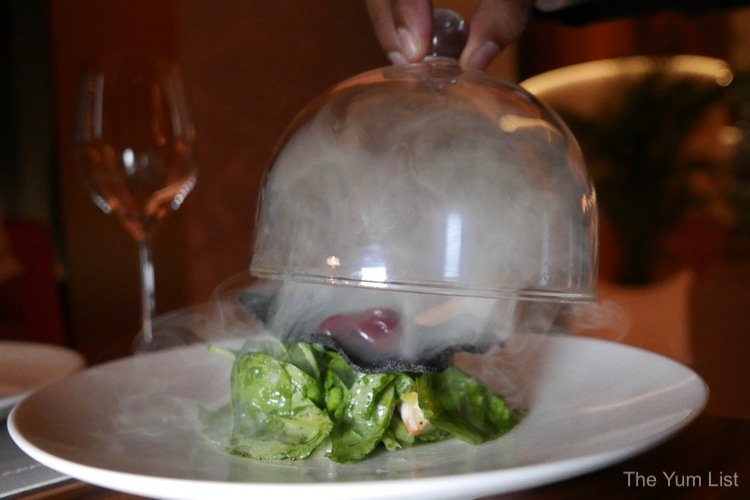 Sea/ River
Eau Salee/ Eau Douce
Unni returns hinting at his next wine choice, "It will be very interesting to try the fish and chicken with a red." Breaking away from the tradition of white meats with white wines, Unni suggests a mencia grape from Spain. He reports a distinctive nose and shares that this wine has been on his mind since tasting it not so long ago. Finally, the secret is revealed: the mystery wine is a 2013 Petalos, Bierzo DOC from Spain (AED 550 bottle). A nose of violets follows through with a roundness in the mouth and chewy smooth tannins. Versatile, its delicacy plays well with both chicken and fish, and I suspect would go well with dishes such as risotto or cold cuts and cheeses too.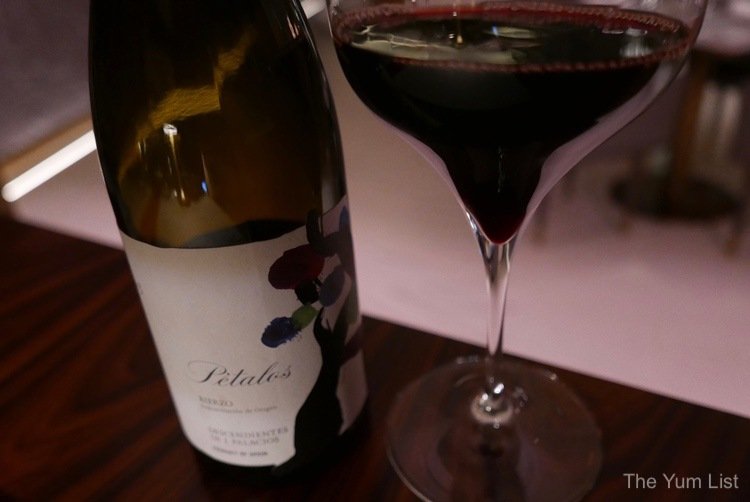 Crispy Amadai Fish (AED 110) is made with Cremona mustard and quinoa tuile. Unni tells us that people really appreciate the flavours presented in this recipe. The dish proves a good contrast of textures with baked avocado wedges contributing creaminess and contrasting the skin, which is flaky and crisp as a result of flash cooking at a high temperature in hot oil. A fruity sauce of dried cherry, apricot and pear has been marinated with mustard seeds and left for a month to ferment and makes a welcome complement.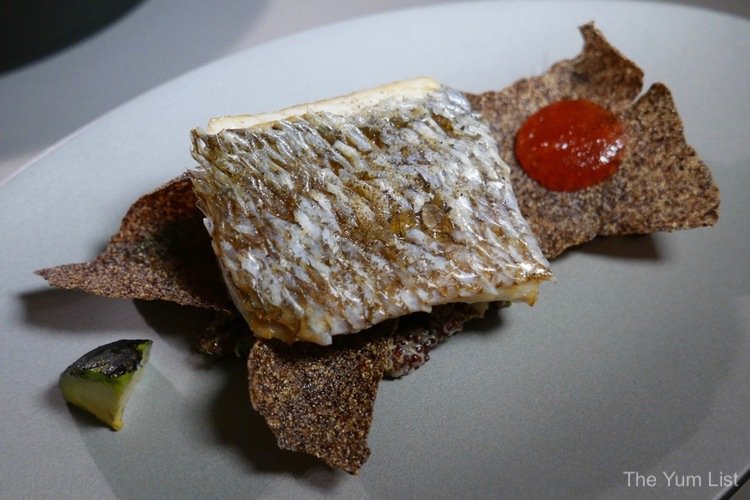 Meat
La Terre
Another recipe highly recommended for its sauce is the Roasted Farm Chicken Breast Jean-Vignard (130). The sauce is a classic by chef Vignard consisting of tomato paste, white wine, shallots and a lot of cream (dieters beware!). It's one the moistest poultry breasts I've come across. It has been marinated with salt and sugar for a significant amount of time, cooked for an hour in a vegetable stock before being finished off with a roasting, which crisps up the skin just a little. A luscious version of mac 'n' cheese, made with Comte, sides the dish. Black pepper breaks the richness and it just soooooo tasty. After pushing chef Balbino to reveal the secret to tastiness, he lets on that the macaroni has been cooked with chicken stock and butter. It's then glazed with chicken jus and the Comte cheese is melted slowly at the end topping it all off – things delicious dreams are made of.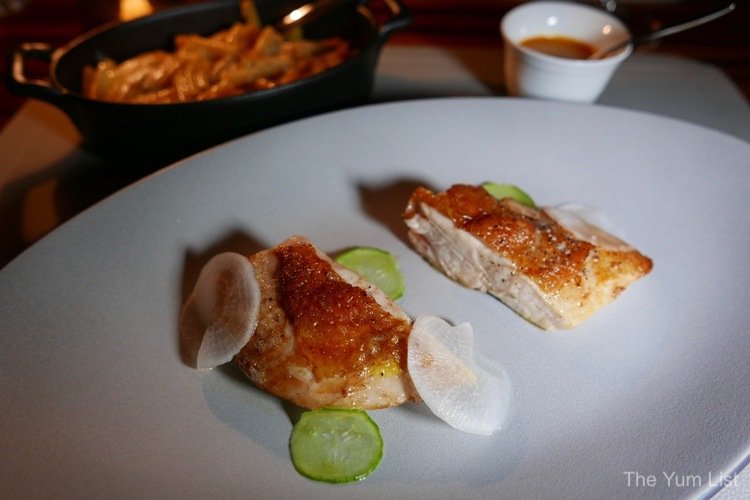 Dessert Menu at Pierre's Bistro & Bar
Confirming Noel's first suggestion of "order the Apple Tart (AED 115)," Unni delivers the classic, "Yes, the apple tart is a big hit. With the apple tart is like 'pew' (makes explosive noise with lips). You eat it. It's fabulous." His description couldn't be better. It's fantastically caramelized around the edges giving subtle pieces of sugary chewiness mixed with generous pilings of soft green apple and light pastry. It's accompanied by a cider sauce, vanilla ice cream and whipped cream flavoured with Calvados – divine.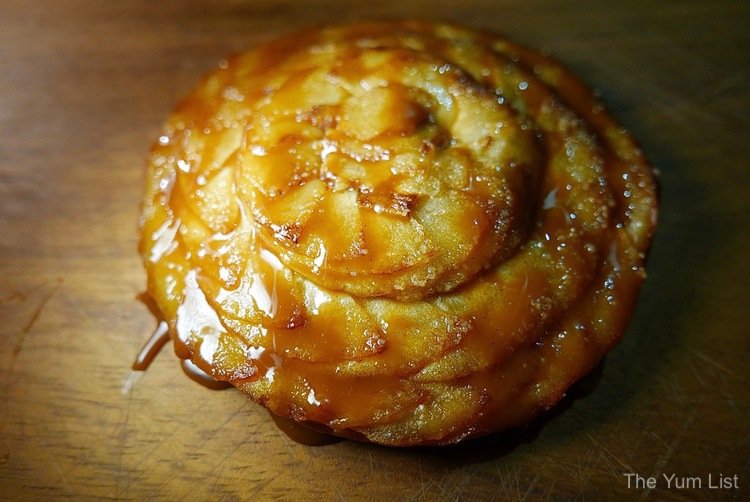 Despite our protests, "Oh no, we couldn't possibly, we're too full," chef suggests we also try the Meringua Tarta (AED 65). Ignoring our pleas, he responds with, "I send you anyway." And proceeds to tell why it's his favourite, "It's very nice because I like the texture because it's fresh with the mango coulis and the rocket salad. When you eat the tart, the jelly and the salad it's (hand actions and facial expression showing deliciousness)" – how could we resist? Isn't funny how quickly following those protests for no more food we quickly came to eat our words (and all of the dessert).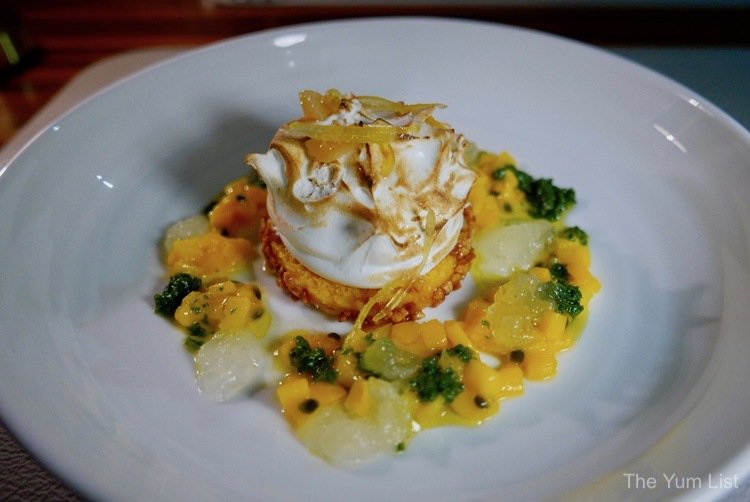 Dessert Cocktail
As if completely ignoring our cries of full tummies, Unni brings out "one last" cocktail. It truly is beautiful, and we should have known that arguing is futile and that indeed Pierre's crew knows best. The Belle Âme blends Calvados, Aperol, fresh passion fruit, fresh pineapple juice and vanilla into a seductive mix that could well do as dessert itself and is glamorously garnished with a stroke of gold dust down the side of the glass. Happy.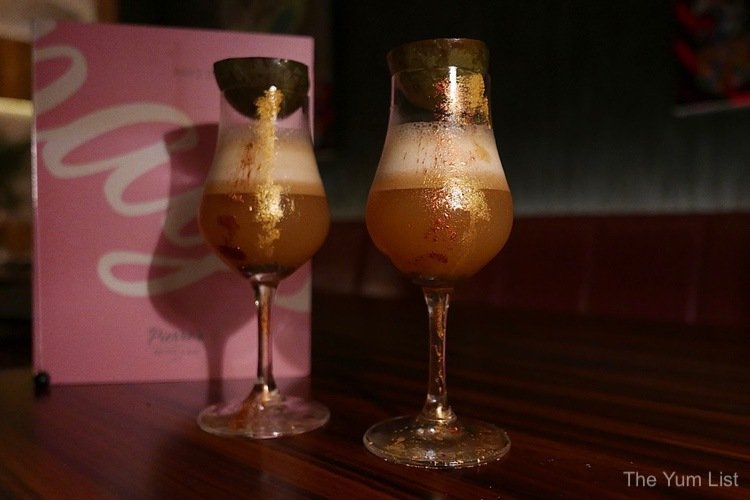 It has indeed been a beautiful evening at Pierre's Bistro & Bar. A whimsical setting, extraordinary food, excellent beverage pairing and devoted service weave together to make an exceptional dining experience.
Reasons to visit Pierre's Bistro & Bar: fun and stylish setting; versatility in spaces from indoor and outdoor lounges, to booth dining to long communal tables and intimate spaces for two; masterful sauces; take the recommendations from the knowledgeable staff who clearly are as passionate about food and beverage as their guests.
Pierre's Bistro & Bar
InterContinental Dubai – Festival City
Level Walk, Dubai Festival City
United Arab Emirates
+971 04 701 1127
[email protected]
www.pierresdubai.com
Pierre's Bistro & Bar Opening Hours:
Dinner 6:30pm to 11:30pm
Lounge: 6:30pm to 2am
Closed Sundays
#pierresdubai