Monica Tindall
What happens when a chef, a brewmaster and a florist meet? You get a delicious brewpub in one of Rome's hippest art districts – 'Na Biretta Social Club. Combing a passion for food, brew and design, founders of Birradamare, Massimo, Giovanni and Elio wanted to build a concept where craft beer could be celebrated, along with quality food made from scratch, a setting that is fun and friendly and affordable prices. And, after our visit, we have to say, "mission accomplished" and also want to let you in on a little secret – the food and beverage here is a third of the price of what we found in the centre of Rome and, this gem is only a 10-minute walk from Termini Station! Avoid the tourist traps, dine here on the first day of your visit, and I guarantee you'll want to return.
When you get to the entrance of 'Na Biretta Social Club keep going in! You could easily get stuck at the door chatting with the friendly locals but the action increases the deeper in you enter. The next room is a glass-walled brewery but your final destination is an open warehouse-looking space filled with big screens, a table soccer machine and a long bar lined with metal stools. The music is lively, a bit of rock and pop – a good feel.
Beer at 'Na Biretta Social Club
Pulling up a stool, considering the owners are also the brewmasters behind Birradamare (Rome's famous local artisanal brewer), the first order must be a beer. The 'Nabio (EUR 4 0,3L) and a Chiara (EUR 3 0,3L) are our first requests and do a fine job of quenching our thirsts. Read more about Rome's pride, Birradamare, and their comprehensive range here. Even though this craft brewery produces over 20 beers of their own, they also proudly stock craft beers from around the world both on tap and by the bottle.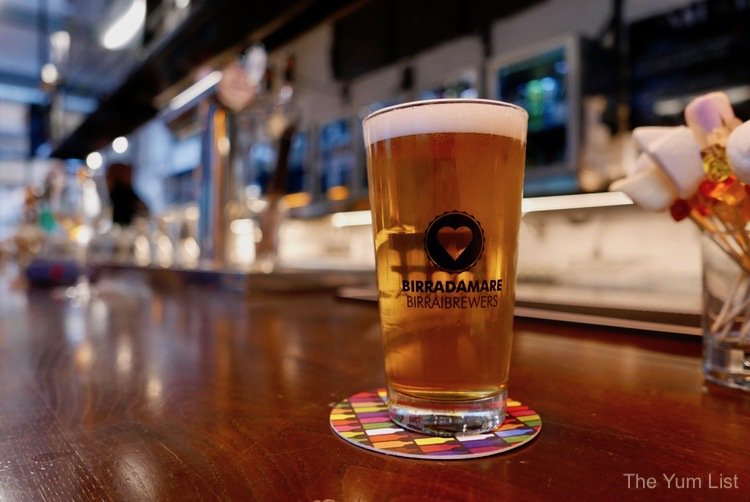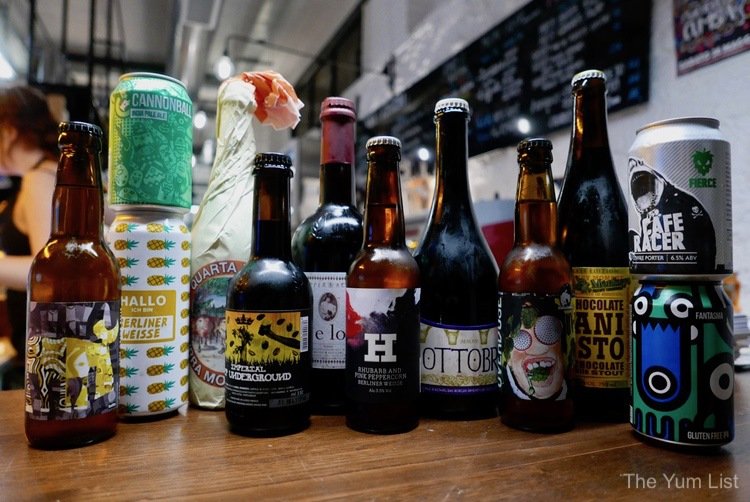 Best Value Aperitivo in Rome! 7:00 – 9:00 pm
'Na Biretta Social Club's Aperitivo Platter is a steal at EUR 5! A wooden tray carries three different cakes, two patties and a trio of salads. Each is an Italian traditional recipe and I find it refreshing that there's not one slice of bread, cheese or cured meats (the overwhelming standard in more touristic districts).
The first "cake" is a blend of bread and capsicum, the second is made with chicory and Parmesan and the last is maiz and curry (my favourite and goes particularly with the organic beer). Of the patties, one is similar to the cake with chicory and blue cheese (mixing veg with cheese is a very clever way to get people to eat their greens) and the other is an attractive mix of chickpeas wrapped in zucchini strips. The three salads represent what you might find in the kitchen of an Italian home – or so the bartenders tell us. The first is a tasty mix of beans, tuna, rocket and grated carrot; the second a typical farmer's salad historically made with all of the leftovers in the fridge, in this case, barley, peppers and lettuce all in one pot. The last is made across the country but this particular combination comes from Tuscany with red onions, tomatoes, basil, black olives and olive oil. Yum (and did I mention extraordinary value?).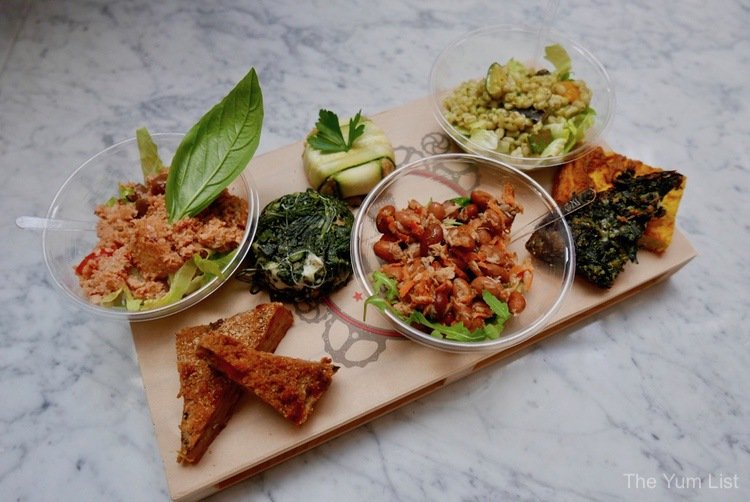 Cocktails! @ 'Na Biretta Social Club
Mauro, the bar's manager, proudly tells us that their bartender Dario is the best in Rome, if not Italy. I ask Dario what he likes to make, and he sincerely responds, "Whatever you like to drink." I tell him I like something light with a sour finish. He questions further adding, "How about smoky too?" With my confirmation, he whips up a Pink Sour. It features Mezcal (hence the smokiness), homemade strawberry syrup, pink peppercorns and freshly pressed lemon juice shaken over ice and garnished with a plump ripe strawberry garnish. My desires have been gratifyingly met. So, why not ask for another?
Wine Menu 'Na Biretta Social Club
After three weeks in Italy and being disappointed by restaurants that only sell low-quality wine by the glass, I'm impressed that I can get at least eight nice wines by the glass at 'Na Biretta Social Club. One such drop is the Ribolla Gialla 2017 Collio Marco Felluga. It's the most expensive wine on the list (EUR5 per glass) and the most popular, which clearly tells me that I'm not the only one longing for a good glass of wine without having to order the entire bottle. It's fresh with mineral notes on the nose and follows through with a complex palate for a young wine. I would definitely order this again.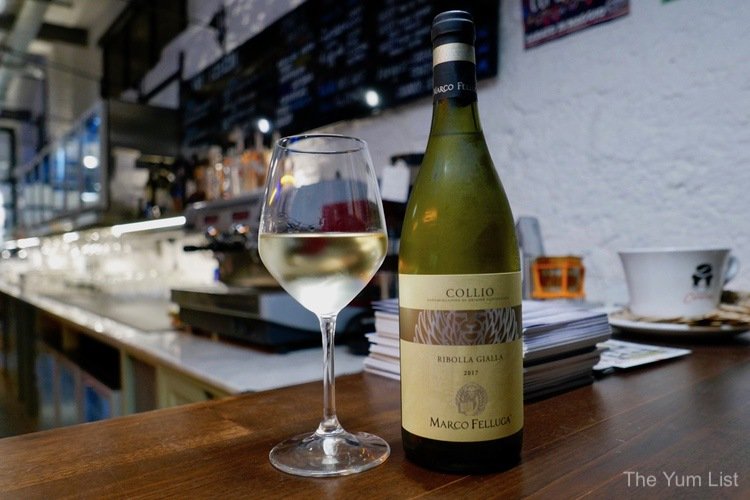 More Food at 'Na Biretta Social Club
There's not only aperitif to satisfy your appetite at 'Na Biretta Social Club but a value-for-money menu that changes daily according to produce and seasons. It's traditional local food, ideal for pairing with the local brew and is all made in-house from scratch every day.
Pinsa (EUR 6), a special type of pizza typical to Rome, has recently enjoyed a revival retaking the culinary scene as a "cool" snack. Soy, wheat and rice flours are used to create a sourdough that is much lighter than a pizza. It's a little crispy around the edges and lightly spongy. Besides being delicious, it sports fewer calories and is lower in gluten than regular pizza. I'm pretty positive, however, that the generous topping of cheese that we have on our Naples style order with buffalo mozzarella, tomato and basil, has countered all of those calories I thought I was saving. Delish. A must-order.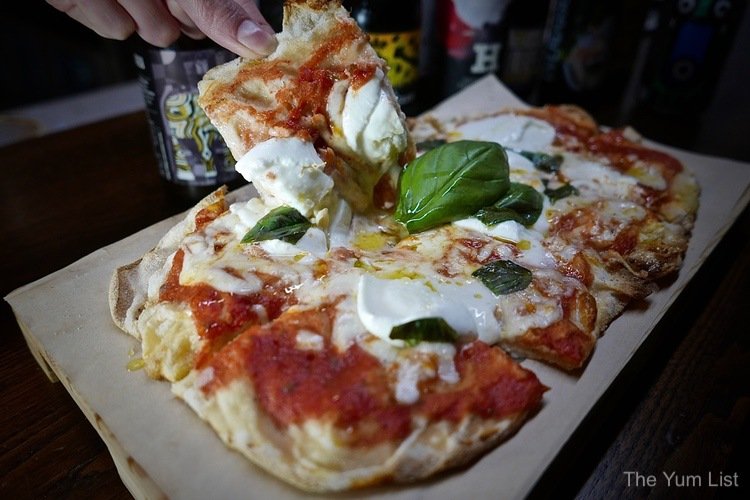 Dolce, 'Na Biretta Social Club
"Homemade" and "cheesecake" in the same sentence… you know we can't resist. But when it comes out, it's topped with Nutella! Nutella is truly my only weakness when it comes to processed food. I avoid eating anything in a can or packet… except for Nutella. It's my kryptonite. This Cheesecake (EUR 4) has a crushed biscuit base and is a non-baked mousse-like aerated version. It's perfect for the sensual pool of Nutella piled over the top. A raspberry compote breaks up the richness encouraging us to keep spooning in and to scrape up every single crumb. The ladies in the kitchen, again, make this sweet from scratch and it is rich enough for hubby and me to share (only because I quickly nab a few spoons before hubby gets a taste).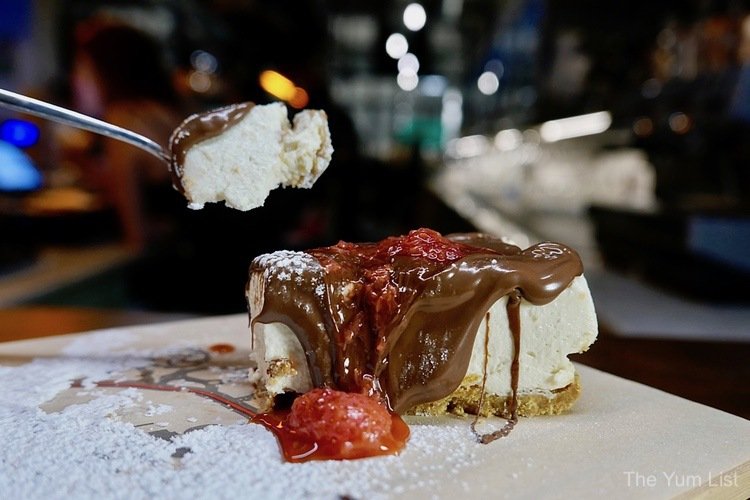 Digestive at 'Na Biretta Social Club
One tradition that has not gone out of fashion with the younger crowd is the custom of taking a digestive to complete the evening. Continuing to dazzle us with the thoroughness of their drink's list, 'Na Biretta Social Club, has a stellar choice.
Grappa (made after beer!)
Usually, grappa is made by distilling the leftovers from winemaking. The Birradamare Distillat ROSSA Grappa, however, is unique in that it has been produced from the leftovers of beer! It's warm and smooth and makes a fabulous digestive but Dario tells me that it also makes a fine mixer for some of the warmer winter cocktails (looks like we'll have to return for those!).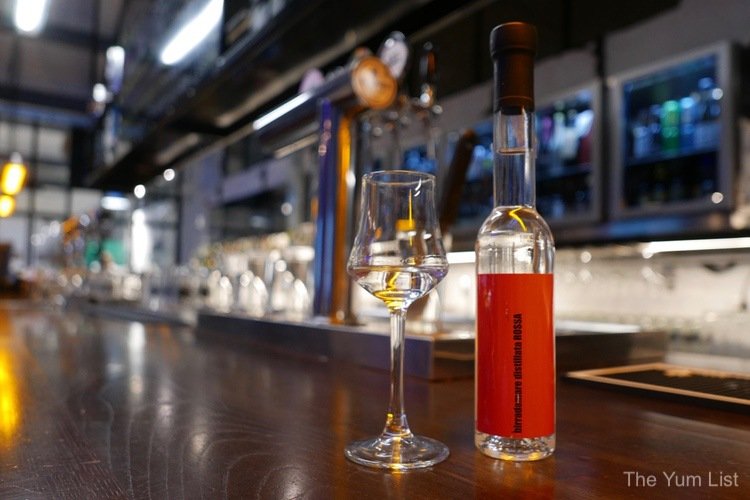 Amari
Meloni Liquori (3 EURO half shot 5 EURO full shot), a relatively new artisanal distiller in Rome, makes an Amari with a base of hops, the Columbus, that is well worth giving a try. Unlike many of the Amari we have tasted in Italy, this one has a lovely balance between smooth, sweet, bitter and syrupy. It's quickly gained popularity with Romans and after a sip, I can clearly see why.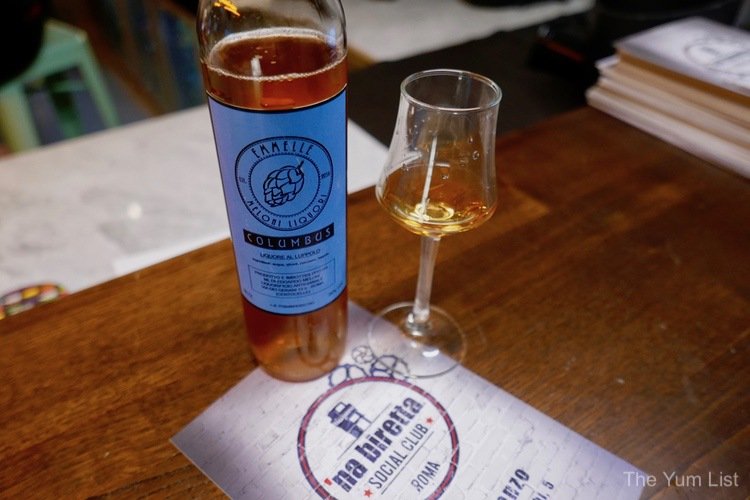 We arrived right on the opening hour as I like to avoid the crowds but now it's close to 10 pm and as we bid farewell to the team at 'Na Biretta Social Club we find the brewpub packed: a strong confirmation of the team's philosophy I think – good beer, good food, good price, good mood.
Reasons to visit 'Na Biretta Social Club: casual setting; the best craft beer in Italy both on tap and by the bottle; nice wine by the glass; some interesting locally produced grappas and Amari; value for money food and beverage; must try the Pinsa, and Nutella lovers should not miss the cheesecake either.
'Na Biretta Social Club, Rome
Via degli Etruschi, 5, 00185 Rome RM
+39 (0)6 4550 8233
www.facebook.com/nabirettasocialclub
'Na Biretta Social Club Opening Hours: Daily 6pm – 2am.