Monica Tindall
Does anyone speak Italian? If you do, you'll see the cheeky play on words Birradmare have used in naming their craft brewery. Depending on where you break the word apart will result in a different meaning. "Birra da amare" means "beer to love" whereas "birra da mare" means "beer from the sea." Producing over 20 craft beers and fast becoming an icon of Rome, the former certainly rings true for many Romans. Look at the location and you'll see the headquarters is not far from the coast, giving equal weight to the latter interpretation. Either way, we have a new found love by the sea in the craft brewery, Birradamare.
Humble beginnings in 2004 saw founders Elio Miceli and Massimo Salvatori producing raw beer at their Brew Pub in the seaside town of Ostia. Collaboration with brewmaster Ioan Bratuleanu soon increased production and the team went from strength to strength opening up a factory in Fiumicino in 2010 and now are not only known in Rome for their craft beer but have gained fame worldwide!
Birradamare, Italian Artisanal Beer, Rome Headquarters
With the headquarters just 10-minutes from Fiumicino airport, the Birradamare headquarters makes a great first stop on a visit to Italy. Massimo welcomes the public to the brewery saying, "How can we share our heart if we don't share with everyone?" He further reveals that they're not only selling beer; they're selling the history of Rome, "You have to feel the feeling. It's our identity." And, when Dario, marketing manager, is quizzed about the secrets behind Birradamare and its success, he smiles, "It's the Roman water. It's the best in the world."
Massimo is a chef by trade so the beers are imagined with food. Every beer comes with a food recommendation, "Important beer for important food." While they have refreshing brews that are easy to drink on their own, they also have a significant number that make great culinary partners. Their mission is to produce beer that is both interesting and easy to drink.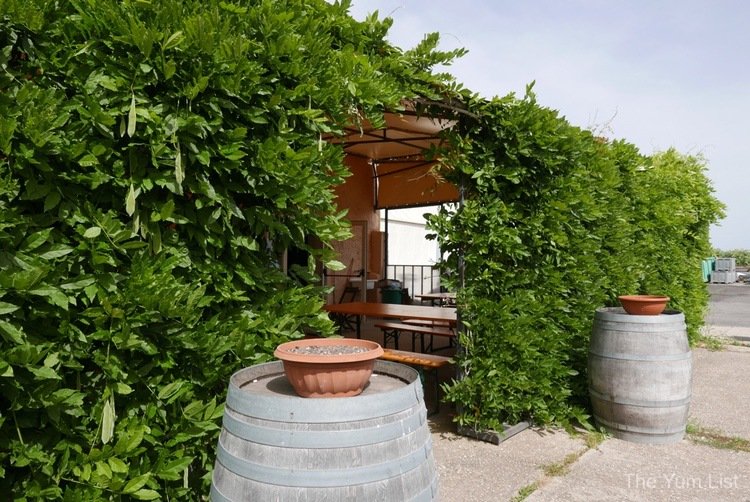 Birradamare, Italian Artisanal Beer – The Range
The Classics
'NaBio
You know I'm a "green" gal so 'NaBio, Birradamare's organic label, is of high interest. Made with spelt, this 4.5% beer has lightness yet maintains its body throughout, making a dry, thirst-quenching drop. Fried foods are good mates, as would be a pizza with buffalo mozzarella and cherry tomatoes as toppings.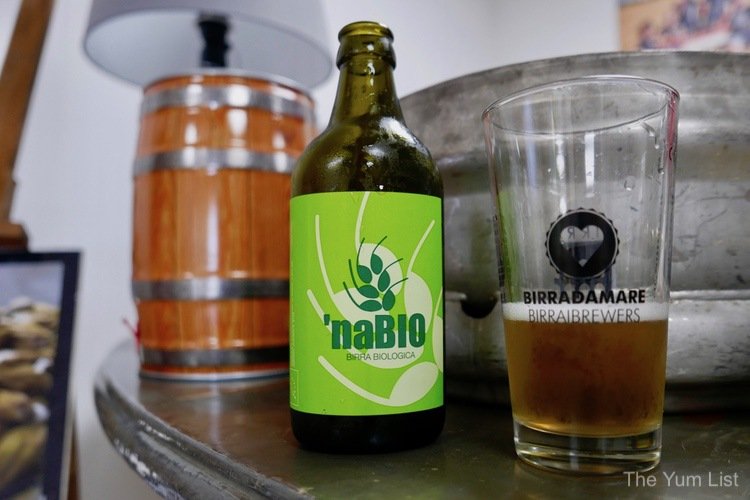 'Na Biretta Chiara
Hubby thinks the 'Na Biretta Chiara is easy drinking with 4.9% alcohol and a light, dry and hoppy appeal. Its moderately bitter finish buddies well with pizza, fried food and pan-seared fish.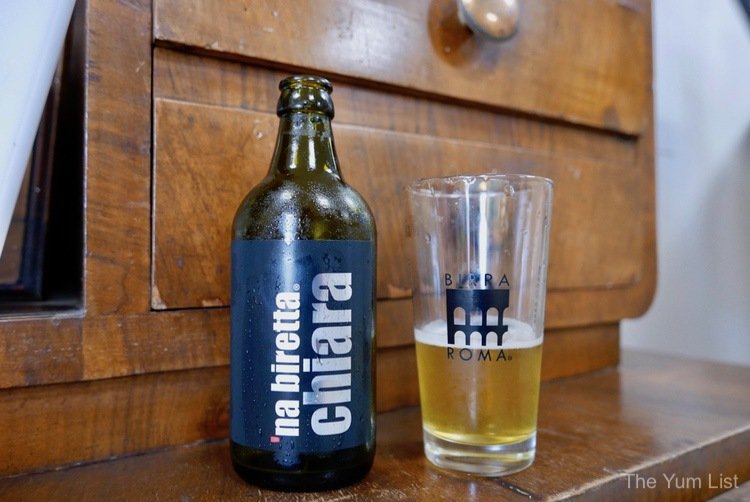 'Na Biretta Rossa
'Na Biretta Rossa is the second beer the team made together. With 6.3% alcohol, it's significantly more weighted than the Chiara. It's not too bitter but rather smooth and round with toasted malt evident on the nose. Dishes with stronger flavour profiles are recommended as pairings such as mature cheeses, flavourful pasta dishes and porchetta.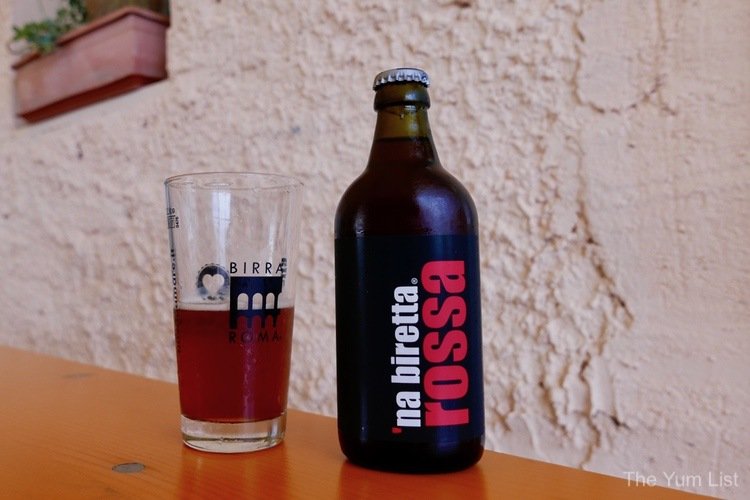 The Seasonals
White Bifuel
An Italian invention, the IGA – Italian Grape Ale, is presented in the White Bifuel. Using a combination of barley and grapes, the nose is fruity and the body bubbly. The white grape gives freshness and acidity making this 6.0% beer a great aperitif pairing nicely with red and white pizzas and seafood.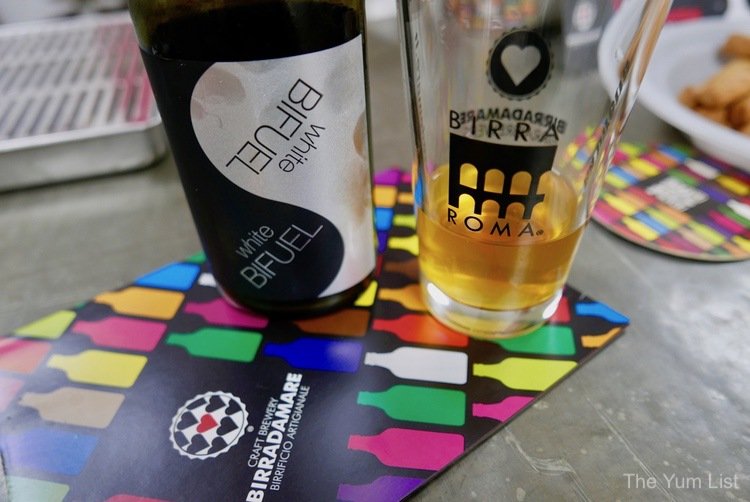 Cool Hop
Cool Hop is an interesting beer as it can only be made once a year due to being made from fresh hops. Most hops are dried into pellets but Cool Hop is made with the young buds making the beer superbly fresh. An excellent comparison can be made between the 'Na Biretta Chiara and the Cool Hop as the recipe is exactly the same except that the former uses dry hops and the latter fresh hops. Beer nerds (or the curious) will want to grab them both and drink them side by side to weigh up the variances.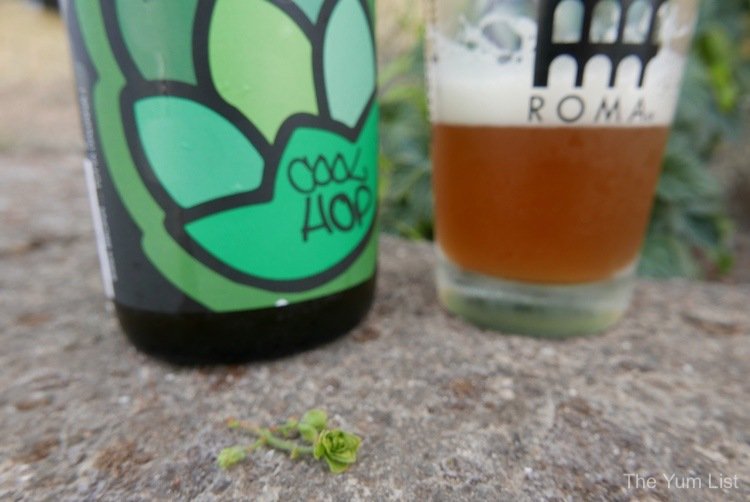 La Zia Ale
Italian cuisine is known for the prized used of local ingredients and here the Roman classics of artichoke and rosemary are added to the La Zia Ale. Massimo jokes that Italian grandmothers put rosemary in everything so, in a nod to nonnas across Italy, it is now in the beer too; "Grandmother 2.0." Brandishing a herbal bouquet, it's medium in both body and bitterness, and, just as rosemary goes wonderfully with lamb, so too does the beer.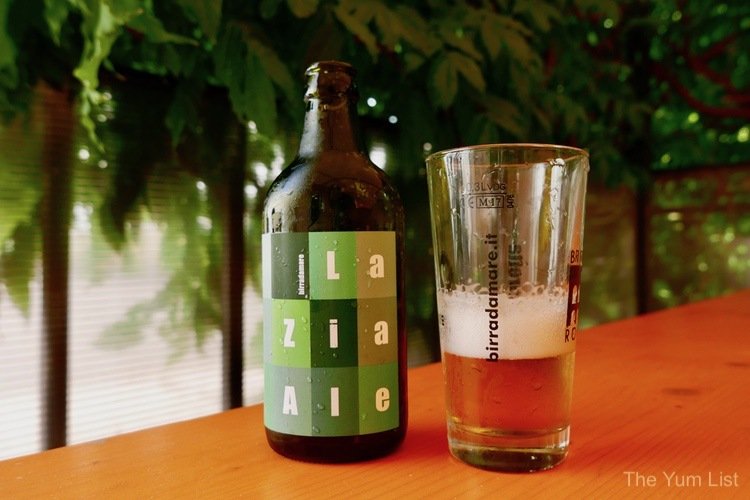 Red Bifuel Vintage 2015
If you're wondering why the next, Red Bifuel Vintage 2015, is named similar to a wine, it's significant because it's Birradamare's first experiment with an IGA aged in a barrel. Sagrantino di Montefalco, one of the best Italian grapes, is used in the craft brew with the first fermentation happening in the tank and the second in the wine barrel. It's a gentle see-saw between sweet and sour, wine and beer. Massimo takes us to his happy place with his enthusiasm for the beer, "Imagine some aged Sicilian cheese – Pecorino with black pepper. I love it. It's one you can talk with after dinner. This is really our song. This is what we can feel in the Italian beer world. When you can match the wine and the beer you can find something very special, something difficult to produce in another part of the world. I think the Italian brewers they have the sense to match. It's something between wine and beer." And, indeed this is so special that they only have it available at the brewery headquarters itself.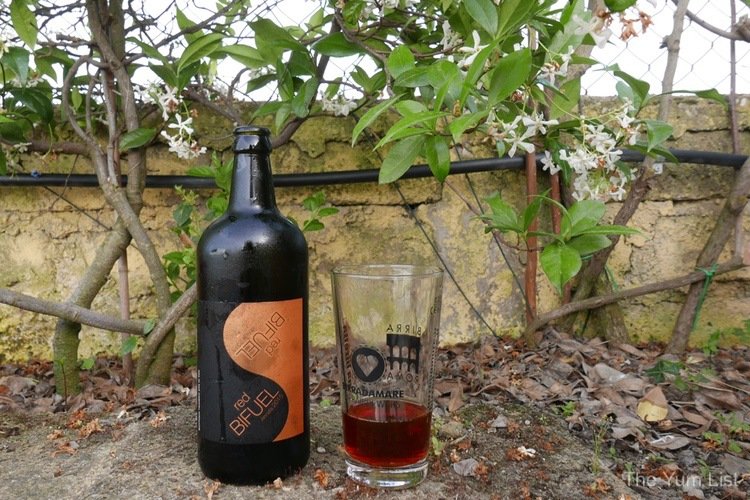 The Specials
Nera
From The Specials range, we discover Nera; a black lager with 5.5% alcohol. While it's dark in hue, it is surprisingly light to drink. Made from 100% caramelized malt, it's not easy to make but a pleasure to consume. A whisper of liquorice weaves through toasted malt in the nose and the body is balanced. It's suggested that raw or smoked fish or grilled meat and vegetables make fine partners to this beer.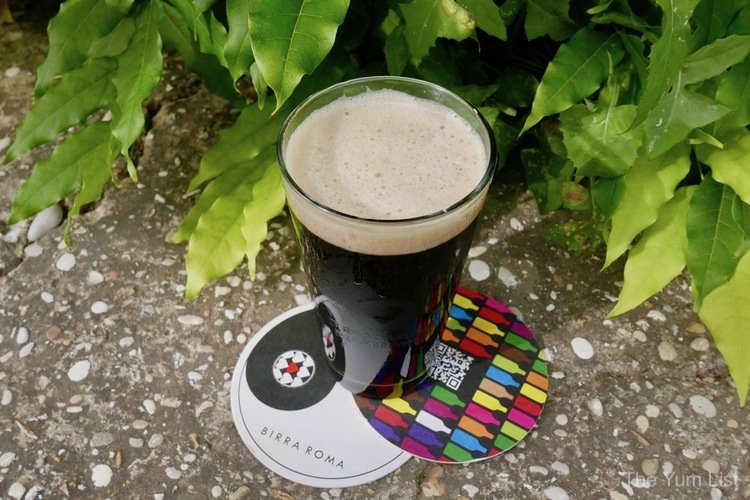 Gong
Previously known as Shock, the Gong is a top fermentation, Belgium style beer. Spicy aromas of cinnamon, cardamom, vanilla and coriander make it an excellent food match. Massimo quickly notes that, "although it's a Belgium style beer, the heart is Italian." With 9.0% alcohol, it's a beer to take seriously and food mates such as red meat and blue cheese pizzas are worthy companions.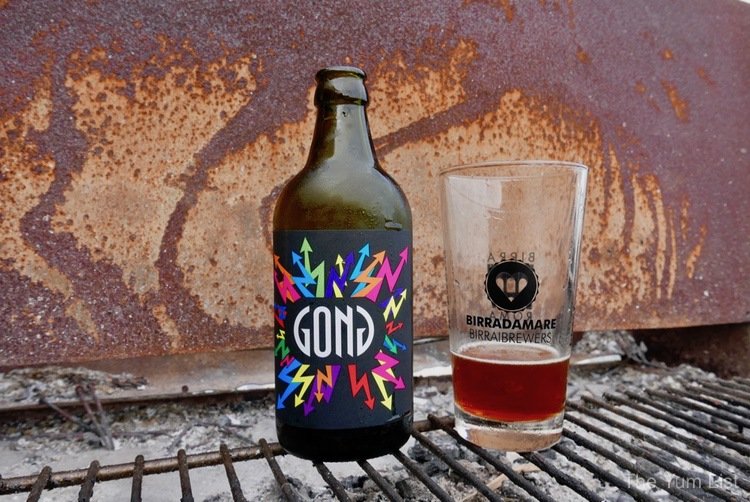 Fareraf
"Fareraf; this one is amazing. If you like Scotch whisky you must try it. They put the barley on a bed of turb," informs Dario, "Which gives it the smoky peatiness associated with Islay whisky. Masssimo adds, "It's not an easy beer. It's not for everybody." And, Dario continues, "Thanks God. It's like a smoky cheese or bacon." Unique in style, like it or not, it's something beer drinkers must try at least once. With is peaty characteristics, nicely charred meats, smoked fish and charcuterie are ideal pairings.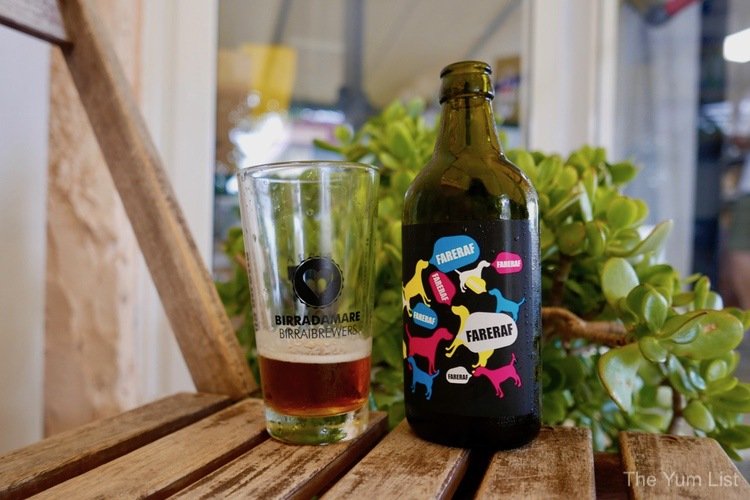 Dammenipa
The naming of this one is a little cheeky, playing on the innocent younger beer drinkers ordering at the bar, not knowing what they're looking for but knowing that IPA is cool so just ask for an IPA in Roman slang, "DammenIPA," or "Gimme an IPA." Citrus on the nose and grapefruit in the mouth, this is the signature of the hops. It's delicate yet pairs nicely with heavier dishes full of herbs and spice and also aged cheeses.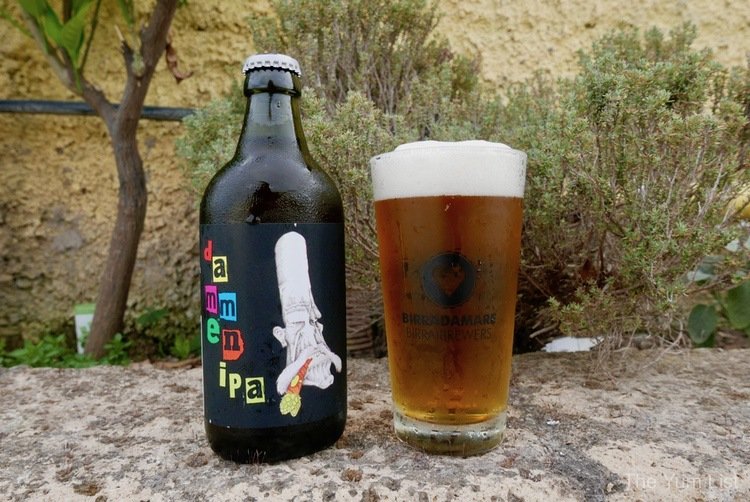 Kuasapa
Another play on words is found in the Kuasapa meaning, "almost APA". It's a good balance between English and American style and has a strong bitter finish. It's far too sharp for me, which surprises me as I'm a huge gin fan (also very bitter), yet Massimo and Dario confirm that this is not usually appealing to not-so-regular beer drinkers. I'd say to make it palatable it needs food and the recommendations are pizza and meats.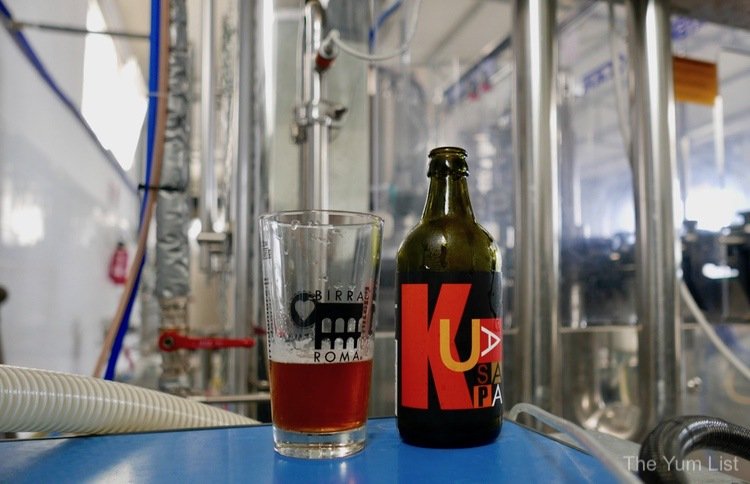 Wild Yeast
Although the Wild Yeast is 10% in alcohol, we don't feel this as we drink. It's a little dry, dark and has a strong acidic ending. It's a good drink to contemplate, take your time and think about. The team liken it to meditating; one to drink on its own and ponder.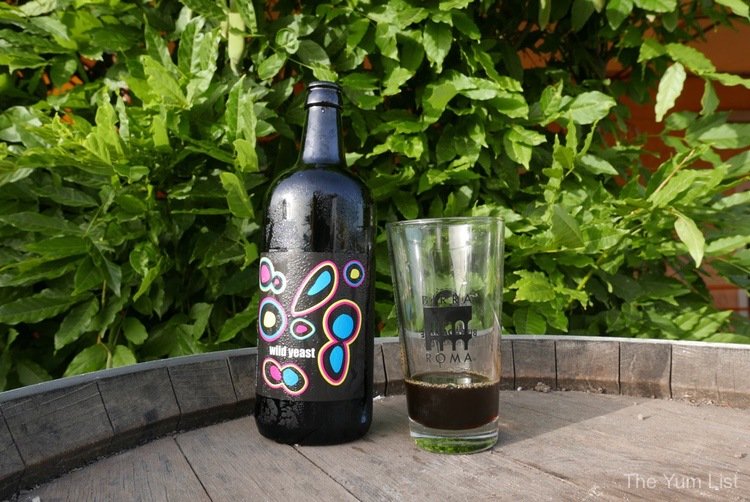 Shockwood 2011
"This is something unusual," says Massimo introducing our last beer. We feel fortunate to get a taste of this beauty as there are only a few bottles left. It's classed as a barley wine in style with 10% alcohol and a moderate bitterness in the finish. The body is structured, yet soft, silky and intriguing. Massimo contributes that it's something like Marsala, sherry or Port, "It's very strong. Trust me. Wow. Now this one is so special. This one you can feel all of the tenderness of the grapes." It's almost syrupy, similar in mouthfeel to a Sauterne and so would go well with pan-fried foie gras or a blue cheese. Chocolate, cigars and Nutella are also recommended as excellent pairings.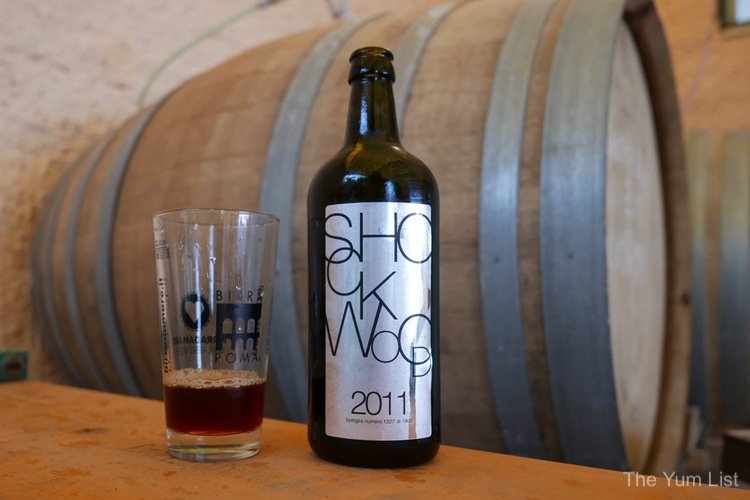 The Birradamare team certainly need congratulating for their contribution to the growing artisanal beer scene in the country. Not only are they producing products that would make any Roman proud but they're also experimenting and pushing the boundaries with the development of craft brews unique to their origin. And, if you're ever lost for what to order at the bar, just remember, "dammenipa!"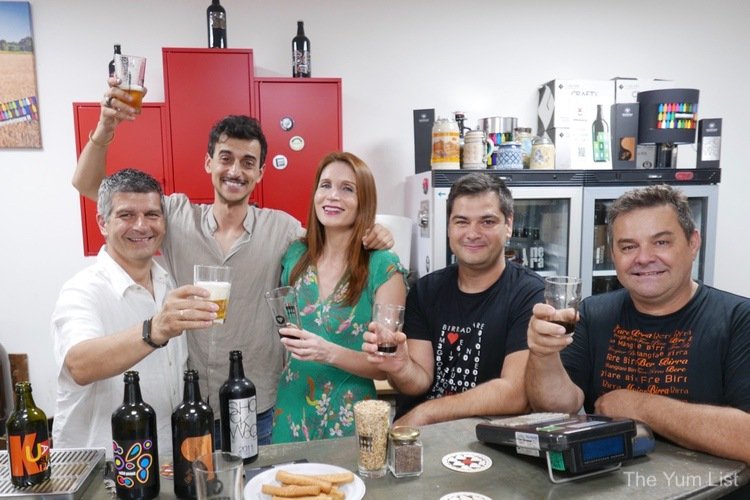 Reasons to drink Birradamare Italian Artisanal Beer: Rome's iconic artisanal brewery; a comprehensive range from light to heavy and across a variety of styles; their brews combined with grapes and those also aged in barrels are something very special that connoisseurs should definitely seek out.
Birradamare Italian Artisanal Beer
Via Falzarego 8
00054 Fiumicino (Roma) – IT
+39 06 65 82 021 Phone and Fax
[email protected]
birradamare.it
Find more of our recommendations for what to eat and drink, and where to stay, in Italy here.