Words: Louise Miller
Photos: Monica Tindall
Thousands of miles from the French capital, Brasserie Fritz has injected Bukit Bintang with a massive dose of Parisian style. On the ground floor of the WOLO hotel, gorgeous Gallic touches abound from the moment you step through the entrance of this fine eatery and I'm not just talking about the copious display of assorted viennoiseries. Amongst the warmth of exposed bricks, an art deco wall panel rises from floor to super-high ceiling, its geometrical pattern reflected in the fabric of the banquette-lined booths. Above us, huge circular wrought iron light fittings gently illuminate the bistro-style tables and chairs below. This busy KL street has never felt more like the Champs Elysees!
Breakfast Menu Brasserie Fritz
We are here to try the breakfast menu at Brasserie Fritz, which, as well as featuring some French classics, boasts a range of international influences and some great boozy options.
The Continentals (RM25) offer a choice of toasted baguette, croissant or pain au chocolat served with butter and jam, fresh orange juice and tea or coffee. It's a darn good deal considering juice is freshly squeezed, coffee is barista standard and the pastries… well, let's just say that the French would not be too upset with the outcome.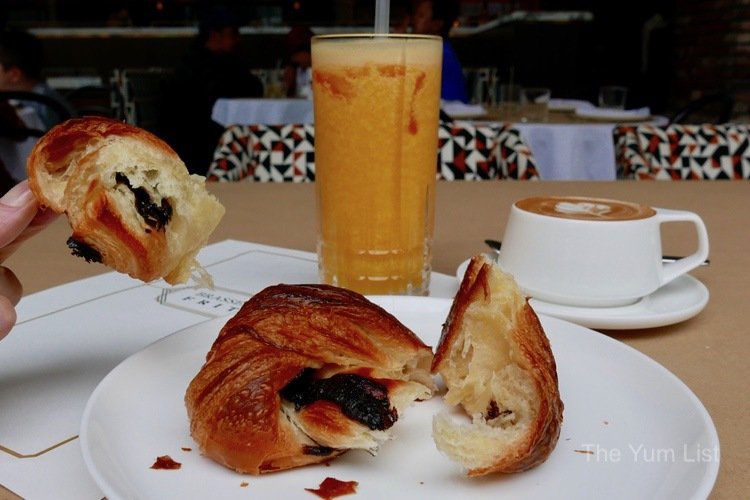 If you think that is a great deal, wait until you hear about this! Get a takeaway coffee and pastry of your choice for a mere RM10! Even though we're eating a rather hearty brekkie, it's too good of a deal to pass up so we grab both on the way out – there's brekkie for tomorrow or a snack for this afternoon.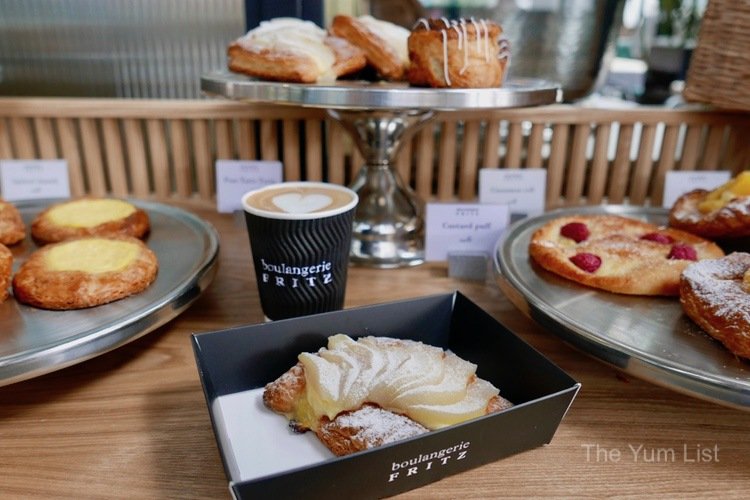 Avocado Toast (RM28) sees a slice of multigrain sourdough smothered in delicious smashed avo flavoured with Thai basil and shallots. Dainty radish slices, cherry tomatoes and butterfly peas flowers give the dish a very pretty garnish. Mon loves avo and she loves this dish.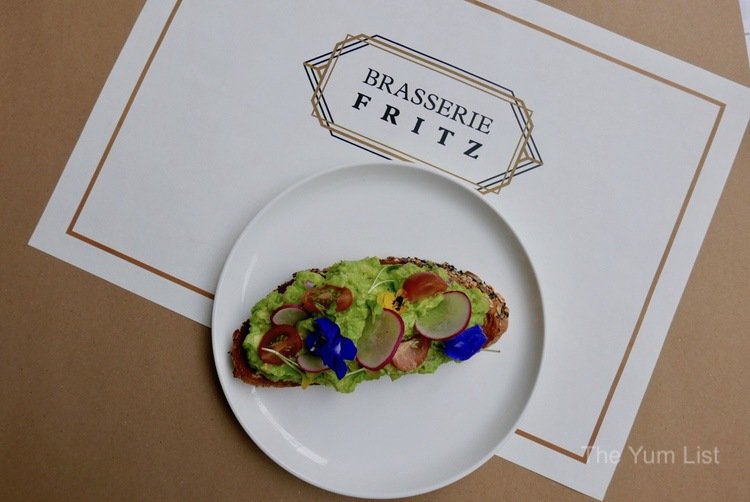 Croque Madame (RM42) has us returning to France with a creative interpretation of this classic. A slice of grilled sourdough is spread with cream cheese, homemade smoked chicken ham, chives and a fried egg. A crunchy house salad of toasted hazelnuts, green apple, celery and a tangy mustard and lemon dressing provides a fresh accompaniment. Now, it's quite uncharacteristic of me to get excited about any ham or pork replacement but this Brasserie Fritz's homemade chicken ham is divine and so much like the real thing that I need to show Caning the menu to convince him the place was pork free!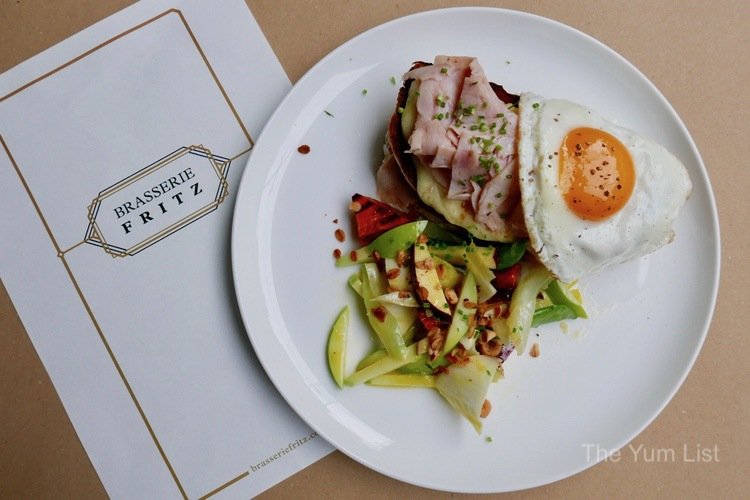 Pulled duck is the pork alternative in Brasserie Fritz's Eggs Benedict (28RM). Again, this is so tasty that I'm really not missing ham at all. The succulent meat accompanies spinach, poached eggs on toast and is drizzled with a generous coating of yummy hollandaise.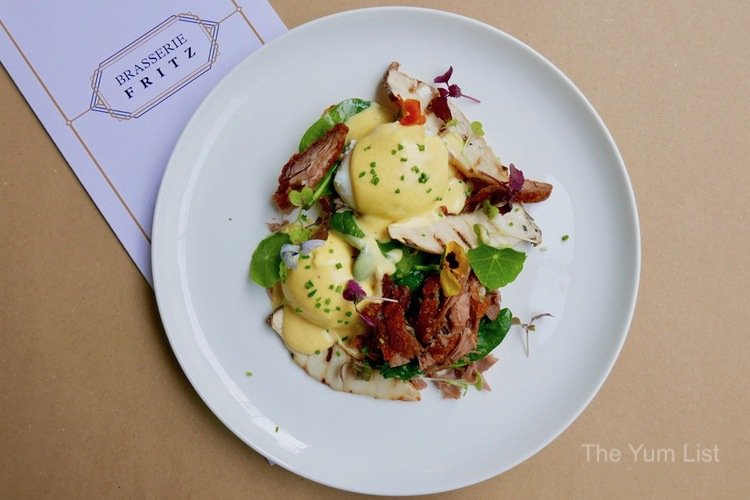 I'm delighted to see Shakshuka (RM20) on the menu as this Israeli breakfast dish is a firm favourite of mine and not seen enough for my liking in KL. Brasserie Fritz's vegetarian version is a perfect balance of sweet and fiery flavours provided by the rich tomato sauce with oodles of chilli. Fresh coriander contributes to its aromatic notes and crumbled feta lends a cheesy tang. The eggs are perfect and slices of buttered toast are great for dipping in the yolks and mopping up the toothsome sauce.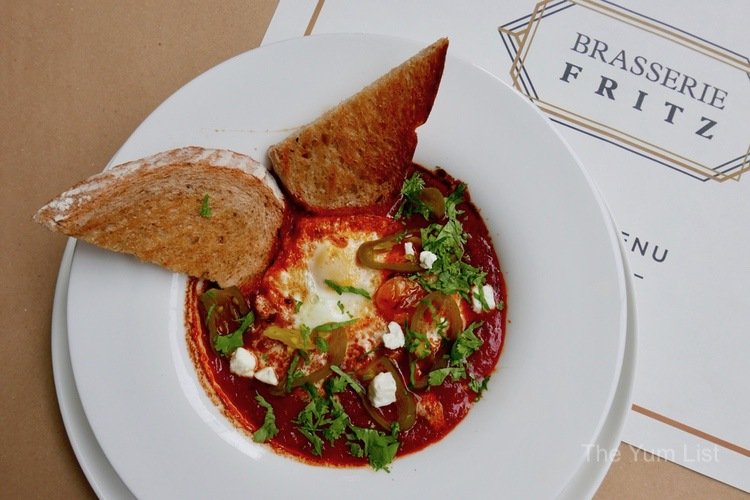 Bloody Mary Menu Brasserie Fritz
Brasserie Fritz seems to take Bloody Marys as seriously as I do! There are no fewer than five versions of this boozy brunch beauty to choose from. The Original, Extra Savoury, Quick & (Maybe Not So) Easy, Light & Refreshing and With A Kick (all at RM38) are all tempting us and give rise to much deliberation. After some discussion though, we concur that the place can only be adequately judged if we assess the standard of The Classic first and this one has good depth, a balance of flavours and a decent kick. Since I can usually take more kick than many, With A Kick is the obvious second choice. This version gets a delicious fruity lift from a pineapple salsa and lime juice and a smoky depth from Mezcal.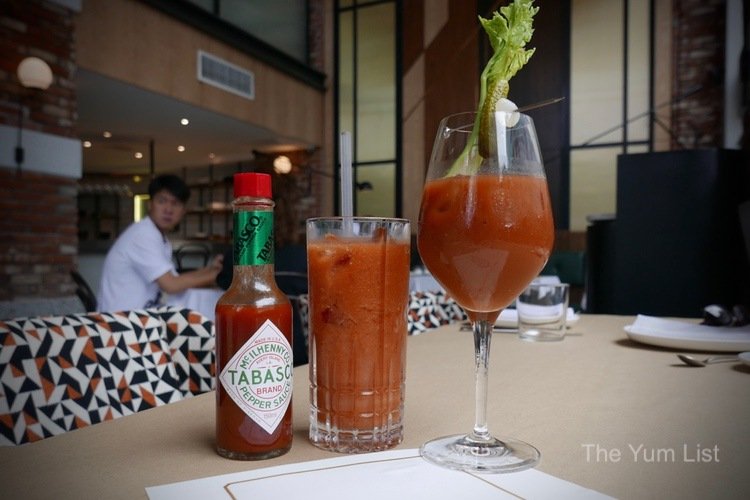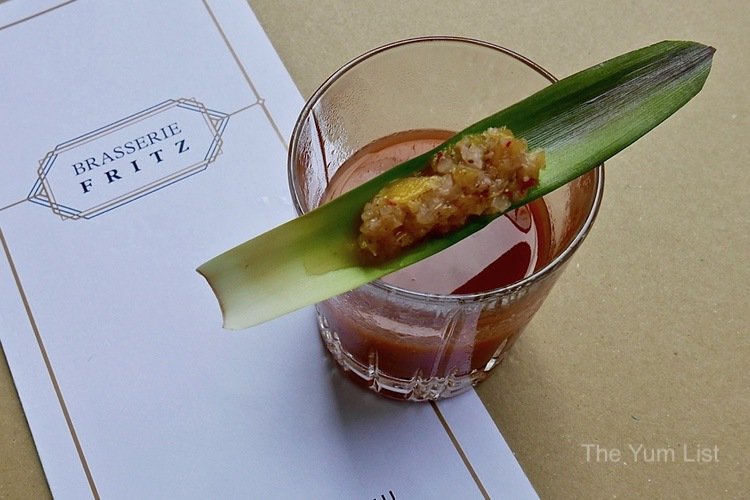 Reasons to try the Breakfast Menu at Brasserie Fritz: super stylish setting; a great Bloody Mary; fabulous RM10 brekkie deal; must try the Croque Madame and Brasserie Fritz's Eggs Benedict.
The breakfast menu at Brasserie Fritz is served from 8 am to 11 am daily.
Brasserie Fritz
Ground Floor, WOLO
Jalan Bukit Bintang
Bukit Bintang 55100
Kuala Lumpur, Malaysia
+60 3 4065 0876
www.facebook.com/brasseriefritzkl/
Breakfast lover? Find other brekkie options around Kuala Lumpur here.