Words: Louise Miller
Photos: Monica Tindall
What I love about food goes far beyond the initial feel-good factor that great flavours induce. My passion is fuelled by so many other elements: how food brings families together and unites whole communities, how it's intrinsically linked to heritage and identity. So when I discover a tasty dish that is steeped in legend and offers a glimpse of its cultural origins, it adds so much more to my enjoyment.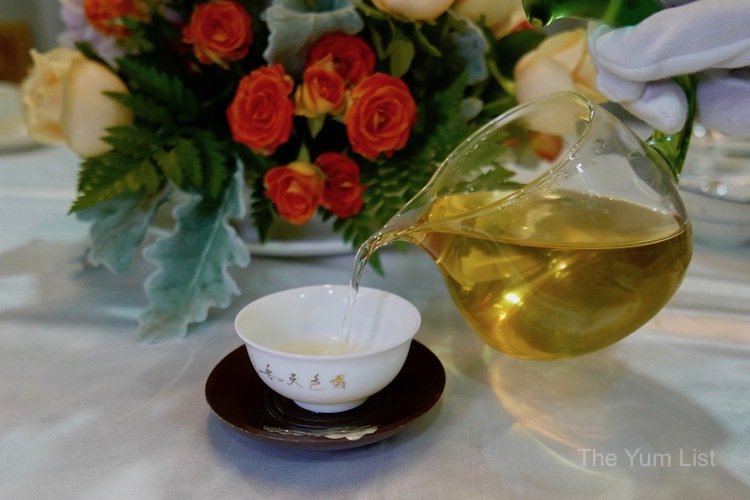 Crossing Bridge Noodles, Kunming
It's the backstory behind Crossing Bridge Noodles that first peaked my interest. There are a few claims to the origin of its name but since I'm a romantic soul, the one I'm backing is a story of love. The tale begins with a scholar who was studying hard for his imperial exams on a small island separated from the mainland, and his wife, by a footbridge. Every day, his wife would bring food to him but by the time she'd crossed the bridge, the noodles were soggy and the soup cold. To remedy the loss of heat, she decided to load a large earthen pot with boiling broth topped with an insulating layer of oil. In order to retain the texture of the ingredients and the liquid's heat, noodles and other ingredients were kept in a separate container to be combined with the soup once she'd reached her hungry hubby.
Today, the soup is Kunming's most famous and popular dish and we are invited to try it at Court Aux Nuages at The SilkTree Hotel, a great privilege since it was recently awarded the silver medal for this very dish in a public vote organised by the Kunming City Culinary Fine Dining Association.
Returning to our table after a tour of the hotel's grounds, we discover that it has been transformed. Now laden with platters of meat, fish, vegetables and an unusually ring-shaped steam pot that we are later told is unique to Yunnan, we are ready to begin feasting. The steam pot holds a clear chicken and matsutake mushroom broth with goji berries. Providing light and subtle flavours, it's a cleansing prelude to the star attraction.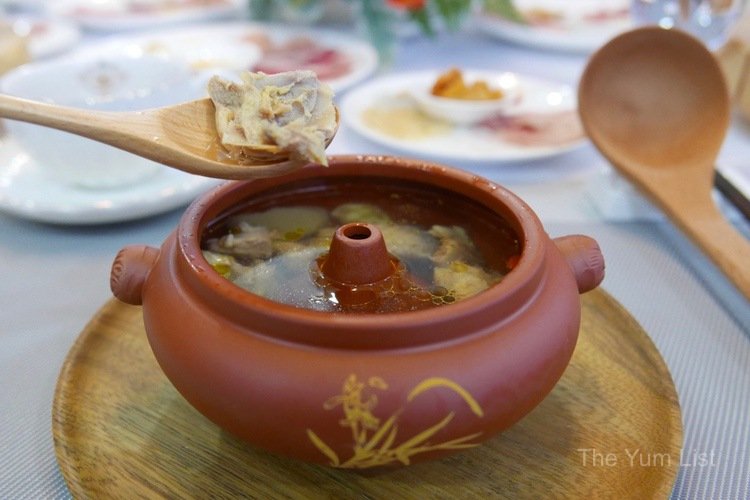 Our steam pots are swiftly replaced by huge wooden based hot stone bowls and the ritual of preparing the Crossing Bridge Noodles begins. Into the very hot bowls, our attendants sprinkle some ground pepper and follow this with chicken and goose oil and then the chicken broth. As the mixture is bubbling away, we witness the skilful chopstick work required to mix quails eggs and give slices of wafer thin pork meat an eggy coating before dropping into the soup along with the other meats, fish and remaining egg mixture.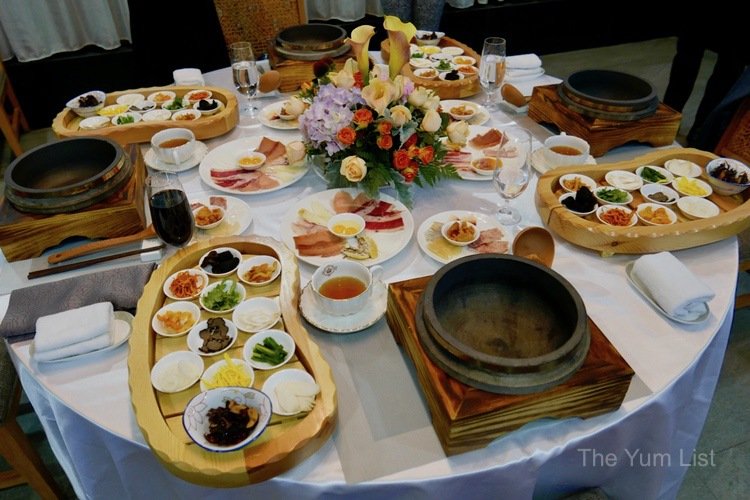 Possibly the most exciting ingredients follow. Twelve mini dishes set out on the kidney bean shaped wooden platter contain a host of different vegetable ingredients many of which I don't recognise at all. We are in Yunnan to experience the mushroom season so it seems appropriate that there are no fewer than five dishes of mushrooms: Both deep-fried and fresh chicken mushrooms, golden fungus, black fungus and bamboo mushrooms. They are all dropped into the broth along with golden worm grass flower, water weed sprouts, leek, pickles and chrysanthemum.
The final addition is the eponymous noodles. Thick and slippery rice noodles are added and swirled around to ensure that every strand gets a good covering of broth and that the myriad of ingredients is evenly distributed.
So with this much preamble, you're probably wondering how Crossing Bridge Noodles actually taste. Rest assured that they are worth the introduction and ceremony! The soup's golden colour indicates the comforting warmth from every mouthful. The flavour is earthy, soothing and full of depth. After a few mouthfuls, I add some chilli and garlic mixture to add an extra flavour dimension and well, mainly because I'm a huge fan of fiery heat. We slurp contentedly on the soupy noodles until our waistbands expand and a food coma onset is imminent. What a great dish to begin our trip. The standard is set high and we retire to our rooms sated, happy and excited to discover more of what Kunming and Yunnan have to offer in the days ahead.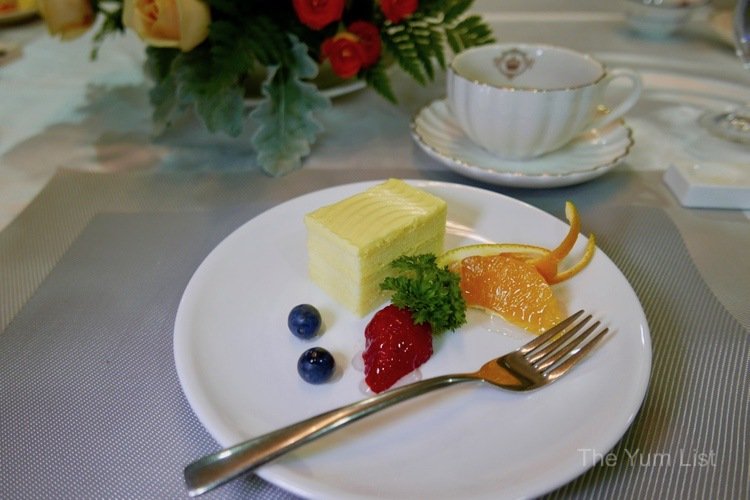 Reasons to try Crossing Bridge Noodles at Court Aux Nuages at The SilkTree Hotel: a delicious experience rich in ritual, tradition and great flavours in an award-winning restaurant.
Court Aux Nuages at The SilkTree Hotel
Building 7
Galaxy North Courtyard
Xiao Kang Avenue
Kunming
Yunnan P.R.C
+86 871 6851 3333