Words: Claire Matheson
Photos: Monica Tindall
In our youth, we craved only the sweet. Crystals of sugar dissipating on the tongue, filling our mouths and our heads with a saccharine rush. As we grew up, our tastes shifted and salt became our new craving. Comfort foods laden with oil that made our mouths water. Bowls of moreish snacks and fill-your-belly foods. The passing of years saw our palates develop further. With wisdom came a new sensation, one we had to teach ourselves to appreciate properly: bitter.
Once something we turned our noses up at, over time we have come to love: the taste of bitter. Indeed it is the bitter flavours that give richness and depth to what we taste. They require a more sophisticated inclination. Sharp and pungent, the bitter is now what we crave – coffee, red wine, dark chocolate, acrid herbs, sour citrus and berries.
The Italians have known this wonderful truth for an age, adding bitter flavours to their food and drink to elevate the flavour profile, lend complexity, and to balance out the sweet. This is particularly important when mixing cocktails. It is no wonder the Italians have developed an entire heritage of spirits dedicated to celebrating the bitter, and it is no wonder that Marcello, InterContinental Singapore Robertson Quay's hidden Italian bar, Marcello, uniquely specialises in this versatile range of spirits, relatively undiscovered outside the Mediterranean.
Marcello Amari Bar Singapore
Innocuous from the outside, Marcello is a hidden treasure trove from another era. Transformed from Publico Deli's daytime surrounds, camouflaged panels and shelves unfold to section off and convert the space into something extra. Like a superhero stripping off his alter ego, the metamorphosis reveals something glamorous, something sensational, something fun. You are transported to another time, full of art deco and nostalgia. Bartenders in white coats serve cocktails out of crystal glassware and shiny copper shakers. The shelves are full of analogue turn-dial radios, typewriters, 1950s movie cameras from the golden days of Hollywood, and Mad Men style decanters and leather-clad hip flasks.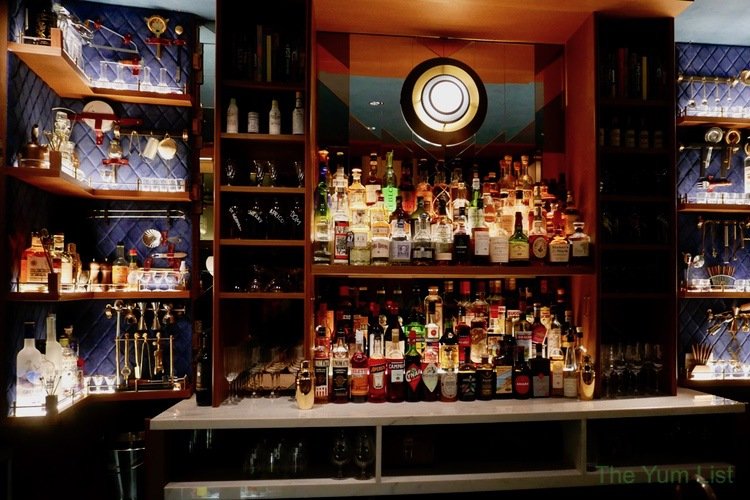 With a dapper red pocket square and a charming Italian accent, Head Bartender Palmira Bertuca introduces us to the concept of sweet bitter. Amaro is the Italian word for bitter (the plural, bitters, is Amari). Distilled from the maceration of whatever is regionally available or in season, whether herbs, spices or fruits, and therefore vary heavily, with Northern varieties drawing on stronger herbal tones, and Southern bottles capturing more citrus essences. Usually consumed as a before dinner aperitif or after dinner digestif, or combined with other spirits and flavours for cocktails, alcohol content can range between 16 to 40%. Flavours depend on the length of the maceration and fermentation processes, creating an amorphous, shapeshifting and highly versatile drink. Recipes are long-held, closely guarded secrets, using local and regional undisclosed ingredients.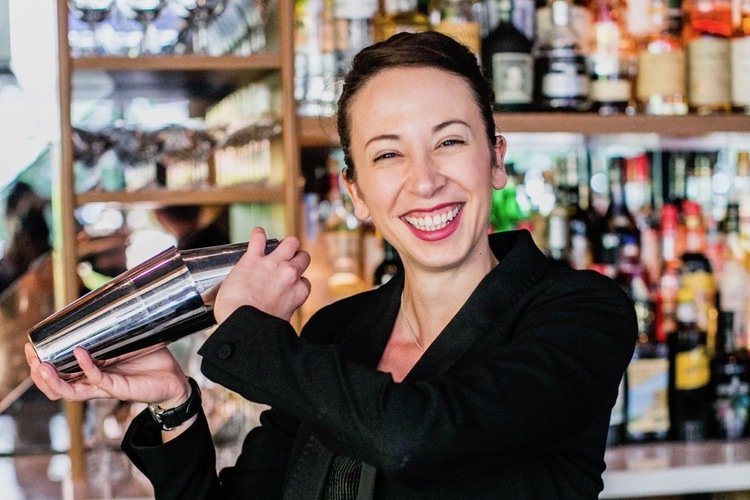 So how do you drink it? Well, chances are you already have been drinking bitters for some time as versions of Amari are key ingredients in many of your favourite cocktails, including the Negroni, Hanky Panky, Pisco Sour, Old Fashioned and the Manhattan to name but a few. But instead of reverting to the overused Angostura Bitters, how about elevating your next cocktail? Or better yet, drink your Amari straight, ice cold on the rocks, or in a flight to compare the complex flavour profiles stemming from different maceration processes.
Our first Amaro is the Vecchio Amaro del Capo from Calabria in Southern Italy or the 'toe of the boot'. Light bodied and rich in citrus, it has the refreshing taste of sorbet. With overtones of sweetness offsetting the bitter flavour, the result is smooth, and captivating to drink on its own. It speaks of steamy hot days, romantic summer dresses, and sunshine. Gianni Versace would have surely sipped on this in the Mediterranean heat, the ice clinking in his glass as he dreamt up his next creation.
Number two on our flight is the Braulio Amaro Alpine (S$28) from Bormio in the Northern Italian Alps. More earthy and aromatic, initial notes of mint and soothing chamomile play alongside the light florals of the mountainous enzio flower, with a touch of sandalwood and honey. Richer and more bitter than the lighter citrusy Southern varietals, but pleasingly so, it is similar to a fortified wine with an alcohol content of 21%. It is also the inspiration for Schnapps from this region, which as an aside, is the home to the famed Stelvio Pass known to car and cycling enthusiasts familiar with the Grand Tour or Giro d'Italia. With a clean finish, Braulio Amaro Alpine warms the stomach. It and can be consumed over ice in Summer or warmed in colder Winter months.
Our third tasting is perhaps the most well known from the list, featured in Ada Coley's original Hanky Panky: Fernet Branca (S$15), the classic Amaro. Heavily perfumed with sandalwood, Fernet Branca is made from 27 different herbs, spices, florals and other ingredients. Liquorice and angelica root are prominent flavours, and one of the main ingredients is myrrh, known for its antimicrobial medicinal properties and famed across a number of ancient civilisations back to biblical times for its use as a healing agent, aphrodisiac and purported ability to improve intellect. It's no wonder that many Mediterranean cultures give a shot of Fernet Branca to soothe the stomach or relieve the symptoms of fevers, sore throats, colds and flu. When tasting, it is said you need three sips to appreciate the spirit, the first is overwhelmingly bitter, the second strikes a more harmonious and sophisticated balance revealing the botanical herbs and spices, and the third unlocks the sweetness, with delicate notes of plants and flowers.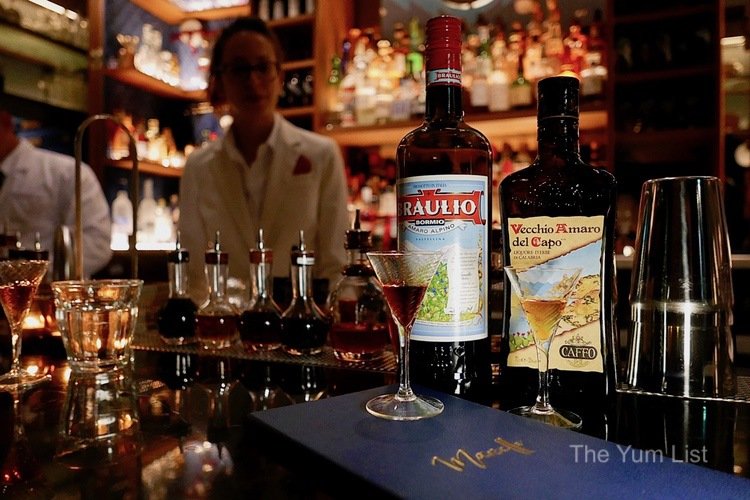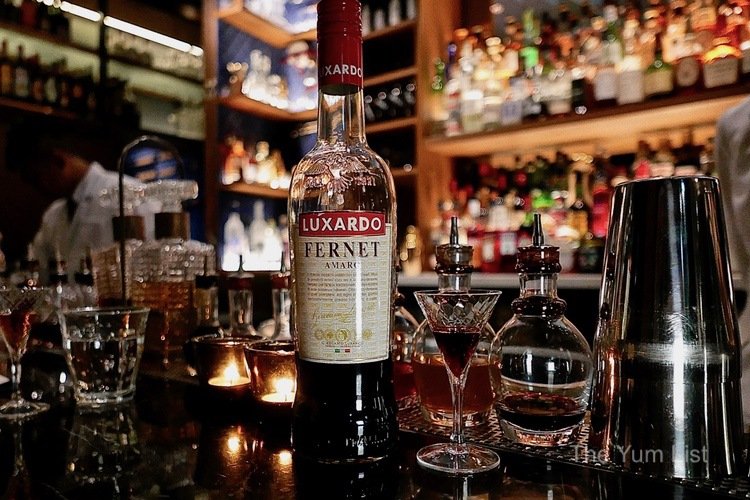 Next in the line up is one of my favourites: the Rossa Amara Blood Orange Digestif Liquor (S$35) from Sicilia. Thick with blood orange flavour, refreshingly smooth, with sweet, strong citrus, any number of simple cocktails could be transformed to the spectacular with this spirit. From an uncomplicated splash of soda, or pouring a dash into a glass of Champagne, to an addition in an Aperol Spritz or G&T, the Rossa Amara can be substituted in any cocktail calling for orange or citrus. Distilled from blood oranges grown on the slopes of Mt Etna with its rich and fertile volcanic soil, it has the undiluted flawless finish of intense citrus peel. Unlike some other fruit based spirits, this is silken in its sweetness, not sickly. Its name 'Amara' is a playful feminisation of the masculine amaro.
Venturing outside of Italy, the Mondino Amaro (S$22) is an organic German concoction made in the foothills of the Bavarian Alps. The lightest of the amari we are trying today at only 18% alcohol, the slightly herby, fruity and sweet spirit also maintains strong citrus notes, uncommon for those from Northern origins. It is something of an amalgamation of the best flavour combinations from different regions. This is a good choice for those who are in the early stages of teaching their palates to love bitters. Tones of sweet-sour orange and grapefruit give way to underlying herbs: wormwood – a floral anise, and acrid gentian finishing with sweet berry fruits and a touch pepper and cinnamon spice. Again, this can be served over ice in Summer or warm in Winter and can be combined in a Negroni or Spritz.
Our final amaro for the evening is an American variety, the Balsam American Amaro (S$25). The strongest in alcohol content at 44%, this is a distillation of vodka with over 30 fruit and spice ingredients, including herbs, roots, dried fruits and teas. The bitterness builds slowly on the palate rounding out to an oaky, rich, spicy flavour with strong herbal notes. This is a fantastic addition to an after dinner fortified wine or mulled wine. Alternatively, try it by itself taken alongside a platter of figs, dates, dark chocolate and cheese.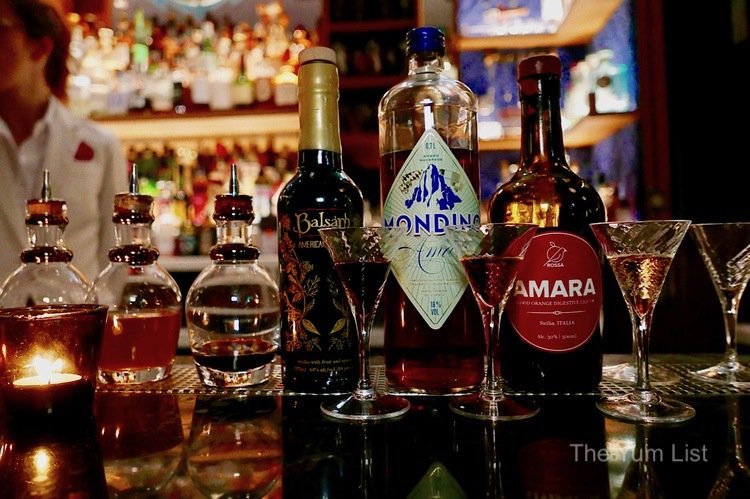 Superb on their own, Palmira and her team know exactly how to combine different amari in different cocktails to elevate spirit and flavour combinations. She prepares a large glass of pink Milano Fizz (S$19) with fun and childlike homemade lemon sherbet, grapefruit toned Italian bitters and bubbly Prosecco. She describes the effect as "Zesty, zingy and bitter-sweet". The fizzy freshness sparks of light-hearted frivolity.
The Amalfi Sour (S$25) smacks of class and glamour. For those who dream of driving the spectacular coastal bluffs of the Amalfi coastline in a vintage sports car, arriving at a seaside bar with their hair in a printed silk scarf and their eyes hidden behind oversized sunglasses, this is your drink. Palmira's homemade limoncello is combined with amaro, seasonal citrus, and fluffy egg whites. This is a smooth and creamy citrus lemon explosion. Described as "Zesty, lightly herbal and velvety". A sweet and tangy gelato in alcohol form.
If you're a little suaver and are after something more 'adult', try the Smoked Black Olive Negroni (S$22). Forget a shaken not stirred martini, Bond would have made this his drink of choice had he come across it. With floral Ford's Gin, Italian vermouth, balanced Foro Originale Amaro Speciale from Florence, and smoked black olives, again made by Palmira on site, this is "Smokey, lightly sweet and savoury, and vibrant". Piquant olives layer through the palate, heightened by a stick of smoked black olives as garnish.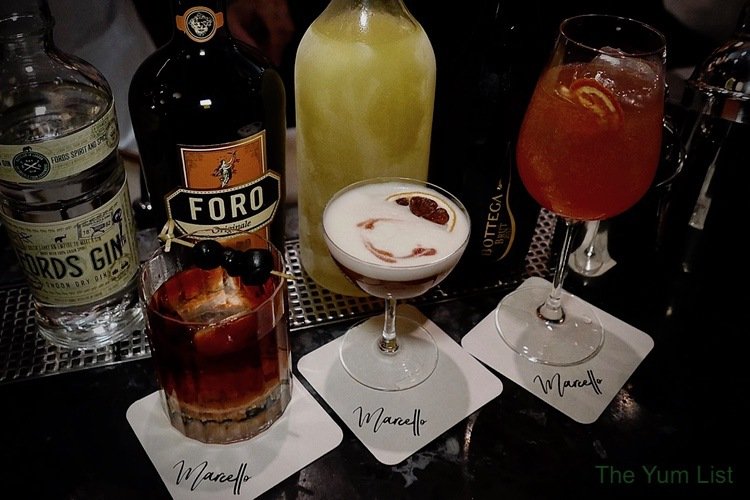 For a final digestif, Palmira provides each of us with a shot of her special recipe original limoncello. This is the best and most authentic limoncello I've had outside of Italy, specifically the Amalfi Coast, where small bars tend to make their own from scratch rather than relying on high volume production brands. Bright, cheerful, sweet and syrupy, it is divine. The most drunk spirit in Italy after Vermouth and Amaro, it is Summer in a glass.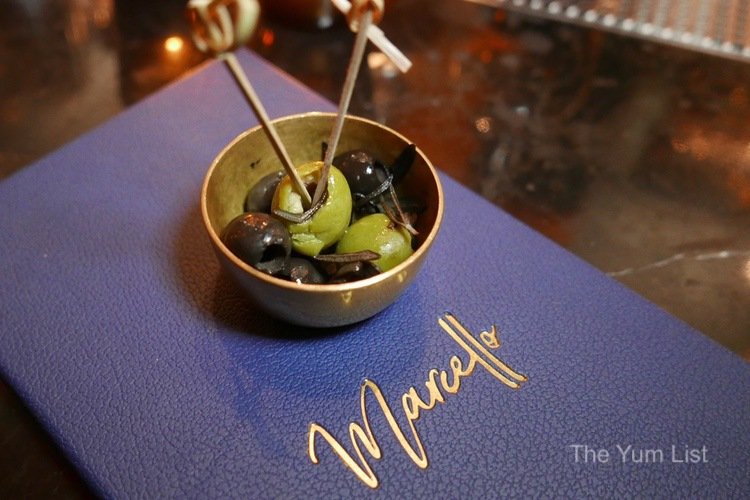 Singapore's cocktail culture has us spoilt for choice when it comes to new and favourite watering holes, but Marcello's funky retro Italian vibe is not just for appearances. No mere cultural appropriation, Palmira and her staff pour the soul of Italy into every glass, drawing on her roots, and lessons passed down through generations. The use of such iconically Italian ingredients and flavours is entirely unique to bars in Asia.
A lesson in amaro at Marcello is a must-do when in Singapore, because after all when life gives you lemons why do you have to turn it into lemonade? Why not simply enjoy the zest? Revel in the sour and the juice! Bitter is the flavour that adds depth and passion to our lives. Learn to love the bitter, without it we cannot truly taste the sweet.
Marcello opening hours: 7 pm until Midnight, Sunday to Wednesday; 7 pm until 1 am, Thursday to Saturday.
Reasons to visit Marcello Amari Bar Singapore: grab a flight of Amaro to learn about the unsung hero of the cocktail and spirit world. Our favourites were the Vecchio Amaro del Capo and the Rossa Amara Blood Orange, while no flight would be complete without the classic Fernet Branca. The three cocktails: The Milano Fizz, the Amalfi Sour and the Smoked Black Olive Negroni were some of the best cocktails I've tasted this year, so check out these and any other recommendations from Palmira.
Marcello – Amari Bar Singapore
InterContinental Singapore Robertson Quay
1 Nanson Rd, Singapore 238909
+65 6826 5000
robertsonquay.intercontinental.com