Monica Tindall
The sun-kissed hills of Tuscan Maremma, where a gentle sea breeze blows and the weather is moderate, is an irresistible temptation. Surrounded by forest, teeming with biodiversity and boasting soil of mixed clay and rock (providing good drainage and encouraging roots to grow deep), two wine greats, one French and one Italian, just had to capitalize on its natural spoils. When the highly-respected Castellare di Castellina and the world-renowned Domaines Barons de Rothschild – Lafite formed a joint venture, Rocca di Frassinello was born.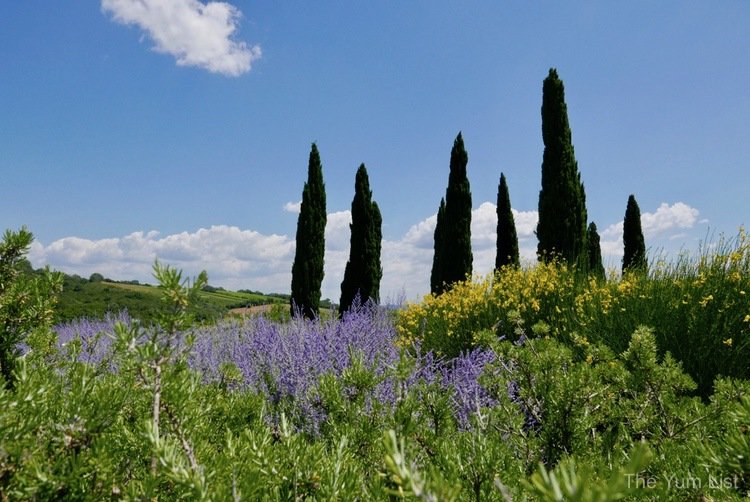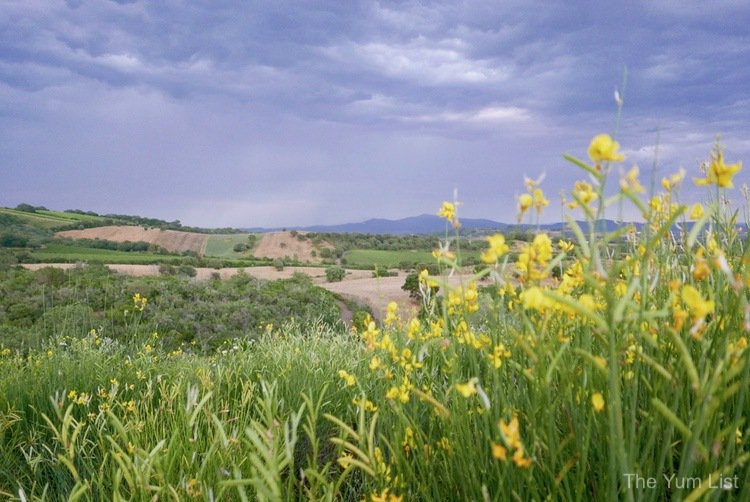 The Partnership, Rocca di Frassinello
The Italians, Castellare, provide expertise in the cultivation and vinification of Tuscany's principal vine variety, Sangioveto. The French, Domaines Barons de Rothschild – Lafite, bring mastery of the typical Bordeaux varietals to the equation, and providing an architectural icon to house it all is Renzo Piano, a celebrated figure in the sphere of design.
The Terroir, Rocca di Frassinello
Located in central Maremma, the site offers terrain similar to that found in Chianti and Montalcino yet due to its position closer to the sea, benefits from temperatures around 4 to 6 degrees warmer. The vineyards are planted with equal parts French and Italian varietals and all wines produced here are blends (with the exception of Baffonero but more on that one later). The whole area is 500 hectares but only about 90 of them are planted with vines: Sangiovese, cabernet sauvignon, Merlot, Syrah, and a small production of Vermentino.
The Cellar, Rocca di Frassinello
Recognizing the cellar as the heart of the winery, it's physically in the centre of the property. A huge terrace on the top floor resembles a flying carpet and would make a fantastic event space. The building feels integrated with the landscape and the owners claim a focus on sustainability, approving practices that are least damaging to the natural surrounds. Built underground, the remarkable cellar by Renzo Piano maintains a consistent temperature and humidity. And, although designed for functionality, it resembles a theatre in the round with a square centre bordered by barrels in stepped rows approximating a stage and audience. Again, I imagine some creative events unfolding here.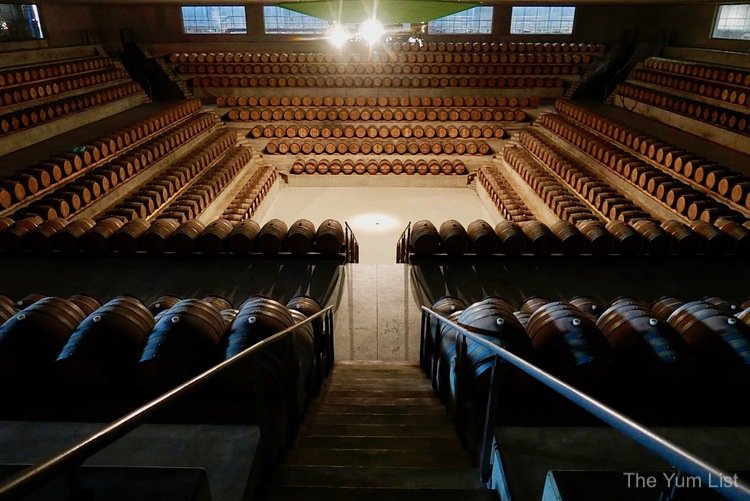 Visiting Rocca di Frassinello
Visitors are welcome to Rocca di Frassinello and a whole program awaits those wishing to discover more about the winery. A tour begins with a look at the stunning architecture of Renzo Piano, followed by a walk around the Etruscan Exhibition where the art of winemaking over almost three thousand years is celebrated. Lastly, thirsts are quenched and curiosities satisfied with a tasting of wines while admiring David LaChapelle's "Rapture of the Grape," a piece by the respected American photographer inspired by the terrain and production of Rocca di Frassinello. With the guided portion of the tour at a conclusion, guests are free to explore the archaeological site on the property giving still more insight into the Etruscans and their winemaking heritage.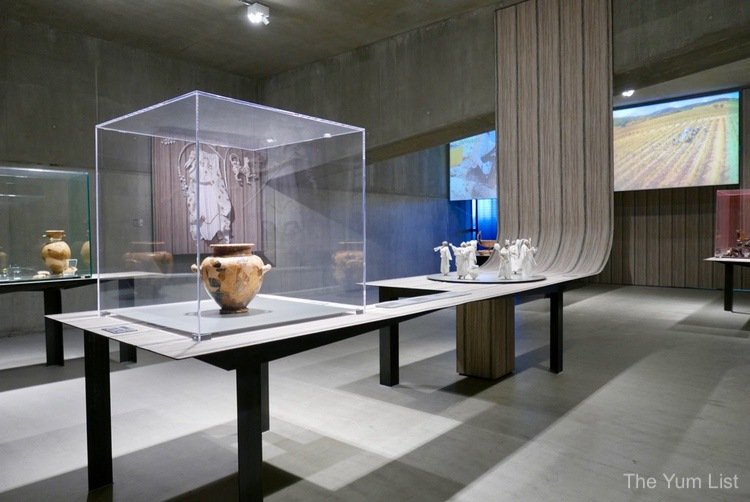 Wine Tasting
Rocca di Frassinello wines could be collected around four distinct categories; entry-level, mid-range, grand vin and other labels. We do our best to try across their production.
Poggio Alla Guardia – Entry Level
The Poggio alla Guardia are generally easy drinking and local in character. Poggio alla Guardia Vigne Alte Maremma Toscana 2015 is not aged in barrels allowing the full expression of the grape to dominate. A blend of Sangioveto (45%), Merlot (30%) and Cabernet Sauvignon (25%) has me imagining summer barbecues and multiple bottles with friends. Plum, chocolate and spice on the nose carry over to a medium-bodied wine with clean mineral notes and a fresh finish. Described as a little rough around the edges, it's a good introduction to the wines of Maremma. It goes well with wild boar pasta and cold cuts.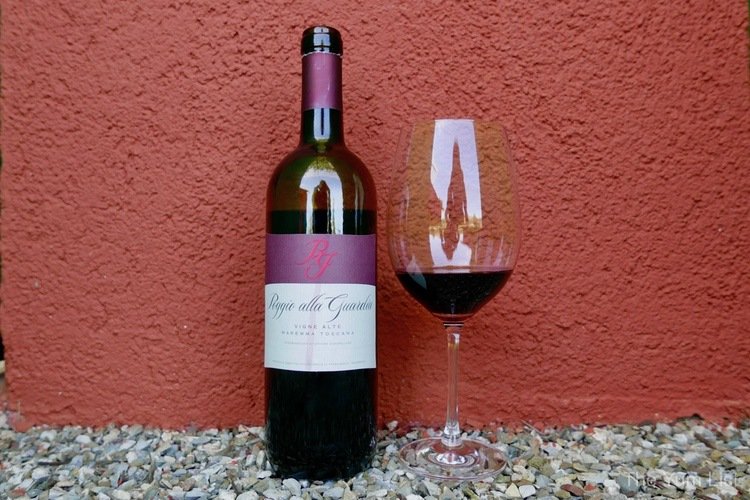 Le Sughere di Frassinello – Second Label, Mid-level
The second label, Le Sughere di Frassinello Maremma Toscana DOC, put the winery on the map with its 2009 vintage making Wine Spectator's Top 100 Wines of 2011 List. Considering 2007 was the very first vintage, this is quite a remarkable achievement. We try the 2014 composed of Sangioveto (50%), Merlot (25%) and Cabernet Sauvignon (25%). From the first whiff, this wine has appeal. Its balance and refinement are immediately evident and it's quite apparent why this is their best-selling wine, always scoring about 90 points. It's excellent value for money and has a cellaring potential of up to 15 years.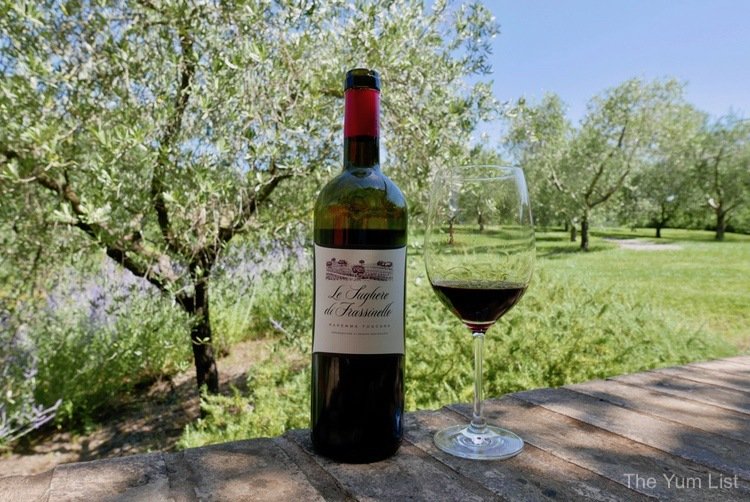 Rocca di Frassinello – First Label, The Grand Vin
Limited to a production of around 40 000 bottles a year, Rocca di Frassinello Maremma Toscana is the only wine sporting the winery's name. 2014 is the year we taste and while this vintage is a little slimmer than others because of the unusually cool and humid weather, it's still obvious that this Sangiovese-dominant wine is top of the line. It spends between 14 to 16 months in oak barrels producing richer aromas of black fruits, tobacco and dark chocolate. We find elegance, an overall balance in structure and a good acidity that leaves a very pleasant liquid sensation in the mouth. Full bodied, long persistent finish – yum.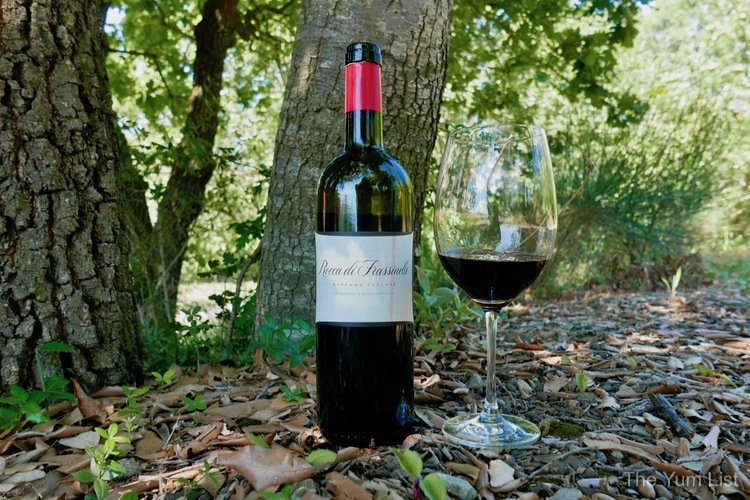 Other Labels
A very small production (7000 to 8000 bottles) of Rocca di Frassinello Vermentino Toscana DOC makes a fresh, quaffable and balanced wine. The 2017 is full of classic citrus notes along with peach and maybe even some tropical fruits. It sports good structure and excellent persistence. Its zesty feeling is perfect for warm weather and would make an ideal mate to raw fish – think ceviche.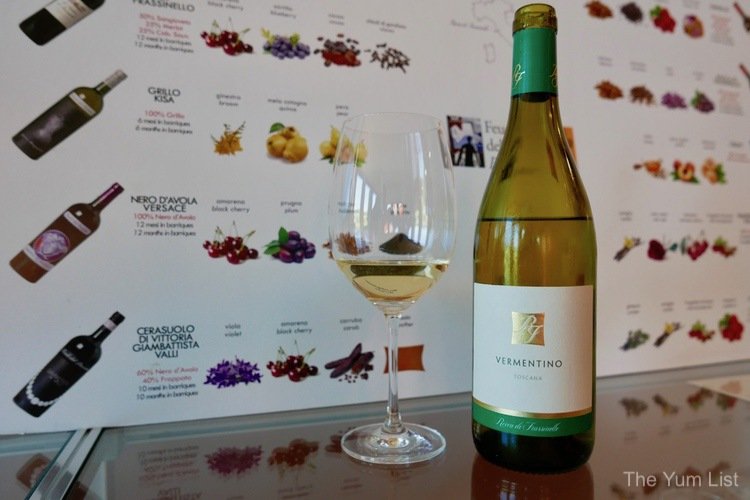 The Rocca di Frassinello Ornello Maremma Toscana DOC 2014 is the most powerful of the reds. The nose is persistent and is rich in notes of balsamic, fruit and roasted coffee. The Syrah amongst the blend of Sangioveto, Merlot and Cabernet adds a little spice. It has good tannins and a lingering aftertaste.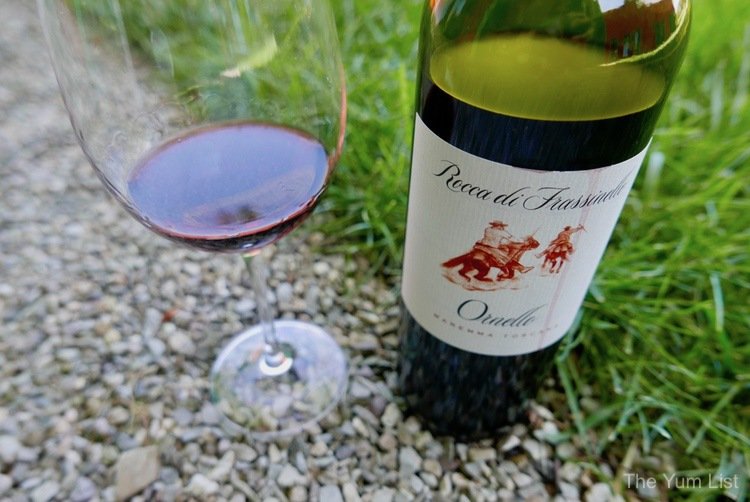 The Challenge
Our final tasting is the one we've been waiting for, the one that put Rocca di Frasinello on our radar to begin with: Baffonero Maremma Toscana DOC. It was conceived as a challenge to Masseto (consistently rated one of the greatest Italian reds); not as a competition against the producer but as a mission of their own winery to make a red so fine that it would rival the illustrious Masseto. This 100% Merlot wine spends 14 months in barriques with the outcome an intense ruby red hue and complex aromas of blackberries, tobacco, chocolate and a hint of coffee. The mouth is full and graceful with a long pleasing finish and could easily be aged for up to 20 years. Although the winemakers at Rocca di Frassinello claim that there's always room for improvement, critics have already showered the wine with praise and it's consistently awarded above 90 points from international wine critics.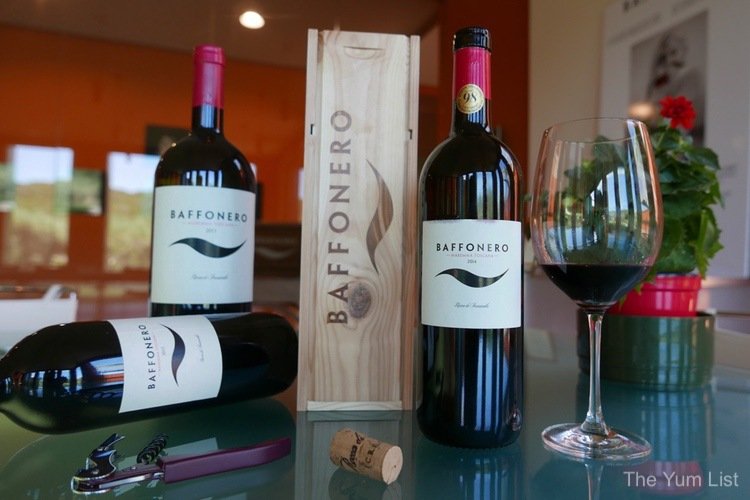 Appreciating the last sips of the Baffonero I ask our guide, Stefano, what he recommends as a good pairing. He smiles and says, "of course wine should be drunk with good company," and if you're going to drink wine of this quality, make sure those friends are very good indeed.
Reasons to drink and or visit Rocca di Frassinello: beautiful setting and a cellar dreamed by a multi-award winning designer; the result of the collaboration between two wine greats; must-try the Baffonero and judge for yourself how it's going with the challenge to rival one of Italy's greatest and most famed wines; we're rather fond of the Le Sughere di Frassinello for excellent value for money; and fine wine drinkers should definitely give the Rocca di Frassinello a second look.
More gourmet travel ideas for Italy here. 
Rocca di Frassinello
Loc. Poggio alla Guardia – Giuncarico Scalo
Gavorrano (Grosseto)
Maremma, Italy
+39 0566 88400
[email protected]
www.castellare.it