Words: Tania Henry      Photos: Monica Tindall
There is something alluring and glorious about the simplicity of Spanish food, and in particular for me, Spanish tapas. Giving validity to the preference of quality over quantity, these delish little bite-size nibbles had me hooked from my initial mouthful. I tasted my first proper croquette sitting on a sidewalk in Valencia sipping a chilled sangria, watching flamenco dancers go by. Maybe it's the fond memories, the tales of their origin or the rich flavoursome tastes of the chorizo. Or maybe it's the spices like paprika and saffron but for whatever the reason, Spanish tapas have me coming back, again and again, no matter where I am in the world. So when Monica suggested we visit Tapas Club Kuala Lumpur and taste some dishes cooked by a Michelin-starred chef, I replied without a second thought.
Tapas Club Kuala Lumpur Pavilion
To access Tapas Club Kuala Lumpur I took the lift to level 6 in Pavilion mall and then the escalator up to the Dining Loft on level 7. Coming from Australia I'm usually a little sceptical of shopping mall dining as back home it often resembles something out of a cardboard box. This, however, is certainly not the case here in Malaysia! With some of the finest dining tucked away in the malls of KL, there is much to be discovered with convenient parking to boot.
As I walked into this restaurant-bar, the bright lights and sounds of checkouts faded away and were replaced by contemporary strums of Spanish guitar and a welcoming and stylish setting. We were greeted by Jose Alonso, Tapas Club's executive chef, who led me through his newly opened restaurant decked out in traditional attire with gold-framed portraits of bullfighters, flamenco dancers and the Spanish godfather looking down on us. The wine display, open kitchen and well-stocked bar all wrap around the restaurant to creatively reflect a Spanish bullring and a bullhead sculpture even staunchly protrudes from the wall guarding the bar.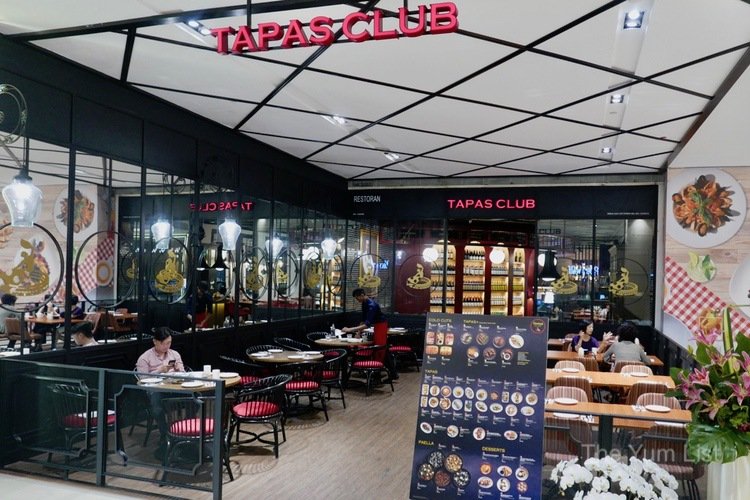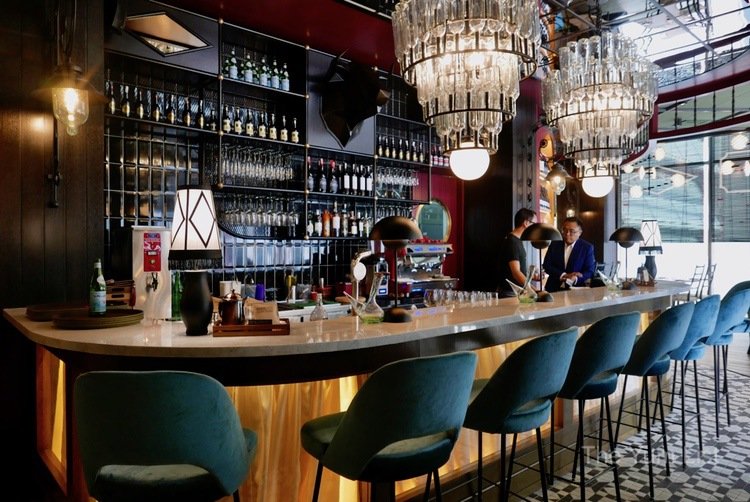 Food Menu Tapas Club Kuala Lumpur
The food menu at Tapas Club is simply fabulous offering sizeable portions of Spanish tapas and paellas at affordable prices. Having sampled tapas from all over Spain, (and with trusted taste buds and Spanish speaking Mon and Caning to support) I can honestly say that Jose Alonso and Michelin-starred chef Manuel Berganza are doing their country proud! Chef Jose ensures that the finest ingredients are used to create the best-tasting tapas, with jamon (Spanish ham), olive oil, chocolate and other delicacies imported from their homeland and fresh seafood and produce sourced locally. Jose wants to share the taste of authentic Spanish food with the world, so despite the high quality of his dishes and ingredients, menu items are very affordable ranging from RM15 to RM80 per plate.
Starting off on a high we sampled the Jamon Iberico (RM70), a Spanish ham from Salamanca in the north-west of Spain. I love a chef who passionately and somewhat forcefully educates me on the way a dish should be eaten and Jose did not disappoint, stressing the importance of teaming together the homemade bread, slightly acidic in-house tomato sauce and strong flavoursome jamon 'you simply MUST eat them together, not apart!'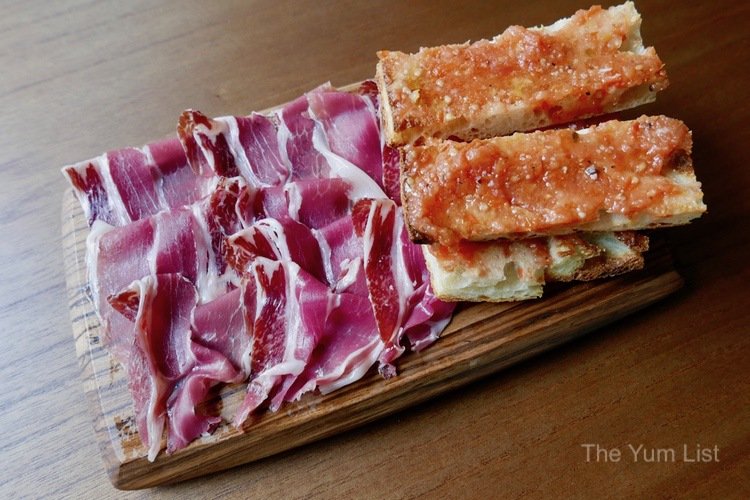 As I reached for another piece knowing full well I should slow down, the Croquetas De setas (RM21 for 5) and the Croquetas De Jamon (RM24 for 5) hit the table. Perhaps one of the most common and well-recognised of the Spanish tapas, these croquettes did not fall short of their fame. With the use of a homemade crumb and bechamel sauce, these crunchy delights cracked open in my mouth oozing out a mushroom sauce which resembled melted cheese in consistency but tasted much lighter. Crispy casing, gushing middle – superb.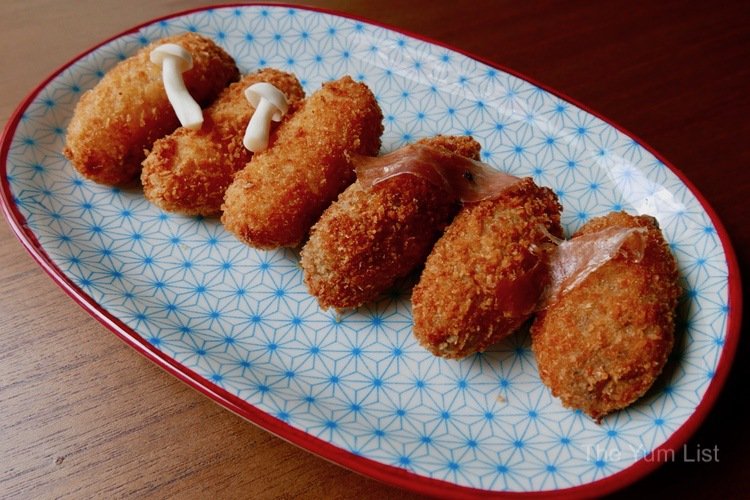 Next came the Gambas Al Ajillo (RM26), fresh sizzling prawns drenched in delicious olive oil, chilli, garlic and parsley. As the Spanish do, I enjoyed mopping up the garlic infused olive oil with the crusty bread.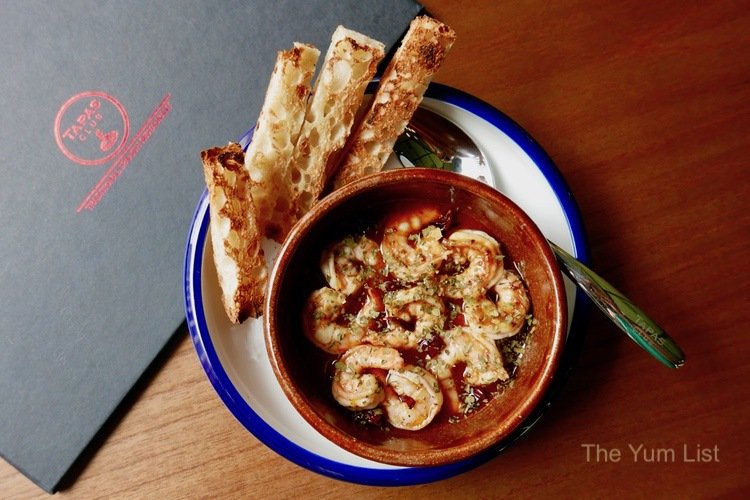 The Calabaza Asada Con Chorizo Iberico (RM29) proved a plateful of deliciousness with warm roasted pumpkin, Iberico chorizo and a sprinkling of toasted oats to add texture. The chorizo was, without-a-doubt, the tastiest I have ever had and comes from a special type of pig called the Iberico. It is mixed with a touch of fat to add exceptional levels of flavour and seasoned with paprika adding spice and colour.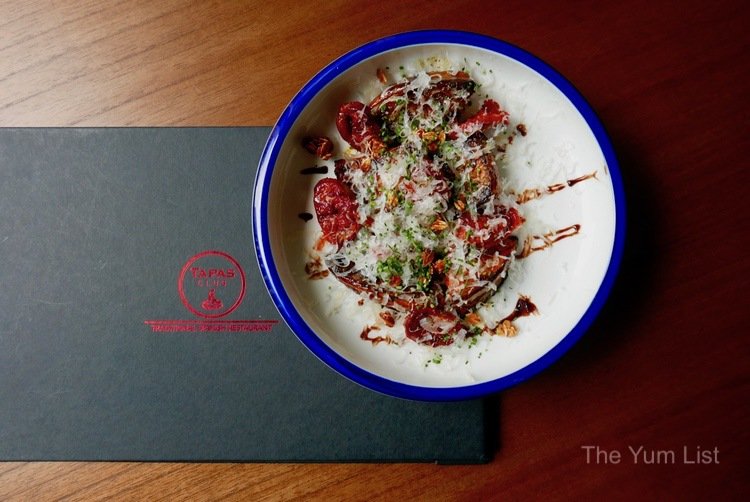 For something very authentic, we loved the Pulpo A La Brasa (RM58), a tender and subtly flavoured, 2.5 hours slow-cooked octopus seasoned with paprika, laying on a bed of roasted cubed potatoes and served with a choice of side – we picked the Brussels sprouts for a hit of nutrition! (Side note: I loved this one so much that I forced my partner to return with me the following day just so I could have it again. It wasn't a hard sell.)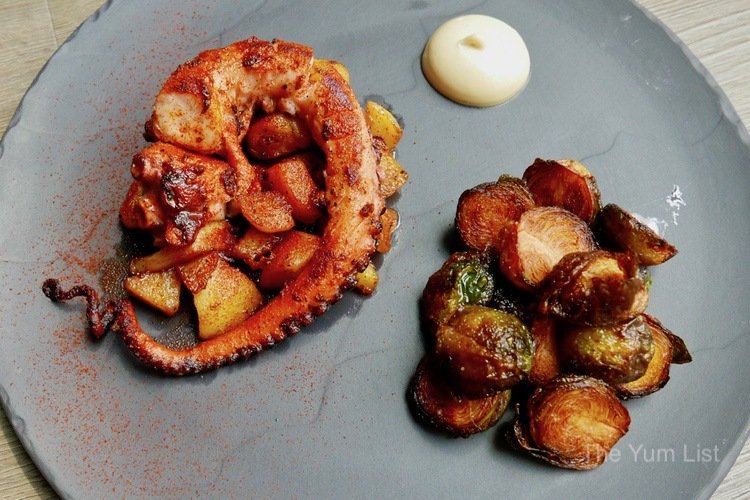 A Spanish meal in my books is not complete without a paella to share and there are many to choose from at Tapas Club. We went for the Arroz Negro (RM78), a black paella coloured with squid ink. Bomba rice was cooked so it remained partially chewy and it was completed with pieces of fresh squid, peas, open clams, seasoned with paprika and saffron, dolloped with homemade aioli and lastly, drizzled with fresh garlic, parsley and olive oil. Insider tip: the best bits are around the edges where the rice caramelises in the pan.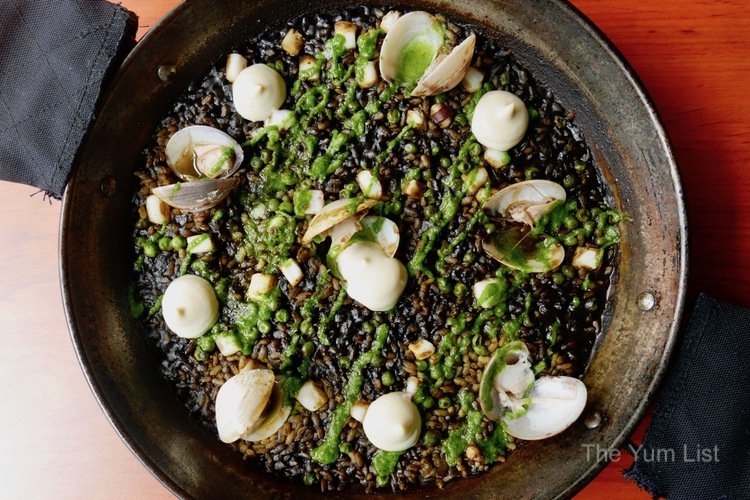 Dessert Menu Tapas Club
The dessert menu at Tapas Club had a selection of classics mixed with some contemporary surprises. Keeping with the theme we started off with a Churros Con Chocolate (RM20) and just like the ones you get from the street vendors in Barcelona the churros were light fluffy on the inside, crispy on the outside, dusted with sugar and paired with warm chocolate dipping sauce. Jose explained that the art to the perfect churro is in the technique and since Manuel has a Michelin star I think they have this one nailed (although I'm still not privy to the details of his method).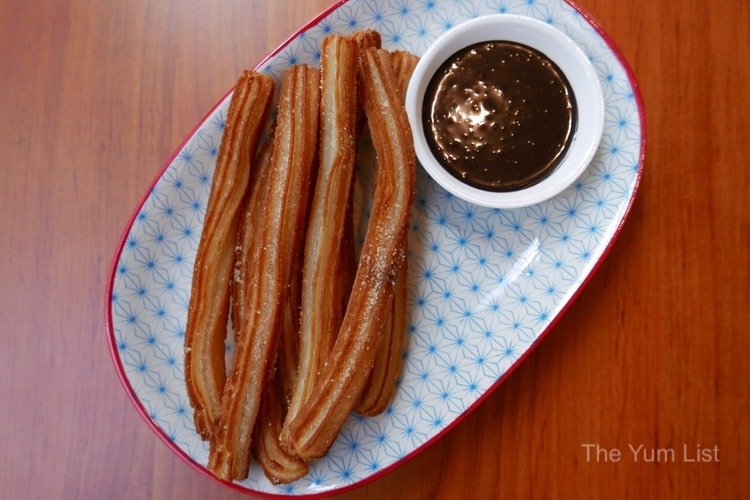 Lastly, a little less traditional but deliciously decadent, we tasted the Tapas Club signature dessert – the Mousse De Queso con Frutos Rojos (RM28). Wonderfully aerated and smooth cheesecake mousse was scooped atop a crumbly almond and biscuit base. A nicely tart homemade mixed berry coulis and a sweet toffee sauce were drizzled across the top. It tasted heavenly with its play between sweet, tart and creamy.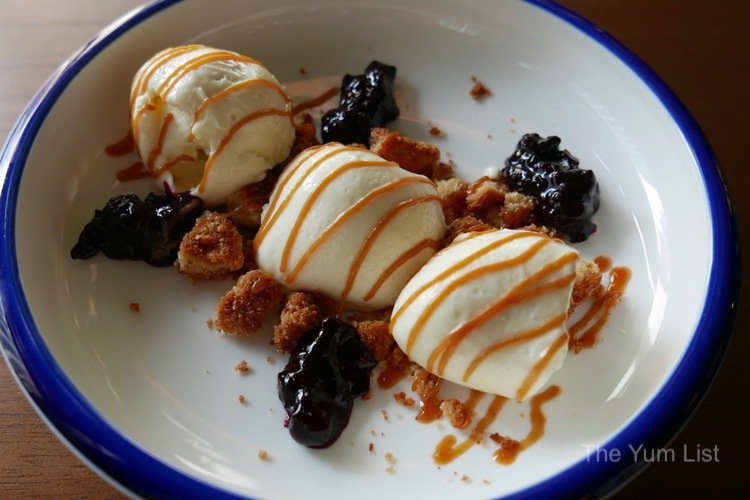 Drinks Menu Tapas Club
The drinks menu at Tapas Club has a variety of imported beers, a healthy selection of wines by the glass and a number of bottles that you won't find anywhere else in KL as they are directly imported from Spain by the owners, as well as an extensive option of spirits. As the business settles, guests will soon be able to take some of these home (along with other dry goods and deli products) from a retail counter soon to be developed.
As my partner likes to say, 'we did the board,' by sampling all three bottled beers from Ambar, the oldest brewery in Spain. The Ambar Radler (RM24) was refreshing and light with the crisp taste of lemon. The Ambar Especial (RM26) is the brewery's flagship beer, nicely balanced and versatile, pairing well with a wide variety of our tapas. The gold winner of the World Beer Challenge 2015, Ambar Export (RM30), is brewed with three malts resulting in a rich aroma, full round body and lots of character. They're all super. I recommend trying the trio.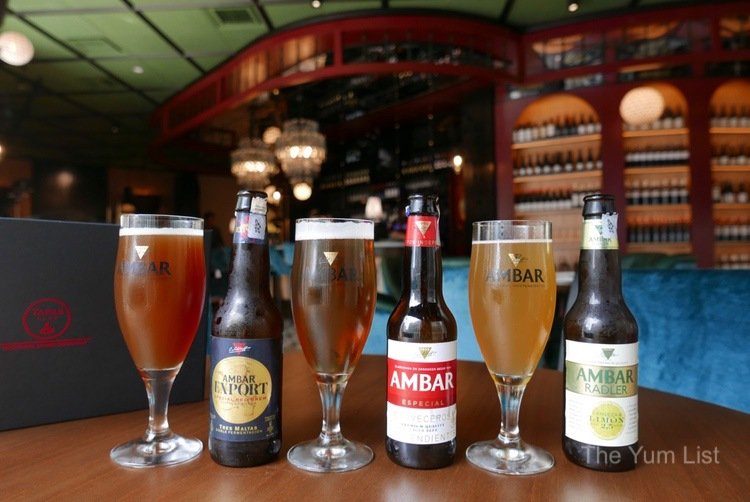 For a little more fun, we happily followed up with Red Wine Sangria (RM32). The house recipe is fruity, subtly spicy and a playful drink consisting of red wine mixed with orange, apple and cinnamon. With our red meats, we favoured a glass of Lagares Crianza (RM38), a creamy and full-bodied cabernet sauvignon from Valencia. Our seafood dishes did well with the citrus and subtle fennel notes of the Vizar Verdejo (RM33), exclusively grown in the Rueda region in Spain.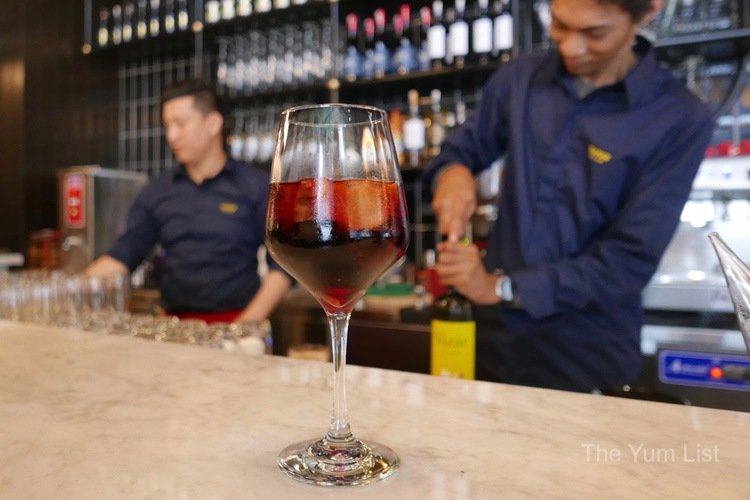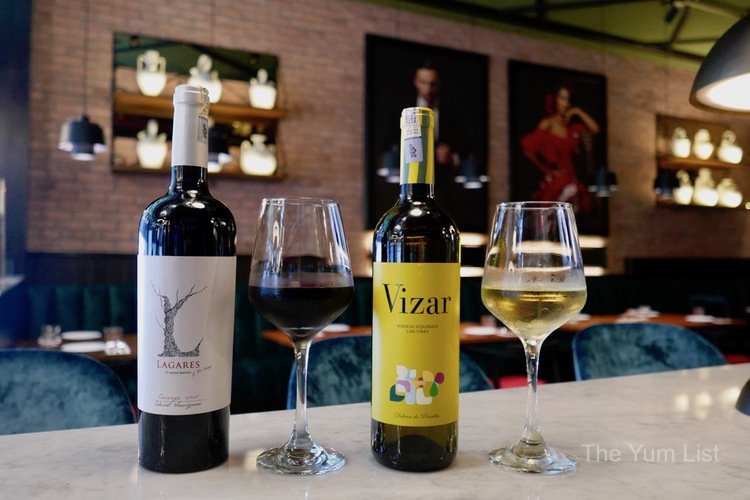 To polish off the meal, we ended with espressos and syphon coffee – a fruity and lightly acidic hand pour coffee that is made with locally roasted beans and brewed by guests themselves at the table.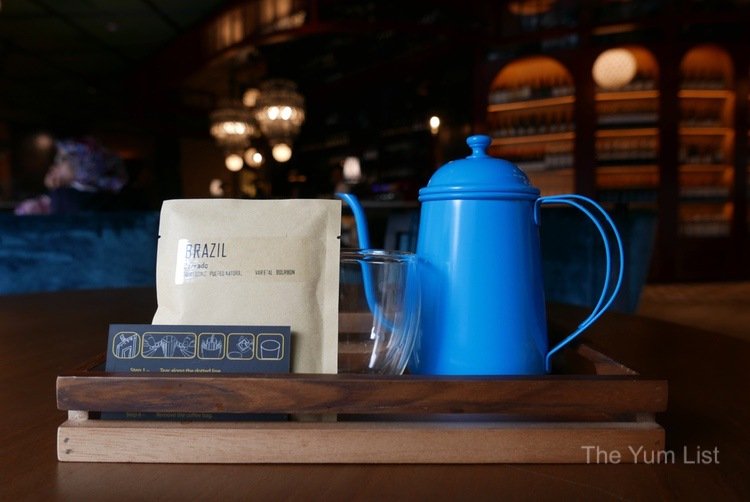 Reasons to visit the Tapas Club Kuala Lumpur: A Michelin-starred chef creating traditional Spanish tapas and delicious paella; good value for money; beers imported from the oldest brewery in the world, Ambar; solid selection of wines imported directly by the owners from Spain.
Tapas Club Kuala Lumpur opening hours: 10:30 am to 10 pm daily.
Tapas Club Kuala Lumpur
Lot 7.01.01, Level 7, Pavilion,
Bukit Bintang, 55100 Kuala Lumpur
Malaysia
+60321102718
www.tapasclub.com
Love European food? Find more European restaurants in Kuala Lumpur via this link.