Words: Monica Tindall
Photos: Rich Callahan
Our last visit to Mikro Café Melawati excited us with their excellent brew, compact menu and leafy casual setting. We're happy to return today to check out their new menu with additional options for dinner and a couple of meat-free choices too.
Drinks Menu Mikro Café Melawati
These guys are known for coffee, and with the owners coming from various established coffee shops around KL, you're pretty much guaranteed a good cup every time. Our café hopping trio is rather fond of caffeine so despite there being a handful of non-coffee options on the menu (hot chocolate, tea, kombucha and cold-pressed juice), a Piccolo (RM10), Latte (RM10) and a Cappuccino (RM10) are what makes us happy.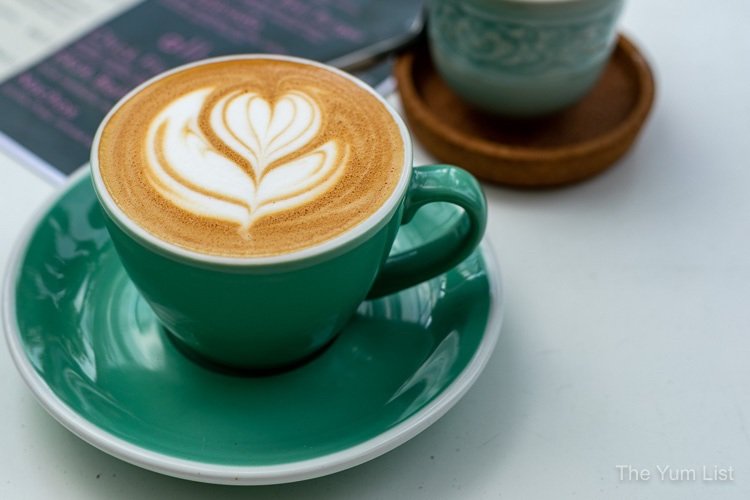 Each served in its own ceramic cup, the coffees this week are made from Rwandan beans roasted locally. Being a small café, a strong supporter of all things local and liking to spice things up a bit, they change the source and the roaster regularly so connoisseurs always have something new to try. This week's Gataba Rembera Shade #0405 red bourbon washed beans enter the mouth with a prune acidity, find the sweetness of sugarcane in the mid-palate and end with a light acidity of plum. Our drinks are milky and the combo performs well but I imagine that the beans would also do fine unadulterated.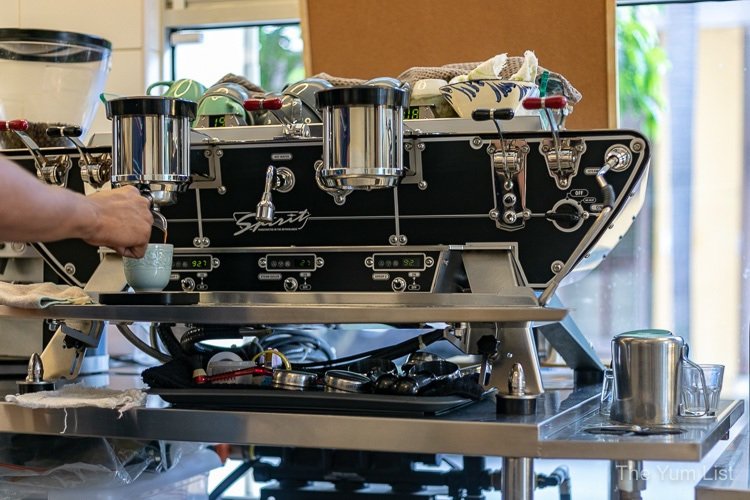 Barista Faeroz also sells us on a new menu item, the Genmaicha (RM10). It's a stone ground green tea with roasted brown rice and a touch of brown sugar frothed with a foamy milk top. The gentle addition of sweet takes the edge off the usually bitter green tea. The fellas at the table are not particularly fond of this drink but I think it's a good alternative for a later afternoon drink.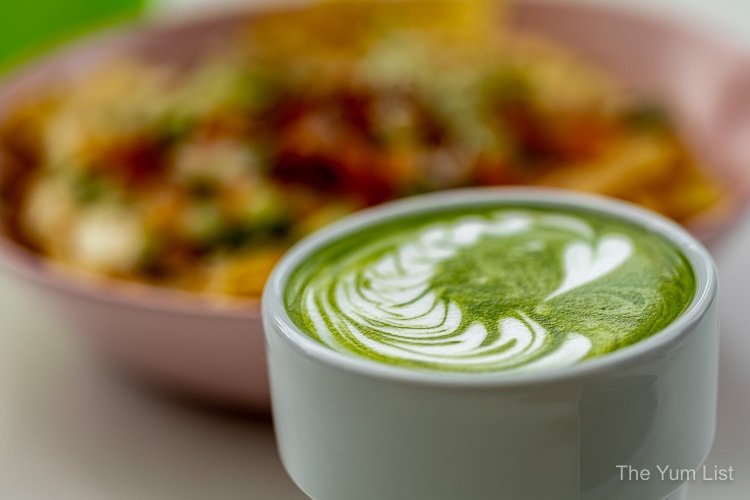 Breakfast Menu Mikro Café Melawati
Last visit, Mikro Café Melawati had no vegetarian options so we're glad to see the introduction of a couple of meat-free items in the new menu. The Granola Bowl sounds delicious but unfortunately following a super busy long weekend they are left with none for us to try. Never mind though, as the Eggs on Toast (RM10) sound equally yum. Scrambled and served with red spinach on toasted sourdough, it's a simple, satisfying and very reasonably priced meal.
Continuing with our all day brekkie, Oliver James (RM18) lushes up those scrambled eggs on sourdough with the addition of beef bacon and pancake with maple syrup. The pancake is superb: nicely dense yet well-risen. I push for the secret to such beauties and learn that it's all in the Italian meringue base that is folded through the flour. Sweet, salty, crusty, fluffy, chewy: it has it all. This one will certainly give you a big dose of energy to get through the day.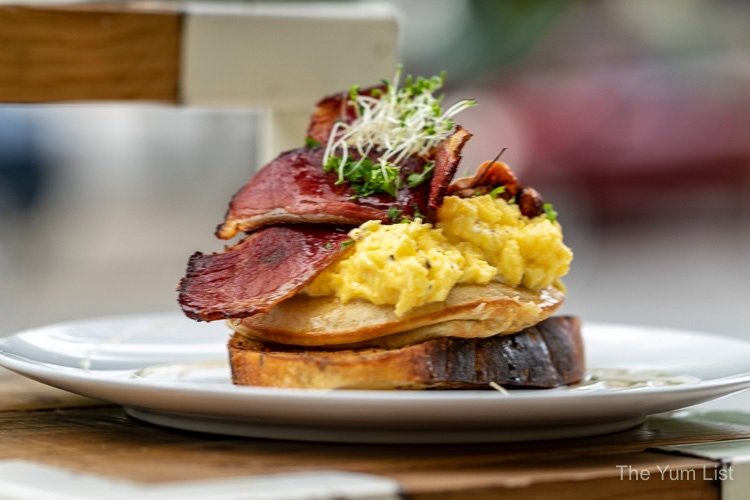 Yes, indeed, we are breakfast fans and so must also give the Big Breakfast (RM24) a whirl. Taking it up another level this plate for champions features sunny side up eggs, beef bacon, chicken sausage, Portobello mushrooms, breaded aubergine, house-made baked beans and that wonderfully chewy, crunchy, aerated sourdough bread. Undeniably it is a hearty plate of deliciousness and a wonderful fill-me-up pick for a leisurely weekend meal.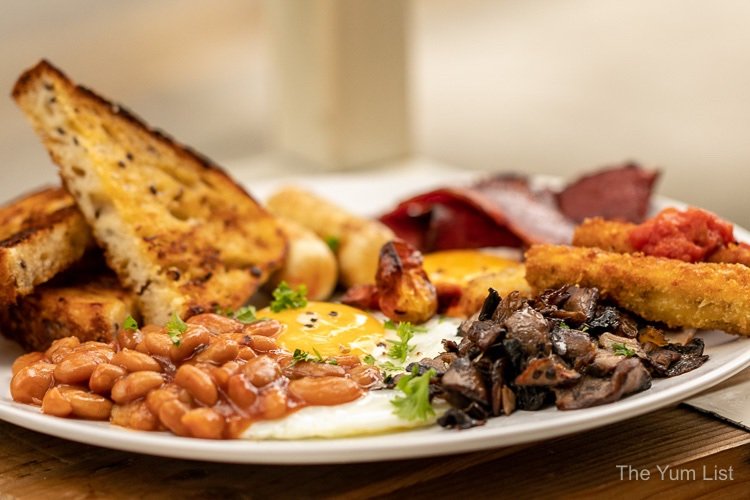 Mikro Café Melawati Menu – Lunch and Dinner
A recipe soon to be added is the Pesto Pasta with pan-seared sea bass RM25). It's vibrant with red spinach, pucuk manis (a local sweet, fragrant herb picked fresh from the chef's garden), cherry tomatoes and a sprinkling of Parmesan on top.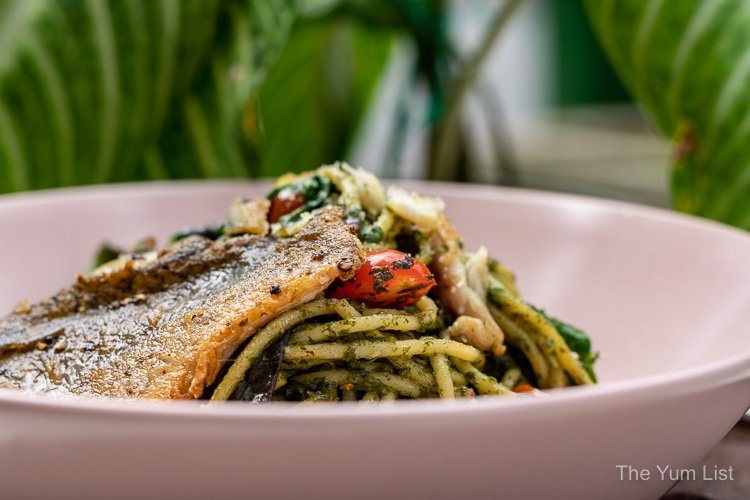 A cheeky play on the famous IKEA meatballs, EKIA Balls (RM20) is a house-made lamb rendition with tropical fruit jam and brown sauce. The meatballs are soft, bold with the flavour of lamb and nicely partnered with the sweet mixed berry compote. Rocket breaks up the rich profile with its bitterness and a drizzling of tahini and orange sauces over the leaves supplement its depth.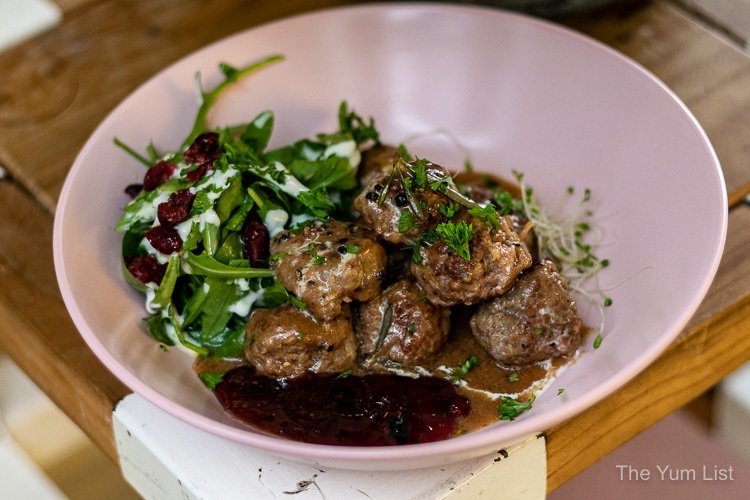 Lastly, the Nachos (RM15) make a fun dish to munch on while catching up with friends. A generous plate of corn chips holds minced beef with a fresh tomato salsa. Plentiful finely chopped veggies and herbs keep the composition fresh and there's a light layer of melted mozzarella on top that gives that cheery chewiness.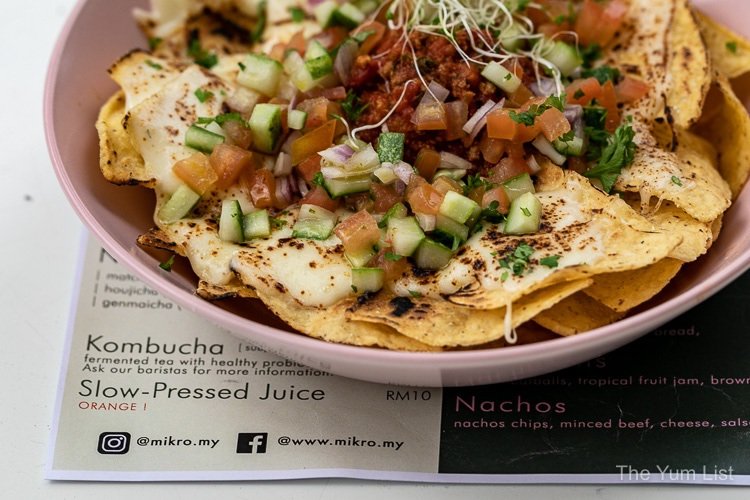 Mikro Café Melawati Menu – Dessert
We almost left without dessert! But, the whisper of homemade Banoffee Pie (RM12) and Key Lime Unbaked Cheesecake (RM12) were too much temptation to resist. Although the cakes rotate depending on the inspiration of the home bakers, the Banoffee Pie is one that has had to stay on the menu due to its popularity. It's a rich delight for the mouth with its biscuit base holding a lavish spread of caramel, bananas and thick layer of whipped cream. The latter is velvety and light with just the right amount of sourness from the citrus. Go for the former for decadence, stick to the latter for a lighter ending.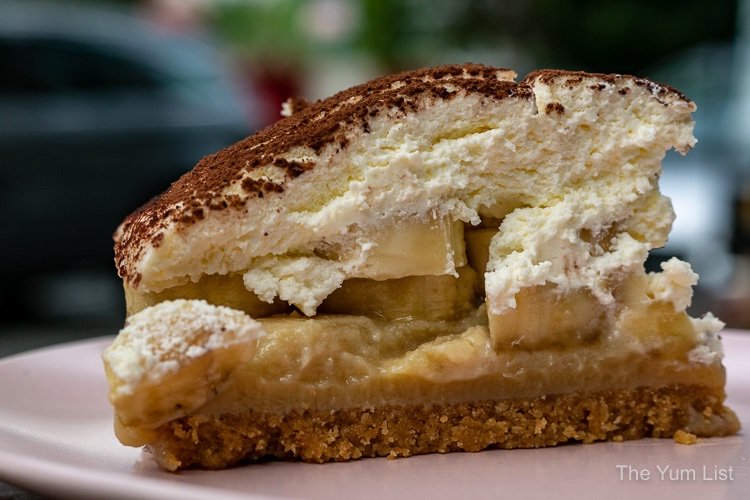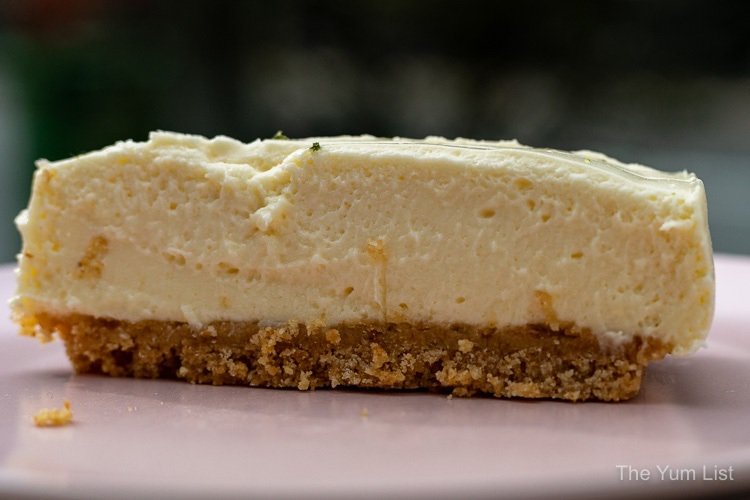 Mikro Café Melawati is a happy place with great coffee and a delicious menu. It makes a great stop for a weekend café hop.
Reasons to visit Mikro Café Melawati: a great cup of coffee; cheery community feel; very reasonably priced menu; good to see the addition of a couple of meat-free options; must try the Oliver James and the Banoffee Pie.
Mikro Café Melawati
320, Jalan Bandar Melawati, Melawati Square
Pusat Bandar Melawati, Taman Melawati
53100 Kuala Lumpur
Selangor, Malaysia
www.facebook.com/www.mikro.my
+6 016 636 3698
Mikro Café Melawati opening hours: daily 8 am – midnight
Cafe fan? Check out our KL cafe list here.